220 Central Park South: Review and Ratings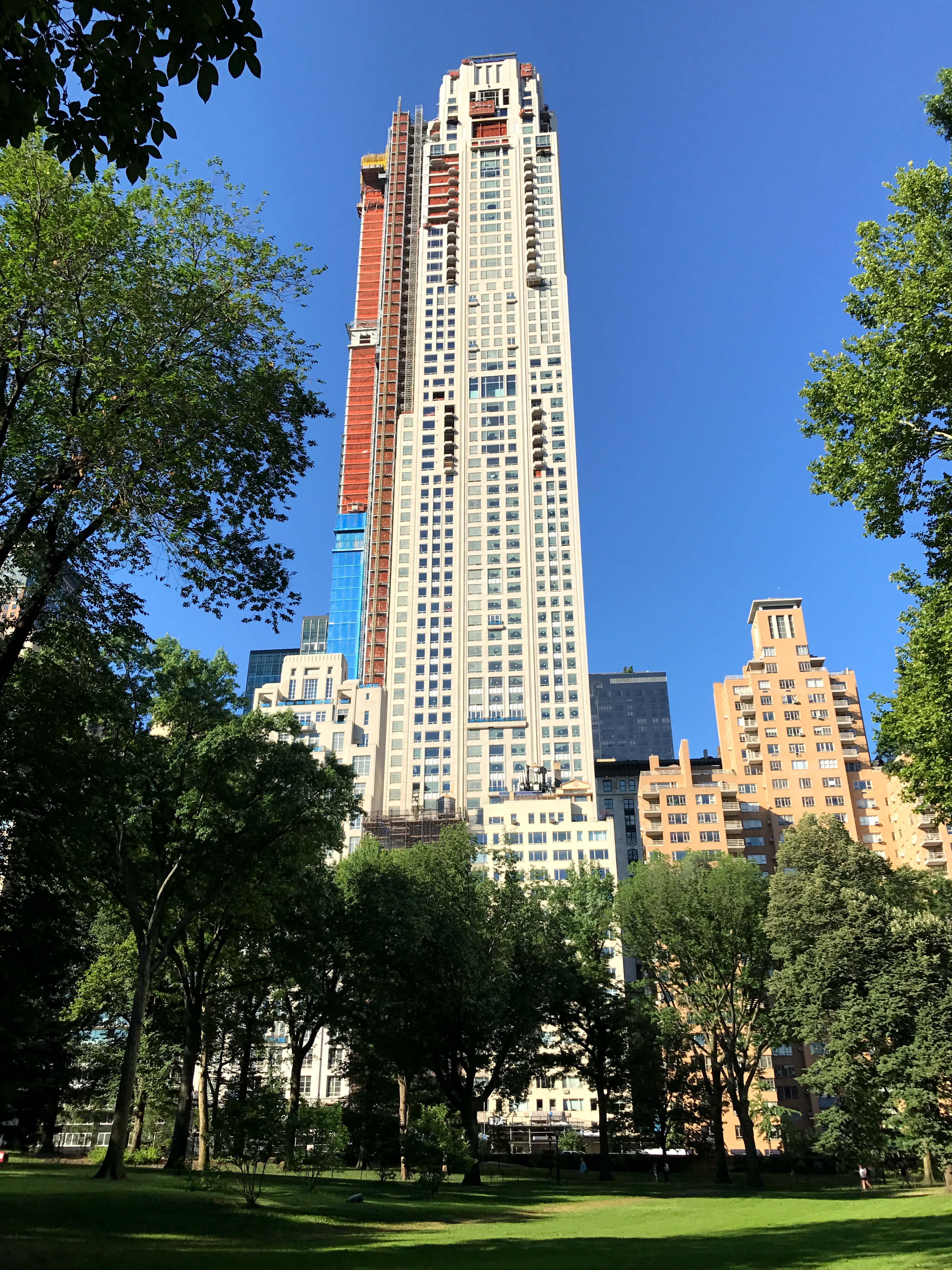 Review of 220 Central Park South by
Carter Horsley

Carter B. Horsley, a former journalist for The New York Times, The International Herald Tribune and The New York Post. Mr. Horsley is also the editorial director of CityRealty.com.
In the city's "supertall" wars, the spoils don't necessarily go to the tallest, or most daring, or showiest, but the most attractive with the best views.
For a while, it looked like this 950-foot-tall, 160-unit, residential condominium tower at 220 Central Park South, one of architect Robert A. M. Stern's Post-Modern derivatives of his fabulously successful, marketwise, 15 Central Park West, would garner the prize as the most alluring.
Based on early renderings, it promised to become the city's most nicely proportioned and elegantly finished residential Supertall.
In 2016, new renderings indicated, however, that the plans had changed and that its symmetrical mid-rise setbacks were now replaced with only a setback on the east side, balconies were put, in significant numbers, on the tower's park façade, and that its extremely handsome top was not only rather clumsily altered but also duplicated in part lower down on the façade interrupting the tower's soaring grace.
While the bad news was that the new design fussily sullied the tower's marvelous elan, the good news is that its new asymmetry complimented the even more drastic asymmetry of its immediately and much taller neighbor across 58th Street, the 1,501-foot-high, cantilevered, Central Park Tower at 217 West 57th Street that was being erected by Extell Development. That contextual gesture, however, is likely to be lost in the shuffle between these two towers.
In the grander scheme of things, such trifling changes might seem ignorable, but given the momentous spurt of supertall construction in the neighborhood it may make a difference is "crowing" rights.
(It should also be noted that Stern stubbed his architectural toe at about the same time in his plans to alter the annex to the very great Art Deco tower at 1 Wall Street, whose fluted top was apparently a stylistic influence on this tower, with a glass rooftop addition to the limestone building and a new glassy retail replace to its once stately base.)
This limestone-clad, through-block, 65-story tower at 220 Central Park South looms significantly over its full-block neighbor at 15 Central Park West but its architectural vocabulary and style is quite similar. Both developments have a mid-rise building directly fronting on Central Park and the taller tower setback. At 15 Central Park West, the tall tower is closer to Broadway. At 220 Central Park South, it fronts on 58th Street but is not directly behind the shorter structure but placed to its west allowing for the creation of a large and formal driveway.
Vornado Realty Trust, which built One Beacon Court on Lexington Avenue between 59th and 58th Streets, is the developer of 220 Central Park South.
The Zeckendorfs built 15 Central Park West and have hired Stern again for another supertall at 520 Park Avenue that is similar in design to this project as is Stern's design for Silverstein Properties at 30 Park Place next to the Woolworth Building in Lower Manhattan that was erected before Stern took up crayons. The 520 Park Avenue tower is considerably shorter and much thinner on its east and west façades than 220 Central Park South whose mid-rise "wing" holds the "building line" on Central Park South and has a very large glass marquee in the project's driveway.
Bottom Line
This handsome complex is not only across from Central Park but also a few steps from a Whole Foods grocery to the west and a horse-and-buggy ride away from Bergdorf Goodman, and an Apple store to the east.
Description
The number of stories is getting much harder to discern from afar these days and the latest count for this building, probably subject to some jiggering, is only 65. The new crop of supertalls aimed primarily at people of means and large appetites/floorplans also make counting their ammunition/apartments difficult and here, again probably subject to some revision, one would have visually calculated the number of stories based on its height at about 100.
A through-block project, this development will have a mid-rise "wing" that holds the "building line" on Central Park South and a large, gated driveway on 58th Street that leads to a landscaped pool to the north and a three-arched arcade entrance off the 115-foot-long "motor court" to the tower to the west. The wing building has a 54-foot-wide conservatory off the motor court that leads to its 55-by-45-foot lobby. The tower has a 40-foot-wide lobby across a staircase from a 32-foot-wide library.
The limestone-clad development is stylistically similar to Stern's plan for the Zeckendorf mid-block site at 520 Park Avenue but its tower is much thinner on its east and west façades.
Amenities
There are three floors of amenities in the tower building. The lowest level has a 95-foot-long swimming pool next to a 60-foot-wide gym and smaller yoga studio and pilates stretch room. This level also has a squash court, a playroom, a 27-foot-wide "sport court, locker rooms and two spas. The top level has a 49-foot-wide dining room, a 41-foot-wide club room and a 31-foot-wide private dining/board room. The building also has a garage, a concierge and a doorman.
Apartments
Duplex on the 50th and 51st floors contains 11,090 square feet plus 695 square feet of terrace and 117 square feet of balcony. It has six bedrooms and eight bathrooms. On the lower floor, the double-height living room is 39 feet long and is flanked by an open, 25-foot-long library with a fireplace and an open 25-foot-long dining room that is adjoined by a 15-foot-long breakfast room next to the enclosed kitchen that opens onto a large terrace with an outdoor kitchen. The foyer leads directly to the living room and it is flanked by a long galleries, one of which ends in a "sunset salon" with a small terrace and also leads to a 19-foot-wide media room. The upper floor has the other bedrooms and a long mezzanine with a staircase to the lower level.
Penthouse 73 is a five-bedroom duplex with 9,535 square feet and 713 square feet of terraces with a 40-foot-wide, double-height living room with a fireplace that connects with sliding rooms to a 22-foot-long dining room next to a large enclosed, windowed kitchen and connects on the other side to a 21-foot-long library with a fireplace and a gallery that leads to a 28-foot-long media room. There are two bedrooms on this level and four corner terraces and a staircase to the upper level.
Penthouse 76 is a duplex with 8,889 square feet and 710 square feet of terrace space with six bedrooms. The 38-foot-wide living room has two fireplaces and is planked by the enclosed 25-foot-wide dining room next to an enclosed and windowed kitchen with a small terrace, and, on the other side, a 23-foot-wide library. This level also has a 28-foot-long media room with a small terrace.
The simplex units on the 47th through the 49th floors have 6,591 square feet and 96 square feet of terraces and five bedrooms. It has a 42-foot-long living room with a sliding door connection to a 22-foot-long dining room with a fireplace and a three-sided balcony next to the large, enclosed and windowed kitchen as well as a sliding door connection to a 16-foot-long library with a fireplace and a three-sided balcony.
Penthouse 16 in the smaller building has 5,884 square feet on four floors with two bedrooms. The lower level has a 25-foot-plong living room that opens onto, at one end, a 15-foot-long library with a fireplace and a small terrace and on the other end a 16-foot-wide dining room with a terrace next to the enclosed and windowed kitchen. The 17th floor has a 25-foot-long master bedroom with a small terrace. The 18th floor has a 25-foot-long conservatory, a 16-foot-long study and a bedroom and very long terrace. The top floor has a 21-foot-long pool.
The seventh floor is a four-bedroom unit with 4,977 square feet and 96 square feet of terraces with a 41-foot-long living/dining room with a fireplace next to an enclosed kitchen/breakfast room with a small terrace and a gallery that leads to a 16-foot-wide library.
Residence A on the 18th through the 20th floors is a two-bedroom unit with a foyer and a gallery that lead to a 25-foot-long living/.dining room next to a large windowed kitchen.
Residence B on the 18th through the 20th floors is a one-bedroom unit with a very large foyer that leads to a 21-foot-long living room.
Residence F on the 18th through the 20th floors is a 503-square-foot studio with a 16-foot-wide living/dining/sleeping room.
History
The development of the 220 Central Park South site was not without turmoil.
One of the more dramatic "tug-of-war" stories between major New York City developers focused on this site when Vornado Realty sparred with Extell Development here even before the SuperTall race really began in earnest.
According to an October 15, 2013 article in The New York Times by Charles V. Bagli, Gary Burnett, the head of Extell "bought the first of a number of parcels for a high-rise project between 57th and 58th Street, near Broadway" in June 2005.
Two months later, Vornado bought the rental building at 220 Central Park South from The Clarett Group that had planned to replace it with a 41-story tower that it hoped would capitalize on the new luxury high-rise market created in the Columbus Circle area by the Time Warner Center, Trump International Hotel and Tower and 15 Central Park West.
"Fearing that the Vornado tower would block the views of his planned tower, Mr. Barnett sought a bargaining chip by quickly buying the lease from the garage operator at 220 Central Park South and a small parcel on 58th Street that sat in the middle of Mr. Roth's planned development site," Mr. Bagli wrote.
In October, 2013, Mr. Roth "blinked" and paid Extell $194 million to get control of the garage lease and complete his assemblage, which was across 58th Street from the larger assemblage that Extell Development had been working on that included the Hard Rock Café. Extell had already paid the Art Students League adjacent to its site for its unused air rights and then made a second deal with the league to permit it to cantilever over its building to improve some of its Central Park vistas to the north.
In ending their statemate, Extell and Vornado agreed to shift the siting of their proposed towers with Vornado moving its tower a bit to the west and Extell moving its tower a bit to the east.
Extell, of course, started the SuperTall race with its 1,004-foot-high mixed-use tower design by Christian de Portzamparc with curved tops and awnings at One57 across from Carnegie Hall on 57th Street one block to the west and close to the city's previous "tug-of-war" between Metropolitan Tower and Carnegie Hill Tower on the south side of 57th Street on either side of the narrow Russian Tea Room, which didn't sell its air rights.
The 20-story apartment building at 220 Central Park South formerly on this site was demolished by the Clarett Group, which planned to replace it with a condominium tower designed by Pelli Clark Pelli, the firm that designed One Beacon Court on Lexington Avenue and 59th Street, the Museum of Modern Art tower on East 53rd Street and the World Financial Center at Battery Park City.
The 20-story, light-gray brick building was erected in 1954 and was designed by Mayer & Whittlesley and M. Milton Glass. It had 124 rental apartments.
Mayer & Whittlesley also designed 40 and 240 Central Park South, which, like 220 Central Park South, are through-block buildings that extend to 58th Street.
In their excellent book, "New York 1960 Architecture and Urbanism Between The Second World War and The Bicentennial," (The Monacelli Press, 1995), Robert A. M. Stern, Thomas Mellins and David Fishman provide the following commentary about the 20-story building:
"Replacing three nineteenth-century rowhouses, and an apartment building, all built by the Appleby family, number 220 had as its immediate neighbor to the west Charles Buckham's Gainsborough Studios (1908), one of the most distinguished examples of the 'artist's studio' apartment house type that flourished before the first World War. Unfortunately, neither the character of its neighbor nor the previous efforts of Mayer & Whittlesley influenced the design. The twenty-story building had coarsely detailed rows of double-hung aluminum windows set in white brick, corner balconies and a blocky elevator penthouse; a similarly dismal building faced Fifty-eight Street and was separated from its companion by a garden. The setback base of the building on Central Park South compromised the street wall that was so critical to the framing of the park."
The building had a two-step-down entrance, a revolving front door, a concierge, protruding air-conditioners, a garage, and spiked sidewalk landscaping. It was to the west of a fire engine company on 58th Street.
An article by Josh Barbanel in the May 19, 2006 edition of The New York Times reported that 80 tenants in the building, "many with spectacular park views, were notified yesterday that they could face eviction proceedings so a developer can tear the building down." "The announcement," the article continued, "set off a wave of anger, defiance and sadness among tenants, many of whom have enjoyed below-market rents for many years under the state's system of rent stabilization and were unaware that they were in jeopardy. State officials said the demolition plan, if approved, would displace more rent-regulated tenants than any other demolition in recent memory. And real estate executives said the plan to demolish one postwar high-rise for a bigger one was extraordinary, if not unique, in the annals of New York real estate."
The article quoted Veronica W. Hackett, the managing partner of The Clarett Group, as stating that Clarett was prepared to offer "six-figure" settlements with the 47 rent-stabilized tenants and that the remaining 34 or so market-rate tenants would be asked to leave when their leases expire or possibly to remain on month to month until the plan is completed. About 40 units are vacant.
A June 15, 2008 article in The Times by Mr. Barbanel noted that 22 tenants in the building "won a small victory in State Supreme Court in Manhattan that could eventually delay demolition of their building for a 41-story tower." The ruling found that state law may require a formal environmental review.
The new building Clarett planned to erect would have been the tallest on the block.
The Clarett Group's projects include the 55-story Sky House condominium tower under construction at 11 West 29th Street, Place 57, which is under construction at 207 East 57th Street, Chelsea House at 130 West 19th Street, 2770 Broadway, the Montrose at 308 East 38th Street, the Post Toscana at 389 East 89th Street and the Post Luminaria at 385 First Avenue.
Book a Tour or Get More Information on this Building
5,149 Buyers
are interested in buying at
220 Central Park South!
Interested in Selling?
We'll introduce you to the agents that
specialize in 220 Central Park South and are
experts in selling apartments there.

And they'll be able to contact all of the buyers interested in the building.
There's no obligation and your inquiry is confidential.
Call us at (212) 755-5544