Instrata at Mercedes House at 554 West 54th Street: Review and Ratings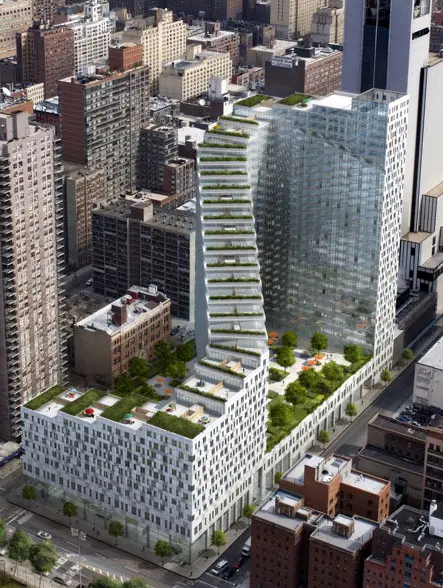 Review of 554 West 54th Street by
Carter Horsley

Carter B. Horsley, a former journalist for The New York Times, The International Herald Tribune and The New York Post. Mr. Horsley is also the editorial director of CityRealty.com.
The full-block, 32-story tower at 550 West 54th Street between between Tenth Avenue & Eleventh avenues has 875 apartments and the 162 on the top 11 floors are known as Instrata at Mercedes House because the developer, Two Trees Management, sold them in 2012 to Invesco, which is based in Dalla. They were originally planned as condominiums.
The lower part of the complex contains 180 "affordable" units.
The building was designed by Enrique Norten of TEN Arquitectos and is notable for its "zig-zag" and ziggurat shape and many terraces.
The base of the complex on Eleventh Avenue contains a 330,000-square-foot, Mercedes Benz showroom that led to its name change from Clinton Park.
The complex overlooks Dewitt Clinton Park.
The site had formerly been used by Verizon for vehicle storage.
A March 16, 2017 article by Sara Pepitone at the commercialobserver.com noted that the building has a stable for the Police Department's horses, adding that there are 27 horse stalls, a riding ring, two horse showers, and "a corner for a farrier (horseshoer) and for someone who fits saddles."
Bottom Line
A massive, mixed-use complex that has a horse stable for the police, a large automobile dealership, hundreds of rental apartments, indoor and outdoor pools, two bocce courts and a very distinctive zig-zag form with many terraced apartments.
Description
The building's east and west sides align with the city's north and south avenues and are terraced, but its mid-section curves between them with every floor having a terrace, stepping down from the east to the west, creating two large elevated, mid-block courts.
The building's façades are varied, too, with the end slabs have a variegated fenestration pattern on their outer sides and multi-railed pattern on the inside. The stepped and curved center portion has a simpler, conventional curtain wall.
Amenities
The complex has impressive amenities with indoor and outdoor swimming pools, a very large fitness center, an outdoor screening area with long benches that can accommodate 160 viewers, a 225-car garage, a concierge, two large bocce courts, a bicycle room, a package room, a boxing ring, a golf simulator, and an indoor basketball court.
Apartments
One of the three-bedroom units has a 16-foot-long living room with an open kitchen with an island and a curved window wall and a large terrace.
A two-bedroom unit has a 14-foot-long living room with an open kitchen with an island.
A one-bedroom unit with 620 square feet has a 19-foot-long living room with an open kitchen with an island and a storage room.