The Paterno at 440 Riverside Drive: Review and Ratings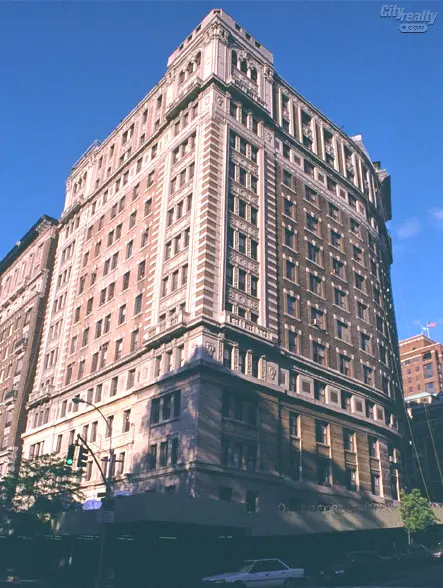 Review of 440 Riverside Drive by
Carter Horsley

Carter B. Horsley, a former journalist for The New York Times, The International Herald Tribune and The New York Post. Mr. Horsley is also the editorial director of CityRealty.com.
One of New York's great apartment buildings, the Paterno at 440 Riverside Drive has a great curved façade along 116th Street where it meets Claremont Avenue. That curve is repeated, albeit in a different direction, across 116th Street in another building, the Colosseum at 435 Riverside Drive. Both curved buildings were designed by Schwartz & Gross and erected by the Paterno organization. Many of the finest buildings in this attractive neighborhood were erected by the Paterno and Campagna construction companies. The 13-story building was erected in 1909 and converted to a cooperative in 1979. It has 106 apartments. Amenities include a full-time doorman, porte-cochere, bike room, laundry room, and live-in super. It is right by Columbia University, Riverside Park, and the 1 train at 116th Street.
Bottom Line
One of New York City's greatest apartment buildings, it is the portal to Claremont Avenue and the premier residential building in the Columbia University neighborhood.
Description
In addition to its great façade arc along Claremont Avenue and 116th Street, this building's entrance on Riverside Drive has a very large enclosed "driveway" that leads to a stained glass vestibule and a very handsome marble lobby. The "driveway" is actually a porte-corchere as it was designed to accommodate horse carriages, not automobiles.
The building has a large marble lobby with a stained-glass ceiling.
Amenities
The building has a doorman, a live-in superintendent, a bicycle room, a laundry, and storage. It permits pets.
Apartments
Apartment 9 is a two-bedroom unit that has a 12-foot-long, curved entry foyer that leads to a 15-foot-wide living room ad a 14-foot-wide dining room, both with a slightly curved windowed wall. The unit has a 10-foot-long, enclosed kitchen with an angled wall.
Apartment 86 is a two-bedroom unit with a 21-foot-long living/dining room next to an enclosed and angled 17-foot-long kitchen.
Apartment 63 is a two-bedroom unit with a 10-foot-long entry foyer that leads to a 28-foot-long living/dining room next to a 16-foot-long eat-in kitchen.
Apartment 37 is a two-bedroom unit with an entry foyer that leads to a 15-foot-long living room with a fireplace that opens onto a 16-foot-long dining room that is across a hall from a 12-foot-long kitchen.
Apartment 23 is a two-bedroom unit with an entry foyer to a 23-foot-wide living/dining room. The unit also has a 16-foot-long, eat-in kitchen and a 9-foot-long staff room.
Apartment 35 is a one-bedroom unit with a small entry foyer that opens onto a 14-foot-long living room that opens into a 14-foot-long dining room with a Murphy bed and a 14-foot-long enclosed kitchen.
History
In his excellent book, "Morningside Heights, A History of Its Architecture & Development," Columbia University Press, 1998, Andrew S. Dolkart provides the following commentary:
"The most active builders on Morningside Heights were members of the Paterno family, which had emigrated from Castelmezzano near Naples. Stories differ as to how the four Paterno brothers – Joseph, Charles, Michael and Anthony – became involved in apartment house construction. The most romantic tale, as told in Joseph Paterno's New York Times obituary, has the young immigrant newsboy shivering at his post on Park Row, watching a tall office building rise. 'Papa,' he asked 'why do they make the business buildings so high?' 'Because it pays' his father replied….[T]his is the American way.' The bright-eyed newsboy wrinkled his brow and frowned, while making change for a customer. 'But, Papa, if this is so, why don't they make the houses and tenements high, so they will bring more rent?' The father smiled and patted his son's curly head. "You have an eye for business, by son. Perhaps some day you may building some high houses.' From that day on, the story continues, 'it became Joseph's ambition to building skyscraper apartment houses." This story notwithstanding it is far more likely that Joseph and his brothers became involved in construction because their father, John Paterno, had been a builder in Italy and eventually became a partner in the New York building firm of MacIntosh & Paterno.
"In 1898, John Paterno began construction on two of the earliest apartment houses in Morningside Heights, a pair of modest structures at 505 and 507 West 112th Street (demolished). At John's death in 1899, Joseph and his brother Charles were brought in to complete the unfinished buildings. From this beginning, the Paterno brothers went on to contribute significantly to the construction of apartment houses in New York City, undertaking their 'most extensive construction in the Columbia University neighborhood.' In 1907, Charles Paterno established this own business, the Paterno Construction Company, with hi bother-in-law Anthony Campagna. Working independently and in joint ventures, the members of the Paterno family built thirty-seven apartments buildings on Morningside Heights, ranging from modest six-story structures to the impressive Luxor, Regnor and Rexor…on Broadway at 15th and 116th Streets and the Colosseum…and Paterno….on Riverside Drive and 116th Street. The Paternos were active on Morningside Heights during the entire span of apartment house development in the area, beginning with John Paterno's modest apartment buildings on 112th Street in 1898 and ending with Joseph Paterno's enormous 1924 building at 425 Riverside Drive. The Paternos were so proud of their buildings that the façades of some of their grandest works were emblazoned with initials referring to the family – 'P' for Paterno, 'JP' for Joseph Paterno, or 'PB' for Paterno Brothers. These initials often baffle modern viewers, but were probably recognized by many people at the time the buildings were erected, perhaps assuring potential renters that these were quality apartment houses."
Location
Curved façades are unusual in New York.
Riverside Drive has several buildings that curve to match the slight bends of the road, but none are as pronounced as these two, which also happen to face one another and provide an opportunity to reconsider the wisdom of the city's traditional rectilinear grid.
The curves here, which actually turn away from one another, provide an interesting perspective for the main entrance gateway of Columbia University one block away at Broadway and 116th Street. They also significantly widen the intersection.
In his book, "The City Observed, New York, A Guide to the Architecture of Manhattan," (Vintage Books, a division of Random House, 1979), Paul Goldberger, then architecture critic of The New York Times and subsequently of The New Yorker magazine, noted the "echoes" of these curves and remarked that these "two buildings play off against each other like the curving lines of a Miró."
Remarking that both buildings are "antecedents" of the curved building at 200 Central Park South several decades later, Goldberger said that this intersection "deserves the enlargement of this grand gesture," adding that "It wouldn't work at a conventional corner, but it is splendid here."
When the school and office tower at 3 Park Avenue at 34th Street turned on its axis and created triangular plazas, some critics felt that such a dramatic break with the city's traditional grid pattern of construction was not positive. The jury is still out. If the entire city were a helter-skelter of curved and angular streets and plazas, it might get pretty confusing for many New Yorkers, but many cities in fact have such environments. One needs only think of the crescent in Bath, England, to wax eloquent on the poetry of urban curves. It is probably not a good idea to tear down most of Manhattan and start over with more curves and angles. After all, we do have Lower Manhattan and its odd streets and great buildings. Still, surprise is what is perhaps most enjoyable in the city and they and grand gestures, especially when combined, are always welcome as are this duo.
This building is the south anchor of a long, continuous, unbroken stretch of Riverside Drive that culminates in the landmark Riverside Church complex several blocks to the north. This neighborhood has many important institutions in addition to Columbia University such as seminaries and the Episcopal Cathedral Church of St. John the Divine.
A subway station is at Broadway and 116th Street and buses run cross-town on 110th Street and north and south on Riverside Drive and Broadway.
Book a Tour or Get More Information on this Building
246 Buyers
are interested in buying at
440 Riverside Drive!
Interested in Selling?
We'll introduce you to the agents that
specialize in 440 Riverside Drive and are
experts in selling apartments there.

And they'll be able to contact all of the buyers interested in the building.
There's no obligation and your inquiry is confidential.
Call us at (212) 755-5544