461 Dean Street: Review and Ratings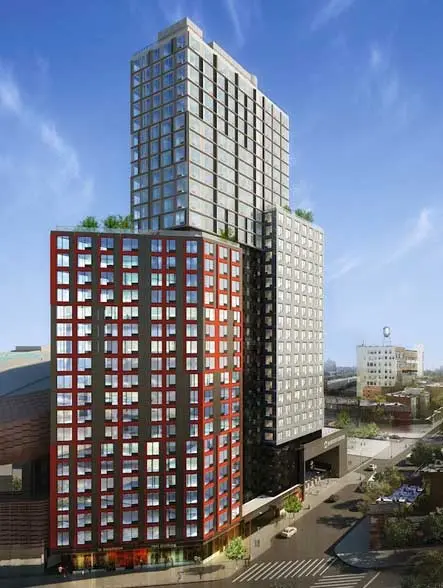 Review of 461 Dean Street by
Carter Horsley

Carter B. Horsley, a former journalist for The New York Times, The International Herald Tribune and The New York Post. Mr. Horsley is also the editorial director of CityRealty.com.
This snazzy, 32-story, modular apartment building at 461 Dean Street at Flatbush Avenue next to the Barclays Center at the $4.9 billion, 22-acre, Pacific Park Brooklyn complex was completed in 2016 and has 373 apartments, of which 182 are "affordable. The complex is at the nexus of the Prospect Heights, Park Slope, Clinton Hill and Fort Greene sections of Brooklyn.
It was developed by Forest City Rattner and Skanska and designed by SHoP Architects, which also designed two other apartment buildings in the complex and the very large Barclays Center arena building with the dark red, reptilian-like skin with slit lights. The center opened in 2012. Cook/Fox, Marvel Architects, and Kohn Pedersen Fox are designing other high-rise buildings in the complex.
Skanska withdrew from the project when it was delayed. An August 31, 2015 article at citylimits.org by Norman Oder said that "problems with stacking the modules and keeping water out made for a slower, more expensive build-out." When announced in 2012, the tower was planned as the world's tallest modular building.
Skanska was replaced by Krulak, a modular building component factory at the Brooklyn Navy Yard formed by Roger Krulak, a former Forest City executive.
In 2014, Forest City bought out its 75 percent equity partner, the Arizona State Retirement System, according to Mr. Oder's article, adding that "the tower, once expected to cost $155 million, could ultimately cost $265 million." Mr. Oder also is the author of the atlanticyardsreport.blogspot.com.
Forest City, which originally aimed to achieve about a 20 percent savings in construction costs and to cut 10 months from a 30-month construction schedule, eventually agreed to partner in 2014 with the Shanghai-based, government-owned Greenland Group, which decided that the next three towers would be built conventionally.
An earlier rendering had indicated that SHoP's two other buildings in the complex would be thematically related to the building but different in their massing with one being lower in scale and the other being significantly taller. Both buildings have similarly designed sections, but the 2014 decision to build the rest of the site conventionally may differ.
The Pacific Park complex was originally called the Atlantic Yards project and was planned to have 6,430 apartments of which 2,250 will be affordable and all the units will be modular.
The project is one block south of the landmark Art Deco-style Williamsburg Bank Tower and the Brooklyn Academy of Music and it is on top of a very major transit center.
A November 16, 2016 article by Rebecca Baird-Remba at newyorkyimby.com noted that 84,000 people had applied for the building's "affordable" units.
Bottom Line
A sprightly colored jumble of Lego parts, this impressive, 32-story apartment building is the first of several buildings that will form the backdrop for the large Barclays Center arena that is notable for its huge, sloping, donut-shaped marquee and dark, slithering, shingle-style skin, a fitting mascot for the new Brooklyn.
Description
The building has three major components.
A cherry-red base building along Flatbush Avenue is angled to align with Dean Street. Its façade consists of windows that have three of their four sides surrounded by the bright-red panels and the other side surrounded by a gray panel but some of the surrounds are slightly projected over the gray piers, which vary somewhat in width, giving the entire façade a subtle, shifting effect that suggests animation, eccentricity and considerable sophistication.
The base of the tallest component is dark grey and setback on Dean Street above a one-story retail base and is between the cherry red mid-rise section and a gray section that is slightly projected to the building line and rises three stories above the Flatbush Avenue section. It has a two-window fenestration pattern above its lowest two floors in which one window is taller than the other on alternate floors, creating an interesting and attractive tapestry effect.
The tallest component has pale blue broad windows with alternating sections with protruding angled wide mullions and thin protruding spandrels with each surround contained two windows in different configurations on the long sides and slightly protruded dark window surrounds in the center of the narrowed end façades. This component extends considerably over the cherry-red base component at an angle.
The building has discrete air-conditioners.
The building has 4,000 square feet of retail space and is designed to achieve LEED silver certification.
Amenities
The building has a 24-hour doorman, a fitness center, a lounge and game room, a yoga and dance studio, bicycle storage and a roof terrace.
Apartments
Every apartment has a washer and dryer, oversized, triple-glazed windows, brushed metal hardware, solar shades, wide-plank white walnut flooring, Caesarstone kitchen countertops, stainless steel GE kitchen appliances, and Toto toilets.
Apartment T on floors 12 through 20 is a one-bedroom unit with an entry foyer and a 28-foot-long living room with an open kitchen.
Apartment H on floors 12 through 24 is a one-bedroom unit with a 23-foot-long living room with an open kitchen.
Apartment E on floors 7 through 24 is a one-bedroom unit with an entry foyer that leads to a 21-foot-long living room with an open kitchen.
Apartment K on floors 6 through 11 is a studio unit with an angled entry foyer that leads to a 19-foot-wide, 6-sided, angled living room with an open kitchen.
Apartment D on floors 6 through 24 is a studio unit with a 22-foot-long living room with an open kitchen.