125 Riverside Drive: Review and Ratings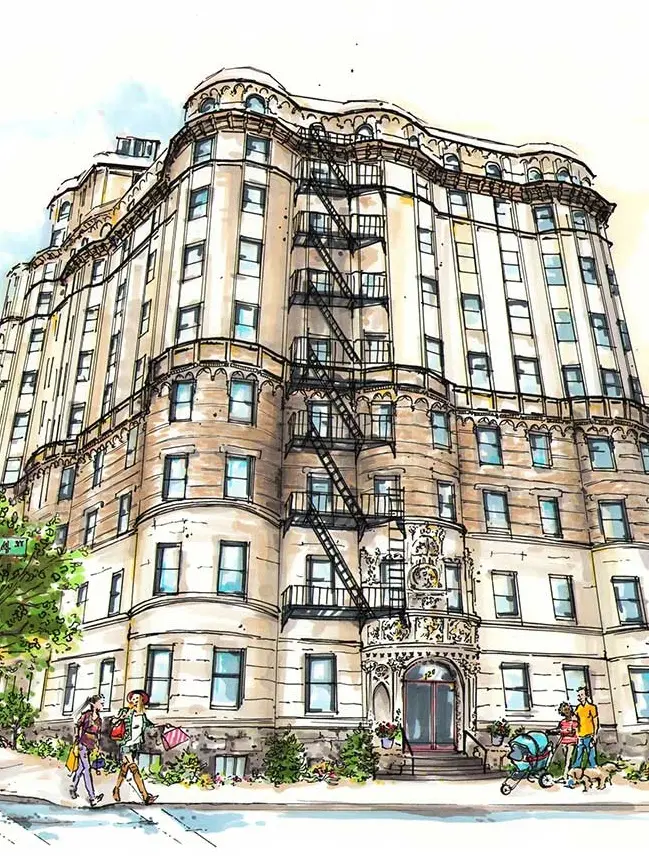 Review of 125 Riverside Drive by
Carter Horsley
This handsome, 12-story building at 125 Riverside Drive between 84th and 85th Streets was erected in 1907 and has 100 rental apartments.
It was built at the same time as the adjoining 9-story, 55-unit building at 120 Riverside Drive on the northeast corner at 84th Street with which it shares a common entrance and similar architecture treatment.
The buildings, which were designed by S. B. Ogden & Company and were once known as the Turrets Apartments, are owned by GreenOak Real Estate Partners. The buildings were purchased in 2014 by GreenOak and Thor Equities for about $85 million and GreenOak bought out Thor's interest in May, 2017 in a transaction that valued both buildings at a combined $190 million, according to a May 16, 2017 article at therealdeal.com by Mark Maurer.
Bottom Line
A distinctive 1907 building with large rounded window bays in living rooms and it has a 9-story south wing, 120 Riverside Drive with a shared entrance and very bold bandcourses.
Description
This 12-story north wing of this two-building complex is a deep light court entrance with a two-step-up entrance and two square-off limestone columns at its building line whereas its 9-story south wing has a four-step-up entrance on 84th Street and a fire-escape that is partially over its entrance surround. This wing does not have a fire escape.
The building has a one-story rusticated limestone base over a granite bottom and three thin stringcourses above the first, second and eighth floors.
There are very bold bandcourses above the 4th and 8th floors that are blank except for vertical extensions of the thin window surrounds.
The second-floor façade is also limestone and the light-brown third and four stories have ribbed rusticated. The upper floors have a beige-brick façade with continuous, narrow and vertical surrounds.
The top floor has arched windows beneath a small scalloped cornice.
It permits window air-conditioners.
Amenities
The building has a 24-hour doorman, a live-in superintendent and a laundry.
Apartments
Apartments have washers and dryers and high ceilings.
Apartment 8AB is a four-bedroom unit with a large living room, a windowed dining room and a long, windowed kitchen.
Apartment 10A is a three-bedroom unit with a great room with an open kitchen.
Apartment 6D is a two-bedroom unit with an entry foyer that leads to a large living room and a large, windowed kitchen.
Apartment 5EX is a three-bedroom unit with an entry foyer that leads to a 18-foot-wide living room and a 14-foot-long, enclosed and windowed kitchen.
Apartment 60130 is a one-bedroom unit with a 20-foot-long living/dining room and an open kitchen.