Ariel West at 245 West 99th Street: Review and Ratings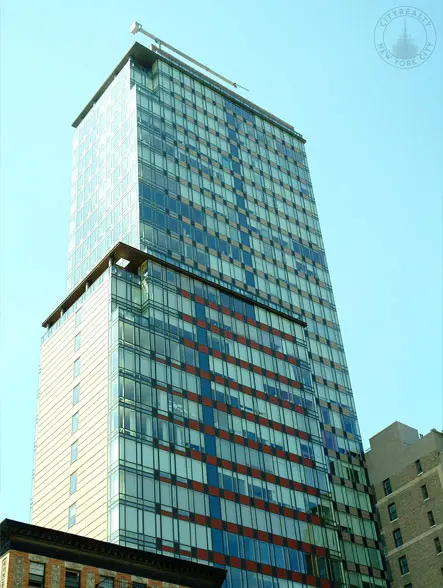 Review of 245 West 99th Street by
Carter Horsley

Carter B. Horsley, a former journalist for The New York Times, The International Herald Tribune and The New York Post. Mr. Horsley is also the editorial director of CityRealty.com.
Ariel West is one of two tall residential condominium towers erected in 2007 by the Extell Development Company across from one another on Broadway between 99th and 100th Streets.
It is a 31-story tower with 73 apartments at 2633 Broadway and it was designed by Cook & Fox. It has a few setbacks and a slab form. It is a mid-block site that was formerly occupied by a Gristede s store that collapsed during demolition injuring several pedestrians.
It is across Broadway from Ariel East, which is 37 stories and has 64 apartments and was designed by Cetra/Ruddy. It has 7 setbacks facing Broadway and is distinguished by its reflective-glass façade with red "piping" accents.
Extell names many of its projects after stars.
The two towers, which were completed in 2007, have significantly altered the northern skyline of the Upper West Side that heretofore has been dominated by the Riverside Church at 120th Street and Riverside Drive, the Master Apartments on Riverside Drive at 103rd Street and the Columbia Apartments at 275 West 96th Street.
The two Extell towers created considerable controversy and led to a rezoning of 51 blocks between 96th and 110th Streets where building heights were limited to 145 feet on Broadway and the transfer of air rights from side-streets was forbidden.
A March 5, 2006 article by William Newman in The New York Times said that Extell bought 19,148 square feet of development rights for Ariel West in April, 2006 from the owners of four townhouses on 99th Street west of Broadway.
The article said that "the owners' lawyer, Gary R. Tarnoff, said he was able to get Extell to agree to several concessions that benefited his clients, including an agreement that the developer would try to place a garage entrance away from their property," adding that "they were paid a total of $2.72 million." The price paid by Extell per square foot of development rights ranged from $132 to $148 and two of the townhouse owners retained 500 square feet of air rights for possible later additions to their houses.
A May 15, 2011 article by Vivian S. Toy in The New York Times reported condominum apartment owners in the building voted 47 to 3 to ban smoking inside the apartments. There are 68 owners in total; 46 votes constituted the supermajority required to change the bylaws.
Even smokers who moved into the building before the ban must abide by it. The building is one of the first in the city to approve such an extensive ban. (Several rental buildings introduced bans in 2010, but established tenants who smoked were not affected.)
"Even though people bought into this building thinking they could smoke," said Gideon Stein, the president of the condo board at Ariel West, "people do not have a constitutional right to smoke," the article said.
"That said, the three-year-old building is not about to become a police state. Enforcement will be complaint-driven, and no one will be knocking on doors or sniffing out smokers. Smoking could, however, quickly become an extremely expensive habit, since the first complaint will draw a $150 fine, and the fine for each succeeding complaint will increase by $150," the article said.
"The idea is obviously a controversial one," said Bruce Littlefield, who lives in a two-bedroom apartment in the building and who voted for the ban, "because people's domain is their home, and they certainly should be able to enjoy what they do within the walls of their home. But sometimes what people do seeps outside their walls and into other people's environment, and it becomes a quality-of-life issue....Smokers know not to ask anymore, 'Can I smoke in your house?' That's so last decade," the article continued.
The fact that the Ariel West is made up mainly of family-sized apartments with three or more bedrooms, and that it has more than 100 children under 16, probably helped make the ban easier to pass. Extell also developed the Orion at 350 West 42nd Street and the former Stanhope Hotel at 985 Fifth Avenue and Altair 18 and Altair 20, condo conversions in Chelsea at 32 West 18th Street and 15 West 20th Street, respectively. Gary Barnett, a principal of Extell, was a principal in the recent purchase of a large property at the southern end of Riverside South, the huge development by Donald Trump.
Book a Tour or Get More Information on this Building
39 Buyers
are interested in buying at
245 West 99th Street!
Interested in Selling?
We'll introduce you to the agents that
specialize in 245 West 99th Street and are
experts in selling apartments there.

And they'll be able to contact all of the buyers interested in the building.
There's no obligation and your inquiry is confidential.
Call us at (212) 755-5544