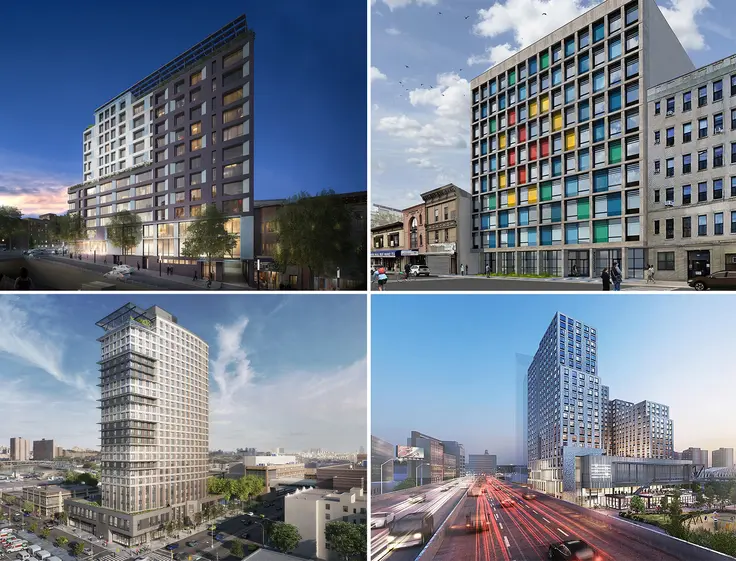 In the Tremont section of the Bronx, a 96-unit affordable and supportive housing development at
2050 Grand Concourse
has topped out construction at 13 stories high.
The building is being developed by
Robert Sanborn Development
and
Unique People Services
, a Bronx-based non-profit that offers transitional and permanent housing for formerly homeless persons with special needs, services for adults with developmental disabilities, and affordable housing. Indeed, the 10,000-square-foot community facility component in this new building will be the new headquarters of Unique People Services. The building will also offer community community amenities like access to free WiFi and conferences, training, and indoor and green event space.
Upstairs, 96 apartments will provide a mix of supportive and affordable housing with 63 studios, 26 one-beds, and seven two-beds. All units will have such environmentally friendly features as LED lighting, Energy Star appliances, electric stoves, and low-flow plumbing fixtures. Residential amenities will include a bike room, a central laundry room opening up to a landscaped outdoor terrace in the rear yard, and a 13th-story community room which opens up to two landscaped roof decks. Criteria and income levels for the apartments are not yet available, but a list of current affordable lotteries may be found
here
.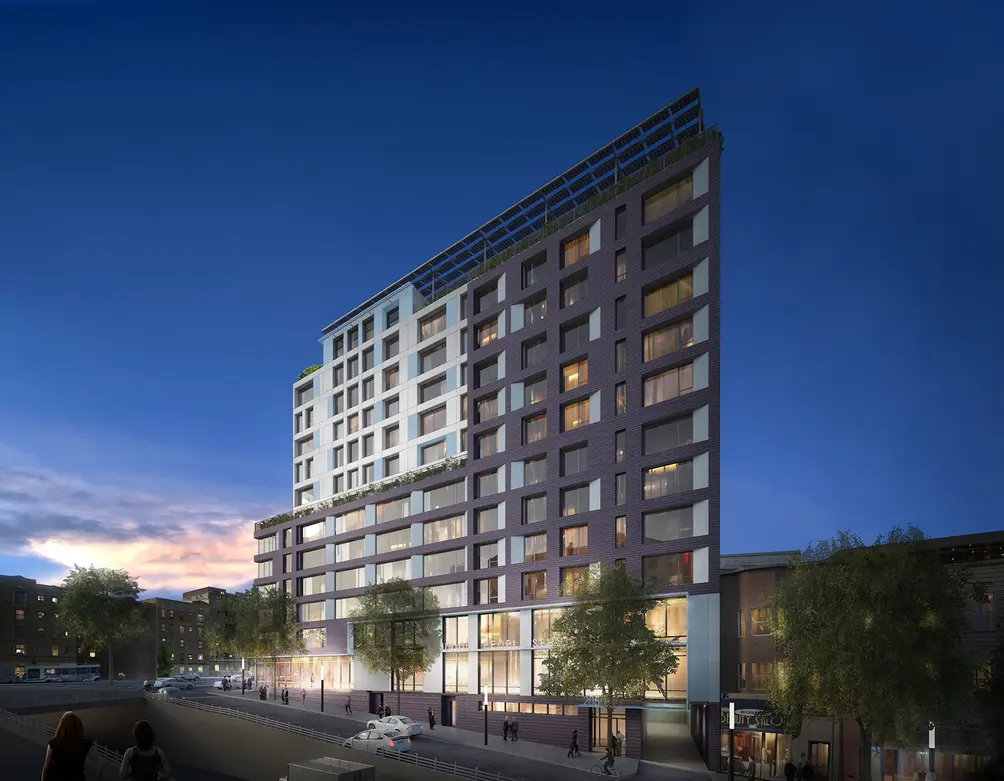 "Because the services provided by UPS are integral to the community, architecturally the building needed to reflect this important relationship. The large window walls facing E. Burnside evoke feelings of transparency, openness, and welcoming. They also give light back to the neighborhood in the evening." -Fernando Villa, AIA, LEED AP BD+C Principal, Magnusson Architecture and Planning
The design by
Magnusson Architecture and Planning
(MAP) presents a contemporary take on Art Deco architecture with a brick facade, corner windows, angled planes at window openings, and varied base heights accentuated by contrasting materials. It is underscored by commendable sustainable features such as a high-performance building envelope, heat pump heating and cooling, Energy Recovery Ventilators for common areas, a landscaped rear yard and planted roof with stormwater retention systems, and a rooftop solar PV array to offset electric usage. The building is slated for LEED Platinum certification and is already a NYSERDA Building of Excellence Award winner.
"We are appreciative of our tremendous group of funders for helping us make this building a reality and gratified by the way the community has received us. We are excited about the future here at 2050 GC and look forward to welcoming its' new residents and community members for essential programs and services." -Yvette Brissette-Andre, MPA Executive Director, Unique People Services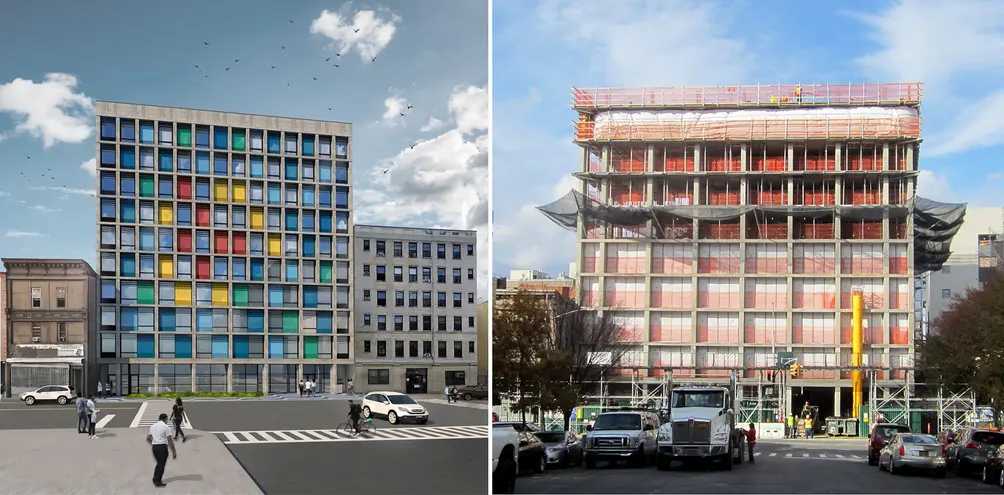 The milestone at 2050 Grand Concourse is one of many new mixed-income developments taking shape in the South Bronx. A short time ago, construction topped out on
425 Grand Concourse
, North America's largest Passive House to date and the future home of 277 affordable housing units. An eye-catching new building designed by
Alexander Gorlin Architects
is taking shape at Third Avenue and 166th Street, and will bring 150 new supportive housing units upon completion. Finally, construction is set to begin on
Bronx Point
, a massive new development that will include over 500 housing units reserved for low-, moderate-, and middle-income households.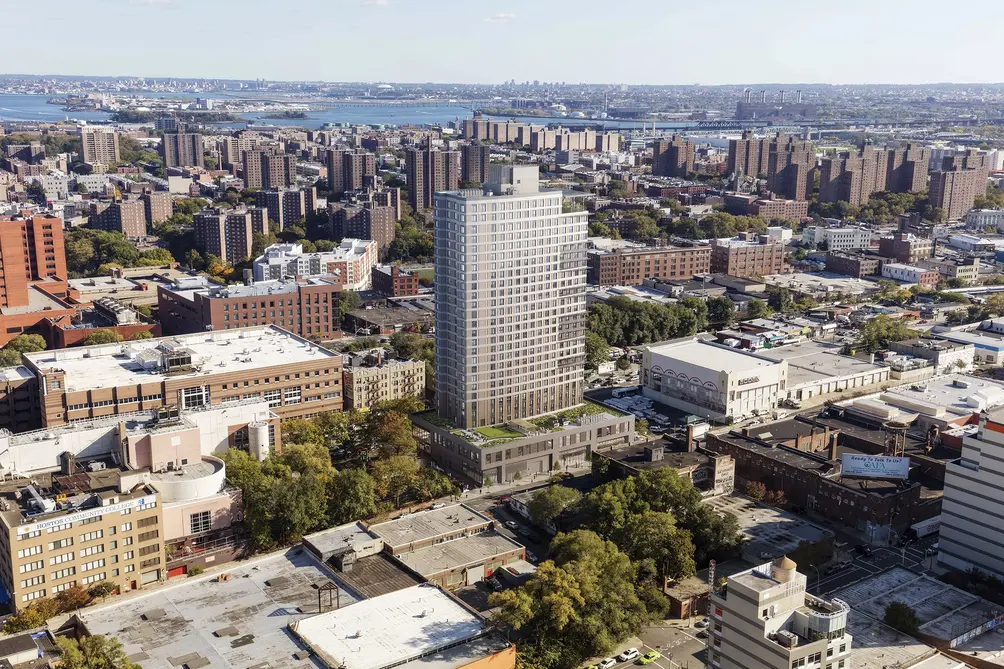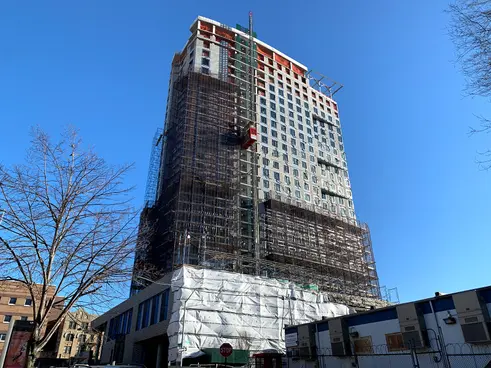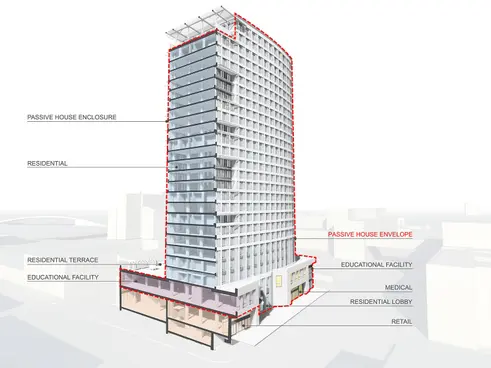 This influx of affordable housing comes at a time when New York's need for it is greater than ever. At the beginning of the year, the Independent Budget Office
predicted
that New York's full economic recovery is years away, and according to
Forbes Advisor
, limited housing supply and lagging wages are driving people away from major metropolitan areas like New York.
Housing was always going to be an important issue in New York's upcoming mayoral election, but the coronavirus pandemic has driven the point home and inspired the candidates. Brooklyn Borough President and mayoral candidate Eric Adams observes that areas like Midtown seem built for an era that no longer exists, and calls for an aggressive plan that rapidly builds new affordable housing while protecting existing affordable units. Shaun Donovan was the Secretary of the Department of Housing and Urban Development during the Obama administration, and now lists "affordable, healthy, and safe housing for every New Yorker" among his priorities as mayor. Ray McGuire's Comeback Plan calls for a massive infrastructure program that will create jobs, and the construction of new affordable housing is part of it.

In mayoral candidate Scott Stringer's time as New York City Comptroller, he has identified over 1,000 vacant city-owned lots that could be used for affordable housing. Maya Wiley recognizes that housing is one of the greatest expenses New Yorkers face, and suggests expanding the city's affordable housing stock by converting tax liens, buying up properties left behind in the coronavirus pandemic, and stimulating more non-profit housing development. Andrew Yang would allow communities to lead the charge in creating rezoning and development plans so as to maintain their identity while expanding affordable housing stock, and calls for a greater co-living and single-room occupancy (SRO) living spaces, saying this would allow individuals to find housing that works for their lives and budgets.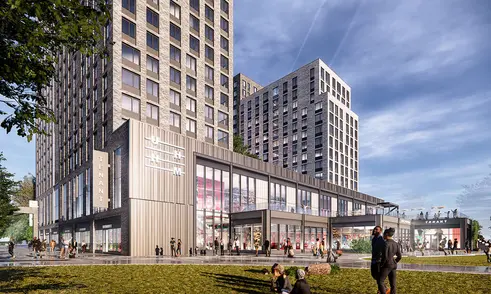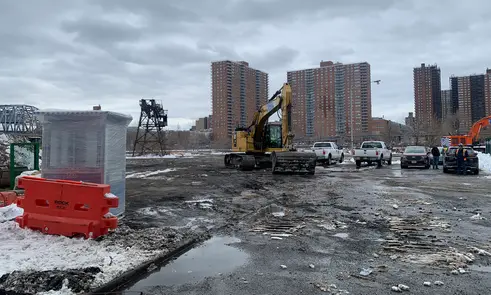 Additional Info About the Building