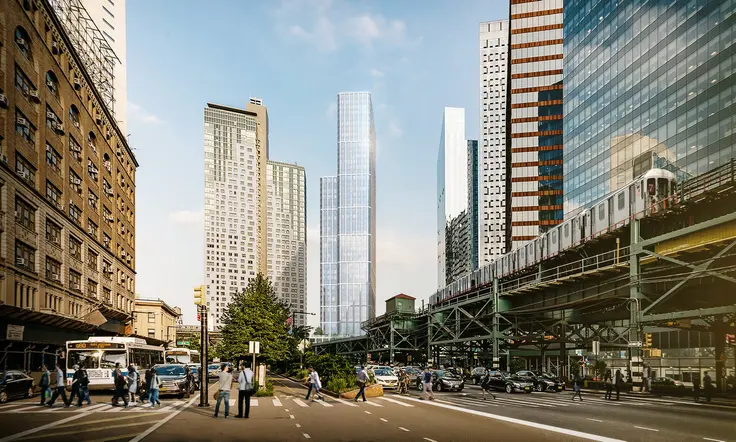 When it comes to open lots in
Long Island City
's booming
Court Square
district, the question is not if, but rather when they would be redeveloped, how high the future tower would climb, and what type of occupants it will hold. A few days ago,
Modern Spaces
launched marketing for one such site, a vacant lot at
30-25 Queens Boulevard
at the eastern end of Queens Plaza. The
new website
markets the 25,177-square-foot ground lot under a tentative name of
QPX
, where current zoning allows for a mixed-use skyscraper measuring up to 419,428 square feet and rising 50 stories or higher.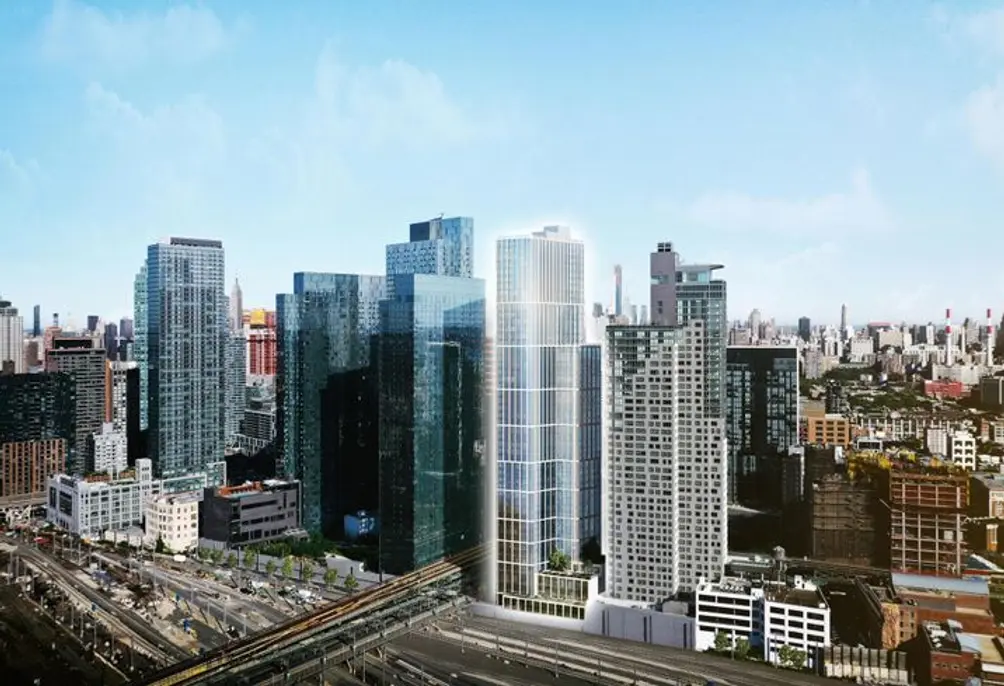 Before the ongoing construction boom, much of central Long Island City consisted of parking lots, dilapidated buildings, and other marginal commercial and industrial space. With a gas station, a commercial townhouse, and a ground lot, the QPX site was similarly underused, despite sitting at one of the most important junctions in Queens, at the meeting point of Jackson Avenue, Queens Boulevard, Northern Boulevard, and Queens Plaza at the foot of the Queensboro Bridge. Even as shiny new towers began to rise all around in recent years, the fenced-in lot sat fallow (aside from a temporary parking lot), as owners evidently bided their time in anticipation of rising land values.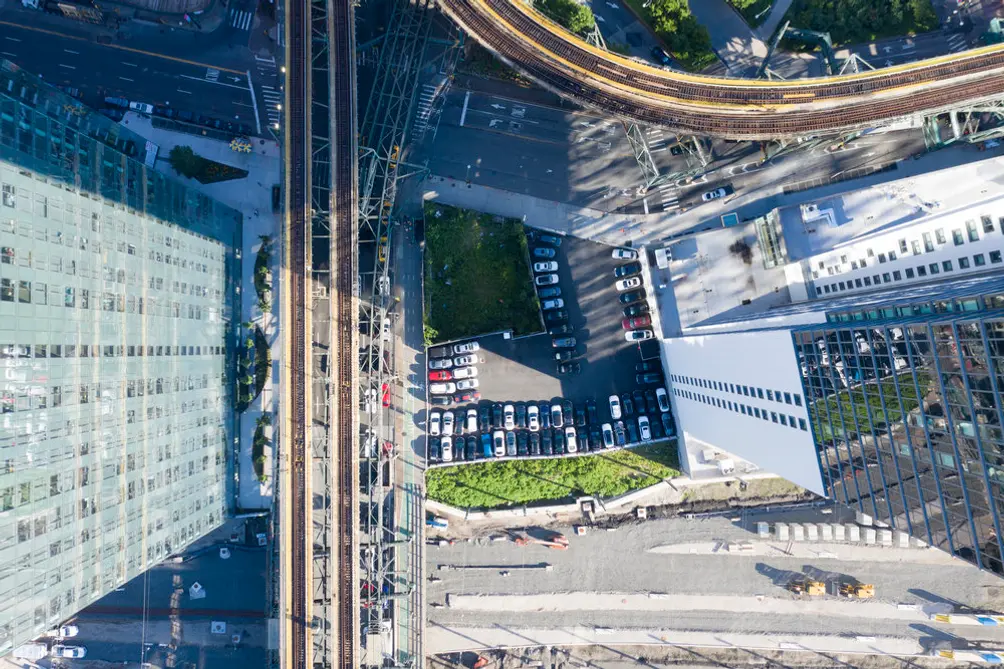 The waiting game paid off in spades. Over the span of several years, Long Island City has added a staggering amount of apartments - around 10,000 - with thousands more on the way, as well as over a million square feet of office space and hundreds of hotel rooms. New announcements of luxury development are becoming common place, with
Hero LIC
,
One LIC
,
Crescent Iron House
, and
CORTE
as just a small sample from the past few months. A surge of new restaurants, bars, and shops are opening in the wake of the development boom, bringing vibrant pedestrian activity to formerly forlorn blocks.
New development capitalizes on the neighborhood's unique advantages - multiple subway lines, five- to ten-minute commute to Midtown, location at the foot of the Queensboro Bridge, and recent rezonings that have allowed for unusually tall and dense development. But despite a rapidly-rising tower forest, QPX will maintain clear sightlines of the Queensboro Bridge thanks to its position at the foot of Queens Plaza. In addition, QPX sits next to the entrance to the Queens Plaza Station with the E, M, and R trains, and two blocks away from the Queensboro Plaza station with the 7, N, and W trains.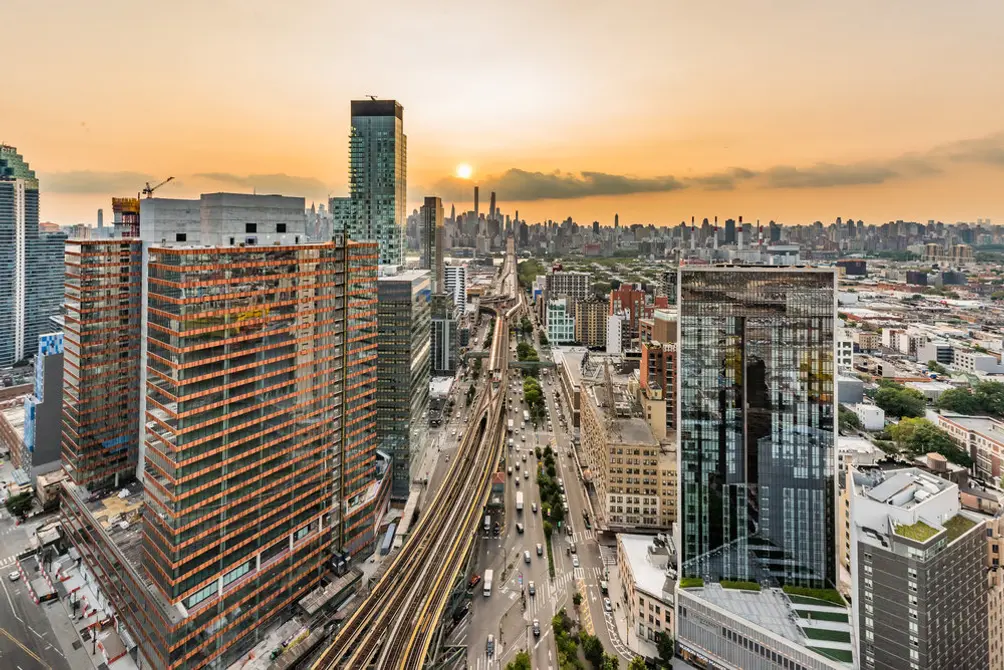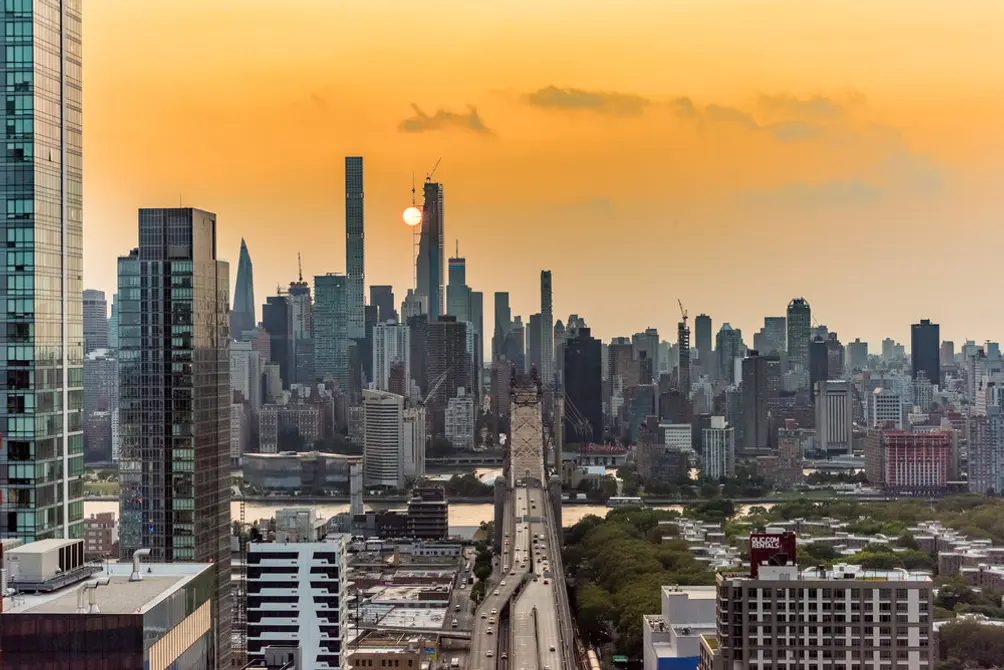 Preliminary renderings show a shiny, modern high-rise, yet not only does the building's eventual look remain uncertain, but so does its use. The site's zoning allows for a building that may be residential, commercial, hotel, or any combination thereof, and whichever combination would-be developers prefer is purely speculation at this point. On one hand, the majority of the area's new buildings comprise rental apartments (
here's CityRealty's pick of LIC's Top 20 Luxe Rentals rundown
), with more still on the way, such as the two-tower, 1,115-unit
5Pointz
complex nearing completion a few blocks south. Then again, the local condo market is seeing an unprecedented surge, with the nearby
Skyline Tower
, named the
Building of the Year 2018 by 6sqft
, shattering
height
and
sales records
alike and the even more closely-situated
Independent
converting from
rentals to luxury co-ops
just two years after its 2017 completion. Furthermore, the two-towered
JACX
complex nears completion across from QPX, which will bring 1.2 million square feet of office space next to the the 22-story, 637,000-square-foot
Two Gotham Center
office tower.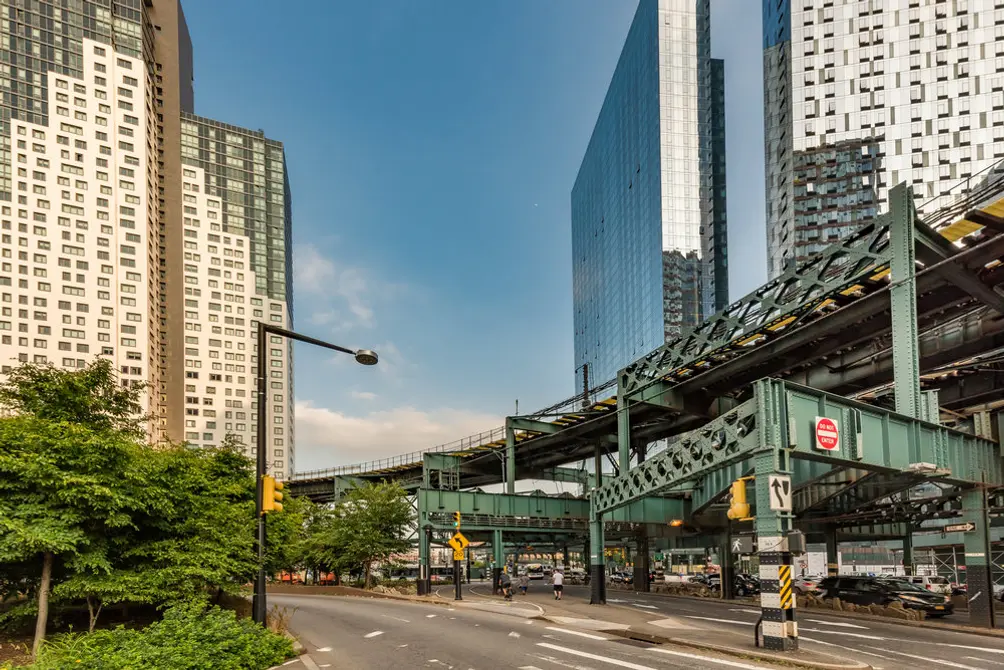 For a better look at development possibilities we ought to look at QPX's neighbors. A decade ago, a formerly desolate parking lot at Queens Plaza's eastern terminus has transformed into tree-lined
Dutch Kills Green
. Today the Green is ringed by the
Aurora
, an angled, 30-story glass-and-concrete slab with 132 rental units above a hotel, completed in 2016; the above-mentioned JACX office development; the freshly-minted skyscrapers at
One
,
Two
, and
Three Jackson Park
, three glass slabs with over 1,800 rental units enclose a private park; the 43-story,467-unit
ALTA LIC
rental next to the QPX site; and the 67-story, concave-glass
Sven LIC
under construction behind the landmarked clock tower of the
Bank of Manhattan
. Nearby development is so dense that even the QPX
promotional video
struggles to fit all relevant tags into one aerial shot.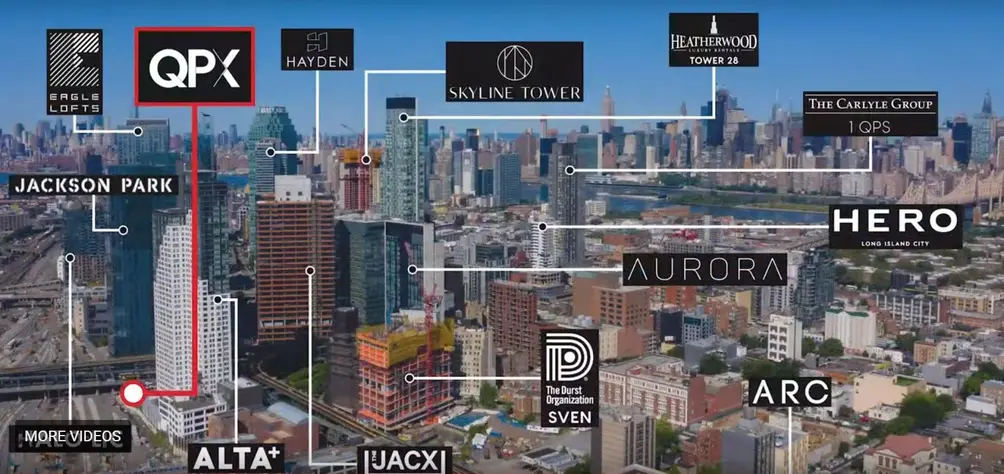 The local bouquet of mixed-use buildings offers not only fodder for real estate discourse and speculation, but also the very tangible benefit of creating a vibrant, round-the-clock community where residents arrive as office workers file out, and hotel-staying visitors add further urban spice. Furthermore, the QPX site faces the massive Sunnyside Rail Yard, where city agencies envision
capping with a deck and a new neighborhood
several times larger in land area than Hudson Yards.
Though all plans for QPX, even the name, remain tentative, what is certain is that whatever building eventually rises here will be tall, well-sited, and a positive contributor to one of New York City's fastest-growing neighborhoods.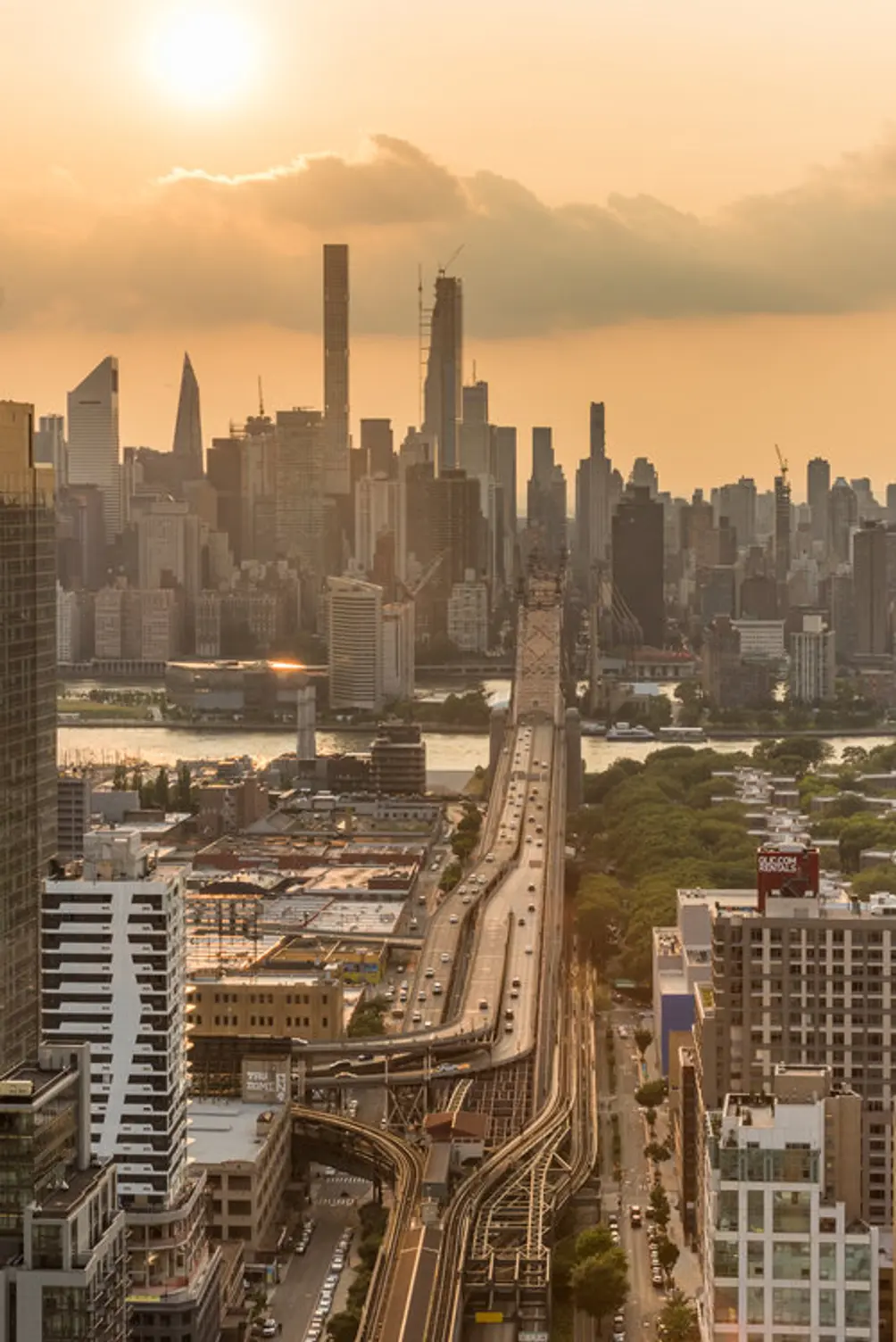 Additional Info About the Building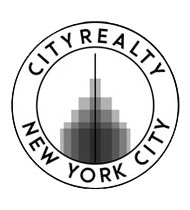 Content & Research Manager
Vitali Ogorodnikov