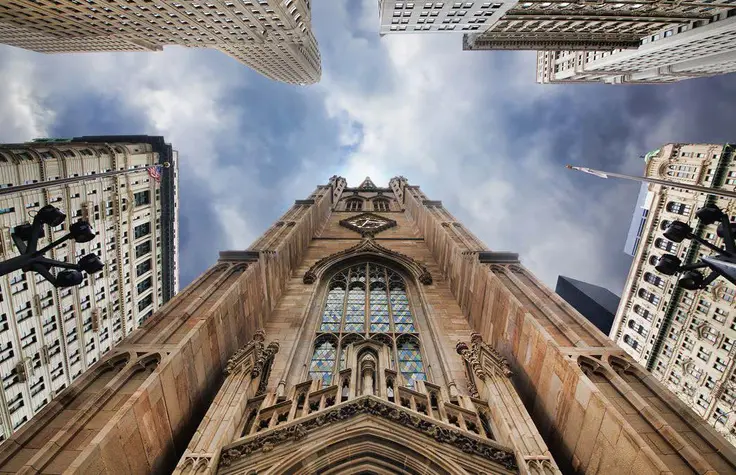 With New York City's planned Phase 1 reopening just days away, one would think the city would be euphoric after weeks on lockdown. However, in the wake of George Floyd's murder in police custody, the city's current mood is anything but. A curfew has been imposed after days of demonstrations and unrest.
New details revealed for outdoor dining in NYC
Whispers about closing New York City streets to car traffic and opening them up to pedestrians and restaurants have been getting louder for weeks, and have now reached a full shout: On Wednesday, Governor Andrew Cuomo announced that outdoor dining would be allowed in Phase 2 of the city's reopening, as opposed to Phase 3. The very next day, the City Council introduced a
bill
that would require the Department of Transportation to identify streets and public plazas that could be used for outdoor dining, and guarantee outdoor cafe licenses to restaurants in areas already zoned for this. On that same day, Mayor de Blasio released a
preliminary plan
.
According to city guidelines, all seating must be accessible, spaced six feet apart, and not near intersections, fire hydrants, or bus stops. Servers and customers must wear face coverings, and the restaurants are responsible for providing their own barricades, planters, tables, and chairs.
Greenpoint gets ready to welcome a drive-in movie theater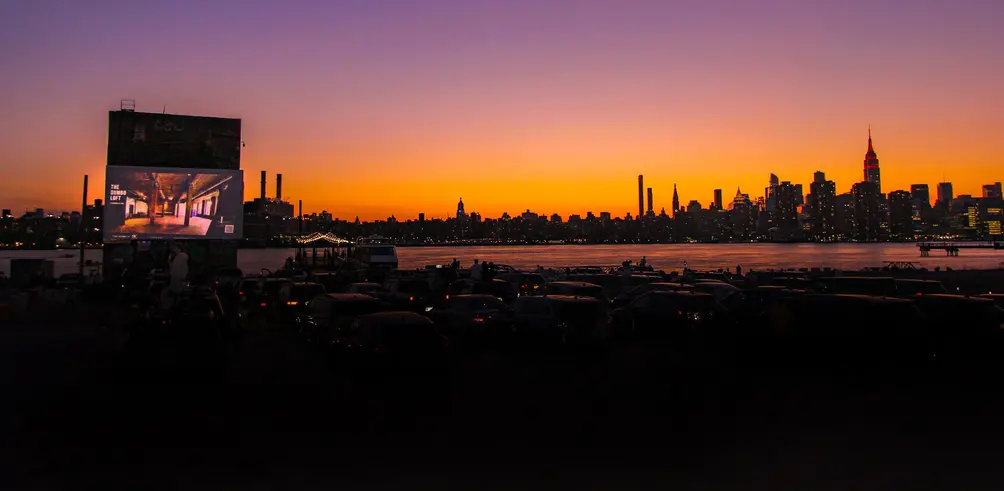 In a typical summer, New Yorkers would be making plans to see movies in parks and public plazas throughout the five boroughs. Public gatherings like this may be on hold for the moment, but movies are not: As
Brooklyn Vegan
reports,
Skyline Drive-In NYC
will open by the Brooklyn Expo Center at
1 Oak Street
. Moviegoers are encouraged to bring their own food from home or their favorite restaurants. There will also be an outdoor seating area for pedestrians. However, it remains to be seen whether the cinematic offerings can compete with the spectacular views of the East River and the Manhattan skyline.
Landmarks approves new window at Trinity Church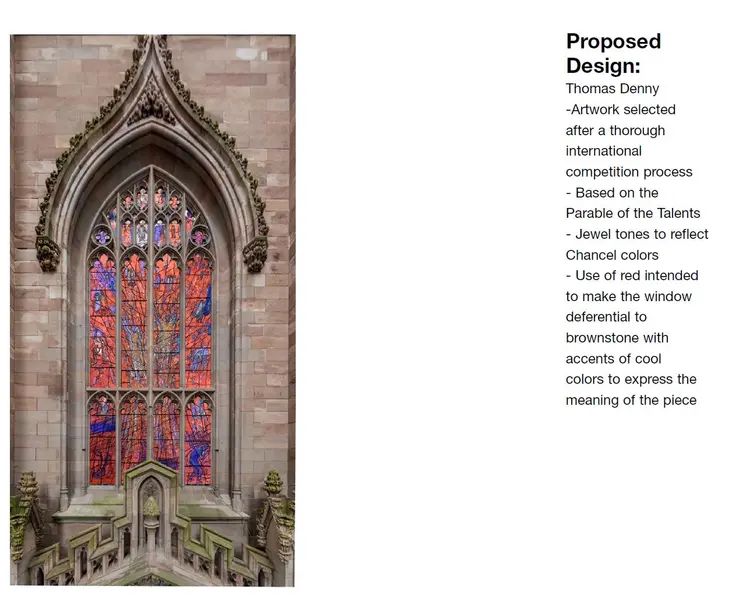 Enlarge Image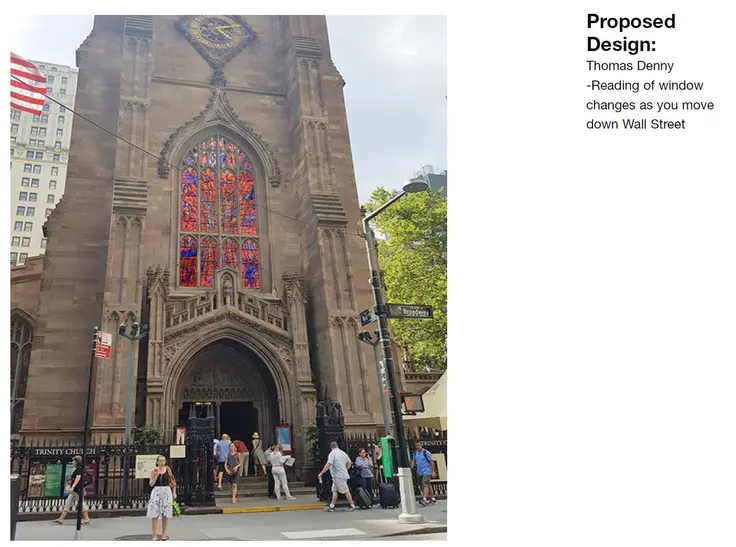 Enlarge Image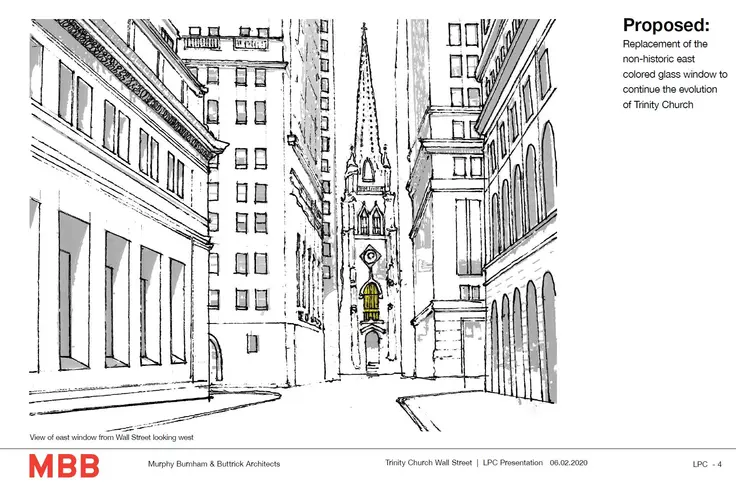 Enlarge Image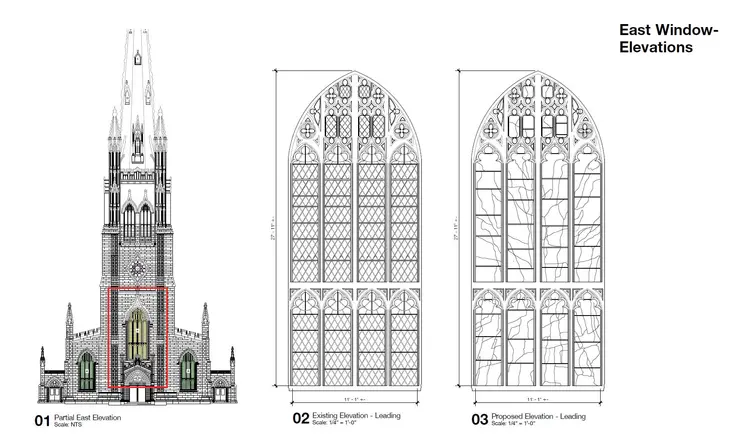 Enlarge Image
On Tuesday, June 2, the Landmarks Preservation Commission ("Landmarks") heard a proposal to replace a multi-story stained glass window above the entrance to Trinity Church, located at 75 Broadway. This is part of a comprehensive rejuvenation project, and the window in question showed signs of deterioration. The new design was inspired by the Bible's "Parable of Talents," which tells us to use our God-given talents in service of the greater community. Artist Thomas Denny was chosen in an international competition; his use of jewel tones reflects the chancel colors, and the red was chosen in deference to the brownstone.
While Trinity Church is an individual landmark, the window in question is non-historic. Indeed, a
presentation
by
Murphy Burnham & Buttrick Architects
notes that all the church's stained glass windows are representative of their eras of creation, and cites examples throughout the city of historic churches that replaced their windows with modern designs (Grace Episcopal, Marble Collegiate, and First Presbyterian Churches among them). Manhattan's Community Board 1 recommended approval, and the only quibbles in public testimony were that a British artist was chosen for this American institution. It should be noted here that Landmarks does not have the power to regulate the artist.
Commissioner Frederick Bland was recused from the hearing, as he is a member of the Vestry of Trinity Church, but all his Landmarks colleagues spoke highly of the new window. Commissioner John Gustaffson thought that the new design would enhance the original landmark, and Commissioner Michael Devonshire commented that it was refreshing to be voting on figural glass in a church, as opposed to yet another church-to-condo conversion. It was unanimously approved.
Mark your calendar for Manhattanhenge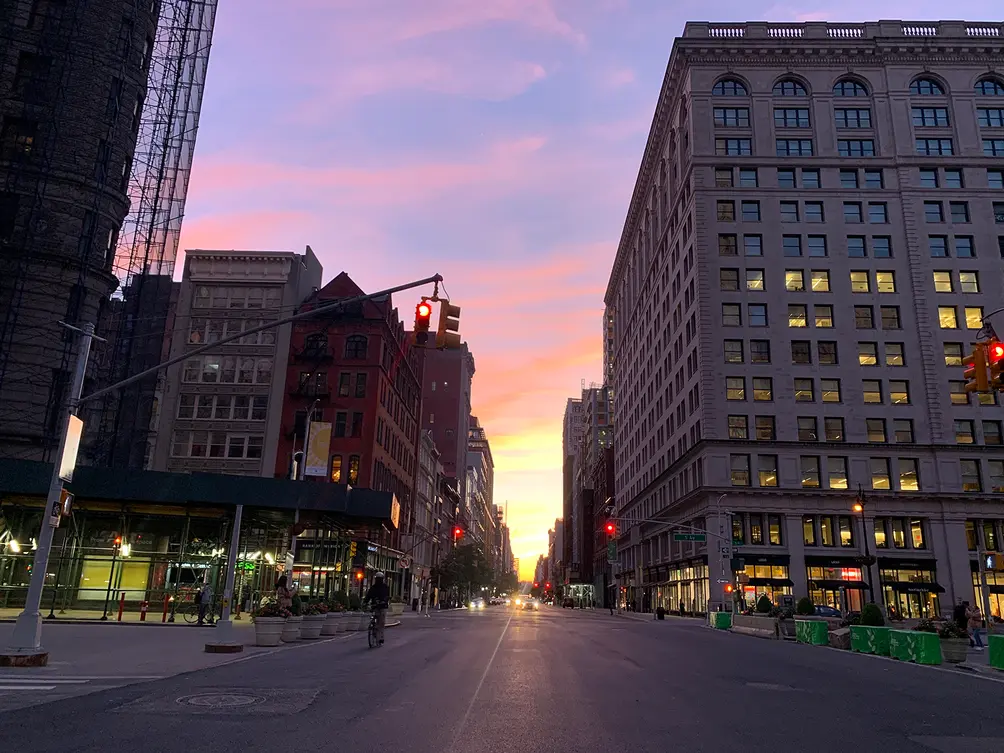 From
Mostly Mozart
to
Shakespeare in the Park
, many of the summer events New Yorkers look forward to all year long have been cancelled this year due to the coronavirus pandemic. However, one much-anticipated event remains firmly on the calendar:
Manhattanhenge
, a magical moment where the sun aligns perfectly with Manhattan's street grid to bathe the city in a beautiful glow. This year's phenomenon occurred for the first time at the end of May, but there are two more chances to make the most of it:
Sunday, July 12
at 8:20 p.m. (full sun) and
Monday, July 13
at 8:21 p.m. (half sun). P.S. If you live in a borough with a different street grid, use this
map
to find your own henge days!
New York's garbage reveals increased drinking at home on lockdown
With New York City less than a week away from a planned Phase 1 reopening, new details have
emerged
about what those who stayed in the city did at home. Some took advantage of the time to take care of long-deferred spring cleaning or de-clutter their homes to make way for a suddenly needed home office. Others indulged in online retail therapy, as a large number of cardboard delivery boxes shows.
Chief among these activities, though, is drinking at home: One Manhattan superintendent said he has put out nearly triple the number of clear glass bottles - "Wine, vodka, whiskey" - for recycling as he did before the lockdown. This is one trend that may stay with us for some time: Liquor laws were loosened to allow bars and restaurants to offer "to-go cocktails" along with food during this time, and State Senator
Brad Holyman
has introduced a
bill
that would make these offerings legal even after restaurants start to reopen for dine-in service in Phase 3.
Greenwich Lane apartment owned by Robby Browne at the top of last week's contracts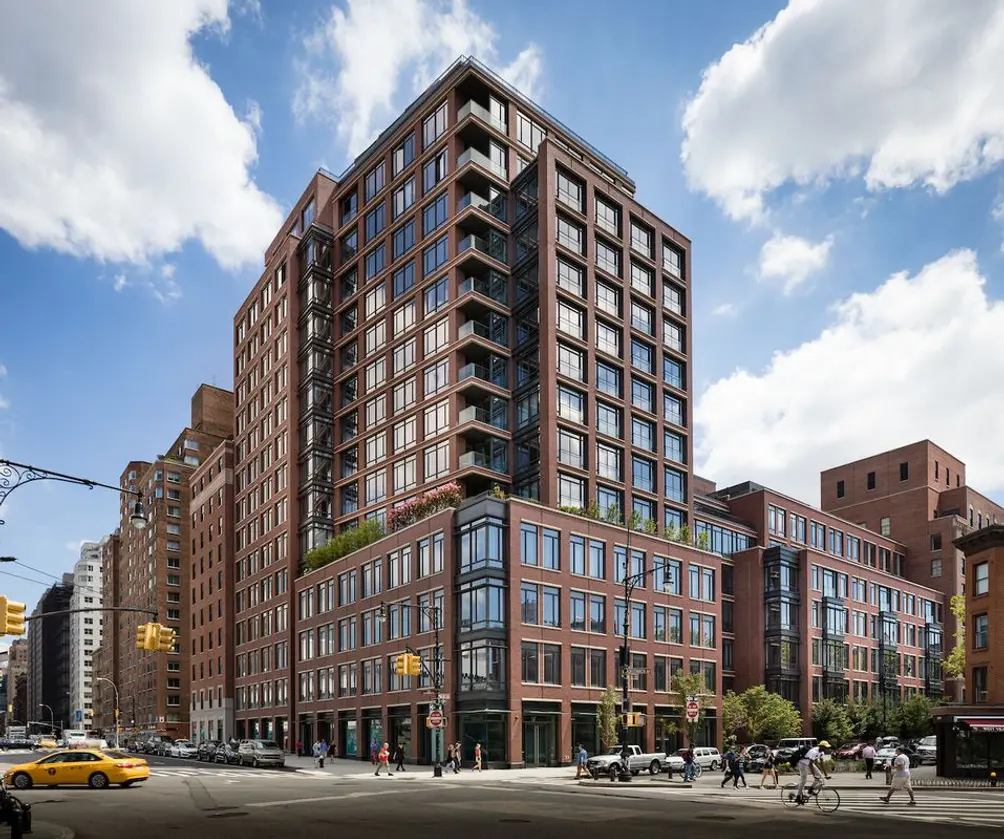 In the second-highest weekly total of May 2020, Olshan Realty's
market report
states that five contracts were signed for apartments $4 million and up from May 25-31. These figures bring May 2020's totals to 16 contracts signed at $4 million and up, and only one over $10 million. This stands in stark contrast to last May, when 111 contracts over $4 million and 27 over $10 million were signed.
The top contract of the past week was an off-market condo at
The Greenwich Lane
, asking $7.25 million and sold by the estate of
Robby Browne
, a broker and philanthropist who died of COVID-19 in April. Mr. Browne purchased the home for $6.6 million as an investment in January 2017, and a spokesperson said this was emblematic of his penchant for buying apartments in buildings he believed in. The new buyer had visited the building before, but bought this particular unit off photos and floor plans.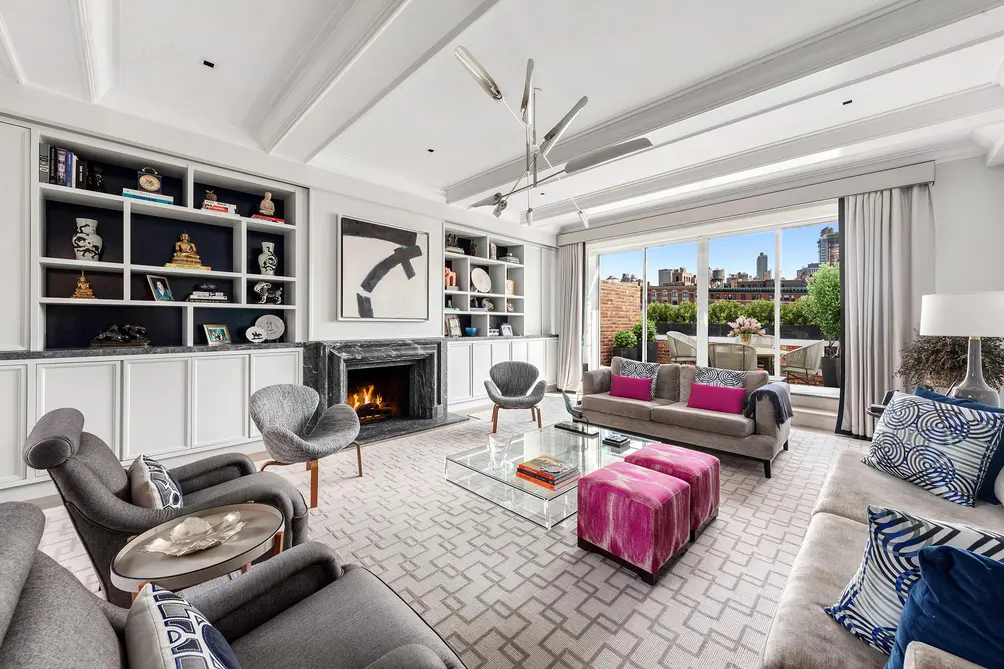 The second-highest contract of the past week took place at
1100 Park Avenue
, where #16B, a
newly listed
and recently gut-renovated four-bedroom co-op, sold almost immediately, reportedly entering contract close to the asking price of $6.95 million. Its buyers had not seen this particular apartment, but were familiar with the building through friends, and cited the massive terrace as a deciding factor. Indeed, outdoor space was a factor in the decision to sell as well: The owner, who originally purchased the apartment for $4 million, was living in his second home in the Hamptons as New York entered lockdown; he later bought a house in Scarsdale, motivated by more space for his three sons to play outside.
Additional Info About the Building