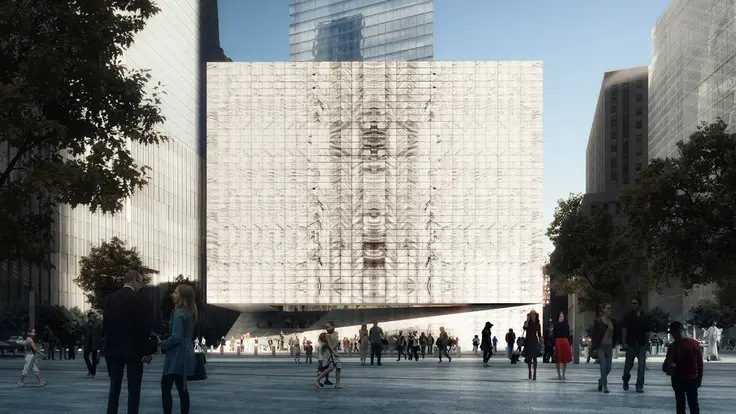 The
Ronald O. Perelman Performing Arts Center
at the World Trade Center will soon become a celebrated hub for dancers, musicians, and orchestras, but for the time being the site is hosting a construction crew. Since emerging above ground in spring 2018, the edifice's structural steel has climbed three stories above lower Manhattan's central public space.
REX
is the architectural force behind The Perelman Center, commissioned to design a new kind of arts space for the next generation of audiences and artists. With respect to the neighboring 9/11 Memorial, the firm's design channels a surprising and enticing "Mystery Box" intended to enhance the vital energy of the neighborhood while defying expectations.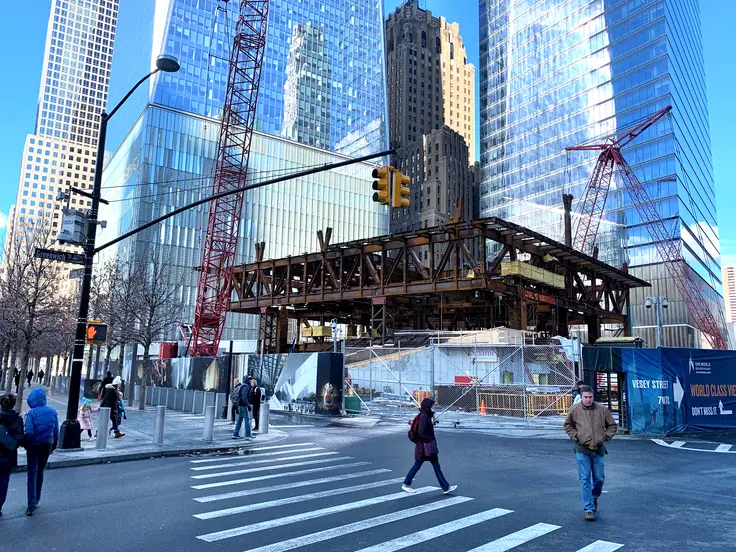 Enlarge Image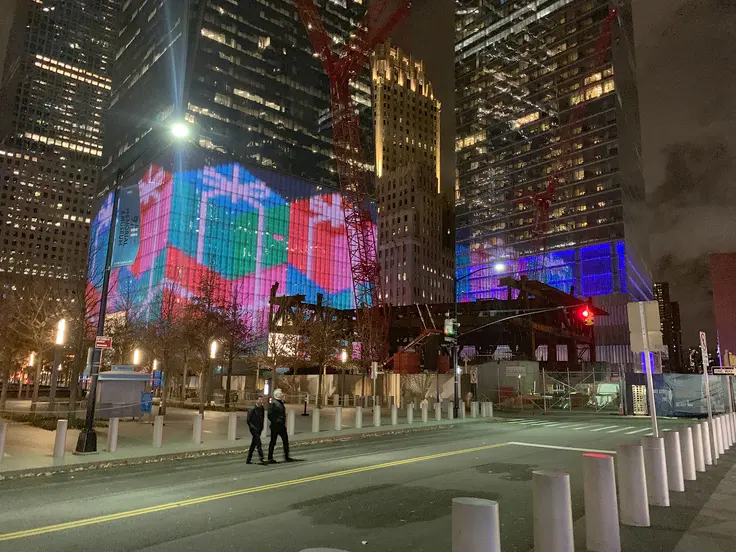 Enlarge Image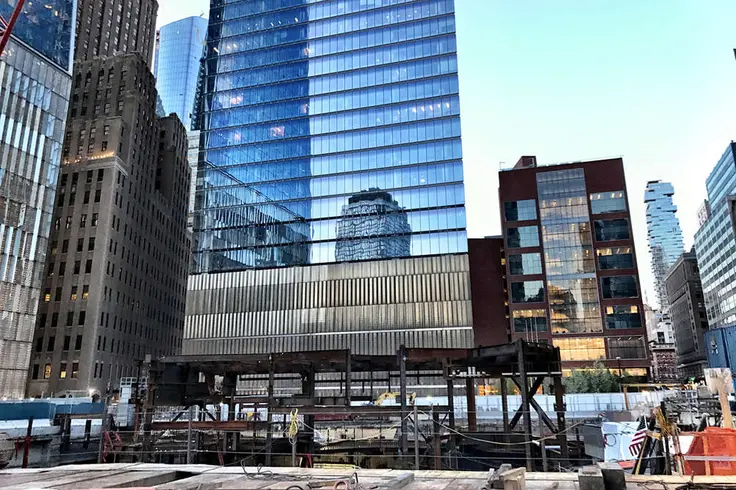 Enlarge Image
Enlarge Image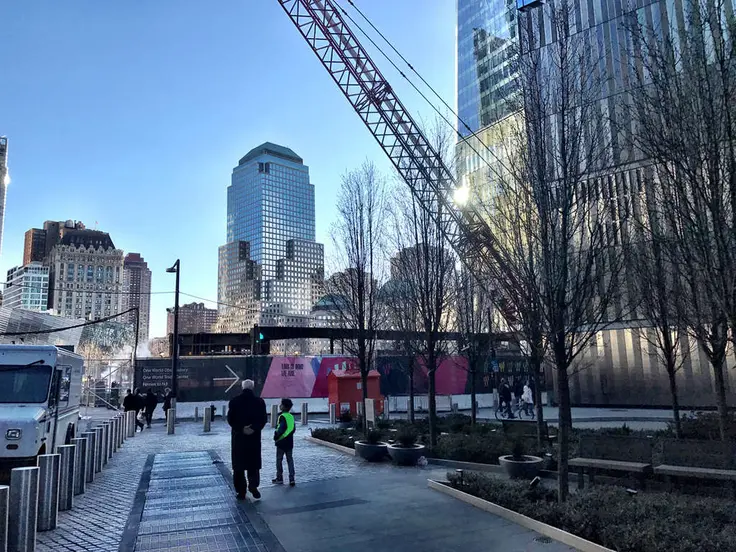 Enlarge Image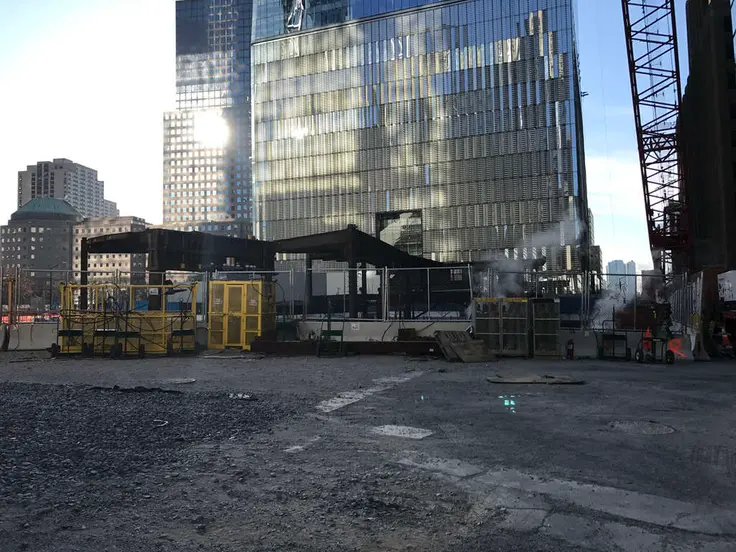 Enlarge Image
The façade will be clad in the same marble that graces the U.S. Supreme Court building and the Jefferson Memorial. The resulting structure will appear bright and white when light shines directly on it, and present a warm and inviting amber glow when light filters through its surface. These translucent stone panels will be integrated into insulated glazing and supported by long exposed steel mullions, allowing light to diffuse through in both directions. Recognizing that the artists and technicians setting up for performances may spend over twelve hours doing so, the architects strategically implemented these acoustic glass walls to ensure an influx of natural light.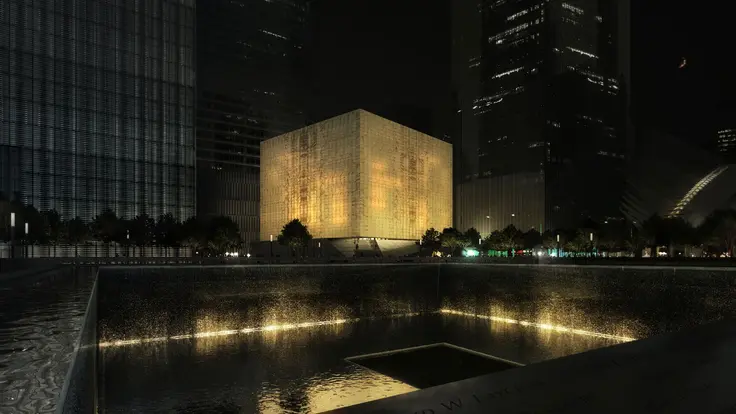 Enlarge Image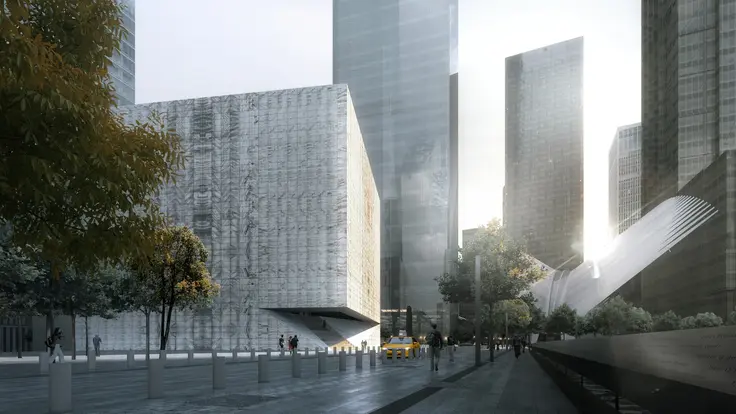 Enlarge Image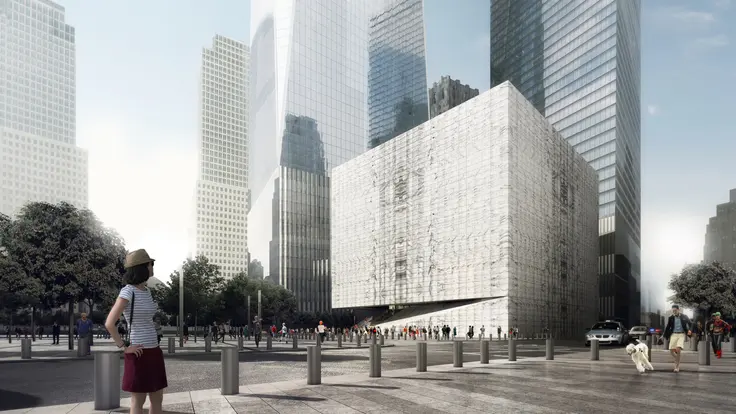 Enlarge Image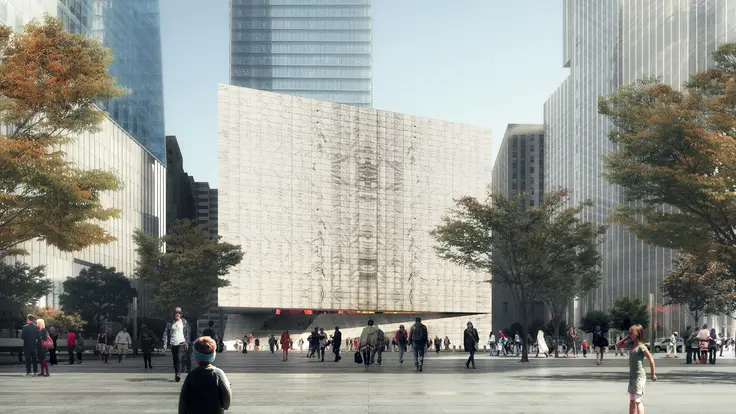 Enlarge Image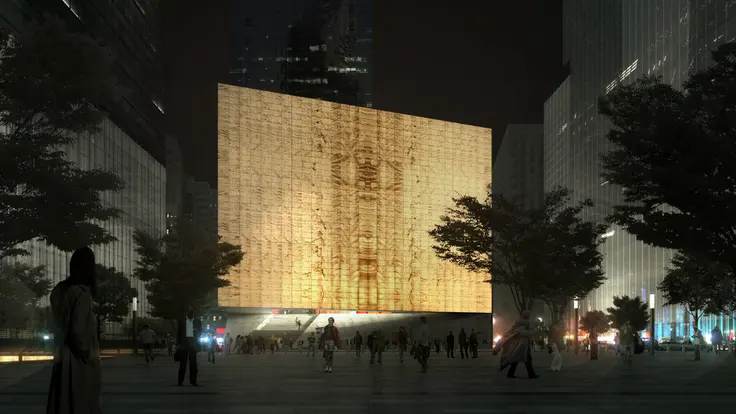 Enlarge Image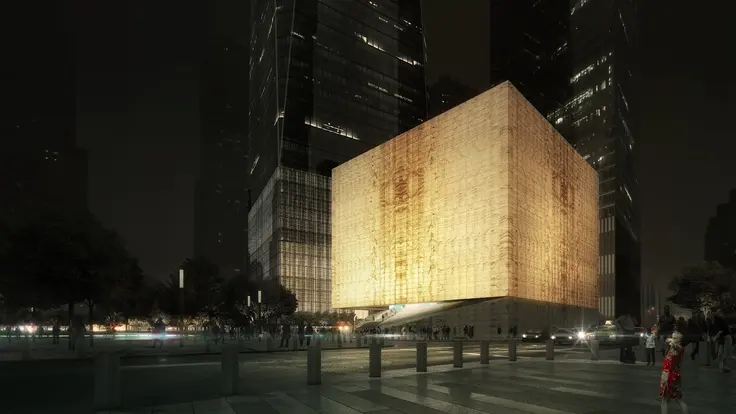 Enlarge Image
Enlarge Image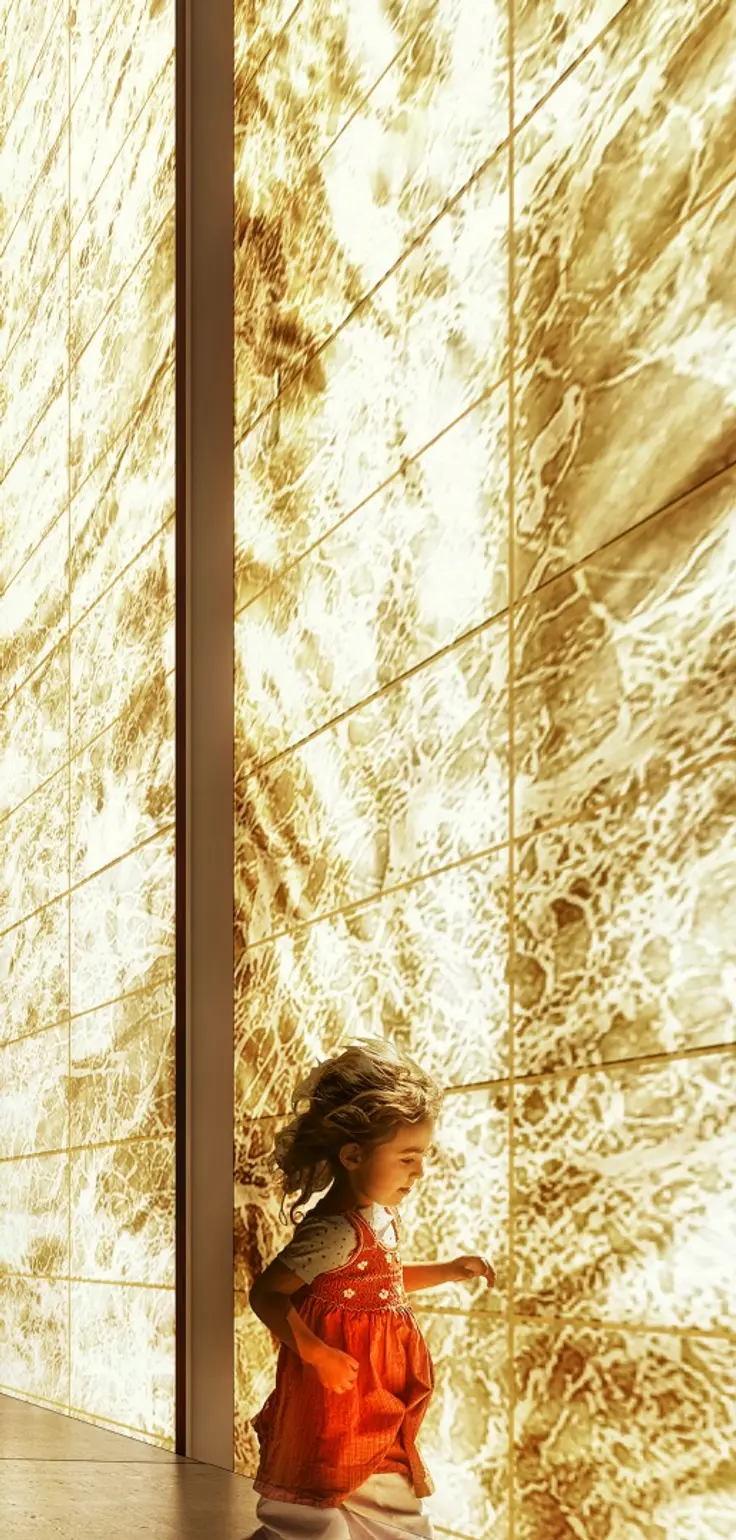 Enlarge Image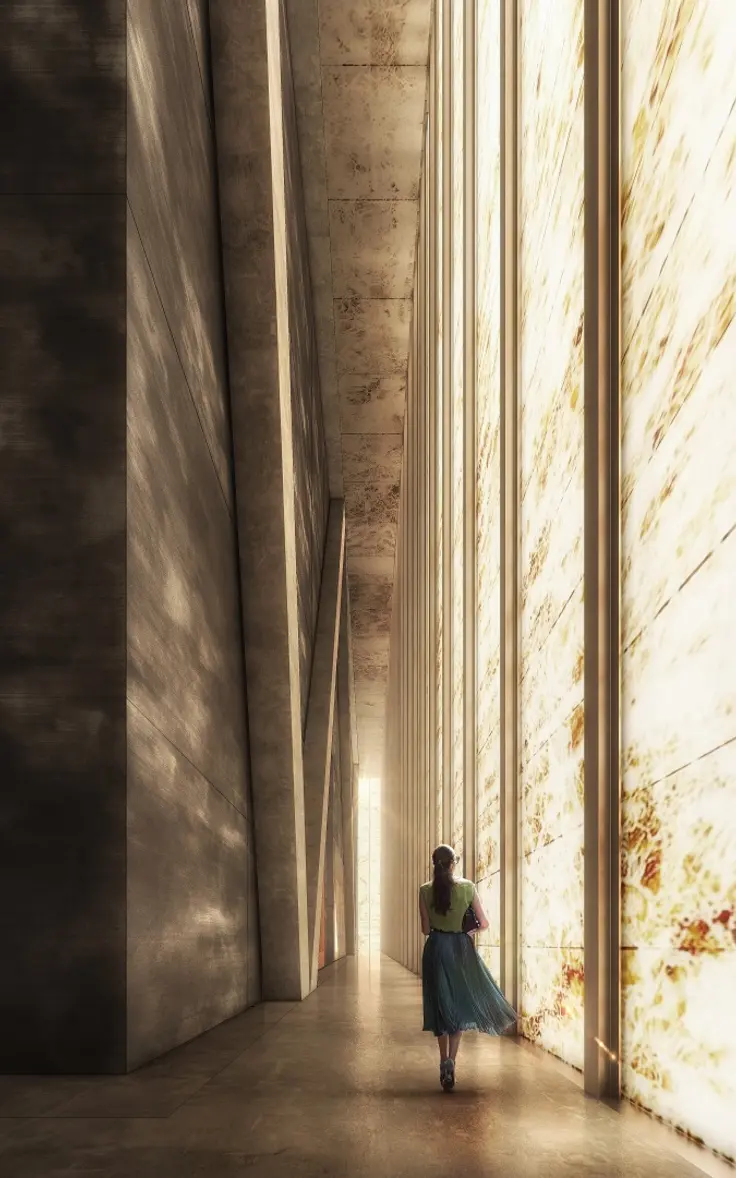 Enlarge Image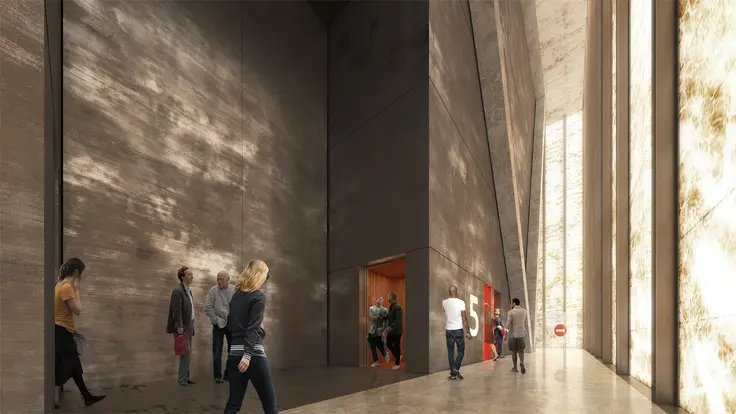 Enlarge Image
Enlarge Image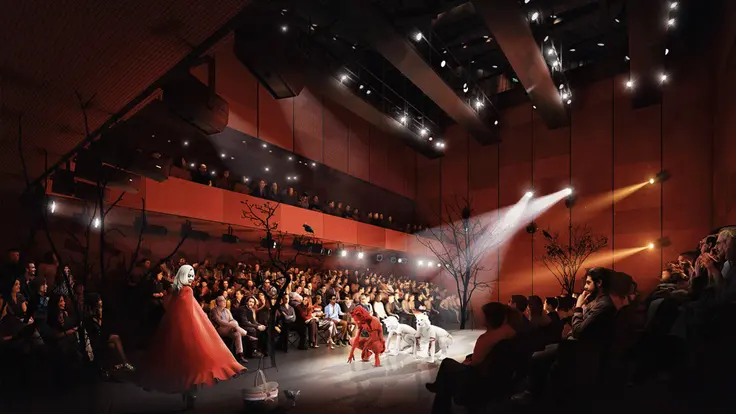 Enlarge Image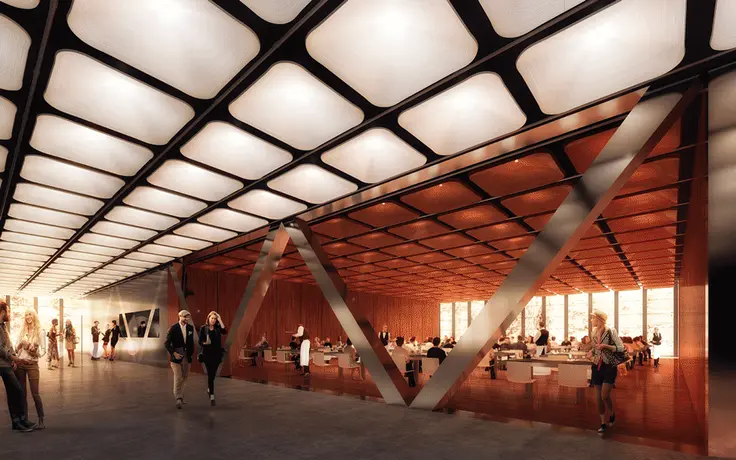 Enlarge Image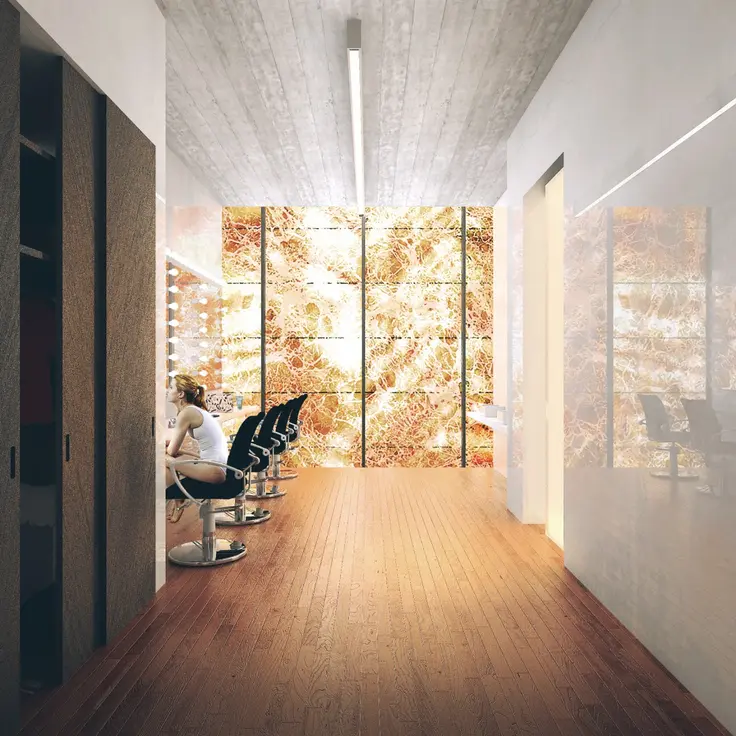 Enlarge Image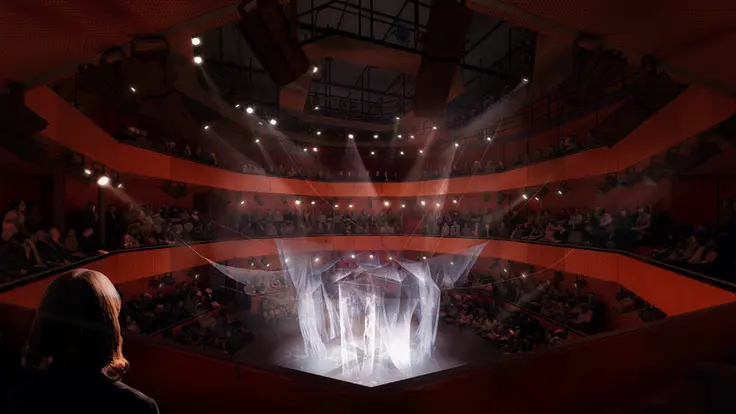 Enlarge Image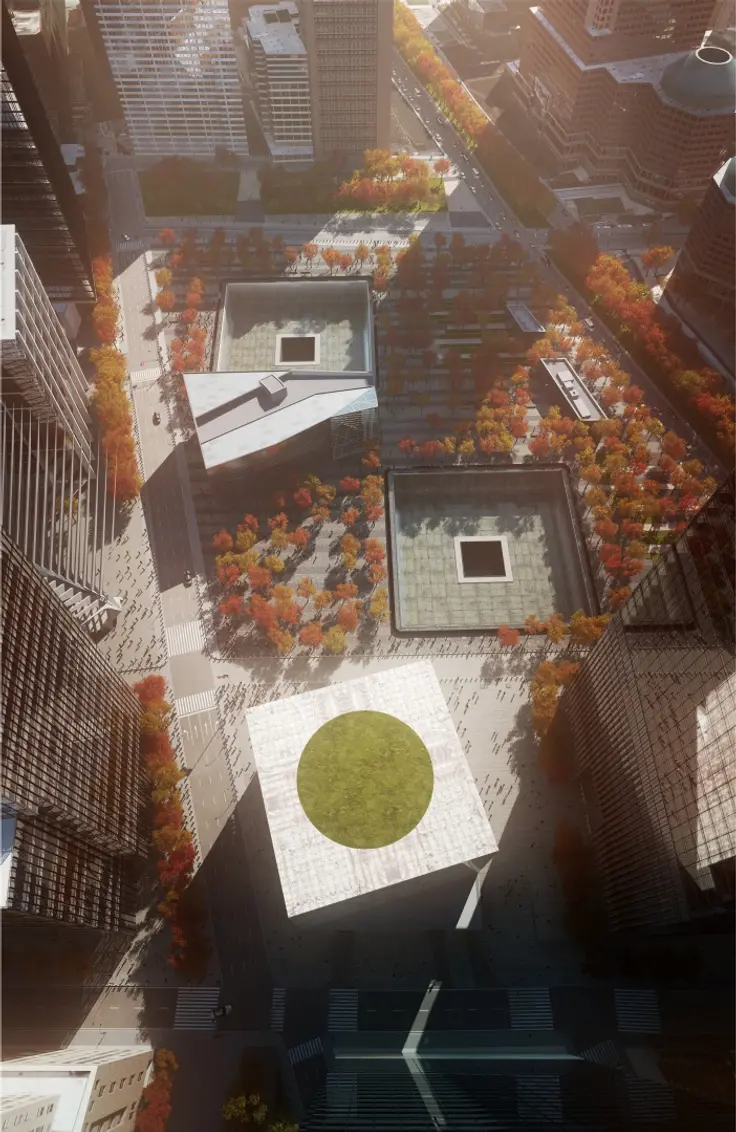 Enlarge Image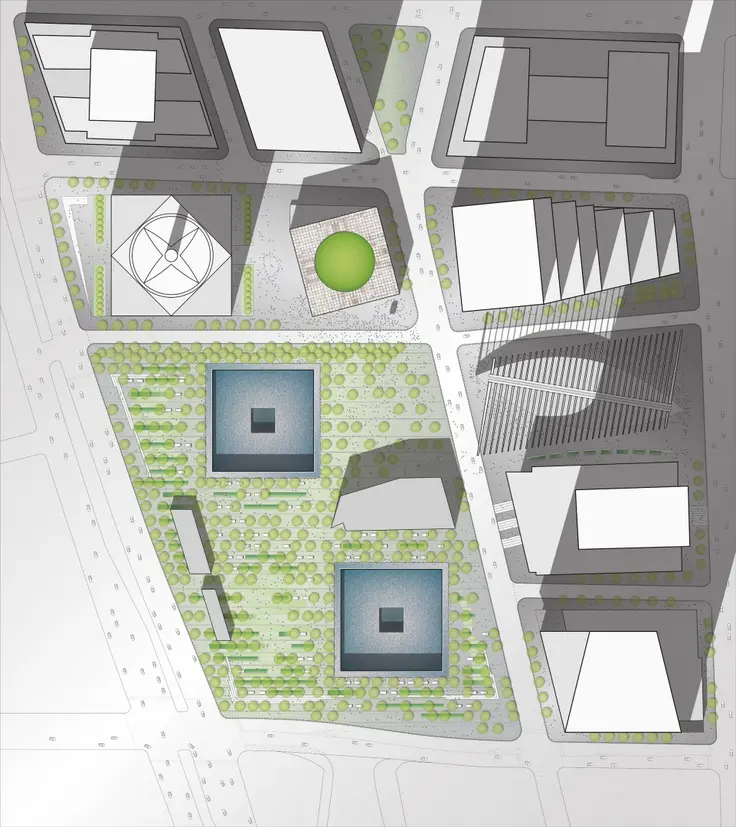 Enlarge Image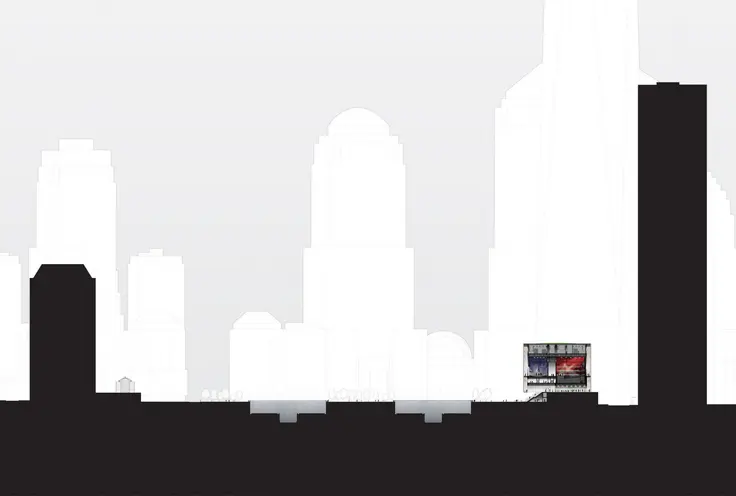 Enlarge Image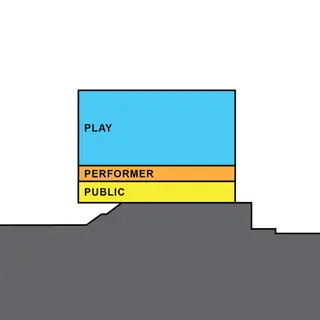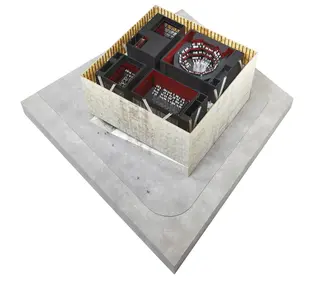 Designed to achieve an unprecedented level of flexibility and mutability, the upper floors of The Perelman Center can be divided into three performance spaces, hosting 499, 250, and 99 seats apiece, as well as a fourth rehearsal space. Divided by moveable, acoustic guillotine walls, the spaces can come together or separate to manifest in eleven basic spacial arrangements, with the largest configuration accommodating up to 1,200 people. With flexibility of space and sound such guiding principles, the resulting experiences can be scripted and rescripted entirely by the imagination of each new director.

Backstage spaces have been prioritized as well, placed into the core of the building to enable seamless transition and smooth operations.
The building's lower levels will host configurations to include a restaurant and bar, as well as a potential performance intermission configuration and exterior terrace, or community cabaret configuration. At ground level, an intricate and grand staircase will beckon patrons inside, usher them back out to the pedestrian street below, or double as a sort of people-watching venue of its own.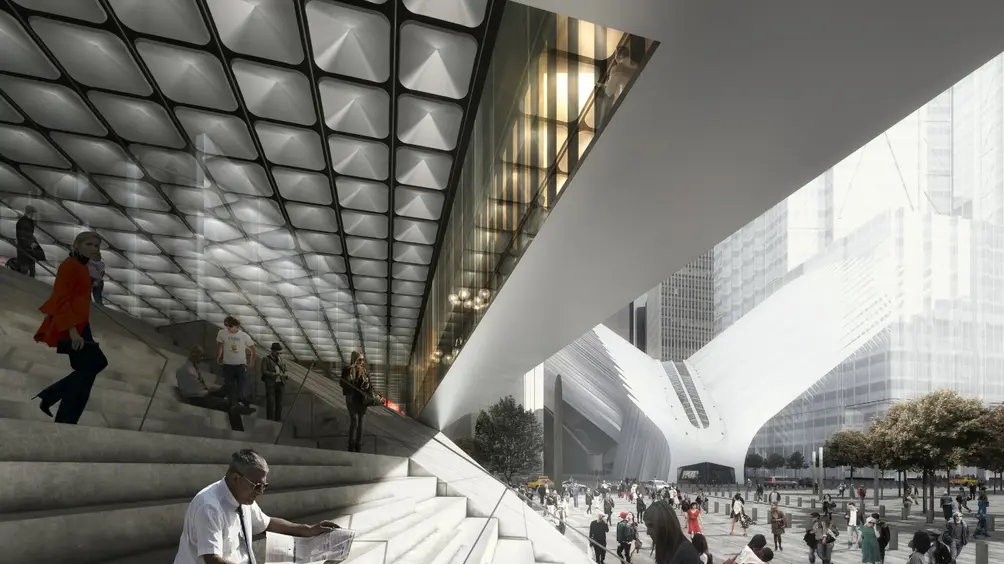 Along with design architect REX, the team includes construction manager Sciame Construction Co., Inc., executive architect Davis Brody Bond, theater design consultant Charcoalblue, and construction consultant/owner representative DBI Projects.
The 90,000-square-foot space was most recently due for completion in 2020, but judging from the amount of construction yet to come, that target date now seems ambitious. Situated along the pedestrianized streets of Greenwich and Fulton, The Perelman Center will stand across from the WTC memorial, Reflecting Absence, steps from the world-class shopping centers within The Oculus, as well as a slew of transportation hubs and the rich history of lower Manhattan.
As a refreshing turn of events for a master plan that has suffered from endless delays, design concessions, and value engineering, Silverstein Properties, the center's major private landlord,
told the New York Post
that they are working with Norman Foster's original design vision for 2 WTC (200 Greenwich Street). In 2015, the publically-loved, diamond-topped design was traded for one by Danish designer Bjarke Ingels. While a timeline not been set to deliver the 3 million square foot office tower, Silverstein did tell the Post, " I don't think it's going to be long to start focusing on Tower Two."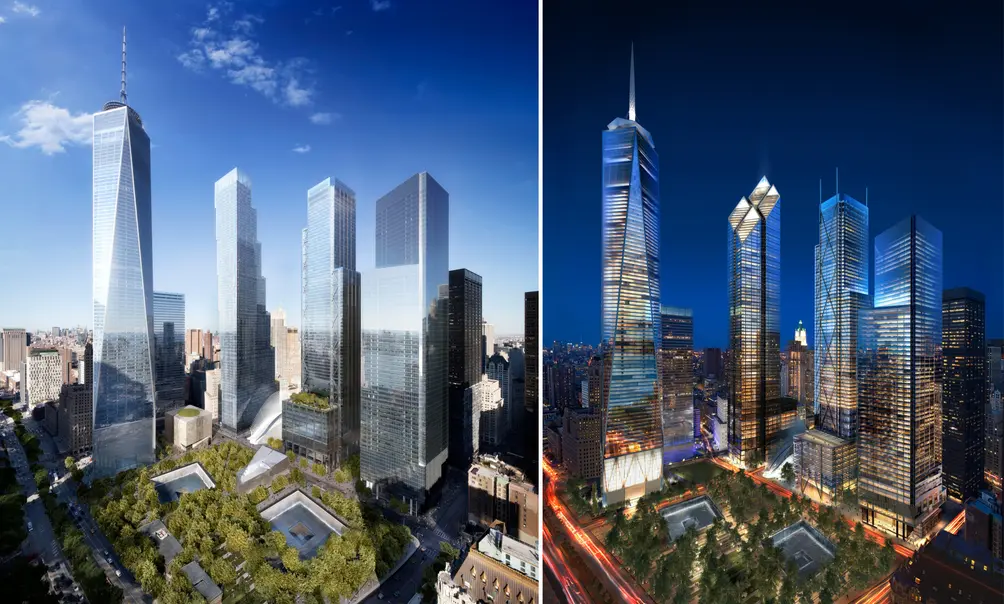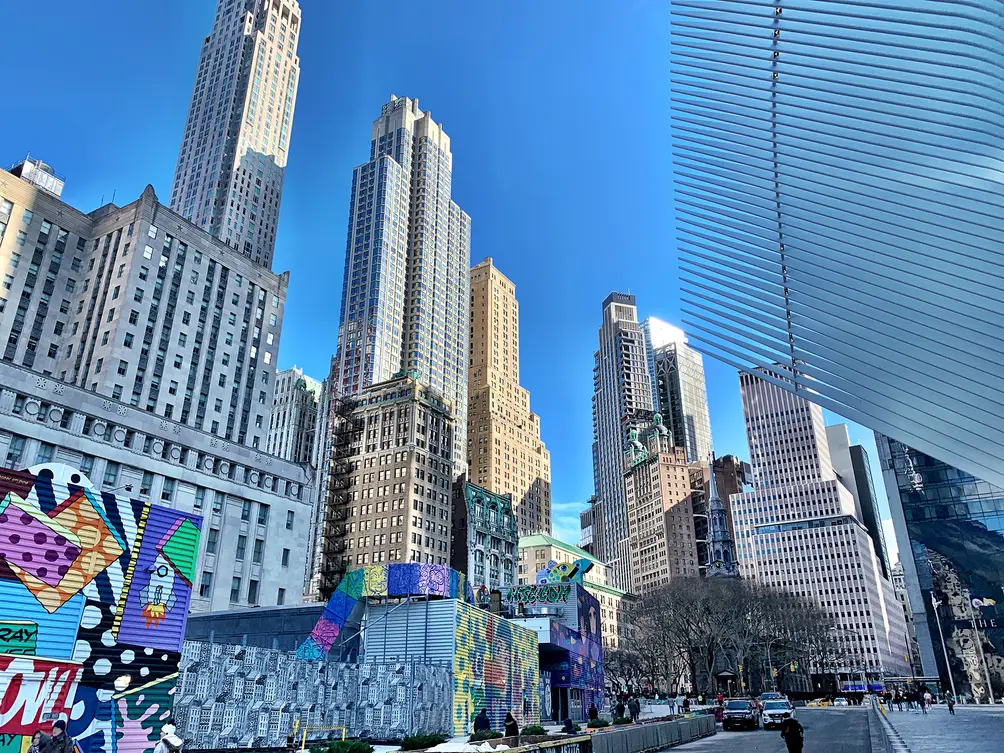 Additional Info About the Building