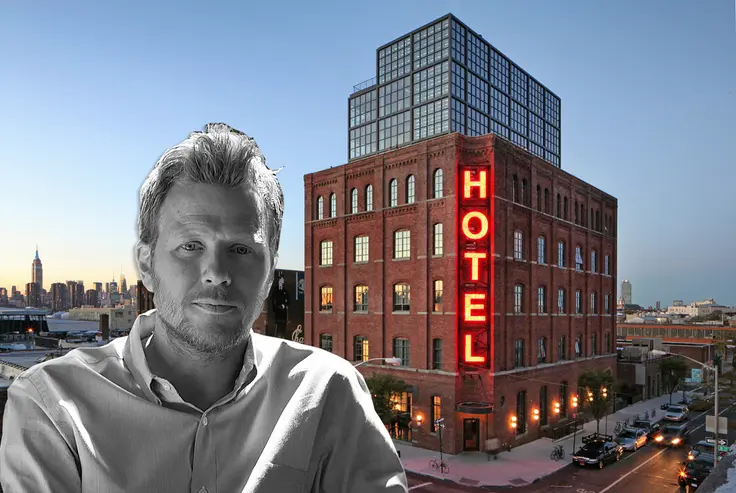 Located on Wythe Avenue in the white-hot midst of the galleries, boutiques and bars of Brooklyn's super-trendy Williamsburg neighborhood, the 70-room
Wythe Hotel
occupies a 1901 cooperage building blessed with what can only be called authentic Brooklyn character. The building's striking design features original pine beams, masonry and cast-iron columns built to last for the ages.
Peter Lawrence, the hotel's principal owner, hails from Australia; having arrived in NYC in 1994, he subsequently navigated an upward path through the nascent Brooklyn hospitality and restaurant landscape. The hotel was the first of its kind in the borough and the neighborhood, redefining the already-famous north Brooklyn hotspot as much as its presence has become part of the neighborhood's history.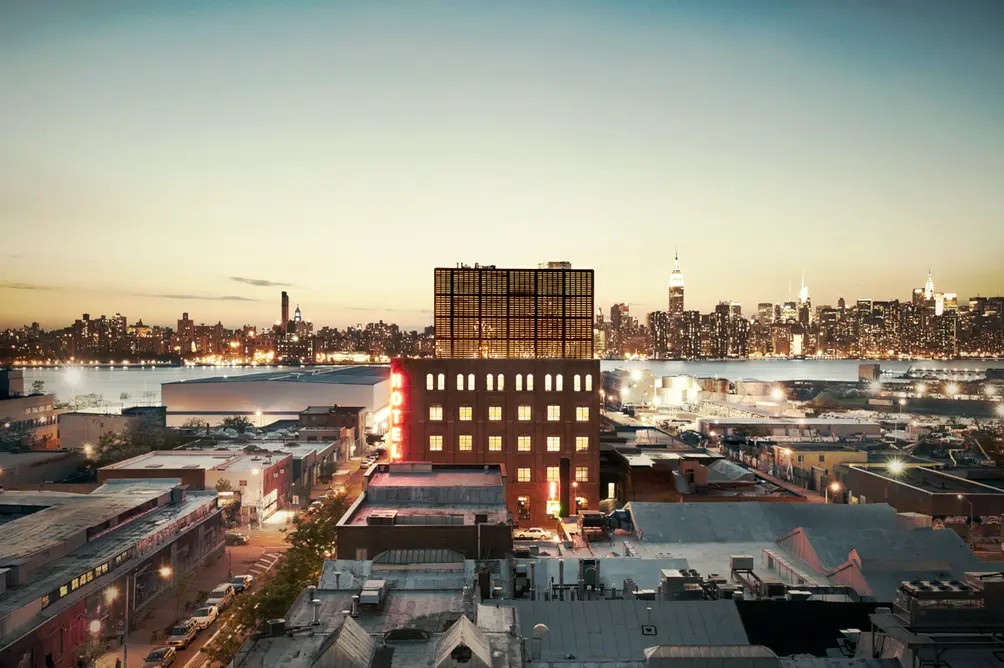 In addition to seasonally sourced mini-bar offerings from local purveyors and oversized rooms with radiant heat concrete floors, the hotel offers bespoke amenities (workout privileges at the next-door Brooklyn Athletic Club, for example). In addition, the hotel has become respected for its ongoing curated line-up of local art and cultural offerings such as hosting the upcoming On Air Fest featuring audio makers, artists, storytellers, podcasters and fans. Unique food and drink offerings include Reynard–the hotel's cozy restaurant and bar with a wood-fired oven and grill, and a daily menu featuring American fare and seasonal cocktails–and The Ides, a sixth floor bar and terrace with amazing views that stands on its own as a gathering spot.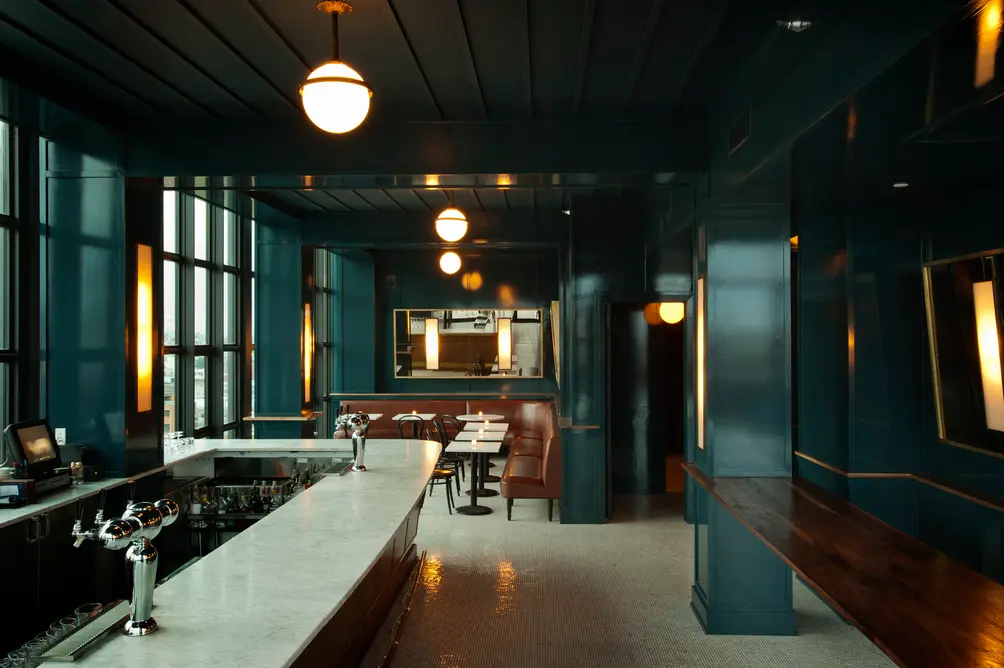 I've read in other interviews that the building Wythe Hotel occupies is a big part of what inspired you in the beginning and helps the hotel stand out in a crowded field. Did you have a clear vision for the hotel when you first discovered the building?
We did have a clear vision of what we wanted to build. A hotel of and for Brooklyn... And then we found the building and fell in love with it. In 2008 it was a long way from anything out there on Wythe. But the building is amazing and it is at the center of the story we are telling each day.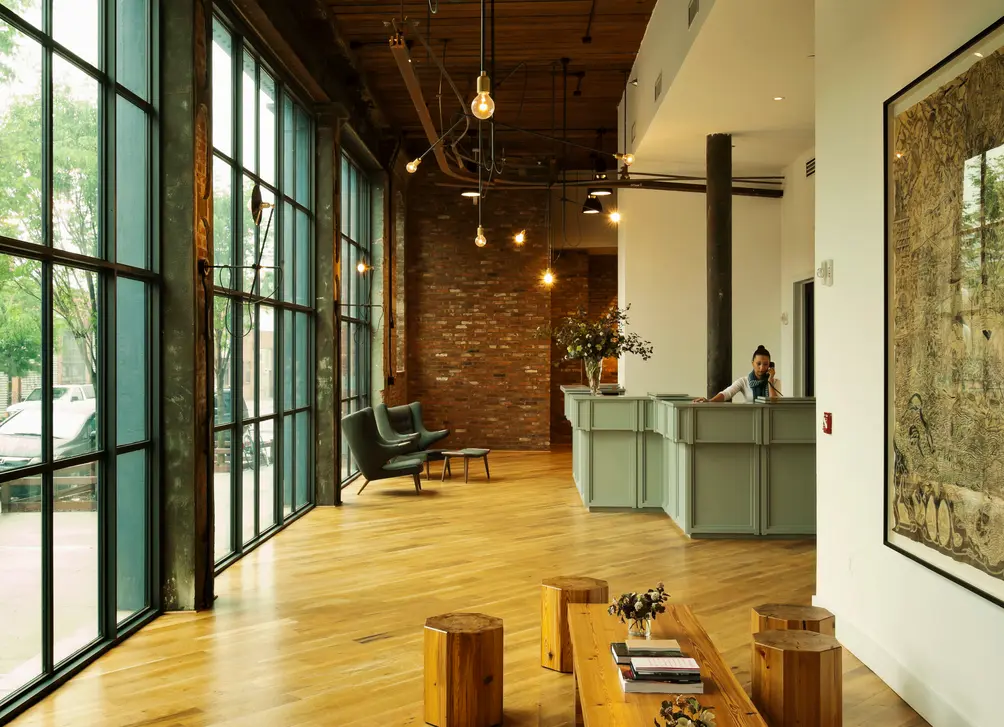 Nothing like this hotel existed in the neighborhood at the time, but it seems you were careful to fit into the neighborhood in a certain way–and as it turns out, be able to scale with the neighborhood as it grew; can you explain that a bit?
We really wanted the neighborhood to be excited about the hotel - so we did lots of construction tours and welcomed our neighbors for friends and family nights when we first opened. Our respect for the building won us lots of hearts in the neighborhood. And we tried to work with people who were already in the neighborhood whenever possible. Our beds were made on Kent Ave, lighting made on Dobbin Street, etc etc.. The area was and still is just filled with talented and creative people, we wanted them all to feel like this was their place.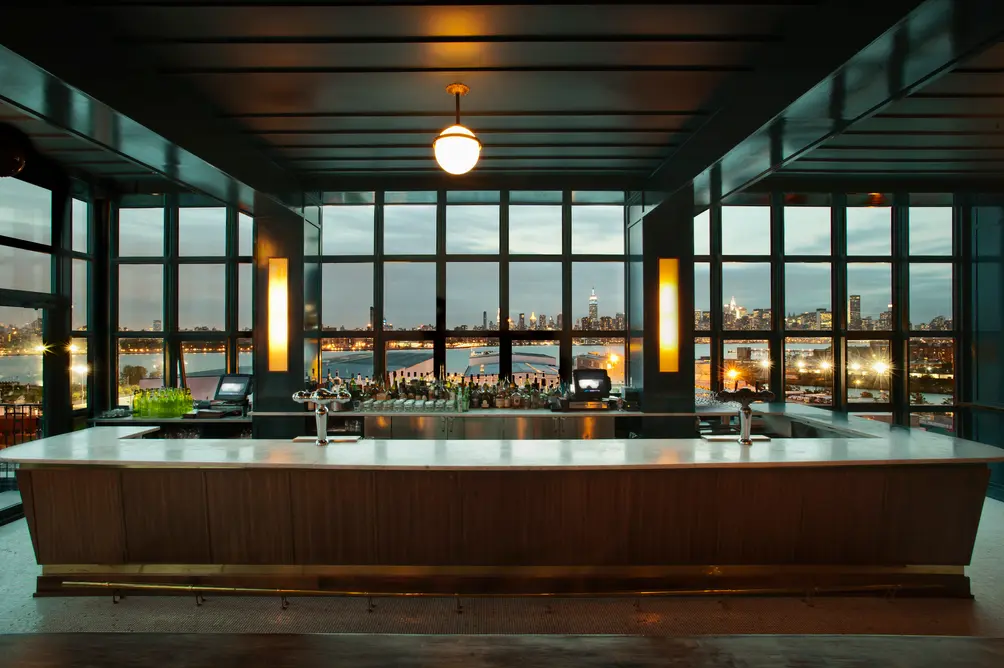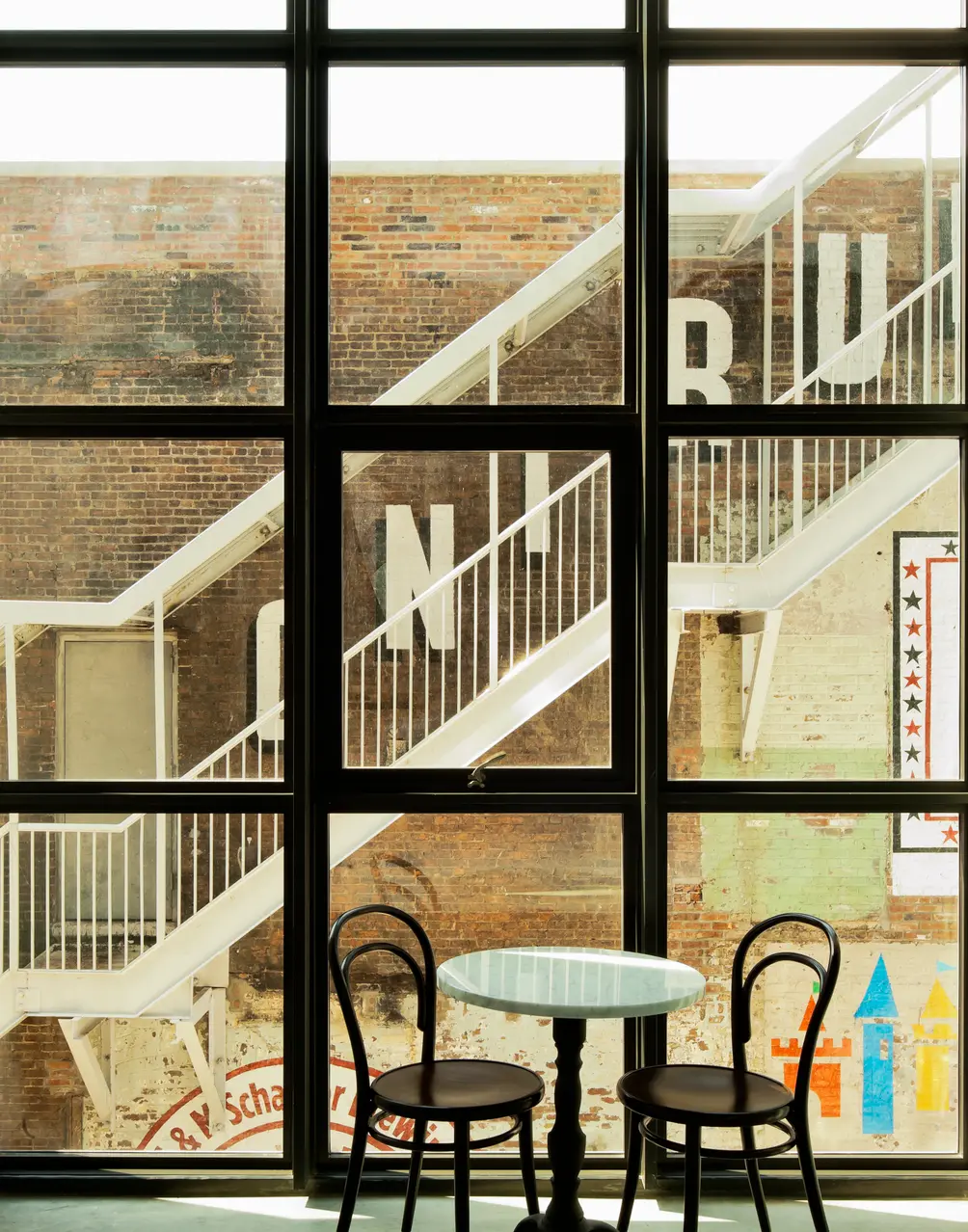 As someone who made their way in Brooklyn and who has managed to leverage the essence of what's special about it without being inauthentic, what do you think it is about Brooklyn or Williamsburg in particular that has given it such legs, so to speak?
I think several shifts have been happening, and Williamsburg settled into those ideas early. The office was re-imagined, building a business making things by combining good design with "old fashioned" techniques was being (re)valued, collaborations were becoming the norm rather than only employed for special projects, and a whole generation was placing more onus on working in a way/in a place/for a company that lined up with their values and meant something more than a paycheck. These ideas and a desire for a less suburban life mean that places like downtown Oklahoma City have a "Brooklyn" feel to parts of them now.
Would you say you opened the door, or bridged a divide, in providing the "ok" stamp, for other hotel investors?
For sure. There was not a comp for a hotel like ours when we started to try and raise money. It was a tough sell in 2008. But Jed [Walentas] managed to get us built and open and while we knew there was demand, even we were surprised by the response from people who lived and worked and played in Brooklyn, but did not have a hotel for family, friends, clients, etc that lined up with the way they thought about life. Once we were successful, the banks had much more comfort financing more hotels in and around Brooklyn.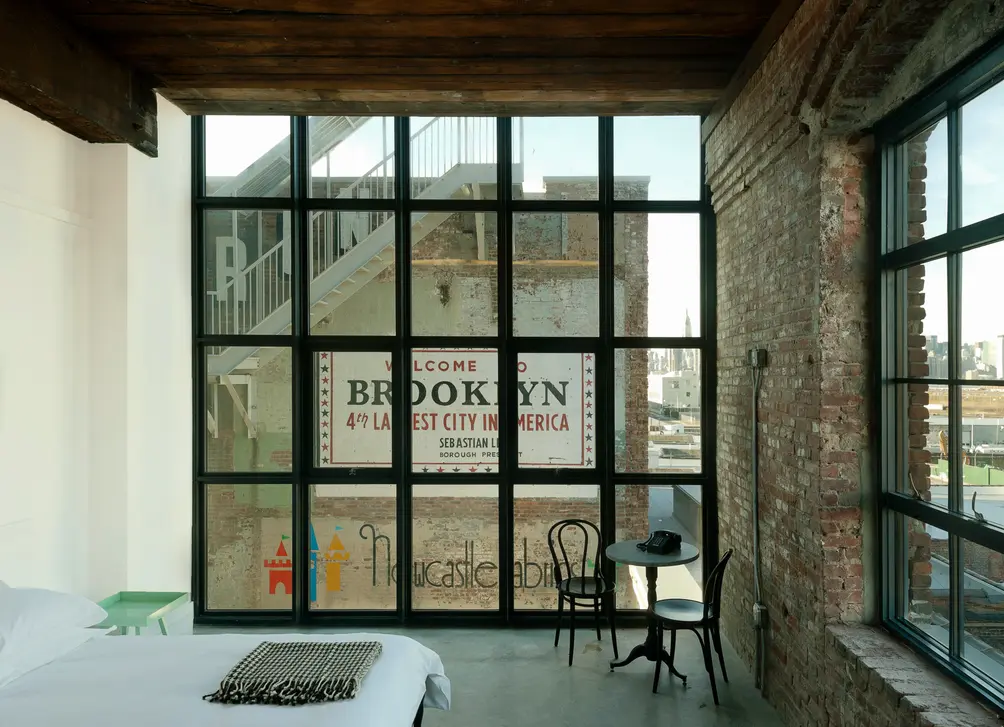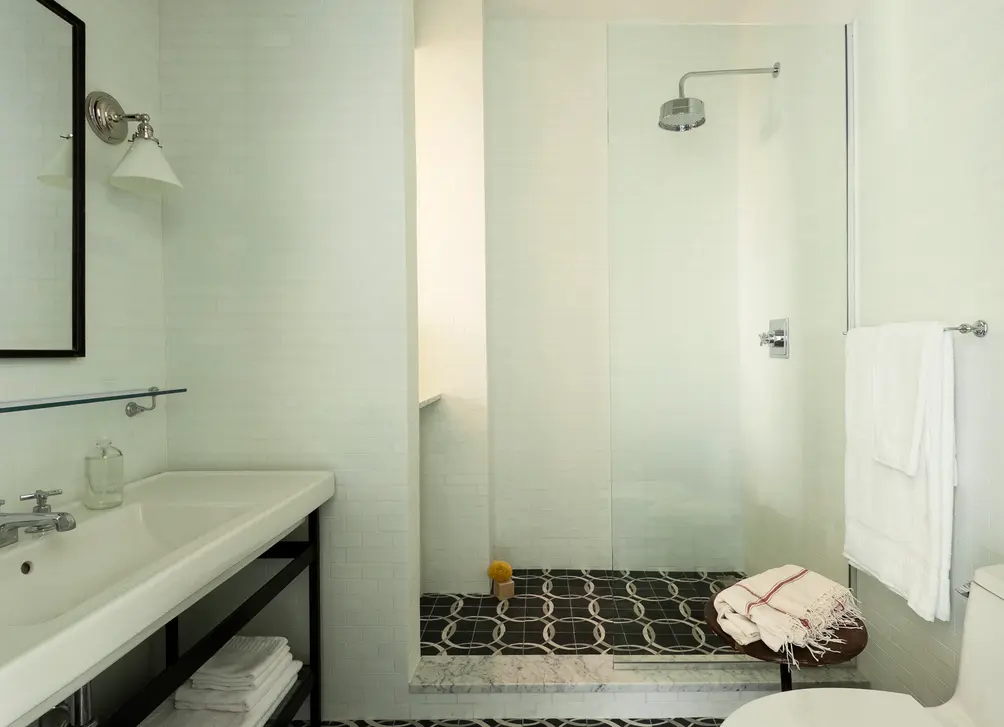 What do you make of the fact that now you're one of many, as various flavors of hotel spring up on practically every corner, and the new models of "cool" are changing too; How do you stay relevant, keep an "edge" or at least distinguish yourself? Another way to ask this is, how do keep the hotel unique enough to get noticed with all the vying for attention that's happening.
After 6 years and a radically changed landscape, this is what I am spending lots of time on now. Part of the answer is that we are still the only hotel that is not new construction, we are the only hotel with the owners on the premises every day, we are small, and personal and we care just as much as we did on day one.

The other part is that we never really planned on being cool... we have a pretty old fashioned approach to hospitality, and we wanted to build something great inside this amazing building. The hotel is unique, and will remain so. Really taking care of people, especially our friends and neighbors, will keep us relevant as Brooklyn continues to change and mature.
The phenomenon of "design hotels" seems to be growing. I know you put a lot of thought into the hotel's design and interiors, do you want to be a contender in that realm, i.e. known as a destination for cool design?
Being known for thoughtful and relevant design would be a great compliment ... the idea was to reflect the most interesting things that were happening around us as we built the hotel. I think we did a pretty good job of capturing that moment in time in a thoughtful way, without stamping our own personal tastes on the hotel too much.
Do you have any "design heroes" as far as hotel design? For example Dorothee Meilichzon (Hotel Paradis, Hotel Panache in Paris). Or design heroes in general that inspire design ideas for your interiors?
When the design process was happening I was inspired (and comforted) by what the ACE Hotels guys were doing, by Liz Lambert and her San Jose Hotel in Austin, and by lots of other smaller hotels that were taking a leap and designing based on a deeper connection with their location.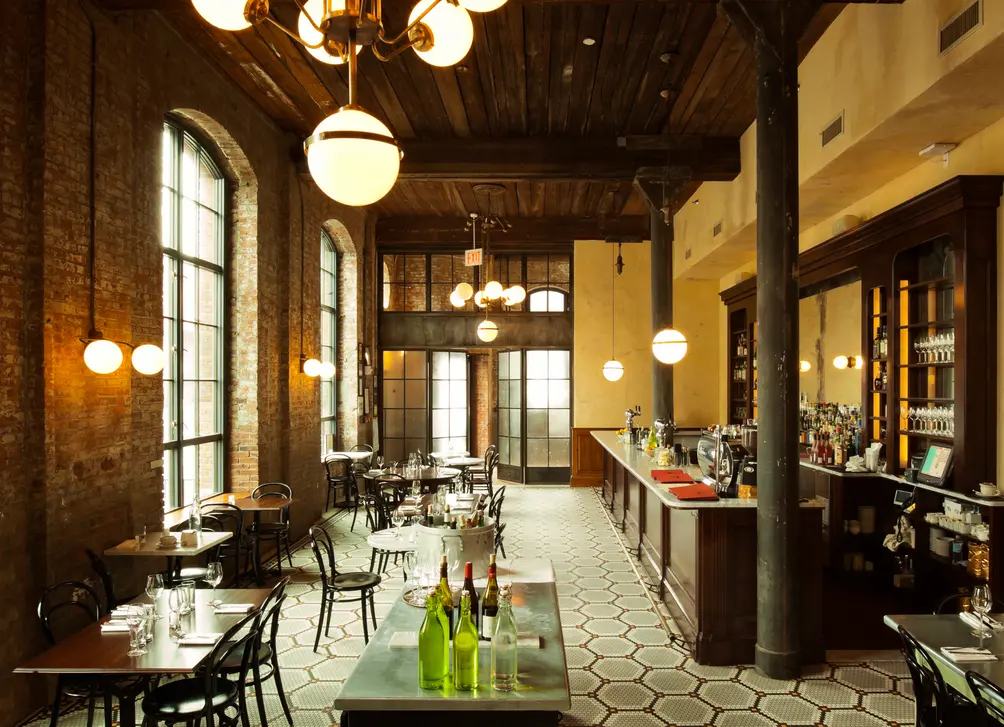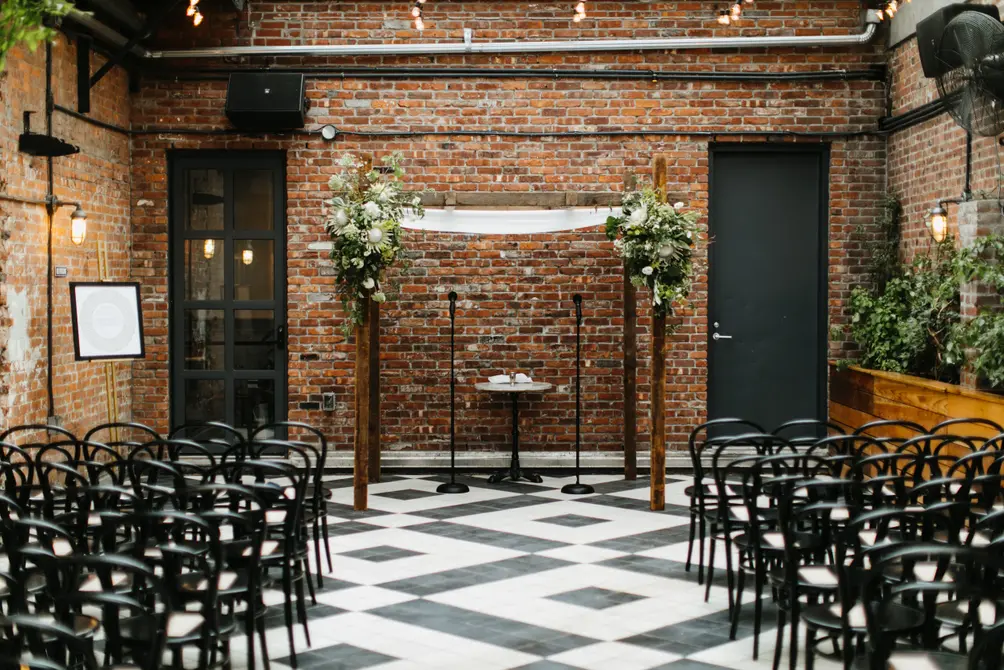 I remember some pretty epic art installations at Wythe, like Tom Fruin's "Wedding Chapel" on the roof. I know collaborations with artists are important to the hotel, can you tell us a little bit about that?
Getting Tom's "stained glass" house to the 6th floor bar was an interesting challenge. But it looked great up there. And those installations and collaborations are really important to the hotel. Hosting artists at all points in their careers, and offering the hotel as a facility for artists in a city that is making it tougher and tougher to be a practicing fine artist is a vital part of what we do.

Having a community of artists who have work inside the hotel, and having them use the hotel as social place as well as a place to draw and sketch together, or to meet up at one of our "openings" when we add new art work to a few of our rooms and open them up for a night as mini galleries...Getting to be a small part of that creative and risk taking community, especially as the city gets a little more risk-averse every day, is both exciting and and vital part of the Hotel being the place I want it to be.
Do you have any plans to branch out, especially given the branding phenomenon small hotels being a trusted "wherever you are," concept brand and the power–at least right now–of the "Brooklyn" brand, any plans to bring Brooklyn to the world?
No plans to branch out. There is so much to do here everyday, and as we adjust to how rapidly the neighborhood has changed around us in 6 short years there are lots of new opportunities and challenges that keep me interested and involved. I also have young enough children that they still want to hang out with me, so maybe when that phase is done, and they are done with me for a bit...then I will be looking for a new project.
Almost off the topic of the hotel, you're from Australia, which is recently emerging and growing as a huge cultural and especially design influence on the international scene, any thoughts on that and on introducing the world to Australia? A Brooklyn-Melbourne exchange perhaps?
For a sparsely populated, faraway place...Australia has always punched above her weight when it comes to culture and design (and sports). The socialist nature of the government allows for a much stronger support of the arts and that has been paying dividends for many decades now. Melbourne is a great town –a little like NY in that it can feel like a European city. And we already have a pretty strong Brooklyn–Melbourne exchange program going on, just with the creative Aussies who travel the world and end up spending time honing their craft in NY and in Brooklyn.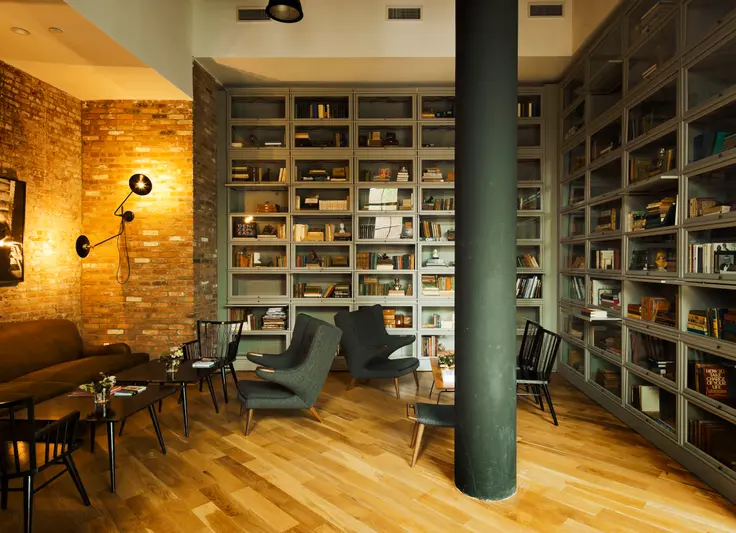 Enlarge Image
Enlarge Image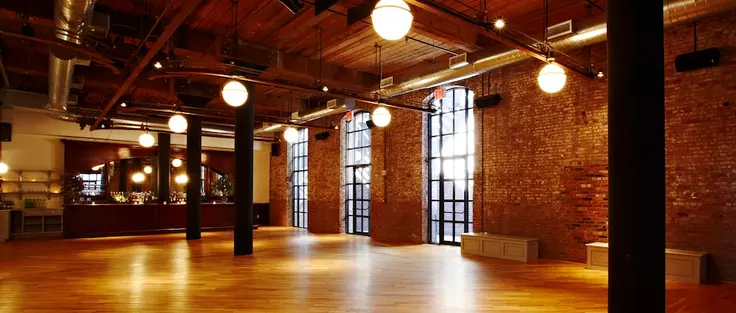 Enlarge Image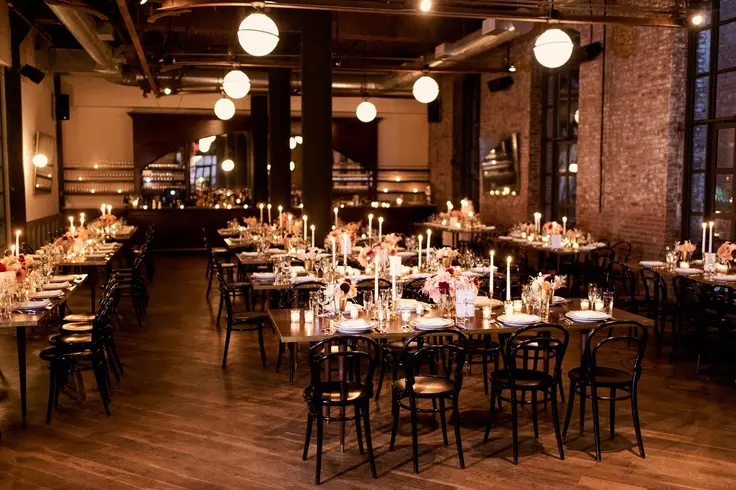 Enlarge Image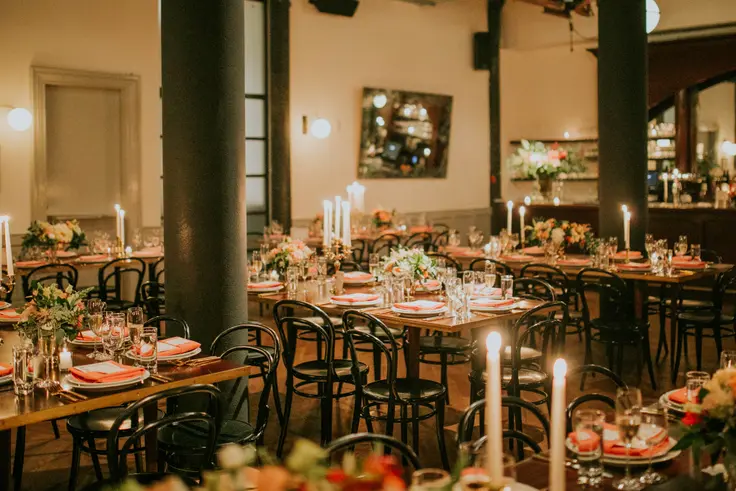 Enlarge Image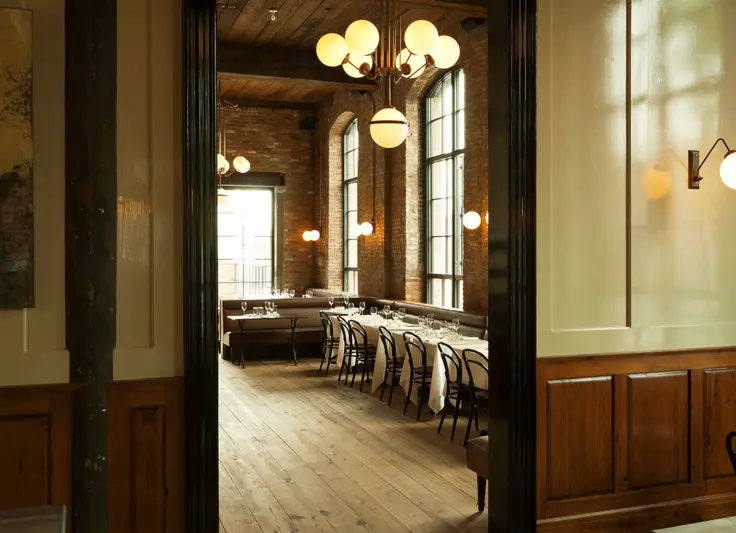 Enlarge Image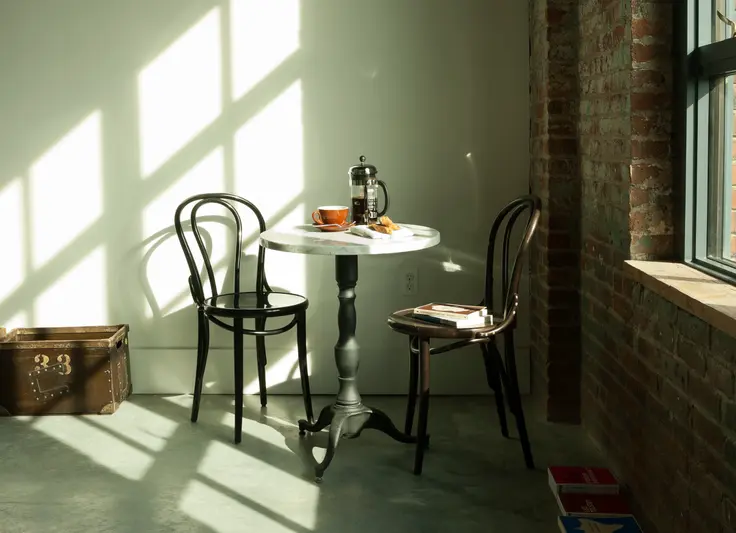 Enlarge Image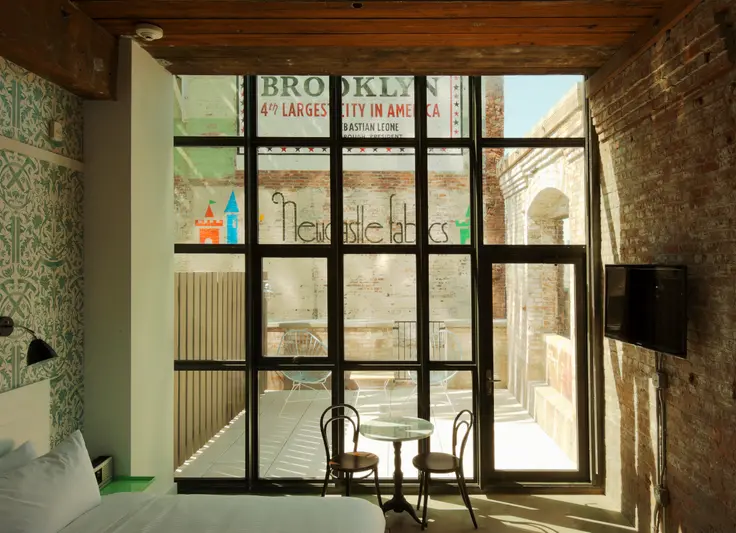 Enlarge Image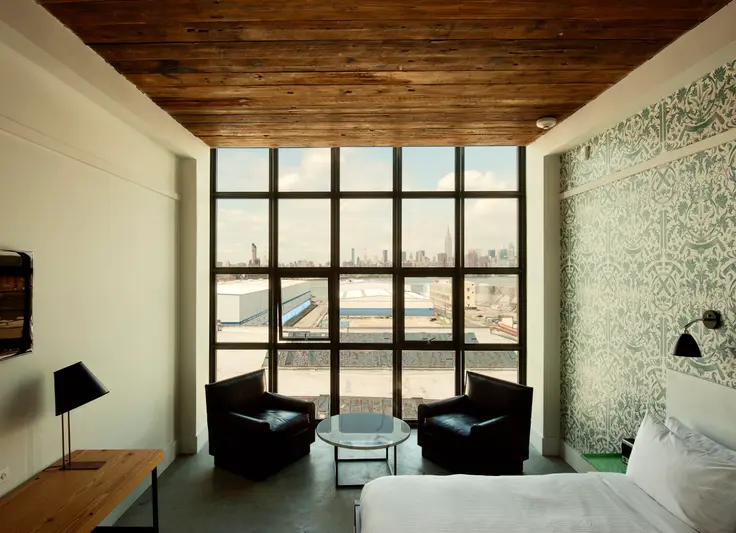 Enlarge Image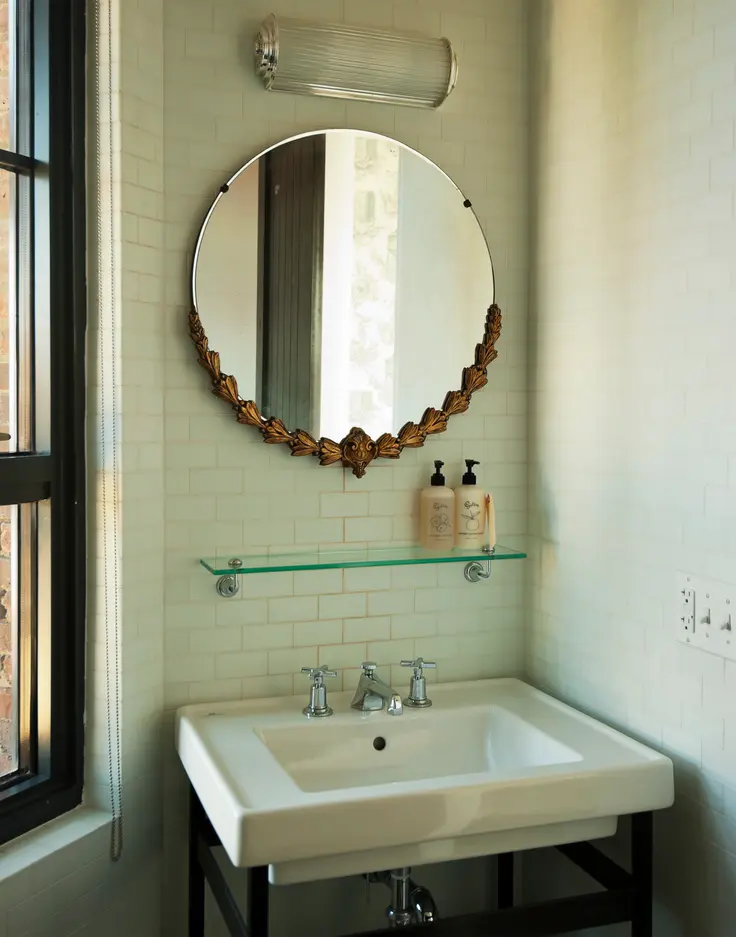 Enlarge Image
Additional Info About the Building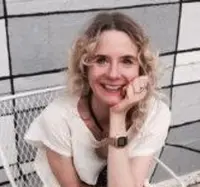 Contributing Writer
Michelle Cohen
Michelle is a New York-based writer and content strategist who has worked extensively with lifestyle brands like Seventeen, Country Living, Harper's Bazaar and iVillage. In addition to being a copywriter for a digital media agency she writes about culture, New York City neighborhoods, real estate, style, design and technology among other topics. She has lived in a number of major US cities on both coasts and in between and loves all things relating to urbanism and culture.