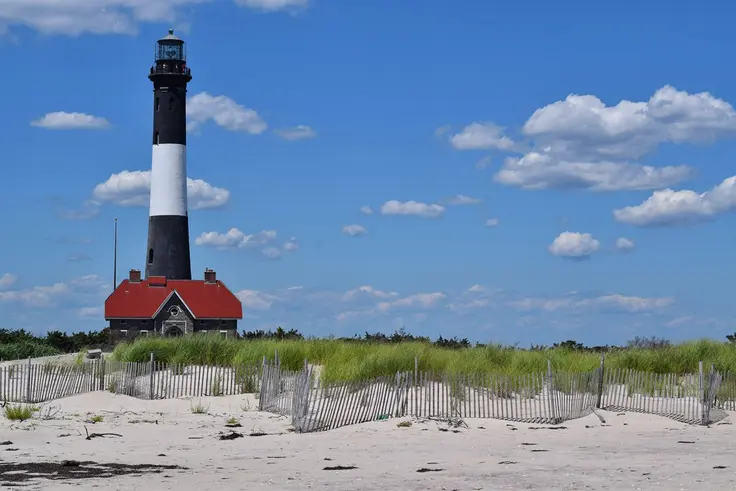 As the summer season approaches, New Yorkers are naturally eager to escape to the beach. A perennial nearby favorite is Fire Island—a narrow strip of land running along Long Island's south shore. In response to COVID-19, people who are not fully vaccinated are still required to wear masks indoors and in crowded outdoor settings; however, as of this writing, Fire Island's boardwalks, trails, and beaches are open. A full overview of what's closed and open, in addition to proper recommended precautions, can be found here on the
park's official website
.
Accessible via the Long Island Railway and Fire Island Ferries, Fire Island is one of the region's few vacation spots that city residents can reach without a car. Better yet, once you arrive, you encounter a rare car-free oasis where walking, cycling and golf carts are the primary modes of transportation. In addition to being car free, Fire Island is also home to some of the region's best beaches and is well known for its impressive modernist architecture.
For New Yorkers looking for a break from the city's summer pollution and noise, Fire Island has much to offer. Yet, as recent aerial photographs reveal, Fire Island is not quite the island it used to be. Indeed, since it first became a popular vacation spot for New Yorkers nearly a century ago, its shoreline has diminished considerably. This raises a critical question: Is Fire Island a better bet for seasonal renters than owners?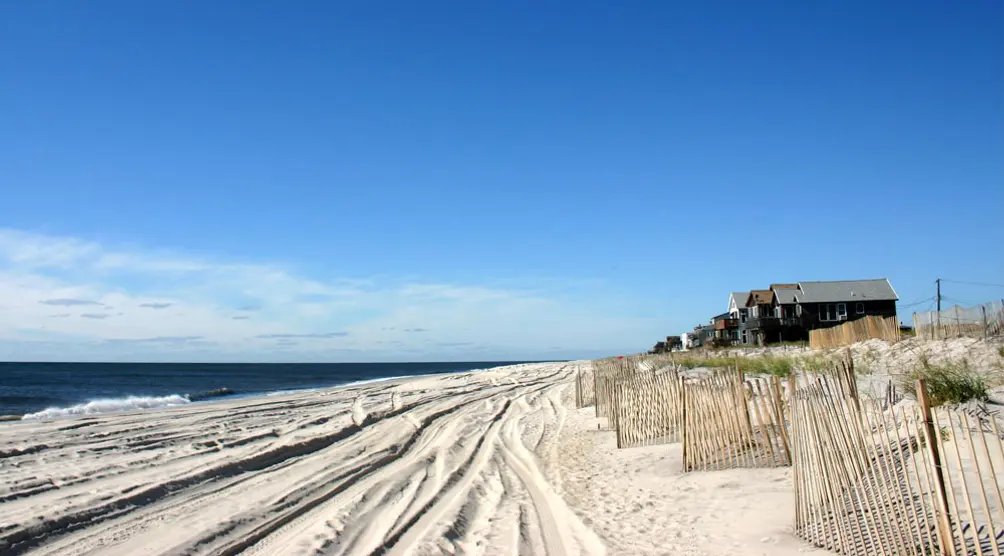 Fire Island's History and Culture
While Fire Island has been inhabited since the late 1700s, it did not become a vacation destination until the early 20th century when the community of Cherry Grove became home to the island's first hotel. After a devastating hurricane in 1938, Fire Island real estate experienced its first serious blow, as some owners chose to sell rather than rebuild, but the natural disaster did not necessarily slow down the island's development.
By the early 1940s, the island had rebounded from the hurricane and started to gain a reputation as a popular vacation spot for gay men and lesbians. To this day, both Cherry Grove and the Pines are among the nation's top
LGBTQ
vacation communities, but there is much more to Fire Island than all-night parties at the Pines.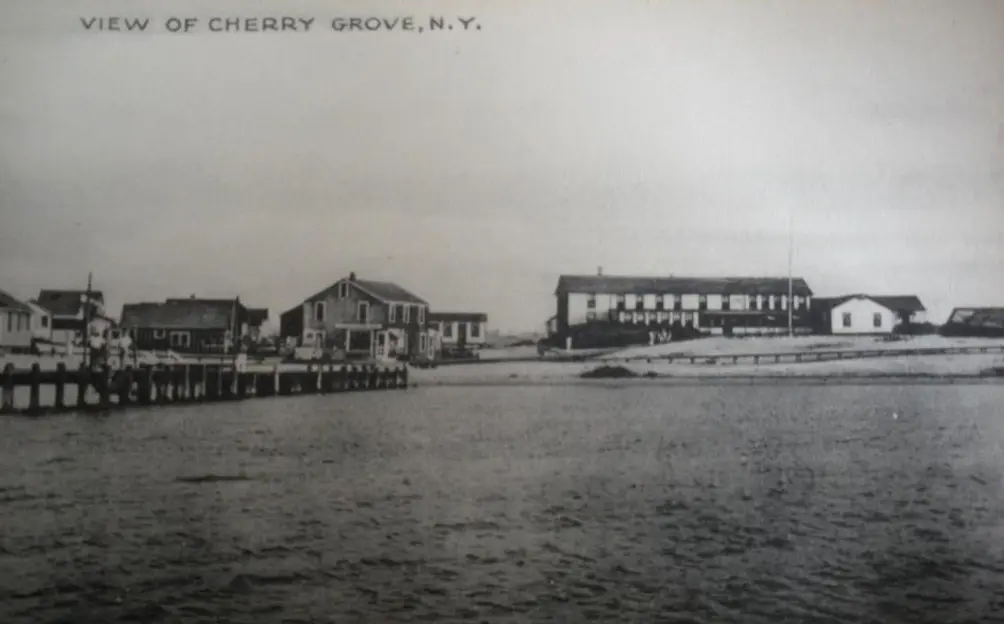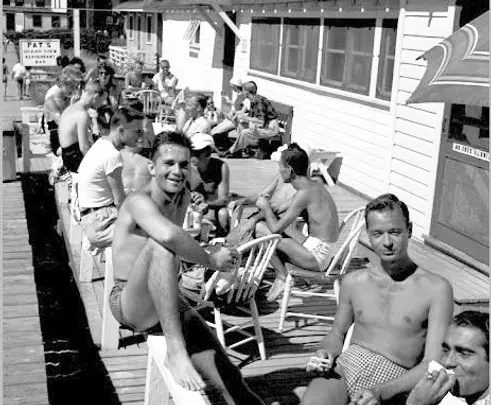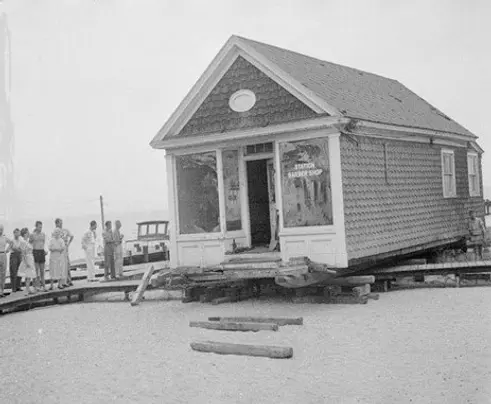 Since the 1930s, Fire Island has also been a popular summer destination for artists and writers. In the 1950s, many of the visual artists and poets associated with the New York School spent their summers on Fire Island. Later, a generation of visual artists, which included Peter Hujar and Robert Mapplethorpe, enjoyed time on the island and sometimes featured the island in their works.

Playwright Larry Kramer is another well-known Fire Island resident. His controversial play, The Normal Heart, which chronicles the early years of the AIDS crisis, is also partially set on Fire Island. The most famous seasonal Fire Islander, however, is likely John Lennon who spent a summer on the island just before his untimely death.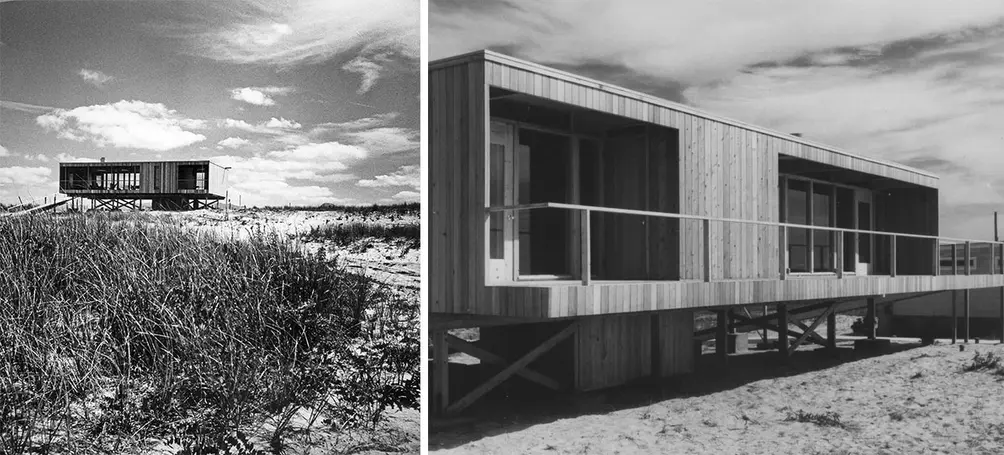 Fire Island's Modernist Architectural Gems
In addition to the island's outstanding shoreline and rich artistic culture, Fire Island is well known for its modernist architecture. In 1961, long before he designed the
Westbeth Artist Community
and eventually some of the world's most iconic museums, Richard Meier built the
Lambert House
for a mere $11,000 on the dunes of Lonelyville. Other well-known architects to leave their mark on Fire Island include Harry Bates's with his 1967
Tree House
and Horace Gifford whose contributions to the island's architecture ultimately included
more than 70 beach houses
. Gifford's impact on the island and its architecture are explored in a 2011 documentary,
Modern Tide: Midcentury Architecture on Fire Island
, and in a 2015 book by fellow designer Christopher Rawlins. Notably, Rawlins has not only written about the island's architectural history but has also overseen restorations of some of the island's most notable mid-century structures, including Don Page's 1962
Beach Hill Walk House
.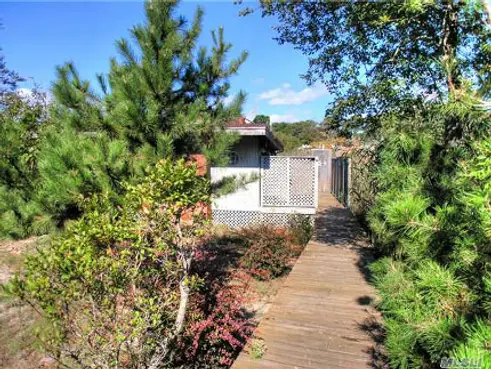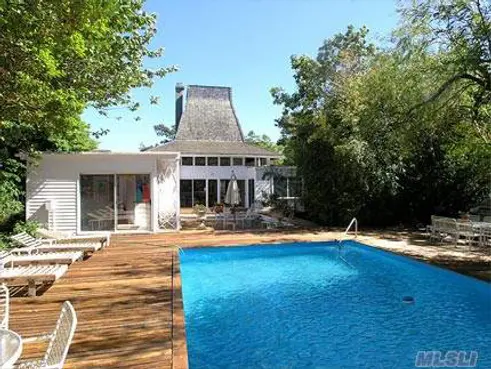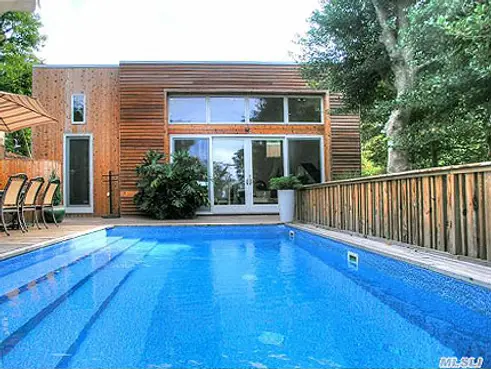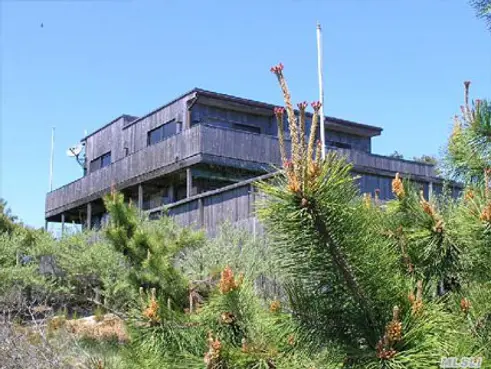 The Cost of Renting and Buying on Fire Island
With great beaches, a rich cultural legacy and outstanding architecture, it is no surprise that spending time on Fire Island usually comes at a high price. Summer rentals on the island typically start at $3000 per week for a modest two- to three-bedroom beach shack and run anywhere from $10,000 to $20,000 per week for a luxury beachfront home. But this doesn't mean that Fire Island rentals are necessarily out of reach to the average New Yorker.

Sandra, a social worker, and her wife Gillian, a teacher, spend two weeks on Fire Island every summer. As Sandra explains, "We do this with eight friends and coworkers and whoever else happens to show up. In February or March, everyone pitches in $1000 and then we start looking for a five- to six-bedroom home. We usually stay for two weeks but some friends just stay for one, and it's a bit of a revolving door." Gillian adds, "Yeah, there's always at least ten people who just crash on the couch for a night or two, but we have a rule about that—they have to bring supplies from the city. Really, this helps a lot since buying groceries and anything else on the island is so expensive."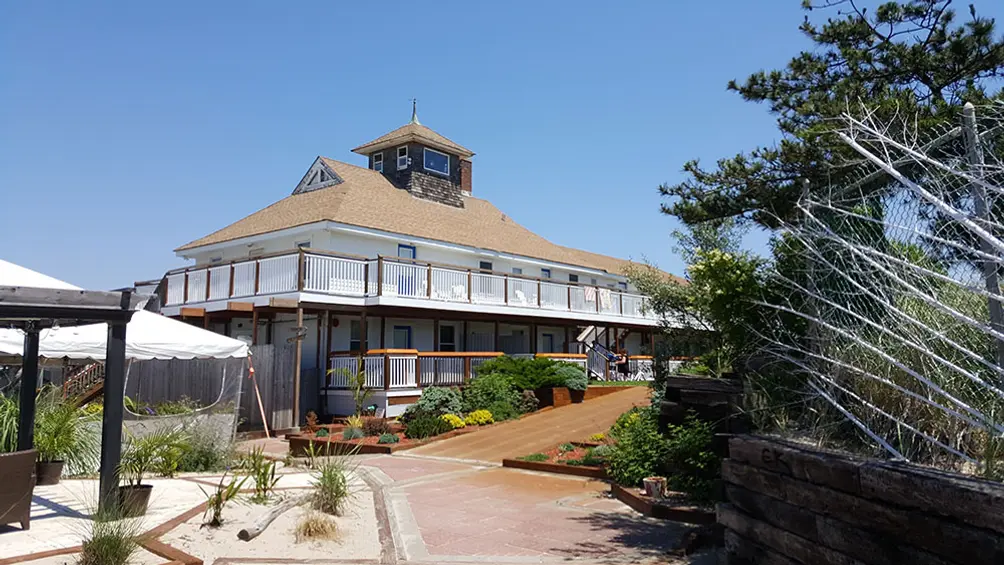 Compared to renting, buying on Fire Island is surprisingly affordable. For less than $1 million, one can still obtain a four-bedroom/2.5-bathroom home with ocean views and a swimming pool. Attractive and well-maintained three-bedroom homes (without a swimming pool) can be purchased in the $600,000 range. Given the potentially high rental income and comparatively low purchasing cost, Fire Island holds strong investment potential. After all, many island owners are able to cover their annual mortgage and tax payments by renting out their homes for just part of the summer.

Dune Erosion, Flooding Threats and Other Risks
In 2014, the U.S. Army Corp Engineers published the results of a post-Hurricane Sandy investigation of the Fire Island Inlet. As reported, "Post-Sandy measurements of volume loss of the beach and dunes on Fire Island indicate that on average the beach lost 55 percent of its pre-storm volume equating to a loss of 4.5 million cubic yards. A majority of the dunes on Fire Island either were flattened or experienced severe erosion and scarping. As a consequence of this severe coastal erosion during Hurricane Sandy, the dune and berm system along Fire Island is now depleted and particularly vulnerable to overwash and breaching during future storm events."

In response, the island community has embarked on an ambitious dune restoration project. For some residents, however, efforts to save the island's shoreline will come at a huge cost. As part of the dune restoration, the U.S. Army Corp has called for the destruction of approximately 20 beachfront homes in Ocean Bay Park. Notably, since most beach front homes are already elevated, at least some of the homes slated for destruction can be moved to other locations on the island rather than destroyed but this is little consolation to the impacted owners.

So is Fire Island a risky investment?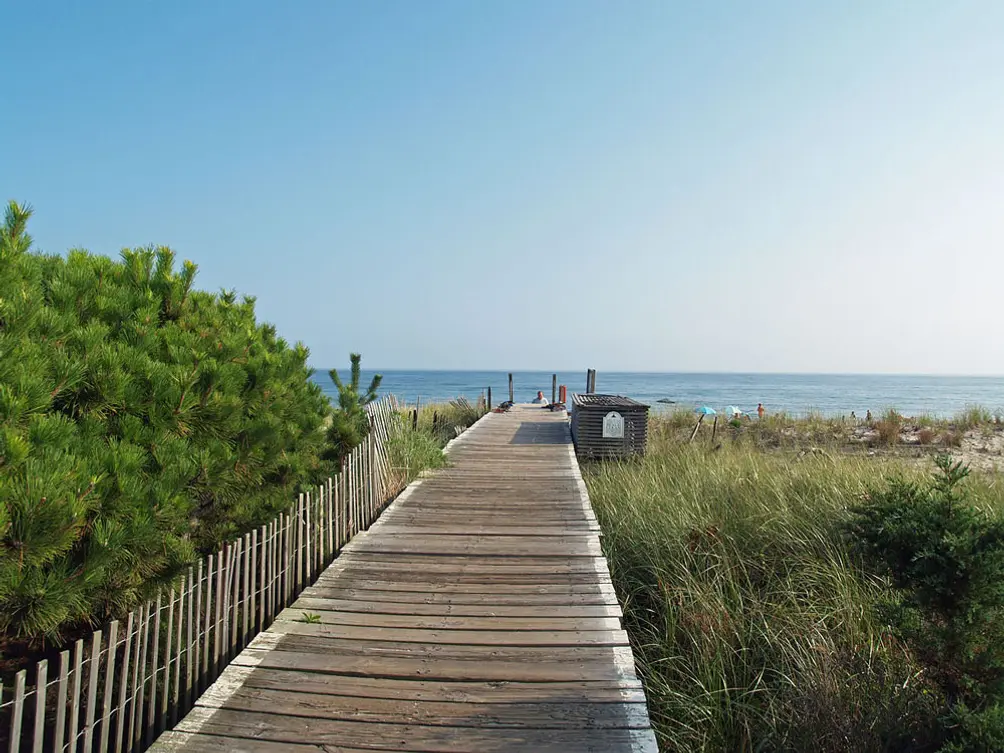 The U.S. Army Corp's report suggests that following the restoration of the shoreline, most Fire Island homes will not be at immediate risk.

So why is Fire Island relatively affordable when compared to other nearby vacation spots, including the Hamptons?

Unlike the Hamptons with its growing population of year-round residents, Fire Island is almost exclusively a summer vacation destination. The island's summer population, which often swells to over 20,000 on weekends in July and August, plummets to just under 300 in the winter. The reality is that while Fire Island's car-free status may be a huge part of its appeal in the summer months, living on an island without a vehicle throughout the winter simply requires more stamina than most home owners can muster. Whether buying on Fire Island is a good investment, then, ultimately depends on whether or not one can afford to buy a home that will only be occupied two to three months per year with little potential for year-round use or rental income.
Additional Info About the Building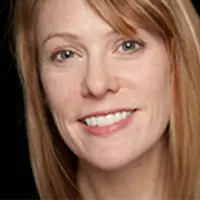 Contributing Writer
Cait Etherington
Cait Etherington has over twenty years of experience working as a journalist and communications consultant. Her articles and reviews have been published in newspapers and magazines across the United States and internationally. An experienced financial writer, Cait is committed to exposing the human side of stories about contemporary business, banking and workplace relations. She also enjoys writing about trends, lifestyles and real estate in New York City where she lives with her family in a cozy apartment on the twentieth floor of a Manhattan high rise.