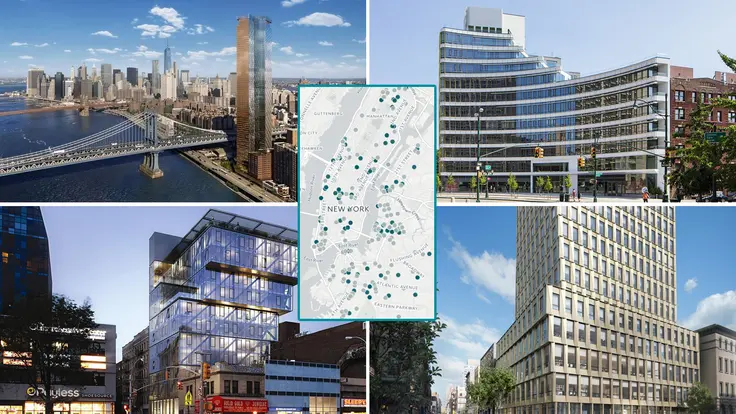 New York City has in place several programs that temporarily reduce buyers' carrying costs for condo and co-ops. Taking advantage of such incentives can save some condo owners / co-op shareholders thousands of dollars a year in property taxes.
One overarching program for apartment buyers is
the New York City Cooperative and Condominium Tax Abatement
where qualifying co-op and condo unit owners can receive a property tax reduction ranging from 17.5% to 28.1% a year. The amount of the abatement is based on the assessed value of the residential units. The condo owner /co-op shareholder must use the unit as their primary residence and cannot qualify if the unit already benefits from a J-51 exemption, 420c, 421a, 421b, or 421g tax abatement programs.
In the map below, you'll mostly find two provisional tax-abatement programs that are attached to a qualifying apartment or building. They are typically acquired by the sponsor developer or owner and are passed down to units within the building.
The 421a tax exemption program
was started in 1971 to encourage the development of underutilized or vacant property by dramatically reducing property taxes for a set amount of time. Developers who qualify can benefit from exemptions that usually last between 10 and 25 years. For condo developments the abatements are passed on to the apartment and gives their owners a 100 percent exemption from any increases in their property taxes for the first two years and then taxes are incrementally increased.
The 421-g Tax Incentive program was a real estate tax exemption and abatement for the conversion of commercial buildings, or portions of buildings, into multiple dwellings. It applied to areas of Lower Manhattan south of Murray Street, City Hall, and the Brooklyn Bridge. Read more about the exemption
here.
The J-51 property tax exemption program
is granted to residential buildings (typically rent regulated) to encourage and subsidize renovations. According to the city's website, a J-51 property tax exemption effectively freezes a building's assessed value in its pre-renovated state. Thus the owner or shareholders do not have to pay the increase in property taxes caused by the increase in assessed value from the rehabilitation work. See the length and value of J-51 tax benefits
here.
Additional Info About the Building