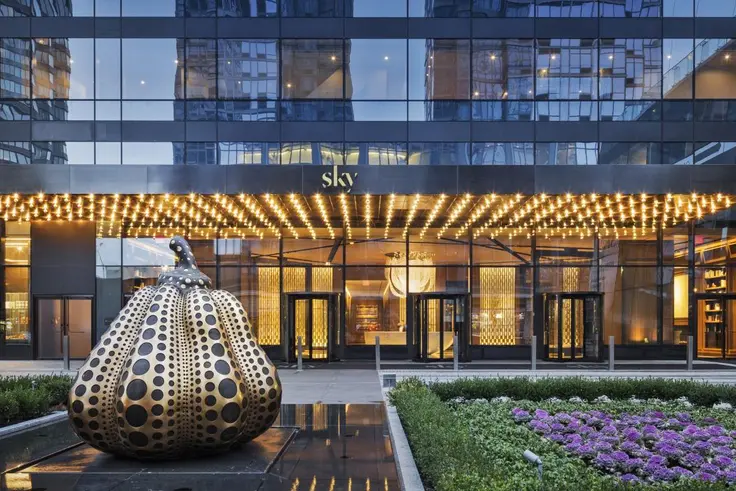 It may be cold outside but the art world is sizzling hot.
The Armory Show
, which runs March 8-11, is a 4-day international contemporary art exhibit with 198 galleries from 31 countries that draws more than 60,000 attendees. In addition to the Armory Show, there are two other shows going on right now in New York City and to the thousands of others shows throughout the country, throughout the year.
The art market is on fire – but not only on the upper levels where top monthly hammer prices continually come around $50 million, like last month. Just as the art market is surging at the high end of the market, it has also become more accessible.
The architect Morris Adjmi, who looks to the art more than architecture for inspirations says, "Art is becoming more important and more a part of all of our lives. You don't only have to like what's really expensive. It is accessible, it enhances all of our lives. You buy what you like but it's the history of art and how it influences our culture that makes it really important."
In this vein, more residential building developers understand the allure of art and have made more art accessible in the public and common amenities of the building for all residents and visitors to enjoy. Now, you can live in a building with a Yayoi Kusama custom sculpture or super cool New York 1960s iconic photographs without buying a single piece of artwork.
Exhibit, 60 Fulton Street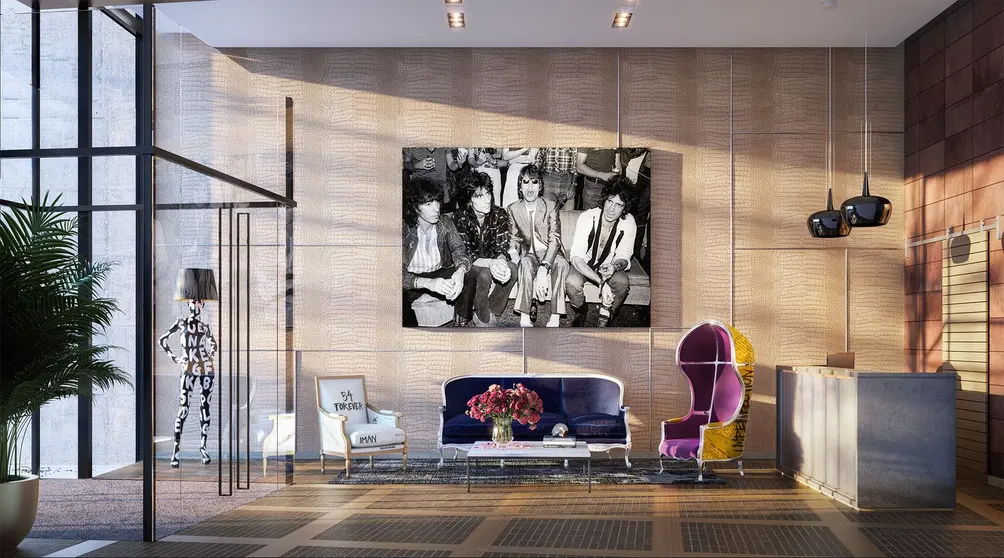 Jody Britt, who curated an entire building at 60 Fulton Street, called Exhibit, with New York-centric photography from the 1960s, 70s, and 80s, explains, "30-40 years ago, the old adage in real estate was location, location, location. On the island of Manhattan and in Brooklyn, there isn't anywhere that isn't a prime location anymore. Everywhere is the location. So what will set a building apart from being already in the prime location when everything looks beautiful and sleek and wonderful. That's what we focused on."

"We created a love letter to New York City," said Britt.

Scott L. Aaron, the Principal of Socius Development Group and Britt began culling through thousands of images from Britt's archive. "I wanted to show photos that hadn't been seen, that were previously unreleased or not yet curated in a way that told a story. We wanted to pay homage to what made New York what is today – the time when the city was a little gritty, hungry, fascinating and scary to some people because it didn't care what people thought about it."

All 23 floors of the building have a rotating selection of photographs (they will move up a floor each every few months), as well as the gym, amenity space on the 23rd floor, residents penthouse club, lounges, parlor room and dining area.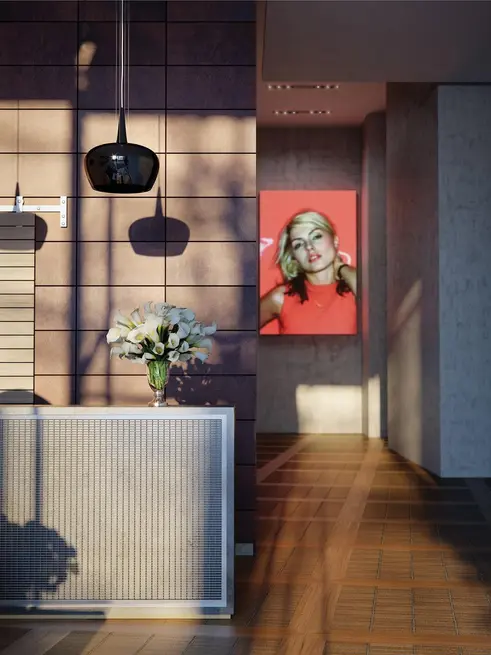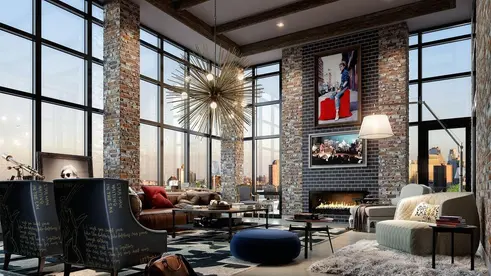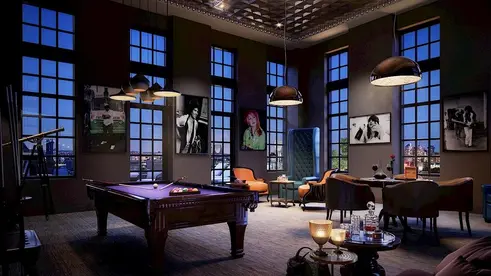 In the gym, an entire wall is covered with a never before seen photo session contact sheet of Muhammad Ali taken by photographer Alan Tannenbaum. Aaron commented, "There are a lot of new buildings in Manhattan. This adds to our building's identity. When people come to look at apartments, you want to be the one that stands out. You don't want to look like everybody else. Once people get into the building and they see these great amenity spaces and their friends come over and walk through the corridors and see these pieces of art, it makes everyone feel good to have thoughtful design. It helps keep and attract residents."
The elegant RAMSA-designed 20 East End Avenue also has art scattered around the building for its residents and their guests. Although developer Edward Baquero, President of Corigin Real Estate Group, admits, "Designing art for common elements is very difficult because you can't make everybody happy," it seems that he did just that.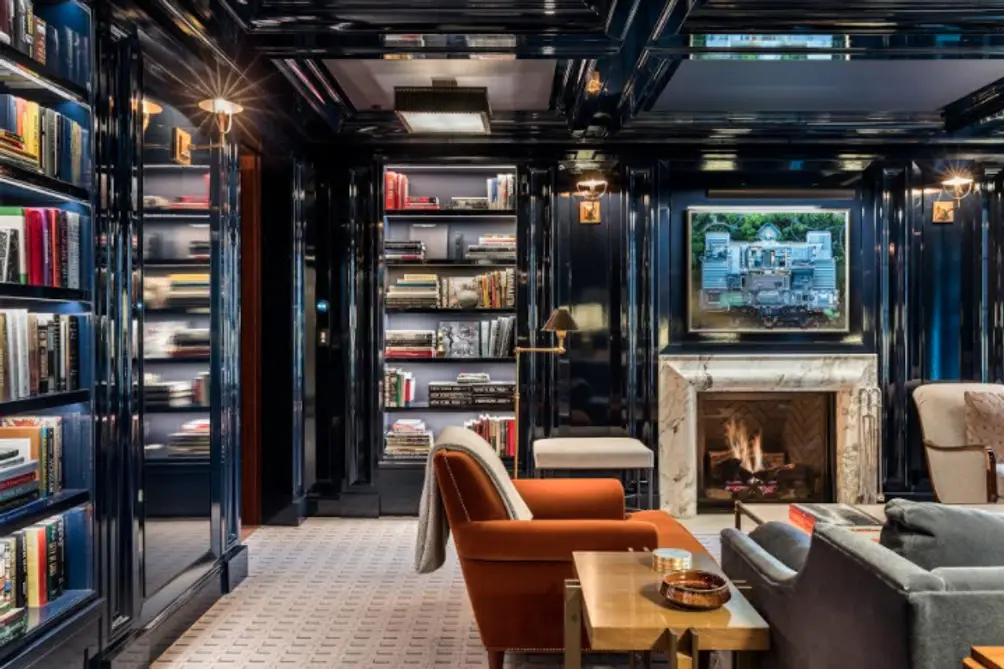 In the "sexy, midnight blue lacquered library," Baquero commissioned his architect, Robert A.M. Stern, to curate a New York-centric book collection ranging from books by Tom Wolfe and to books on New York graffiti.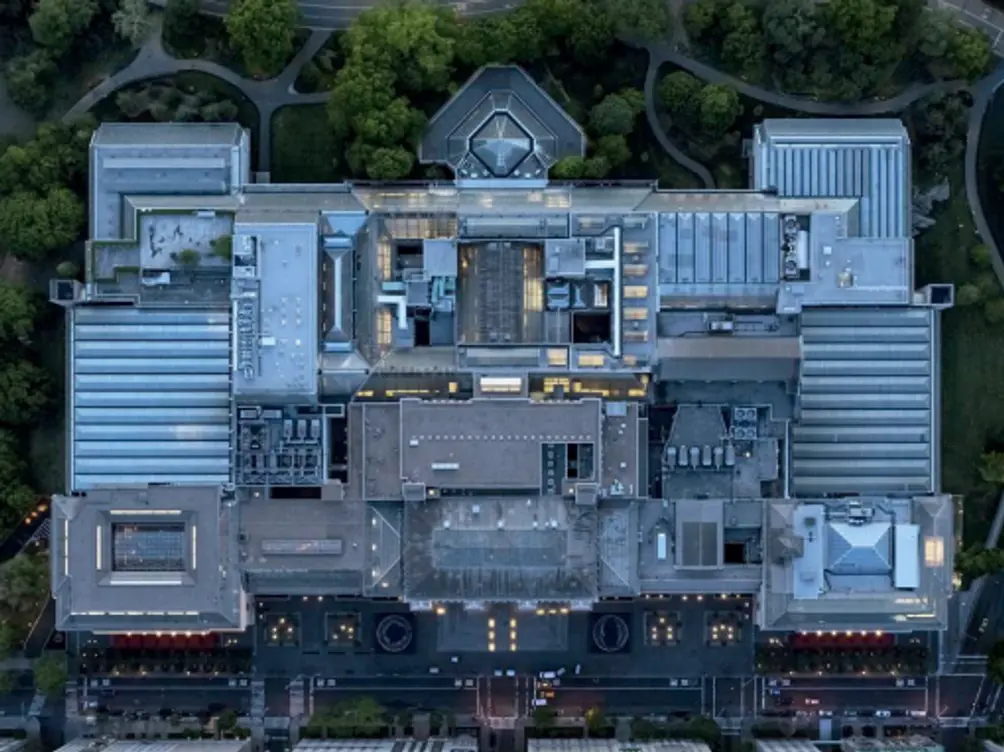 Above the common library fireplace, hangs a gorgeous Jeffrey Millstein aerial photograph. Baquero jokes he shows potential residents the photo on his tour and says only true "New Yorkers" can live in this building so if they cannot identify that building, they cannot buy in his building.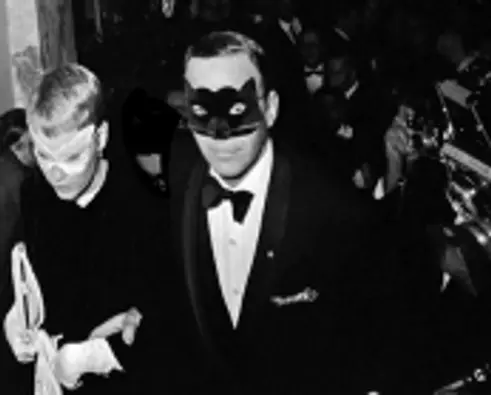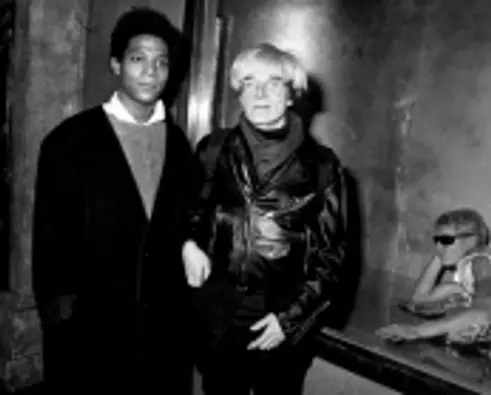 In the gallery space outside of the library and billiards room, Baquero has created a salon-style collection with candid New Yorker photographs, like an image of Mia Farrow and Frank Sinatra leaving a ball at the Plaza and another of Basquiat and Warhol coming out of an area club in the 1960s.
As he was being interviewed, Baquero was receiving hundreds of images from his art curator,
Elizabeth Fiore
, as she scoured the Armory Show for two perfect pieces. "I'm looking for some contemporary art to pop these two 3'x4' spaces a little. I want a bit of color for these two of the niches that are very central to the Lobby, on either side of the Oculus."
Sky, 605 West 42nd Street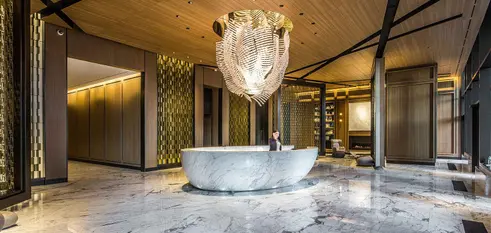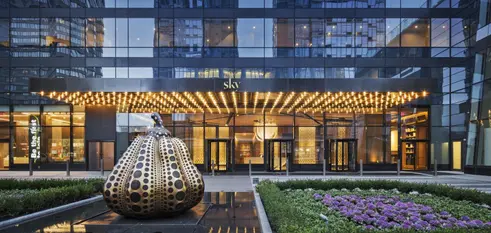 Sky is a 71-story rental residential building in Midtown West. Not only does the building's infinity-loop motor court feature a custom Yayoi Kusama-carved bronze pumpkin (one of the most Instagrammed pieces of art in NYC) but there is an artisan-made chandelier in the lobby and more art scattered throughout the building, i.e. two of Kusama's "Infinity Net" paintings, a fiberglass Kusama pumpkin positioned on the wall at the building's fitness entrance, and extravagant paintings, "Lead Paintings" by Gunther Forg, "Sunset at Palm Marina" by Nezih Cavusoglu and "Irregular Curves" by Sol LeWitt.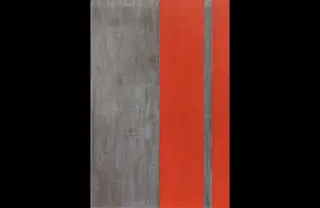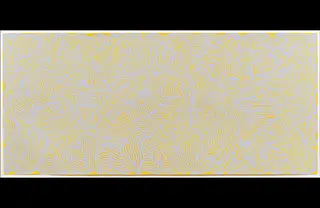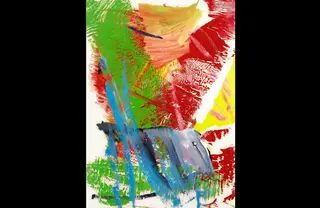 And even more impressive is the Sky Art's 10,000 square foot exhibition space. Sky Art is described as a temporary nonprofit that hosts art shows. The current exhibit, Ugo Rondinone's I heart John Giorno.
"Our goal was for residents of Sky to feel the immediate embrace of extraordinary artwork the moment they stepped into the building."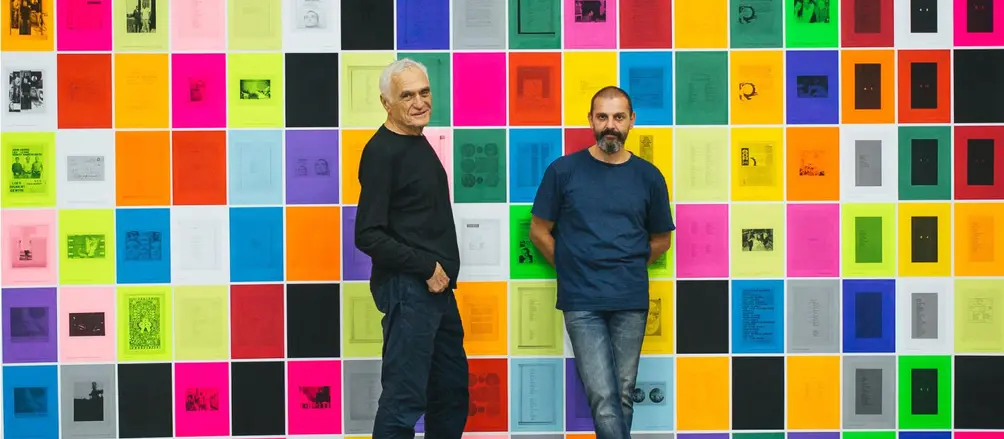 "We at The Moinian Group felt it was important to offer our residents at Sky a complete art experience. Our goal was for residents of Sky to feel the immediate embrace of extraordinary artwork the moment they stepped into the building. By fusing the sophistication of Sky's Rockwell Group-designed interiors with imaginative art pieces from award-winning artists, such as Yayoi Kusama, we ultimately created a space that art lovers could appreciate. Our residents are attracted to great artwork and, by incorporating that into our building, we brought an exclusive offering that set Sky apart from the other residences in the marketplace."
300 Ashland, 300 Ashland Place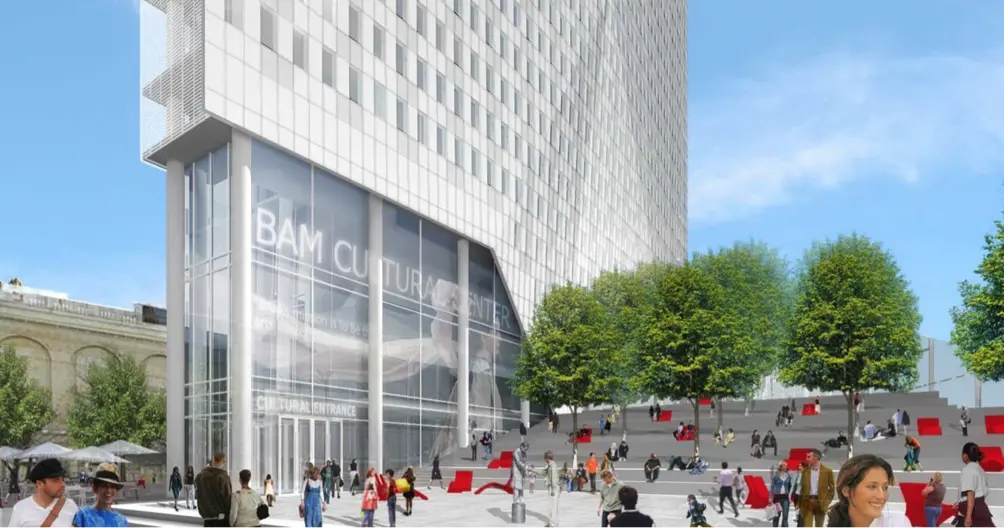 300 Ashland, developed by Two Trees, is located in Brooklyn's Cultural District – Downtown Brooklyn. Residents live next door to renowned cultural institutions like BAM, BRIC, Mark Morris Dance, and Theater for a New Audience, and alongside arts organizations like Brooklyn Ballet, Issue Project Room, Roulette, and a suite of theatre companies and art galleries. And, in the coming years, BAM Cinema, MoCADA, 651 Arts, and the Brooklyn Public Library will open locations within the building.

Two Trees specifically focuses on emerging artists to capitalize on the creative energy of Brooklyn.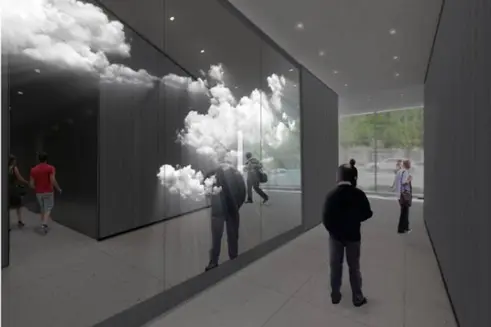 Kate Gavriel, Cultural Affairs Director at 300 Ashland says, "TwoTrees believes that the thriving arts community makes Brooklyn a special place to live, and residents of 300 Ashland only have to walk out their front door to have access to the best of what Brooklyn has offer."

In terms of the residents' response to the art, Rebecca Epstein, Director of Residential Leasing at 300 Ashland explained, "Every neighborhood is different as the demographic is drawn there for a specific reason. 300 Ashland residents are drawn to the cultural spaces and anticipate the role they will play in the neighborhood and the direct access to it. Dumbo residents love the access to galleries and the overall creative landscape of the neighborhood. And at 325 Kent, while we don't have a strong connection to the arts (yet), the design, the lobby, the amenities and the projected incorporation of the park and historical artifacts all play a significant part of why people choose to live in this building. We try not to lose sight of the connection to history and the ever changing landscape here."
The Four Seasons Private Residences, 30 Park Place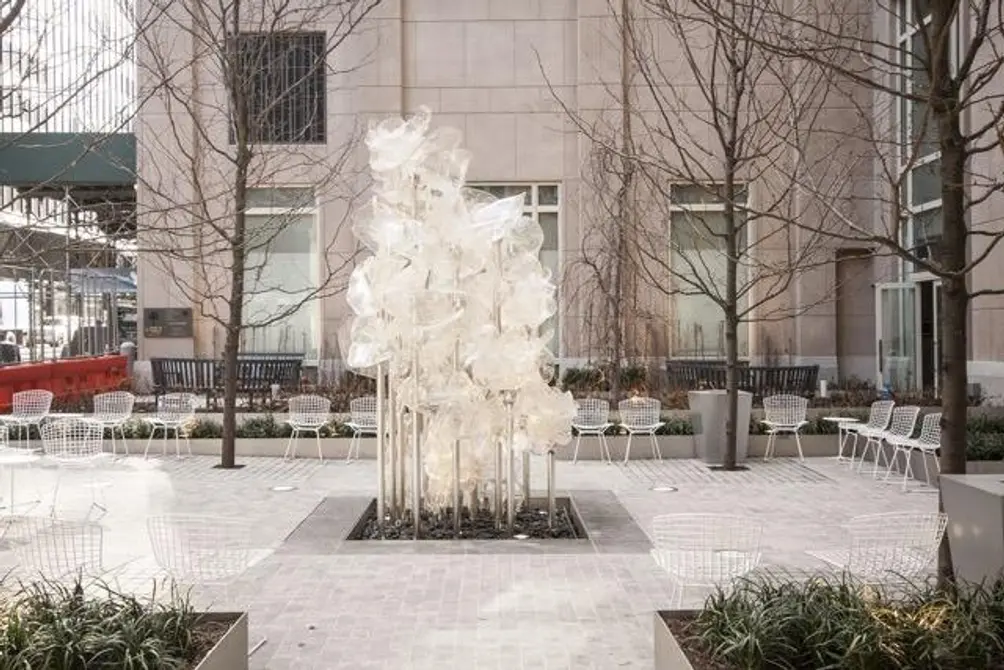 Located in Tribeca, 30 Park Place is a 926-foot-tall condominium tower with panoramic views of Midtown Manhattan, the Hudson and East Rivers, the New York Harbor and Statue of Liberty. Another building by architect Robert A.M. Stern, 30 Park Place was developed by Silverstein Properties and has 157 residences in a mix of one- to six-bedrooms.

The "Steam Portraits" sculpture in the building's public plaza is made up two undulating glass fountains by American glass artist, Martin Blank. Silverstein tasked Blank with creating them more than 15 years ago where Blank then sketched a variety of ideas for Mr. Silverstein to approve. Based on water in a constant sense of motion between the elusive effects of steam and wind against it, Blank chose clear, see-through glass to focus on this relationship.

So now instead of choosing an apartment based on location or other amenities, perhaps buyers and renters will consider what kind of art gallery they want to live in and choose accordingly.
Schedule an Appointment
To tour any of these properties, just complete the information below.
Or call us at (212) 755-5544
Additional Info About the Building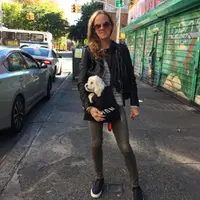 Contributing Writer
Michelle Sinclair Colman
Michelle writes children's books and also writes articles about architecture, design and real estate. Those two passions came together in Michelle's first children's book, "Urban Babies Wear Black." Michelle has a Master's degree in Sociology from the University of Minnesota and a Master's degree in the Cities Program from the London School of Economics.