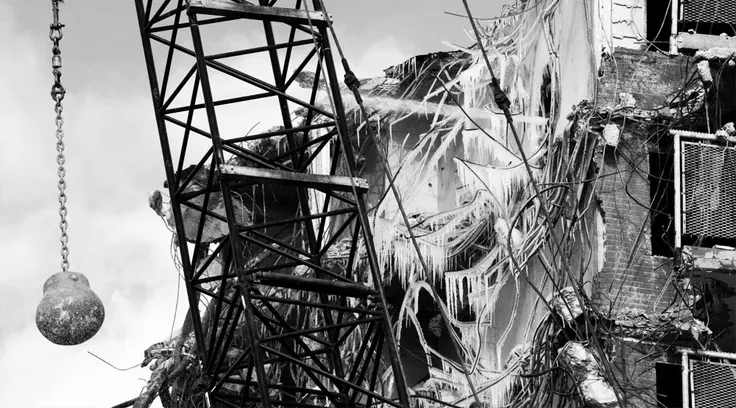 It has been called the most coercive public policy after the draft. It has also been said that without it, construction in major cities would come to a shuddering stop. What is this powerful, controversial tool? Can both statements be true?

Eminent domain is the policy by which a governmental agency can acquire or "take" property from an owner unwilling to sell in order to build something else there, and it has been around for centuries. Some say it derives from the medieval concept of the divine right of kings, empowered by God the Almighty to be sovereign over all. And by inference, that includes the land, which individual owners occupy and trade at the king's sufferance. When he wants it back, it is his right to take it. So under eminent domain, all land theoretically belongs to the state, which can assume control at any time.
It has been called the most coercive public policy after the draft. It has also been said that without it, construction in major cities would come to a shuddering stop.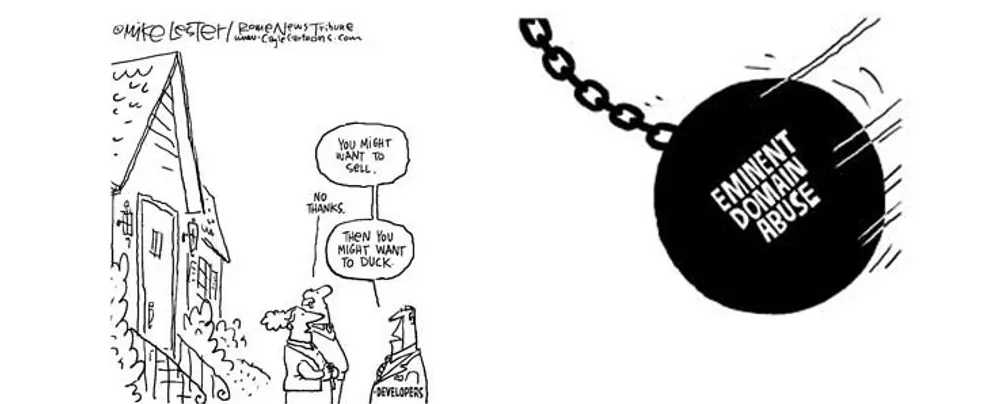 What the Law Says
The Takings Clause of the Fifth Amendment to the U.S. Constitution says, in part, "...private property [shall not] be taken for public use, without just compensation;" and the Due Process Clause of the Fourteenth Amendment both allows and limits the power of eminent domain. The Fourteenth Amendment extends that power to individual states and local governments.
The pivotal phrase is "for public use." Widening a highway is obviously a public use. So is a public school. Giving up your property for just compensation so children can go to school is not too hard to swallow. Courts have consistently tended to rule in favor of those using eminent domain for the greater good of the public. Where all this gets chewy is when the use is not so clearly public, where money is to be made from the acquisition, where, in a word, eminent domain is used for economic development and a specific project may be seen as for the greater good of its investors.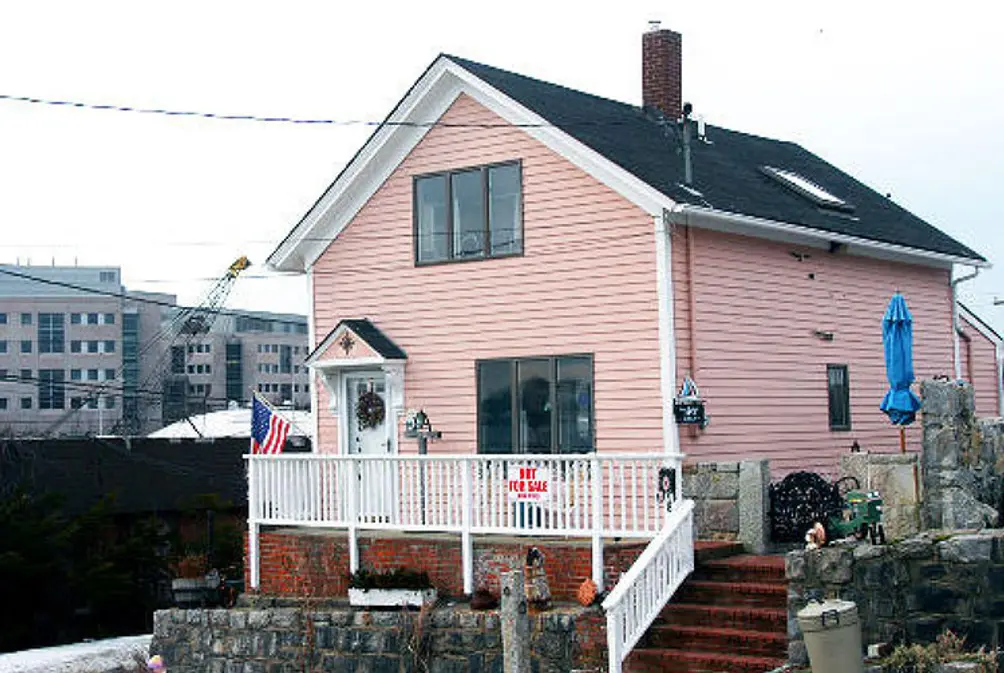 In the famous 2005 Kelo v. City of New London case, the United States Supreme Court decided that the city of New London, CT, could seize private houses by eminent domain and grant them to a developer so the pharmaceutical company Pfizer could build a plant on the land.
Property owners in New London, led by Susette Kelo, argued that economic development, which had been the justification for the seizing, did not qualify as a "public use." The Connecticut State Supreme Court said that it did, by virtue of creating jobs, increasing the tax base and revitalizing an area. When the case was heard by the United States Supreme Court, Justice John Paul Stevens wrote in the majority opinion that economic development was a long-honored, justified activity of local governments and upheld the lower court's finding.

He added, however, that nothing prevented states and local governments from writing more restrictive legislation.

A scant week after Justice Stevens said that, the United States House of Representatives drafted a bill disallowing the Federal use of eminent domain for economic development—or any federal funds to be used on a site taken by a state or local government for that reason or to increase tax revenue. Five months later the House passed it.
It was not passed by the Senate. The bill has been reintroduced virtually every year since then and still has not been approved by the Senate, so eminent domain for economic development is still legal under federal law.
Taking Justice Stevens's hint, 44 states have passed laws restricting it. New York has not.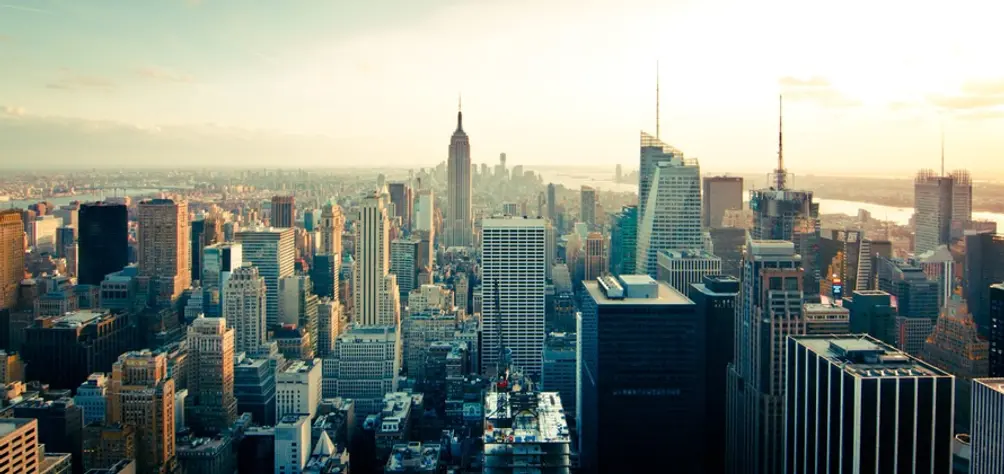 Eminent Domain in New York
Although eminent domain is not restricted in New York, there are laws governing the process; they're called Eminent Domain Procedure Law—EDPL. According to a fact sheet put out by Attorney General Eric T. Schneiderman, it may be employed for "a road or public park, or to provide housing for disadvantaged persons," and it takes place after a planning, engineering and design phase determines what property is needed and where. The condemner, which is what the receiver of the property is called, has to hold a public hearing to describe the project and its impact on the environment and residents. The public may respond then or later, and within 90 days the condemner has to make a public announcement in a local paper and send a summary of it to each property owner affected. Within 30 days, property owners can file appeals in the appellate division of the state supreme court in their counties, which will determine whether the procedure has been consistent with the law and whether a public use or benefit is being served.
New York State law, like the federal one, requires "just compensation" to be paid to the property owner. That's the fair market value determined by an assessment of various features of the property and the prices paid for similar ones, but it may not be an amount agreeable to the property owner. If he brings a lawsuit, though, he could lose and have to accept a price less than the original offer, which has happened.
In the case of the proposed Port Authority Bus Terminal, litigation seems probable. Right now, the terminal occupies land on the blocks between 40th and 42nd Streets and 8th and 9th Avenues in Manhattan; most plans envision using property west of the station, on 9th Avenue between 39th and 41st Streets, closer to the Lincoln Tunnel exits. Planning is preliminary at this point—a design competition is underway with a decision expected in the fall—and so far all the Port Authority has said is that it already owns some of the property west of the terminal and intends to use eminent domain there in as limited way as possible. Property owners are promising a fight.
Michelle de la Uz, a former member of the New York City Planning Commission and now executive director of Fifth Avenue Committee, Inc. said in an interview that government always tries to use eminent domain sparingly, and everyone seems to agree. It is too controversial. "But as the population increases," she said, "the scarcity of land offers fewer options for governments. For instance, if an area is 95 percent developed and suddenly you need a school, what do you do? We may see an increase in eminent domain because of instances like that." Or the instance of a new bus terminal.
Public use versus economic development—sometimes it's hard to separate the two. Broadly speaking, under the "public use" doctrine the government is empowered to take anything, even a new building. Under "economic development" it seems that blight is a consideration. But again, often the two are mixed.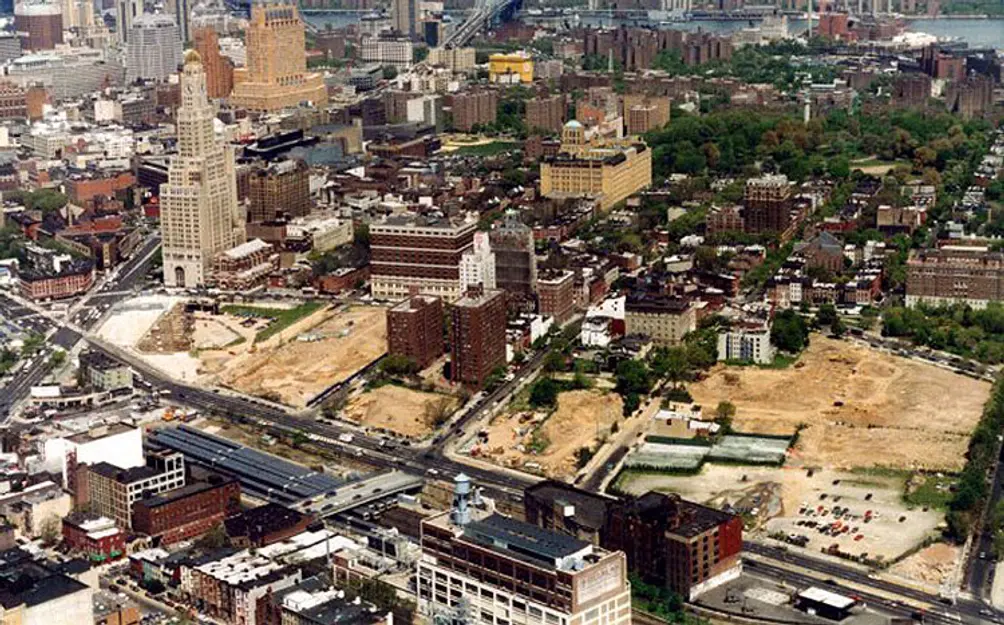 The Atlantic Yards Redevelopment Controversy
If you see blocks of abandoned houses, collapsing or with roofs fallen in and windows broken or boarded up, and lots of empty, weedy, garbage-strewn land between them, that's pretty clearly blight and the property can be condemned. If, however, there are some houses in need of some minor repair and unkempt vacant lots, maybe not. That was the case of the Atlantic Yards development, now known as Pacific Park.
Michael Rikon is a partner in the law firm Goldstein, Rikon, Rikon & Houghton, which specializes in eminent domain and was involved in the Atlantic Yards case. "Without vacant land, you get teardowns," Mr. Rikon said. "Eminent domain is a real possibility on any site." The New York Empire State Development Corporation took Brooklyn properties it claimed were blighted. Residents argued that they were not—and went to court about it. However, as Mr. Rikon noted, "every lawsuit was denied or dismissed."
Atlantic Yards in Brooklyn, of course, was developed, with a stadium as its linchpin. Bruce Ratner of Forest City Ratner, wasn't the first to think of it. As far back as the 1950s, the area around Atlantic Avenue and Flatbush looked like a good spot for a sports venue to Walter Malloy, the owner of the Brooklyn Dodgers, who wanted to build a stadium there, but city officials said they would not permit it for a private enterprise. Mr. Malloy moved the Dodgers to Los Angeles and that was that. But by 2002 attitudes had changed, and eminent domain for a private enterprise was seen as permissible.

It was, as Mr. Ratner has often said, a public-private effort. Through the Empire State Development Corporation, a public entity, eminent domain was invoked in residential parts of the area, and Forest City Ratner, a private corporation, began construction.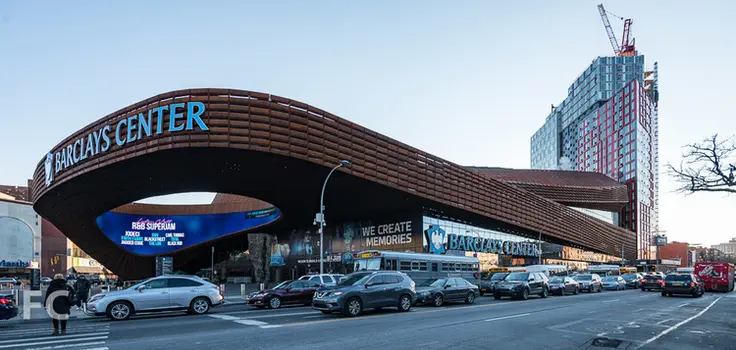 Enlarge Image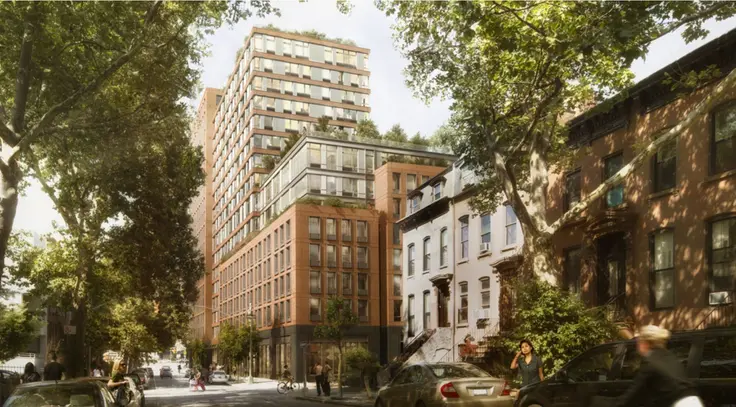 Enlarge Image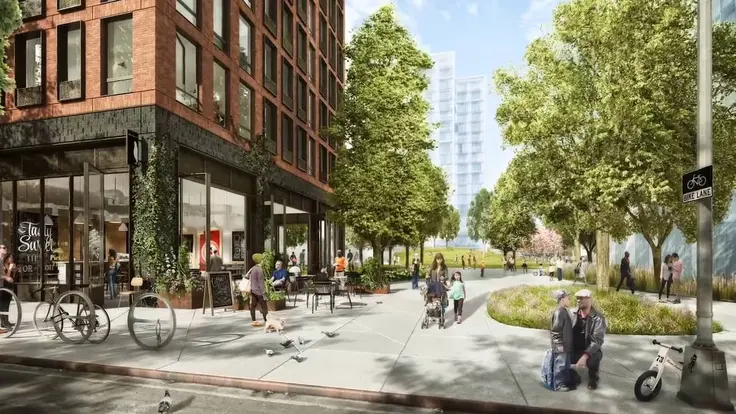 Enlarge Image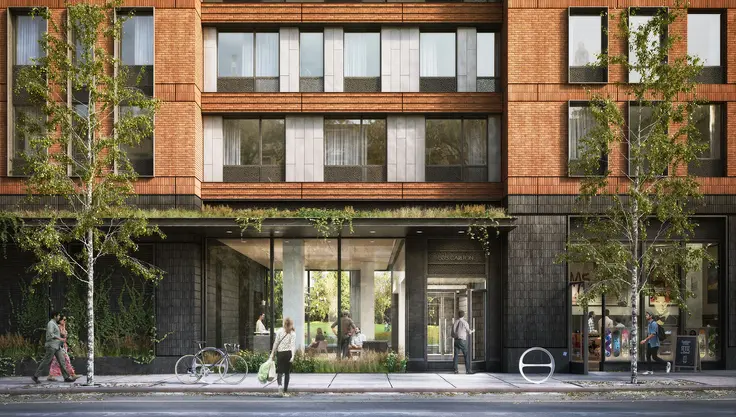 Enlarge Image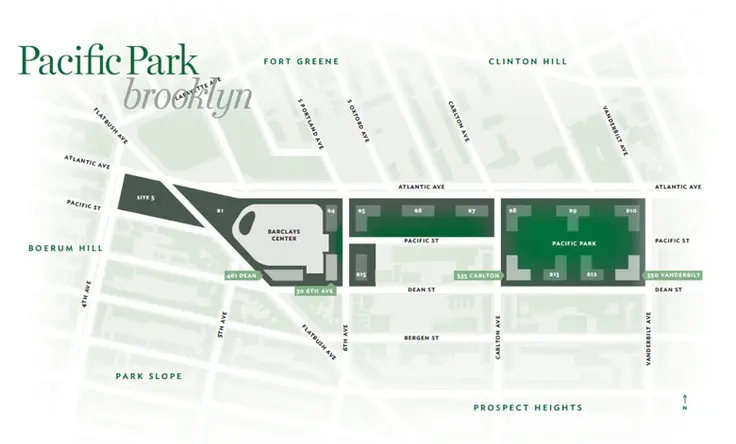 Enlarge Image
Today, nearly 15 years after the whole thing started, the sports arena is up and functioning. To get the arena, Mr. Ratner had to sell an 80 percent ownership of the New Jersey Nets basketball team, renamed the New York Nets, to a Russian billionaire. He sold a 70 percent interest in the residential part of the project to the China-based development company, China Greenland.
When Forest City Ratner formed a partnership with Greenland in February 2015, the project was renamed Pacific Park. Greenland has built 14 residential buildings, with more to come, and the partnership is reportedly now looking to sell a position in some more of its buildings.
Asked how the project turned out, Richard Bowditch, who lives a five-minute walk from Pacific Park, said, "It's not there yet. They only began building last year. The impact on us is stadium-based. Of course there's more traffic, but it's not catastrophic and the commercial area is flourishing. I have nothing super negative to say. Very certainly [the project] wouldn't be called a fiasco. What they're doing has brought more to the neighborhood than what's been lost."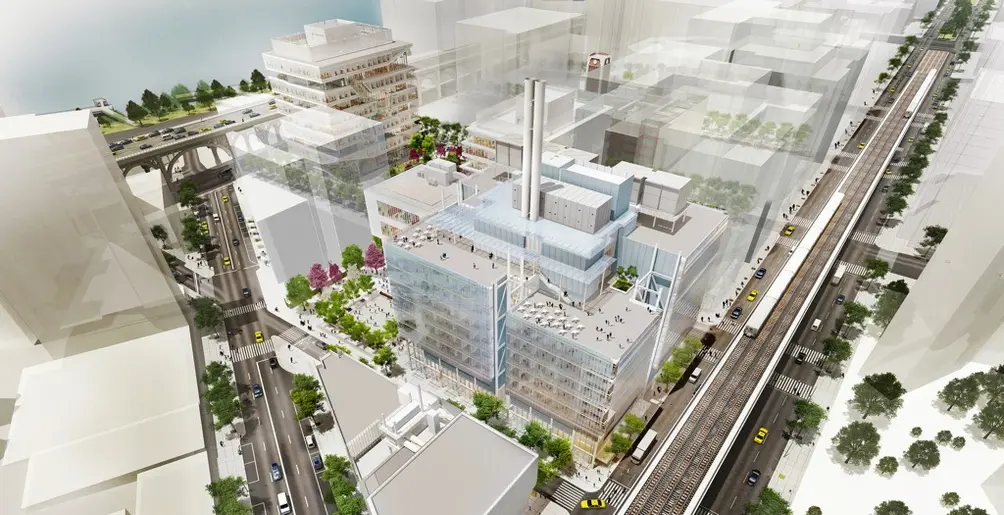 Manhattanvile
Blight figures in many cases, along with the prospect of public benefits. Columbia University's expansion of its campus in Manhattanville, for example, was predicated on the blight of the neighborhood. According to someone who grew up there and asked not to be named, the area around West 125th Street near the river "always looked desolate, with drug addicts and homeless people, rundown hotels."
"It was a vacuum of life," added a present-day resident who lives ten blocks north of the 75-acre development. Gas stations, car repair shops and warehouses occupied the land, mostly in one or two-story buildings. Most of them took the buyout offers. One, a storage facility, didn't take the offer, sued and lost in court. Another, a moving and storage business, accepted a building 30 blocks north and continues in business, the front entrance of her building adorned with the white Colonial Revival-style facade that Columbia moved from her old building for her. The owner of that business did not return calls for comment.
On the Manhattanville campus, new buildings are going up and old buildings—Studebaker among them—are being restored. The whole area pulses with promise.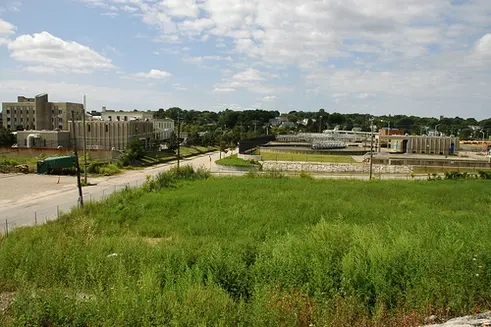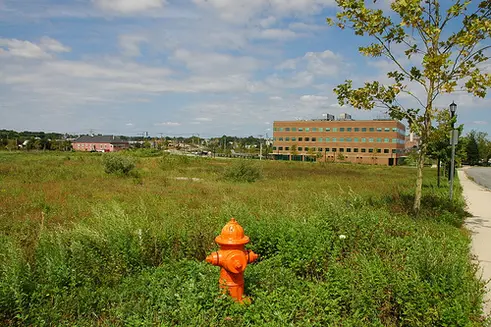 When Eminent Domain Does Great Harm
Not all results are so sanguine. Eminent domain can be aborted, as it was in the Keystone Pipeline case when activists protested so vigorously that the government, beset with other obstacles as well, dropped the project. It can cause delays leading to stalemate, and it can be abused—abused by the taker as well as by the property owner.
In New London, Connecticut, the residents reluctantly left their homes, finally vacating the property totally in 2007 just in time for the economic downturn. The developer who wanted the land could not raise financing, and Pfizer, the client petitioner, walked away. Today barren land and scrub exist in Fort Trumbull, the area of New London where this took place. David Collins, a columnist for a local newspaper, The Day, said in an email, "Nothing has happened to the land, which the city is still trying to develop."
In at least one case, it wouldn't be exaggerating to say a property owner made a killing. In 2005, the State of New York took 245 acres of land belonging to Gyrodyne Corp. for the construction of the SUNY Stony Brook campus. It amounted to about 28 percent of Gyrodyne's leasable space, and the state paid Gyrodyne $26 million for it. The company, manufacturers at the time of drones, said on its website that it regarded that money a down payment and proceeded to sue. Finally, after years of litigation, in 2012 the company received $98,685,000 in additional damages, $67,341,716 in interest, and $1,474,941 for costs, disbursements and expenses—a total of $193,500,000. It comes out to $789,795 per acre.

Then the company quit manufacturing and went into real estate.
Additional Info About the Building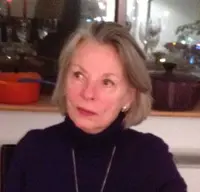 Contributing Writer
Penelope Bareau
Penelope Bareau has worked as a writer, editor and interior designer. Today she is active in historic preservation, serving on the boards of the Greenwich Village Society for Historic Preservation and the Historic Districts Council. She was a member of the Save Gansevoort Task Force, which campaigned for historic district designation by the Landmarks Preservation Commission. It was granted in 2003.