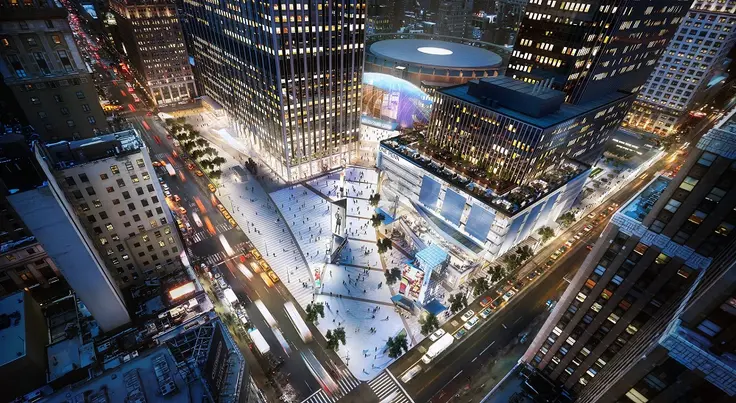 The momentum to transform New York City streets and public areas into inviting, useful spaces continues to gain steam. Over the past decade, the city has carved out dozens of new spaces to create pedestrians havens. From Columbus Circle to Times Square, to Downtown Brooklyn's Willoughby Street, the car-free spaces entice pedestrians to pause, linger, and simply observe the urban jungle. Yesterday, the New York Times
announced
that the city's Department of Transportation will embark on a seven month study to possibly widen the pedestrian promenade and bikeway of the Brooklyn Bridge. Nicknamed "Times Square in the Sky," the study seeks to ameliorate contentious interactions between pedestrians and bikers by offering more space to both. The private sector is playing a role to create welcoming public spaces, too. Vornado Realty Trust (VNO), one of the city's biggest landlords, is aiming to transform the area surrounding Penn Station and Madison Square Garden by creating a pedestrian nirvana dotted with kiosks, seating, and glossy architecture to make the area less dismal.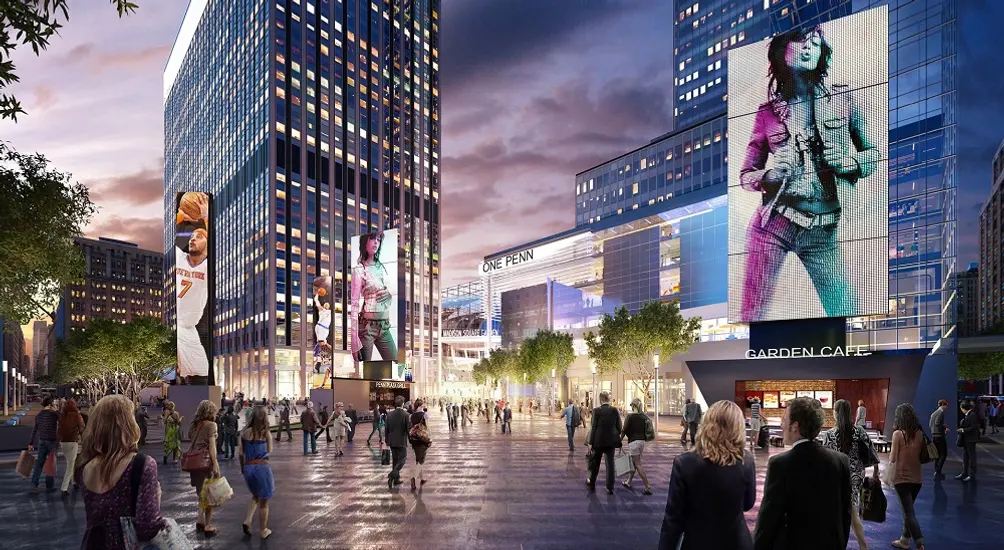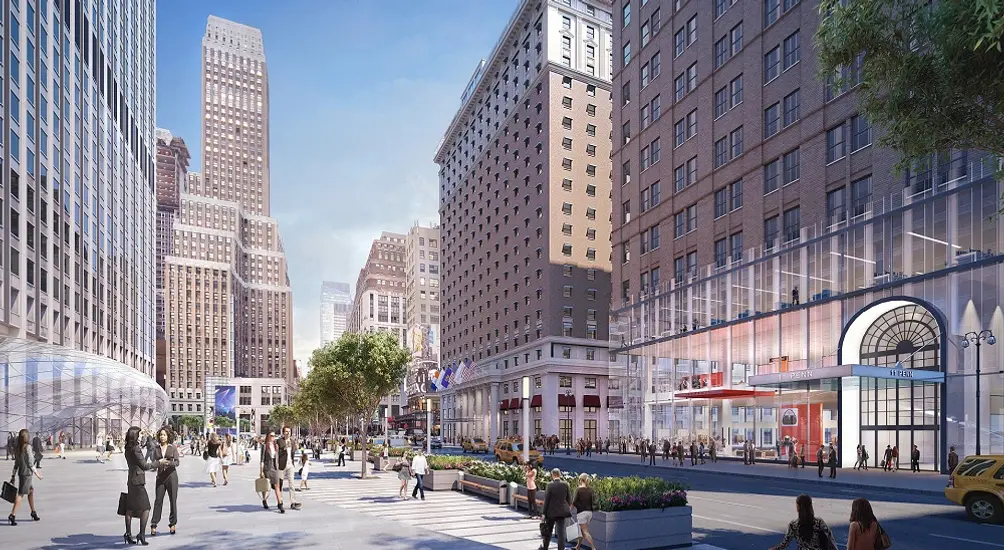 In 2015, it was reported that VNO tapped Oslo-based Snohetta Architects to draw up a master plan to overhaul the district's public spaces. Despite being situated above the western hemisphere's busiest transportation hub, the area is lacking both appeal and amenities. This is in addition to the area simply being over capacity, and unable to handle the number of commuters passing through. The real estate investment trust is the dominant property holder in the area, owning more than nine million square feet of commercial space. Its noteworthy properties include 2 Penn Plaza which is at the foot of Madison Square Garden, the Hotel Pennsylvania at 15 Penn Plaza, and the black-glass monolith, 1 Penn Plaza.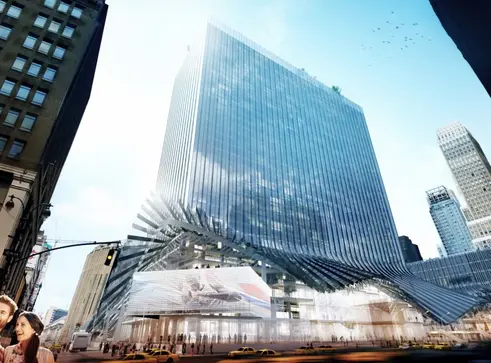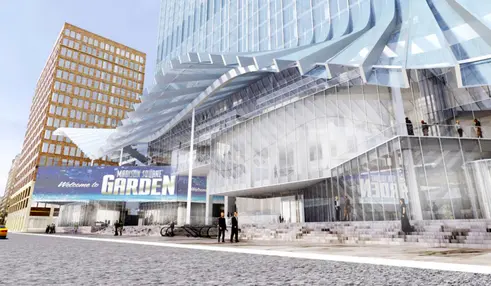 Crain's reported that once Snohetta's master plan is complete, additional architects would be engaged to redesign elements of the plan. Earlier this year, 6sqft
published
renderings of Bjarke Ingels wave-like reimagination of the much-maligned 2 Penn Plaza office building. And now, newly revealed renderings from
Kenneth Park Architects
show their recommendations for re-positioning commercial retail space, as well as reconfiguring pedestrian and vehicular circulation. The trio of renderings propose a complete closure of West 33rd Street, enabling a single-level free-flowing pedestrian plaza, and streamlining circulation in and out of Madison Square Garden. At the southwest corner of 34th Street and Seventh Avenue, the one-story retail building would be removed entirely, providing clear sight-lines to the Garden from 34th Street. The podium of One Penn Plaza would be enlarged and offer outdoor seating. The Hotel Pennsylvania, whose future remains unclear, is shown intact, and its southern neighbor 11 Penn Plaza would have a glass encased commercial base.
Vornado has been working with the city and the 34th Street Partnership to improve the spaces. Last year, VNO launched a test run of the 33rd Street closure, which also added a pedestrian plaza to the space. The pilot returned this year with a painted streetscape and improved landscaping and, as we can see in the photos above, New Yorkers and visitors have flocked to the new spaces. These renderings are exciting, but it is unknown when a final plan will be announced or when construction on the space will begin.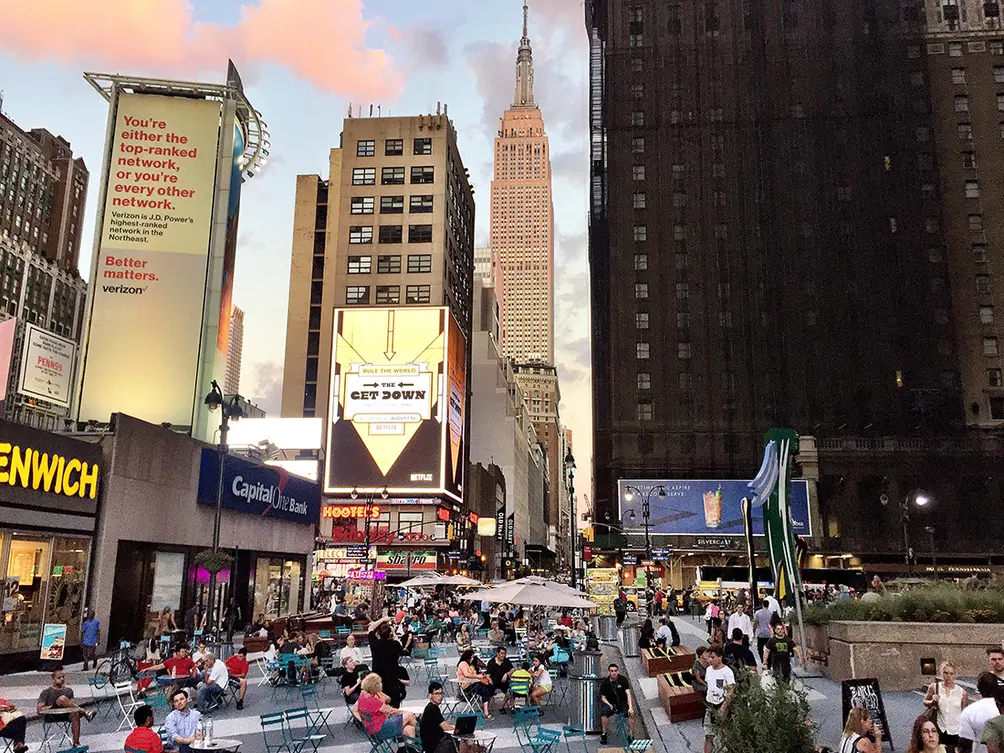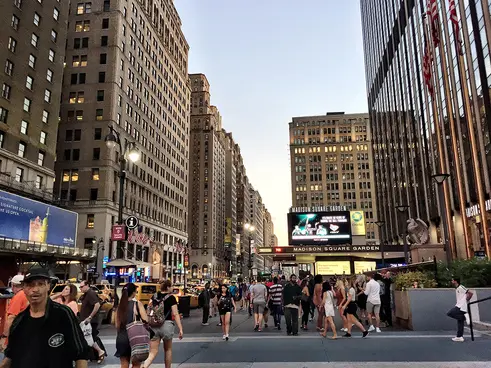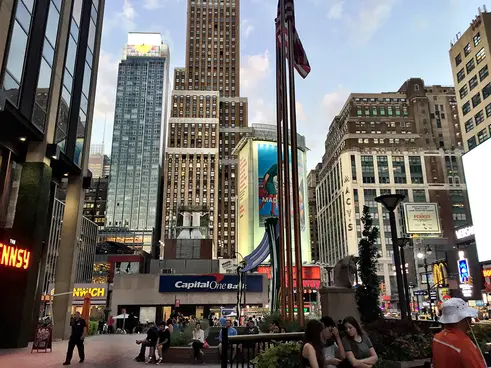 Additional Info About the Building