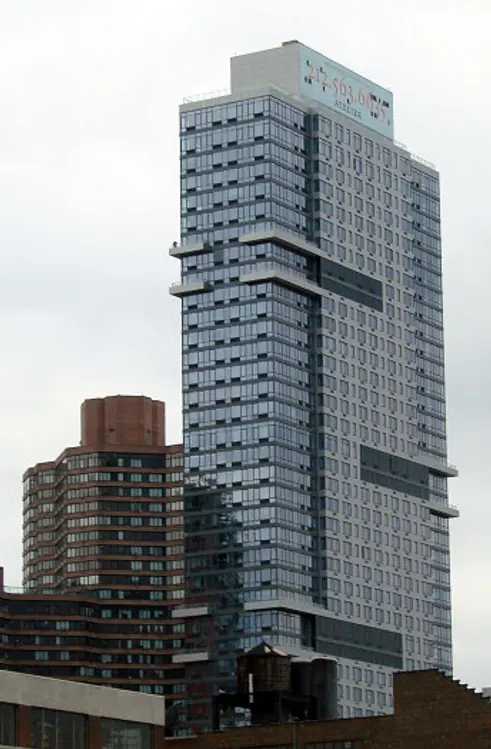 Survival of the fittest is the often the best way to describe life in the highly competitive world of luxury residential condominium development.
The Atelier, at 635 W. 42nd St., designed by Costas Kondylis, looks a bit like a finely tooled, rectangular key that could open some great vault in the sky.
That may explain why a couple of new towers have "abs" -- protruding elements on a building's facade that indicate strength and good health, and not, of course, the midriffs bared at fitness centers.
Two new towers showing off abs are Platinum, at 247 W. 46th St., and the Atelier, at 635 W. 42nd St. One of the city's most prolific architects of high-rise residential projects, Costas Kondylis, designed both buildings.
SJP Residential Properties developed the 43-story residential condominium known as Platinum, which is one of the sleekest buildings in the Times Square theater district. Its abs are situated high up on its west facade and horizontally "link" two facade components. The asymmetrically placed abs are the focal point of the facade and look like a dazzling brooch on the dressy building as it steps out on opening night.
The mid-block Atelier is a 46-story building that is the first phase of a development by the Moinian Group and MacFarlane Partners. The second phase will be a 57-story residential tower at 605 W. 42nd St.
Looking a bit like a finely tooled, rectangular key with alternating notches that could open some great vault in the sky, the sleek and svelte Atelier tower is the best looking of the residential properties on far west 42nd Street.
It has a cool ¿lan that Mr. Kondylis has said "recalls the bow of a great ship," with a design inspired by the ocean liners that used to dock nearby along the Hudson River in the West 40s.
The slab tower of the Atelier has all-glass facades at its corners, with the north and south facades featuring four two-story protruding elements, its abs, that extend two-thirds of the way across the building's faces in alternating fashion. The effect is strikingly bold and high-tech.
On both buildings, the abs are not fringe for wayward surreys but important design accents that differentiate their glassy towers from the flock.
This article was previously published by the New York Sun.
www.nysun.com/real-estate/abs-of-steel/76487/
Schedule an Appointment
To tour any of these properties, just complete the information below.
Or call us at (212) 755-5544
Additional Info About the Building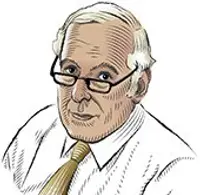 Architecture Critic
Carter Horsley
Since 1997, Carter B. Horsley has been the editorial director of CityRealty. He began his journalistic career at The New York Times in 1961 where he spent 26 years as a reporter specializing in real estate & architectural news. In 1987, he became the architecture critic and real estate editor of The New York Post.