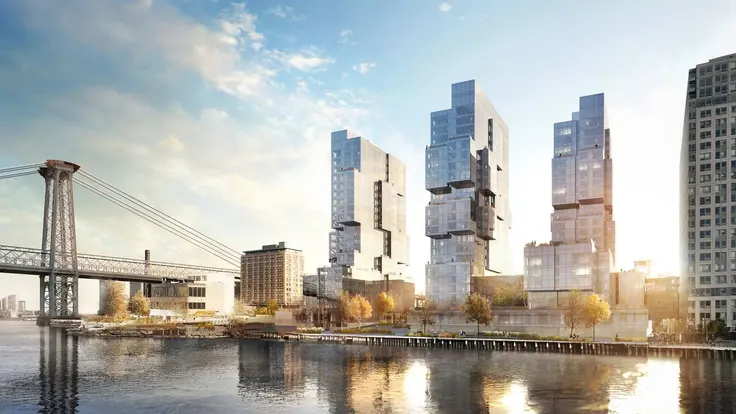 Developer Spitzer Enterprises, in conjunction with Exclusive Marketing and Leasing Agent Citi Habitats New Developments, have released the latest interior renderings for the 605-unit rental complex at
420 Kent
on the Brooklyn watrerfront. Two dynamically-massed, 24-story high-rises join the first of the trio at
416 Kent
next door. The residence reveals a roster of rarified amenities that rival some of Manhattan's prime real estate, with round-the-clock concierge, apartment cleaning services, numerous indoor and outdoor lounges, extensive fitness center, art and sculpture gallery, residents' waterfront bar & lounge, and more.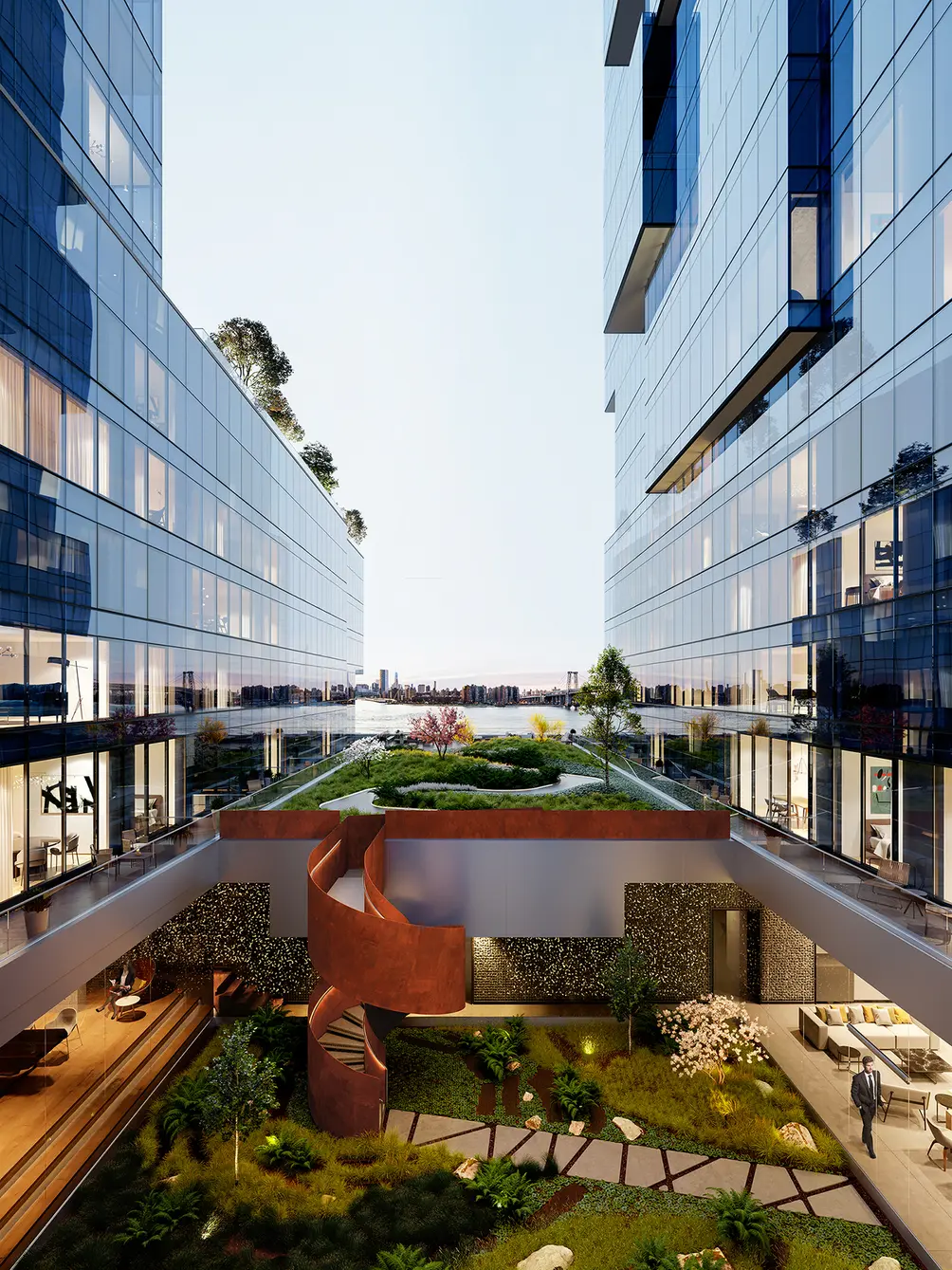 Eran Chen and his architect team at
ODA New York
animated the sheer glass facade, where floor-to-ceiling windows open onto the nearby bridge and the Manhattan skyline, through robust geometries. Cube-like forms shift in and out of the facade, creating a lively presence on the rapidly-growing Williamsburg skyline, as well as unique floor layouts, extra corner units, and river-facing terraces throughout each building.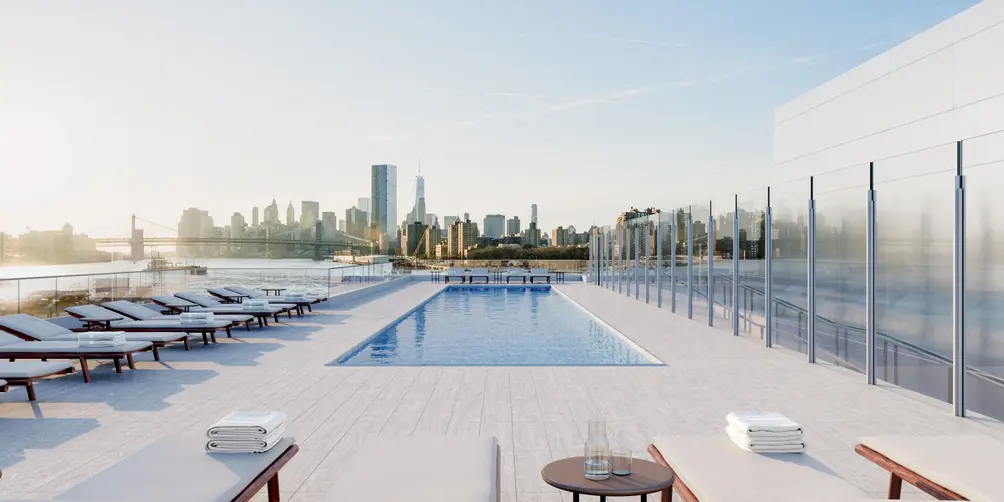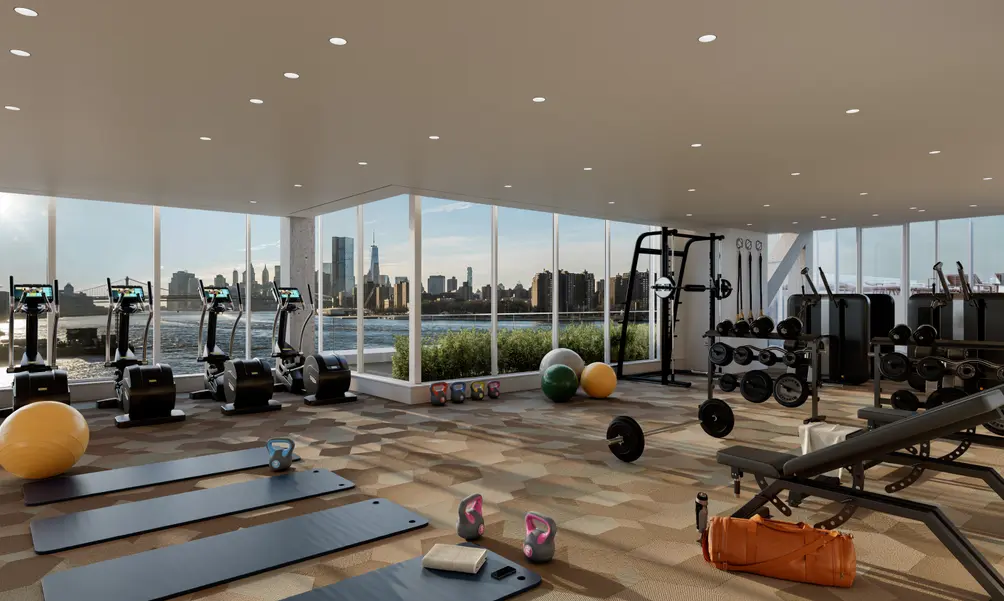 The distinctive architecture sets the mood for a luxuriant amenity package that, in the words of the developer, creates an "atmosphere of a modern boutique hotel." The hospitality allusion is validated with services such as concierge-serviced package delivery, dry cleaning, laundry, apartment cleaning, dog walkers, and on-site "lifestyle directors." The wellness center combines 12,000 square feet of fitness facilities with a spa, workout studios, rooftop pool, and an outdoor yoga and "techno gym."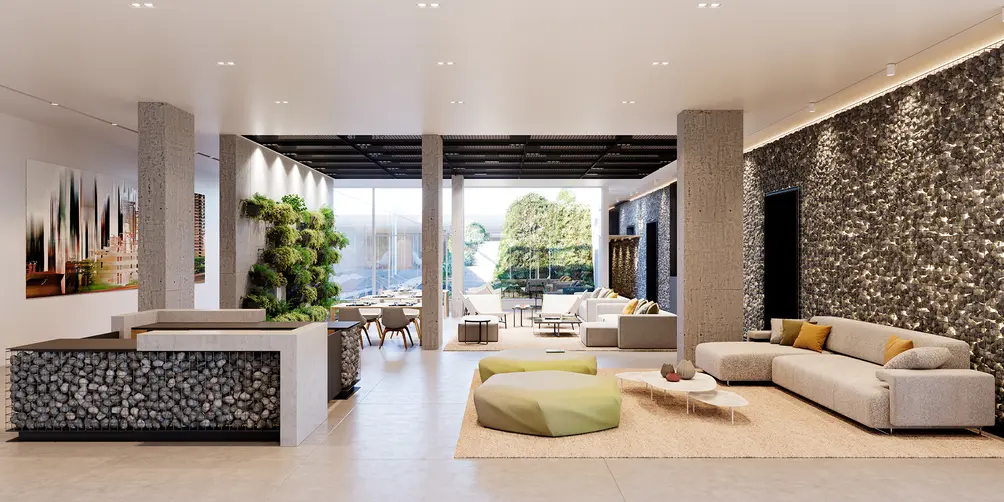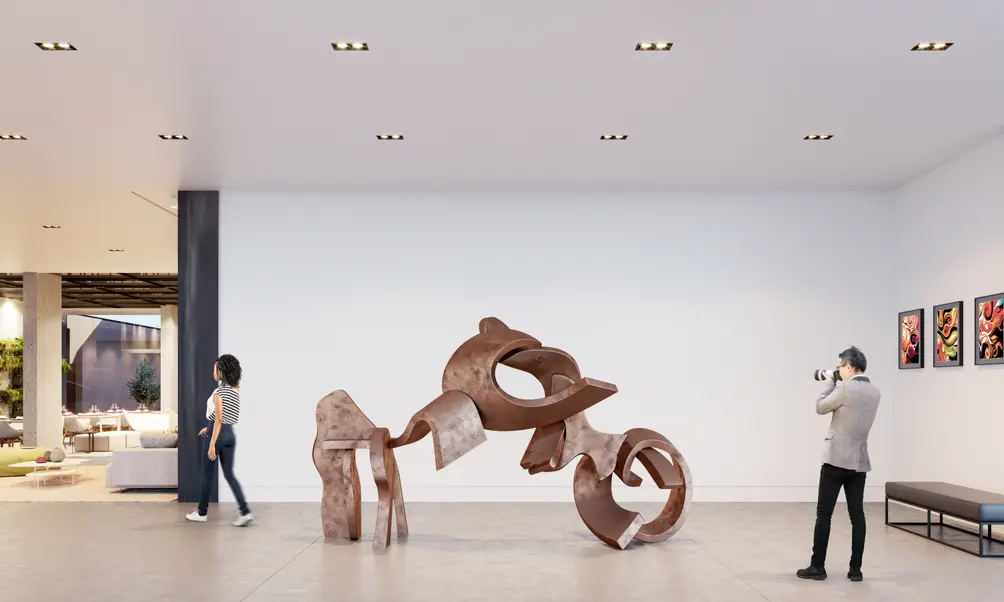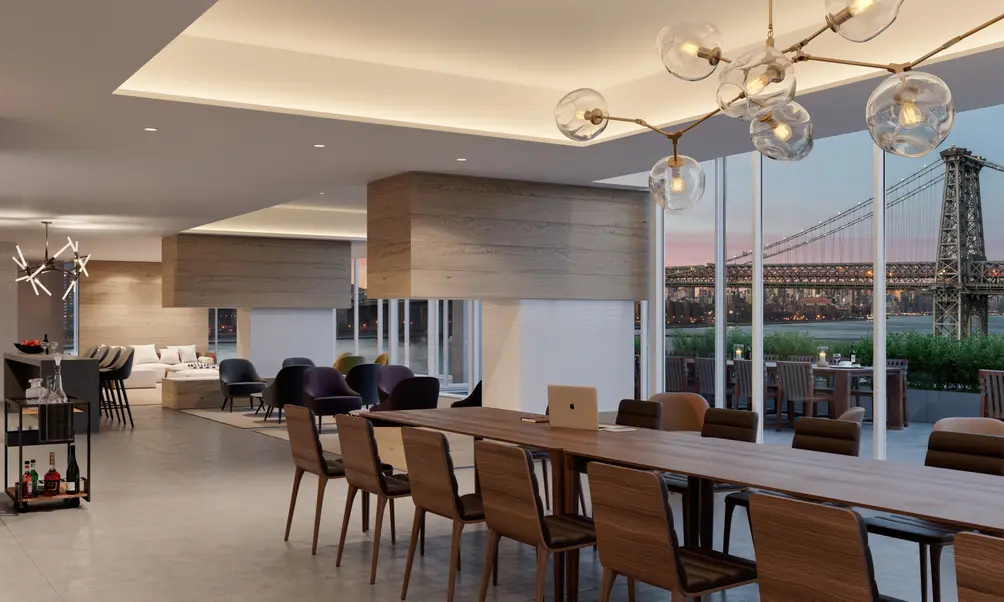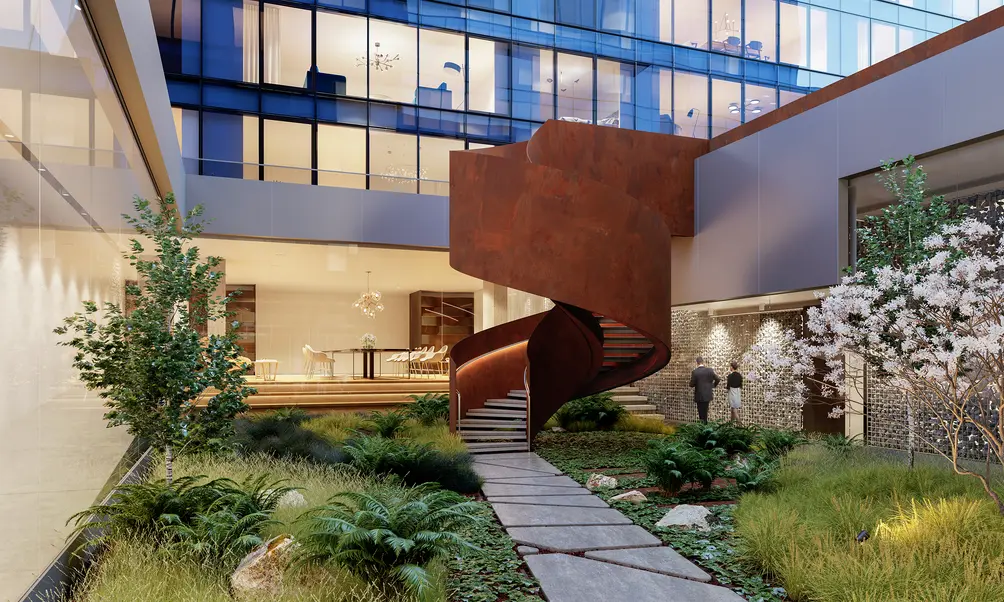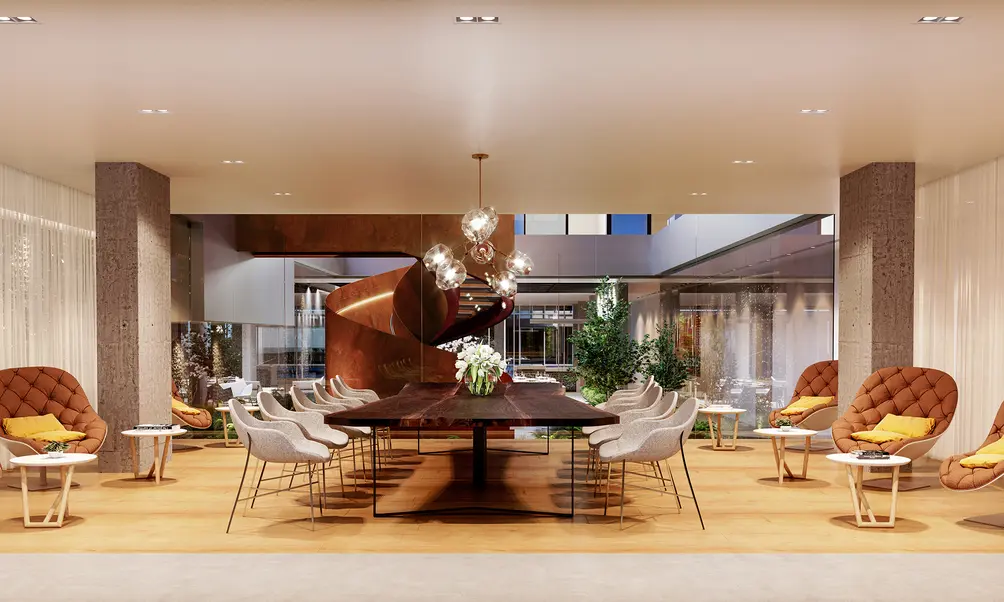 The common areas create continuous immersion within an atmosphere of dignified repose. The lobby area, centered upon artist Bill Barrett's "Rendezevous II" abstract bronze sculpture, offers a coffee bar and co-working area. The adjacent "tranquility garden" leads the visitor along winding stone walkways to a library and quiet lounge.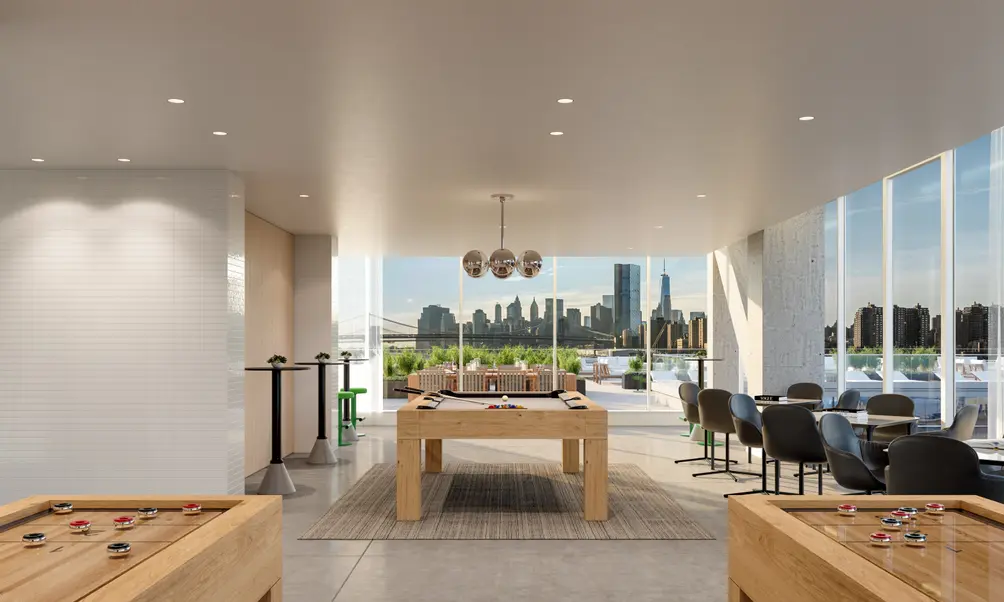 Those seeking livelier entertainment may partake in gaming and media lounges, dining and event spaces, or a resident bar and lounge.
The upper deck looks upon sweeping vistas of the river, the bridge, and the Manhattan skyline, which will burst into a dazzling spectacle in the approaching 4th of July firework display, set to launch from the East River.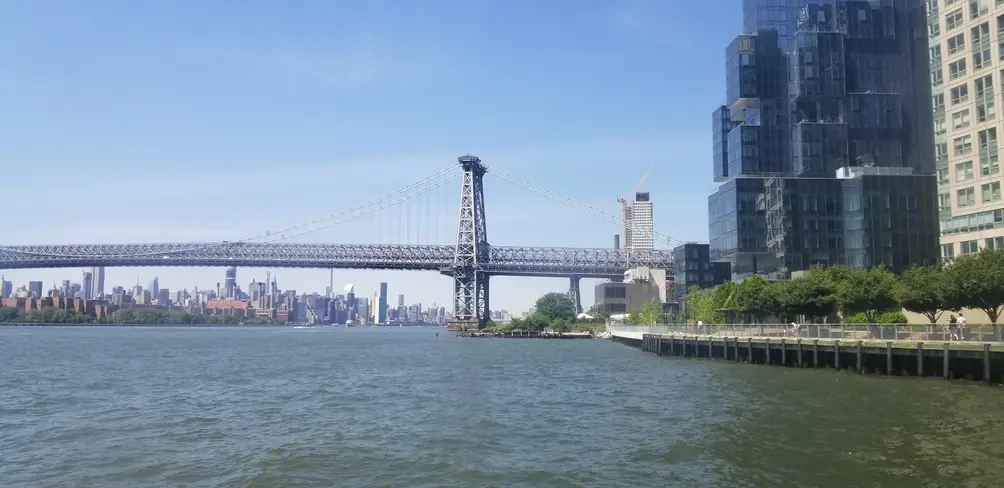 By contrast, one need not be a resident to enjoy the public promenade that runs in front of the building. The green space forges an important link in an ever-lengthening chain of waterfront parks, which will soon stretch nigh-uninterrupted from the Brooklyn Navy Yard to the south to Long Island City and Astoria in Queens far to the north.
Commuters may rely upon indoor parking, bike storage, a dedicated shuttle to the Marcy Ave J & M Subway lines, or the East River Ferry, which docks nearby. Rents start at $2,299 for studios, $2,849 for one-bedroom units, and $6,700 for river-facing two-bedroom apartments. Leasing is scheduled for August of this year.
Additional Info About the Building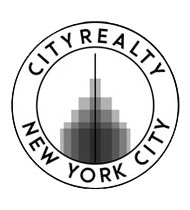 Content & Research Manager
Vitali Ogorodnikov