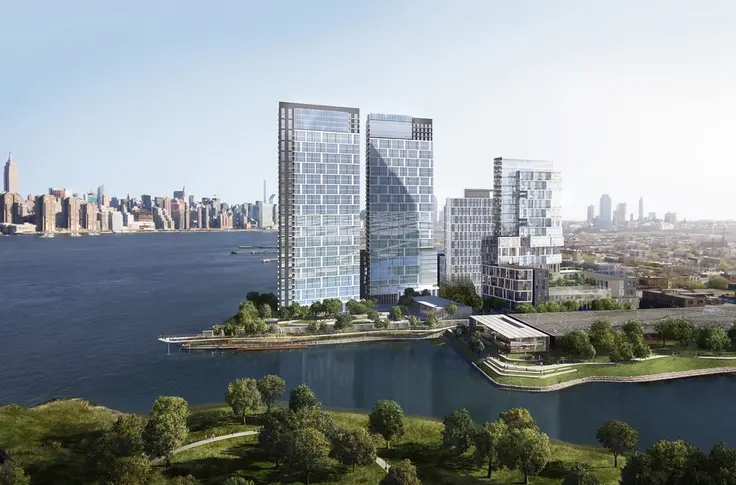 Halcyon Management Group, led by Yoel Sabel, has been quietly redeveloping a major swath of the
Greenpoint
waterfront to bring to market a multi-tower scheme of approximately 1,000 mixed-income apartments, commercial space, and parking. A late December 2019 visit to the 800-foot-deep site reveals that a connected pair of towers along West Street has reached street level. The tallest buildings of the plan are set to rise nearly 400 feet and will be built close to the waterfront in two phases. A fourth tower located further inland along West Street will also be built in a later phase.
According to the
New York Construction Report
, the Calyer Place development was the nation's largest multifamily project to break ground for the month of November. Permit filings for three of the five residential buildings have trickled in over the years. The are for a
19-floor, 234-unit
tower at
29 West Street
; a
14-floor, 92-unit tower
at
37 West Street
; and most recently, a
33-floor, 410-unit
tower at
65 Private Drive.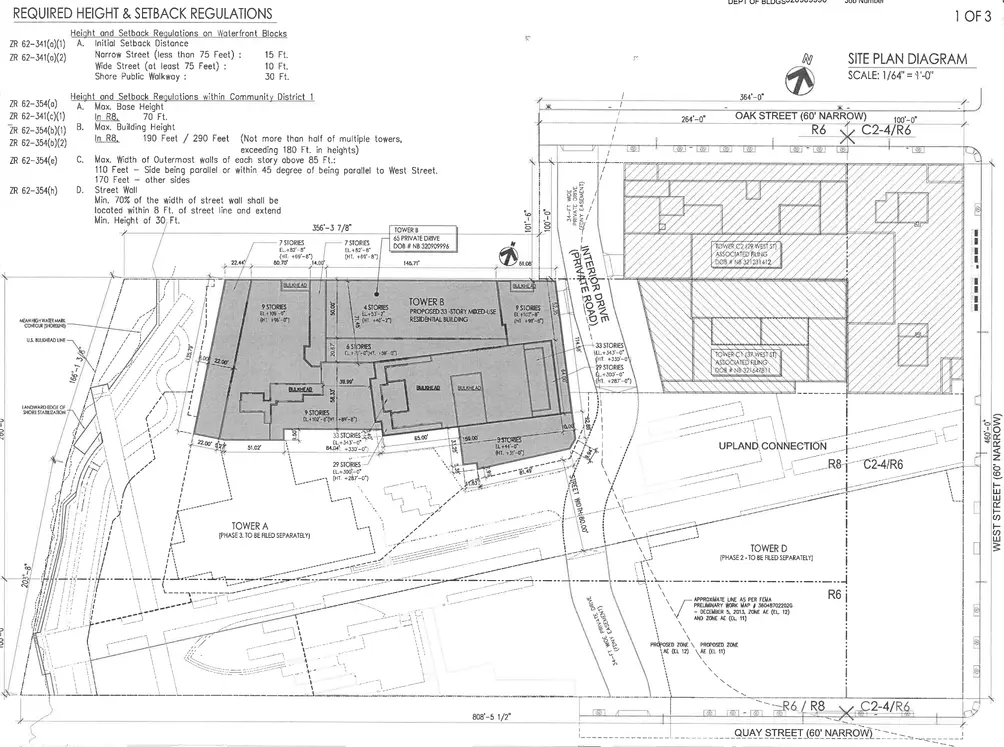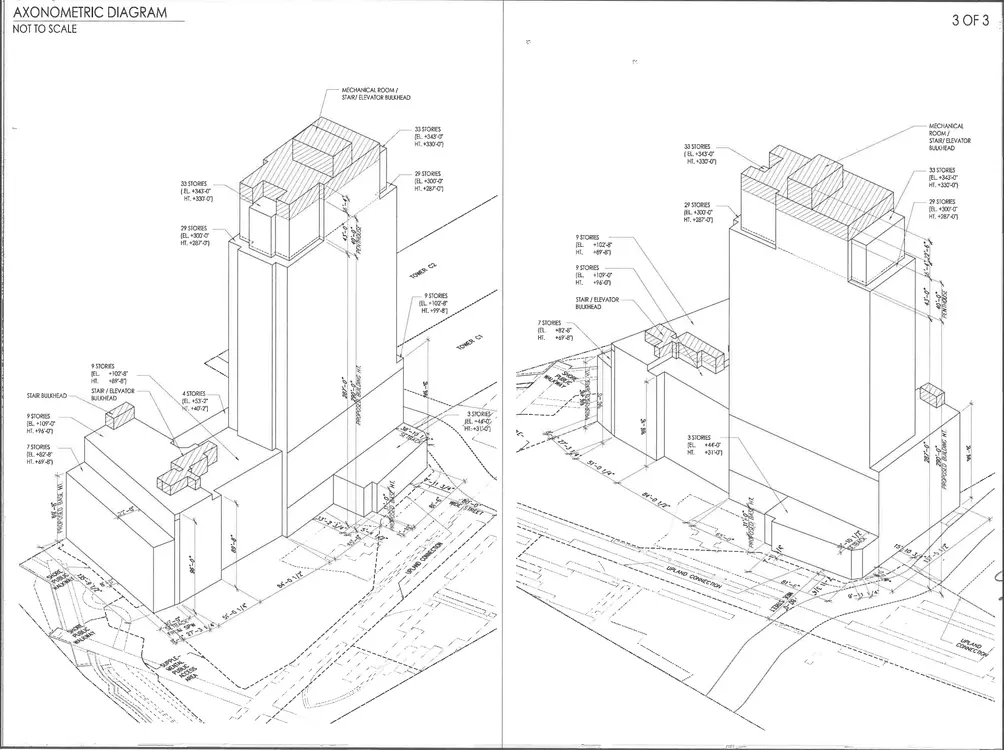 The secluded five-acre site was formerly occupied by Consolidated Freight, a national freight forwarding company that declared bankruptcy in August 2002. The property is bound by Quay Street, Oak Street, West Street, and the East River. It sits directly north of the Bushwick Inlet, which will be encircled by the planned 28-acre
Bushwick Inlet Park
. Immediately north of the site is the former Greenpoint Terminal Market, whose
fiery demise
has spawned a separate set of towering ambitions.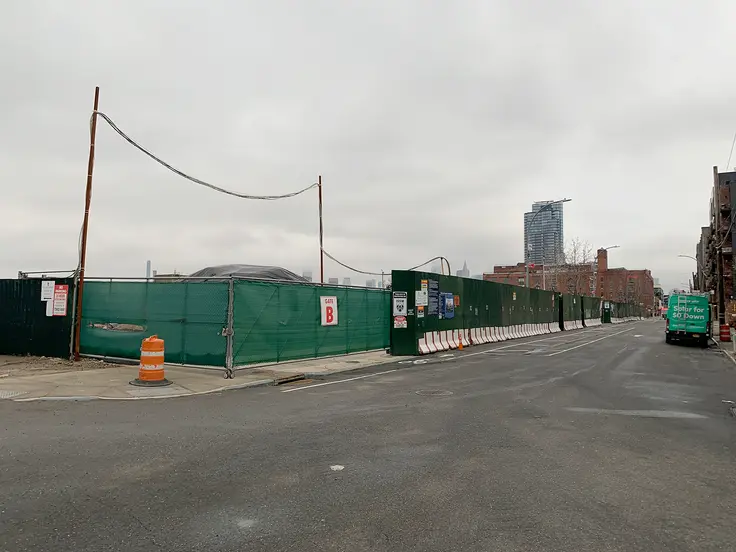 Enlarge Image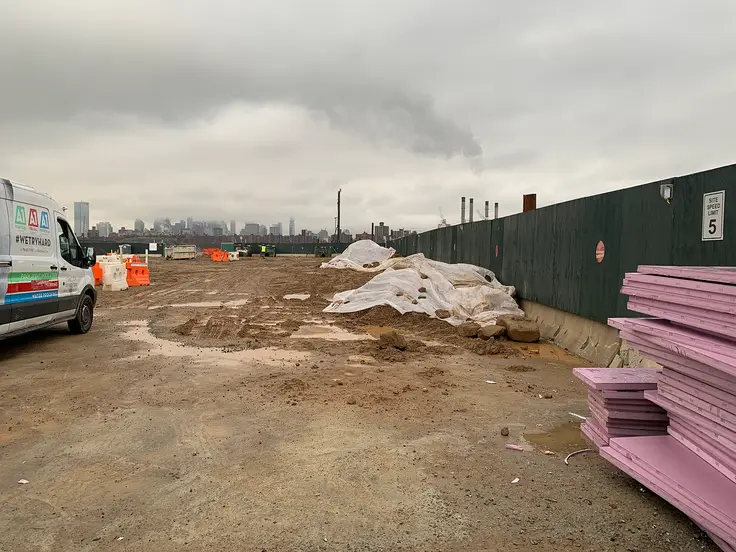 Enlarge Image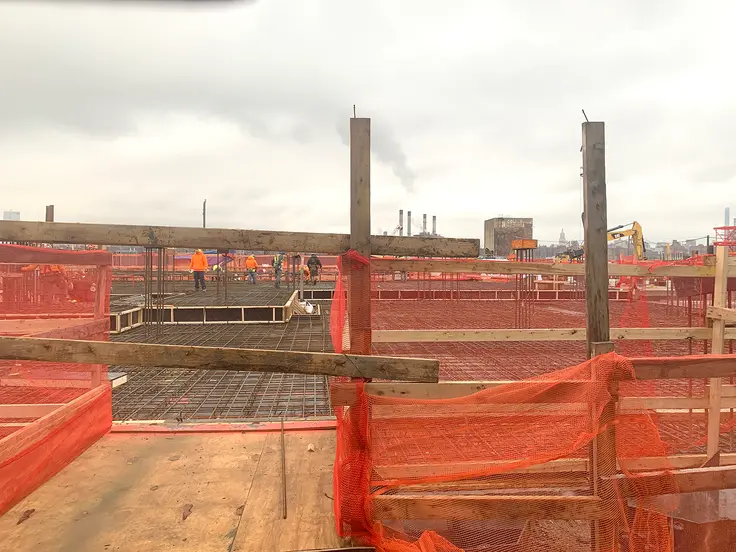 Enlarge Image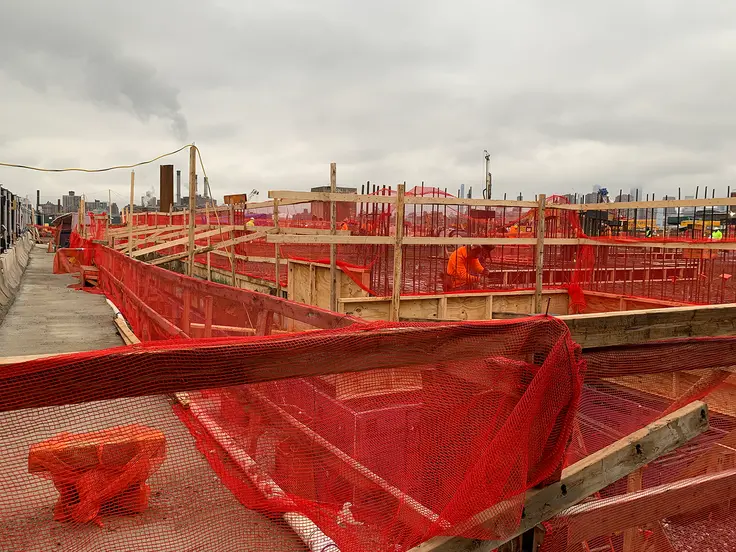 Enlarge Image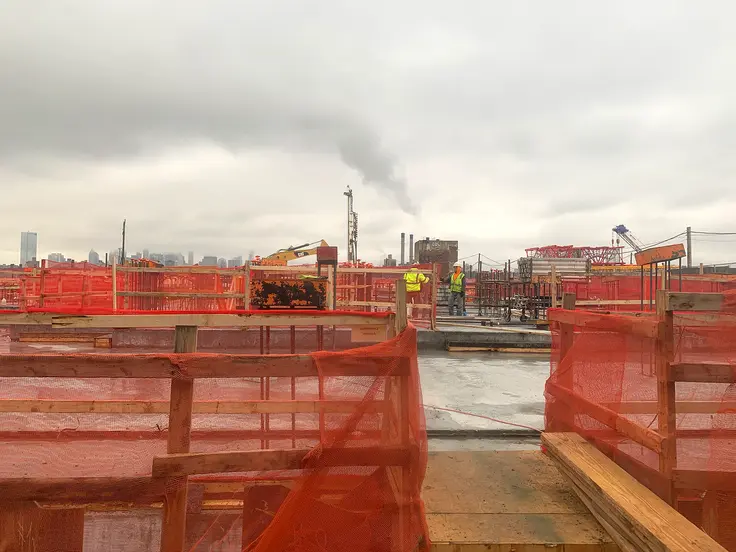 Enlarge Image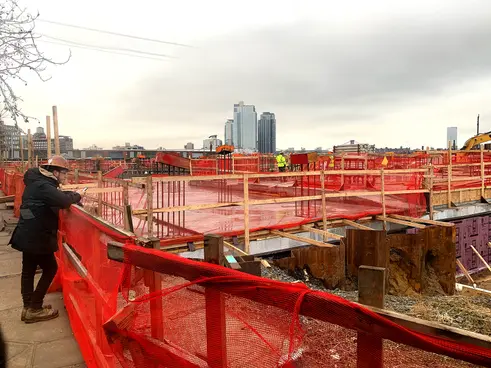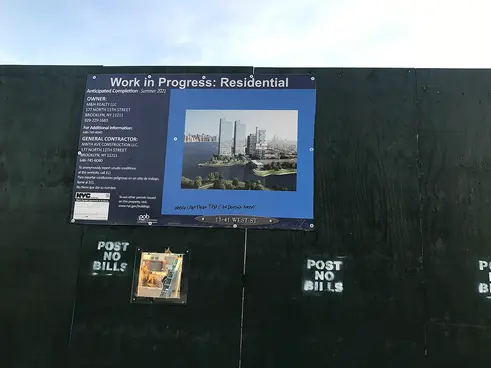 The first rendering of the project, posted on the construction fence, illustrates the two 400-foot towers overlooking the East River, with three smaller buildings more inland.
SLCE
is listed as the architect of record for the three buildings filed thus far. Additional renderings previously published by the planning gurus at
Cooper Robertson
provided a closer look at typical floor layouts and fenestration design concepts.
Cooper Robertson explains they are leading the design development of the exterior envelope of all four planned buildings. Per the drawings, each tower will sport a distinct animated façade and apartments throughout will have balconies or terraces. They say their approach "integrates brick elements relating to the adjacent historic neighborhood with a contemporary glazed double-height window-wall expression." The firm also notes that foundation construction is underway on the first two buildings, confirmed by photos from earlier this week that show arrays of driven piles.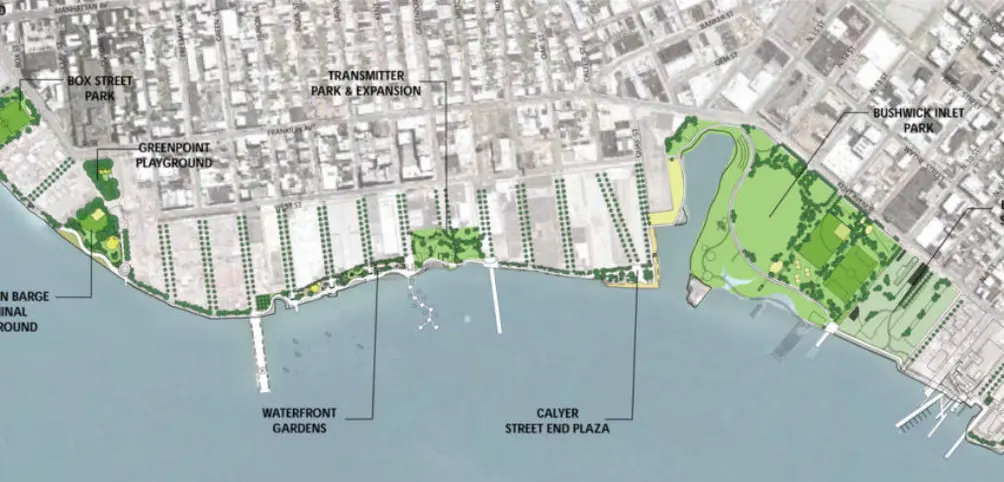 As stipulated by the Williamsburg-Greenpoint waterfront rezoning that was approved in 2005, a public esplanade park will run the East River length of the site. With flooding being a serious concern, Cooper Robertson is embedding resiliency measures such as residential ground floors raised above the flood level and open space and plantings configured to mitigate water impact.
The scheme will offer a mixture of affordable and market-rate housing. In December 2017, Curbed
reported
that Halcyon has submitted an application to provide 222 privately-financed voluntary inclusionary housing. The report cites that 89 of the units are proposed to be earmarked for low-income households and 132 units are to be affordable to middle-income households. It is not known if or how many units will be for-sale apartments.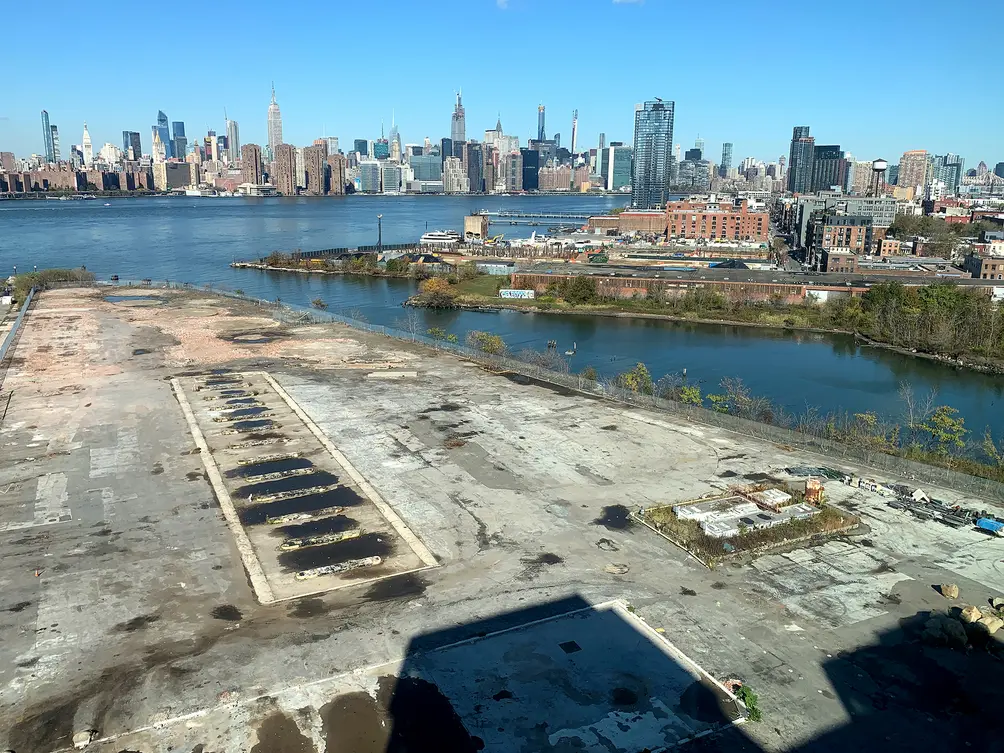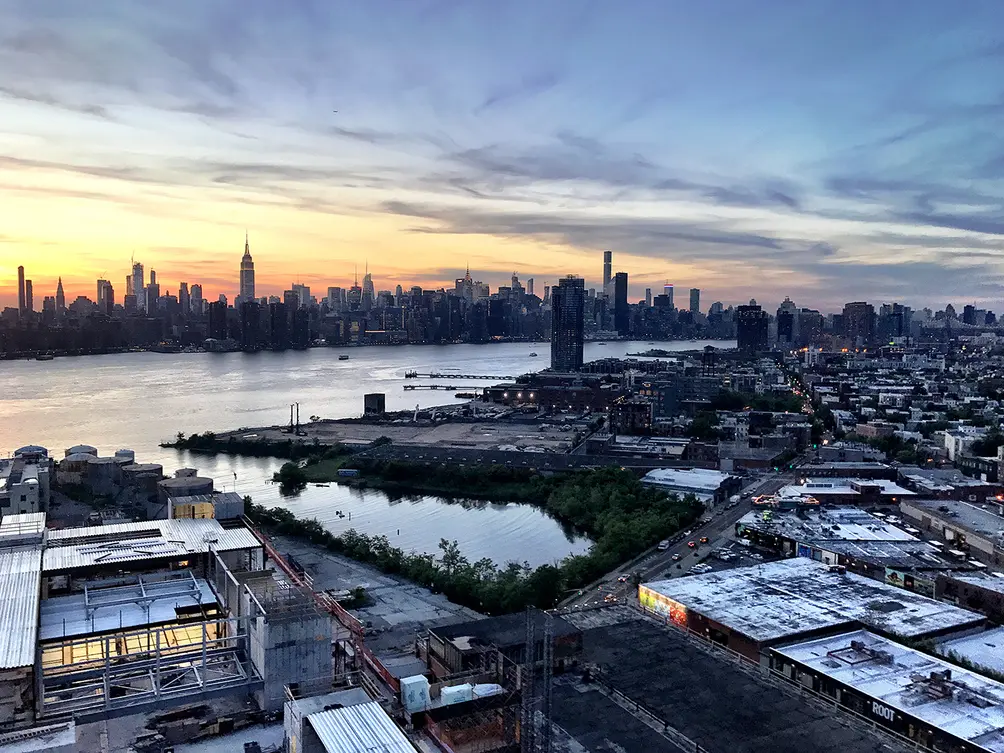 Additional Info About the Building