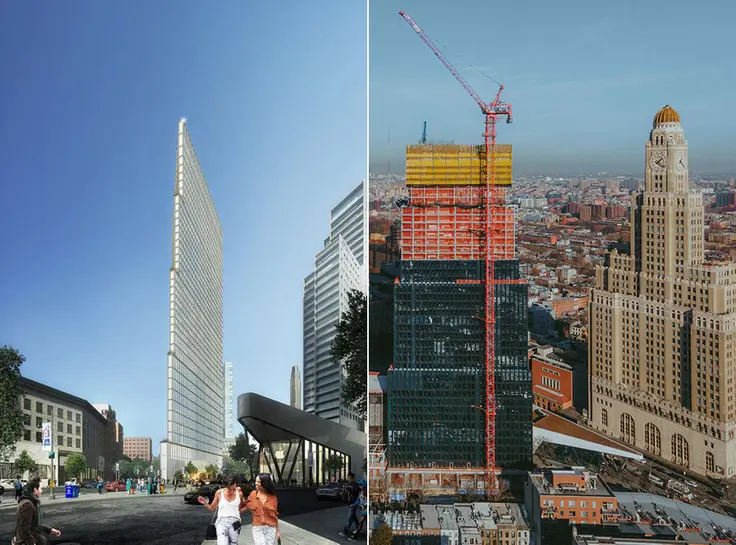 The debate over gas stoves has taken over the news in recent days, but it was always
Alloy Development
's intent to use electricity for all functions typically run by gas in the forthcoming
100 Flatbush Avenue
, including hot water and HVAC. More recently, construction on New York's first all-electric skyscraper topped out at 44 stories and 510 feet high.
Upon completion, 100 Flatbush Avenue will yield a total of 441 new residential units – 396 market-rate rentals as well as 45 affordable units developed with local nonprofit Fifth Avenue Committee. All units will feature induction cooktops and heat-pump dryers. It will also feature 30,000 square feet of retail space with 20-foot ceilings and floor-to-ceiling glass overlooking the Flatbush Avenue corridor. Completion is estimated for 2024.
"100 Flatbush not only serves as a model for sustainable urban development but it also delivers for the community by providing much-needed housing, along with retail along Flatbush Avenue" – Jared Della Valle, CEO, Alloy Development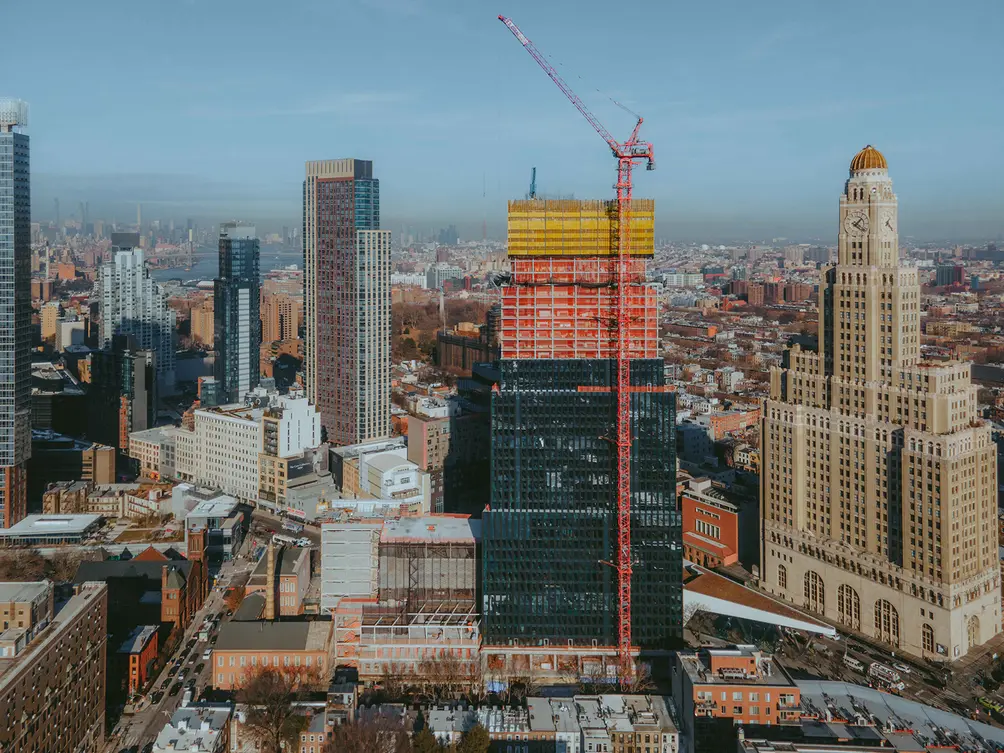 100 Flatbush Avenue is part of the first phase of "Alloy Block," a mixed-use development that will ultimately comprise a combination of five new construction and repurposed historic buildings. The new buildings will include
80 Flatbush Avenue
, which will be the tallest building on the block and one of the tallest overall in Brooklyn. The second phase of Alloy Block will include a mixed-use office, residential, and retail tower.
Beyond 100 Flatbush Avenue, sustainability is a key component of Alloy Block as a whole. Alloy recently issued a request for proposals that seeks to partner with a community solar developer to enroll 100 Flatbush in a community project that will secure a 100 percent renewable energy supply for the building. Additionally, the two schools in the project will be built to Passive House standards for energy efficiency and indoor air quality, the latter of which has been on the minds of many during the pandemic. It will notably not include parking for cars, but will offer over 500 parking spaces for bikes.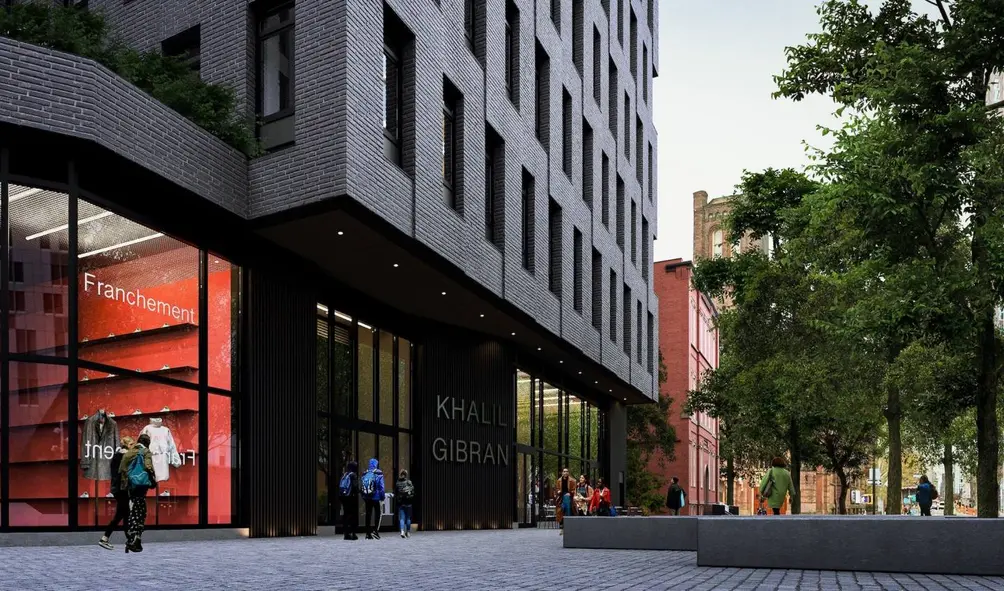 Upon completion, Alloy Block will ultimately yield 850 new residential units, approximately 200 of which will be permanently affordable. It will also include 100,000 square feet of Class A office space, 50,000 square feet of retail space, space for a local cultural institution, a new 500-seat public elementary school, and a new home for the Khalil Gibran International Academy, the city's first Arabic language-focused high school.
Alloy Block will be a bustling new block, but it is already in an especially active section of Downtown Brooklyn near Brooklyn Academy of Music, Atlantic Terminal Mall, Downtown Brooklyn's Whole Foods, City Point, and the Barclays Center transportation hub. It is down the street from
The Brooklyn Tower
, where leasing is expected to launch on the rental component later this year. In the meantime, neighbors include
Brooklyn Crossing
,
300 Ashland Place
,
Hub
,
The Ashland
,
33 Bond Street
, and
The Paxton
, which recently
launched leasing
.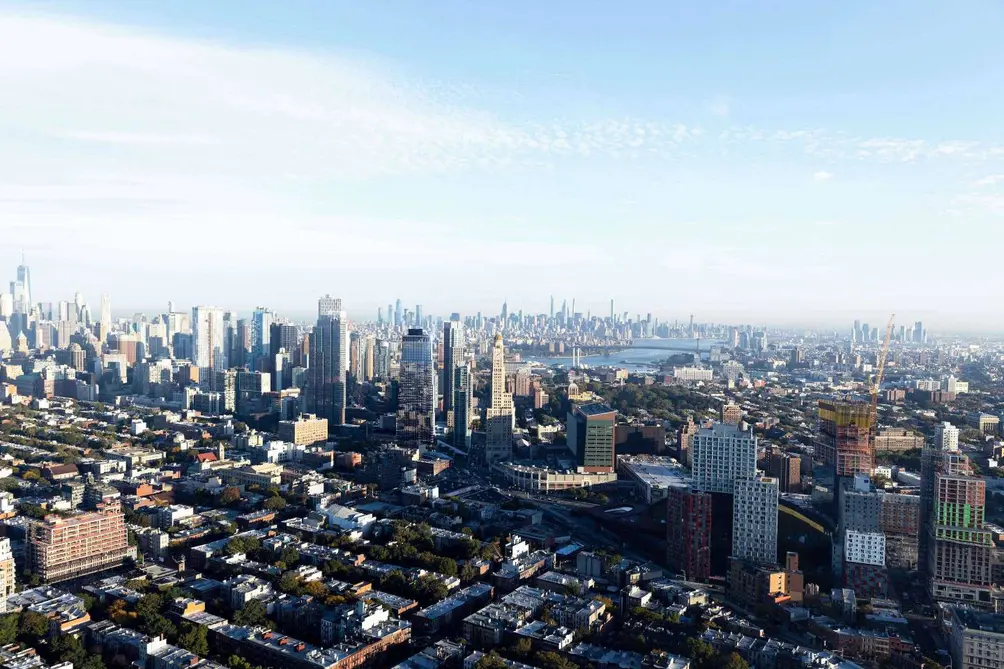 Additional Info About the Building