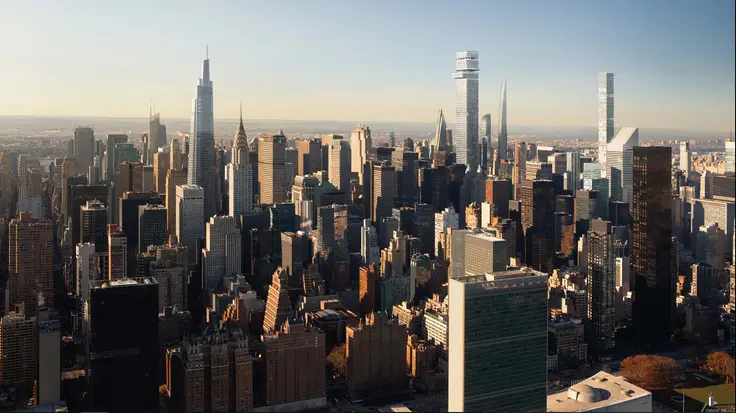 One would think that
432 Park Avenue
, the tallest residential building in the Western Hemisphere, would be an impossible act to follow, but developer Harry Macklowe has one more trick up his sleeve:
Tower Fifth
, a 96-story office tower expected to be New York's tallest by roof height. At a planned height of 1,556 feet tall, it would outstrip even 432 Park Avenue and come in just shy of One World Trade Center.
A preliminary application for Tower Fifth was submitted at the beginning of the year. Mr. Macklowe has been compiling the assemblage between East 51st and 52nd Streets for years, and closed on the purchase of 5 East 51st Street, a six-story rental, for $44 million in
March
. Almost exactly one month later,
permits
were filed to demolish it.
The demolition is but a small part of the process allowing Tower Fifth to be built.
The New York Times
points out that as the project would impinge on five landmark buildings, Rockefeller Center and St. Patrick's Cathedral ("St. Patrick's) among them, permission from the Landmarks Preservation Commission is required. The building is 66 percent larger than current zoning allows, so Mr. Macklowe will also need special permits, zoning approvals, and zoning changes to bring the project forward. He will also need to transfer air rights from St. Patrick's, which will require tens of millions of dollars and for him to go through the city's ULURP process.
"This is a 21st-century building" - Harry Macklowe
If everything is approved, Tower Fifth's striking façade designed by
Gensler
would be wrapped in a Closed Cavity system that would reduce solar heat gain by more than 70% and be the first of its kind in North America. Upon entering, an 85-foot-high glass-enclosed lobby would dramatically frame the entrance to St. Patrick's and lead to shops, a food hall, and a glass-walled public auditorium. The office tower would step back from St. Patrick's, and tenant amenities would include a lap pool, yoga room, and multi-level running track. It remains to be seen whether its planned public observatory would soar higher than Hudson Yards'
Edge
, but
The Real Deal
says visitors would be able to descend it from a transparent, 60-foot corkscrew slide.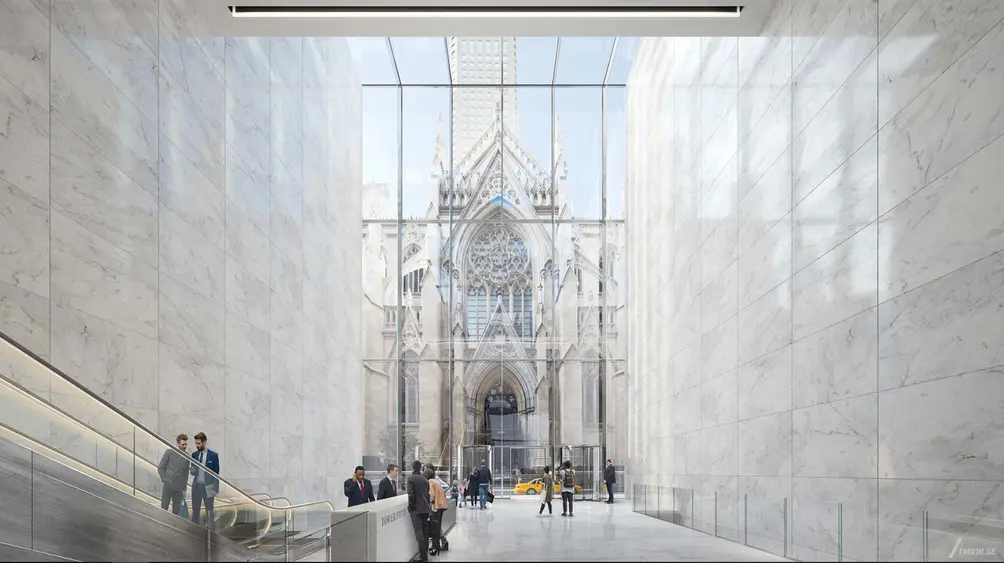 Additional Info About the Building