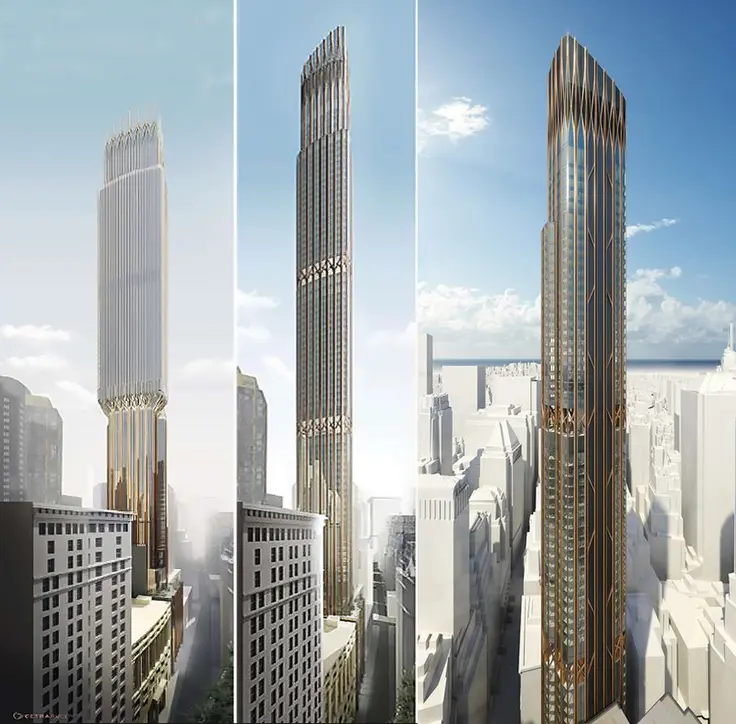 Earlier today,
Gemdale USA
,
the Pizzarotti Group
and
Madison Equities
broke ground on
45 Broad Street
—a gleaming mixed-use skyscraper set to rise in the heart of the
Financial District
. The project is sited two blocks east of the lost
Tower Building
—the metal-caged structure where New York's skyscraper story first began. Like that early high-rise, 45 Broad will ascend from a narrow hemmed-in site and soar as a lithe spire. Designed by architect John Cetra of
CetraRuddy
, the building's 65 stories will hold 65,000 square feet of office space and 206 condominiums above.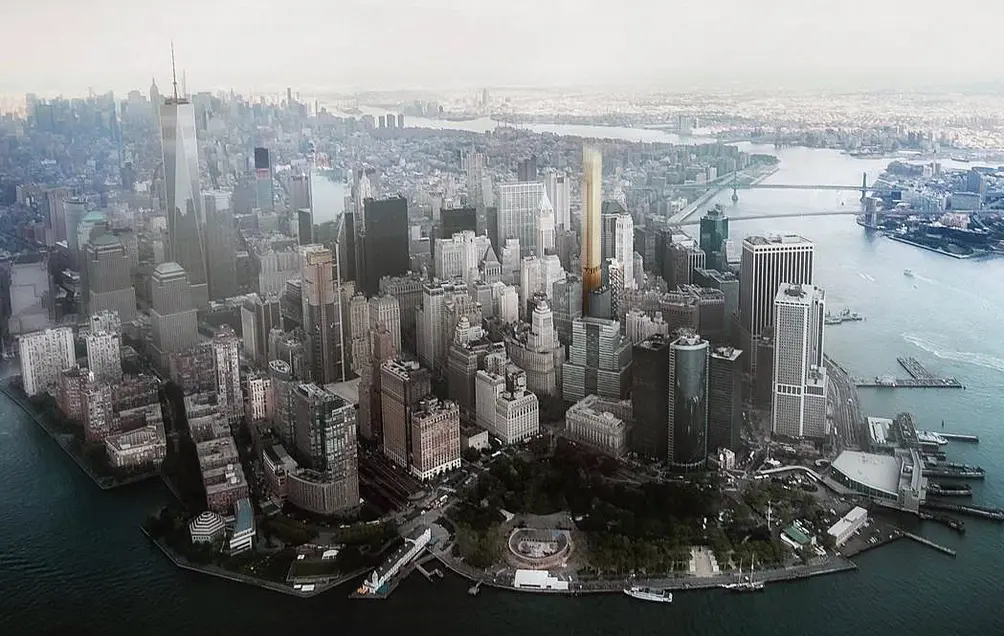 45 Broad shows that New York will continue to be a supreme laboratory in the development of skyscrapers where, unlike in burgeoning Asian cities, the typology exists to perform its purest function as "a machine that makes the land pay." This well-suited Cass Gilbert quote, regularly professed by
Skyscraper Museum
Director, Carol Willis, asserts 45 Broad's towering 1,100 height since it is primarily driven by the value of Manhattan views.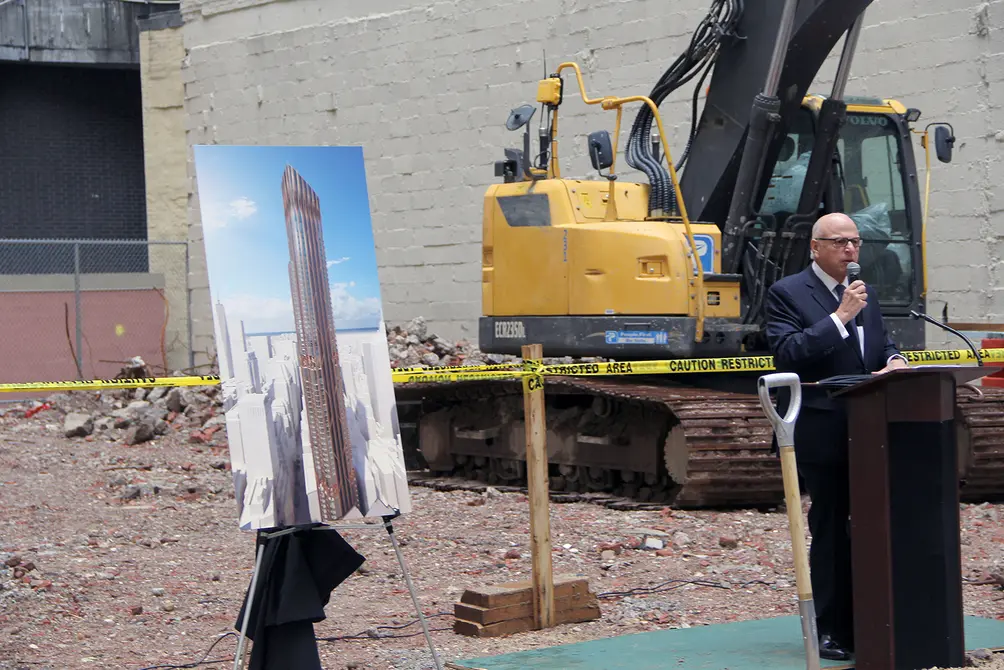 At today's groundbreaking, Robert Gladstone, chief executive of Madison Equities, thanked John Cetra for locating the first condominiums 230-feet high —thus guaranteeing far-reaching views for most residences. As
Crain's previously reported
, the surging value of views has dramatically changed how residential skyscrapers are designed, with lower floors stacked with mechanical spaces and amenities.
A previous design for 45 Broad showed emaciated floorplates along the bottom third of the tower, so more bulk could be positioned along the higher floors with views; a newly-unveiled design now shows the building's form has been streamlined with lower floors bulked-out to accommodate the rising demand for office space downtown. According to
CBRE's quarterly market report
, of the three Manhattan office markets, Downtown was the only one with positive quarterly net absorption and has seen 386 tenants move there from other markets since 2011.
The Financial District's residential market also continues to rally. Per our market data, the average closing price of condos in the neighborhood stands $1,645/square-foot, as of this April —41% higher than the Manhattan average. With the dearth of available land, only a handful of new residential buildings is slated to come online in the coming years; these include One Seaport, 125 Greenwich Street and the conversion of One Wall Street. Sales at 45 Broad will be handled by Douglas Elliman, whose company chairman, Howard Lorber, was present at ceremony.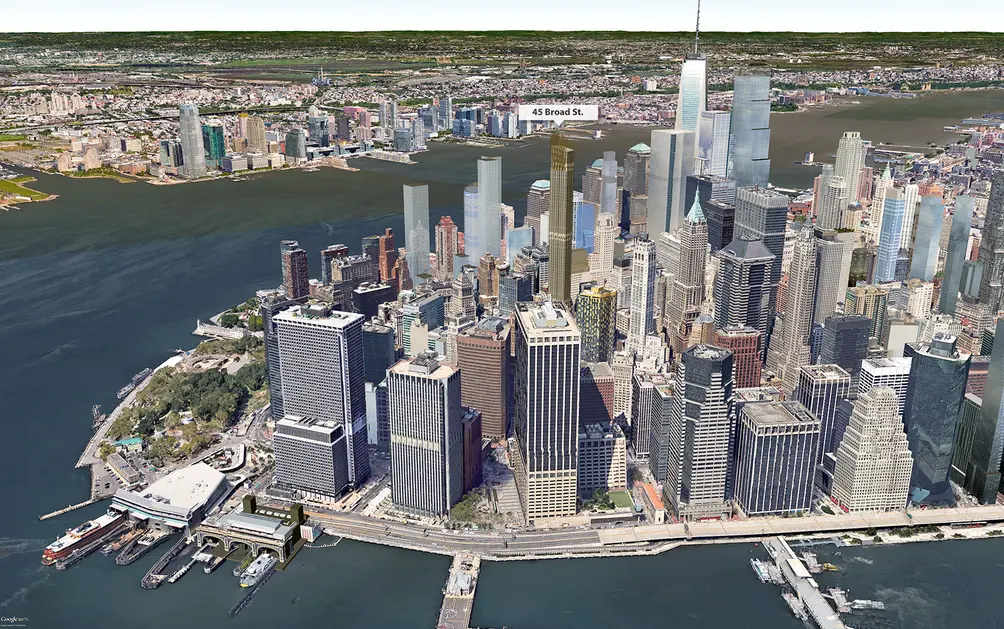 Additional Info About the Building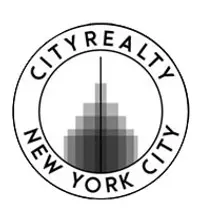 New Developments Editor
Ondel Hylton
Ondel is a lifelong New Yorker and comprehensive assessor of the city's dynamic urban landscape.