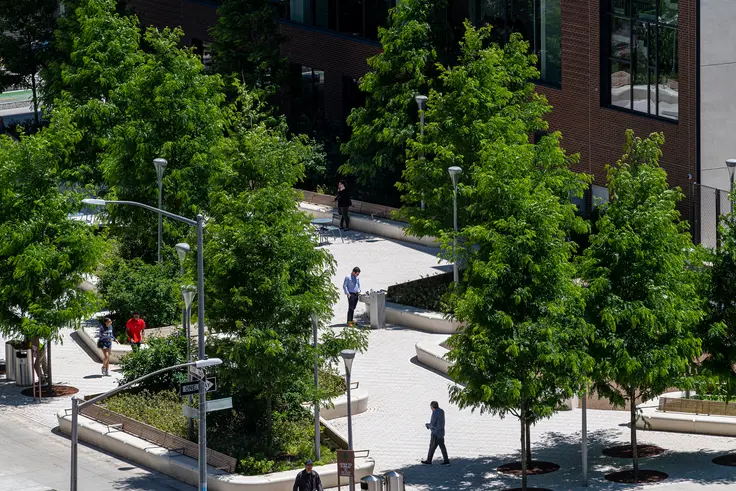 Right in time for summer, Delancey Street Associates, a joint venture of BFC Partners, Taconic Investment Group, L+M Development Partners, the Prusik Group, and Goldman Sachs Urban Investment Group, announced the opening of a 15,000-square-foot public park at
Essex Crossing
. The public park was always a key part of the mega-development and marks the latest milestone of the project. Delancey Street Associates will own and maintain the park, which falls under the Department of City Planning's privately owned public spaces program.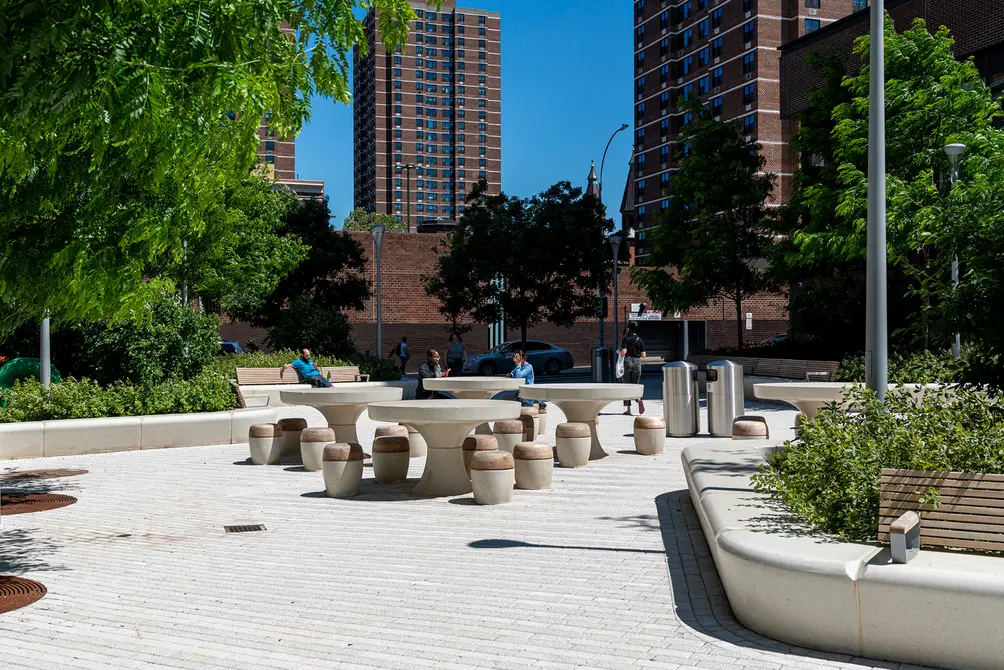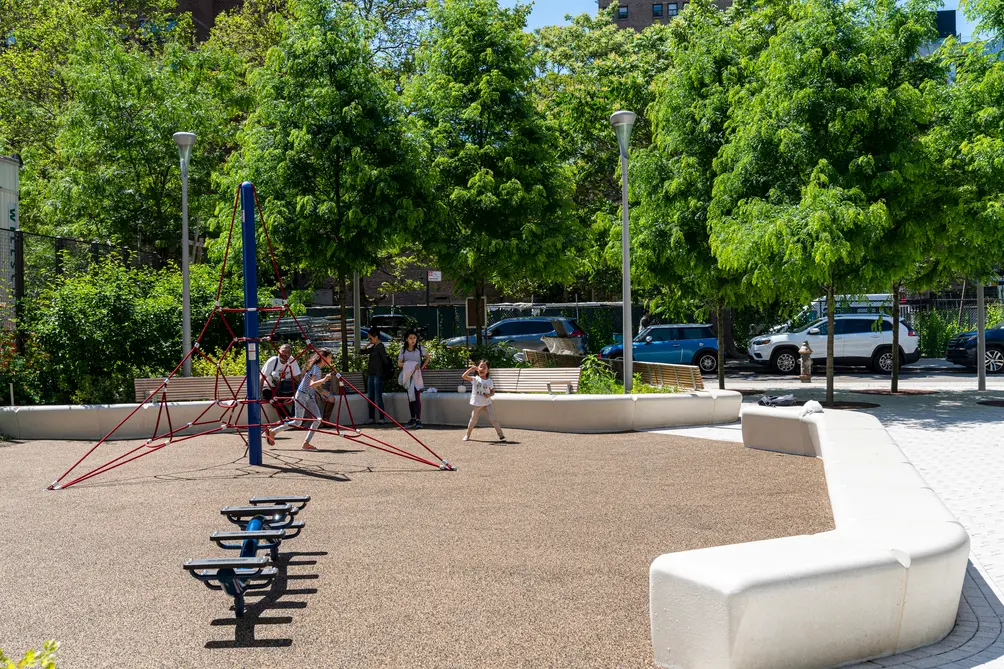 The park was designed by landscape architecture firm West 8, best known for its work on The Hills at Governors Island, and incorporates feedback provided through public visioning sessions. With that in mind, the park's centerpiece is an open plaza surrounded by native plantings like honeysuckle and serviceberry trees, not to mention trumpet honeysuckle, fragrant sumac, and lowbush blueberry shrubs. Movable and fixed seating offers several options for large and small groups alike. A playground includes wooden animals, a free-standing mini-net, and an undulating balance beam. Hours are 7 a.m. through 10 p.m. from April through October and 7 a.m. through 8 p.m. from November through March.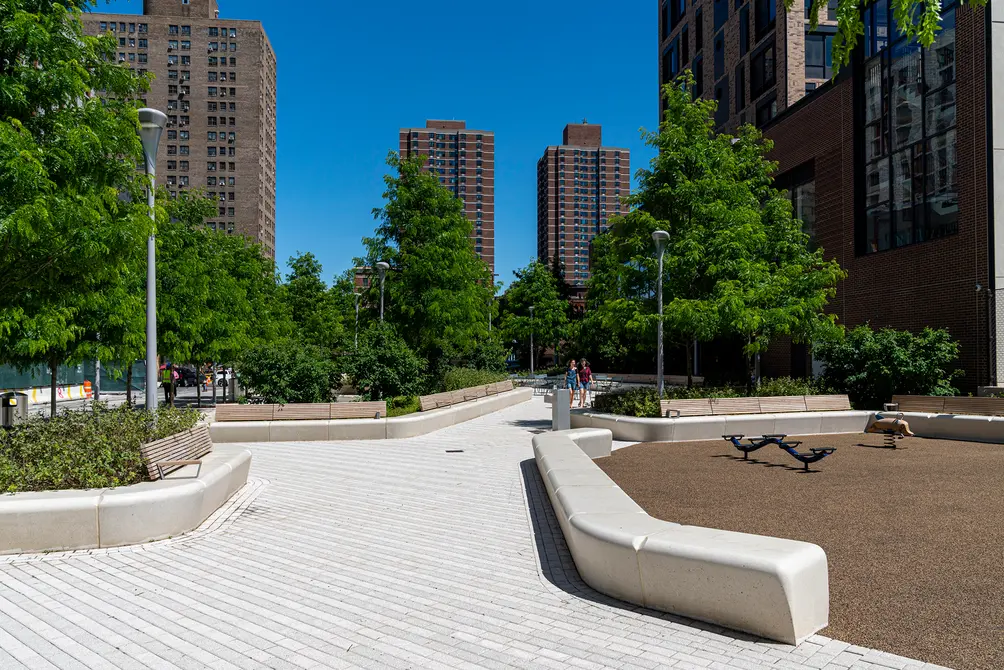 The park opens at a time when seven of the nine sites at Essex Crossing are open or under construction. It is directly adjacent to
The Rollins
, a fully occupied mixed-income rental that also houses a Target and the largest Trader Joe's on the East Coast. Across the street,
The Essex
is more than 80 percent leased and home to a new Regal Cinemas multiplex, the historic and relocated Essex Market, and the first phase of The Market Line. On the condo side, only four units remain at
242 Broome Street
, where the International Center of Photography and bowling entertainment center The Gutter will open this fall.
Three additional projects are still under construction.
180 Broome Street
will house a connection to The Market Line, 175,000 square feet of class A office space, and 263 mixed-income rental units.
200 Broome Street
will also have a connection to The Market Line as well as 175,000 square feet of class A office space and 83 condos.
140 Essex Street
will include 92 units of affordable senior housing and is expected to open by the end of the year. The entire project is expected to be finished by 2024.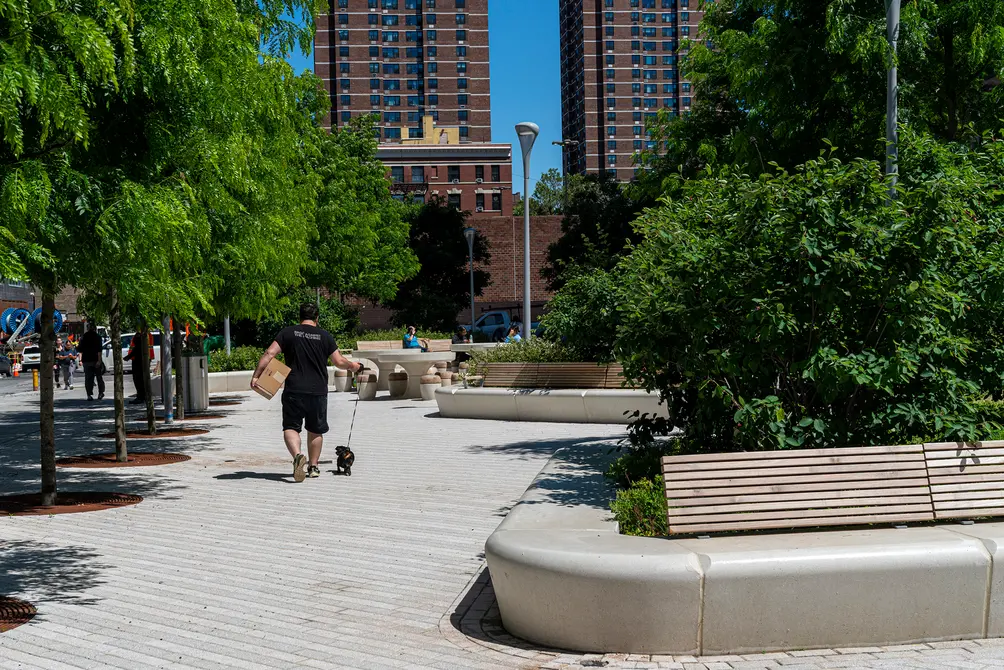 Additional Info About the Building