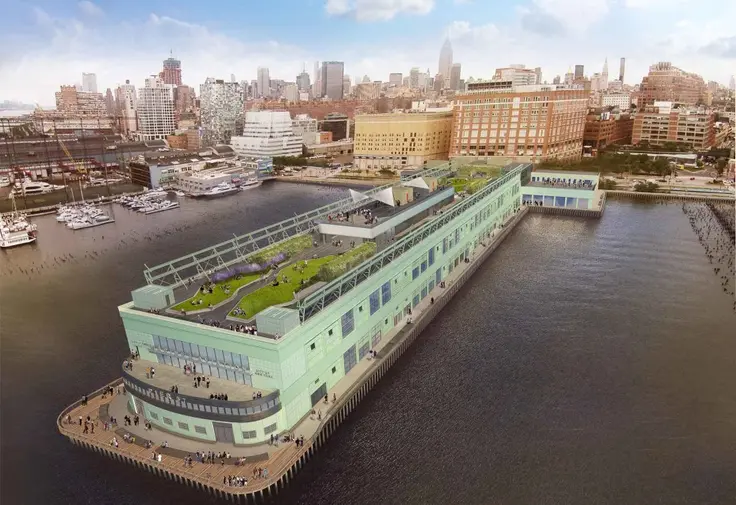 The most exciting waterfront development jutting from Manhattan's shore is inching closer to fruition. The $350 million renovation and adaptive reuse of Pier 57 is now showing real signs of progress with newly-installed, canted glass panels installed between the pier's rows of exterior columns. Ultimately, the joint-venture by Young Woo & Associates and RXR will transform the former freight terminal into 250,000 square feet of offices for Google, host a 170,000-square-foot food and retail market curated by Anthony Bourdain and provide an elevated, two-acre park with an outdoor movie and performance amphitheater on its roof.
Handel Architects
and
!Melk Landscape Architecture and Urban Design
are the designers of the overhaul.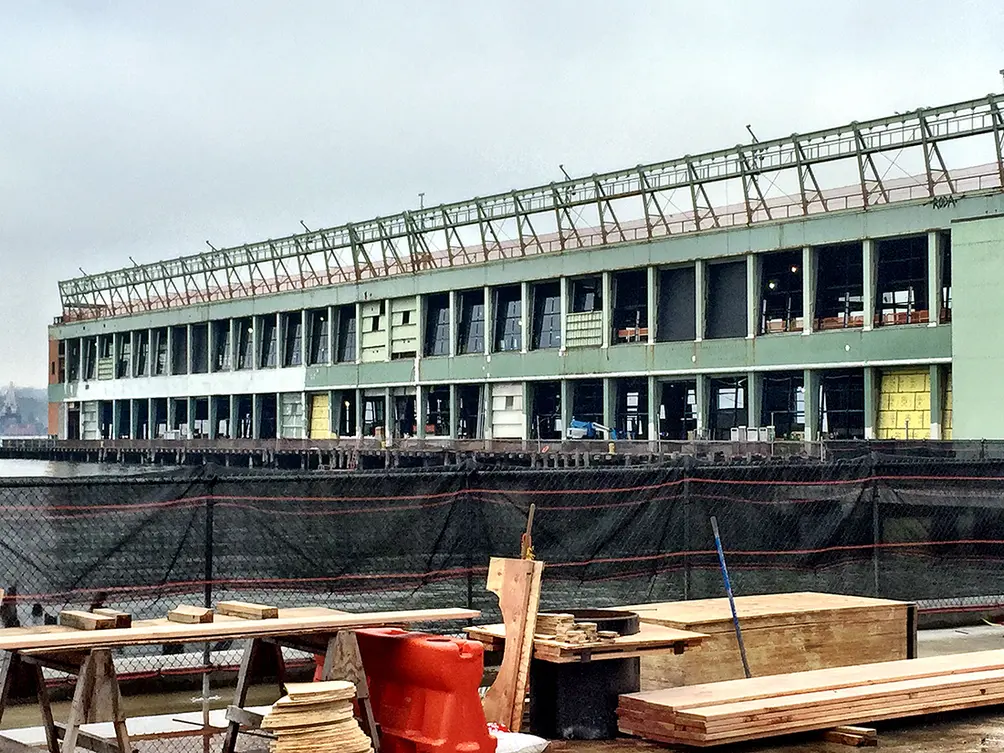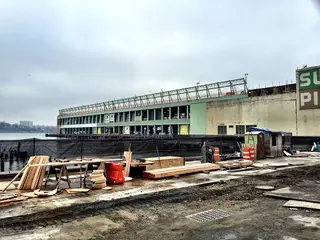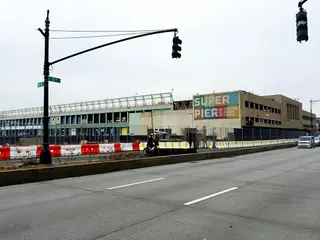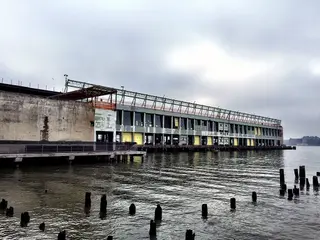 In December 2015, Google signed on to be the primary tenant of the office space and is expected to bring 1,000 employees to the pier. The food hall curated by Anthony Bourdain will feature more than 100 different stalls of street food from around the world. According to the
Wall Street Journal
, both Google and the Bourdain Market were motivated by the building's history, size and location.
The 900-foot-long, 450,000 square-foot building opened in 1954 at the sunset of New York's once-booming maritime industries. The pier's usage then evolved from a bus depot to a vacant shell hosting chance art installations and events. The pier is owned by the Hudson River Park Trust who after seeking out proposals in 2008, brought the current team on board. The building is being leased to the developers for 97 years and according to the WSJ, the deal could bring roughly $220 million in revenue to the cash-strapped park.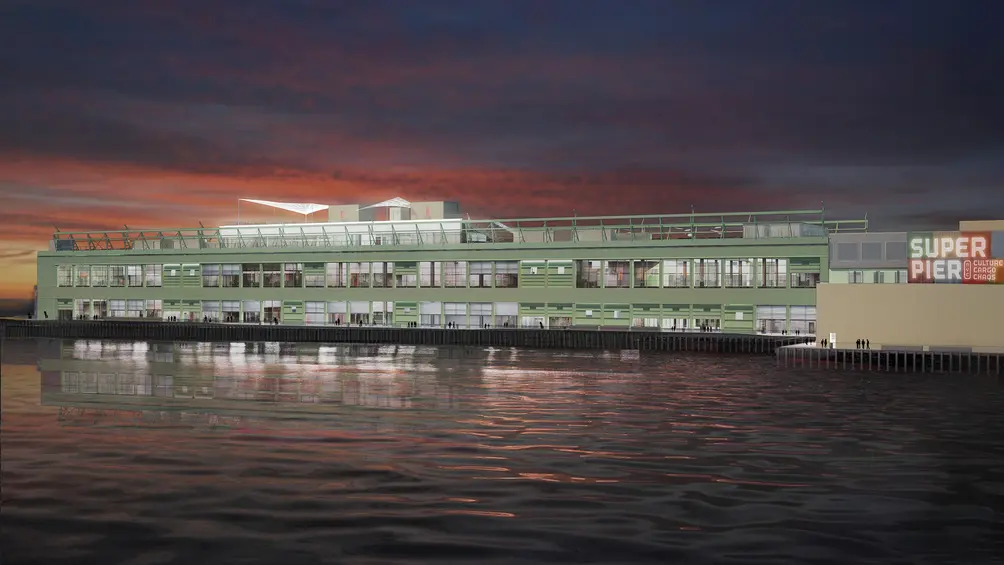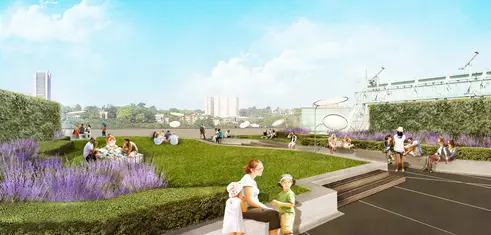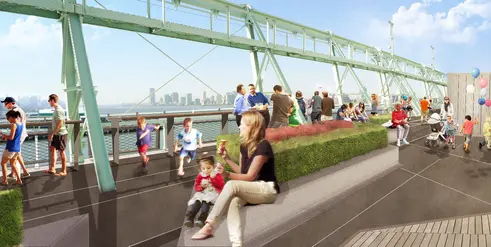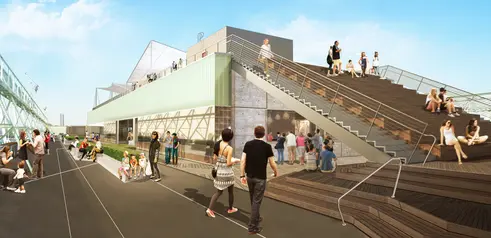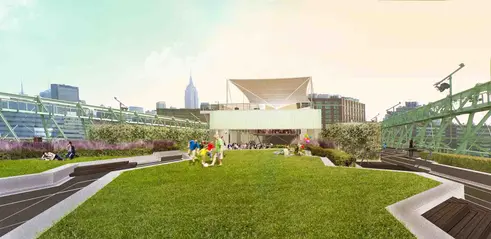 The immediate vicinity of the pier is experiencing a flurry of investment. Directly south of Pier 57, construction is progressing on the revamp of Pier 55 – a $130 million project funded privately by Barry Diller that will bring an architecturally distinguished public park and arts venue to the waterfront. Several piles have already taken root and completion is expected in early 2019. At West 14th Street and Ninth Avenue, a 130,000 square-foot office tower designed by Studio Gang has begun site preparation. The tower is being developed by William Gottlieb Real Estate and Aurora Capital and is expected to secure rents north of $150 per square foot.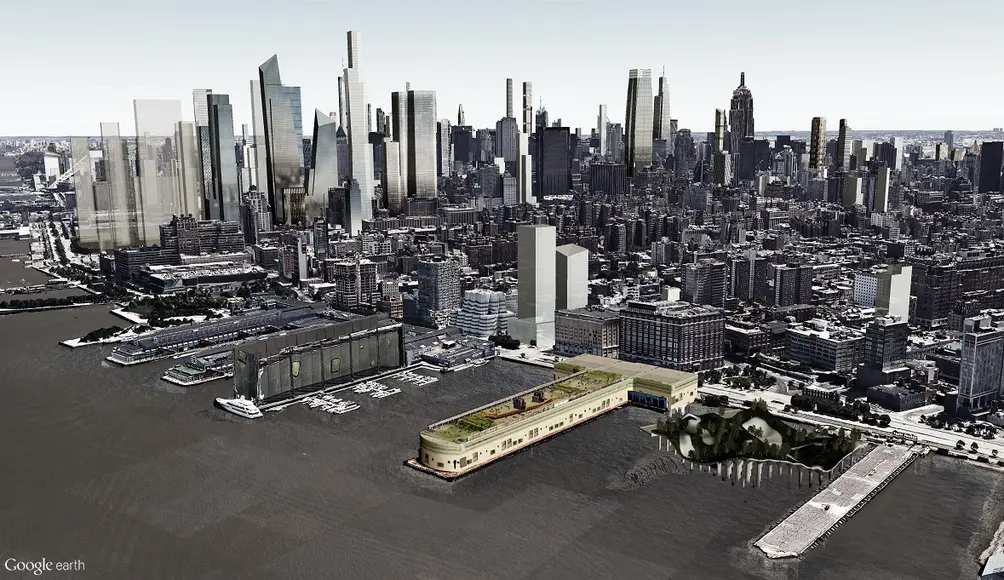 Additional Info About the Building