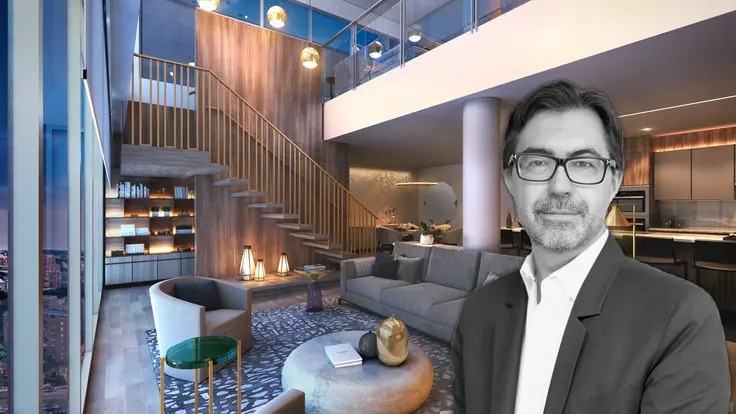 Tangram
, named after the popular Chinese puzzle, is one of several new mixed-use developments adding to the real estate boom of Flushing, but its distinction lies in its massiveness, its amenities, and its "East Meets West" design. The neighborhood, which has a longstanding Asian culture and residents who are
more likely to own than rent
, presented a great opportunity for developers
F&T Group
(the same co-developers of the nearby
Flushing Commons
) and
SCG America
to present something innovative that would also complement the surrounding area. So, they brought in a team led by someone who knew a little something about European and Asian design – award-winning architect and interior designer
Jean-Gabriel Neukomm
, a former principal with SPAN Architecture whose previous work includes everything from Calvin Klein stores in Singapore and China to the interiors of Downtown Brooklyn's
The Ashland
.
CityRealty recently had the chance to chat with Neukomm on his background, his style, and his work for Tangram House, the residential portion of Tangram which features 317 luxury condos.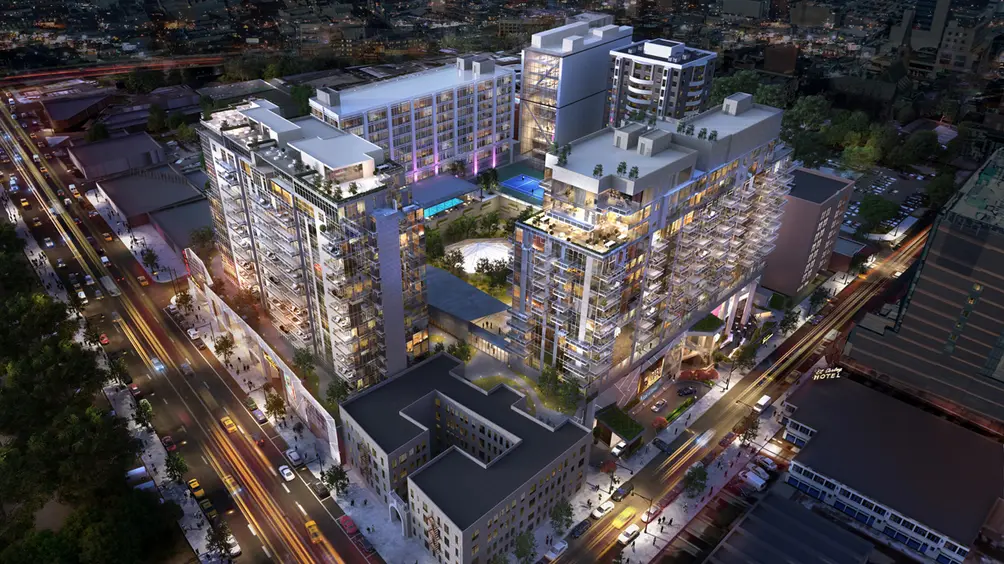 When did you decide to enter the world of interior design? What drove you to it?
As my firm grew from doing smaller, bespoke projects to large-scale endeavors, we decided it was critical to pursue our vision through the design of the interiors. The ability to work on all aspects of a project's public face, from the layouts to the graphics, gives our work a level of coherence and consistency it would not otherwise. I also feel, as a practitioner deeply interested in the social/connective aspects of our field, that working on furniture and interiors allows us to design environments to suit the kinds of interactions we feel are important. The layout and design of furniture is what helps define the different scales at which these interactions occur – from someone reading a book alone on a cozy chair to dinners for 50 – all of these need to be accommodated when doing a project like Tangram.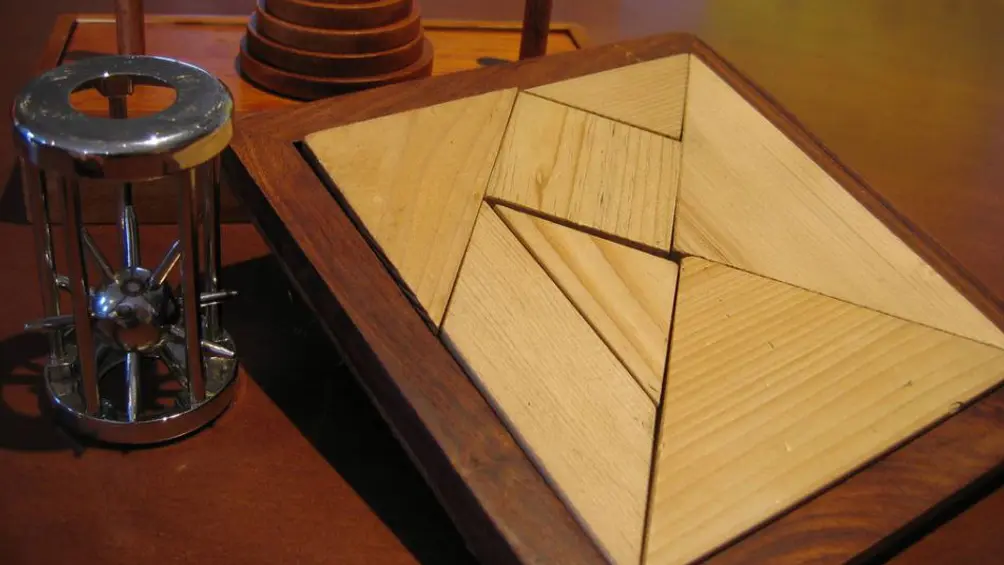 How does the interior design of Tangram House - named after the Chinese puzzle - live up to its name?
As a child, I was fascinated by the tangram puzzle, and always enjoyed the limitless possibilities such simple forms could create. In our project for Tangram, we relied on the geometry in a similar way – by creating simple, geometric building blocks, we could create a number of interwoven motifs and details throughout the project that share a common formal identity. It allows us to have a level of design consistency throughout, from the lobby's sculptural wall installation to the pulls in the bathroom vanities.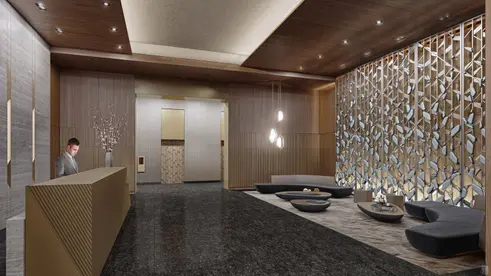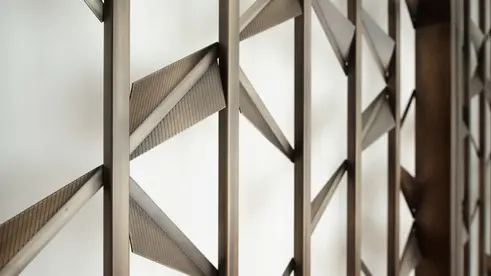 How difficult was it to combine your European design background with Flushing's Asian culture? Was there any overlap?
There is much overlap in the sense that the Asian clientele is extraordinarily receptive to, aware, and appreciative of European design culture, so I don't think there was a tremendous leap to bridge the gap. I do think my own European background speaks to many of the project's aspirations, notably in the use of materials and details that resonate historically. In general, in my practice, I feel that the building blocks we employ should have a sense of history, and, with F&T's help, we were able to collaborate with vendors and craftsmen who shared that ethos. The execution of the kitchens, for instance, was done by an incredible Italian company that spans generations and is well-steeped in how to produce work of an exemplary quality. The tile we used was also from an Italian company, again going back several generations, but using the most-up-to-date production techniques. It is encouraging that the "old world" is often able to step into the future, and it is something we very much rely on in our partnerships.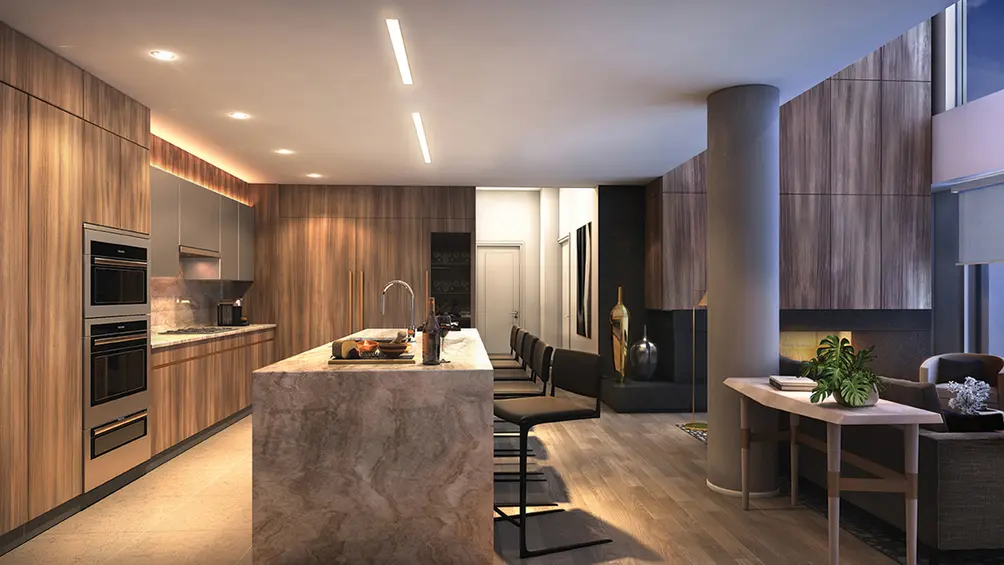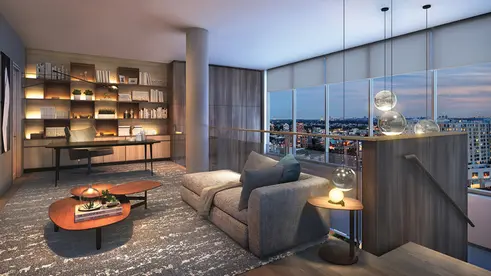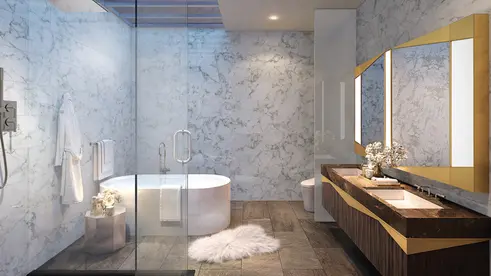 You and your team immersed yourselves in the neighborhood's culture for several months - how did that process inspire your design decisions? And is that something you've had to do before?
One of my fondest childhood memories was going with my mother to Chinatown in Manhattan, nearly every Sunday. It was something that we both very much enjoyed, and something that stays with me even today. From that experience and many others, I was always fascinated with other influences that find a voice in my work. Certainly, we have done numerous projects in Asia (notably Calvin Klein Collection stores), or for an Asian clientele (LA Metropolis), and those were excellent viewports into the designing more internationally. When we were approached by F&T, I saw this as a great opportunity to put some of my long-term interests into practice, and my team and I, very enthusiastically, researched and spent time in Flushing, experiencing many incredible meals and social gatherings. It influenced our design in the sense that we saw the passion people had for the neighborhood and the reason why it draws so much attention from the international community. These wanderings reinforced my sense that we would want to approach the project in a way that took those passions and sensibilities into consideration.

This is a very typical approach when we do larger projects like Tangram. For LA Metropolis in Los Angeles, we were fascinated and drawn to the neighborhood's rich Art Deco vocabulary, which we re-interpreted; and recently, for a project in Brooklyn, we took inspiration from many of the landmarks in the Brooklyn Academy of Music (BAM) cultural district to create a narrative of cohesion between the new building and its context.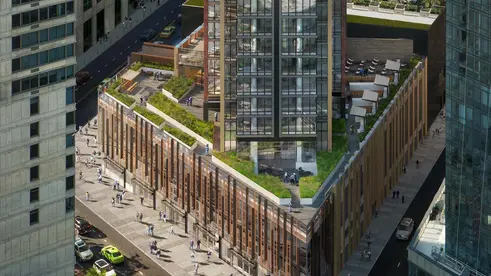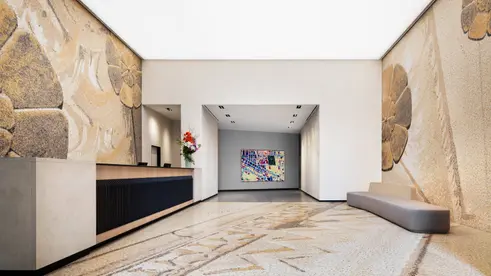 You're no stranger to large-scale projects like this one, what's the first step you take in tackling these spaces?
When starting any project, our approach relies heavily on researching a given neighborhood and trying to extract an essence to guide our design. This is particularly important to us as we want to make sure our projects' inhabitants feel connected to their surroundings, and not culturally isolated or cut off. In the case of Tangram House, we were very aware, from our wanderings and conversations, that people love Flushing for its deep sense of culture, not to mention the dynamic energy and bustle it exudes. We wanted our project to avoid suppressing that dynamic, but to complement it – where Flushing is urban and exciting, Tangram House would be an internal landscape, equally sensitive to the culture, but from a perspective of calm.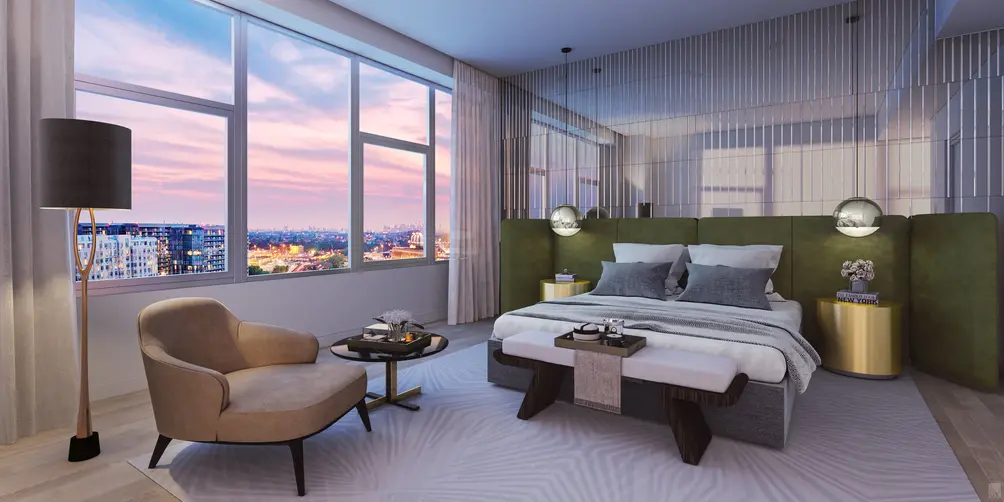 You've designed spaces in NYC and Los Angeles. Are there any discernible differences?
One of the key differences in designing for LA versus New York is obviously the weather – there's a more literal connection between the indoors and the exterior landscapes in Los Angeles. Spaces can more easily, and literally, be indoor and outdoor. In our region, we want to keep that important connection, but do it through the use of vision glass, and setting up view corridors so that every space has a visual relationship to the outside. This is particularly important at Tangram House given the extraordinary garden on the second floor. This was certainly something we wanted to feature as a backdrop to our extensive amenity spaces.

Another difference is a bit more subtle. When designing in Los Angeles, we embrace the sun culture by generally employing lighter palettes. The classic view of LA is of light and sun, and people want to see that reflected in their homes. In New York, we are able to use a more nuanced palette that sometimes reflects a more nighttime, sophisticated mood. Creating uplifting spaces is of course also important, but we are more likely here to offset those with environments more keyed to dusk and night.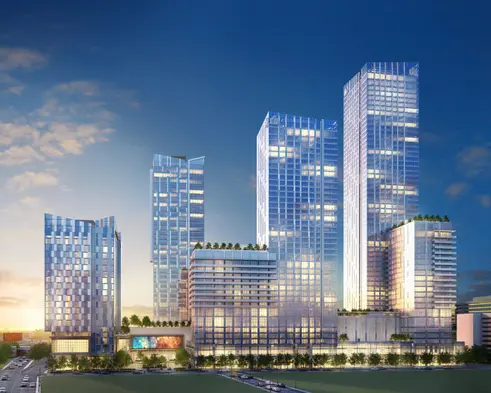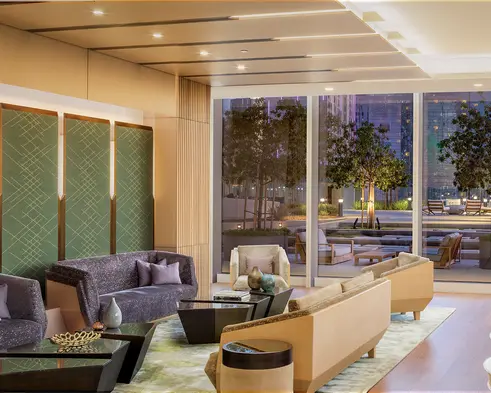 Lastly, what are some design trends you think will emerge in 2018?
A major trend I see developing further is what I would call a "commitment to the local neighborhood in design." For years, the food culture has embraced this idea, and I think it is equally important in the world of design. Architecture does not exist in a vacuum, and it is important to reflect the neighborhood surroundings when designing both public and private spaces. I feel these references make for a richer project, not just something that speaks to the architect's own interests, and for that reason, is more connective socially. My excitement in doing these projects comes precisely from wanting to reach out and engage with a larger group and, consequently, have a larger sense of purpose.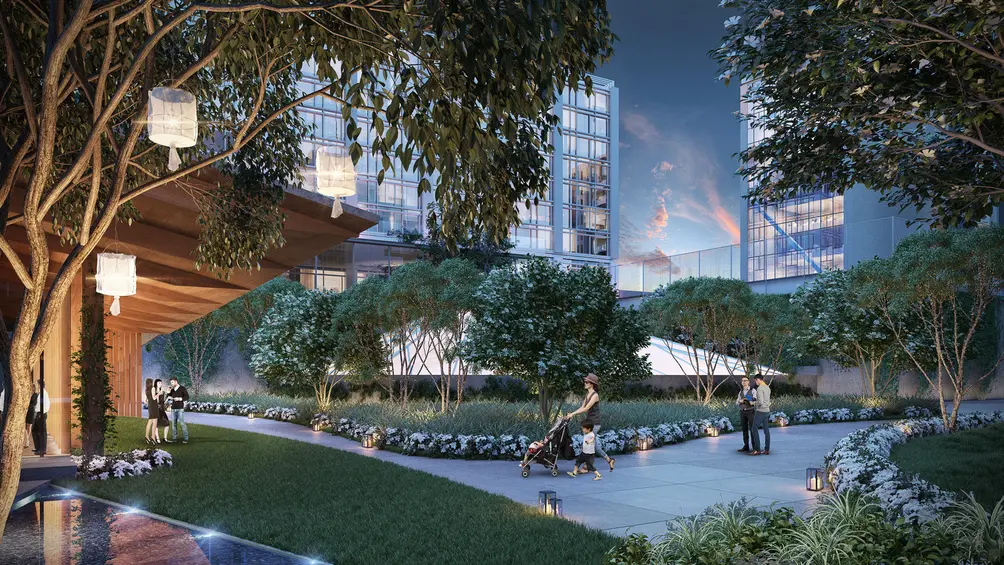 The first residential building of Tangram, called Tangram House South, is set to be completed in early 2019. Overall, the project will consist of 1.2 million square feet of retail, office, residential, and hotel space. It will notably hold a 4D multiplex with seven auditoriums from CJ CGV — the first
new movie theater to come to Flushing in 30 years
.
Schedule an Appointment
To tour this property, just complete the information below.
Or call us at (212) 755-5544
Additional Info About the Building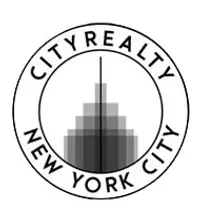 Content Specialist
Sandra Herrera
Sandra Herrera is a writer, editor, and graphic designer based in Brooklyn, NY.
Book a Tour or get more information about any of these properties
Off Market Listings
Off-Market Listings
Off-Market Listings
Many apartments are sold off-market
without being publicly listed.
Contact us to learn more about off-market listings. There's no cost. And never any obligations.
or call us at (212) 755-5544