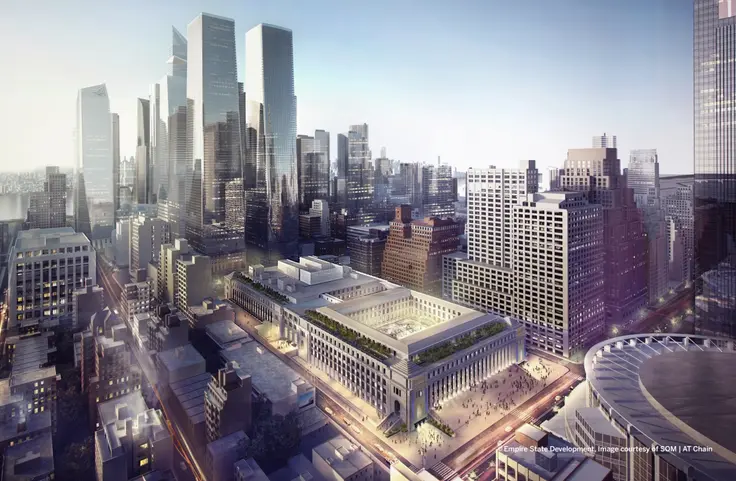 Finally, after two decades in the making, the light is shining brightly on the James A. Farley Post Office conversion project, now known as
Moynihan Train Hall
as part of the Empire Station Complex. The 1913 Beaux-Arts post office building, across Eighth Avenue from Penn station, was originally designed by McKim, Mead & White and is being dramatically revamped by the architecture firm
Skidmore Owings & Merrill (SOM)
. In a big construction moment, the iconic glass skylights are now being installed.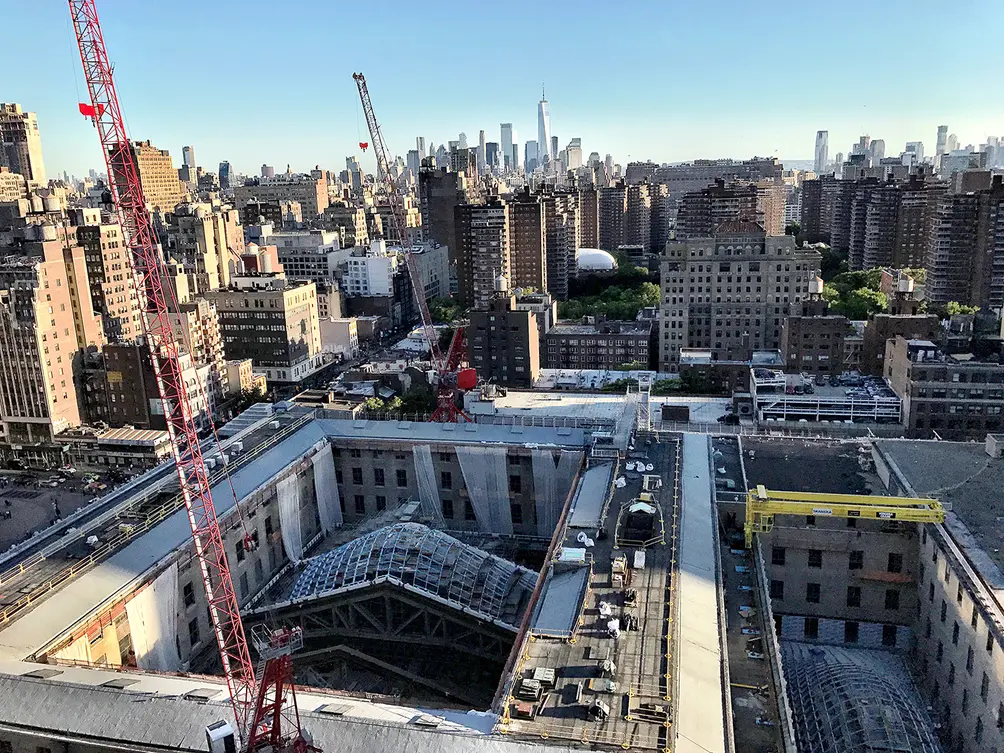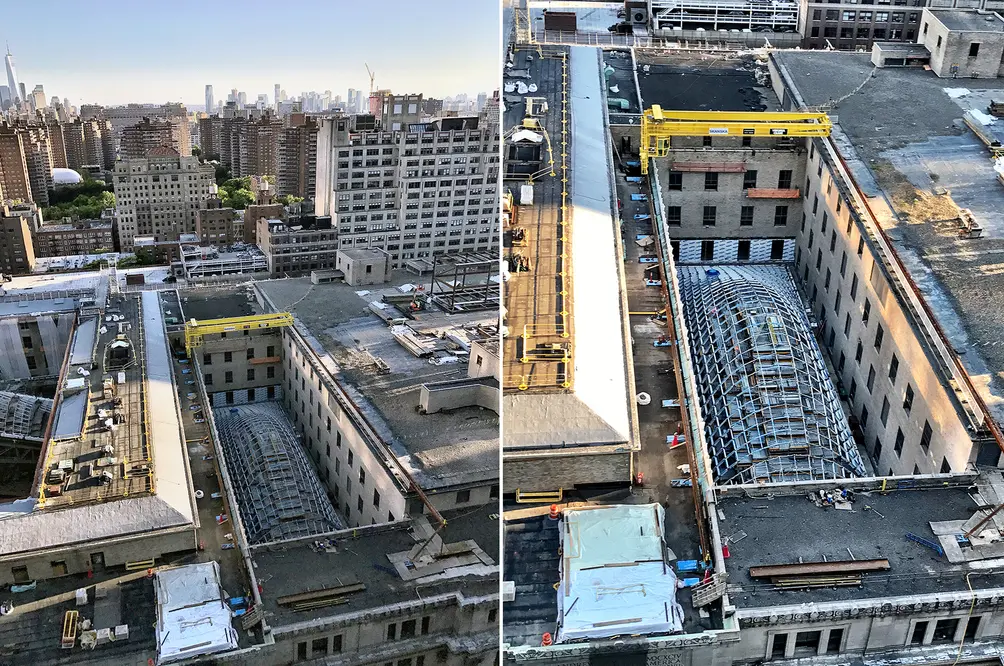 The new the Daniel Patrick Moynihan Train Hall's vast, 255,000 square-foot Post Office's mail sorting room is being transformed into a new boarding concourse to aid in the reduction of congestion and to modernize Penn Station into a 21st-century train station. With a stunning 92-foot high skylight arching up from the original steel trusses, the internal courtyard will be showered with natural light.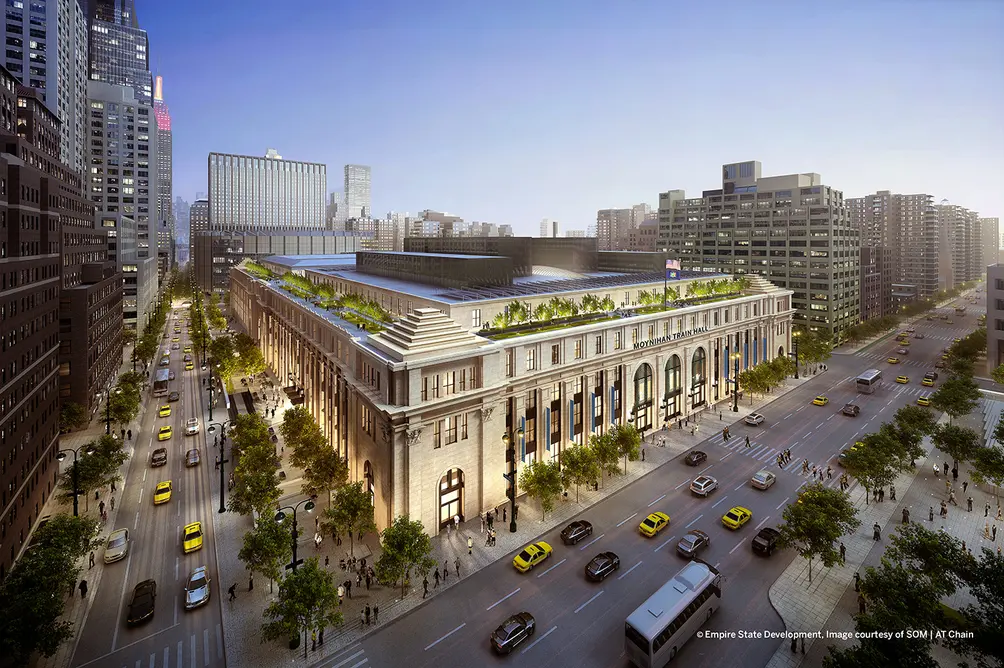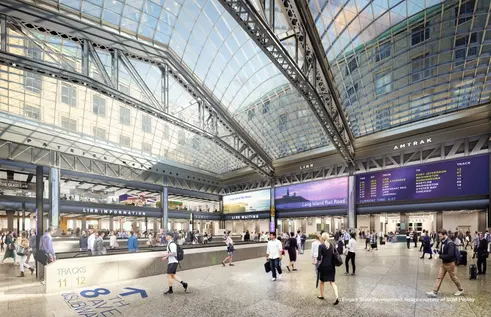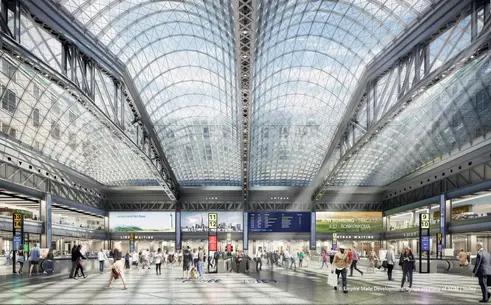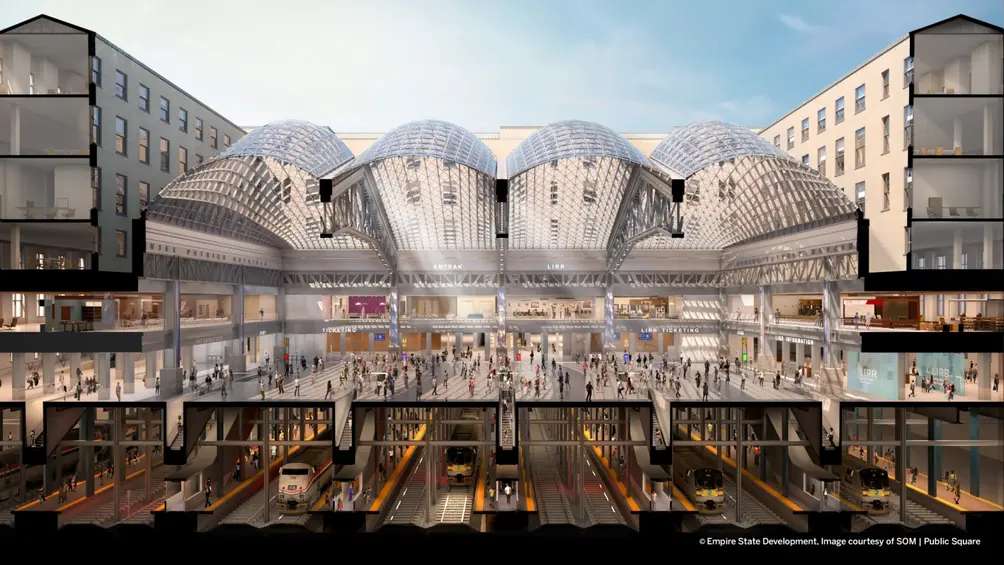 The Moynihan Train Hall will increase Penn Station's total concourse floor space by more than 50 percent. In addition to the train hall, the building will house Amtrak and LIRR ticketing and waiting areas, as well as 70,000 square feet of new commercial, retail, and dining spaces. In a
press announcement
from last June, Governor Cuomo said, "The Farley Building's Moynihan Train Hall is two decades in the making, and we are proud that this project is finally a reality. With better access to trains and subways and state-of-the-art infrastructure, the Moynihan Train Hall seamlessly joins history, architectural design and function, bringing the nation's busiest rail station into the 21st century."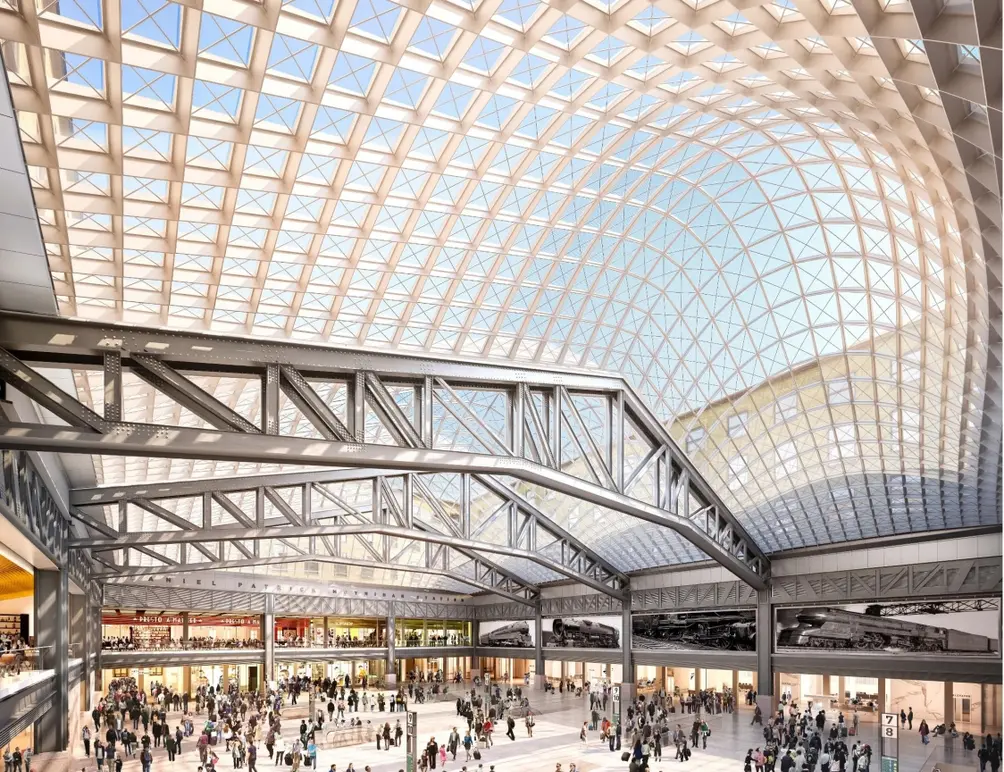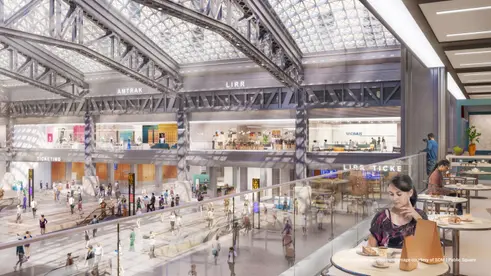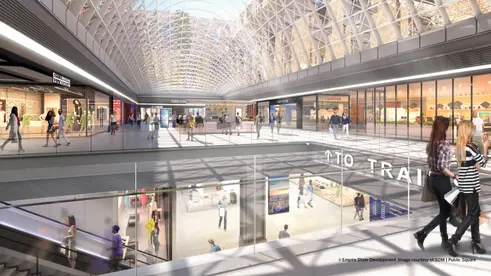 SOM's design blends old and new and will create a grand civic space that celebrates the unique history of the Farley Building and evokes the vaulted concourse of the original Penn Station.
The Moynihan Train Hall is anticipated to open in 2020.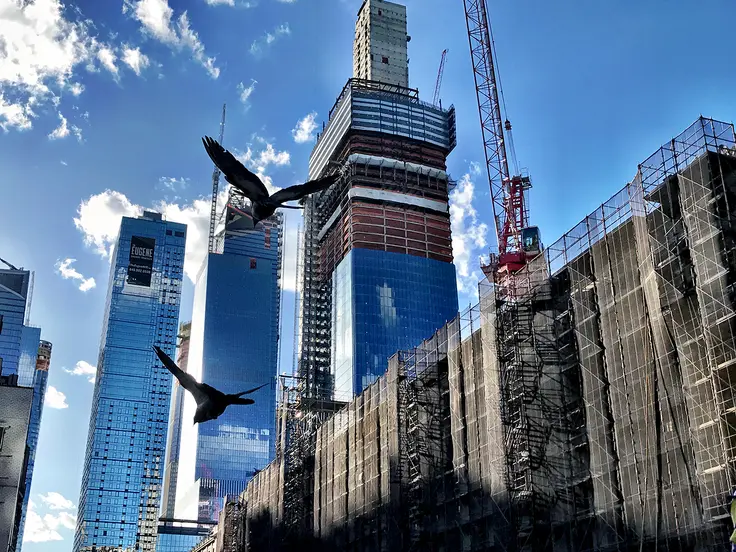 Enlarge Image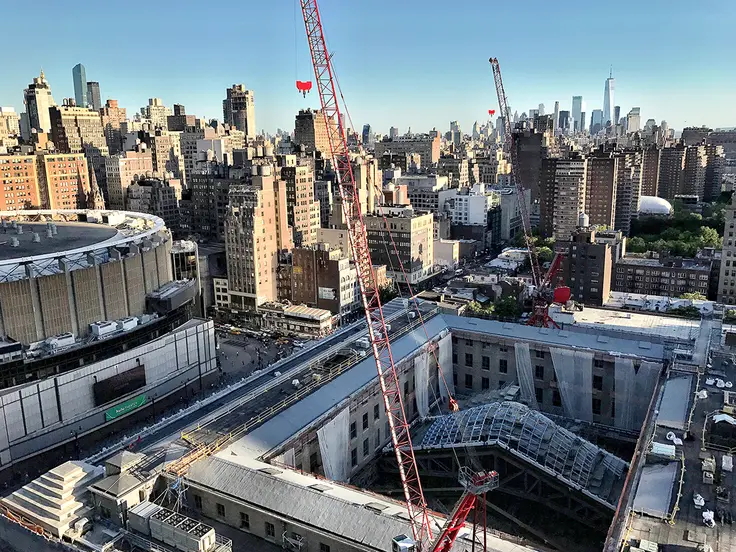 Enlarge Image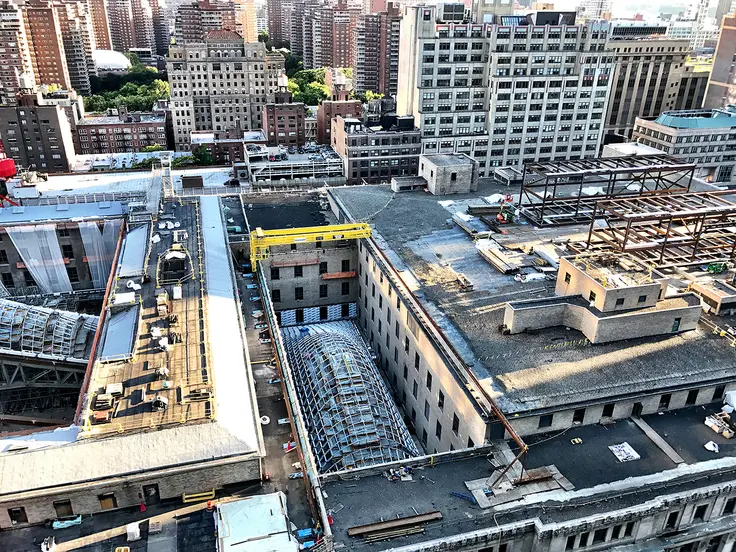 Enlarge Image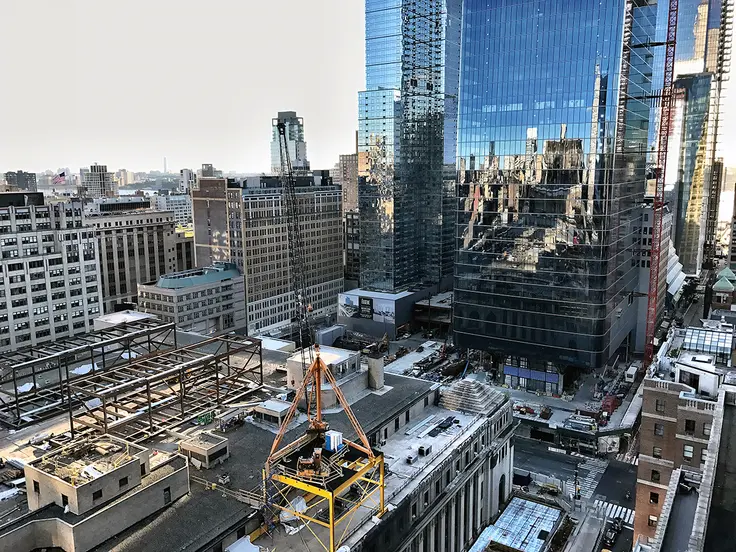 Enlarge Image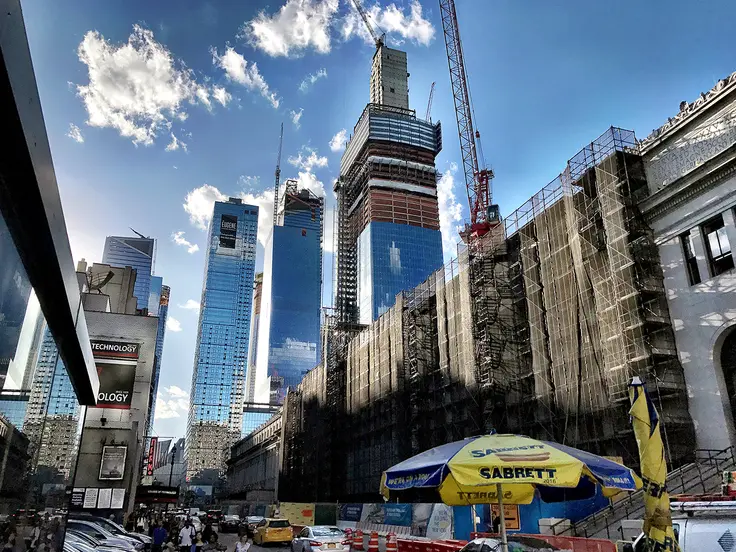 Enlarge Image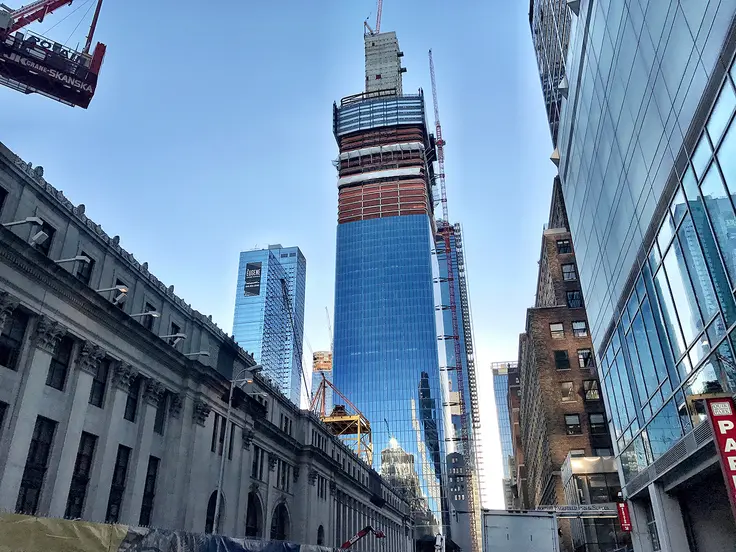 Enlarge Image
Additional Info About the Building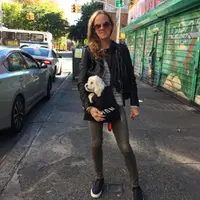 Contributing Writer
Michelle Sinclair Colman
Michelle writes children's books and also writes articles about architecture, design and real estate. Those two passions came together in Michelle's first children's book, "Urban Babies Wear Black." Michelle has a Master's degree in Sociology from the University of Minnesota and a Master's degree in the Cities Program from the London School of Economics.