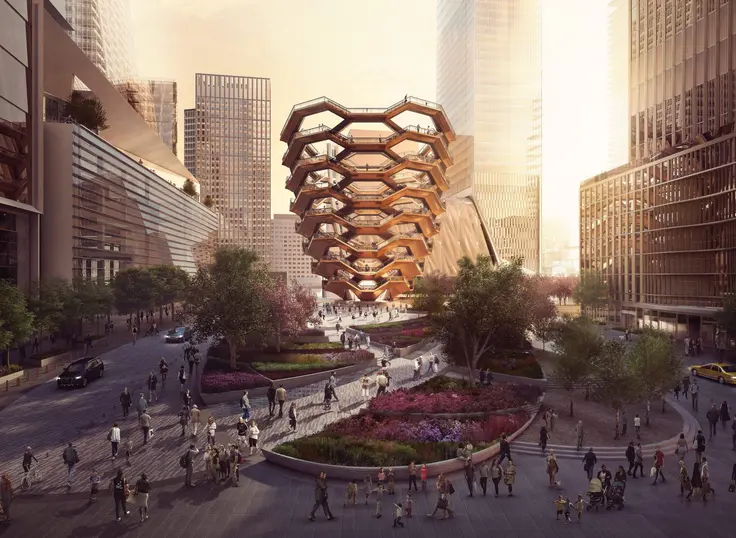 It's not every day that a New York City developer commits millions of dollars, a noble civic gesture, to personally fund a public landmark. But Stephen Ross, chairman of
Related Companies
, is doing just that along Manhattan's west side. The billionaire developer and Miami Dolphins-owner is constructing a $150 million, 200-foot tall public structure in collaboration with London-bound designer,
Thomas Heatherwick
. The "365-day Christmas tree," as Ross describes it, will anchor the eastern half of their Hudson Yards Master Plan that Related is jointly developing with Oxford Property Group.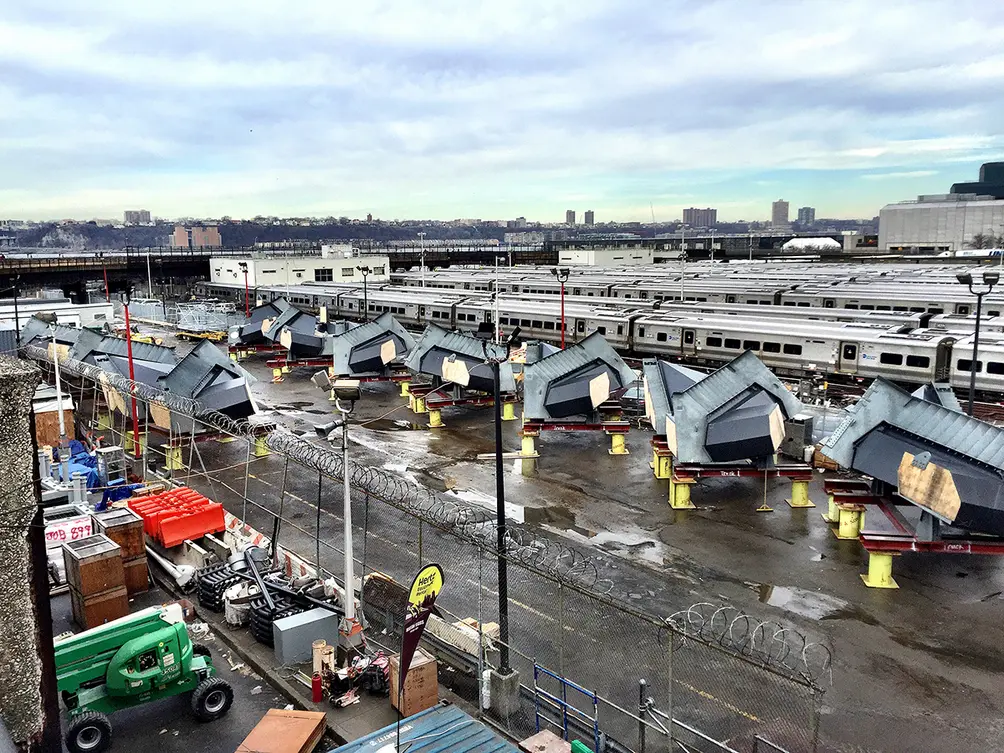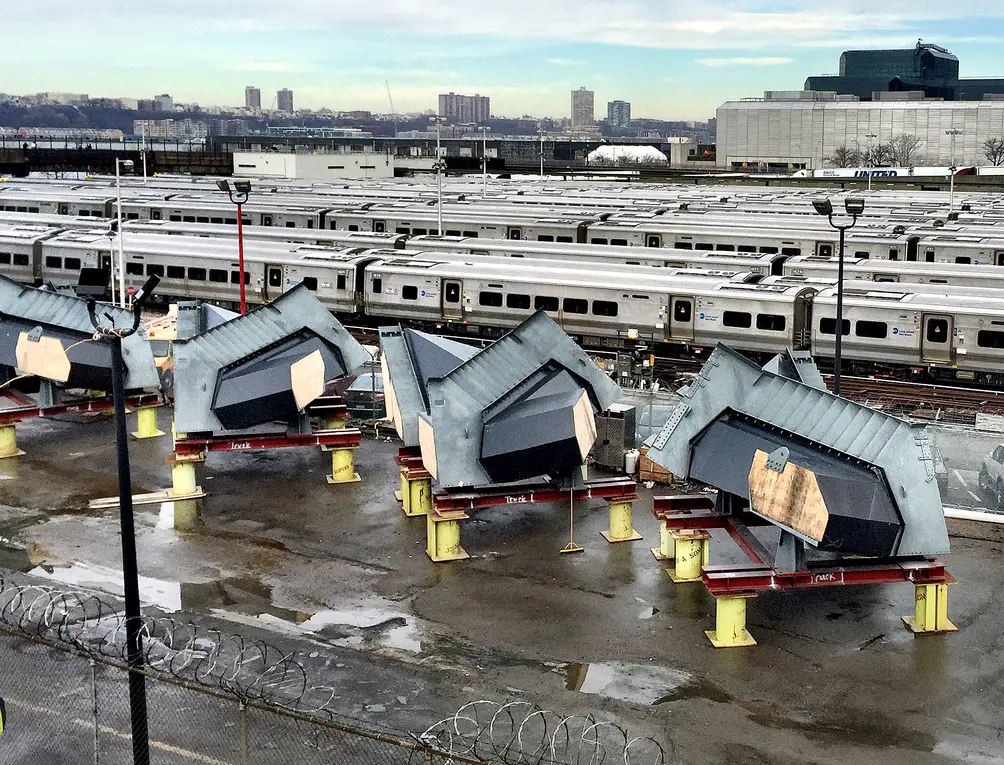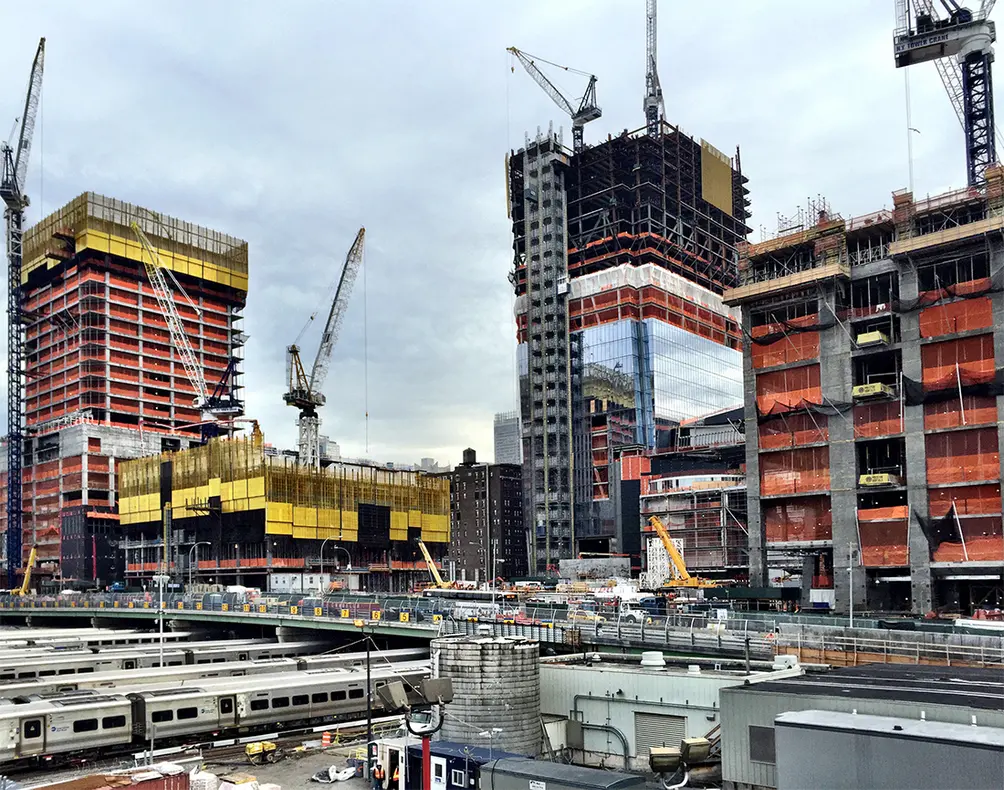 Construction permits
were approved last month, and the raw steel components of the upside-down mountain of egress are being staged just west of High Line's Eleventh Avenue. The Vessel, to be completed in August 2018, will weigh 600 tons, providing 80 viewing landings, accessed by 2,500 climbable steps and an elevator. Per
Hudson Yard's official site
, the 154 flights of stairs are meant to "lift the public up" and "offer a multitude of ways to engage with and experience New York [and] Hudson Yards."
According to the
Times
, the bronzed-steel and concrete pieces are being manufactured in Monfalcone, Italy and will assembled on the site later this year. Currently, two cranes are being erected at the sculpture's location at the center of a five-acre public square and garden designed by
Nelson Byrd Woltz.
The vantage point will be positioned between the eastern yards' four skyscrapers: 15, 30, 50, and 35 Hudson Yards, thus limiting many views. However, climbers will still be able to enjoy vistas north over Hudson Boulevard and Park, and west towards the Hudson River.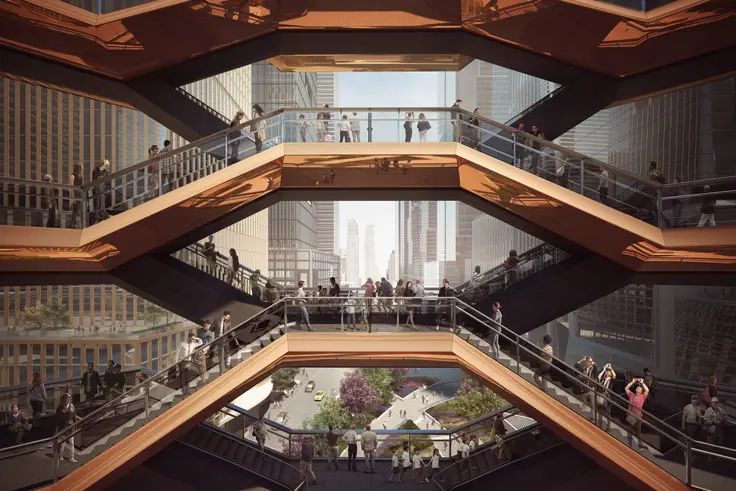 Enlarge Image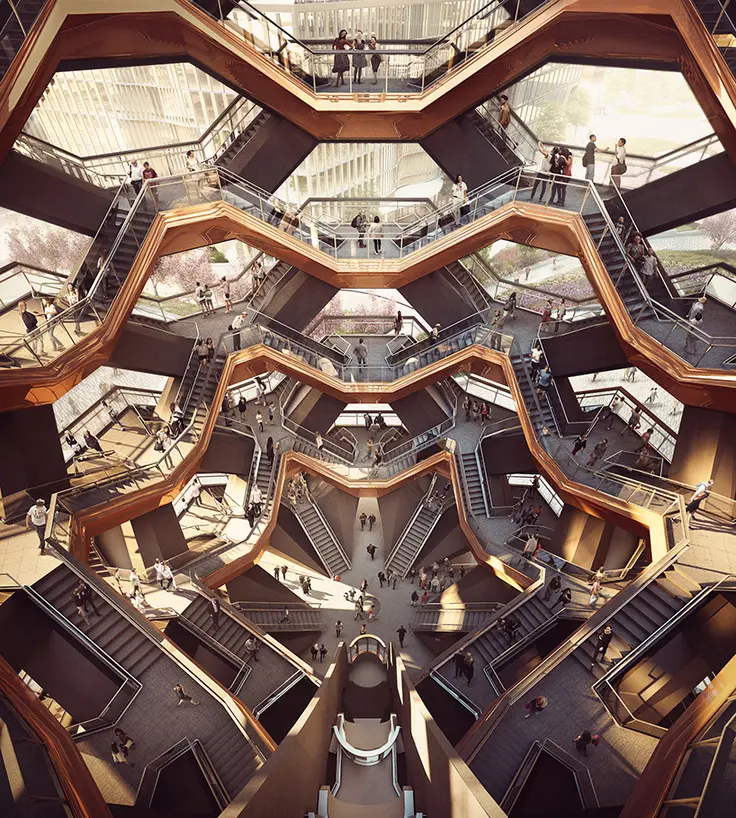 Enlarge Image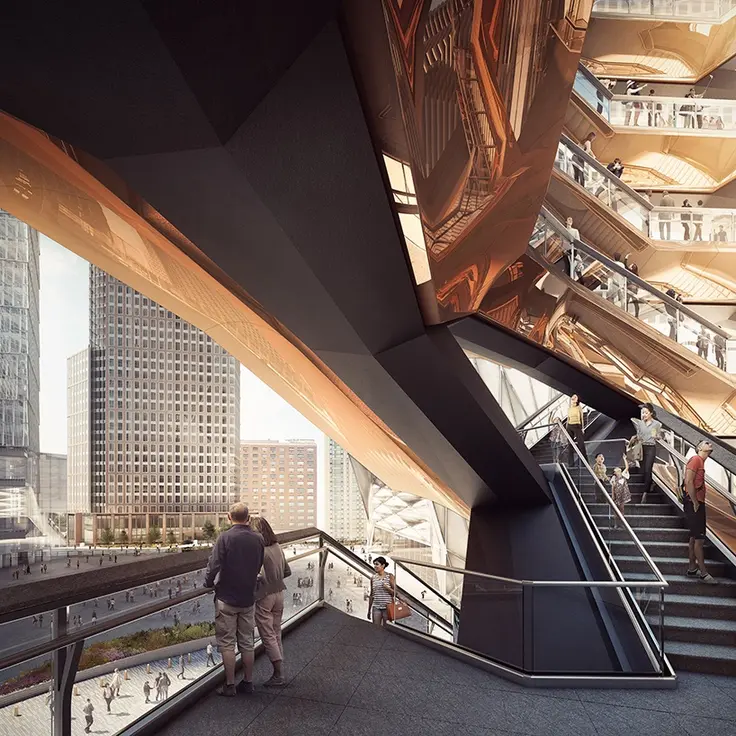 Enlarge Image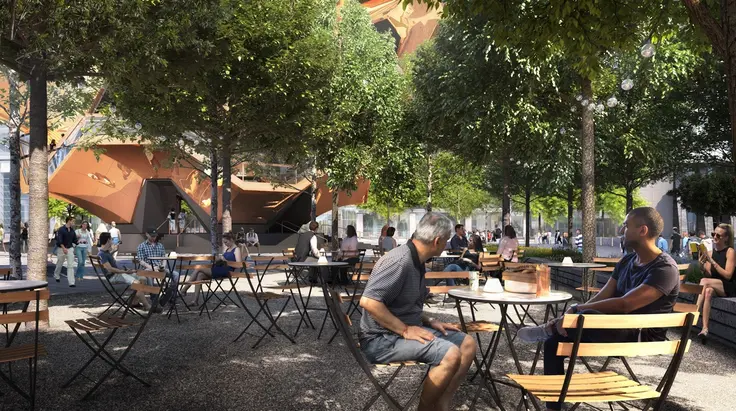 Enlarge Image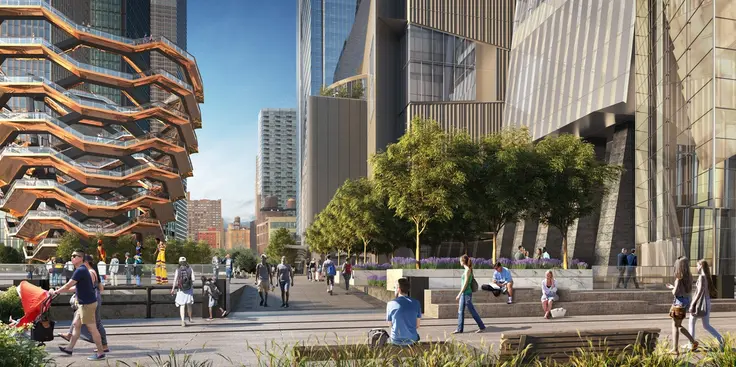 Enlarge Image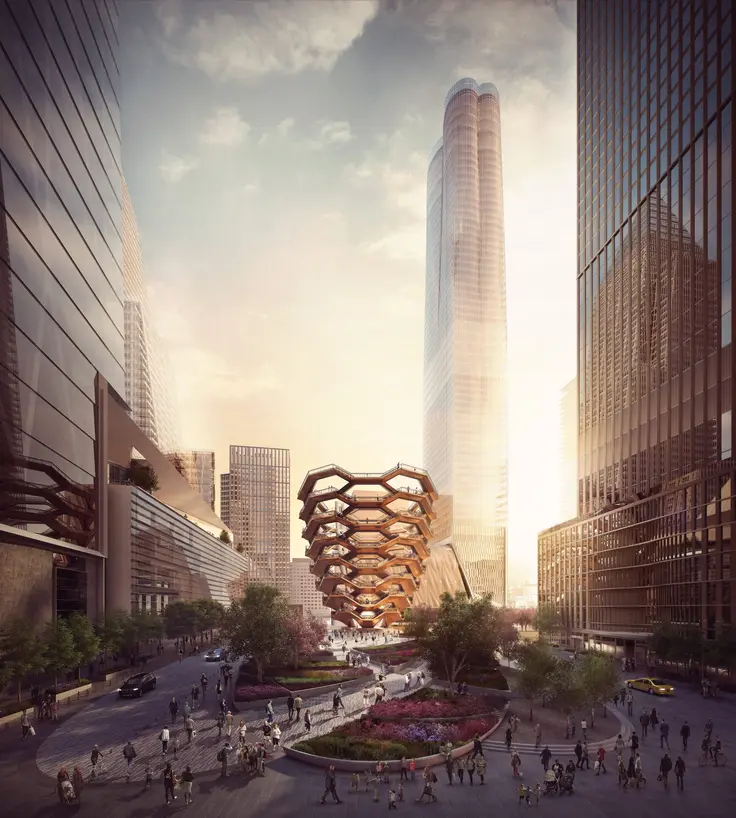 Enlarge Image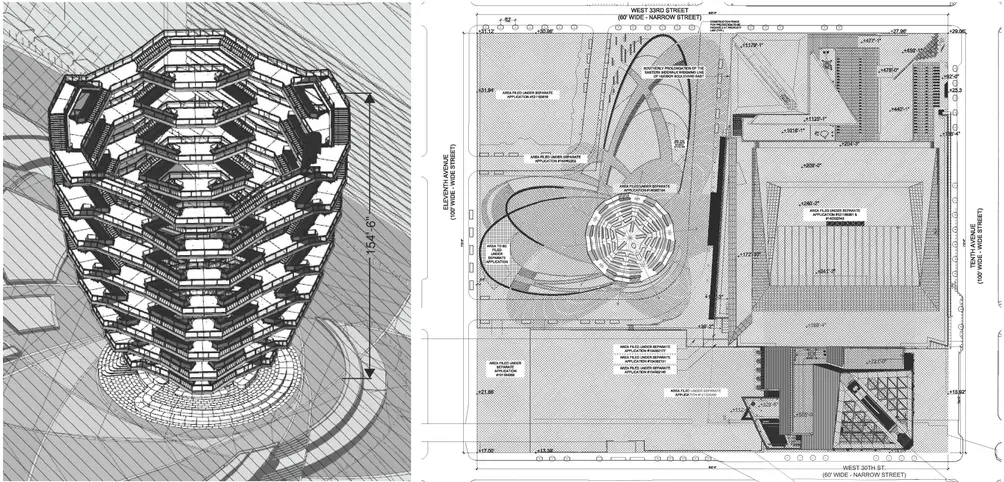 Heatherwick, who beat out other high-profile artists such as Jeff Koons, Anish Kapoor, Maya Lin and Richard Serra, says the inspiration for the piece comes from the design of Indian stepwells and from a discarded staircase he found while still an art student.

New Yorkers have had plenty to say about the forthcoming landmark, comparing it to a M.C. Escher piece, a beehive and a wastebasket. Nevertheless, kudos to Mr. Ross for patronizing the arts and providing our public realm a free-to-use landmark that will help us burn a few calories. Clearly, Ross was impressed enough to enlist Heatherwick in designing two more residential buildings, one in Hudson Yards and another in Chelsea.
Additional Info About the Building