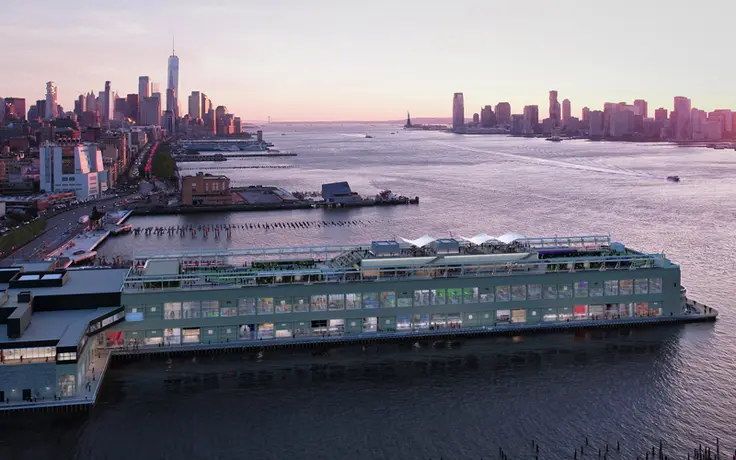 After 15 years in the works,
RXR Realty
is preparing to open
Pier 57
, an adaptive-reuse project that will have acres of new office space for Google, 75,000-square-feet of retail, and a rooftop park and esplanade. A recent visit to the Hudson River waterfront site (at West 15th Street), shows that much of the construction chaos in front of the pier has disappeared and freshly-paved sidewalks, a new drop-off area, and a newly-lit front facade can be seen.
The pier was designed by civil engineer Emil H. Praeger (designer of the Henry Hudson Bridge) and built between 1950 and 1954 by the New York City Marine and Aviation. Jutting more than 875 feet into the river, the pier was built using techniques developed during World War II that allows 90 percent of its weight to be supported by buoyancy rather than by typical piles driven into the riverbed. Upon the decline of the city's maritime industries, the pier functioned as a parking garage for buses for three decades until they were moved in 2003.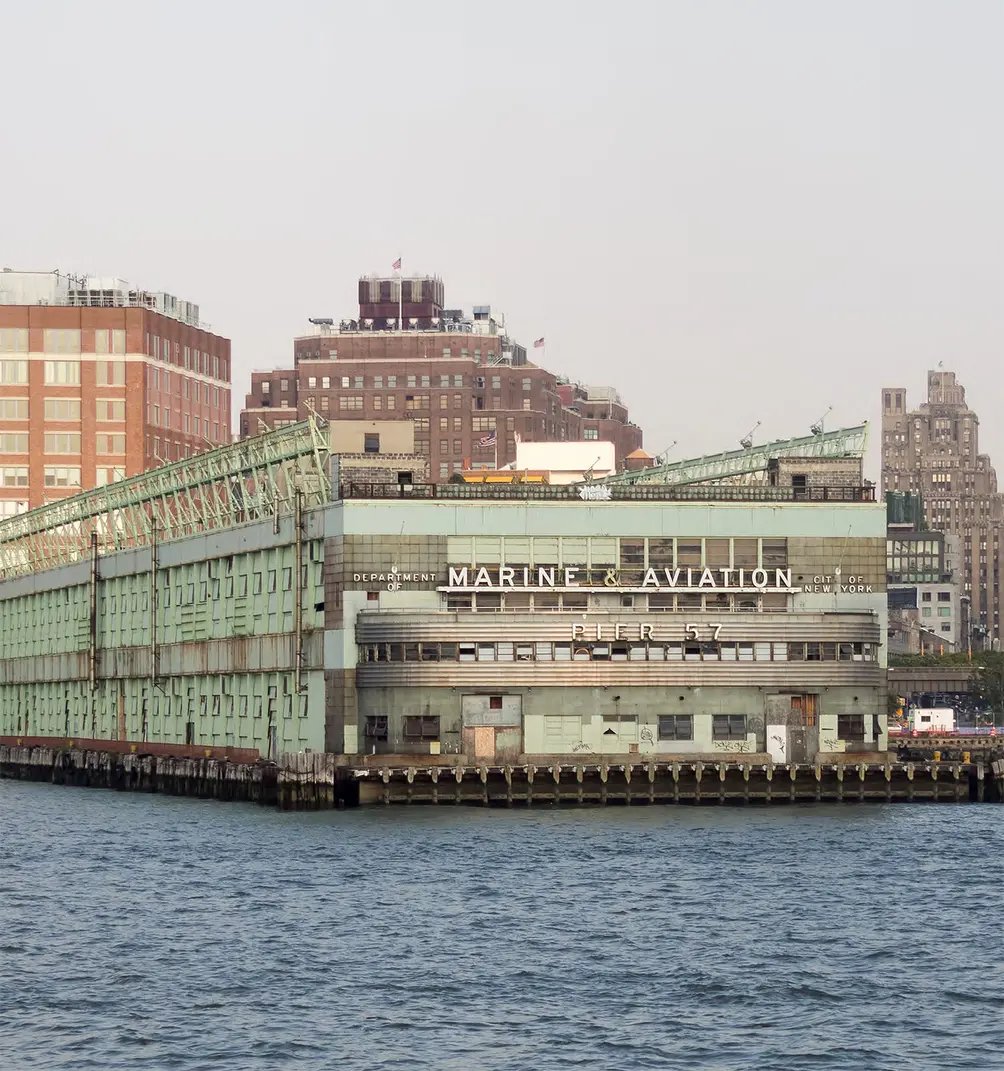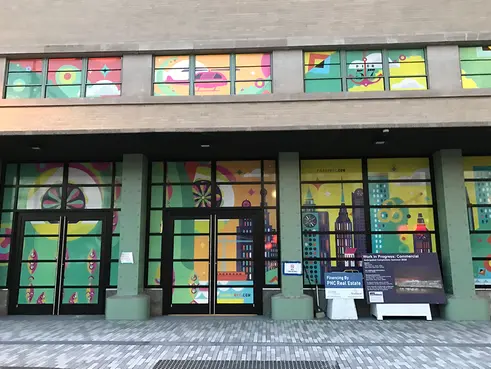 After a partnership between Cipriani Restaurant Group/Plaza Construction Corp. and the Witkoff Group unraveled in 2004, the Hudson River Park Trust held a second competitive bidding process where
Youngwoo & Associates
was selected to redevelop the rusting pier in 2008. In 2013, RXR Realty was brought on board and is leading the $380 million project to completion with
Handel Architects
and
!Melk Landscape Architecture
and Urban Design responsible for the design.
According to the newly-debuted
website
and
property brochure
, the plan calls for 265,000 square feet of office space, 24,000 square feet of cultural, education, and entertainment uses, and a rooftop park accessed by retail corridor hosting artisanal businesses and "premium dining and entertainment establishments."
The brochure touts that the 80,000-square-foot rooftop will be the largest public outdoor space in the entire neighborhood. As shown in a new fly-through video, the multi-level rooftop will have walkways, seating areas and spaces for picnicking and lounging. Most of the pier's distinctive steel elements remain and along the pier's southern elevation will be a large marina managed in partnership with the
Hudson River Park Trust
.
Previously called "Superpier", one of the most exciting aspects of the plan was a 155,000-square-foot food destination hall with more than 100 different stalls curated by the late chef Anthony Bourdain. According to a February story from
Crain's New York
, the food hall will shrink to 40,000 square feet. The paper also revealed that Google is looking to add another 70,000 square feet of offices, create a landing for ferry service, and lease an additional 50,000 square feet for public, cultural and educational activities.
Enlarge Image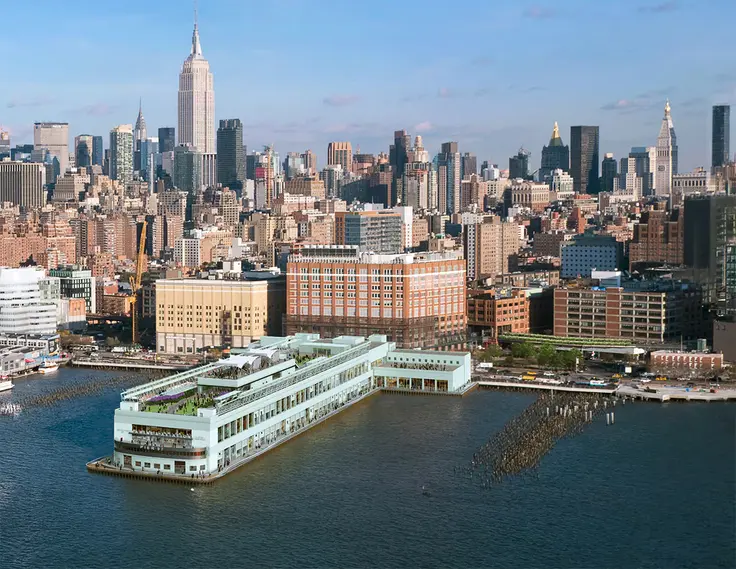 Enlarge Image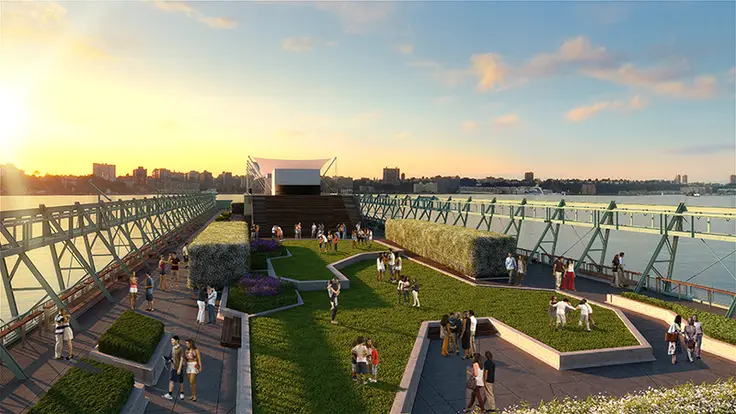 Enlarge Image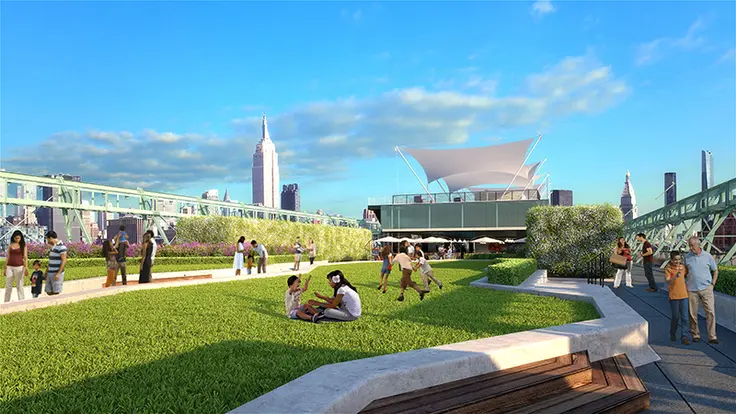 Enlarge Image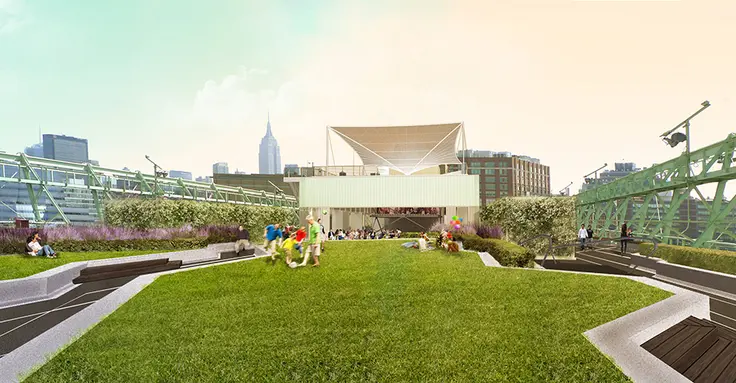 Enlarge Image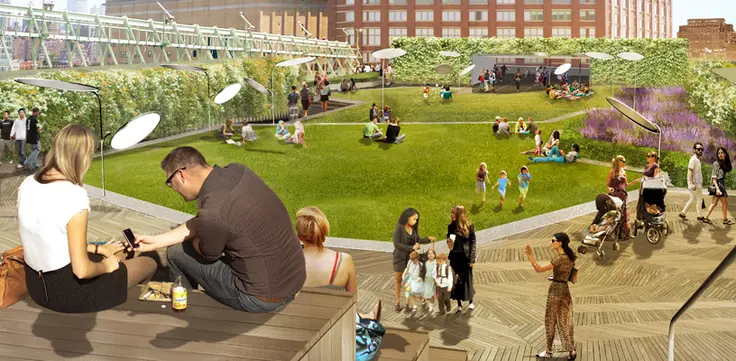 Enlarge Image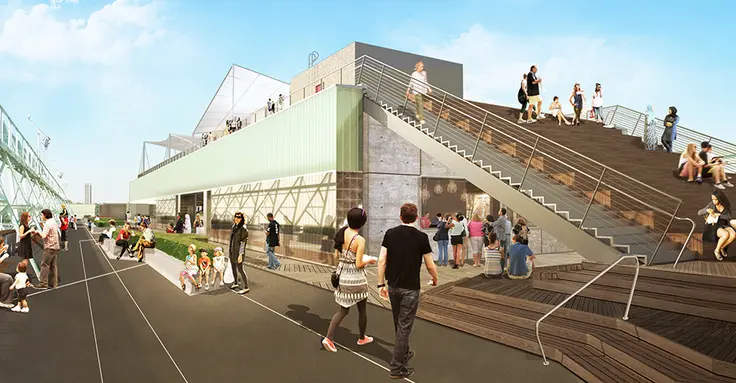 Enlarge Image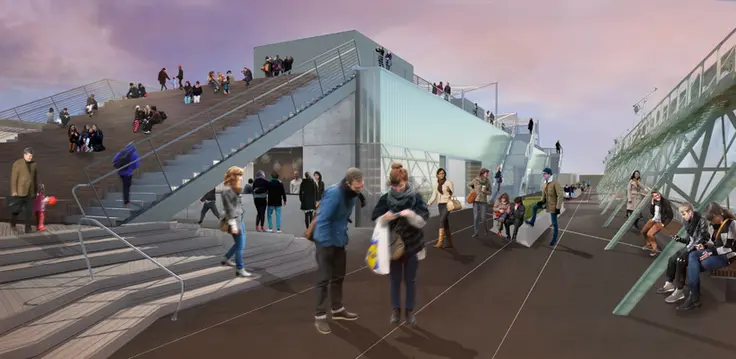 Enlarge Image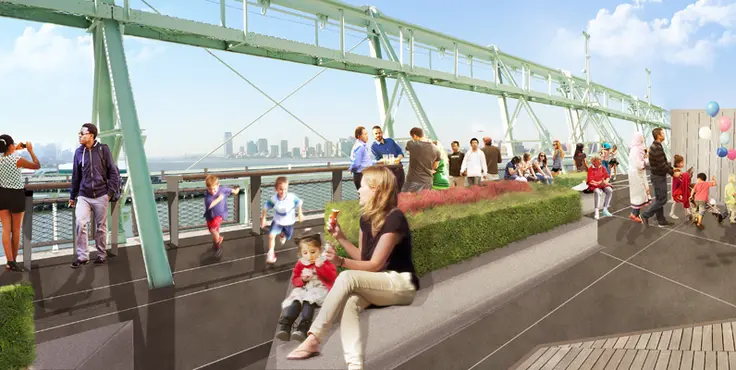 Enlarge Image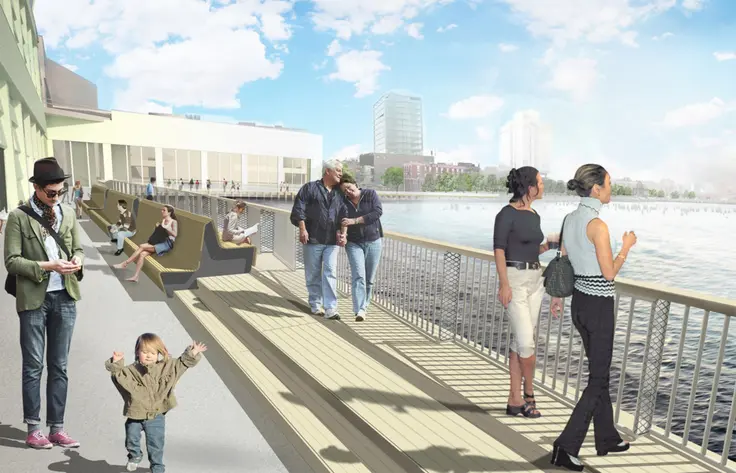 Enlarge Image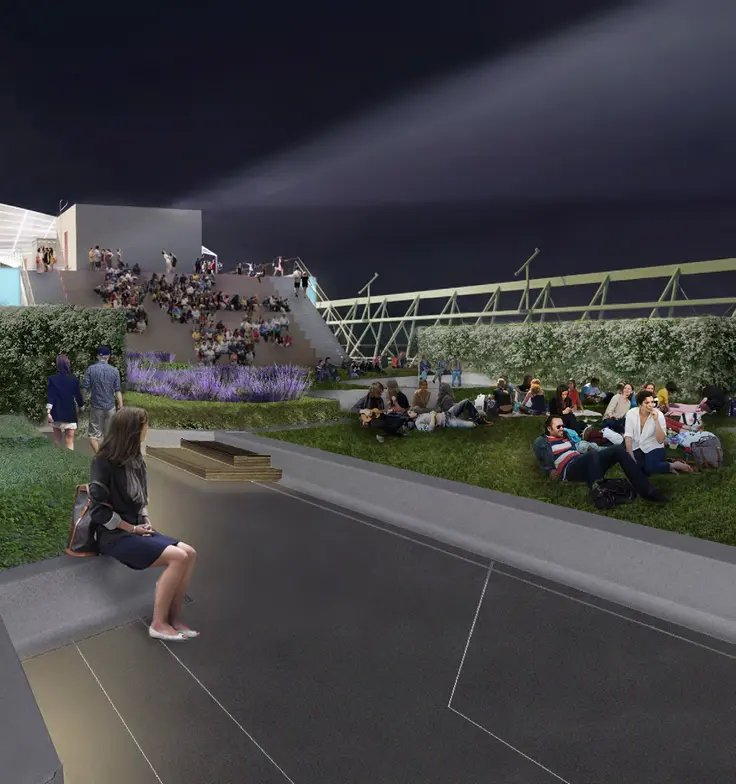 Enlarge Image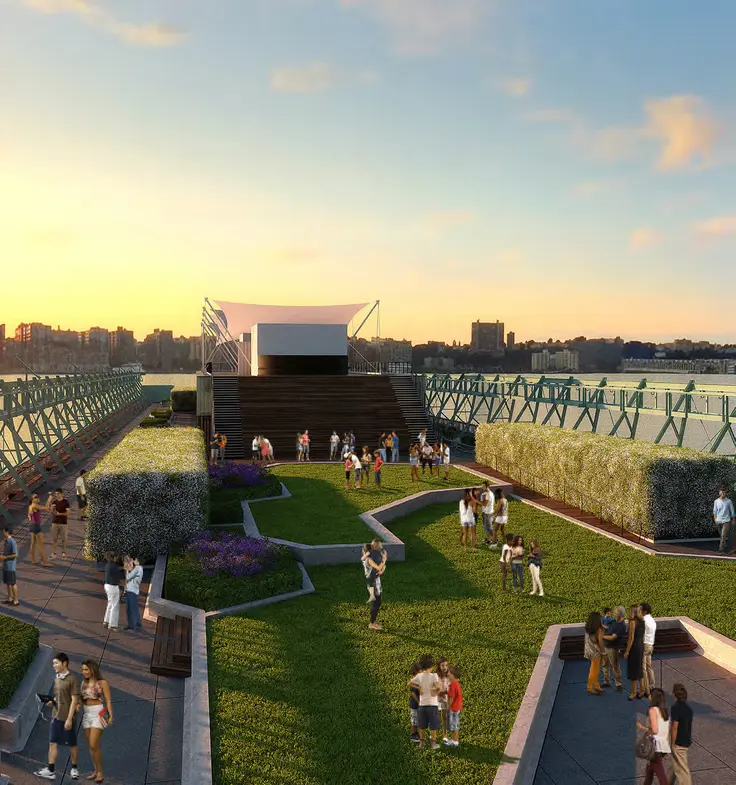 Enlarge Image
Additional Info About the Building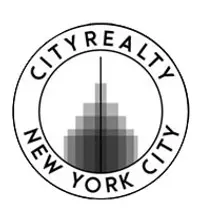 New Developments Editor
Ondel Hylton
Ondel is a lifelong New Yorker and comprehensive assessor of the city's dynamic urban landscape.