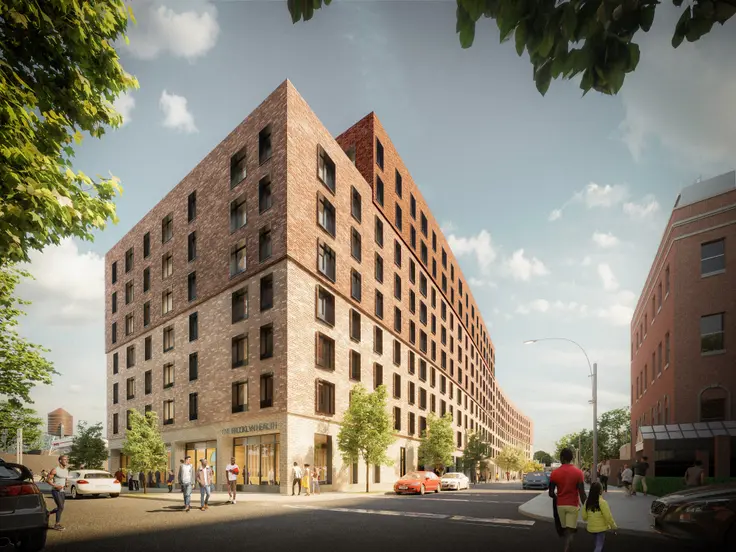 Nearly 900 units of affordable housing and crucial social services are coming to Brooklyn. Yesterday, Governor Cuomo announced a new 291-unit affordable housing and community development at 329-369 Clarkson Avenue in Prospect Lefferts Gardens. Named Clarkson Estates, the eight-story complex will bring 291 units of affordable housing in addition to an array of social services provided within a 30,000 square foot facility named in honor of Dr. Roy A. Hastick. As a key component of the Governor's Vital New York plan, Tuesday's announcement comes a week after a similar 322-unit housing complex called Utica Crescent was unveiled and months after seven months after the 266-unit
Kingsbrook Estates
was announced.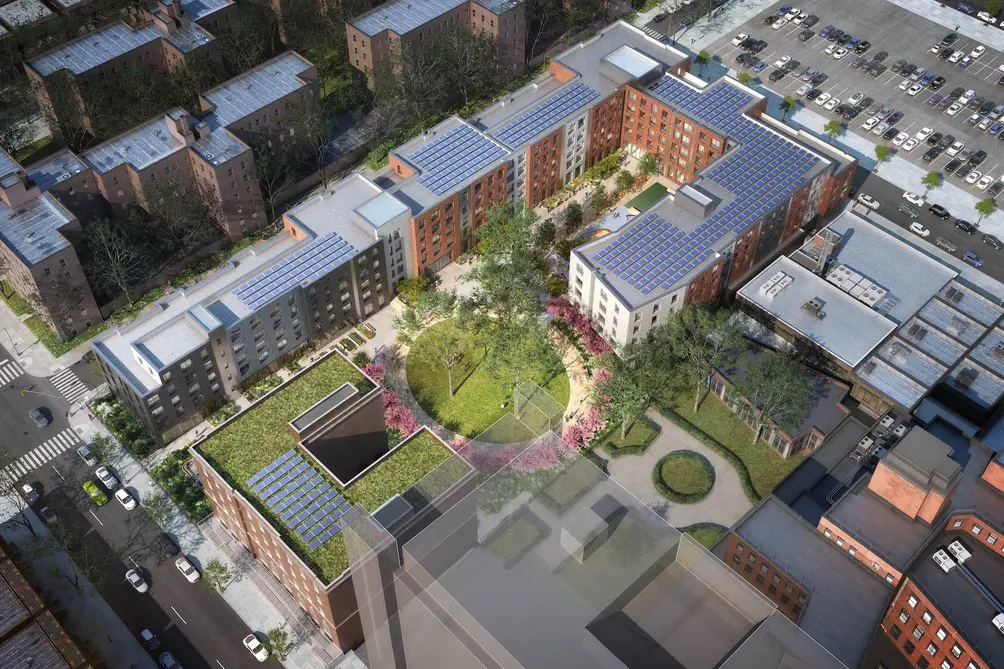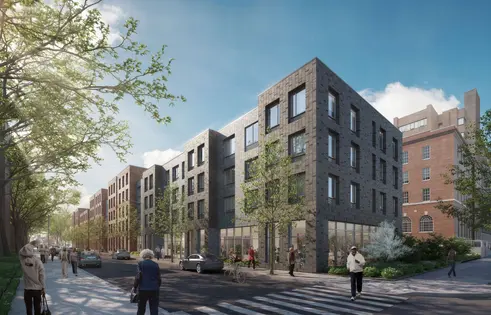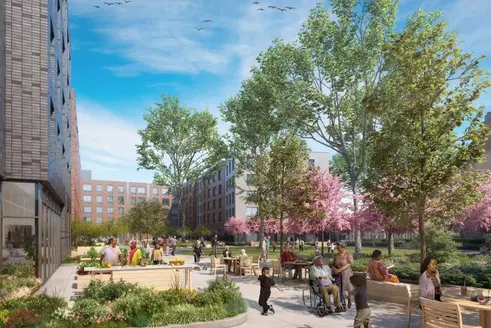 Launched by Andrew Cuomo and the State in spring 2017,
Vital Brooklyn
aims to create 4,000 units of affordable housing at a cost of $578 million and intends to be a model for community development and wellness for central Brooklyn communities such as Bedford Stuyvesant, Crown Heights, East Flatbush, East New York, and Prospect Lefferts Gardens. The targeted initiative leverages State programs and resources to tackle chronic social ills such as the limited access to healthy foods, inadequate access to high-quality health care and mental health services, higher than average rates of crime, and unemployment.
According to a press release announcing the $1.4 billion initiative, the eight focus areas are maximizing green space, promoting healthy food and connecting Upstate growers with Downstate families, economic development and job creation, violence prevention, establishing new health care facilities, investing in renewable and resilient energy sources, and of course building affordable housing.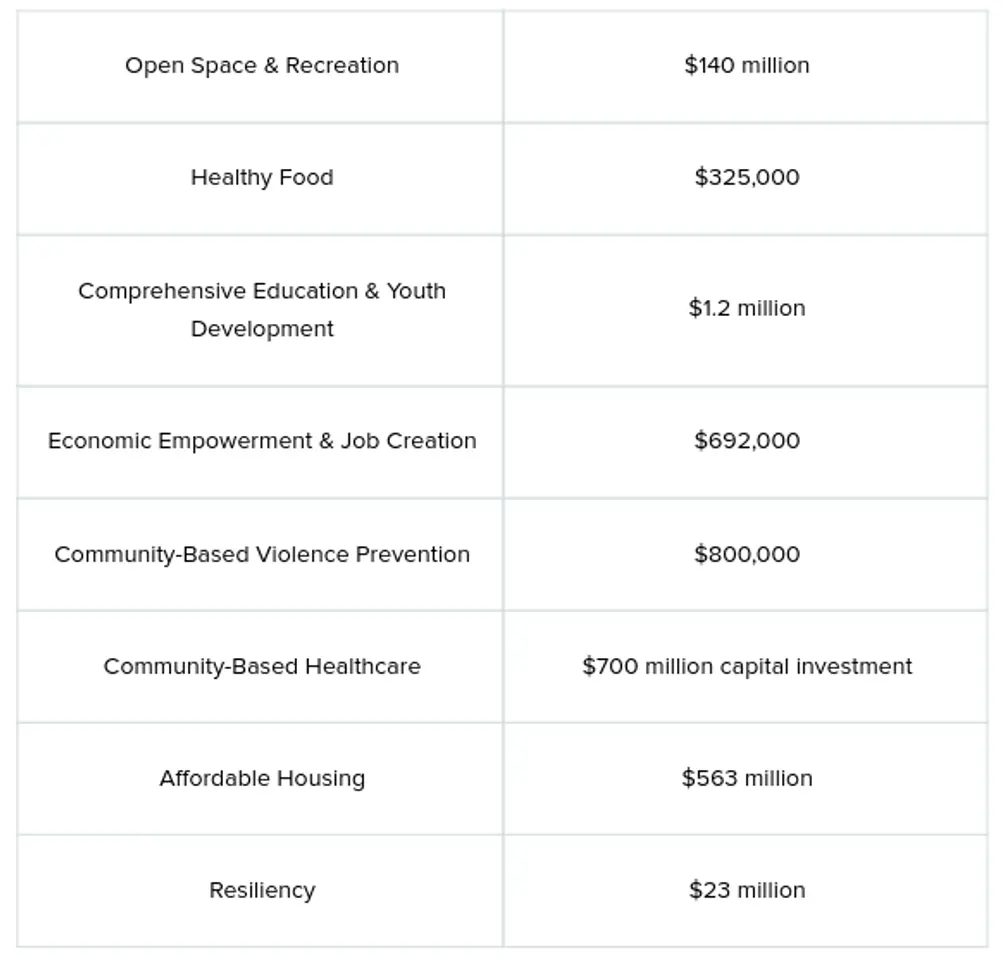 Half of Clarkson Estates' 291 apartments will be set aside for formerly homeless young adults. Community spaces include a training kitchen, library, computer room, and community rooms. Among the many services and programs to be provided are childcare, workforce training, a small business incubator, violence prevention and mediation center, youth development and education facility, technology training center (including financial literacy classes and adult education), a recording studio, performance space, a design studio, exhibition space, a full-size public basketball court, food pantry, and a cafe.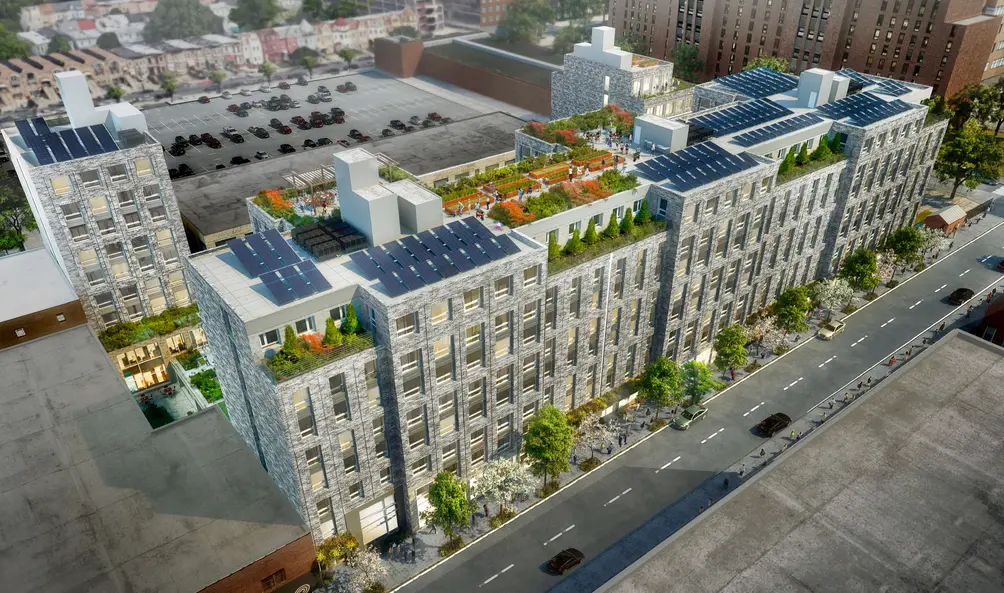 The architects are
Cetra/Ruddy
, a firm notable for their luxury condo development but have also designed several affordable housing developments around the boroughs. Commendable aspects of the project include a green roof and solar panels, gardens, a turf field, and a play area.
"The pandemic has further exposed the inequalities that exist in far too many of our communities and at the same time it's shown how important it is for New Yorkers to have access to safe and affordable housing," Governor Cuomo said. "We are facing unprecedented challenges, but we are in this together - and that's why the State is continuing to step up and help those who need it most by moving forward with projects like Utica Crescent, which will increase affordable housing opportunities for hundreds of New Yorkers."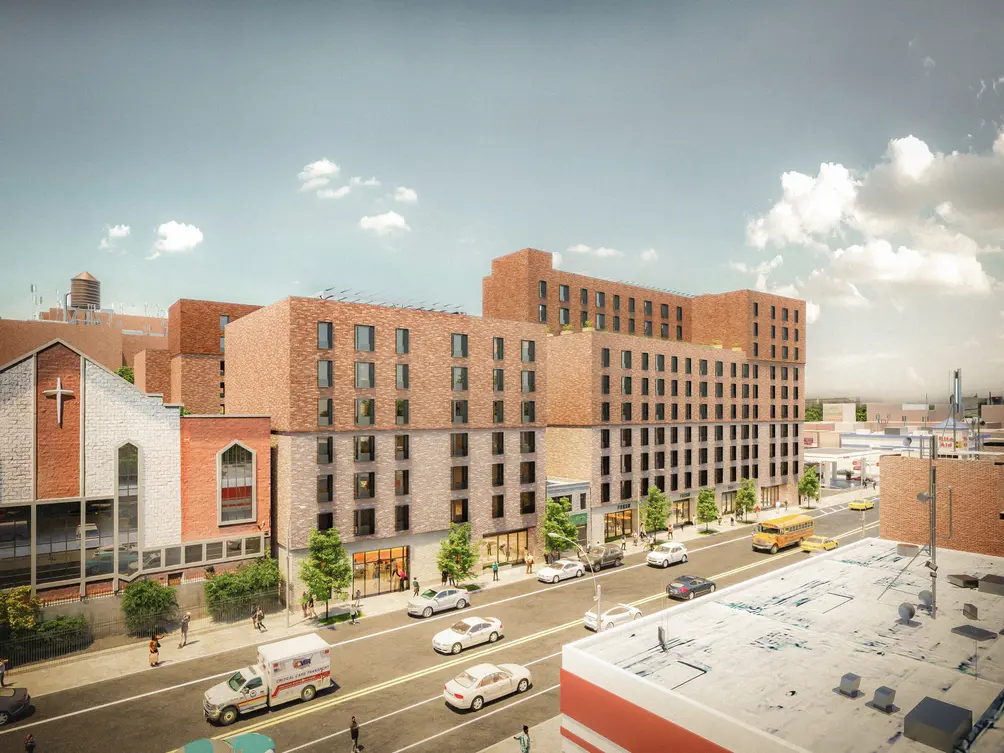 Last week the Governor unveiled Utica Crescent where a parking lot site owned by One Brooklyn Health Systems (OBHS) will give way to a 322-unit affordable development where nearly half the apartments will be reserved for seniors and formerly homeless individuals. On-site residential amenities will include community-supported agriculture services, laundry rooms, exercise and activity rooms, bicycle storage, and multipurpose community rooms. There will also be 30,000 square feet of open space, mostly in the form of a large interior courtyard with gardens and both active and passive recreation spaces.
The press release explains that in addition to housing there here will be supportive services provided by Catholic Charities, a dialysis center operated by OBHS, a full-service grocery store as the anchor commercial tenant, smaller ground-floor storefronts for local businesses, and a 300-car underground parking garage for Kingsbrook Jewish Medical Center employees. Utica Crescent is a joint-venture by Monadnock Development LLC and CB-Emmanuel Realty LLC.
Assembly Member Nick Perry said, "The Vital Brooklyn initiative continues to be a source of hope for our community at a time when it is needed most. The impact of COVID has laid bare the need for long-term solutions to housing and health care disparities that have lingered for far too long in Brooklyn. Governor Cuomo has shown he is willing to listen to our residents and other stakeholders in order to implement solutions that address many of our concerns. On behalf of those in Central Brooklyn, I want to thank the Governor and Commissioner Visnauskas for helping to bring this much-needed development to life."
Additional Info About the Building