New York City apartments come in all shapes and sizes, and some are more functional and desirable than others. Whether you're renting or buying, understanding the vocabulary used to classify different common apartment layouts is essential. This guide describes the most common apartments layouts in New York City, explores their pros and cons, and offers tips on where you're most likely to find these layouts.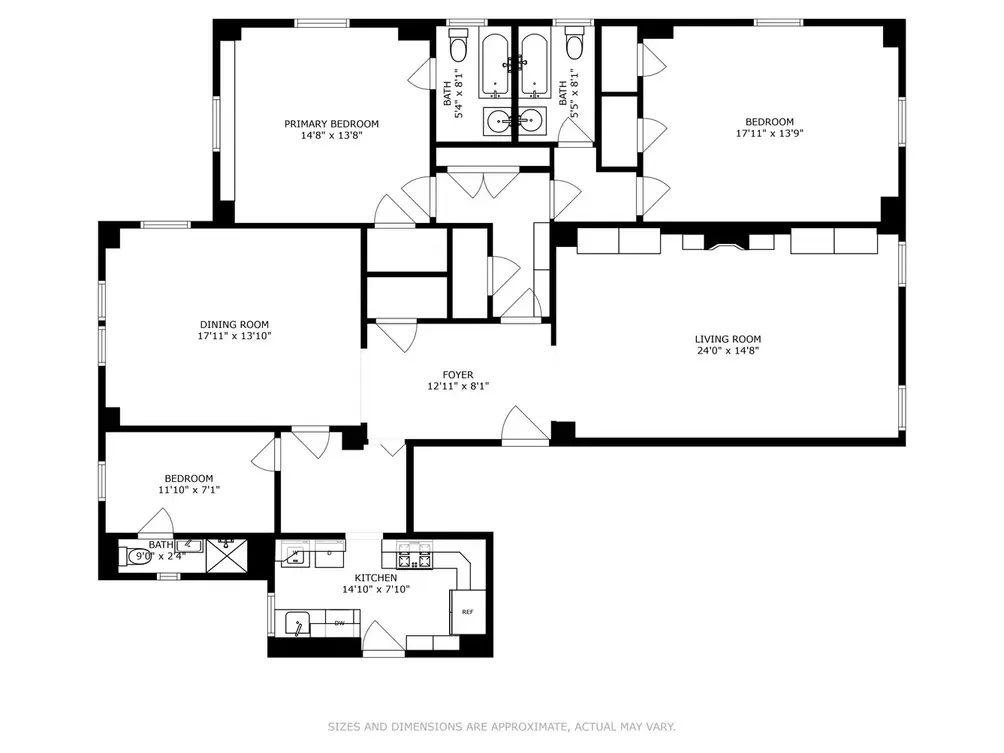 Let's start with the good news—the
classic six
. While it may not be as large as a suburban home, the classic six is a close approximation. By definition, a classic six refers to any six-room apartment in a pre-war building. The six rooms typically include a living room, dining room, kitchen, two full bedrooms, and an additional room (this is now generally described as a den or nursery, but historically, it would have been described as the "maid's room"). In addition to these rooms, most classic six units come with two bathrooms, including a full or half bath off the den, nursery, or maid's room. If you're looking for a classic six, start on the Upper East Side or Upper West Side. The classic six was the default design in many pre-war co-op buildings along Park Avenue, East Fifth, and Central Park West.
---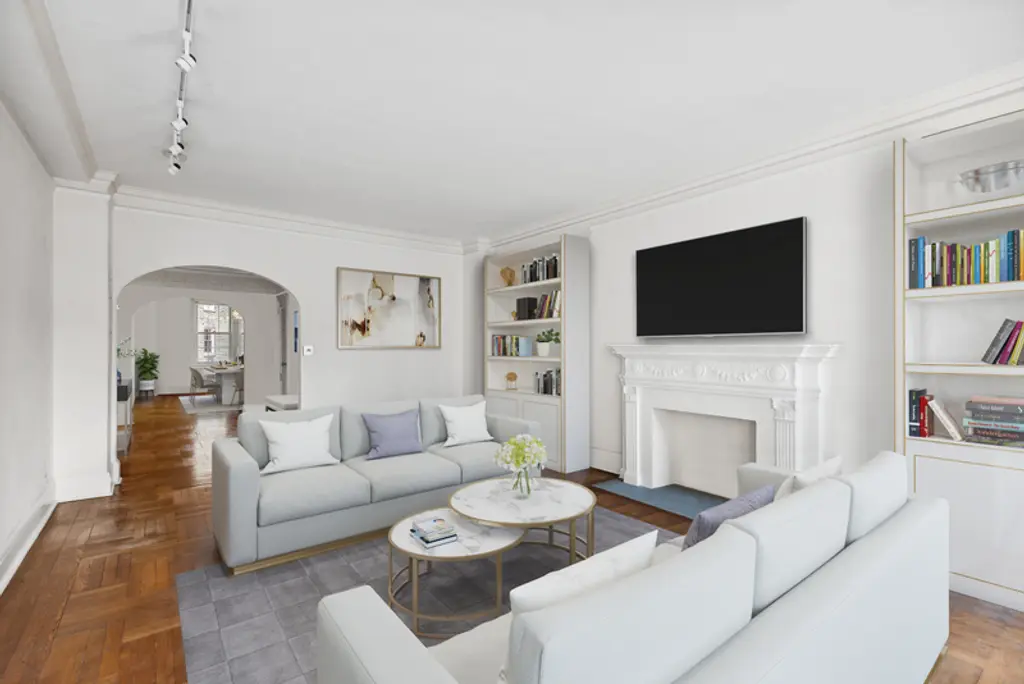 173 Riverside Drive, #7A (RAND REALTY NY LLC)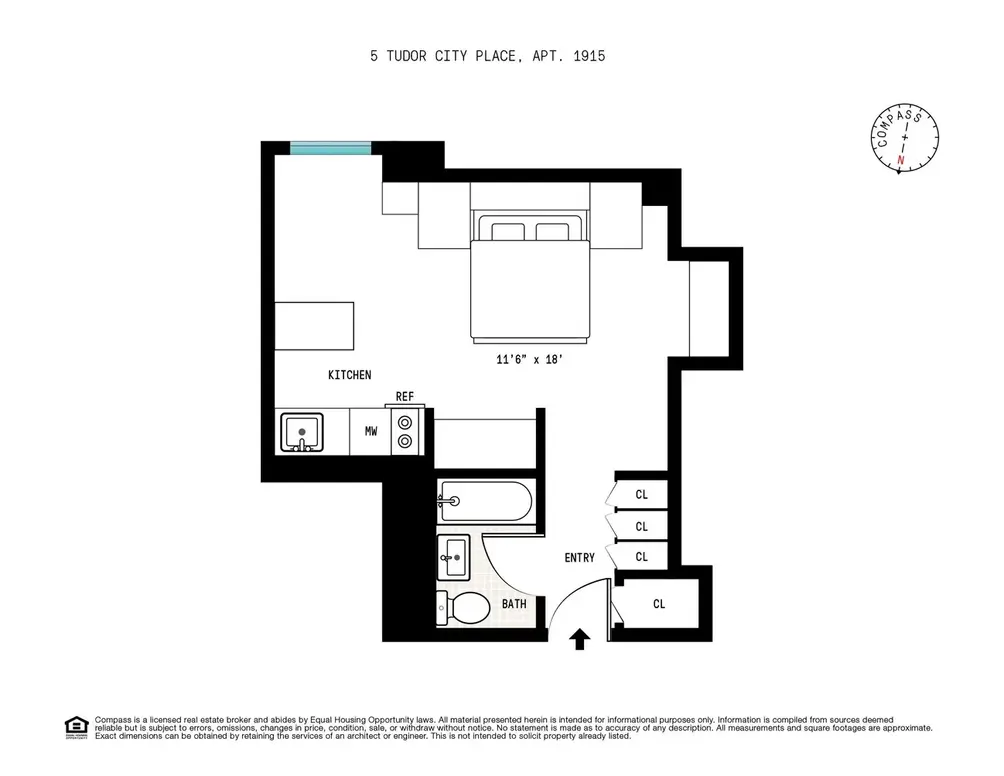 On the opposite side of the spectrum is the studio. Some studies are surprisingly generous (i.e., over 500 square feet), but they can also be much small (i.e.,
under 250 square feet
). By definition, a studio is any apartment comprised of one room (excluding the bathroom). Some studios have a separate kitchen and or a sleeping alcove that can be easily separated with a
sliding wall
. Depending on your budget and situation, studios can be a great option. A studio may even offer more floor space than a small one-bedroom unit and a more functional design. Studios are popular citywide in all types of pre- and post-war buildings.
---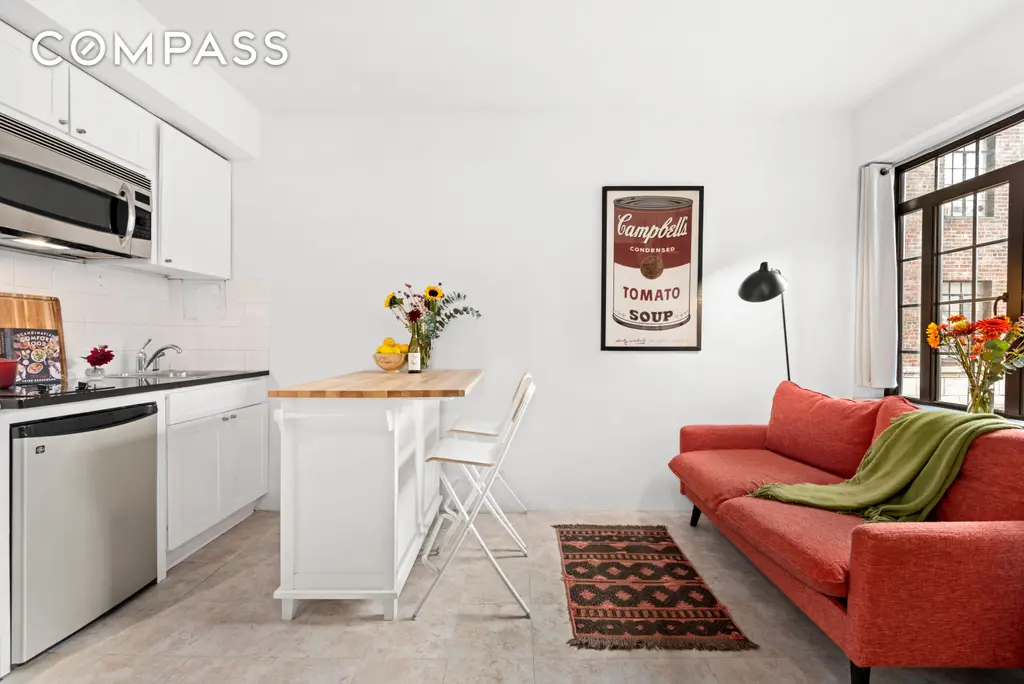 Windsor Tower, #1915 (Compass)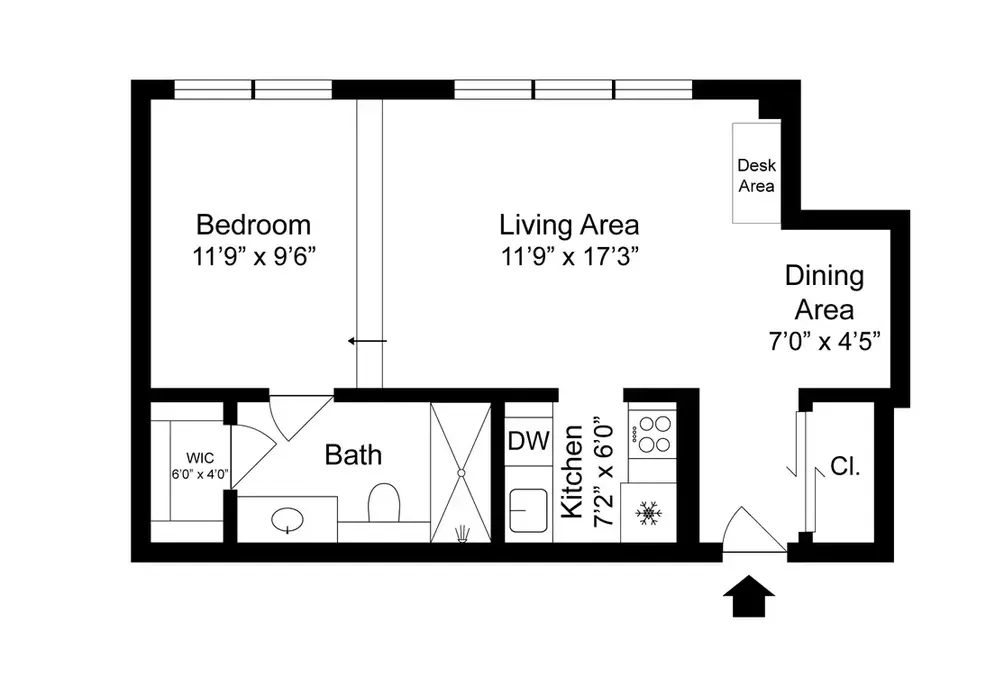 A junior one is a studio with a "bonus room." The bonus room is typically small and doesn't have a window (even if it does have a door). Notably, by definition, in New York City, you can't call something a room unless it is at least 80 square feet and has a window and door. For this reason, a certain number of apartments that may appear to be one-bedroom units are described instead as junior ones. In theory, the bonus room is there to be used for storage or as a large walk-in closet, but in fact, how you use the room once you move in is entirely up to you. Junior ones are found in townhouses, walkups, and high-rises in both pre- and post-war buildings, and often offer excellent value.
---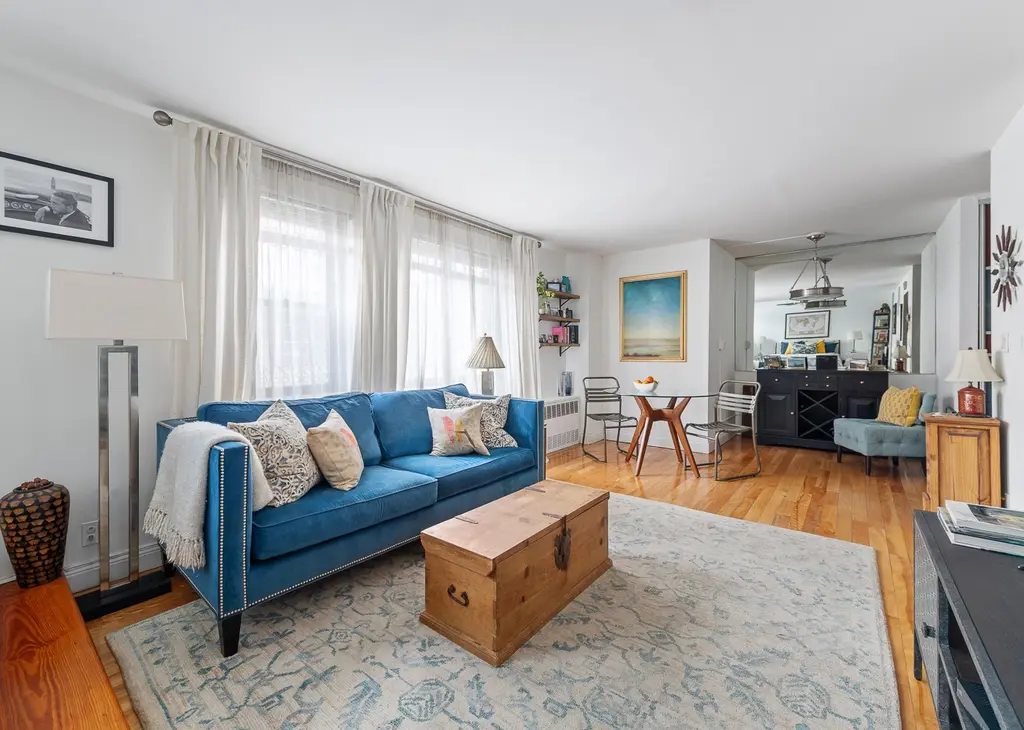 The Thomas Eddy, #1P (Engel & Volkers New York Real Estate LLC)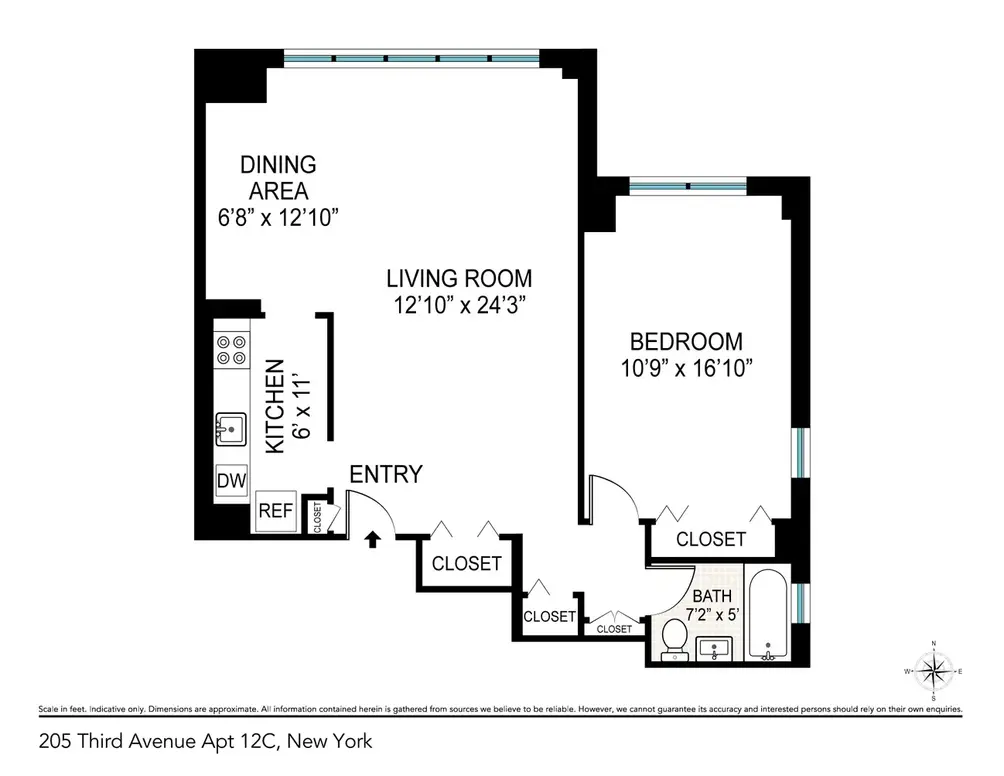 Like the junior one, the junior four comes with a "bonus room," but in this case, the bonus room is found in a proper one-bedroom. In this case, the bonus room may be a small windowless room or a room meant to serve as a dining area. Over the past few decades, however, another type of junior four has become popular: While pressurized walls are now illegal, thousands of post-war units with large living rooms were converted into two-bedroom apartments before they were banned. These units, along with those created using legal sliding walls, are often also described as junior fours. They can be found in all types of buildings citywide.
---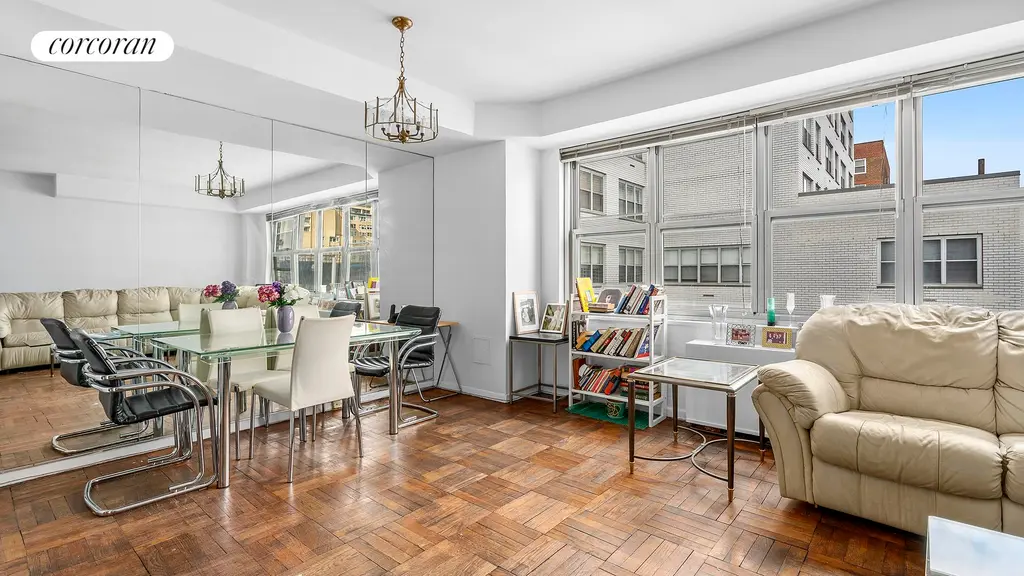 Gramercy Park Towers, #12C (Corcoran Group)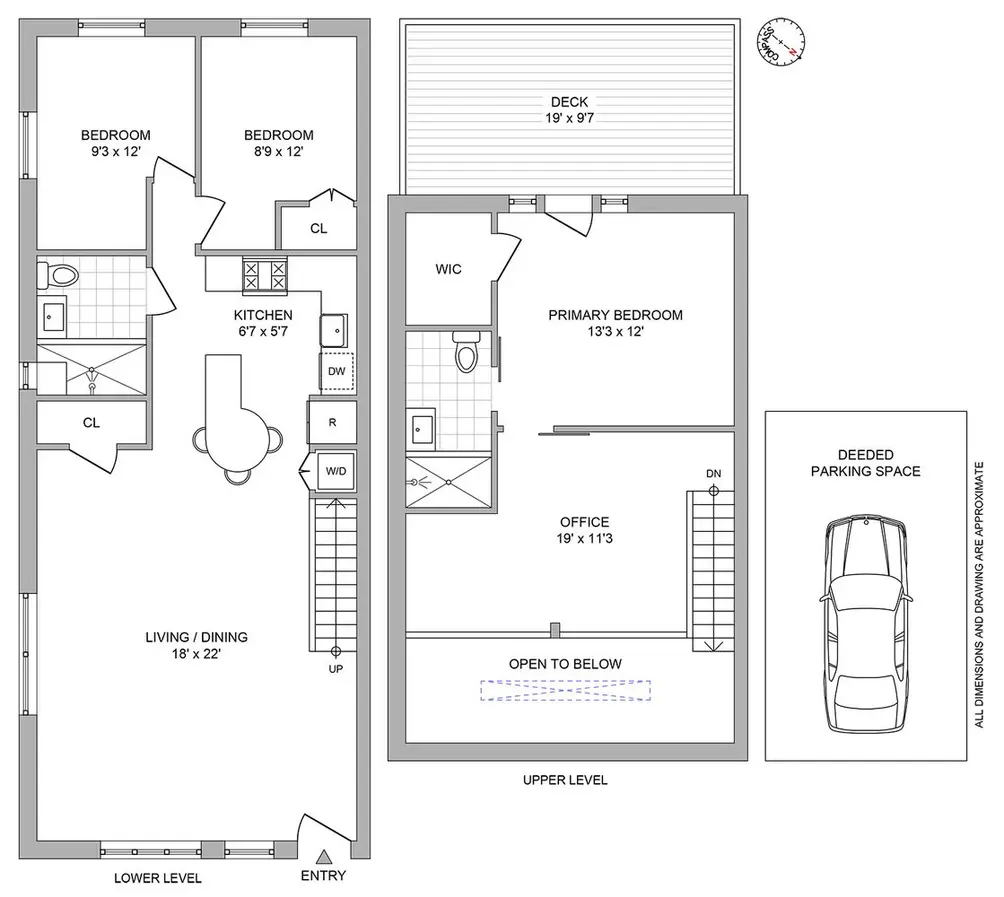 Technically, a
duplex
should have a layout that is spread over two floors of a building, but in New York City, apartments with sleeping lofts are sometimes misleadingly described as duplexes. When well designed, their major advantage is that they offer greater privacy and separate one's sleeping from cooking and lounging spaces. Their major disadvantage is functionality. While a spiral staircase may look great, navigating one quickly in the middle night can be difficult for some individuals. Duplexes are found in townhouses, pre-war walkups, and pre- and post-war apartment buildings citywide.
---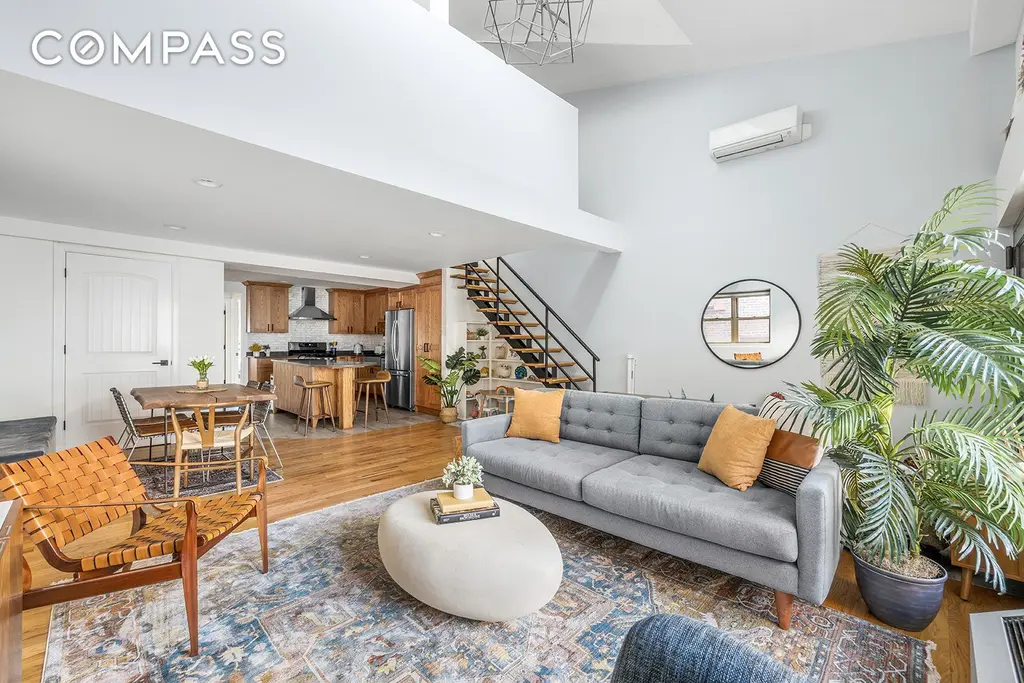 222 Park Place, #4C (Compass)

The railroad apartment is what you might expect—one long unit comprised of interconnecting rooms. In many cases, the railroad starts with a bathroom which flows into a kitchen and then dining area followed by a living room, and finally, a bedroom. Some railroads have one or two small rooms (usually only large enough to be used as a den or nursery) located off the side of the front and or back rooms. The advantage of most railroad apartments is that they can offer a lot of space for the price point. Railroads often also come with great pre-war features, including high ceilings, fireplaces, sliding pocket doors, and built-in cabinetry. But are they functional?

For couples, especially without children, the railroad layout can offer a lot of space and privacy at a fantastic price. For roommates, the railroad is a different story. Unless it has been redesigned (e.g., to separate the bedrooms), it generally means that at least one roommate will end up sleeping in the living room (or "middle room"), which also happens to be the only way to access the master bedroom. Even if you're really close to your roommate, this can be extremely awkward. Another consideration is light. In nearly all railroad apartments, the only source of light in the living room or "middle room" is the light that pours in from other rooms. If you don't mind a dark middle room and can deal with the awkward layout, however, railroads are a great deal. To start looking, focus on walk-ups in Manhattan and houses across Brooklyn and Queens.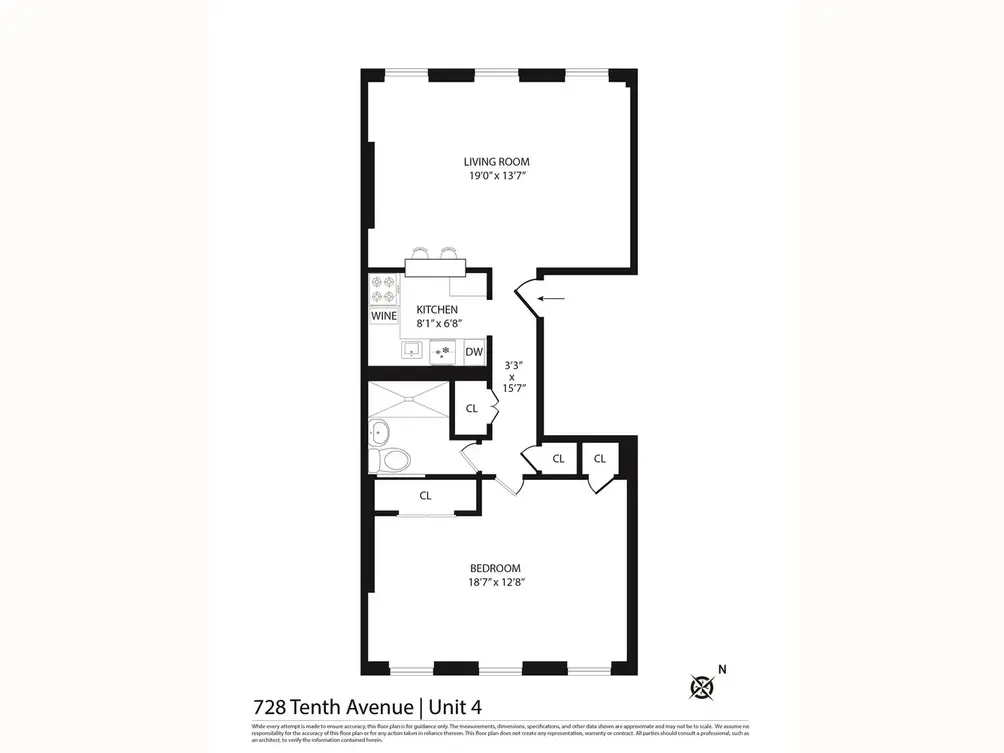 Although railroad apartments are sometimes described as floor-throughs, in fact, a floor-through is any unit that covers the entire floor of a building. A floor-through can refer to an apartment that occupies the whole level of a walk-up or townhouse, or to an apartment that occupies the entire floor of an apartment building. Floor-through units can be found in pre- and post-war buildings citywide, not to mention a number of new boutique condos that only offer one unit per floor.
---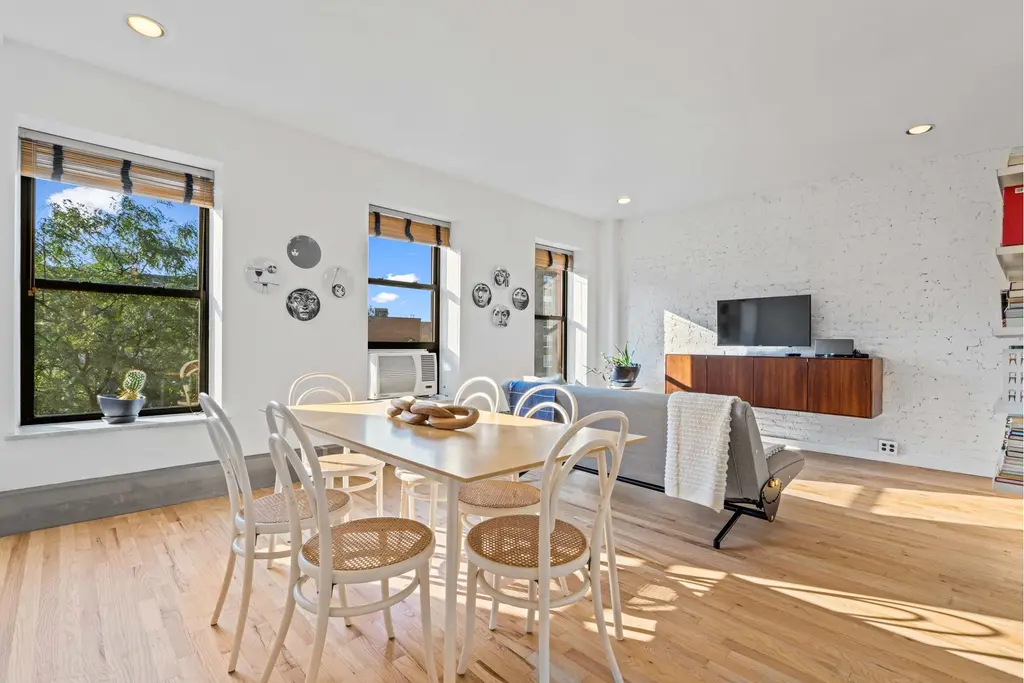 728 Tenth Avenue, #4 (Douglas Elliman Real Estate)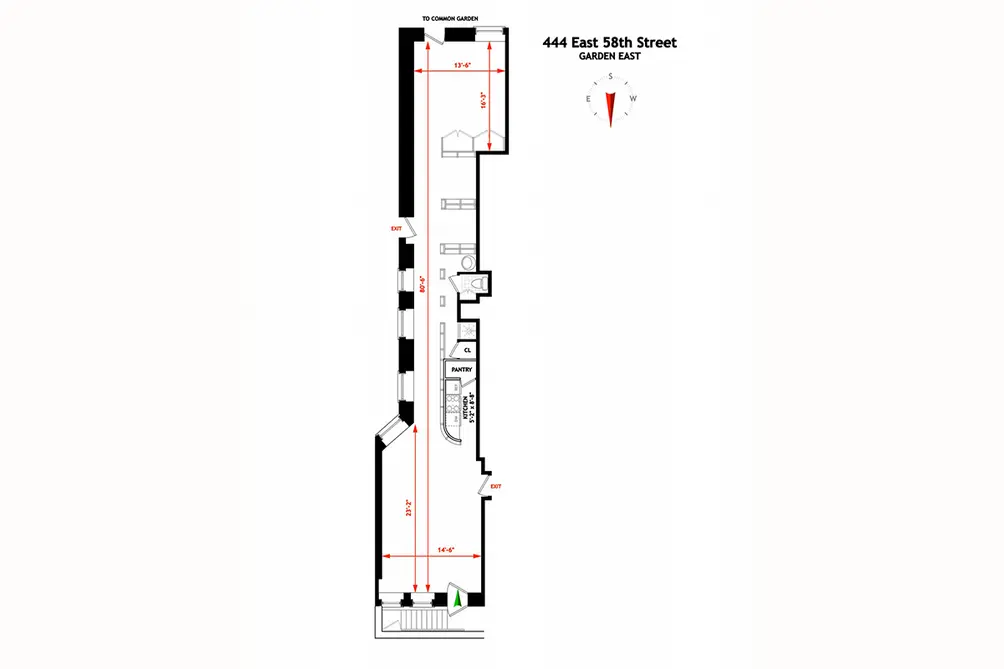 While "basement" and "cellar" are words often used interchangeably, in New York City they technically refer to two different structures. According to NYC Housing Preservation and Development, "A basement is a story of a building partly below curb level but with at least one-half of its height above the curb level. A cellar is an enclosed space having more than one-half of its height below curb level. Usually, if a cellar has any windows, the windows are too small for an adult to fit through."
Until recently, all basement and cellar apartments were illegal. Recent changes have allowed for some basement conversions (guidelines on what constitutes a legal basement apartment can be found
here
). Cellar apartments are entirely illegal in all five boroughs. On the anniversary of Hurricane Ida, a time when flash flooding led to the deaths of several basement apartment residents, New York City Comptroller
Brad Lander
proposed a
road map
to making basement apartments legal and safe. It is modeled after the Loft Law and would be a small step in addressing the housing shortage.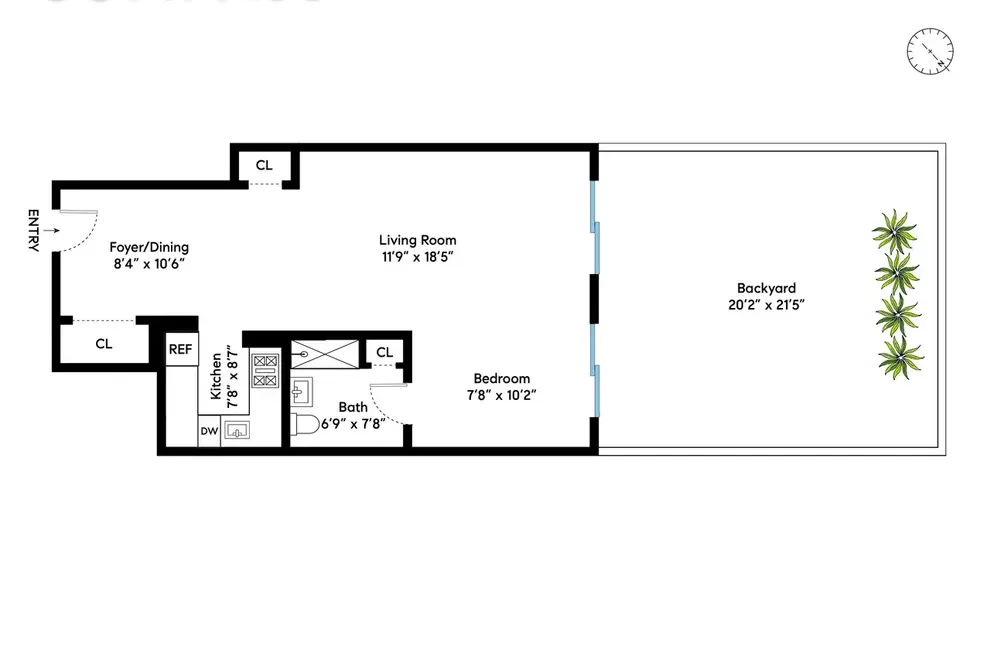 Unlike basement apartments that may be partially underground, garden or garden-level apartments are at ground level. If you are looking to buy or rent a garden-level apartment, be aware that they generally offer less light and pose greater security risks. In the summer, you may also end up with a bunch of garbage cans stacked outside your front window, which can increase problems with pests. Still, they often offer ample space at a great price point and run the gamut from deals in older walk-ups to luxury apartments in Upper East Side townhomes. As an added bonus, many garden-level apartments also offer exclusive access to a backyard. For dog owners and for people with small children, especially those who are tired of lugging strollers up several flights of stairs, a garden apartment can be a great option. They are a popular layout in older townhouses citywide.
---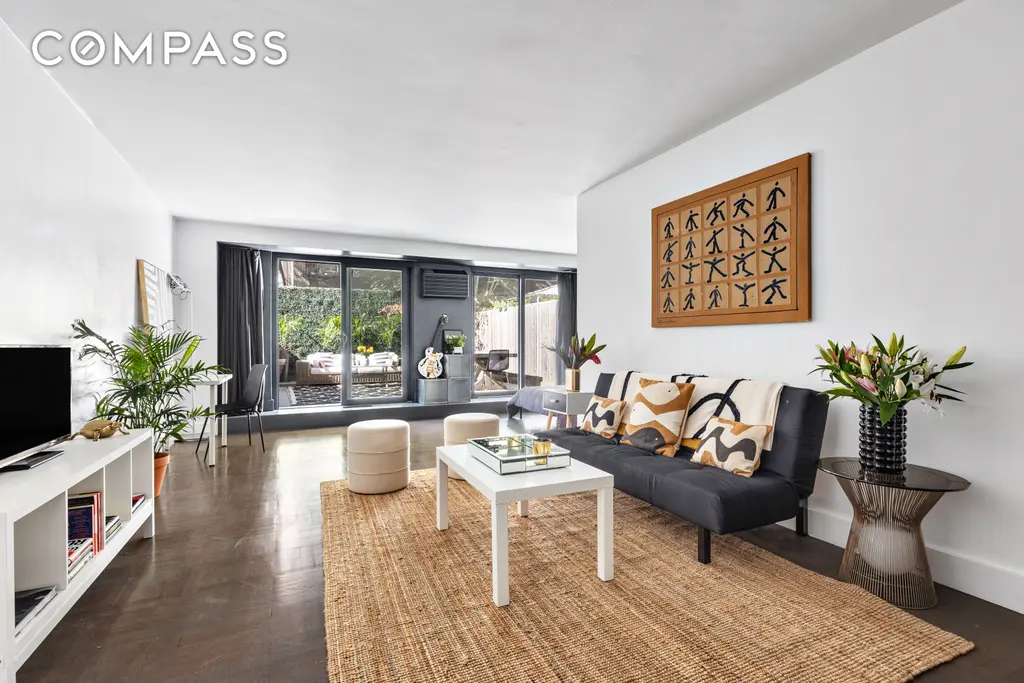 The Rutherford, #1F (Compass)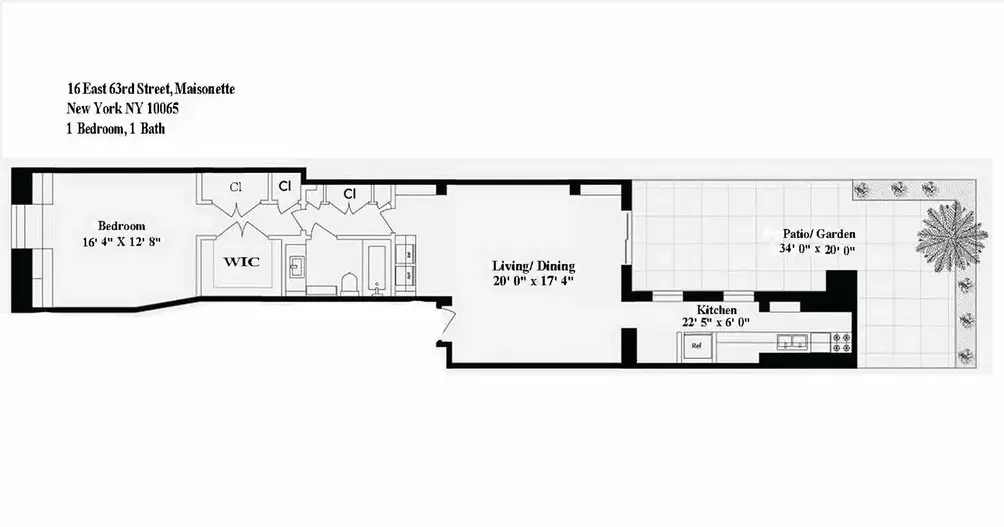 Taken from the French word for "little house," a new class of
maisonette
apartments seeks to bring the ambiance of a suburban house to ground-floor New York City apartments with special features like exclusive entrances, generous square footage, and private outdoor space. While some appreciate the extra privacy and space a maisonette has to offer, it must be noted that this type will have less light and more traffic noise by default. These can be found everywhere from prewar buildings to new construction condominiums.
---
16 East 63rd Street, #MAISONETTE (Corcoran Group)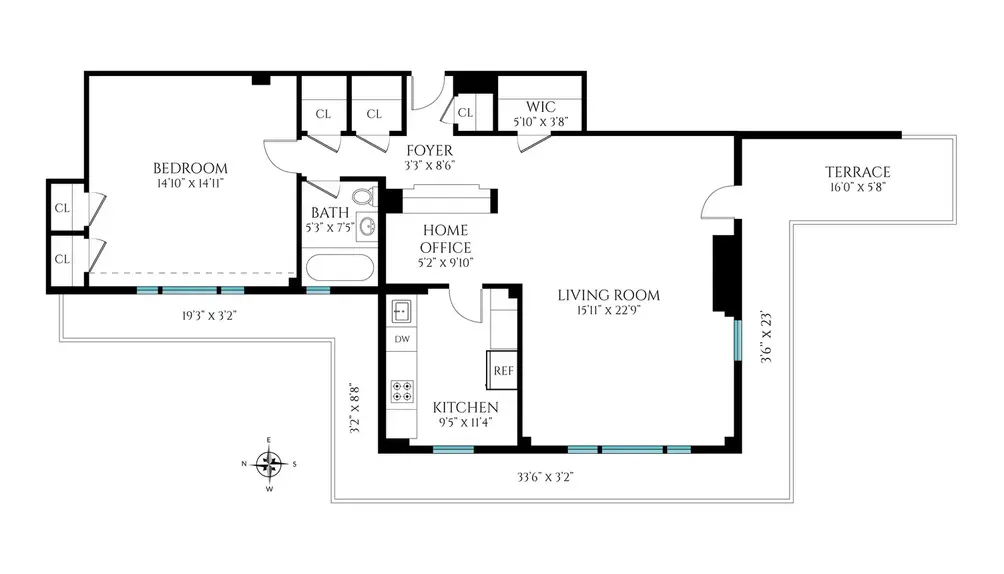 Most people equate "penthouse" with luxury, but by definition, a penthouse is simply a top-floor unit of any size. While penthouse units often are more expensive (as a rule, higher-floor units cost more in general), they are not necessarily more luxurious or larger than other apartments and can come in any layout. The advantage of the penthouse is its light and views. In buildings with rooftop amenities, a penthouse unit will also put you closer to the action. Unfortunately, if your neighbors like to party on the roof, a penthouse may also put you closer to the noise.
---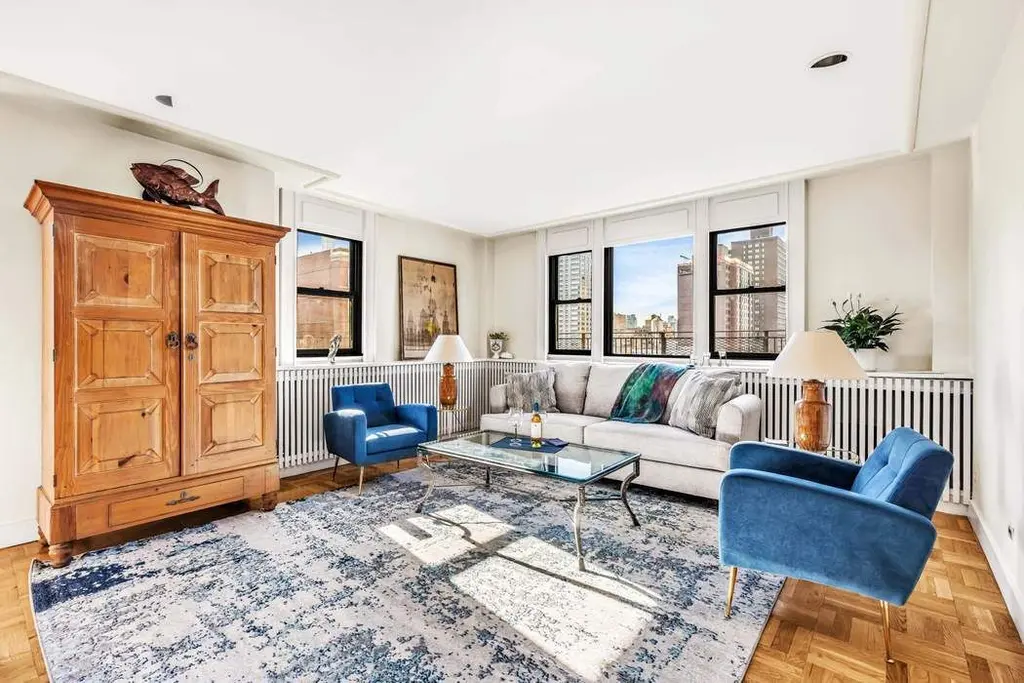 315 East 72nd Street, #PHE (Sothebys International Realty)
Schedule an Appointment
To tour any of these properties, just complete the information below.
Or call us at (212) 755-5544
Additional Info About the Building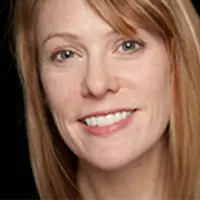 Contributing Writer
Cait Etherington
Cait Etherington has over twenty years of experience working as a journalist and communications consultant. Her articles and reviews have been published in newspapers and magazines across the United States and internationally. An experienced financial writer, Cait is committed to exposing the human side of stories about contemporary business, banking and workplace relations. She also enjoys writing about trends, lifestyles and real estate in New York City where she lives with her family in a cozy apartment on the twentieth floor of a Manhattan high rise.
Off Market Listings
Off-Market Listings
Many apartments are sold off-market
without being publicly listed.
Contact us to learn more about off-market listings.
There's no cost. And never any obligations.
. I'm only interested in publicly listed properties.