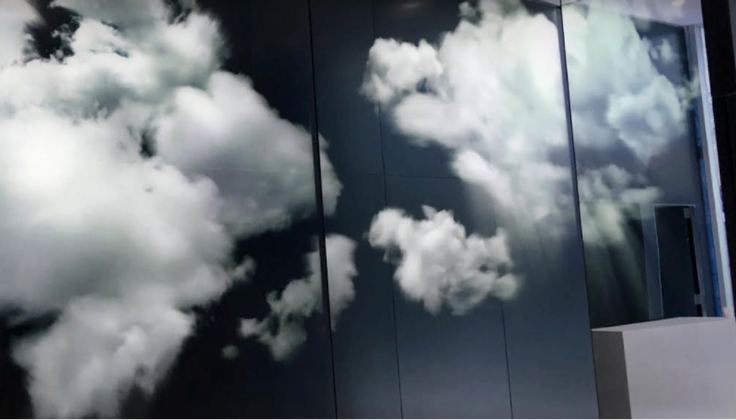 300 Ashland
, which sits on a slim, triangular site at the intersection of Flatbush, Ashland, and Lafayette Avenues in downtown Brooklyn, is a porous building in both form and function.
In terms of form, the 32-story tower, designed by Enrique Norten, floats above a three-story, see-through glass lobby. The metal exterior above looks as it has been pierced by thousands of windows. In terms of function, the mixed-use building, which will be home to four Brooklyn Academy of Music (BAM) Cinema theaters, a branch of the Brooklyn Public Library, retail stores and 379 residences, is porous in that "aims to facilitate an easy flow of people into and out of the cultural and retail spaces."
In addition to the mixed-use spaces, the 15,000-square-foot stepped public plaza will be used for outdoor programming such as film screenings and dance performances or farmer's markets to attract people from all over the city.
300 Ashland is among a number of new residential towers going up in the area (like the
Ashland
and the
Hub
) and many big name retailers that will be coming soon (like
365 Whole Foods and Apple
). The opening of the Barclays Center in 2012 set the precedent but these new residential developments, all anchored on the cultural heavyweight BAM, have created a renaissance for the neighborhood.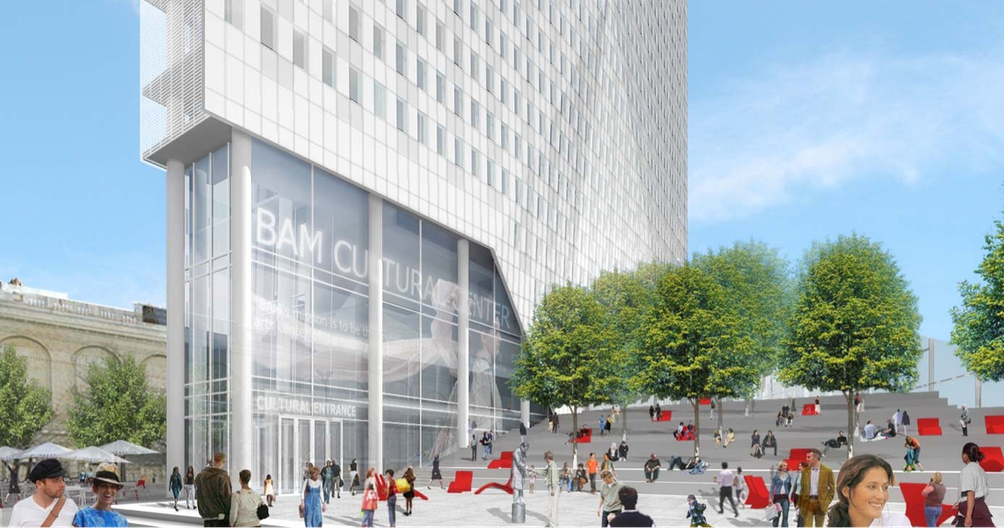 In addition to revitalizing the area through building 300 Ashland,
Two Trees Management
, the family-owned real estate development firm, also invests in the local community. Two Trees' corporate philosophy "is founded upon the principle that the developers and property-owners must play a fundamental role in cultivating livable streetscapes." To that end, Two Trees sponsors local artists to create works for their buildings.
Two Trees believes that "as long-term property owners, we invest in community amenities that may not have immediate financial returns, but add to the vitality and sustainability of the neighborhood over time."
Two Trees is not unique in their commitment to
incorporating art in architecture
. Other firms in the city, like DDG, who wrapped one of their building's in the gorgeous Yayoi Kusama's "Yellow Trees", and Pandiscio Co., who helped 56 Leonard squish an Anish Kapoor sculpture under the weight of it's building, also place a lot of value on art in architecture. But Two Trees is special in that it invests in local artists.
For 300 Ashland, Two Trees commissioned local artist, designer and product inventor, Adam Frank (who lives less than two miles from the building) to install a stunning 10x16 foot mirrored artwork, called LUCID, for the space.
Two Trees also invests in local community projects and offers a program called Cultural Space Subsidy Program to provide below market rent studio space for those in the arts, education or community-focused groups.
CityRealty recently asked Lisa Kim, Two Tree's Cultural Affairs Director, about their art program and Adam Frank about his installation for 300 Ashland. Read our interviews with them both below.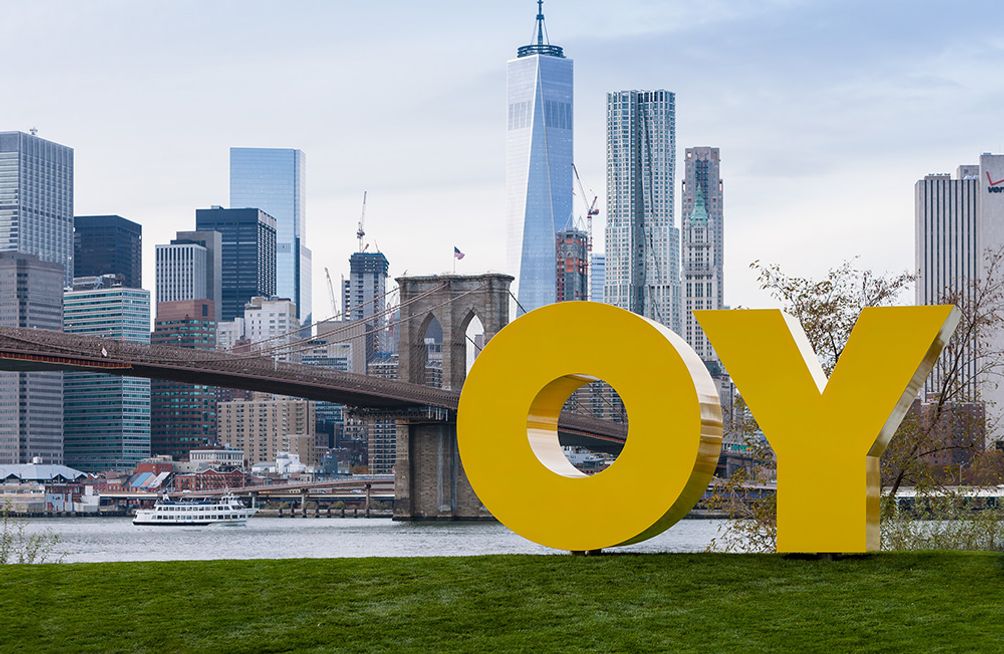 How does Two Trees commission artwork?
Lisa: Two Trees works with artists whose work we feel would translate well at a given site. Sometimes it's a work that already exists and can fit a location, other times the work comes out of a series of conversations and site visits. Once we have a plan, we will submit the project through the application and permit process for the city agency who owns the site. We've worked with NYC DOT, NYC Parks and with Brooklyn Bridge Park on so many incredible projects, including the popular OY/YO sculpture, a series of murals from street artists at the Domino Sugar construction site, and many more.
We invited artists to submit proposals for the space and selected Adam Frank's LUCID for 300 Ashland. The work acts as both an art and design object, functioning as a mirror in the lobby space, but with highly sophisticated imaging and lighting components to create the 3D cloud effect. Viewers can see themselves walking in the clouds.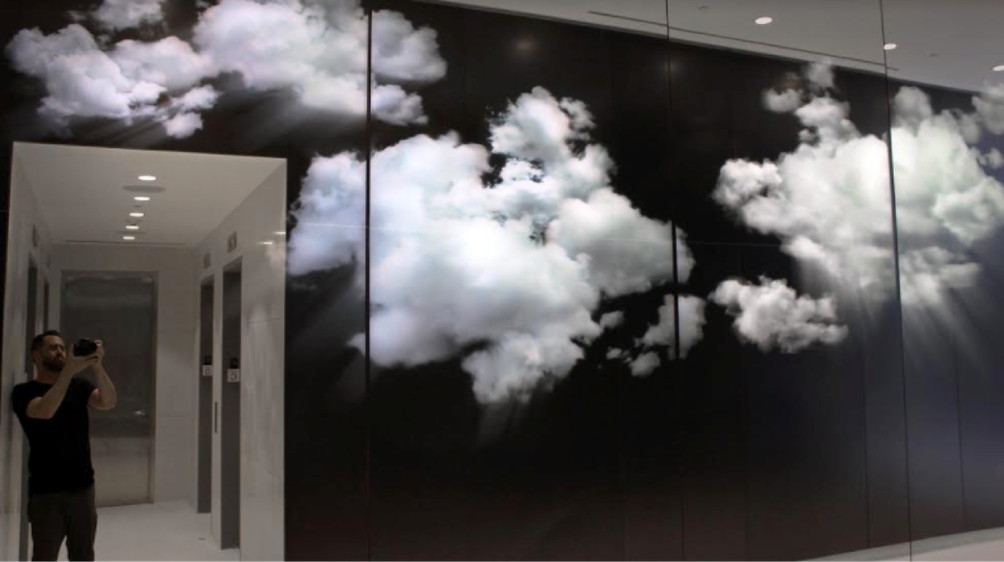 Can you describe Two Trees' Cultural Space Subsidy Program and explain what sort of organizations use these spaces?
Lisa: Two Trees has given discounted space to artists and cultural groups throughout its history, but we launched the Cultural Space Subsidy Program in 2014 to formalize the process. We have 32 artists and 8 organizations in the program, and there are some incredible success stories:
Radio Diaries moved from a shared office sublet into their own space and have built out a sound booth in their space. In their time here, they won an Audie for Audiobook of the Year in 2015.
Mary Mattingly presented SWALE, a floating foraging forest on a barge that was parked in various shoreline site throughout the city last year.
Art in General and United Photo Industries continue to present engaging local and international contemporary art and photography.
Cave Canem furthers and supports the work of African American poets.
Girl Be Heard gives voice to issues affecting girls and women around the world and shines a light on these experiences through theater.
We're proud to support these diverse groups and give them a home in DUMBO.
Can you tell us more about your installation of LUCID for 300 Ashland?
Adam: This was my first large scale, permanent work in the city proper. I have an unusual career, I am a lighting designer and a public artist - and I do both simultaneously. That makes for an unusual career. Often, I have an idea that goes in both categories. LUCID is a new type of mirror made with a patent pending method. It allows us to put a luminous 3D image inside a reflection. This has never been done before, it's a new technique and technically, a new type of image. A lot of cool things come with that. For example, in 300 Ashland, LUCID functions in three different ways: it's an ambient light source, a mirror and an artwork That's very unusual. Lobbies often use mirrors, ambient light sources and often have art but this is all three combined in one thing.
I had to be very careful because this is the largest LUCID mirror - therefore, the largest one on earth - it's 16 feet by 10.5 feet tall. The art is embedded into the architecture. I worked hard to integrate it into the decor, inside the wall. Two trees was great about that and we're all excited about how it fits in.
When people get off the elevators and get ready to go out of the elevator bays, they walk past this mirror. I made sure you can see your full reflection to check your clothes on the way out. As you walk by 16 foot mirror, you have an art experience. As an artist, you have to be sensitive about a permanent piece. This is where people live and they will see and experience this art every day, twice a day, so I had to be very sensitive to that. This piece is meant to specifically create an airy, light feeling, in an otherwise, perhaps, usually dark corner of a building.
This is art is in a lobby of a very large building. If you imagine the first floor of lobby of a large building, you feel the conceptual weight of the whole building on you. I was trying to lighten that up a little and, at the same time, enhance the space that it occupies.
Tavi Gevinson, an actress and the founder of style blog "Rookie," recently moved into Two Trees' 300 Ashland. Here she is posing in front of Frank's LUCID
How did Two Trees find you?
Adam: Lisa knew of my work and wanted to ask if was possible to make a mirror of this size in this space. I was willing to try! I went through the proposal process (they also looked at four other artists) and staged the mirror and projected it in my studio. The owner of Two Trees, David Walentas came by and okayed it. The proposal process is normal for public art but this process went very fast. It only took maybe 5 months getting the commission to installing, it very quick for me. That's how David Walentas works, they're very fast over there.
It's so big and such a new process. When you make something that large there are safety concerns the requirements change when you get that big. We used a very specialized type of mirror but had to make it safe to make it that large and so we had to modify mirror itself. The piece itself is made with time photography lapses with real clouds. It has basically taken 150 time lapses of real clouds going by and compositing them in one cloud mural that's in 3D. I wanted it to have a natural feel.
I do a lot of public art in hospitals and hotels. A lot of my work brings this organic nature into the built environment, which is a main theme of my work. The fact is that we, as humans, evolved in nature but also, there have been a lot of studies that access to and views of organic light can help health outcomes in hospitals. It's a calming influence. I live and work in Red Hook (I'm a mile and a half away from this piece). We, as city dwellers, often don't see anything natural in our daily lives. We hardly even see the sky in downtown with all the tall buildings. My work falls into the category of "evidence based design" in architecture even though I didn't consciously try to fit into that category. I was already doing it and then the science came about to support these ideas.
Additional Info About the Building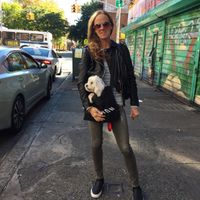 Contributing Writer
Michelle Sinclair Colman
Michelle writes children's books and also writes articles about architecture, design and real estate. Those two passions came together in Michelle's first children's book, "Urban Babies Wear Black." Michelle has a Master's degree in Sociology from the University of Minnesota and a Master's degree in the Cities Program from the London School of Economics.
Get the latest updates!
Before you leave,
sign up for insider access
to the latest listings.
It's 100% free!