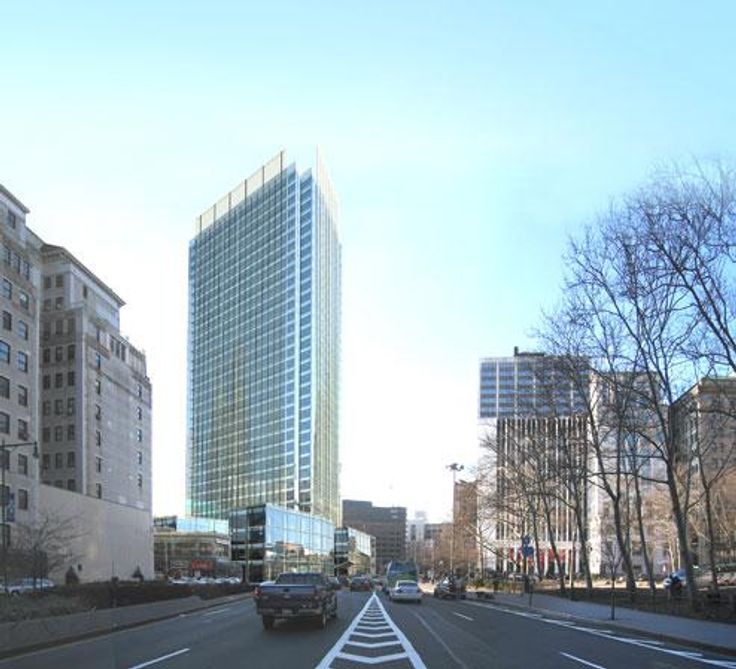 A premier development site at the southeast corner of Fulton Street Mall and Boerum Place has been sold to a partnership of developers led by Avery Hall Investments, Allegra Holdings and Aria Development Group. The existing building, addressed at
One Boerum Place
was sold by Brooklyn Law School for $76.5 million, but will remain in the five-story building until mid-2017. As per yesterday's press release, the building currently houses the law school's administrative and clinical offices. The 115-year-old institution recently spun off the nearby 2 Pierrepont Street in
Brooklyn Heights
for $35 million and the two sales will double the law school's endowment over the last five years to approximately $225 million.
One Boerum's site is positioned centrally across from Brooklyn Borough Hall at the gateway of Fulton Street Mall. The triangular parcel offers unparalleled visibility to both pedestrians and vehicular traffic exiting the Brooklyn Bridge, as well as being adjacent to Brooklyn's second largest transit hub. The site's existing mid-century Moderninst building is likely to be demolished, and was constructed for the Fulton Savings Bank in 1955.
One Boerum Place was suggestively earmarked for a large commercial tower in City Planning zoning documents from more than a decade ago. The 2004 rezoning of
Downtown Brooklyn
was primarily intended to add lower-priced commercial office stock to the area in order to prevent companies from leaving the city. Since then, few commercial offices have been built, with developers choosing to build residential and hotel projects instead.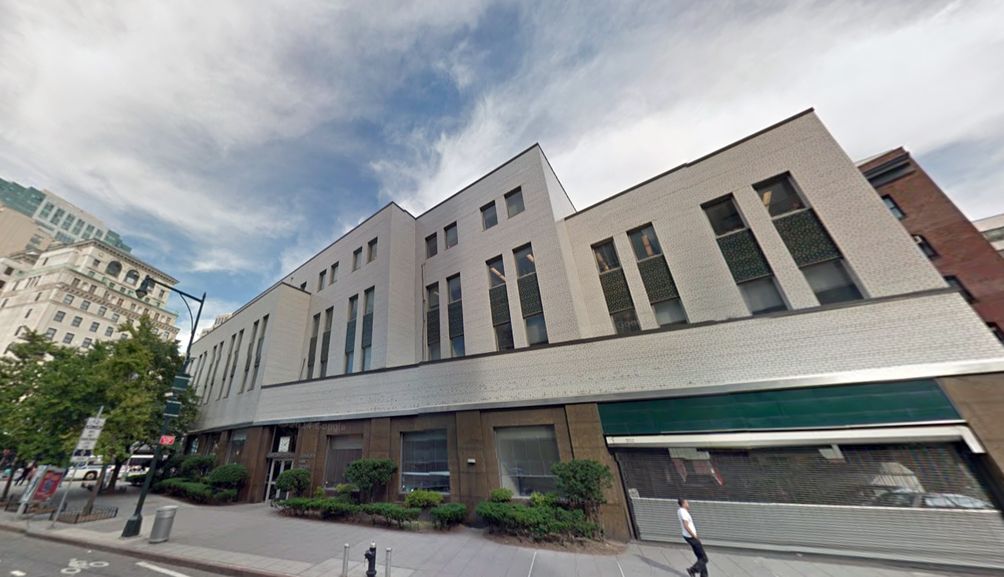 A decade ago, a 32-story office tower with retail along the ground floor emerged for the law school site. Dubbed, 1 Brooklyn Plaza, schematic renderings produced by Ehrenkrantz Eckstut & Kuhn Architects (EE&K) show a voluminous glass tower that would consume the entire block, along with the narrow Red Hook Lane behind.
Yesterday's release provides few details of what the development partnership plan to build but does assert that the project will be mixed-use and "all permitted uses under consideration by the development team, including retail, office, cultural and residential components." The Real Deal
reports
the project will encompass 160,000 square feet of floor area. The team is presently developing several other prime sites in Brooklyn including
465 Pacific Street
,
125 Third Avenue
and
325 Henry Street
Additional Info About the Building
Get the latest updates!
Before you leave,
sign up for insider access
to the latest listings.
It's 100% free!