Rental Building News and Offers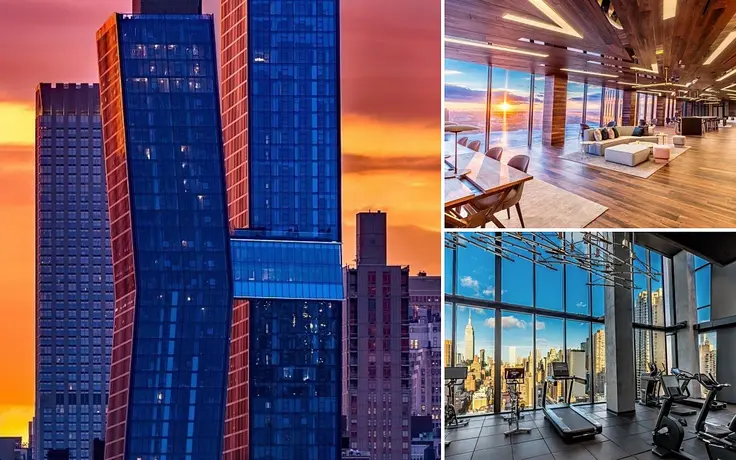 The uniquely designed
American Copper Buildings
from JDS Development Group and SHoP Architects has more than 700 apartments in hundreds of unique layouts spread throughout its two towers - and a number of units are currently listed for rent.
Besides the condo-level finishes, which include SHoP-designed custom-kitchens with Miele appliances and marble bathrooms, the property boasts a 60,000-square-foot amenity package that is simply unprecedented. Listings show net effective prices for
studios
from $3,240/month,
one-bedrooms
from $4,611/month,
two-bedrooms
from $6,232/month and
three-bedrooms
from $8,960/month.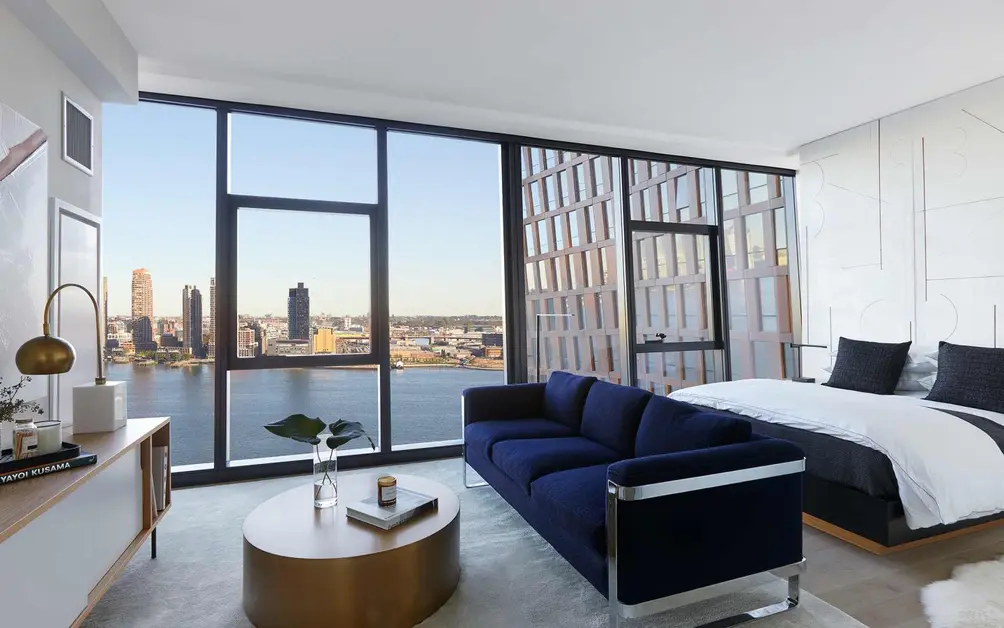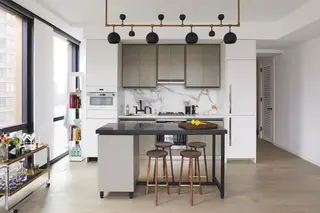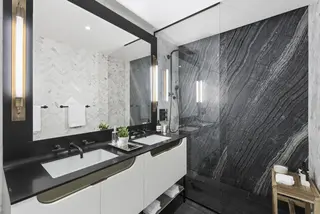 Residents enter through two soaring attended lobbies, highlighted with commissioned artwork. Other noteworthy amenities include the rooftop infinity pool and indoor skybridge lap pool, the double-height fitness center with a climbing wall, the children's playroom, and the residents lounge. Homes have wood floors, smart features like keyless entry, and floor-to-ceiling windows with custom shades.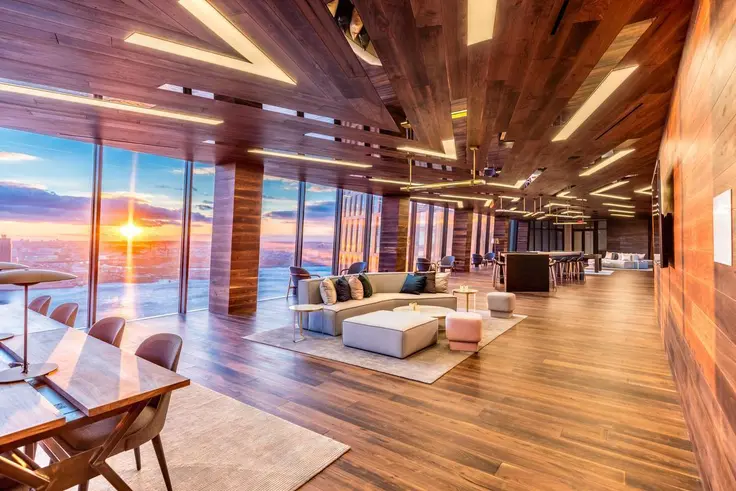 Enlarge Image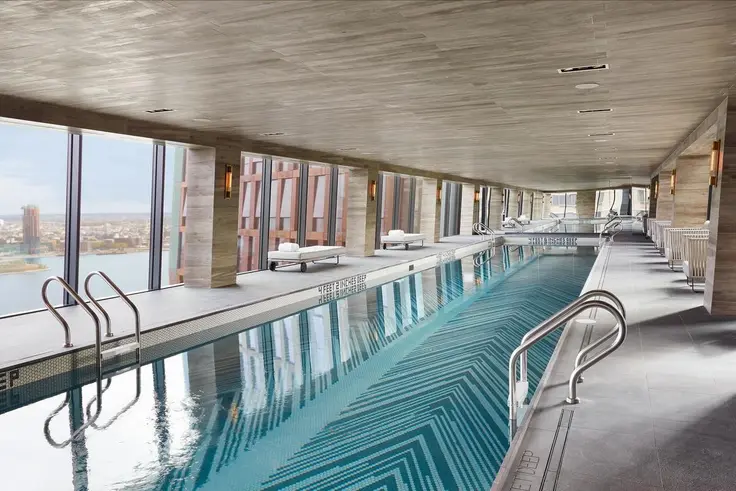 Enlarge Image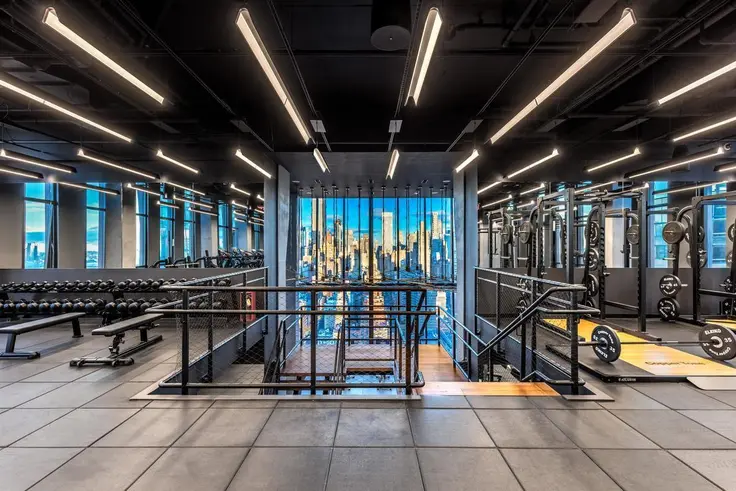 Enlarge Image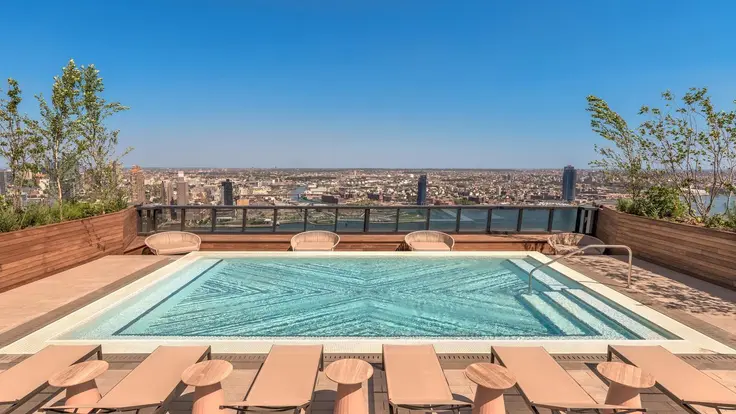 Enlarge Image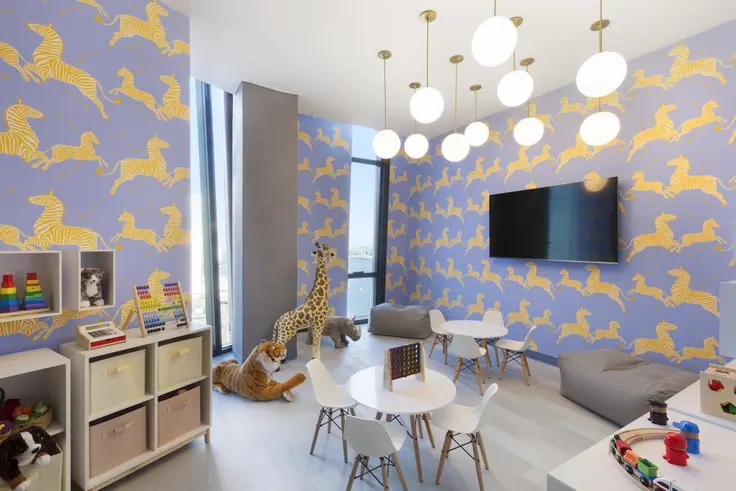 Enlarge Image
The property has a porte-cochere that provides access to an underground parking garage and atop this structure and between the two buildings is a landscaped plaza for relaxation and play. Designed by
SCAPE
, the space is known as the First Avenue Water Plaza and is not only a plaza, but also a water filtration system. It includes features to cool the space and also to mitigate noise from the FDR. During heavy rain, the design collects storm water before gradually releasing it to the East River. Most noteworthy is the plaza's ability to facilitate a floodwall to protect the building from coastal flooding events.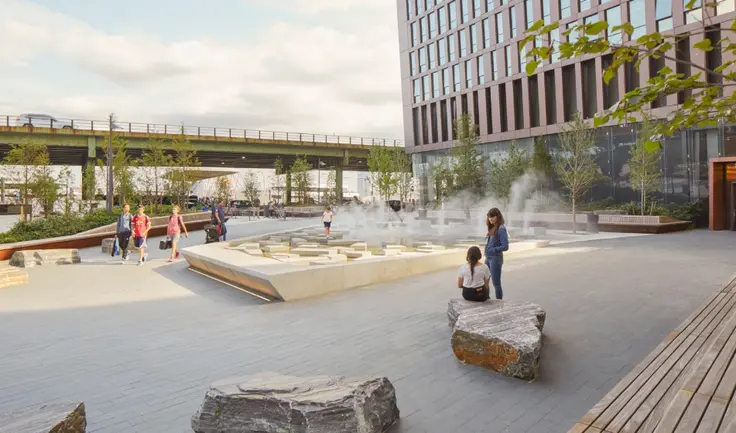 Enlarge Image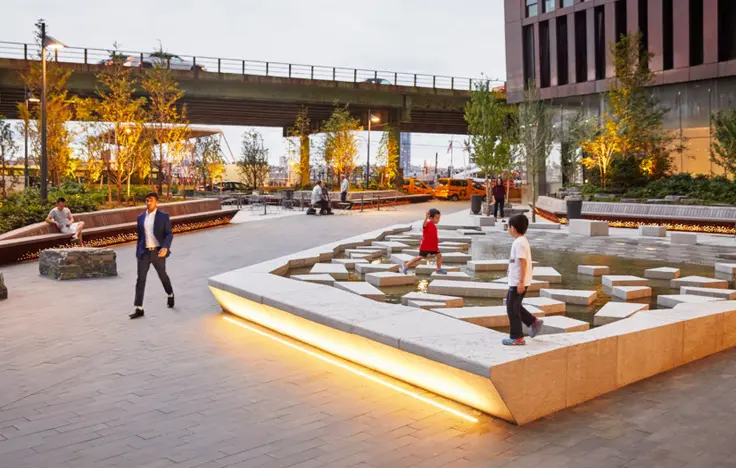 Enlarge Image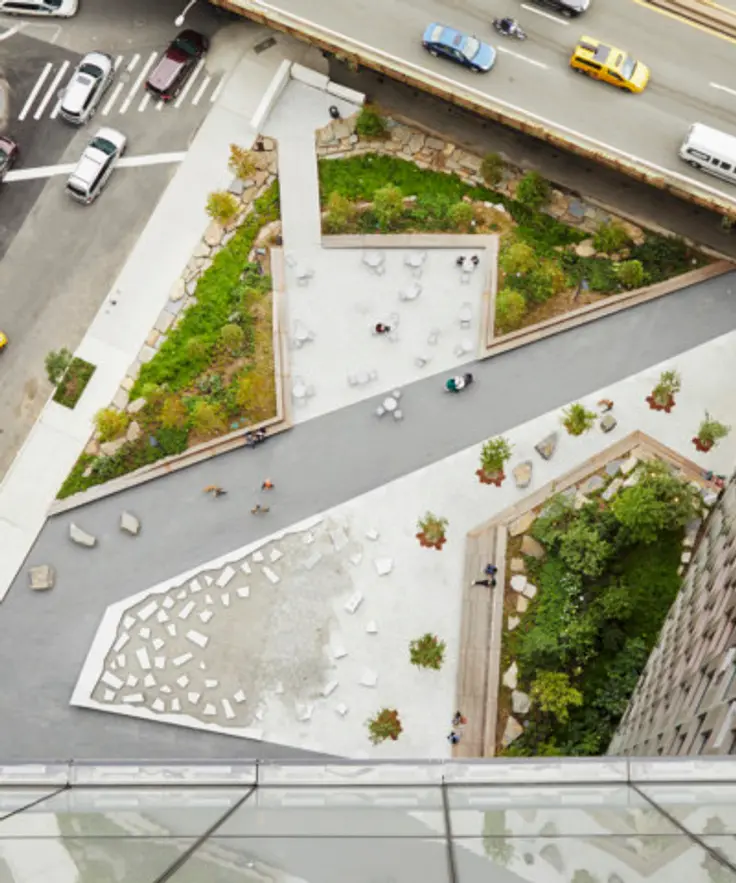 Enlarge Image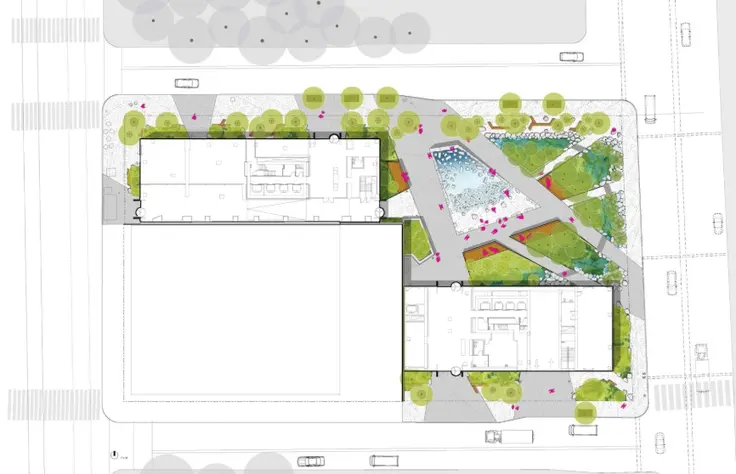 Enlarge Image
Our in-house architecture critic Carter Horsley gave us his rousing review of the new landmark dedicated to the perfection of urban living:
"Imagine putting Manhattan inside a very large wok and swirling things around (fast, like stir-fry) or the Michelin Tire Giant bumping his way through Manhattan (with a smile, of course). No, this isn't a Coney Island Fun House but an interesting flourish from
SHoP Architects
. The jaunty, slanting rental towers, known as the
American Copper Buildings
, teeter over the East River between 35th and 36th streets —they seem to dance like topless, tipsy, sun-tanned beauties."
"It may not be as spectacular as Moshe Safdie's curved, triple-towered Marina Bay Sands extravaganza, straddled with its 1,120-foot-long SkyPark and 490-foot-long infinity swimming pool, in Singapore. But for the moment, it's New York's most sensational new construction project —even though its two towers are not cloud busters, only rising to 41 and 48 stories high, and don't qualify to join the city's supertall club.

They're sensational not because of their long, north/south facades are elegantly clad in copper in an almost lilting fashion —but because they are joined at their high waists by a three-story skybridge. Skybridges, of course, are not new to the city, but they are rare and none have ever reached this height. Not to mention, this particular skybridge is 'wedged' at a dramatic 45-degree angle between and houses a 75-foot-long swimming pool and residential terraces."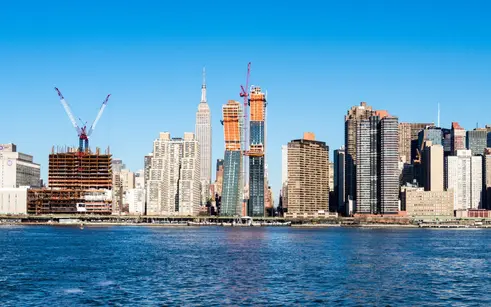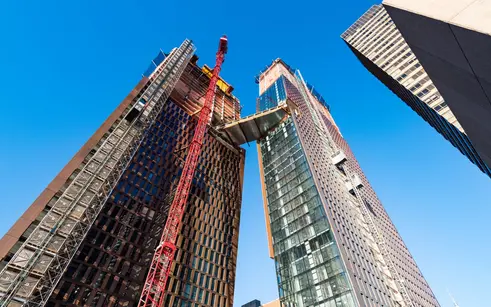 The two rental towers contain 761 apartments, 160 of which are set as
affordable housing units
.
That's a lot of apartments, but still less than the 817 at the nearby, 57-story
Corinthian
, which was erected by Bernard Spitzer, Peter L. Malkin, and Kriti Properties & Development in 1988. Also in the area are two sleek and handsome apartment towers: 1984-built, hexagonal slab tower known as
Manhattan Place
, with 486-units, and the 1988-built, L-shaped 44-story/444-unit tower known as
The Horizon
—both of which were erected by the Glick Organization.
The American Copper Buildings were developed by
JDS Development Group
, which commissioned
SHoP Architects
to design a 1,400-foot-tower adjacent to Steinway Hall on West 57th Street. That tower is now under construction. SHoP's other major projects include the mid-rise
The Porter House
apartment building on the northeast corner of 15th Street and Ninth Avenue, the Barclays Center in Brooklyn, and the redevelopment of the Domino Sugar plant on the East River in Brooklyn.
A
New York Times article
reported that
JDS
got 79,000 applications for the 160 subsidized units within the buildings. The article also noted that the building placed emergency generators on the 48th floor of one of the towers in order to provide power for a refrigerator and a telephone in every apartment in the case of a power outage.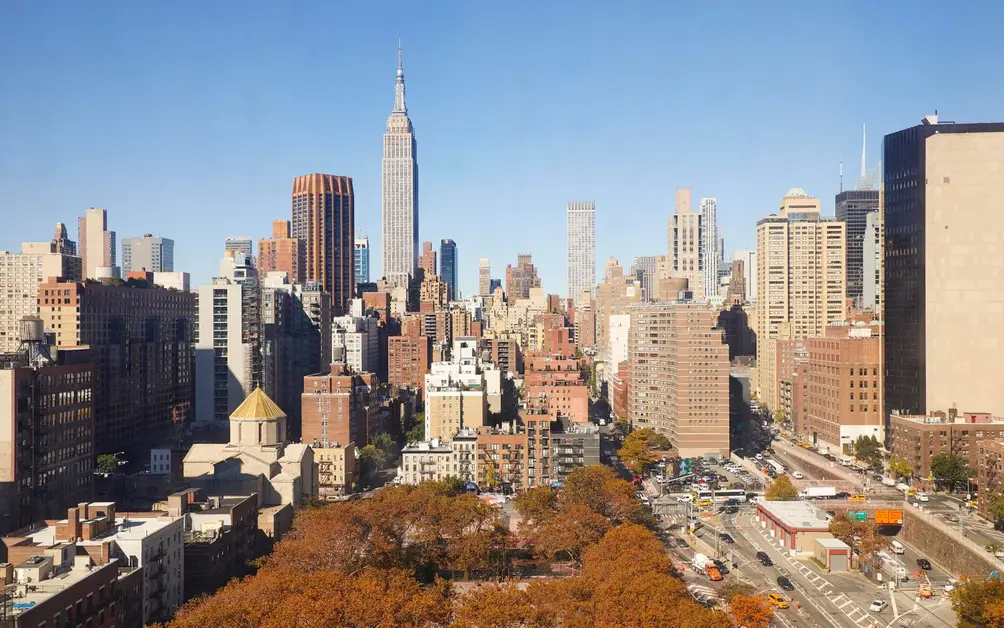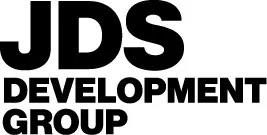 Additional Info About the Building