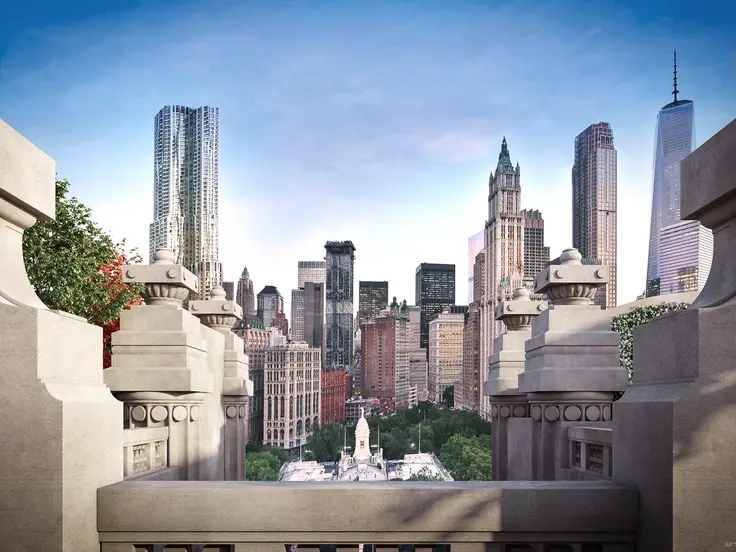 City Hall Park is not only the hotbed of New York City politics, it is also the epicenter of a building boom of both new high-end residential developments and some spectacular renovations of architecturally significant buildings, restoring them to their former glory and beyond.

The park, which now houses city hall and a public park, has been everything from a pasture, prison, parade ground, a public execution site to an almshouse, an art museum, and a post office. Taking advantage of one of the last open green spaces in the city, City Hall has become a luxurious residential neighborhood from dawn until dusk.

City Hall is located downtown, between Broadway (the former Native American trail), Park Row, and Chambers Street.

In the mid-1600s, City Hall Park was a communal pasture ground for livestock called the Commons. From the mid to late-1700s, the land housed an almshouse for the city's poor, a debtors' prison and a soldiers' barracks. In 1765, New Yorkers protested the Stamp Act on the site. During the American Revolution (1776-1783) the British controlled New York and used the debtor's prison to hold prisoners of war, executing 250 of them on gallows located behind the Soldiers' Barracks.

When the current City Hall building opened in 1812, most New Yorkers believed it was too far north of the center of the City. City Hall is the oldest City Hall in the nation that still houses its original governmental functions.

In 1818, the Rotunda became the City's first art museum. It was built on the park's northeast corner but was later demolished. In 1830, the debtors' prison was converted to the City Hall of Records. In 1842, a fountain with a 100-foot-diameter basin and an impressive center jet capable of shooting water 50 feet into the air was built using water pumped in from the then-new Croton Aqueduct.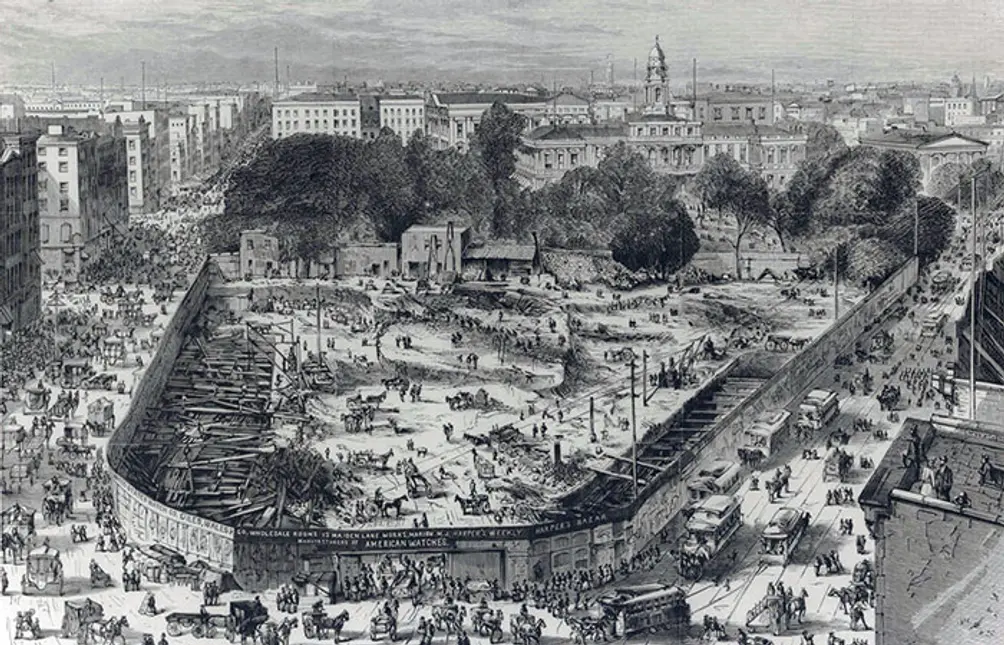 During the Civil War, the park was used to house troops in soldiers' barracks. After President Lincoln was assassinated, his funeral procession for New York residents originated at City Hall.

In 1867, the Federal government built a post office at the southern tip of the park. It was torn down in 1939. By removing this building, the park was restored to its original triangular shape and the view of St. Paul's Chapel from City Hall was reestablished. In 1966, the City Hall building was designated a city landmark as well as a national landmark.

From 1841 to 1865, at the southern edge of the park, Barnum's American Museum was located on the corner of Broadway and Ann Street. Owned by famous showman P. T. Barnum, the museum exhibited strange and educational attractions. It burned down in 1865.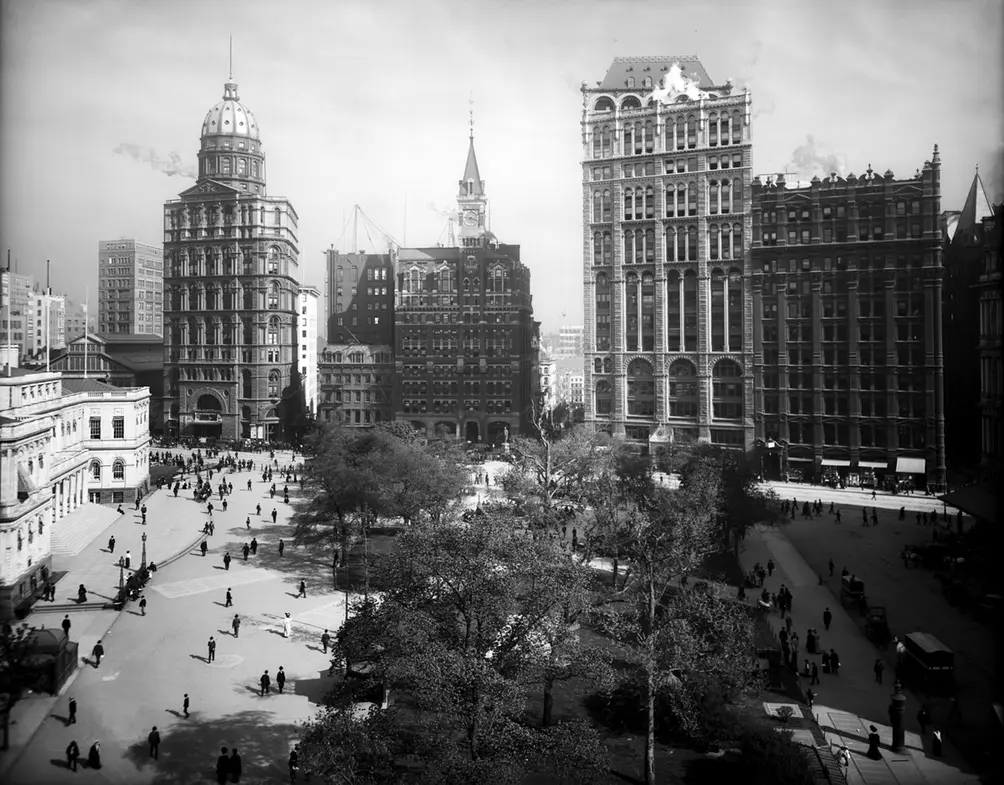 In the late 19th century, Park Row was called "
Newspaper Row
" as it was the epicenter of the top newspaper companies, like The New York Times, The New York Tribune, The New York Sun and The New York World.
The park is home to more than a dozen monuments, including Frederick MacMonnies's statue of Colonial patriot Nathan Hale (1893) and John Quincy Adams Ward's Horace Greeley (1890), which was moved to the park in 1916. In 1999 a $34.6 million project fully restored the park, adding a central walkway and gardens and replacing pavement with grass and trees.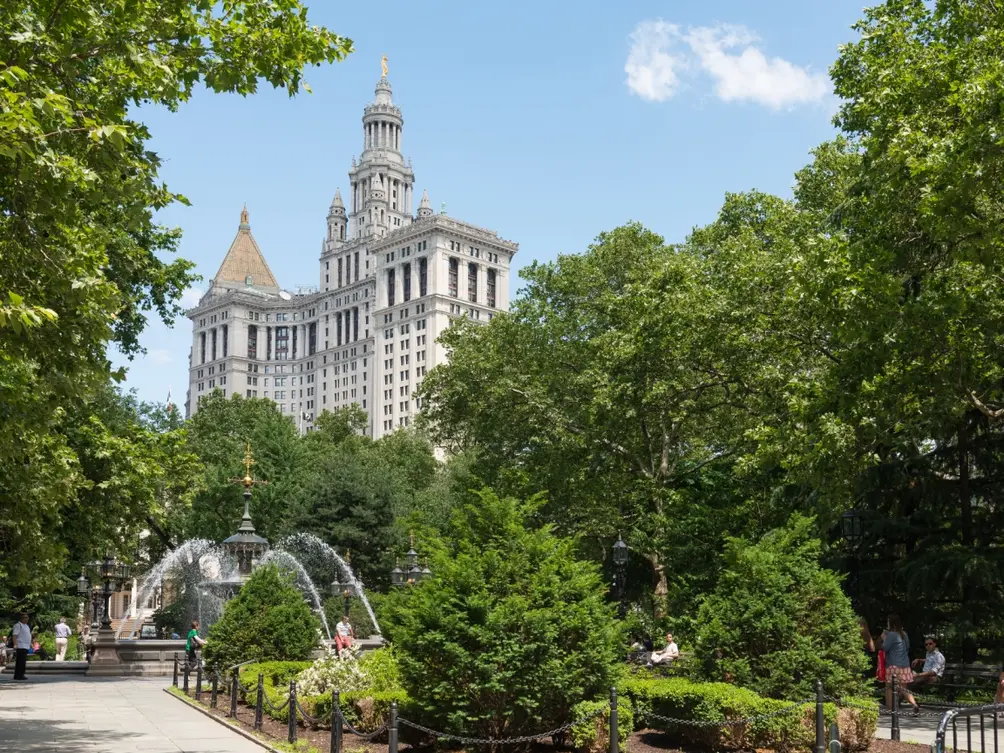 Residential buildings around City Hall
Stan Ponte, Sotheby's Senior Global Real Estate Advisor, said, "This area is basically Madison Avenue downtown. You can buy a Rolex, Hermes, a new Apple computer and go to Saks, all without walking outside. If the weather is nice, you can sit by the water, eat lobster and drink chardonnay. This is one of the fastest rebirths of a neighborhood in the city. There are only so many residences in New York where you can have protected views of a park. This is a fantasy land."
There are only so many residences in New York where you can have protected views of a park. This is a fantasy land."

- Stan Ponte, Real Estate Advisor
With the World Trade Center's Oculus Westfield development, there are now endless food and shopping options. It is also one area in Manhattan where almost every subway line converges. This neighborhood has history, significant architecture, convenience, culture, green space and water views. It is no surprise it is developing at warp speed.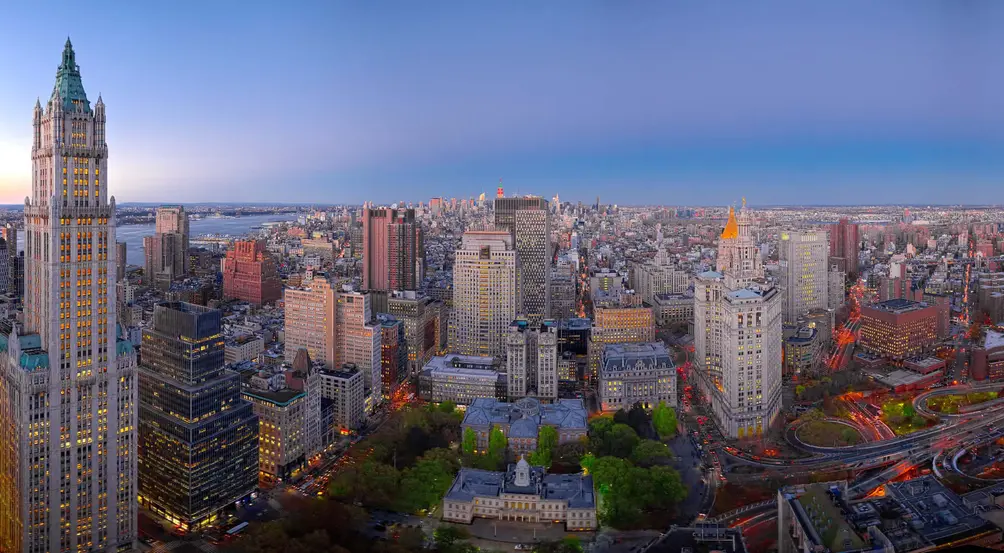 The Woolworth Tower Residences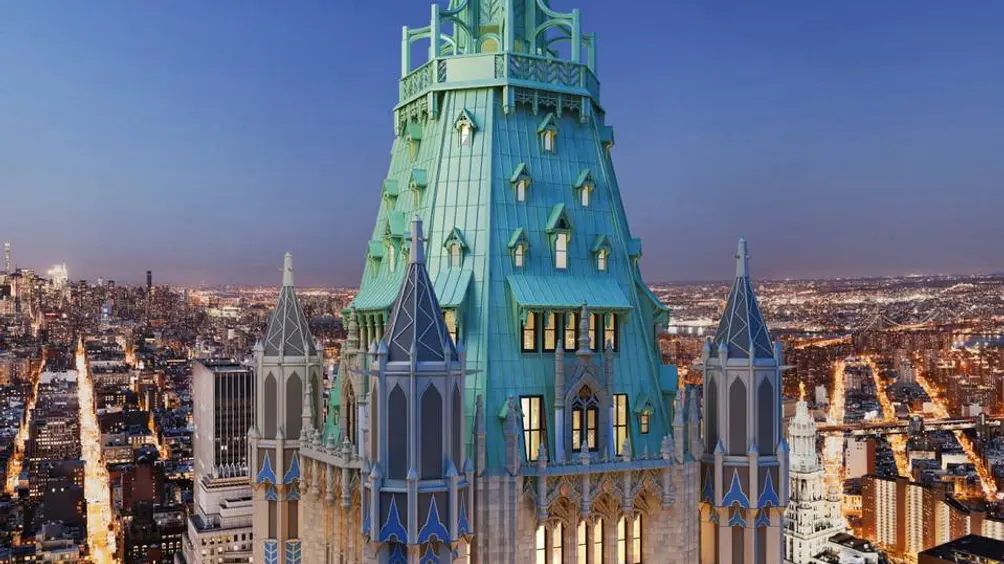 Designed by Cass Gilbert and constructed between 1910 and 1912,
the Woolworth Building
, at 233 Broadway, was one of the earliest skyscrapers in the United States. Fitting the spirit of the time, this neo-gothic style building was originally designed to be 420 feet tall but grew to 792 feet by the end of construction. The five and dime business tycoon Frank W. Woolworth commissioned his building to resemble the gothic cathedrals of the time. The building was dubbed "The Cathedral of Commerce." The Woolworth Building remained the tallest building in the world until the 1930 great race to the sky between 40 Wall Street and the Chrysler Building. The building was owned by the Woolworth company for 85 years until 1998.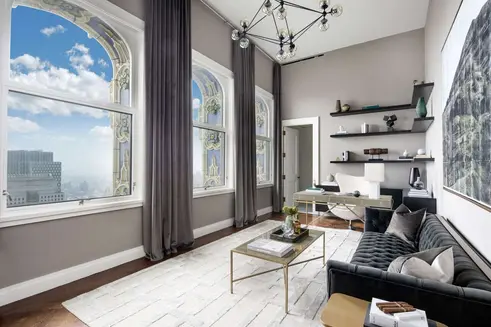 Now, the building has been reborn. French architect,
Thierry W. Despont
, has redesigned and renovated this stunning National Historic Landmark's top 30 floors into 33 luxury condominiums. The building is crowned by an unbelievable five-story, 9,710-square-foot apartment with 24-foot ceiling, a great room and a private elevator. The Pinnacle Penthouse is for sale for $110 million.
Stan Ponte explained the painstaking process the team went through to repair the building's exterior (involving construction workers hanging off the buildings exterior 40 floors above street level to remove and replace 3,500 terra-cotta tiles perfectly replicated by the sister company of the 1913 originals).
Building amenities include a 55-foot saltwater lap pool (once the private pool of Mr. Woolworth who would ride his private elevator from his office to the pool in his robe), fitness center, wine cellar and tasting room, on-site attended parking and resident-only lobby and residents lounge.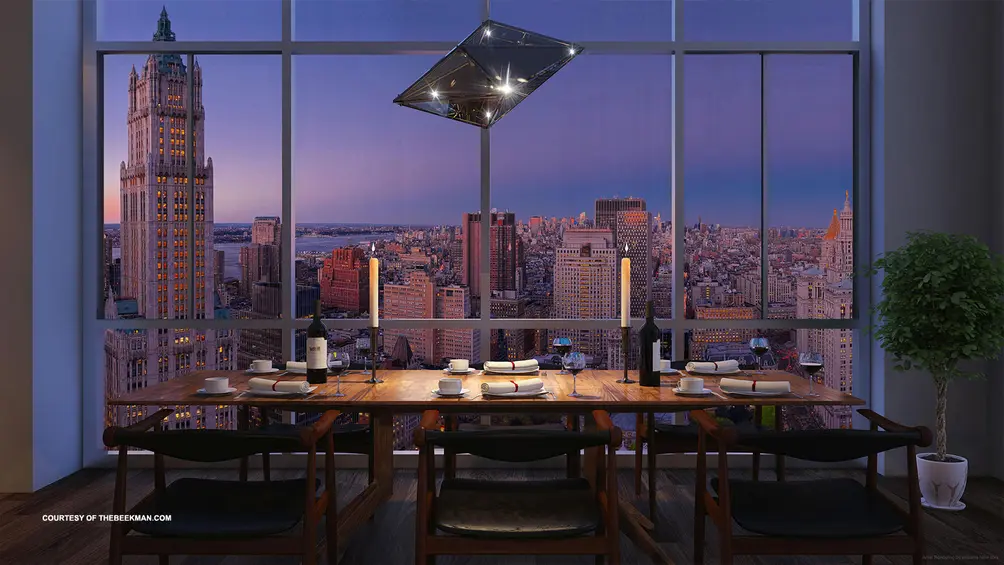 Another reconversion on the park is
the Beekman Tower and Residences
. The tower itself is new but the adjoining historic hotel has one of the most gorgeous atriums in New York City. Originally built in 1881, the ornate brick-and-terra-cotta building centered on a stunning,
skylit nine-story atrium
, has housed both the National Rifle Association and the War Resisters League. At one point it was a Shakespearean theater, it burned in a fire, was forgotten and then, thankfully, was gloriously renovated to its original elegance and renovated into a luxury hotel.
The tower residences, which all have access to the hotel's services, offer one to three-bedroom residences and the penthouse residences have 360-degree views of downtown. There is private dining room on the 11th floor, a media room, an expansive rooftop terrace and a fitness center. Not only can residents get room service Tom Colicchio's Temple Restaurant but they get priority reservations in the buildings' two restaurants.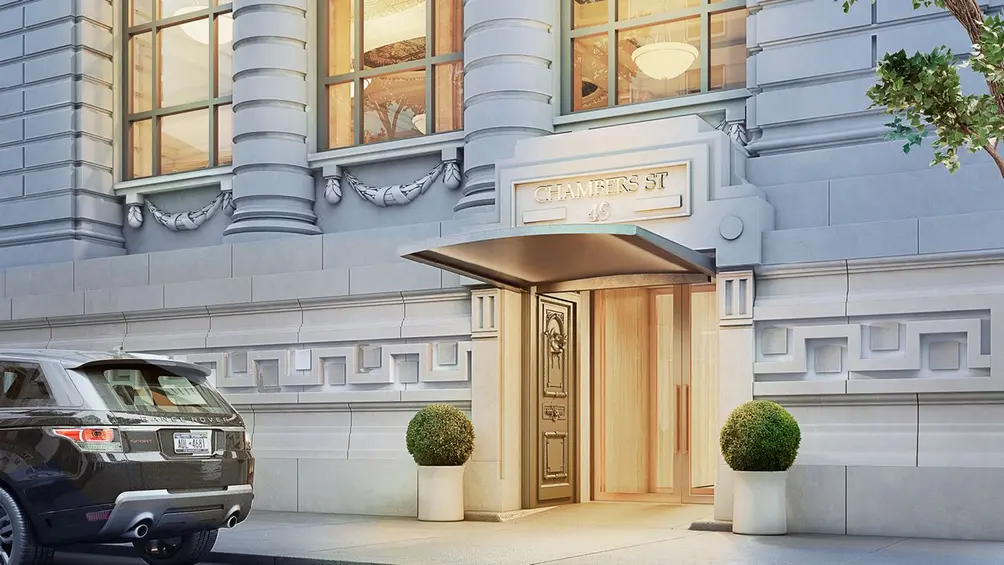 Built in 1910, this classic Beaux-Arts landmark is a renovation of the former home of Emigrant Industrial Savings Bank designed by Raymond F. Almirall. 49 Chambers is an architectural icon with contemporary interiors by Gabellini Sheppard Associates. The building offers one, two, three-bedroom and penthouse residences overlooking the park. Amenities include a pool, lounge, hammam and spa, fitness center, playroom and teen room, screening room and rooftop park.
In-Progress Residential Developments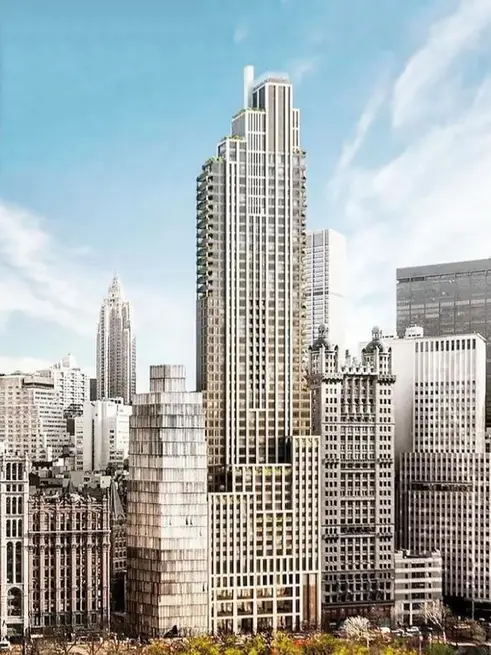 25 Park Row
L+M Development Partners
are constructing a 54-story mixed-use condo tower at 25 Park Row. As the company's largest Manhattan project to date, the skyscraper will encompass roughly 213,000 square feet of residential space and house 110 condominiums. 25 Park Row will be part of a massive retail overhaul spanning nearly 350 feet of frontage along Park Row.
COOKFOX is designing the tower. Completion is anticipated by the end of 2020.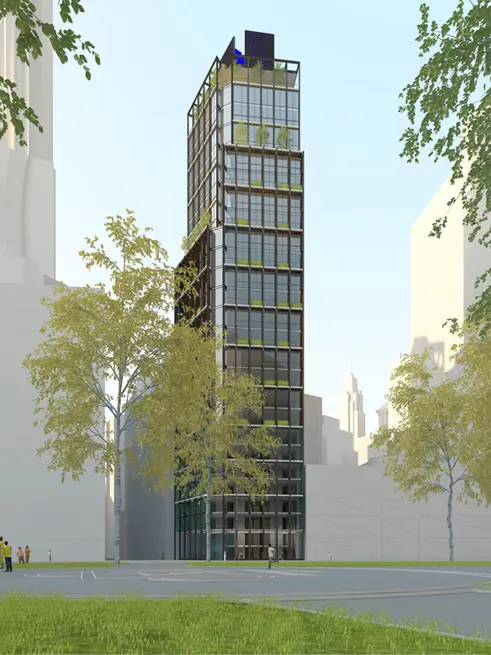 One Beekman
One Beekman is a post-war condominium building slated to be completed this year. Located between Park Row and Theater Ally, the building will rise a total of 25 stories. Amenities will include an outdoor entertainment space, roof deck, and rooftop terrace. In January, CityRealty
reported
that One Beekman is approximately 15 stories up — more than halfway towards its 25-story pinnacle.
Nicknamed "Pearl on the Park," the 95,000-square-foot tower is being developed by Urban Muse and designed by acclaimed British architecture firm
Rogers Stirk Harbour + Partners
(RSHP). To ultimately stand 366-foot-high, the tower will contain 31 high-end condominiums that will offer protected views over City Hall Park and glimpses of the Brooklyn Bridge and East River.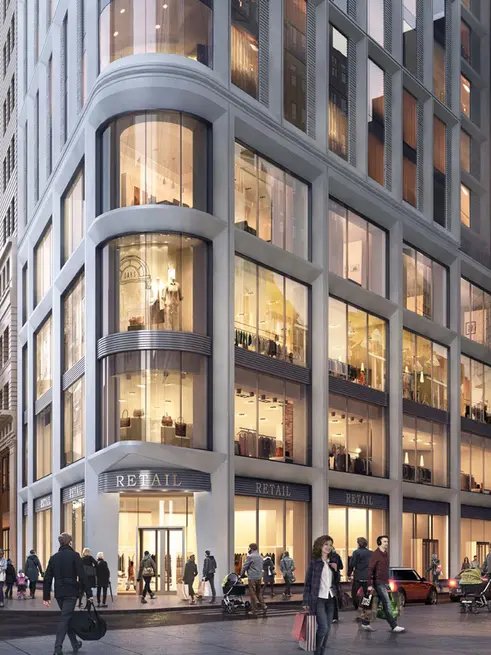 1 Park Row

Developers for 1 Park Row filed permits late last year to create a new 21,482-square-foot development with six-to-seven residential floors over three floors of retail in this art deco-inspired building sitting on a triangular lot just across from City Hall Park. The site was previously home of the well-known home of J&R, an online electronics and music retailer, for 43 years.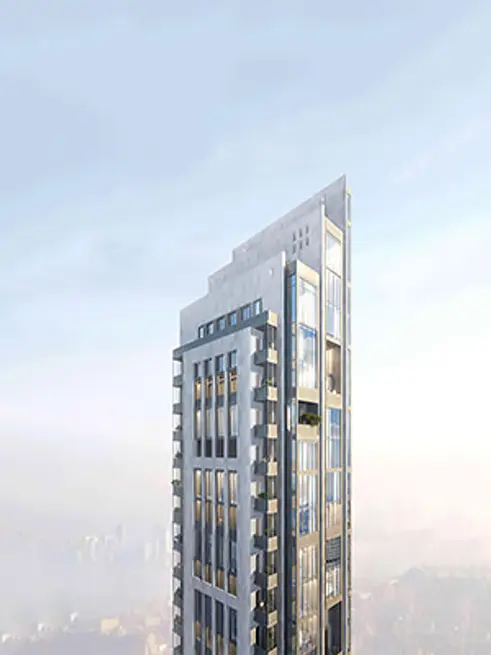 267/265 Broadway

Spanning two lots, this Gene Kaufman-designed glass tower will rise to 510 feet. The 144,244 square feet will have 38,139 square feet of commercial space, which will be occupied by a hotel with 80 rooms between floors 3 and 12, and 92,671 square feet of residential space. There will be 37 apartments and a three-level unit at the top of the tower. Expected completion date is 2020.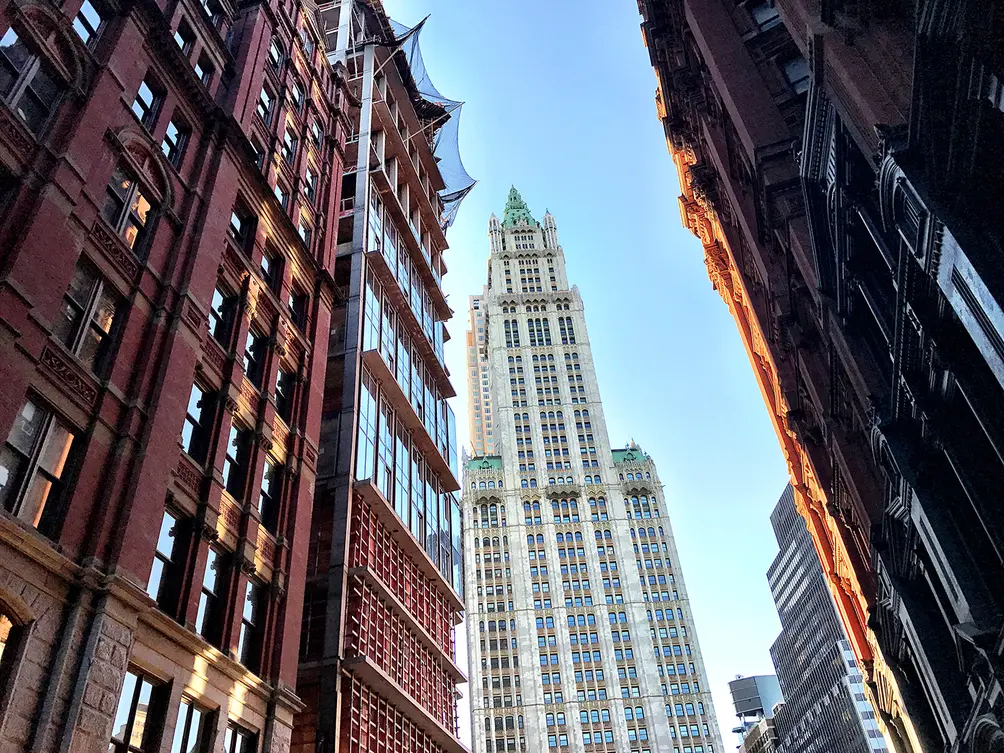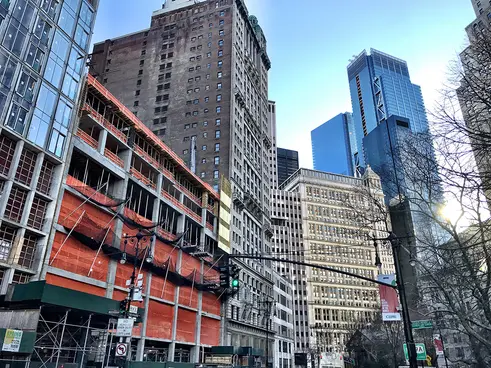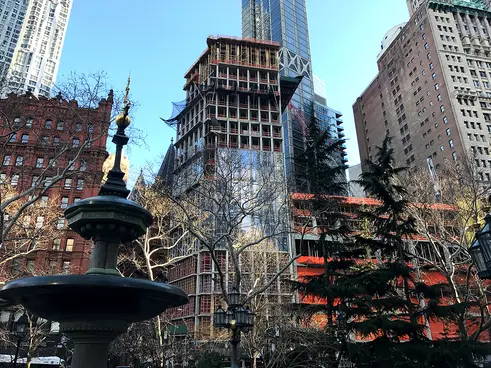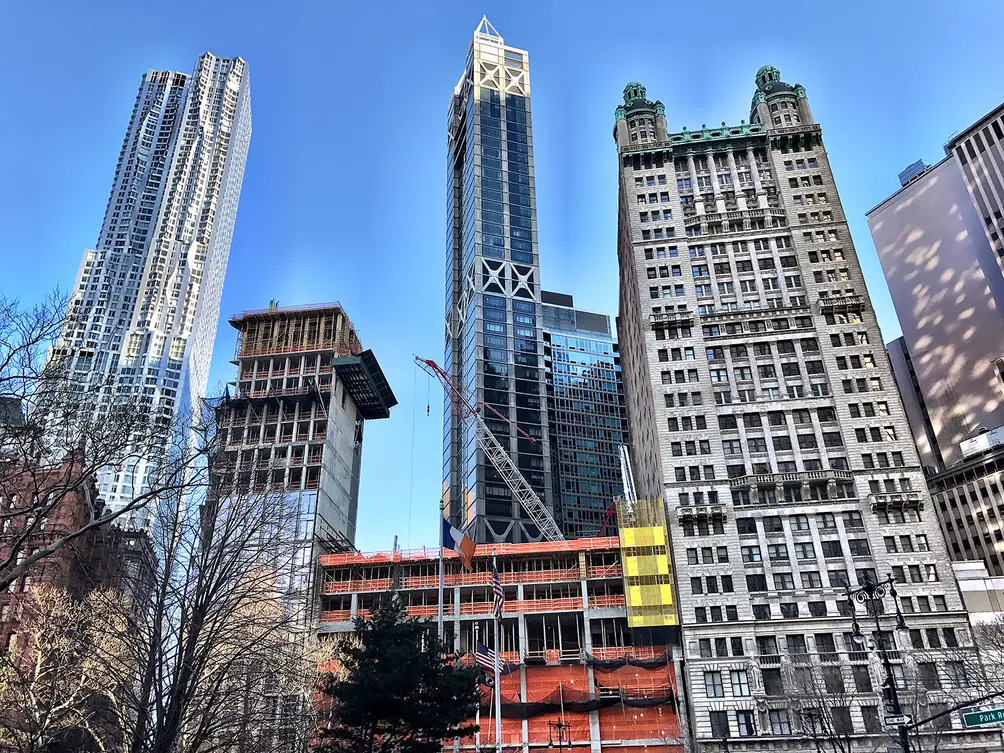 The Cut -
Wolfgang Puck's first NYC restaurant is located at the Four Seasons Hotel New York Downtown, with its own entrance on Church Street. The Cut serves breakfast, lunch, dinner and Sunday brunch in an intimate dining room or in the bar and lounge. The interior, designed by cutting-edge French designer Jacques Garcia in partnership with Kimberly Brown and STRATA Architects, is complemented by artwork curated by his fashion designer wife, Gelila Assefa Puck.
Nobu Downtown
- Two blocks south of the Woolworth building is the very hiply designed Nobu Downtown. With its famed Japanese-Peruvian fare in a beautiful landmark space (the former headquarters of AT&T), Nobu offers its menu in a spacious lounge or in its downstairs dining room. David Rockwell, the architect who designed the original Nobu, designed this space as well. Chef Nobuyuki Matsuhisa told the New York Times, "It's good for me to work with David like this. He understands what I do and what I want."

Augustine at the Beekman Hotel
- Building on his resume of Tribeca's Odeon, the Meatpacking's Pastis and the Bowery's Cherche Midi, this is restaurateur Keith McNally's first hotel restaurant. As is his form, McNally offers French cuisine filled with suckling pig, beefsteak, rotisserie meats, fine wines and signature and classic cocktails, "the kinds of cocktails people regret drinking the morning after," says McNally. According to New York Magazine, "he named Augustine after the fourth-century Christian theologian and philosopher, which is apt for a place of food, drink, and appetite: Besides being the patron saint of brewers and printers, Augustine also had a hand in formulating the doctrine of original sin."
Temple Court at the Beekman Hotel
- Speaking of names, in August of last year, Tom Colicchio renamed his restaurant Fowler & Wells to Temple Court. Originally named after a publishing company and scientific institute that once operated on the site, Colicchio later learned that Fowler and Wells practiced phrenology which used the shape of human skulls to justify slavery and racial discrimination. In the newly named restaurant, Colicchio provides a menu of classics, old and new, reinvented with his signature, seasonal touch.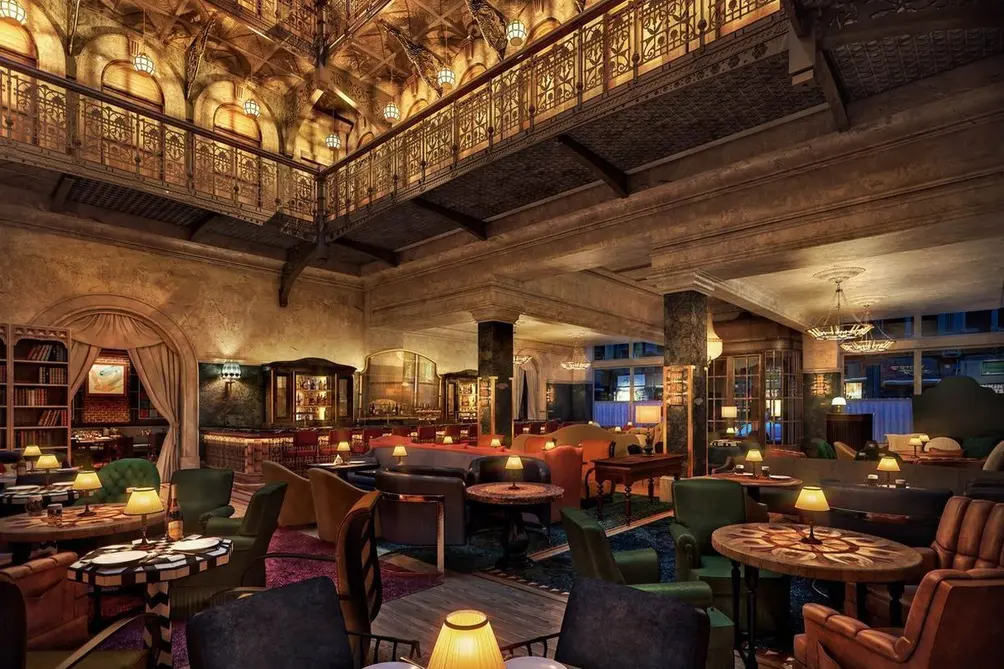 Eataly
- The famous food mecca by chefs Mario Batali, Lidia Bastianich, and Joe Bastianich opened the first American Eataly near New York's Madison Square Park in 2010. Eataly Downtown occupies 45,000-square-foot of the third floor of World Trade Center Tower 4. Eataly is a combination of market-style shopping, counter dining, and traditional restaurants.
Da Claudio
- Da Claudio offers a locally sourced seasonal Italian menu. By embracing New York tradition, Da Claudio embraces New York tradition along with the city's changing dining landscape, offering curated fresh market driven-fare enhanced with the finest Italian imports, a bar and salumeria.
Gran Morsi
- Named after the Italian word for "bites," Gran Morsi specializes in boldly-flavored Italian fare with a strong focus on small and shared plates, many of which are cooked in the brick oven.
City Hall has an abundance of history but even more of a future. Combining old and new in a super convenient location, with tons of shopping and dining, this neighborhood continues to evolve and impress on every level.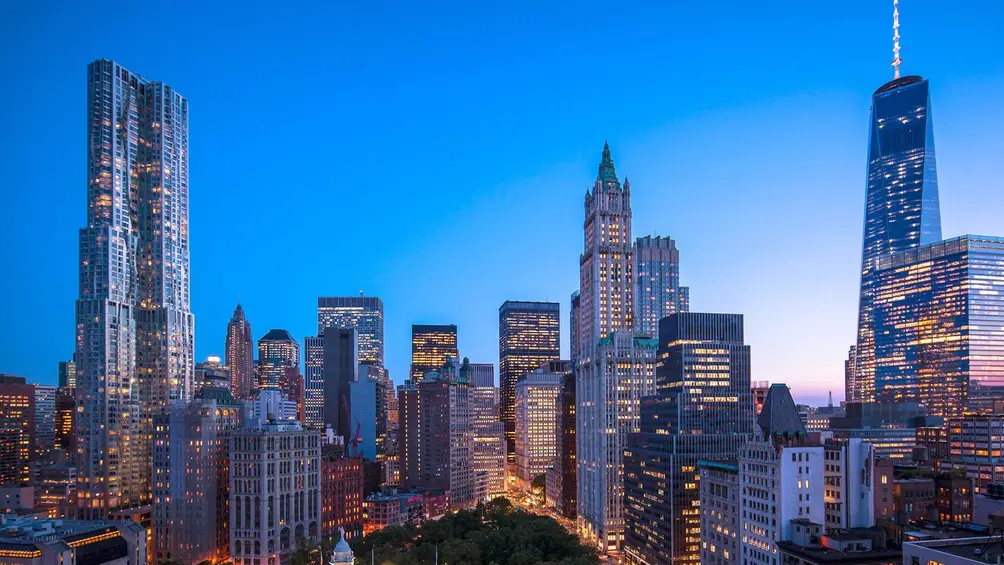 Schedule an Appointment
To tour any of these properties, just complete the information below.
Or call us at (212) 755-5544
Additional Info About the Building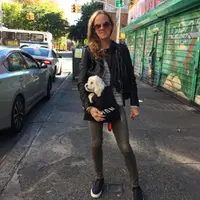 Contributing Writer
Michelle Sinclair Colman
Michelle writes children's books and also writes articles about architecture, design and real estate. Those two passions came together in Michelle's first children's book, "Urban Babies Wear Black." Michelle has a Master's degree in Sociology from the University of Minnesota and a Master's degree in the Cities Program from the London School of Economics.
Off Market Listings
Off-Market Listings
Off-Market Listings
Many apartments are sold off-market
without being publicly listed.
Contact us to learn more about off-market listings. There's no cost. And never any obligations.
or call us at (212) 755-5544