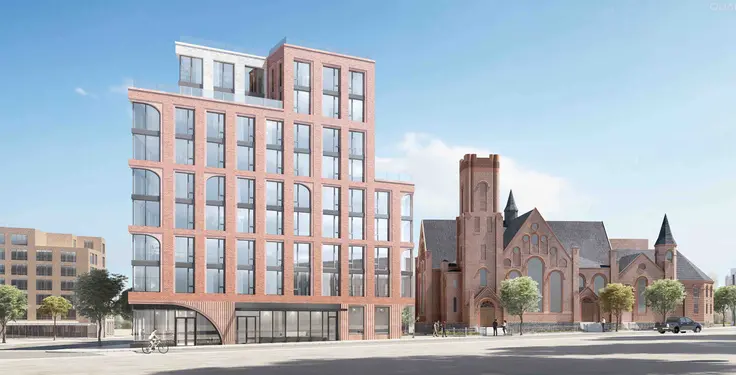 Brooklyn's Clinton Hill neighborhood continues its revival, where a 9-story, mixed-use building is proposed at
445 Grand Avenue
. Developer Ranger Properties signed a 99-year lot lease from the next-door 7th Day Adventist Church and commissioned Fogarty Finger Architects to design a nine-story, 120,809-square-foot building that would incorporate the church's new community center, ground-floor retail, and 112 rental apartments, 20 percent of which would be affordable.
While the building sits two blocks away from the Clinton-Washington Av. station of the A and C trains, bike- and auto-minded commuters may park their rides in the 86-car garage or storage room for 57 bikes, both located in the basement, along with the residents' fitness center, recreation space, and laundry room. Floors 2 through 9 will hold 10 to 16 apartments per floor, which would average around 650 square feet each. The units will be fashioned as shared suites, which the architect describes as a "lower‐cost housing alternative for friends, young families, and those singles that simply prefer a less solitary living situation." The eighth, and ninth floors will incorporate shared resident facilities such as a media room, indoor entertainment space. The rooftop will feature a deck with an outdoor pool.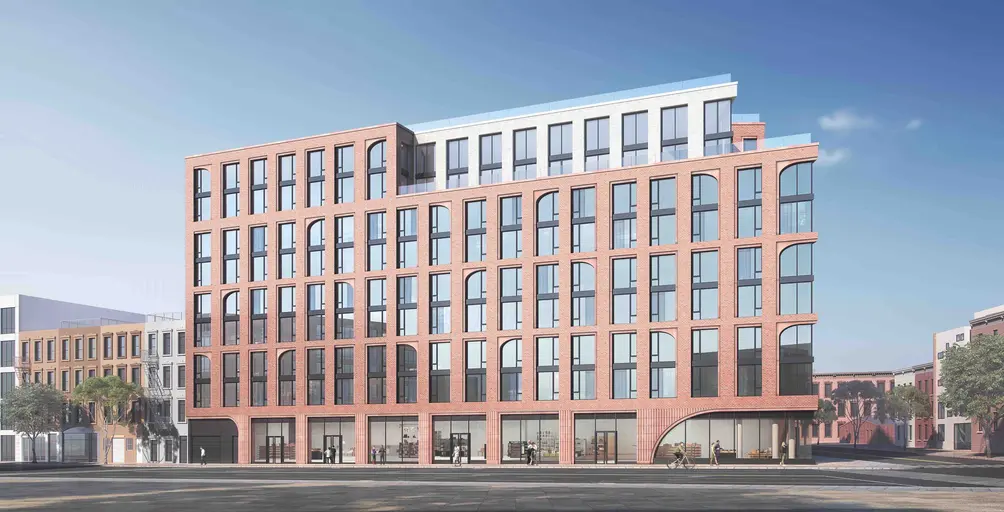 The building meets the intersection of Fulton Street and Grand Avenue with a dramatic, acute corner; however, the bold gesture is softened through delicate facade touches. Floor-to-ceiling windows are grouped in double-height, Davisean-style bays that visually diminish the building bulk; gentle insets lend depth to the facade; black mullions harmonize with red brick, which pays homage to the surrounding pre-war architecture. Fluted concrete surfaces add texture to the ground level, while curved window accents contribute a sense of distinct identity. Structural columns are shifted away from the prow-like street corner, which provides unobstructed window views toward the Putnam Triangle park across the street and the skyline beyond.
445 Grand Avenue is a positive example of community-friendly development that will replace a blighted, empty lot a transit-adjacent location with dense, affordable housing, activate the street level with 7,652 square feet of retail, and benefit a local church both with revenue from the lot lease and expanded facilities. The 1882 church, designed in a Romanesque Revival style by architect Lawrence B. Valk, will gain a 4,362-square-foot, ground-floor space within the new building, which would include a multipurpose community event room, a dining room with a kitchen, and an office.
As in the case of 308 Livingston Street, Fogarty Finger Architects' another upcoming project recently covered by CityRealty, the building form is constrained by restrictive zoning limits. The main structure rises within inches of the maximum-allowed 95-foot height limit, while the bulkhead pushes the total height to around 110 feet. Fortunately, the architects conceived a design solution that preserves the historic church, maintains the street wall on Fulton Street, and delivers high-end architecture and a diverse program to the rapidly-growing community.
{ "key" : "", "lat": 40.682161, "lng": -73.961157, "marker": { "icon": "" }, "pov": { "zoom": 100 } }
Additional Info About the Building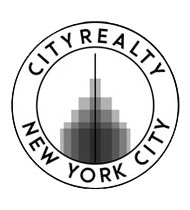 Content & Research Manager
Vitali Ogorodnikov