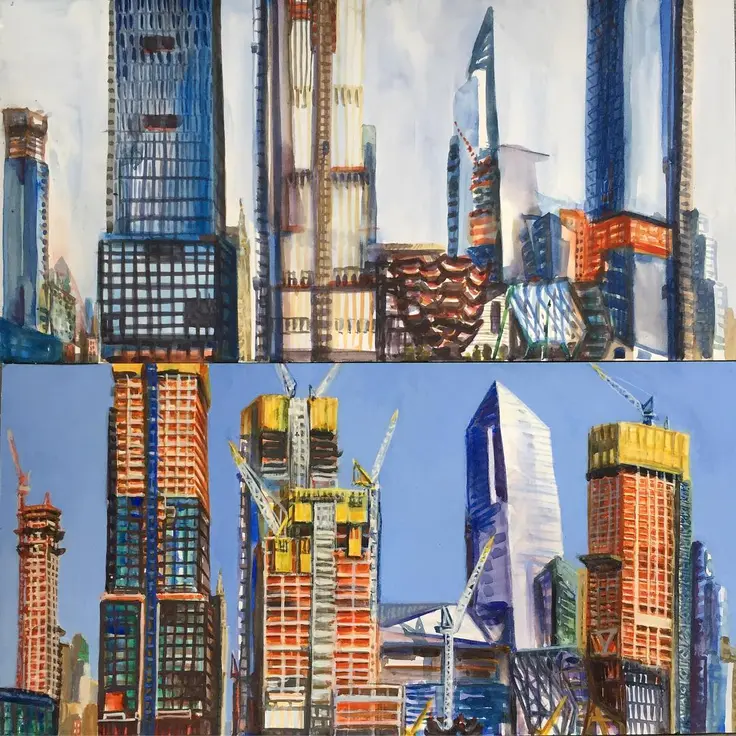 Gwyneth Leech paints New York City skyscrapers under construction. She began painting construction sites when a new building, she refers to as "the monolith," started growing outside her studio window. As a way to fully explore the monolith that threatened her dynamic view looking west across midtown to Weehawken, she painted the process as the project evolved. As the building grew, her paintings grew in size as did her appreciation for the project. Eventually, the beauty and dynamism of creating a building became her passion. Leech now bikes through the streets of New York and paints projects that move her, that she feels are essential pieces of the urban fabric.
When she paints on site, she meets people from all walks of life and many who are involved in the construction process. These encounters become enmeshed into her art. Leech considers her art a compilation of work over time, a combination of her work and the building work, coming together on one canvas. In addition to new exhibits featuring her paintings, there is also a terrific 10-minute documentary,
The Monolith
, about her art, work, and life, anchored on the building that grew outside her studio window.
CityRealty spoke to Leech and found out how she began this whole process, the parallels between construction projects and her artistic evolution, how her paintings differ from photographs and how her art connects her to her place and time in New York City.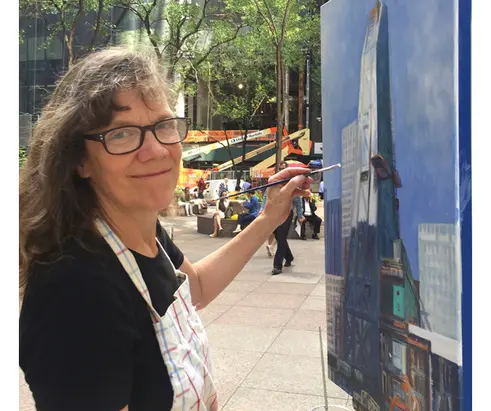 How did this all get started?
I had been in one studio space in New York for nine years. In 2015, we noticed they were surveying the parking lot behind the building and then starting to dig a foundation. I share my space with another artist, there are other artists in the building, we were all a bit desperate to be losing that view. We thought, "Oh no! Something is going to go up here." At that time, I was regularly painting the view out of my 13th-floor window, the documentary video shows the panorama and montage of paintings of that view.
Once the work got underway, it was amazing to watch. It proceeded very quickly and there was a lot of visual interest. The building grew on me as it grew in size. Also, just because of proximity and my vantage point, looking down at it and seeing the people moving around, it was an education in how to build a building. Bit by bit, it really grabbed me.
Then I started to draw it. I was still drawing and painting on coffee cups and segued onto larger paper, then canvases, and then larger canvases. I was constructing inside the studio while they constructed the building outside my window. It was really an intriguing view from that vantage point.
Every time I painted it, the paintings were very different and very specific to the light. The light was very dynamic as it moved across the sky. When I was in the studio with an open vista, sometimes I just stopped and looked out the window. The light changed, the shadows moved across the buildings, the movement of the sun, the shadows on faces of buildings, the change of light, the weather, the season. At the same time, the growing building was also changing.
It's not a very big building. It's a pencil tower, the
Hotel Aliz
on 40th street. It probably has four rooms on each floor. They were putting up a couple floors every week. They threw a lot of people at that project.
"The building grew on me as it grew in size. Also, just because of proximity and my vantage point, looking down at it and seeing the people moving around, it was an education in how to build a building. Bit by bit, it really grabbed me."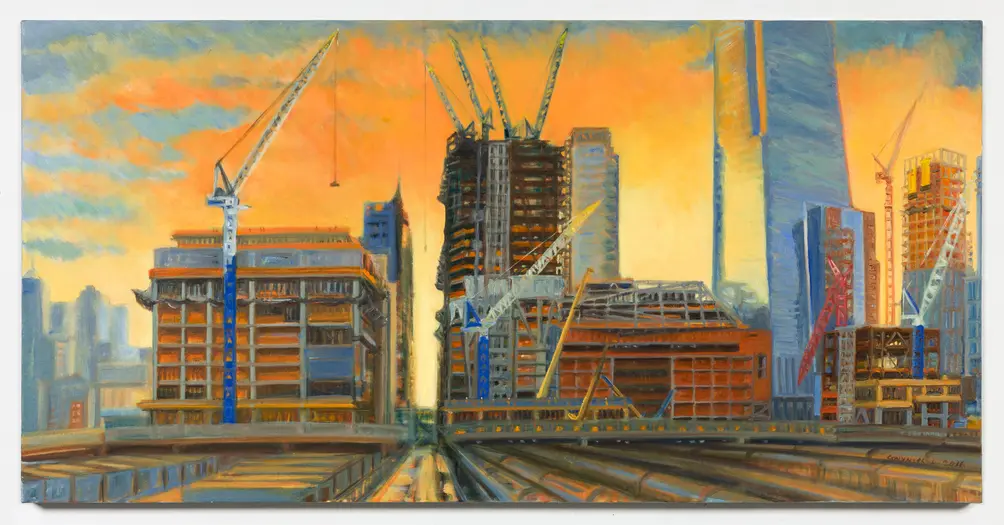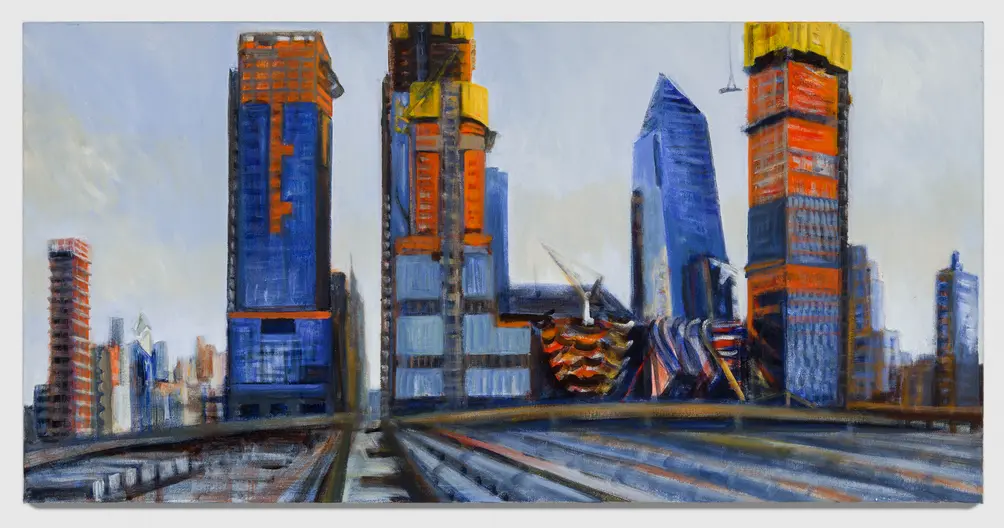 New York City is famous for the speed at which buildings go up and the choreography of the crews. People come from other cities to study this. There is some optimum number of workers at one time: too few people and it goes too slowly and if there are too many, it also goes too slowly. There were about 40 people working on the project at any time. It really was amazingly quick but slow at the same time. They started the foundation in 2015 and it's still not open to the public yet. The exterior structure goes up the fastest. Then the interior work is much slower. That's how I got interested in all of this. I was really intrigued.
Once the Aliz got up past my window, I realized they were building another building on 9th and 42nd that I could also see from my window. I had a rather sweet view in that direction where I could see across the Hudson River to Weehawken but then this was going up and would eventually block that vista. I started to paint that building as well, once a week. That is also a hotel, the
Pod in Times Square
. Again, it went up so fast. It was amazing. Every day it looked different. I kept painting and painting it. I have at least 40 paintings, eight inches by eight inches.
Have you contacted them to show them your paintings?
Yes, at this point I have networked pretty widely within the New York City construction and real estate industries and a lot of people have seen my construction site paintings and know about my project. I have met with CEOs, presidents and founders of architecture, engineering and construction firms, have had a number of exhibitions of my paintings and received some interesting and challenging commissions, with more opportunities taking shape.
I've gotten better over time at untangling the different ownership, construction and leasing. Whoever originally built the building, the contractors with subcontractors, these are very complex projects that involve a large number of trades which is also quite intriguing to me too. A series of paintings of the Pod will be shown at
Geoffrey Young Gallery
in Great Barrington in October. That gallerist comes into the city a lot he has been quite intrigued/struck/horrified by all of the construction.
Once both of those projects were pretty much complete, I was presented with a more closed off view. The back of the Aliz Hotel that now faces my studio window has a dark brown brick wall with small windows. Not inspiring! It was interesting to me when the floors were open. Looking into and through it, you could see the workmen and the light. It was very theatrical. I was also interested in watching the masons building the back wall and the facade being finished from hanging scaffolding. But my interested ended when the structure became solid and enclosed. Well, here it is. Now what? That's when I started to go around midtown Manhattan with a sketchbook and a travel easel.
In September 2016, I started to go to the Highline a lot and painted watercolors of the Hudson Yards development, which is massive and also looked different every couple of weeks. I did a long series of watercolors of Hudson Yards and started to haul canvases with my travel easel on my Citibike. Certain massive construction sites embedded in the fabric of the city bring me to a halt. That's what happened with
53 w 53rd
, the Jean Nouvel building. I started painting over there last summer. I have a year of paintings of the Nouvel tower in various states of construction until they topped it off. I also have a series of paintings of the MOMA extension which I was painting from 53rd street across the street. It really intrigued me. It's very dark with the black glass on the front of MOMA. The construction was also very dark but there were shafts of light that would come through and illuminate the construction and the workers.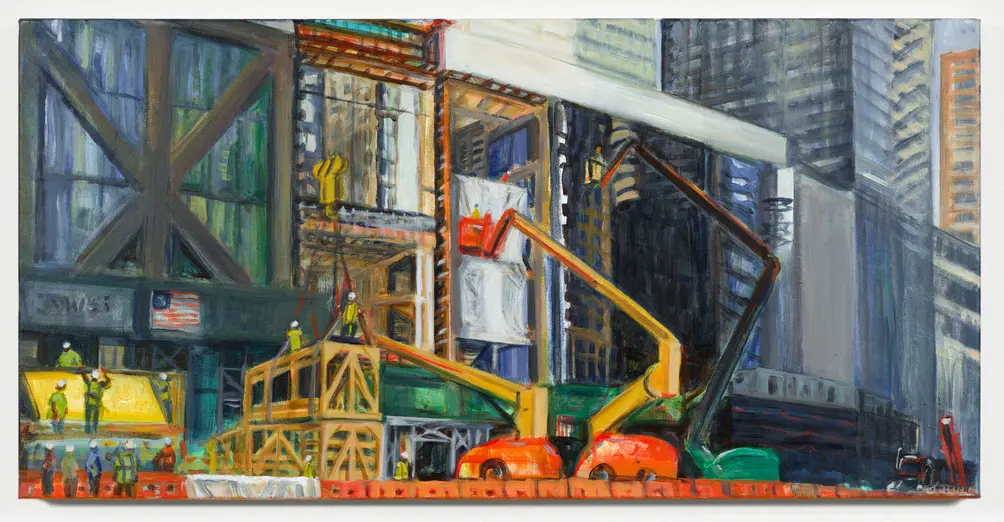 Years ago, I studied art in Scotland and lived there for a long time. At one point I was an artist in residence with the Scottish Opera. I spent a lot of time hanging out in the Theatre Royal drawing the architecture, the sets, and lighting. The construction projects in New York affect me in the same way as those opera drawings and painting. There is a real theatrical quality

Working outside brings a whole other dynamic to the process. I meet so many people, especially on 53rd street where the workers are coming down for their lunch breaks. People who built the foundation, the security guards, hoist operators, electricians, project managers, construction workers of all kinds involved with those projects. So I got to have a number of site visits. I've been up three times now and it's just incredible to see. Having spent a lot of time to studying it from outside, then being able to see how it works from the inside is amazing.

It makes me feel very connected to the city. The people I met when painting 53rd street said, you have to see what's going up near Grand Central. So I started going to One Vanderbilt and saw the massive steel columns and structures rising up above street level. So that's another project I've been following since late last year.

Do you stand at one point or move around to different vantage points?
For One Vanderbilt, there are a couple of angles that intrigue me the most. One is the vantage point from the bridge on the southwest corner of Grand Central station. There's also parapet that looks over the building. The paintings I did from here have a lot of ironworkers working in them. It's gotten a lot taller. The most recent painting I did was from 42nd street.
Sometimes I paint in the studio but I went out on the street pretty recently, on the south side of 42nd, near Grand Central and looked up, there are some very acute angles. It turned out to be an intriguing place to work because a lot of people involved with the project have offices in the area and so as a result of painting there. SL Green, the owner and developer of the project, acquired the painting I just finished. I was really pleased they wanted to purchase it. I've also done commissions from other companies so I work in a variety of ways. But it was fun working on 42nd street because a lot of the ironworkers came to see what the heck I was doing.
During the construction of the Shed, the big cultural space going up on 30th Street in the Hudson Yards, when it was still in its very skeletal state, there was a lot of ironwork happening there too. There were big steel pieces being assembled and I did a painting of the building in that state as a commission for Sciame LLC, the construction managers. Through Sciame. I got to meet people from Brookfield Properties and started following the construction at
Manhattan West
. I have a number of paintings of One Manhattan West now, several painted from the roof terrace of the
Eugene
, and I have done some site visits from around there. I've found ways to continue my interest in how dynamic the projects are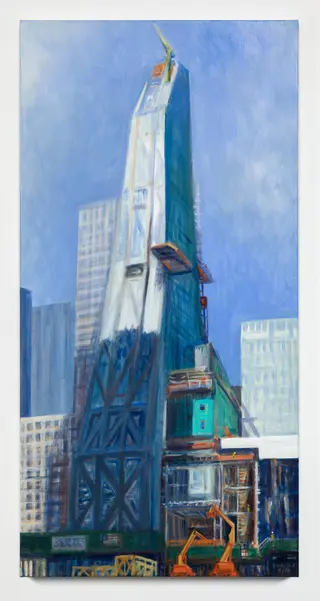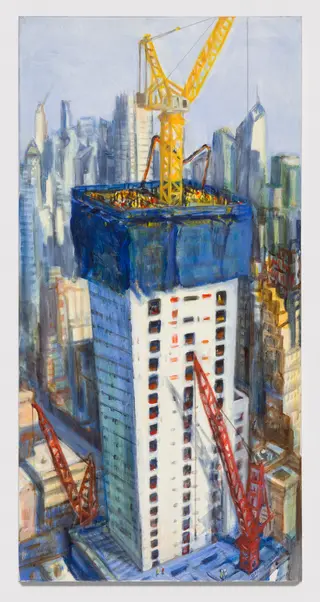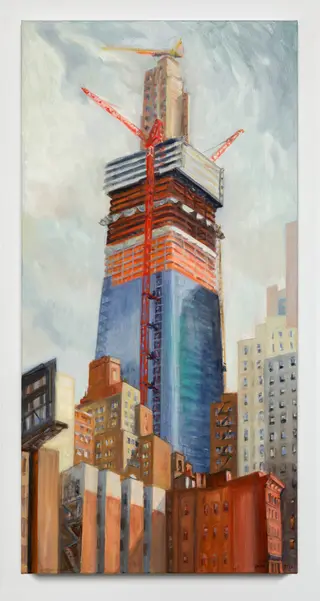 You had so many parallels in the beginning of this process with the construction and admiration of the building and your art that was developing. Do those still exist now?
When I am out and around the city, I have this sense of urgency. The city is changing so fast and it's really easy to forget what was there before, what was there last week. It's a sense of amnesia. So I am really trying to pay attention and to record this incredible building boom we're experiencing. I am more in the moment and feeling more connected to the city and the history of the city. I like to go to the Museum of the City of New York. Recently there were photos of the Brooklyn Bridge under construction and there was that same feeling of urgency. When I'm by some of these massive construction projects, I feel they are a part of the fabric or history of the city, these epic things are happening.
John Marin
did a series of watercolors about the construction of the Woolworth building back in the early 20th century. The Woolworth building was just massive compared to low structures around it. This has that similar, boogie-woogie feeling of thrusting upward.
I came across a wood engraving made in 1920 by the artist
Howard Cook
that depicts the Chrysler building under construction. The spire is covered in black netting and the new skyscraper dominating its neighbors. That view still exists on 42nd street and I have that composition very much in mind as I paint a new skyscraper rising right into that iconic skyline.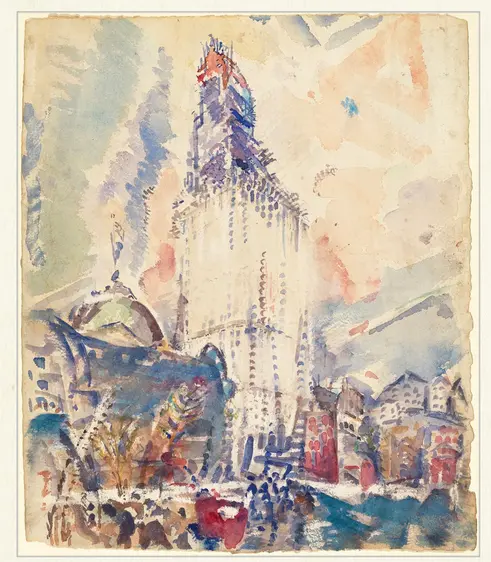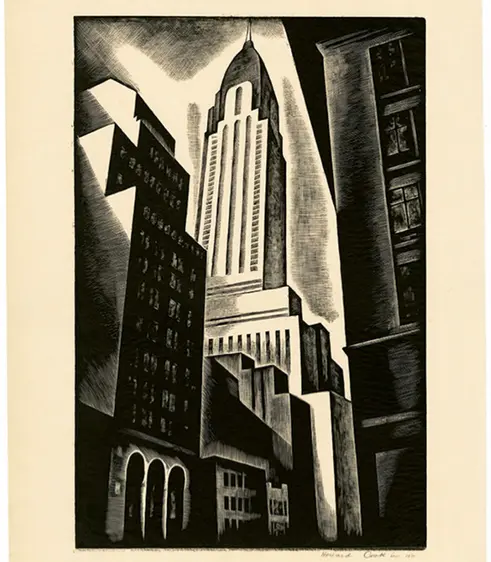 How does painting compare to taking photos of a building?
When I go and paint on site, I am standing there painting for a whole week in one location. The painting becomes a compendium of moments, unlike a photo that catches something in that fraction of the second. These paintings become a sort of compilation of work over time, it's a combination of my work and the building work. They also become artifacts of a process and of the time spent and all the conversations I'm having. There is a feeling of time passing and change happening and work happening and that is somehow different from the snap of a photograph.

It's interesting because I take a lot of photographs but I prefer to be there and experience the time passing and the light changing rather than just working from a photo. I will sometimes use photos for references when I'm painting in the studio but I work from a whole bunch of photos from different vantage points, not a single photo. For me, the most fun is to be there and commit to the experience of painting it in real time.
"For me, the most fun is to be there and commit to the experience of painting it in real time."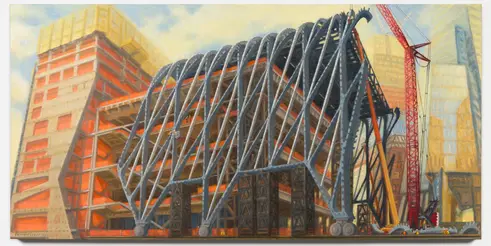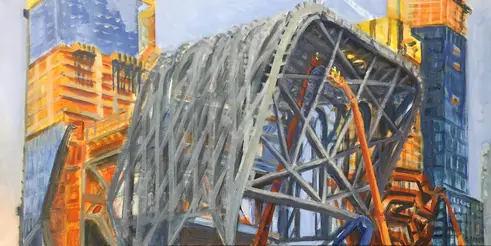 Do you see yourself only painting in New York or beyond?
I keep seeing photos from Shenzhen, Abu Dhabi, UAE and there are some amazing things happening in Miami. The only question is the limitation of my time. I had an exhibit earlier this year in the Garment District at the
Kaufman Arcade
, a public art venue connecting 35th and 36th Streets that anyone can walk through. A lot of really interesting people saw my work there, one of whom was a
Kohn Pedersen Fox
(KPF) architect. Not only did they design One Vanderbilt but they are the master planners for Hudson Yards and a number of buildings there. It was just through the chance of him seeing my work depicting those projects he worked on that it set off a series of connections.
But, at the moment, I feel this is very much an extension of being an artist in New York, living in New York and connecting to my place and time. Not all artists do this. Often, they are connecting to art history, very formal concerns of abstraction, or other kinds of ideologies and conversations other than their moment. But for me, my projects and my energy always seem to come from connecting in some way living here, the people I'm meeting and things I'm experiencing around me.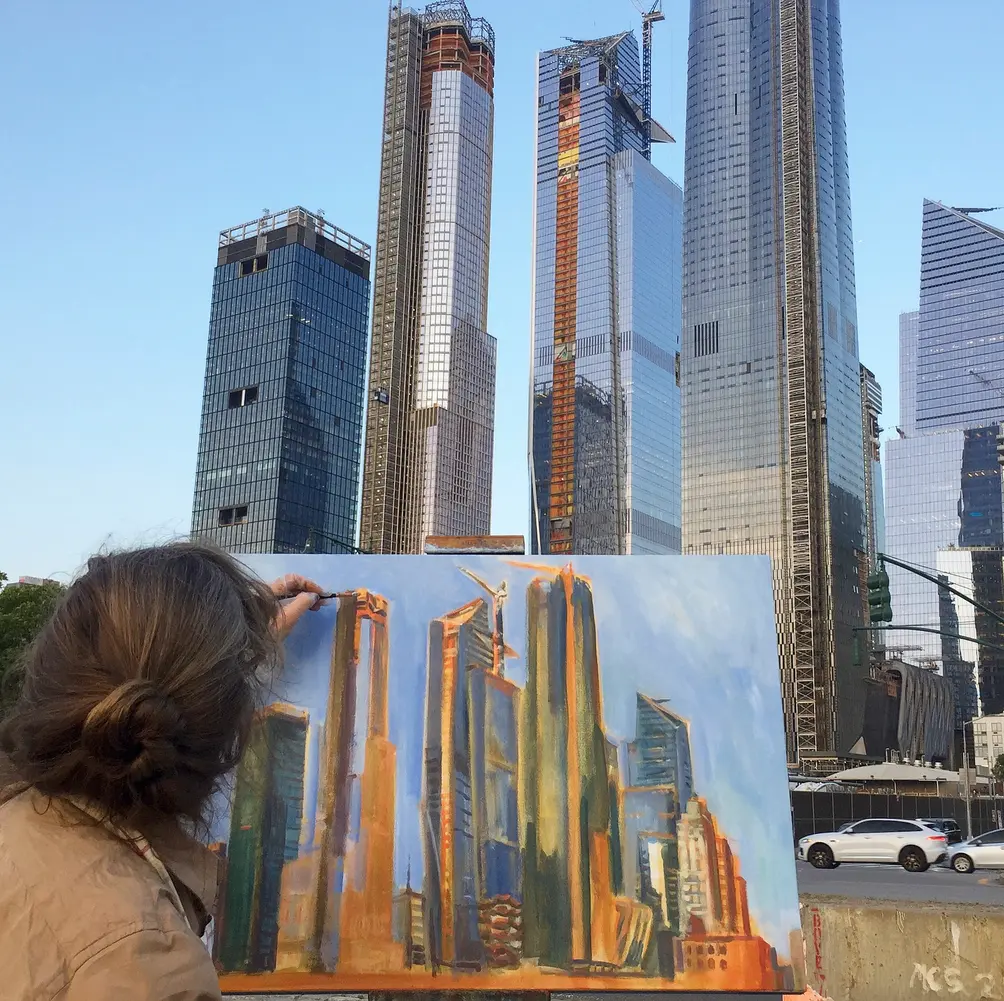 Schedule an Appointment
To tour any of these properties, just complete the information below.
Or call us at (212) 755-5544
Additional Info About the Building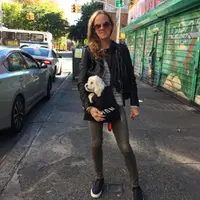 Contributing Writer
Michelle Sinclair Colman
Michelle writes children's books and also writes articles about architecture, design and real estate. Those two passions came together in Michelle's first children's book, "Urban Babies Wear Black." Michelle has a Master's degree in Sociology from the University of Minnesota and a Master's degree in the Cities Program from the London School of Economics.
Off Market Listings
Off-Market Listings
Off-Market Listings
Many apartments are sold off-market
without being publicly listed.
Contact us to learn more about off-market listings. It's quick and easy. And never any obligations.