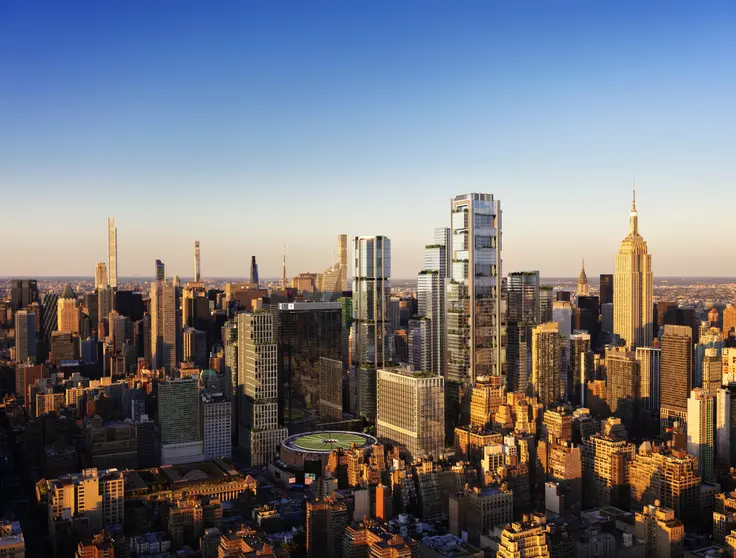 Vornado Realty Trust
, owner of 7.4 million square feet of real estate surrounding Penn Station, has publicized new images of their Penn District plan, which involves the partial conversion of the Farley Building into offices for Facebook, a renovation/expansion of 2 Penn Plaza, and five new skyscrapers along Seventh and Eighth Avenues and West 34th Street. Much of the plan overlaps with Governor Cuomo's
Empire Station Complex
megaproject which envisions building a new commuter hub on West 31st Street between Seventh and Eighth Avenues that would expand Penn Station's capacity by 40% (with eight new tracks) and accommodate an additional 175,000 daily passengers. The governor's projected $6 billion scheme intends to be self-funded, with money contributed from Amtrak and a planned commercial development district whose taxes would generate revenue for the state.
Vornado's plan almost entirely lies within Cuomo's Empire Station district and their properties will likely be used to generate revenue for the state's transit expansion plans. We've previously covered the
coming expansion and recladding of 2 Penn Plaza
, and last week's
opening of Moynihan Train Hall in the Farley Building
has attracted much fanfare. The fate and timeline of Vornado's five-tower development sites have remained unclear for more than a decade. They now likely depend on the health of the city's shaken office market; however, the leasing success at Brookfield's Manhattan West and Related-Oxford's Hudson Yards may have lit the fire under Vornado to redevelop the forlorn albeit more centrally-located area.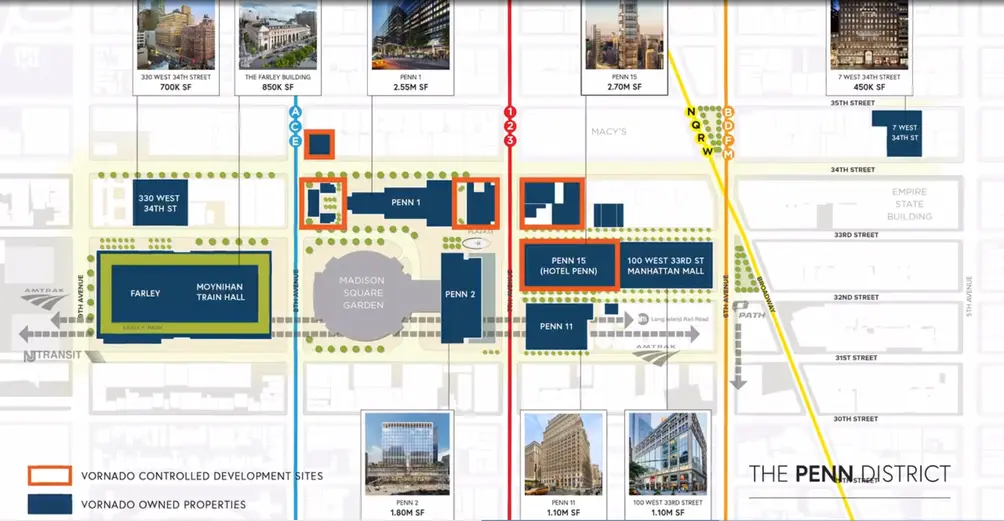 The most descriptive ground-up tower illustrated in the plan is 15 Penn Plaza, a now 20-year-old vision to replace the 1,700-room Hotel Pennsylvania with a 2.7 million-square-foot office tower. The latest iteration calls for a 1,200-foot-tall glass and steel skyscraper designed by the London-based
Foster + Partners
. While less capacious and far less floors than the 2.8 million-square-foot Empire State Building, the supertall tower would have higher ceilings allowing it to stand a few hairs short of the mooring mast of the Art Deco landmark. As Vornado's
film
touts, the gravity of Manhattan is shifting to the south and west. Losing the Empire State Building as the Midtown's central skyline fixture has been uncomfortable for some. In 2010, its landlord, Anthony Malkin, urged the City Planning Commission to scale back the height of Vornado's tower,
telling the Observer
, "What this does to New York City, we think, is wrong. It just boggles the mind that people would allow this to be done to the skyline of New York City. Is this our persona: cold; impersonal?"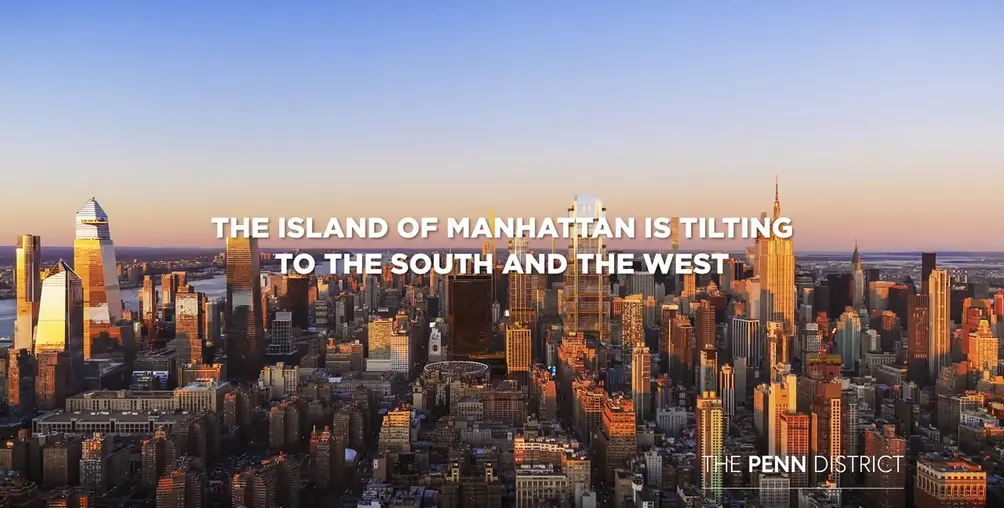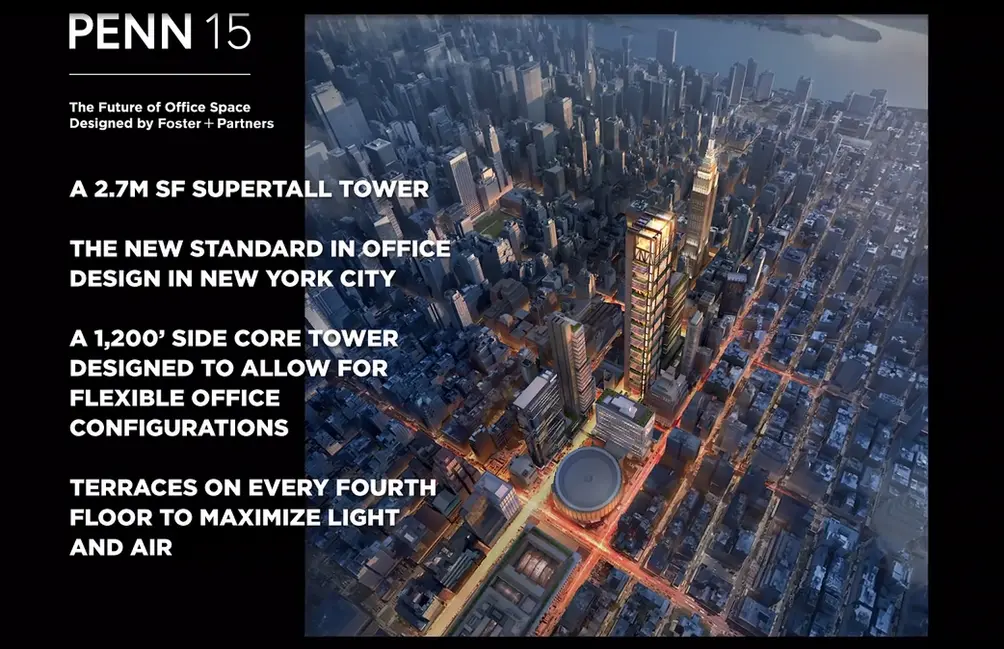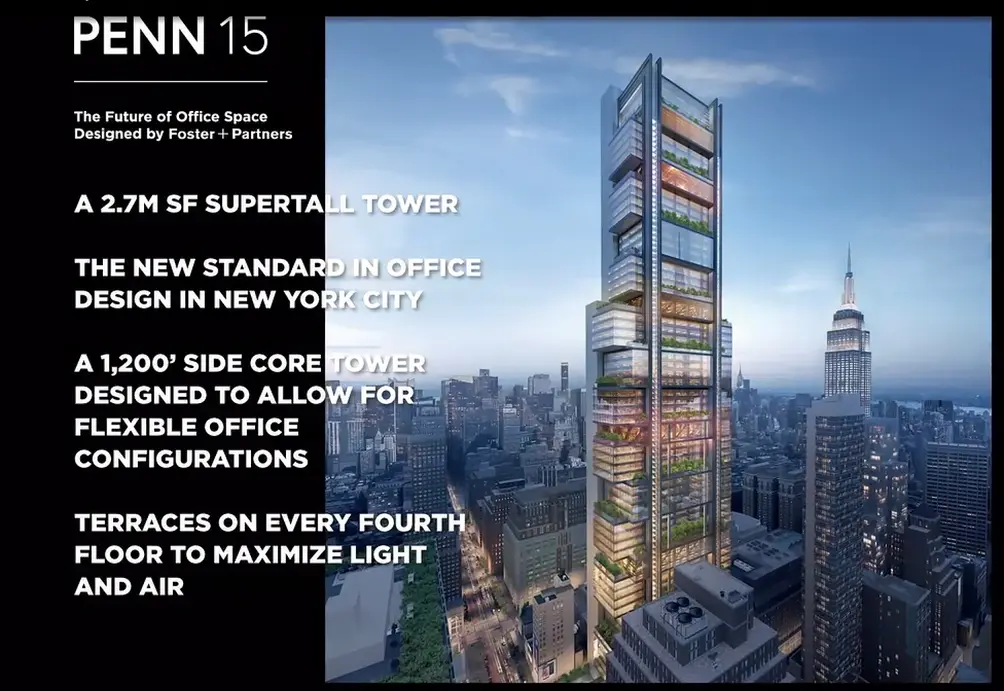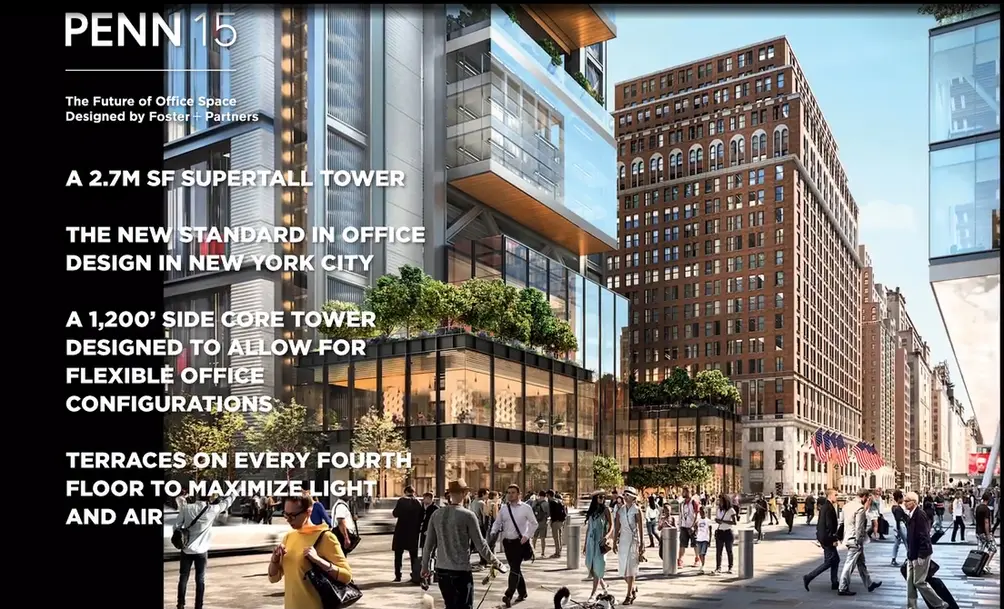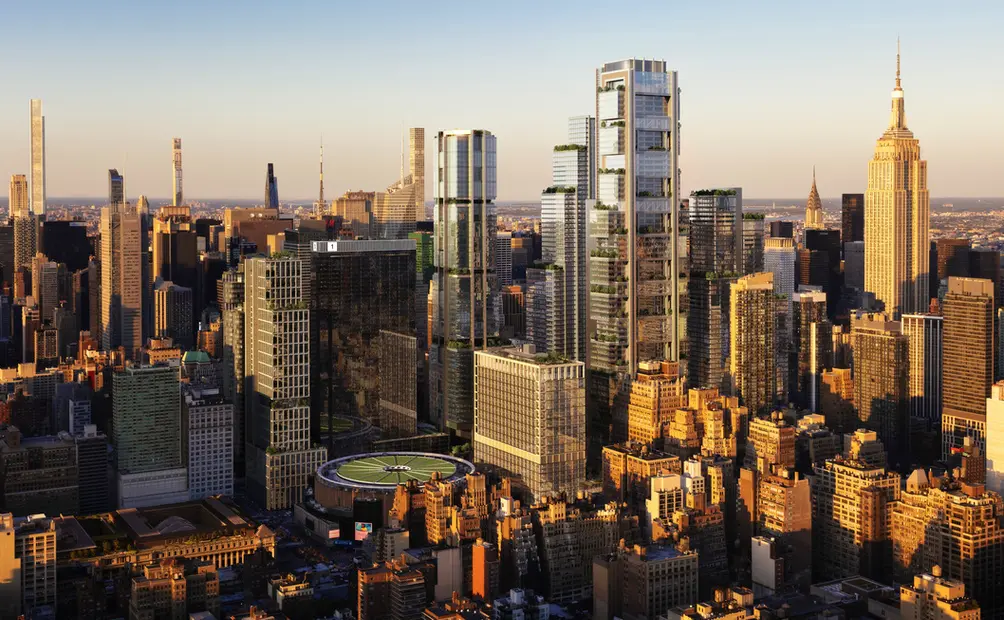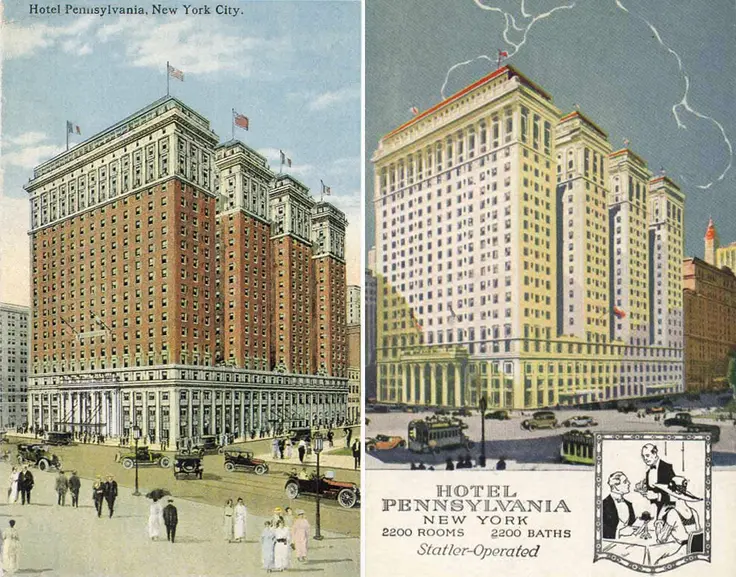 Enlarge Image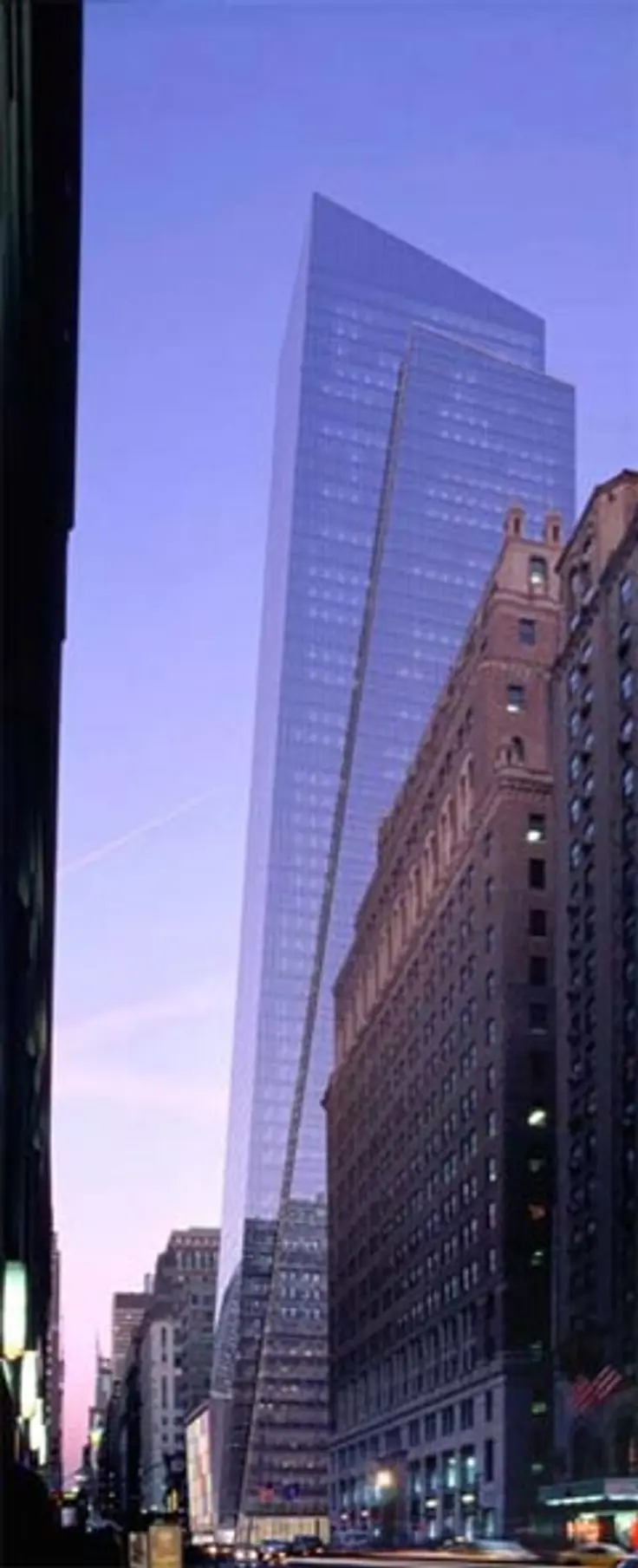 Enlarge Image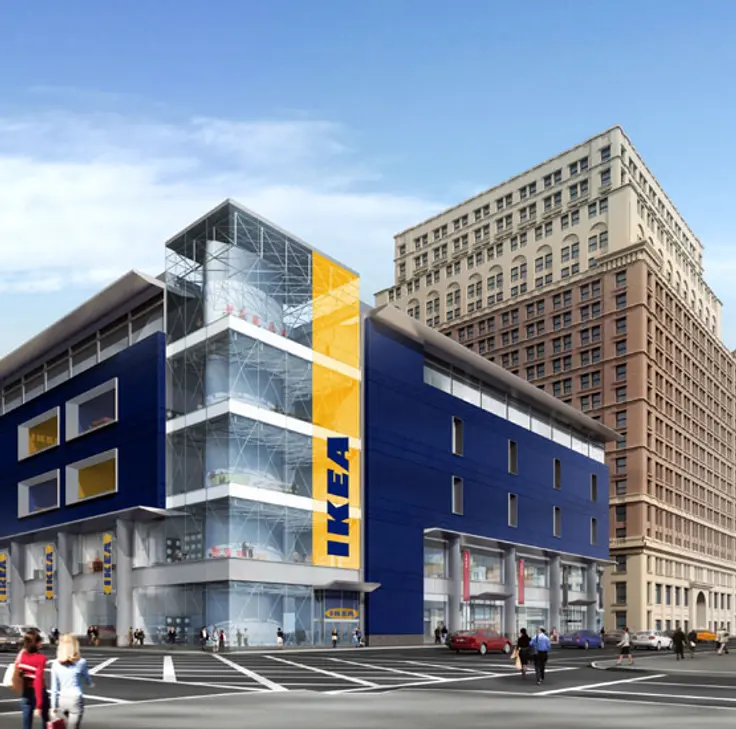 Enlarge Image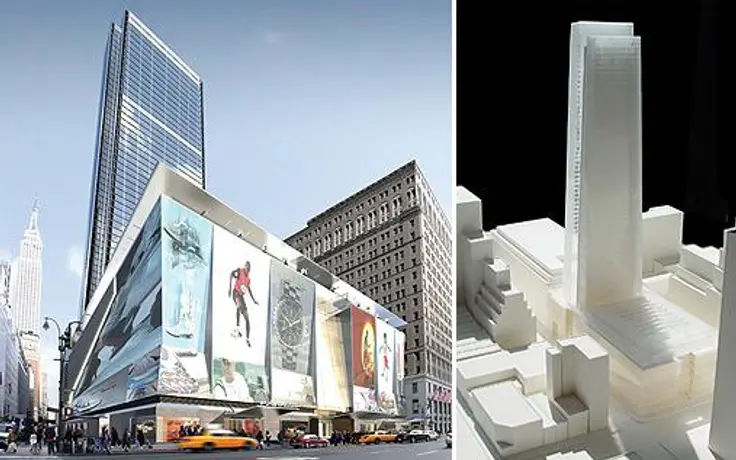 Enlarge Image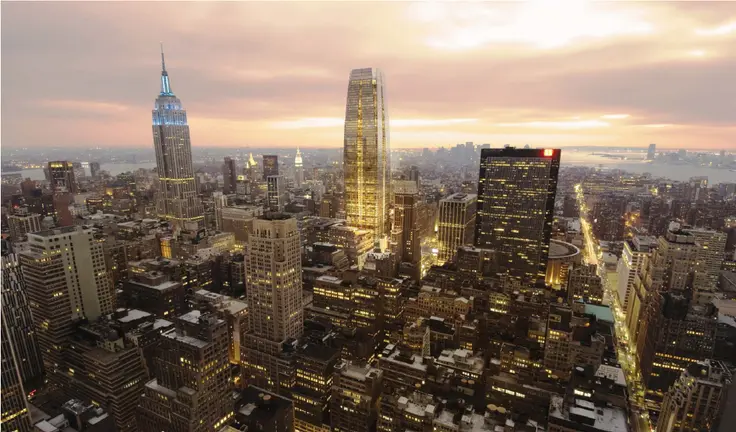 Enlarge Image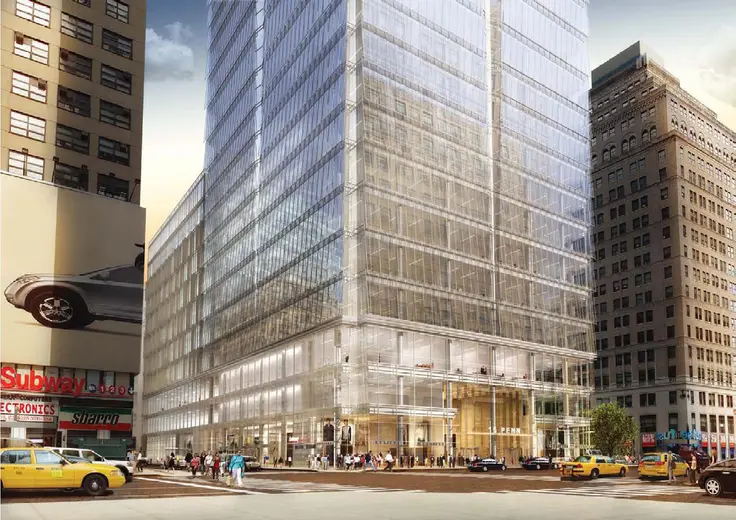 Enlarge Image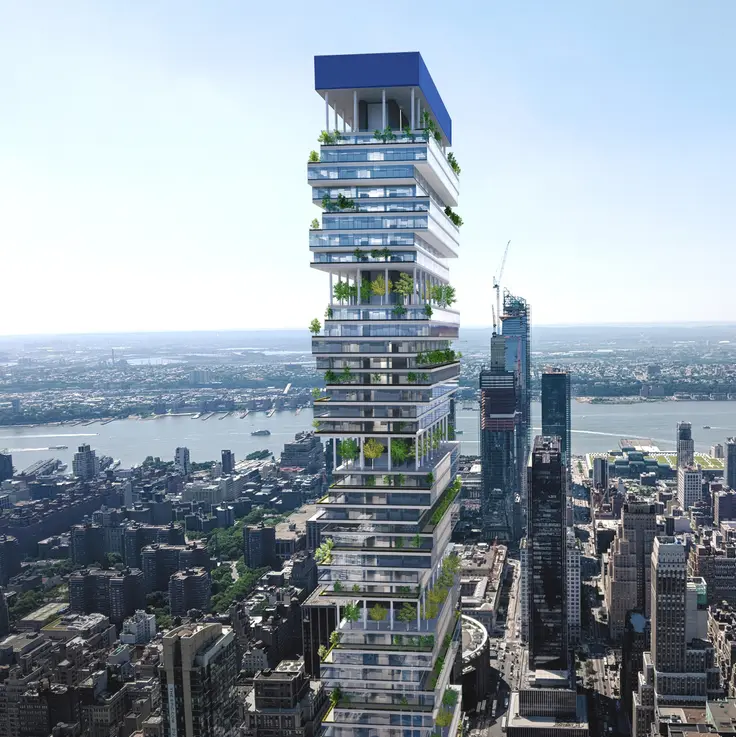 Enlarge Image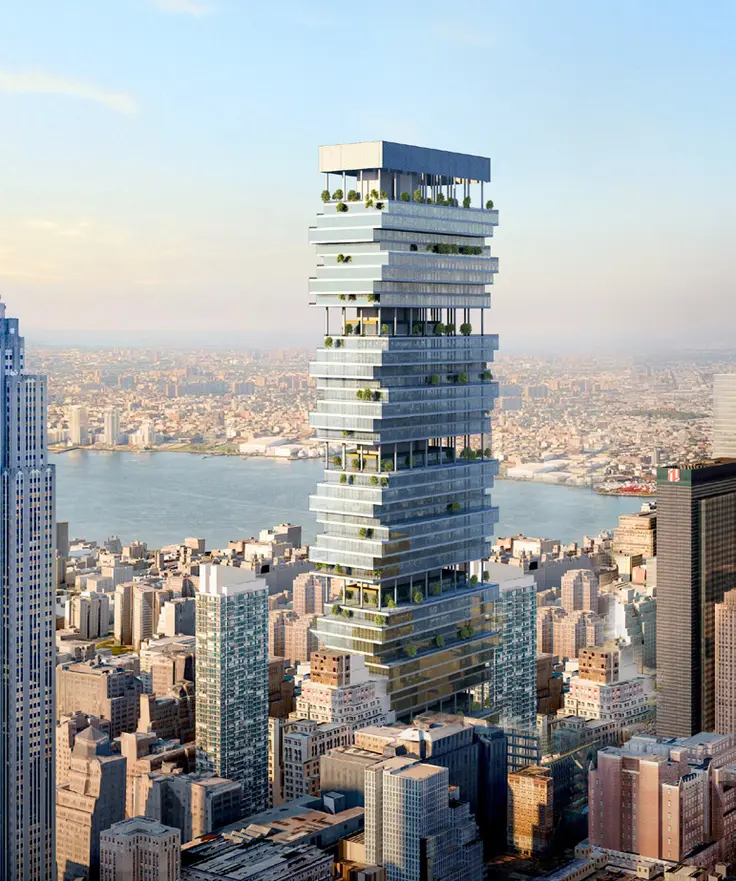 Enlarge Image
Foster + Partners has designed some of the city's most admired modern office buildings that include the Hearst Magazine Tower, 425 Park Avenue, and the yet-to-be-built 2 World Trade Center. The firm is also behind J.P. Morgan's
future headquarters at 270 Park Avenue
and a Vornado-backed redevelopment of 350 Park Avenue. If built as shown, 15 Penn's high-tech design would be novel for the Manhattan office market. It would feature multiple side cores — rather than a single central one —to facilitate more flexible office configurations. It appears the outward-facing core walls would be glazed, making for memorable elevator rides up and down the tower. And as seen in prior versions, this design promises a proliferation of outdoor space opportunities, with terraces on every fourth floor to maximize tenant light and air.
Less set in stone are plans for the two opposing sites on the south side of Seventh Avenue and 34th Street and two smaller lots on the east side of Eighth Avenue and 34th Street. Renderings show approximately 1,000-foot-tall glass towers on the Seventh Avenue sites and a pair of more articulated 700-foot-tall towers along Eighth Avenue. Madison Square Garden, the cylindrical elephant in the center of these plans, is simply shown with a green roof and is not controlled by Vornado.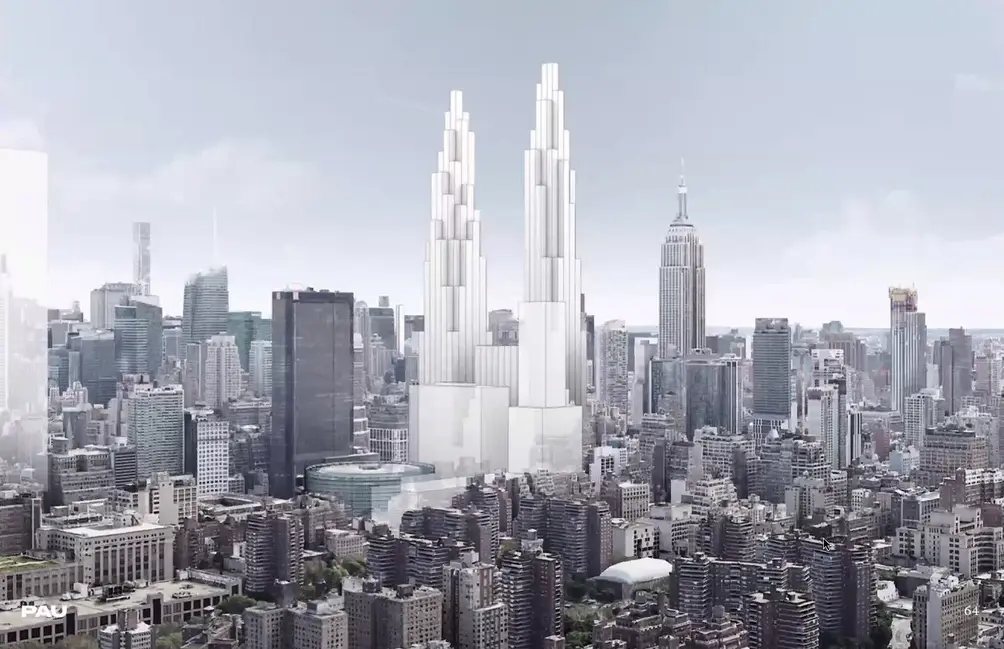 With Penn Station serving as the busiest rail hub in North America, it is likely that when/if the station is expanded one block south and the new Gateway tunnels are built, there will be a stronger push to at least partially remove MSG-Hulu Theater from the main station. Last week, Vishaan Chakrabarti's
Practice for Architecture and Urbanism
(PAU) brought to Community Board 5 a vision to convert Madison Square Garden into a new concourse for Penn Station. Madison Square Garden President James Dolan has three years left on the special operating permit that allows them to function their theater and arena atop Penn Station. In PAU's plan, the Garden would relocate east to a two-block 8-acre site between Seventh and Sixth Avenues that includes several properties owned by Vornado. The plan would have the arena at its center with four skyscrapers framing the corners.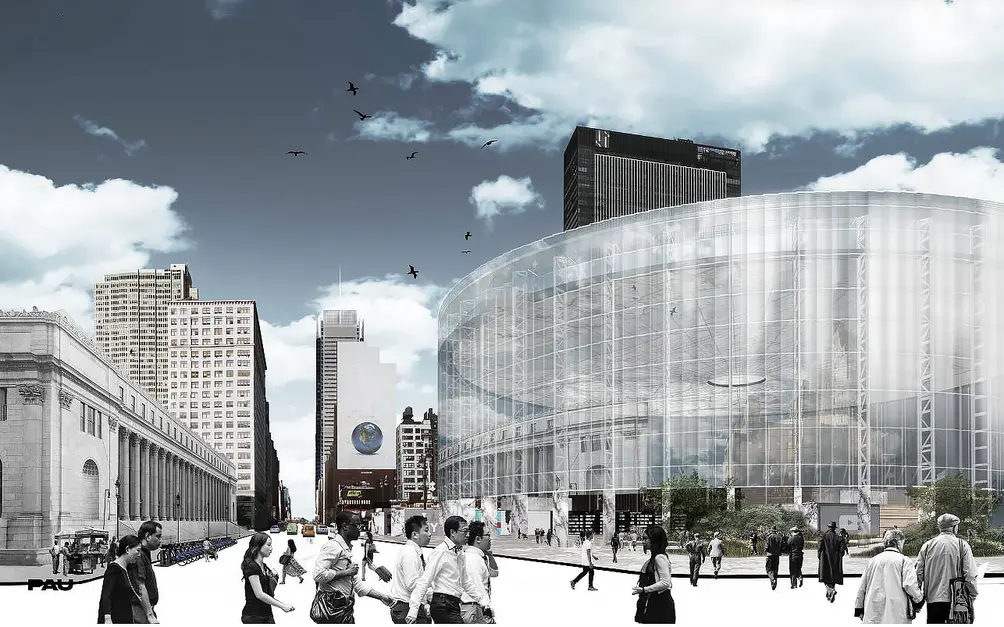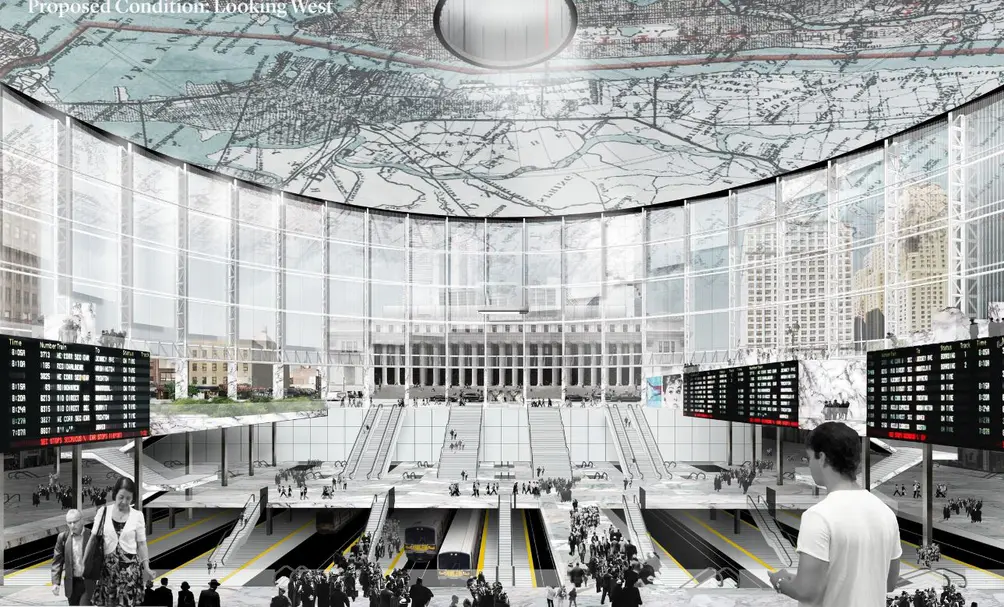 Additional Info About the Building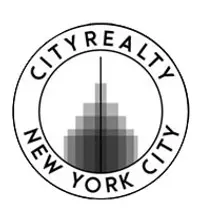 New Developments Editor
Ondel Hylton
Ondel is a lifelong New Yorker and comprehensive assessor of the city's dynamic urban landscape.