Frills are not part of the Brutalist vocabulary. Brutalist architecture has never been very popular but its blunt forcefulness, its rude breaking with tradition, and its startling and often simplistic inventiveness have made it hard to ignore and therefore still very vital.

Brutalism's roots go back to Le Corbusier and his great Marseilles apartment house of 1952 known as the Unite d'Habitation, which is noted for being raised on pilotis and its use of beton brut (rough-cast concrete) because the planned steel frame was too expensive. It also had a colorful grid façade, duplex units, and a roof with sculptural ventilation elements, a children's wading pool, and a running track. The 12-story project is also known as Cite radieuse (Radiant City) and "The Nutter's House" and has shops, a bookstore, a restaurant and sport and educational facilities. A few years later, Le Corbusier would begin designing the Capitol Complex in Chandigarh on the edge of the Punjab plain near the Himalayas in India, his Brutalist masterpiece of abstract concrete cut-outs.

While Brutalism flourished to a great extent in the 1960s, particularly in England, it has long suffered from a reputation as being "ugly" and "cheap." Yet in the face of the harshest critics, it remains in the news. And as with anything, there is, of course, good Brutalism and bad Brutalism.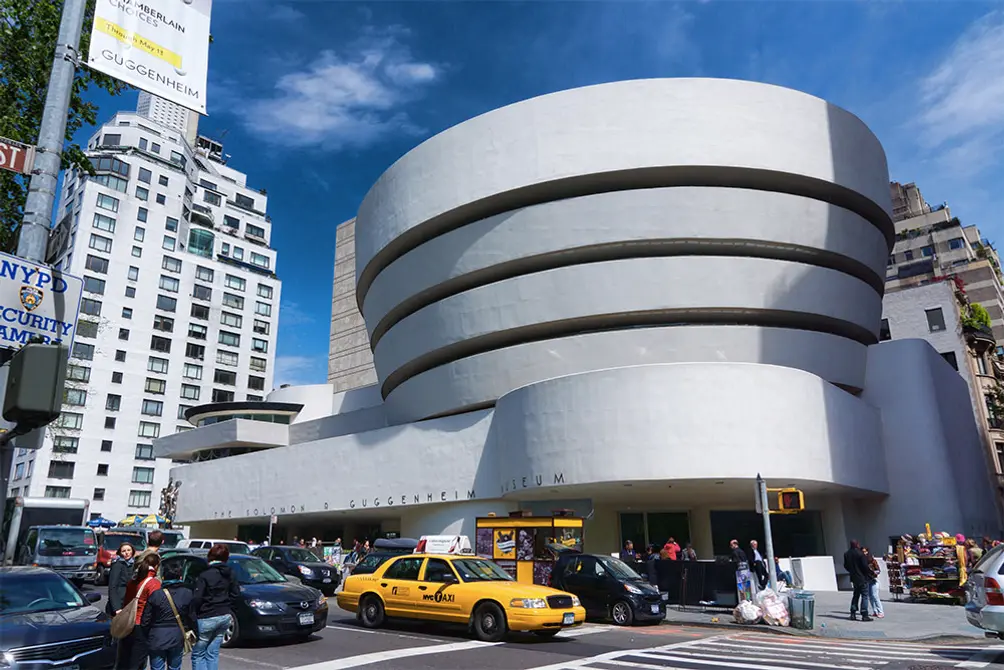 One of the most well-known and loved Brutalist masterpieces is the Solomon R. Guggenheim Museum on Fifth Avenue between 88th and 89th Streets. Built in 1959 by Frank Lloyd Wright, it curves are fortunately not threatened with demolition—though it is not a stranger to controversy. While it absolutely disrupts the avenue's masonry style, it is tour de force of modern architecture and its very bold form and strong sense of monumentality put it firmly in the Brutalist camp.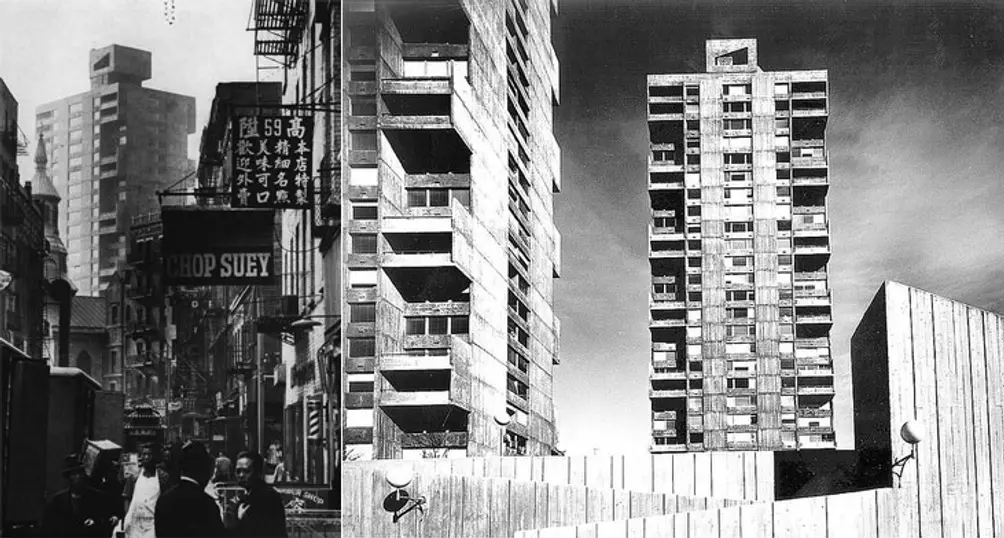 Also in the good category are Kelly & Gruzen's Chatham Towers project of 1965. The 25-story Chatham Towers project is perhaps the city's finest example of Brutalism: raw concrete structures with a strong sculptural presence.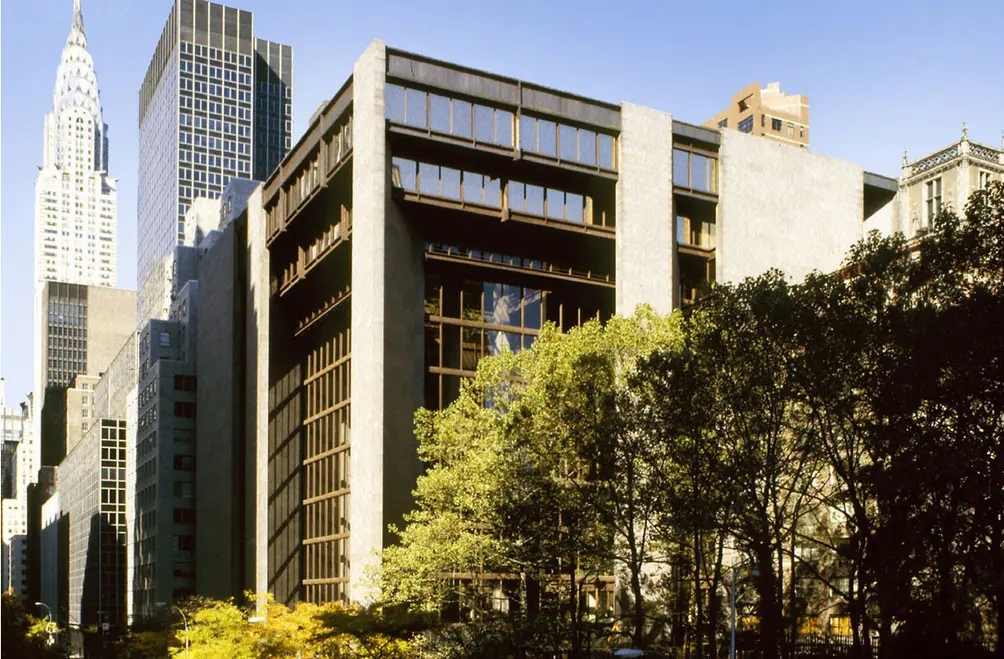 Kevin Roche and John Dinkeloo's Ford Foundation Building, constructed in 1967 at 321 East 42nd Street, is known for its lush introduction of an atrium as an alternative to a plaza. The structure's main facade is denoted by large blank walls and a very grand, but recessed, glass-enclosed atrium – a very elegant bunker.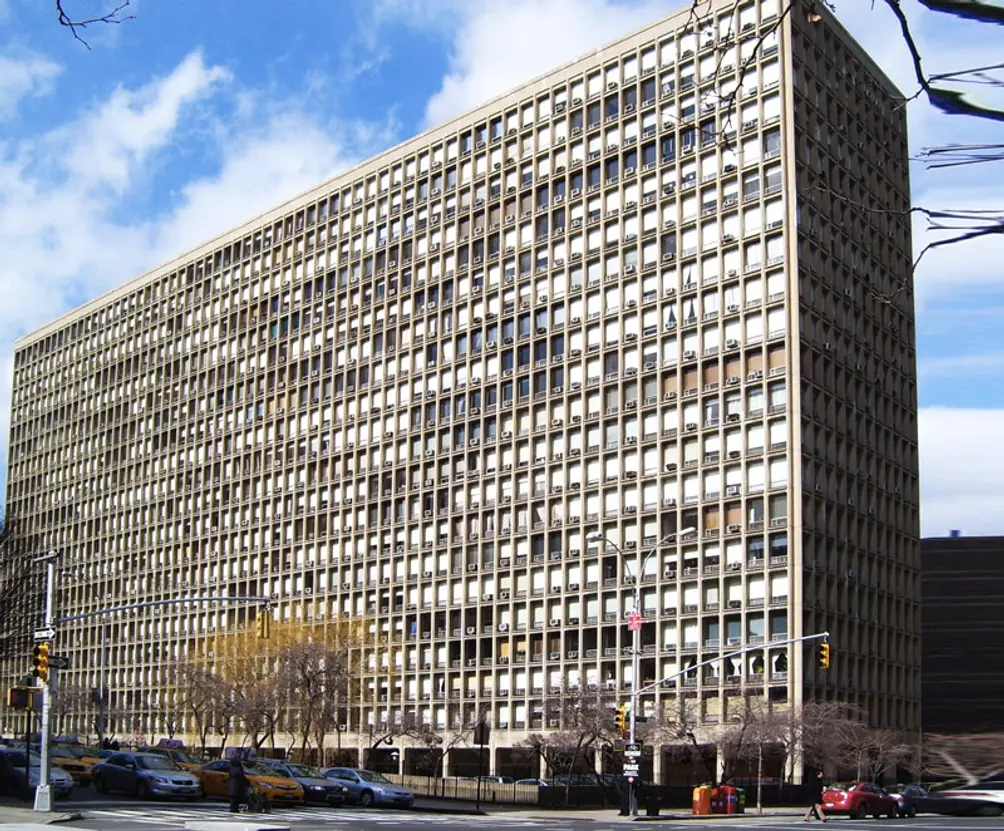 Kips Bay Plaza consists of two very long slab towers that are 20-stories high on a site between 30th and 33rd Streets and Second and First Avenues. The South Tower opened in 1960 and the north tower in 1965. Webb & Knapp, which was headed by William Zeckendorf was the developer and James Ingo Freed of I. M. Pei & Associates and S. J. Kessler were the architects. The impressive, exposed concrete towers have deeply recessed windows and a very high fenestration ratio and extensive and impressive landscaped plazas and as such they present the city's finest implementation of the "Towers in a Park" concept of city planning advocated by Le Corbusier in Paris in the 1920s.

Pei's office followed Kips Bay Plaza in 1966 with the three concrete towers of University Village south of Washington Square Park were designed by I. M. Pei in 1966 and two are owned by New York University and the third is a private co-op apartment building. The university is involved in a controversial expansion program that would add a fourth tower to this complex, which is centered around a 36-foot-high, concrete sculpture of a small Picasso work known as "Bust of Sylvette."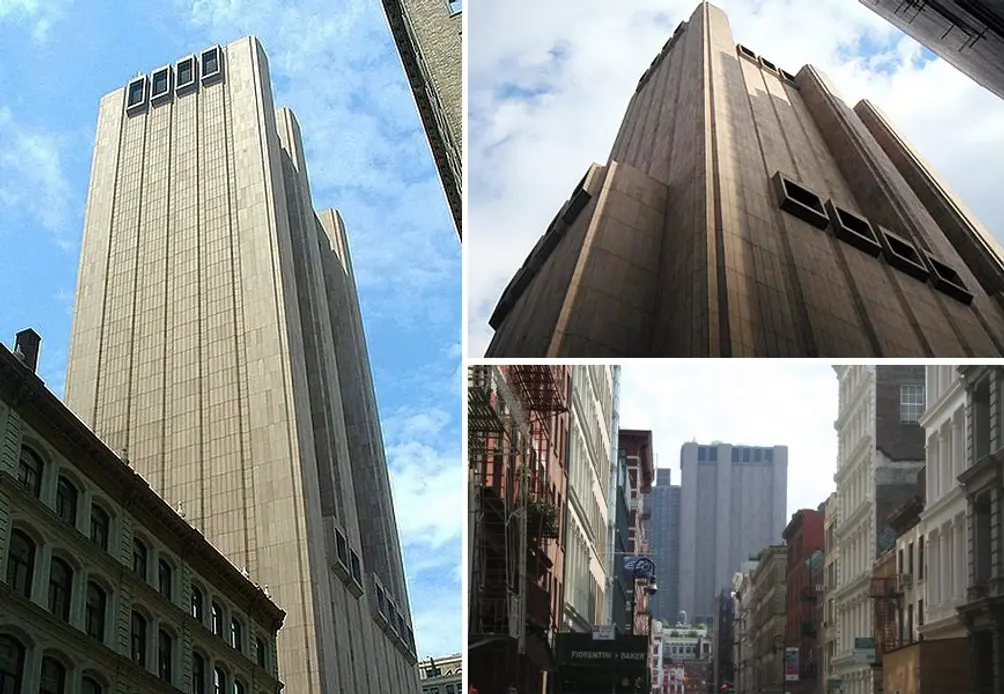 One of the city's more attractive Brutalist buildings is John Carl Warnecke's tall, windowless, 1974 Long Lines Building at 33 Thomas Street in TriBeCa whose granite facades with protruding air ducts near the top are very elegant and make it mysterious -– a modern Mayan temple.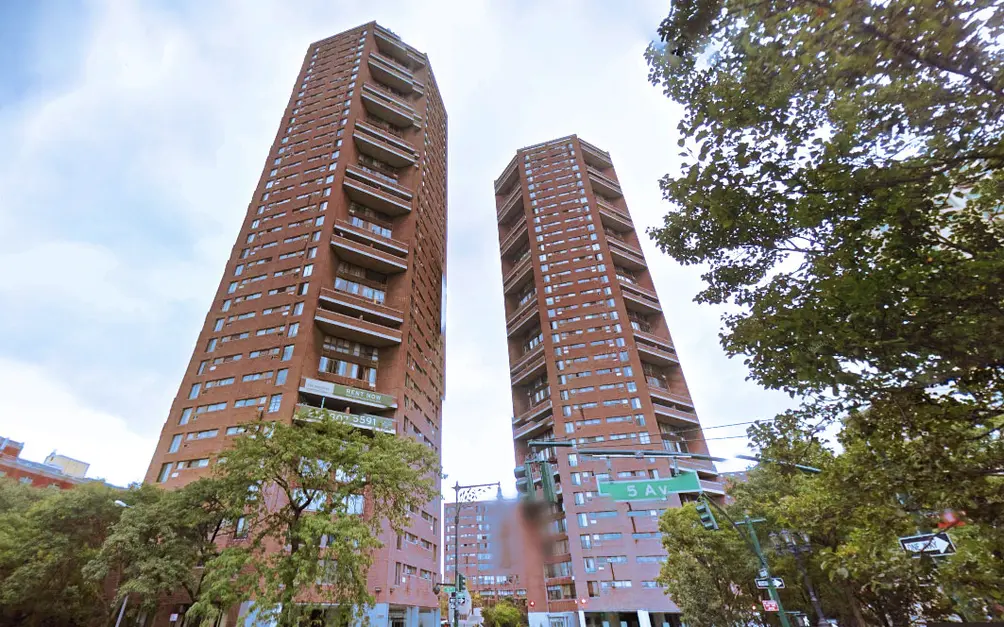 Also praiseworthy is the Arthur A. Schomburg Plaza at the northeast corner of Fifth Avenue and 110th Street overlooking Central Park and designed by Gruzen & Partners in association with Castro-Blanco, Piscioneri & Feder. Made up of two very strong-looking and handsome, octagonal, reinforced concrete towers, this Brutalist creation adds dimension with pairs of recessed balconies with two floors between each pair. The 1975 buildings were renamed Heritage at Schomburg Plaza when they were removed in 2009 from the Mitchell-Lama affordable housing program.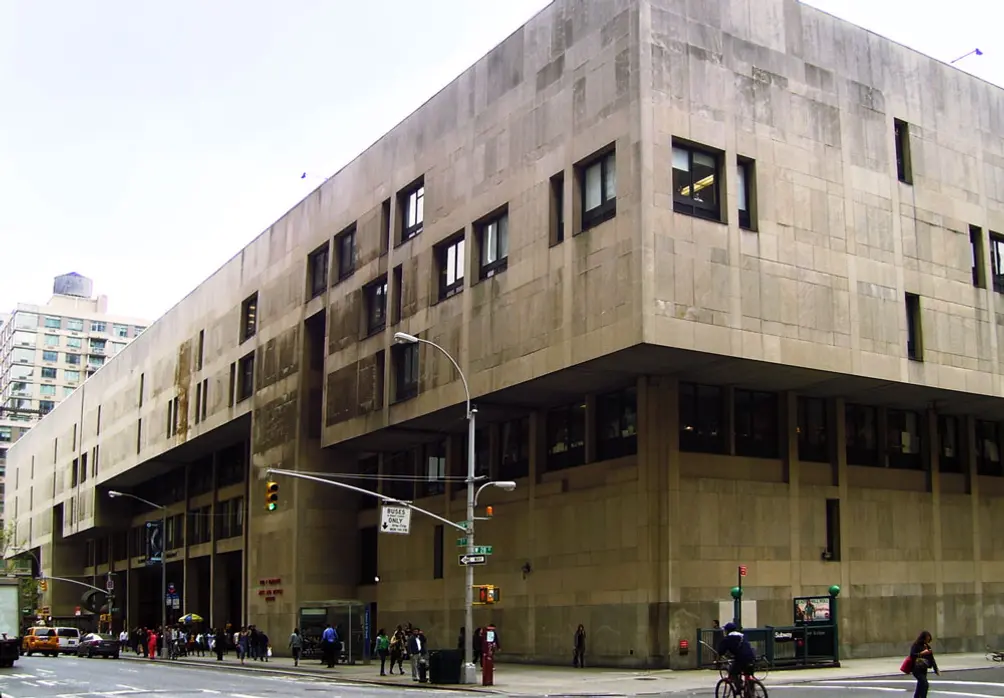 The Fashion Institute of Technology (FIT) has filled most of the two blocks between Seventh and Eighth Avenues and 26th and 28th Streets with a mélange of Brutalist works, starting with a rather startling aluminum-clad, mid-block building fronting 27th Street designed by De Young, Moscowitz & Rosenberg in 1959 with diamond patterning in two tones and gold-colored square window frames.

The architects followed that construction the next year with Nagler Hall which touts a concrete façade with deep-set windows with eight-side framing. And in 1977, Youssef S. Bahri of the same firm designed the huge "megastructure" on Seventh Avenue straddling 27th Street, an undeniably hulking yet impressive building.

Though wildly derided, this group was true to the dictates of fashion to be "distinctive" and even controversial. While most educational and health institutions in the city have fostered pretty banal architecture, FIT has, in comparison, been heroic, at least from a Brutalist vantage point.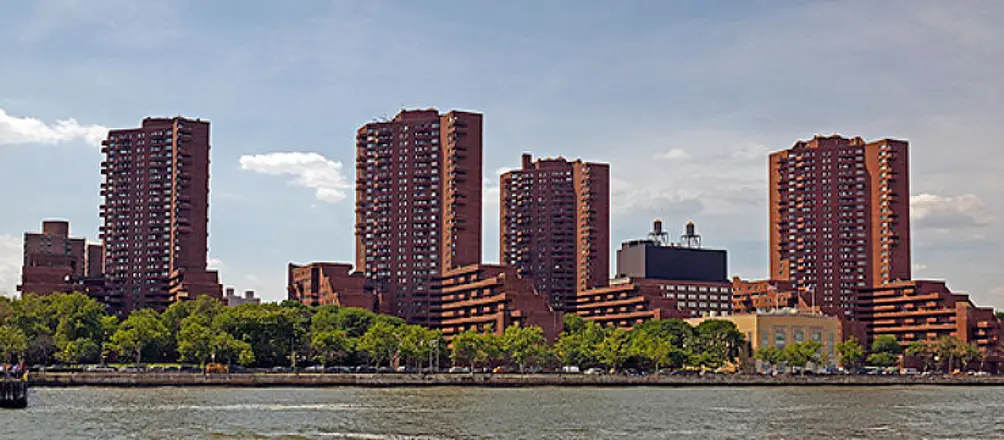 The 1199 Plaza development on the east side of First Avenue between 107th and 111th Streets is a massive four-tower complex that exemplifies that fortress aesthetic of many Brutalist projects. Each tower has two mid-size wings that cascade towards the East River with communal balconies on the inside of the U-shaped plan and the towers present an extremely rugged appearance inland with its many "solid" balconies. It was eventually renamed East River Landing. Individually, ungainly and asymmetric. Collectively, a memorable phalanx of rugged sculptural quality.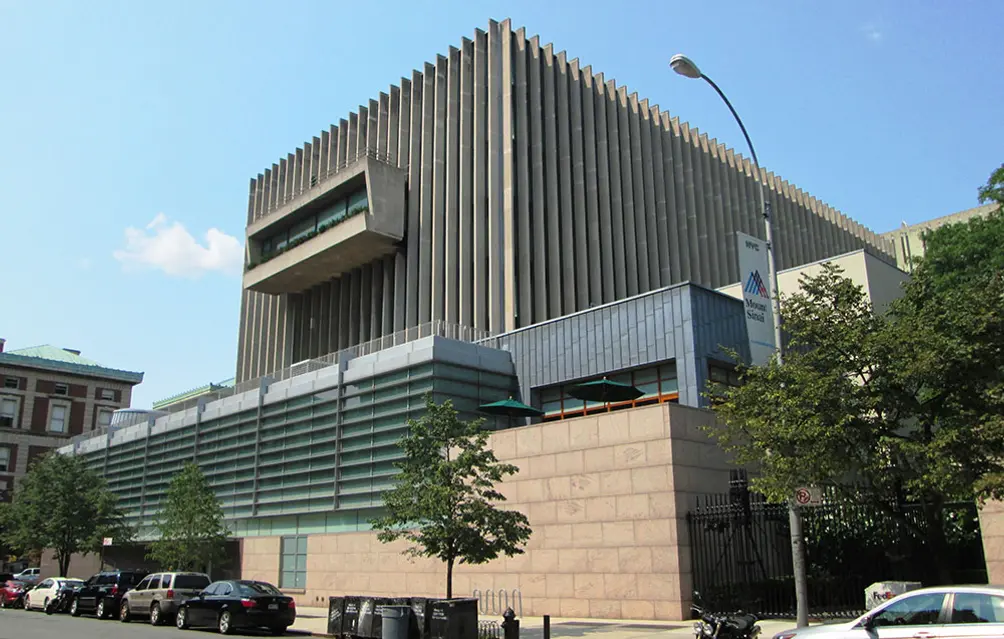 In the bad category are the just plain ugly Columbia University Law School, also known as "The Toaster," and designed by Harrison & Abramovitz in 1961, and the 1969 classroom 12-story tower known as Helen Goodhart Altschul Hall designed by Vincent Kling. The latter was described in "New York 1960 Architecture & Urbanism Between the Second World War and the Bicentennial" by Robert A. M. Stern, Thomas Mellins and David Fishman as "having a menacing aspect."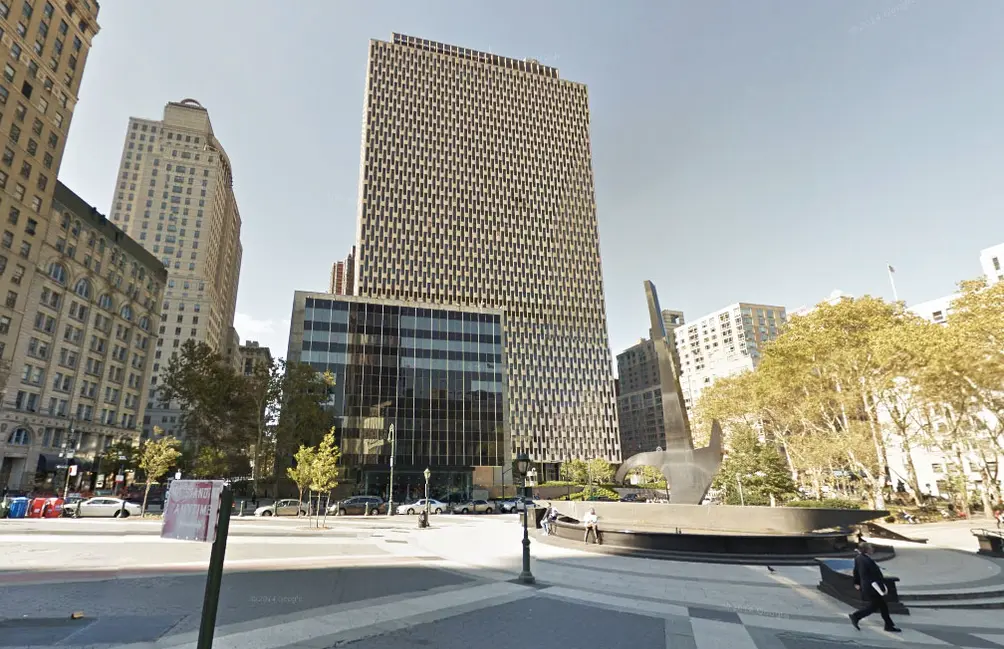 The unattractive granite checkerboard-like façade of the Jacob K. Javits Federal Office Building and International Court of Trade on Broadway erected in 1967, to a design by Kahn & Jacobs and Eggers & Higgins, clashed wildly with the formal classicism of the Foley Square courts.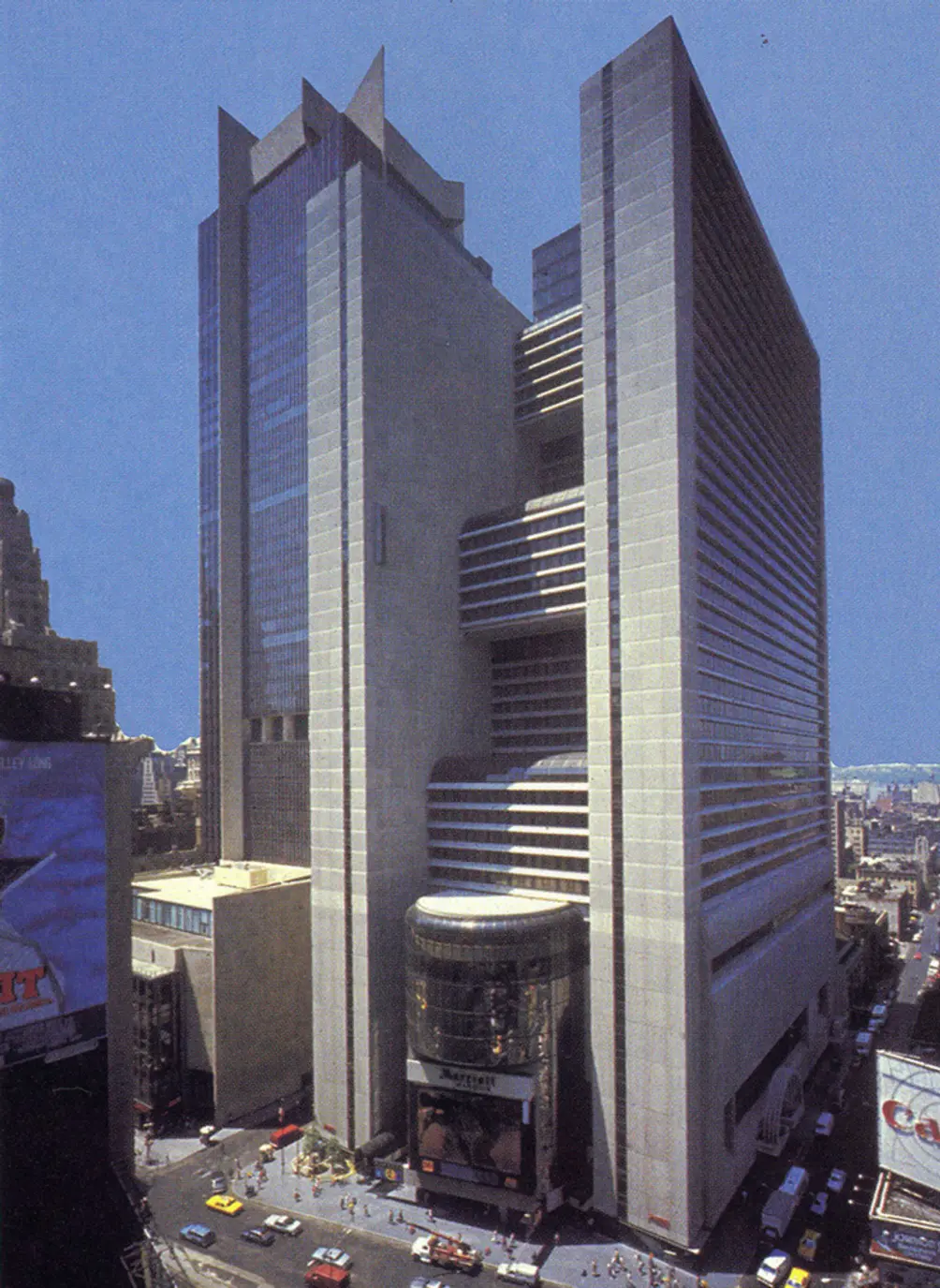 John Portman's Times Square Hotel was a very tall "fortress" convention/tourist hotel with a very large and spectacular atrium with curved glass elevators and with seemingly random setbacks on Broadway. Construction began in 1972 but it was not completed until 1985. The scale of the project was instrumental in stemming the horrific decline of the area because of crime and rampant pornography. A true product of its time, it was not graceful, but it sure delivered a knockout blow to the area's downward rush toward total tawdriness. It also wowed those who ventured inside.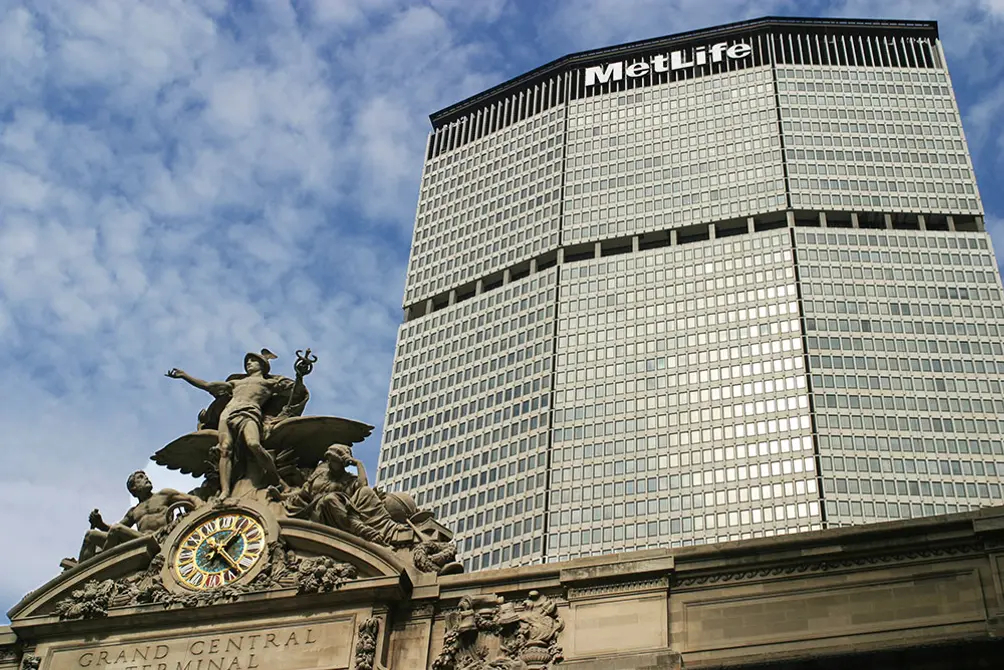 The elongated octagonal, plan of the MetLife building, designed with abundant Brutalism in 1963 by Emery Roth & Sons, Pietro Belluschi and Walter Gropius, and its very pronounced indented mechanical floors, its "floating" and now defunct helipad roof and its protruding fins between its windows would make it one of the city's most likable major towers at any other location.

The staccato facades not only clashed with the pre-war formalism of Warren & Wetmore's great "Terminal City" environs of Grand Central Terminal but dominated and virtually obscured the great New York Central/New York General/New York Helmsley Building with its fabulous cupola romantically straddling Park Avenue one of the city's greatest architectural jewels.

Furthermore, the unsightliness of its very poor granite panels at its base also demeaned this very important neighborhood.

The tower's form, vaguely reminiscent of archaic Chinese bronze containers, obviously influenced the very exciting and excellent 1969 plan for Battery Park City created by Wallace K. Harrison, William Conklin, Philip Johnson and Alan M. Voorhees & Associates, which called for three huge MetLife-style towers connected by skywalks and also to a smaller but still very large slab structure to the north with people-movers. That very grand plan called for 21,000 new housing units, but, unfortunately, was not executed and was derided by some civil rights leaders as "The Riveria on the Hudson."

It will be dwarfed, however, by a very tall tower planned by S. L. Green on the block between Vanderbilt and Madison avenues and 42nd and 43rd streets that has been very awkwardly designed by Kohn Pedersen Fox in a most unusual "spot-zoning" by the city, which is backing the plan as a forerunner to the proposed "East Midtown Rezoning" scheme to upgrade many existing properties in the area around Grand Central Terminal that the city now considers "outdated."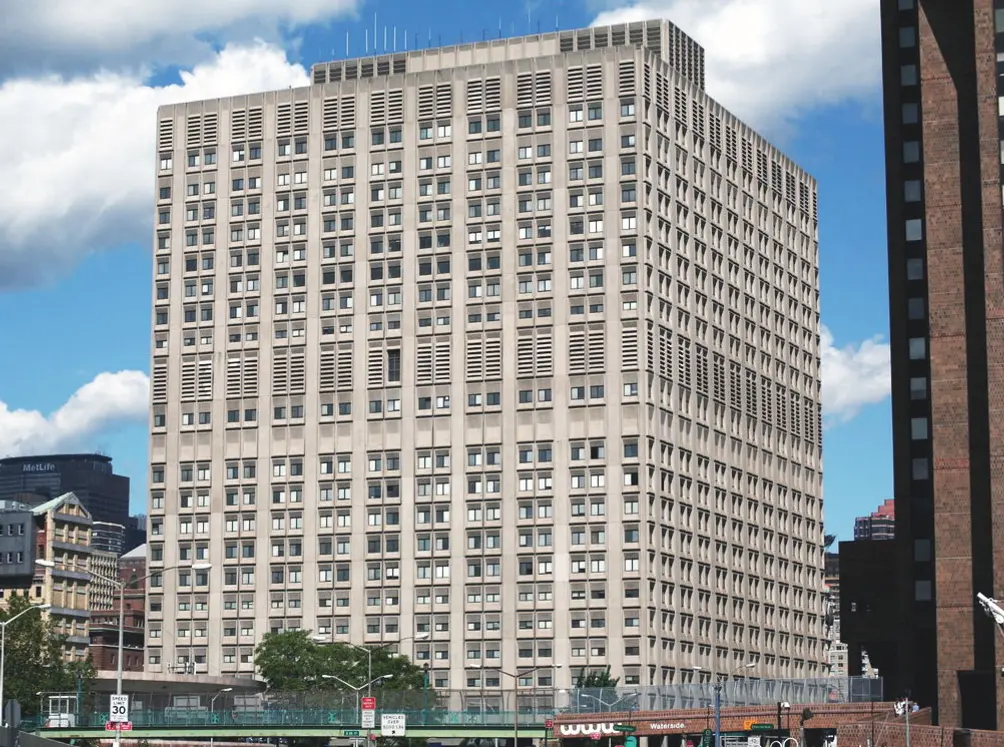 The "New Building" at Bellevue Hospital on the west side of the F.D.R. Drive between 27th and 28th Streets was completed in 1974 and is probably the city's most unattractive, or, at least, ungainly, building (inside: 1,500 beds across 25 stories). It was designed by Pomerance & Breines in association with Katz, Waisman, Weber & Strauss and Joseph Blumenkranz. This gigantic and very bland grey cube needs a yellow ribbon!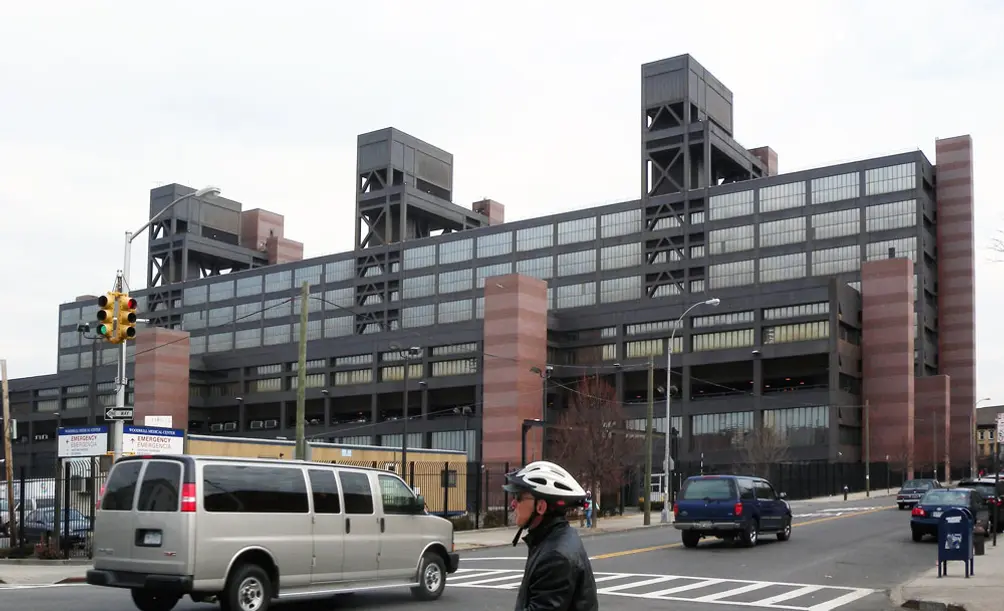 Construction on the Woodhull Medical Center in Brooklyn began in 1971 and it was intended to replace Greenpoint Hospital. The building, which was initially budgeted to be just $85 million, was completed in 1978 at a cost of about $300 million. Concerned that it might be too expensive to operate, the city tried unsuccessfully to convince the federal government to use it as a jail. It then put the project's opening on hold, but finally opened in 1982.

It was no white elephant as its 700-foot-long central slab was covered in gray tinted glass with panels of weathering steel that was also used in its very large, exposed framework. It was designed by Kallmann & McKinnell of Boston and Russo & Sonder of New York and contained 610 beds on a 12-acre superblock bounded by Broadway and Flushing, Throop and Park Avenues.

The mammoth, 10-story structure looks like might be a giant grainery with fancy silos, or a new Vehicle Assembly Building for NASA. Its darkness gives it the allure of intrigue, an attribute that is missing from many megastructures, but one that in no way diminishes its ominous presence.
Additional Info About the Building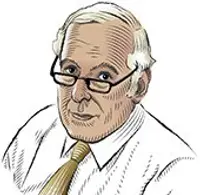 Architecture Critic
Carter Horsley
Since 1997, Carter B. Horsley has been the editorial director of CityRealty. He began his journalistic career at The New York Times in 1961 where he spent 26 years as a reporter specializing in real estate & architectural news. In 1987, he became the architecture critic and real estate editor of The New York Post.