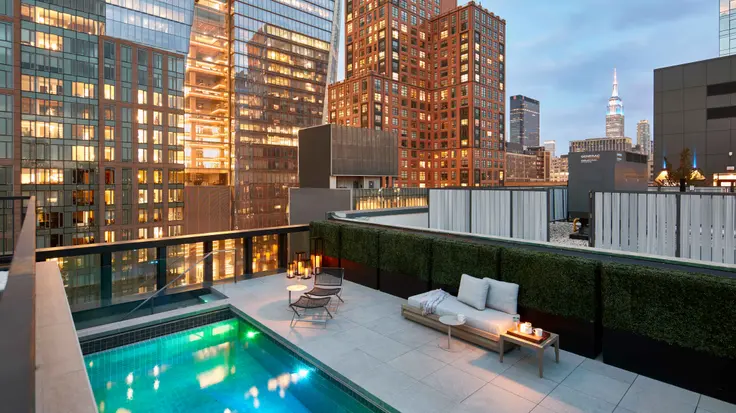 Opened in late 2018,
Soori High Line
is a recent condominium development situated steps from the High Line and Hudson Yards. Designed by Singapore-based
SCDA Architects
and developed by Siras Oriel, the West Chelsea offering ranks among the most unique condos in all of New York City. Living room ceilings rise to atrium-like heights and are amplified by full-height windows with twinkling city views. Luxuriant finishes permeate down to the smallest touches, such as leather-wrapped door handles. Select units, which range from one to five-bedrooms feature glass-walled, private swimming pools, which come into full view from the living area.
For this next episode of "Real listings, imagined lives," we tour Soori's still-available
Penthouse 10B
, an incredible 3-bed, 3.5-bath home spanning two levels (plus rooftop pool) and 2,708 square feet. The unit has an ask of $15,100,000. Other available dwellings in the building include a
second-floor 3-bed
for $5,750,000 at the low end and a
5-bedroom penthouse
for $22,500,000.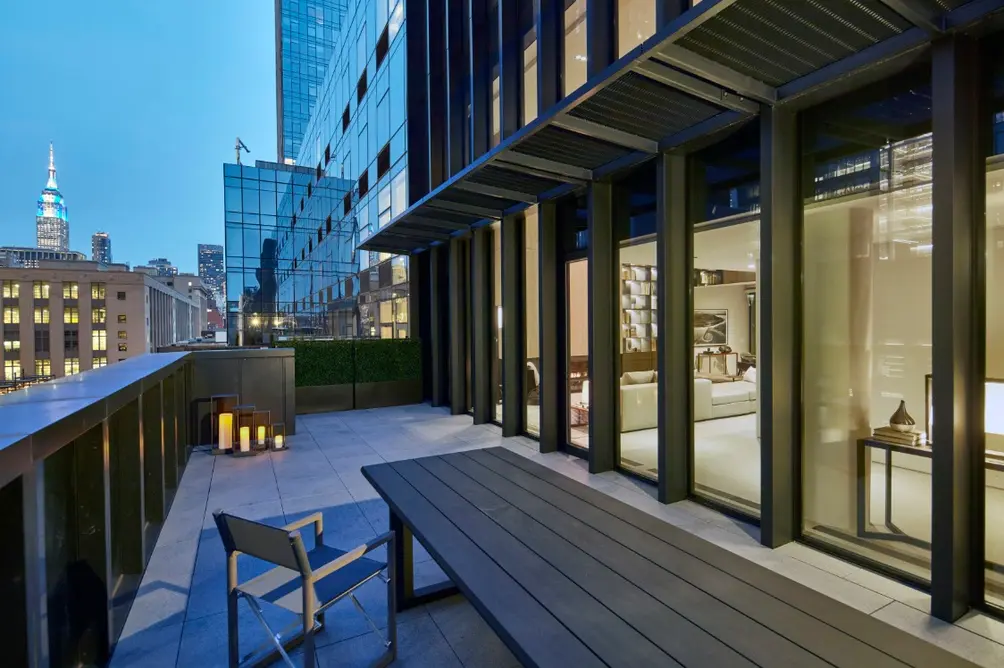 In this series "Real listings, imagined lives," we take inspiration from real-life listings and overlay an imagined story. The traditional real estate listing descriptions are fictionalized to add fascination and a New York edge. The series envisions residents, neighborhoods, culture, and more around NYC homes for sale. New Yorkers are anything but ordinary, and so their home descriptions should not be either. So our stories take creative license and New York chutzpah to reveal the most interesting aspects of listings as we imagine the lives lived in these amazing homes and neighborhoods.

In this installment, Michelle Sinclair Colman explores a dog walker's "rebel without a cause" adventures on the High Line.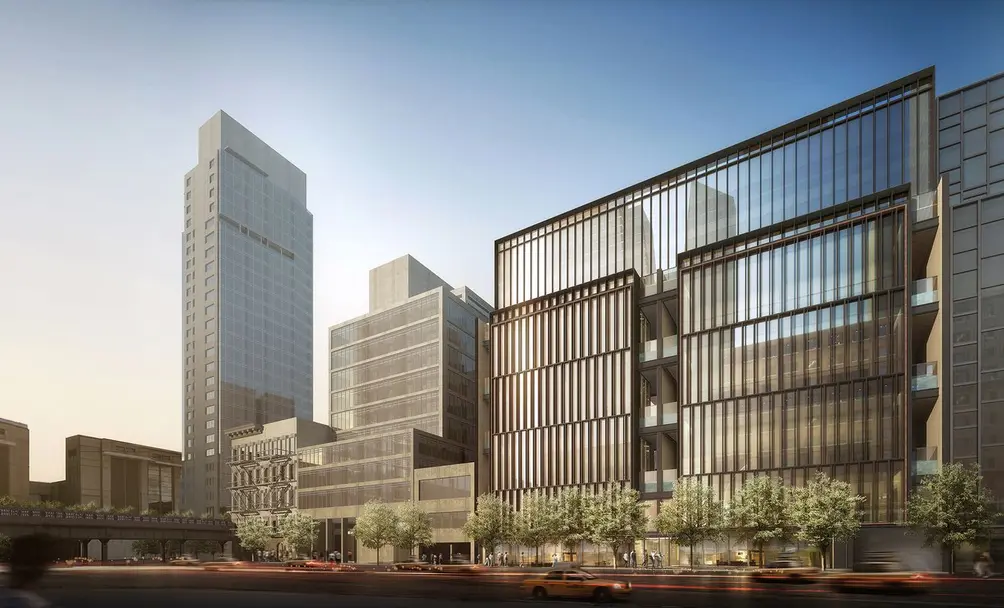 I have a love-hate relationship with this job. I told myself (and my parents) it was only temporary until I finally figured out my "passion" but being paid to walk other people's dogs ain't all that bad.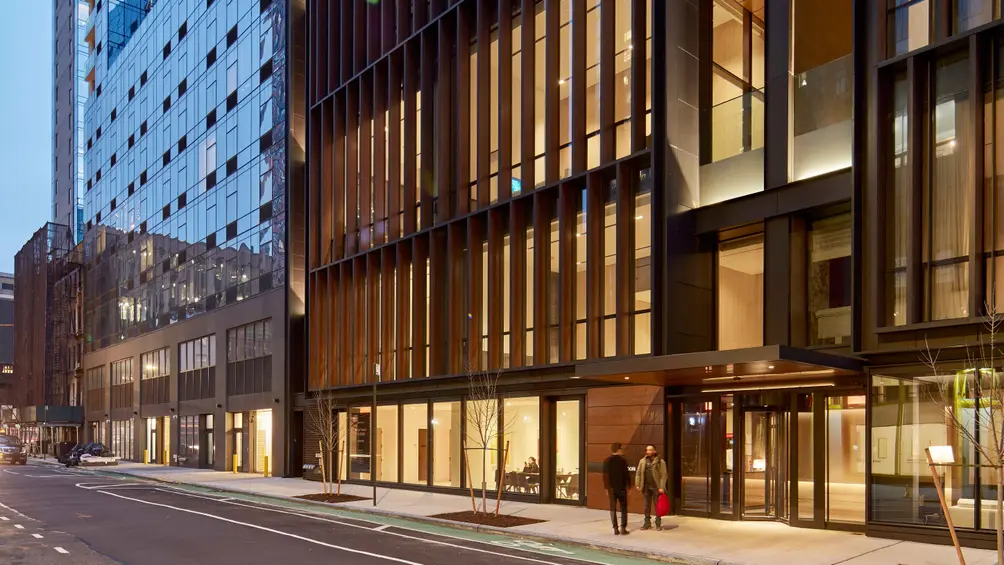 One of the biggest perks is getting to see the private lives of these ultra-rich Manhattanites that I'd never ever get close to otherwise.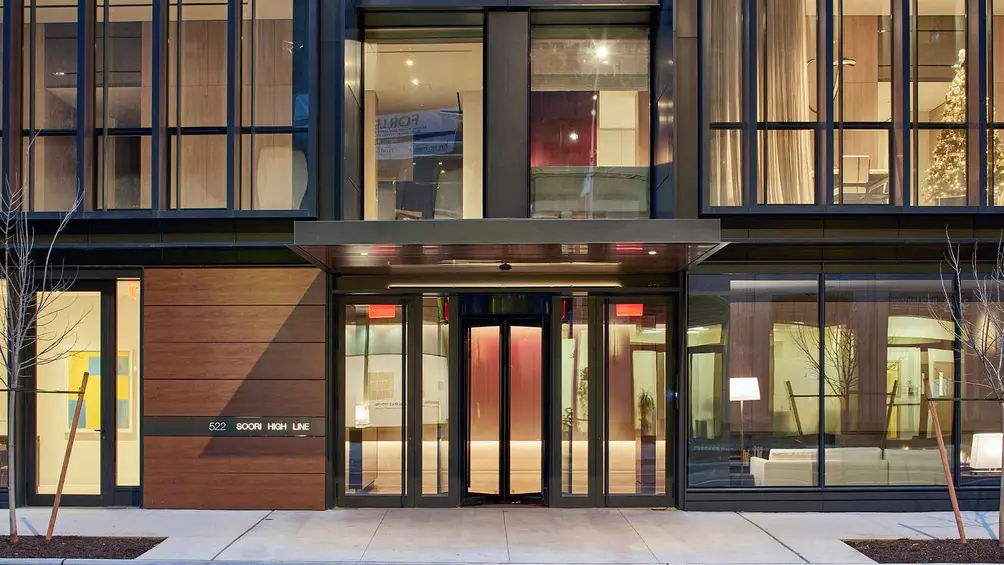 The Soori is one of my favorite buildings. You will understand why when we go in.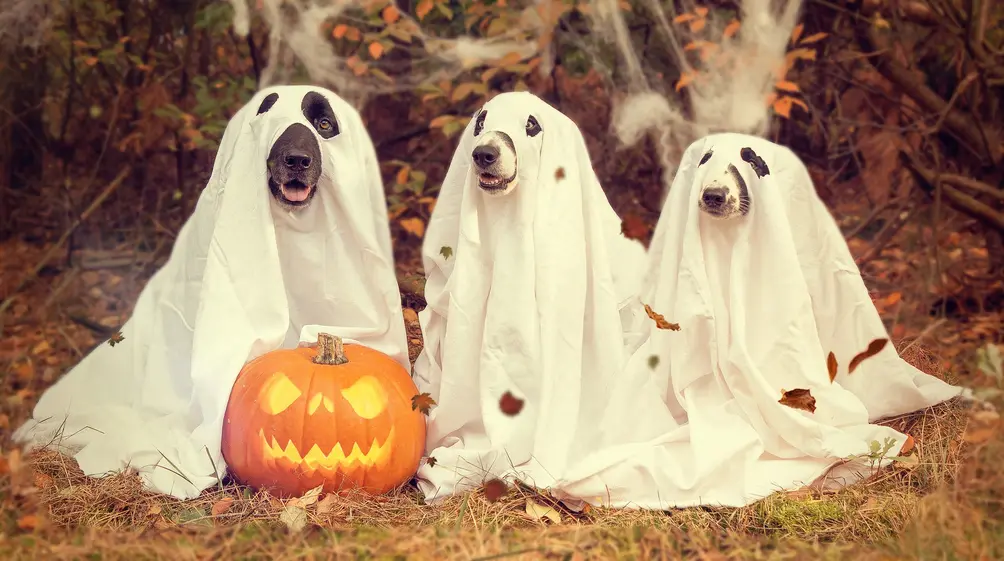 First though, I have to tie the other five dogs, my motley crew, to the tree outside. I chose the tree on the left instead of the right today because I have to alternate which tree I tie up to each time because five dogs peeing on the same tree at one time could mean instant death.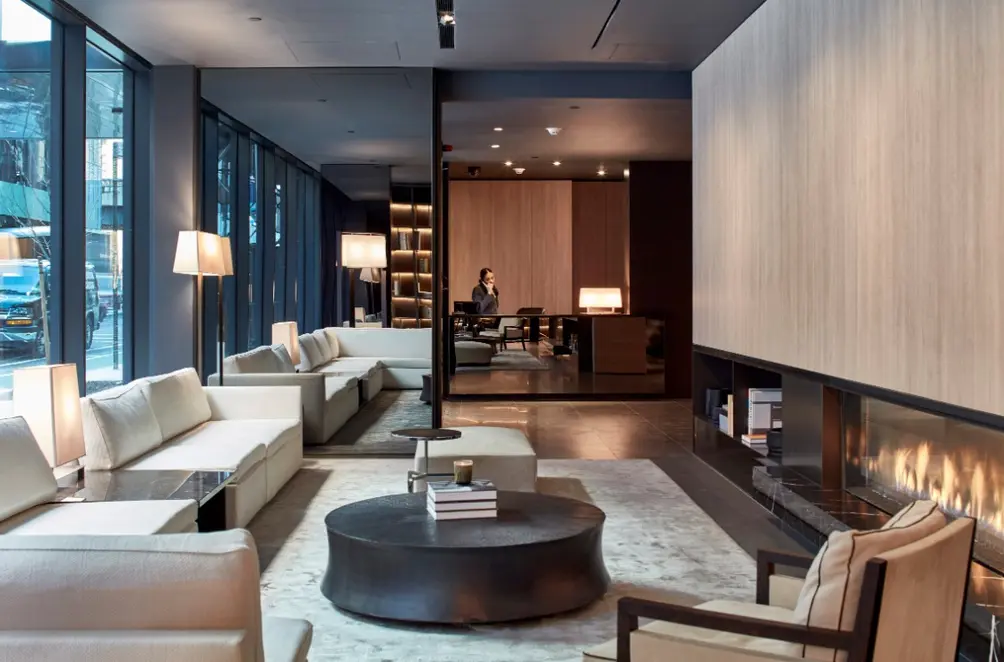 That concierge may look super sweet but don't you dare mess with her building.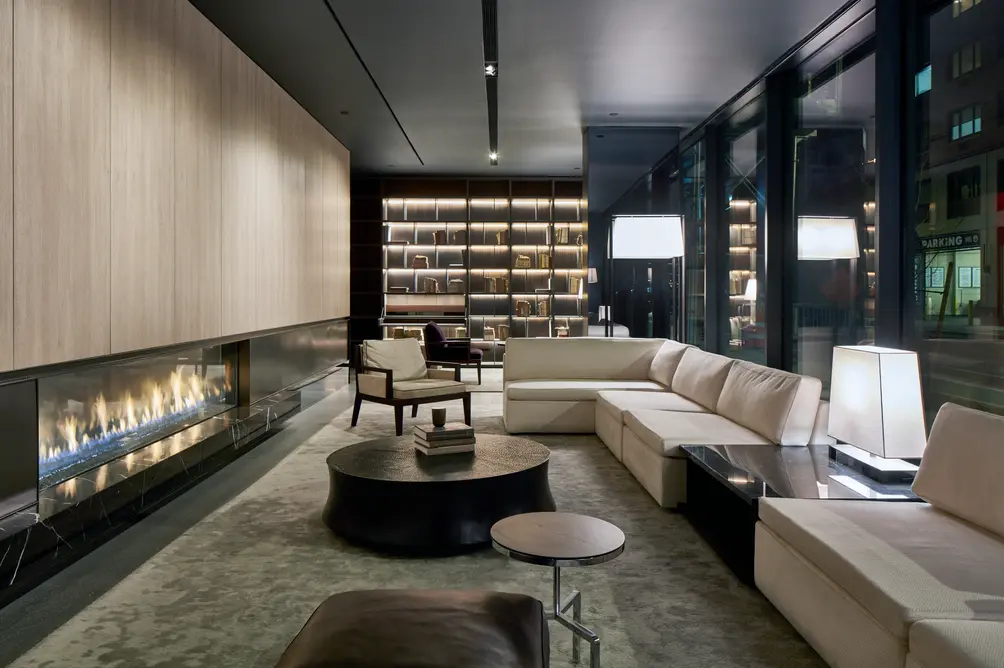 I wipe off the dog hair (or what I can of it), re-adjust my ponytail and walk with my head held high into the lobby. That cozy couch in front of the roaring fire calls to me like a siren. I wonder if they'd notice if I just took a little breather? Oh, she will notice. I quicken my step.
The doorwoman calls the elevator for me. As I walk up to it, the doors open and I stride in. This is how it's done. I push the button to the penthouse.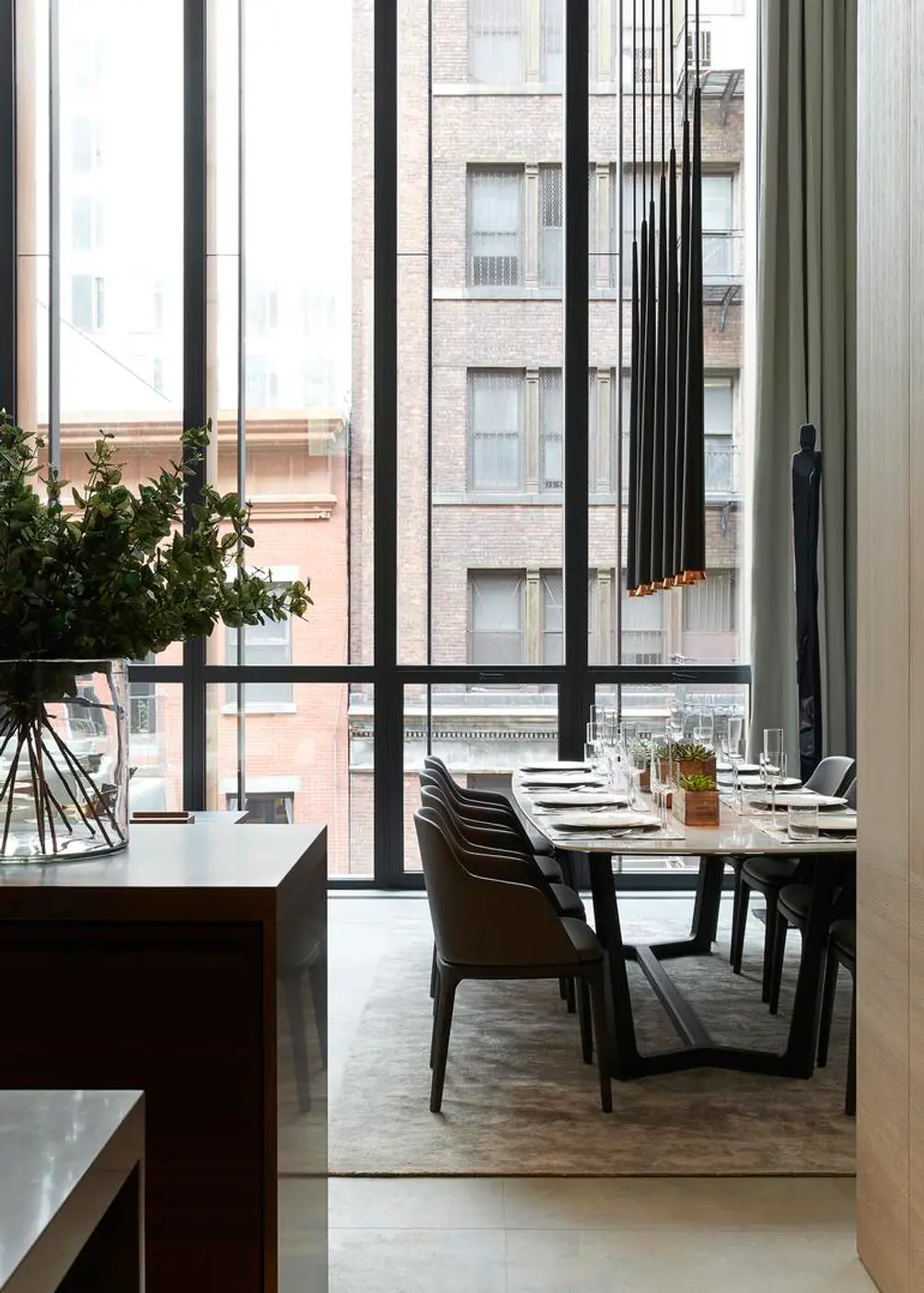 The elevator opens directly into this incredible apartment's grand foyer. Yes, of course, it has a foyer- and of course, it is grand. The living room has massive floor-to-ceiling windows and the sun is pouring in. Is it possible the sun shines more on the top 1%?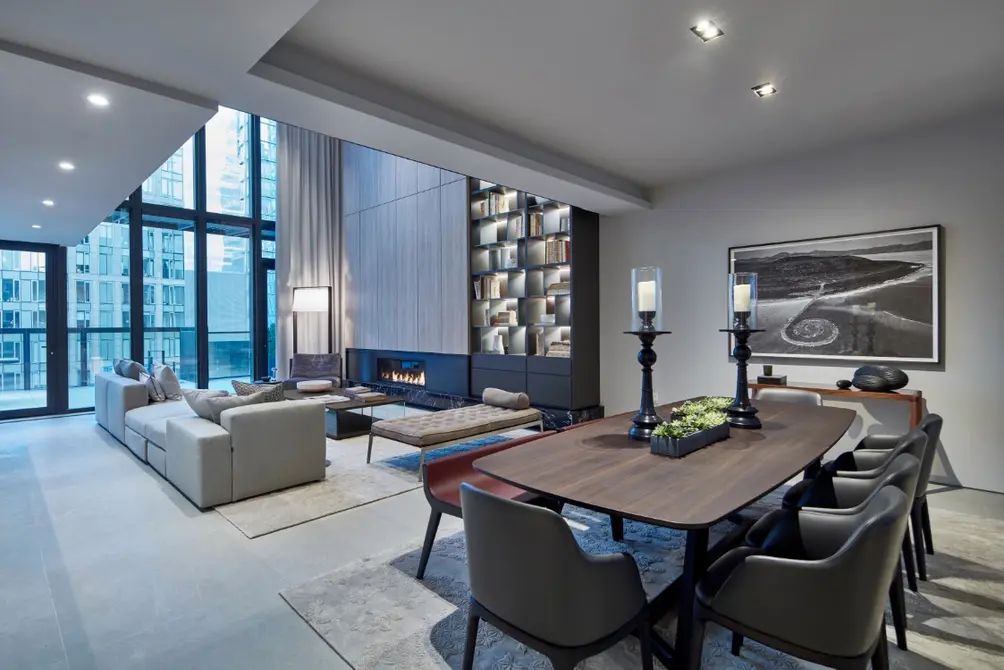 There is another amazing fireplace and alongside it is a double-story wall of books.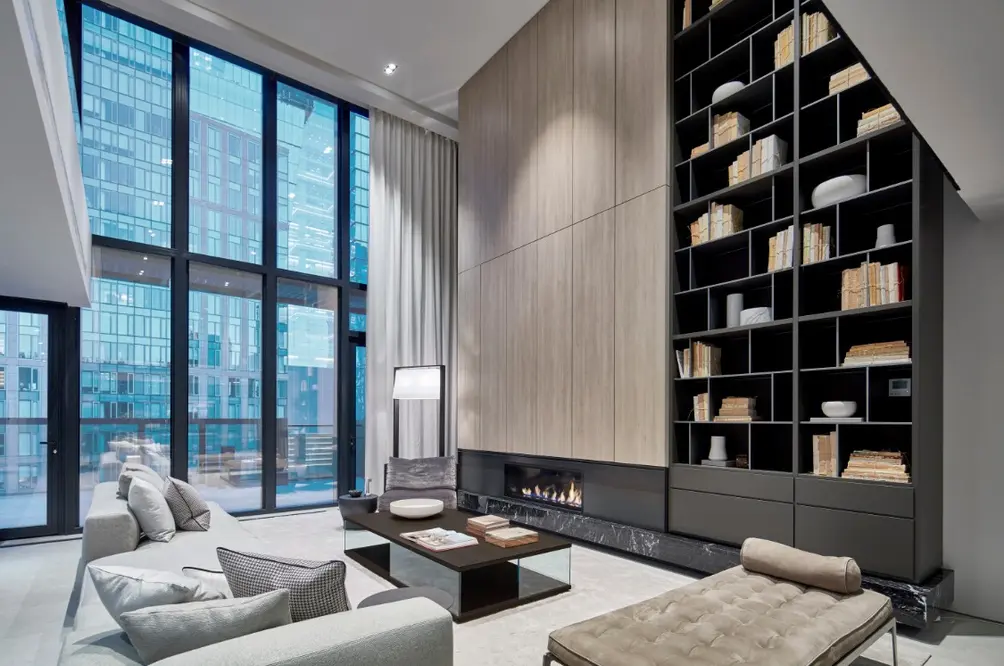 I wonder how anyone reaches the books all the way up there but then assume only plebs wonder such silly things.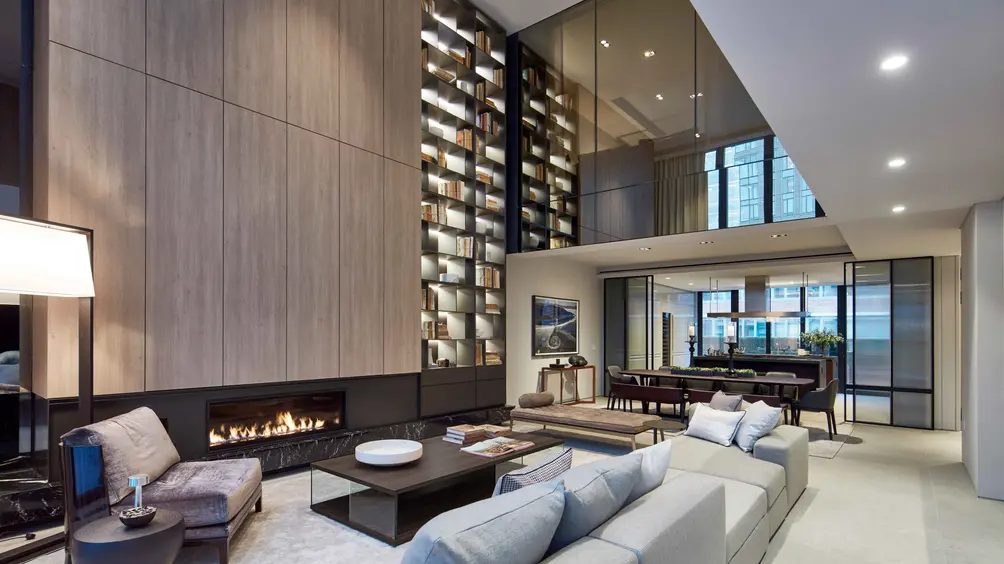 God, this house is so modern but so warm. I wonder what the word Soori means? Maybe soaring? Maybe perfection?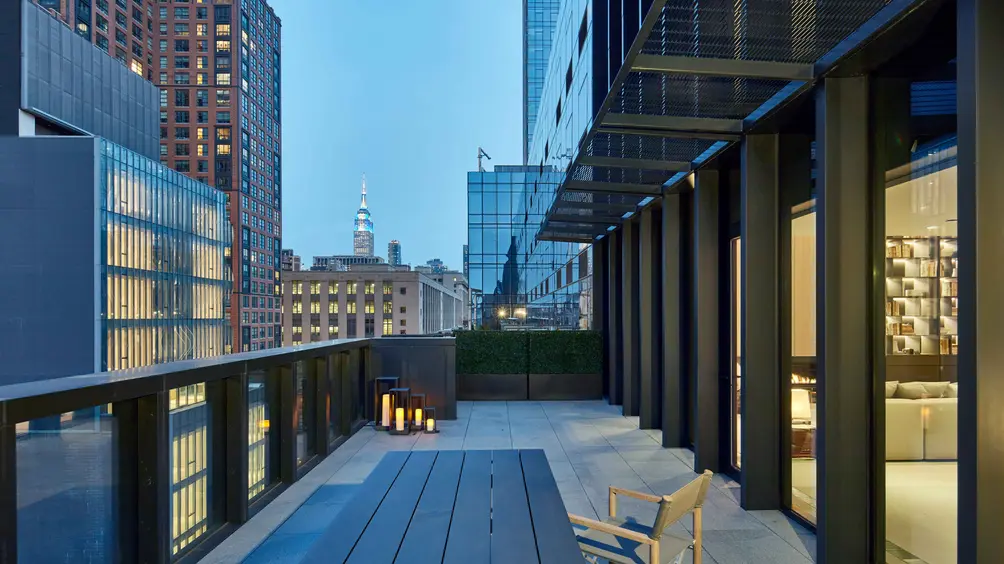 And there's a terrace with views of the High Line and Empire State Building right off the living room.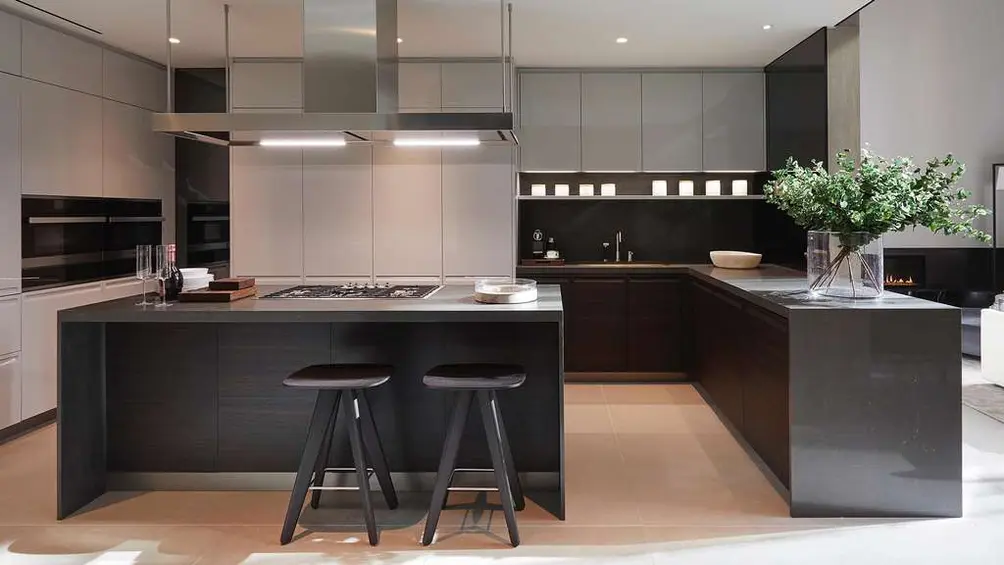 The kitchen is always immaculate. I'm sure they don't cook.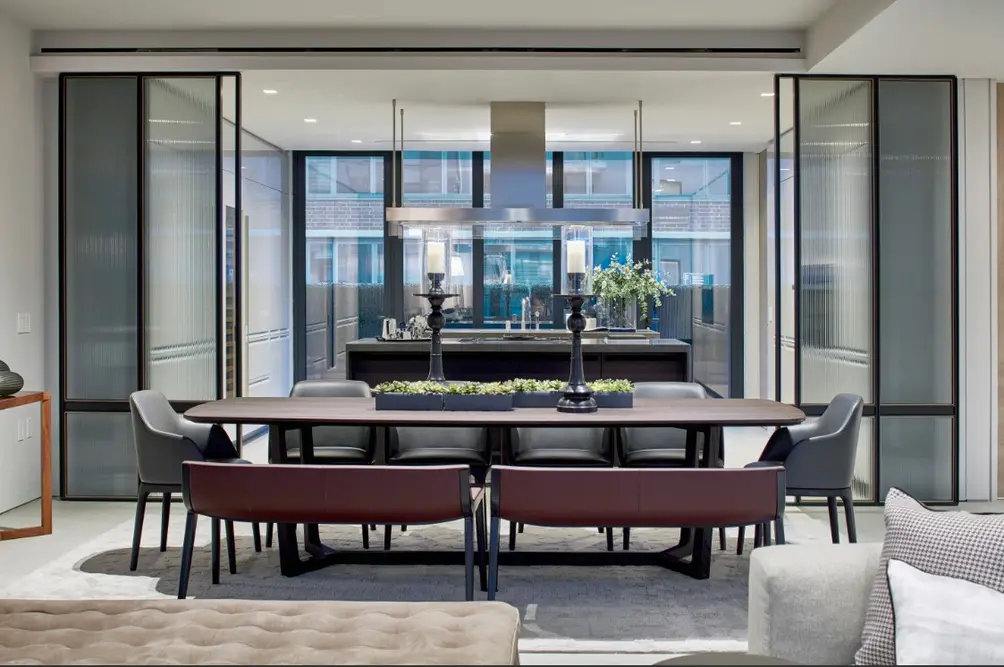 Fifi, their young pug, once whispered to me that the dining table is only used for playing poker.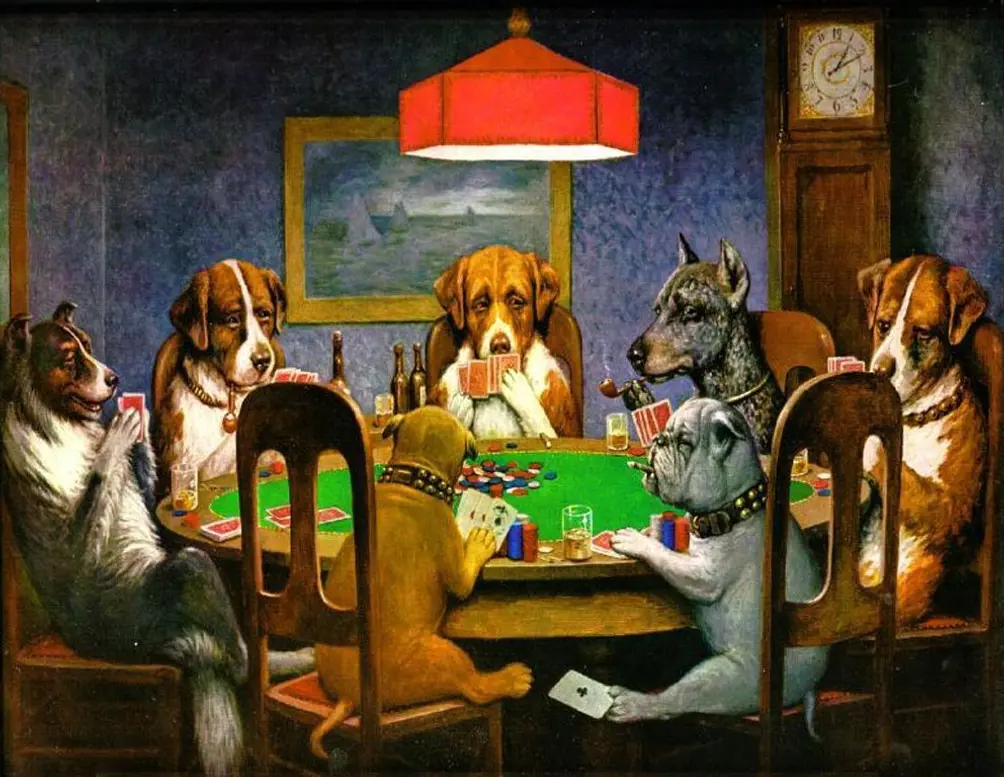 She says she always wins.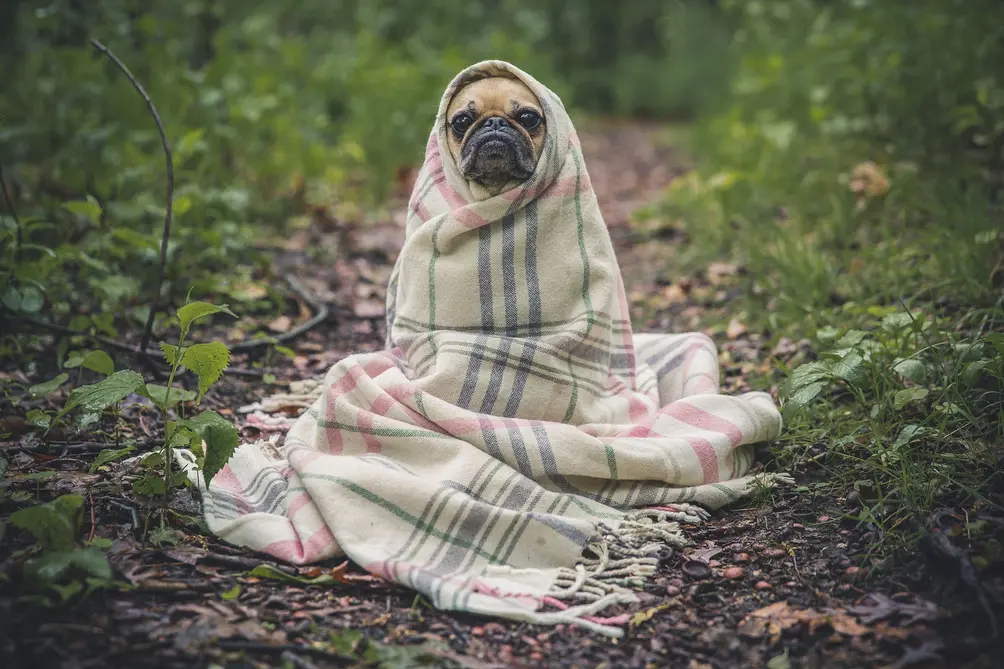 Fifi's favorite hobbies are hide-and-seek and cultural appropriation. I call for Fifi and hear her paws pitter-patter upstairs. Oh yea, I get to go upstairs to fetch her.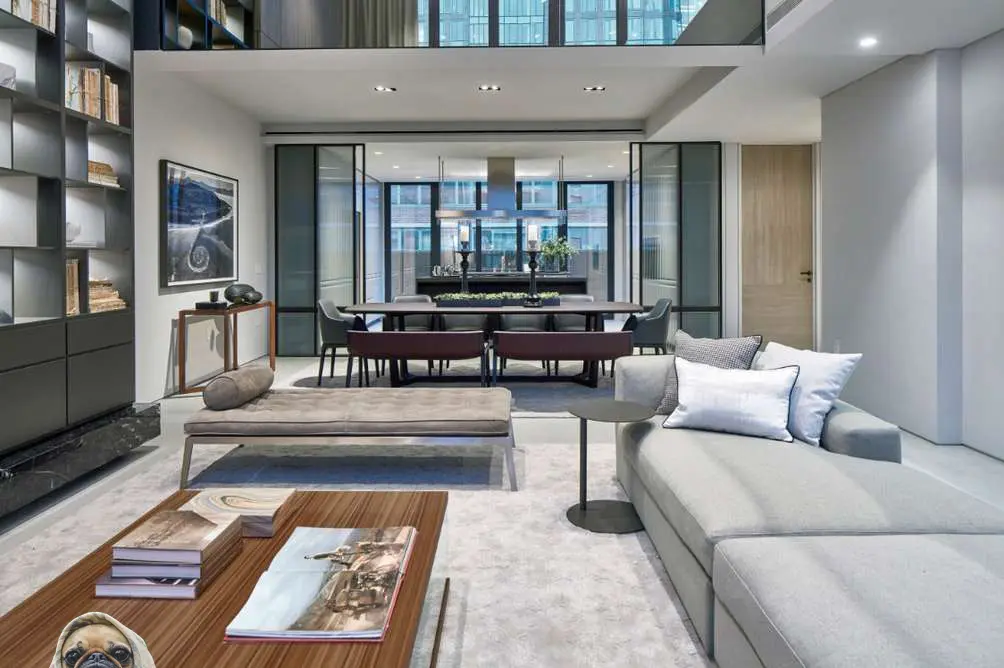 I race up one flight of stairs and see Fifi running up to the next level. Good doggie!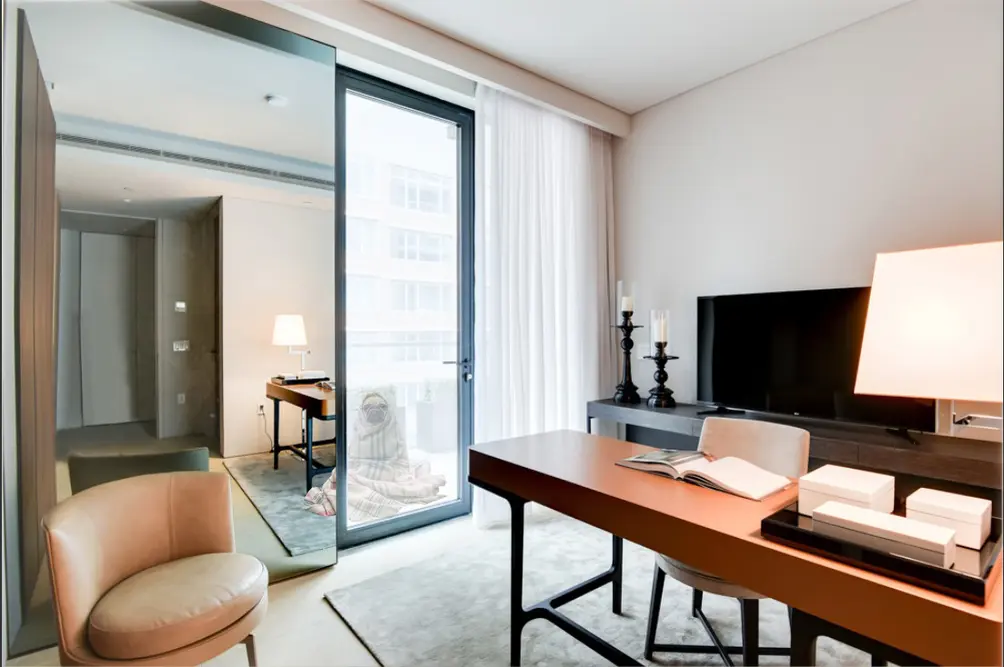 I am so glad little Fifi is running away from me just in case anyone comes home and wonders why I'm up here. "Fifi, come here" I whisper feebly ;)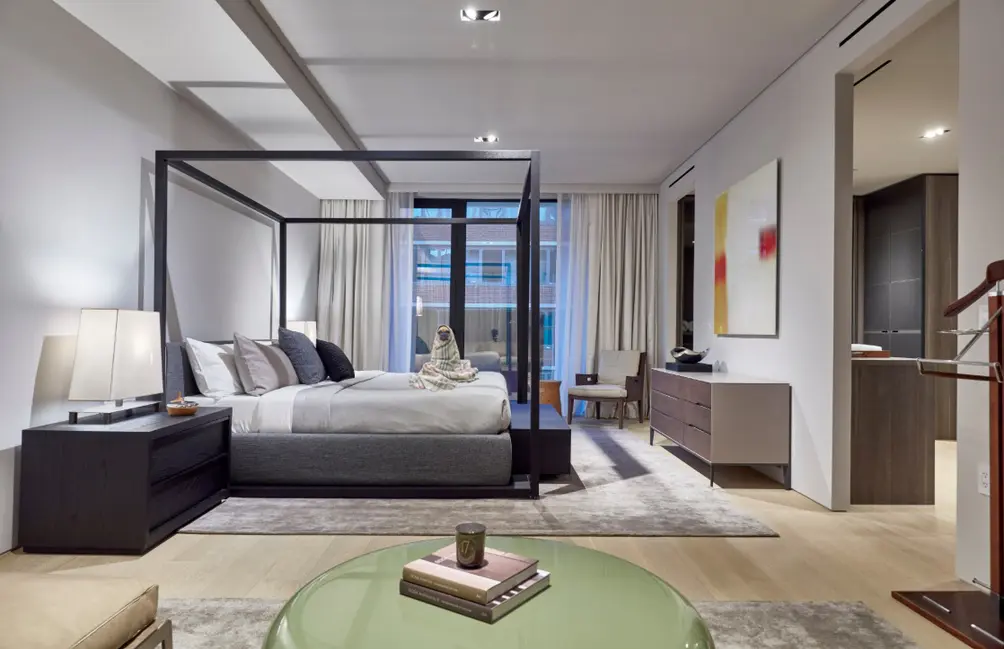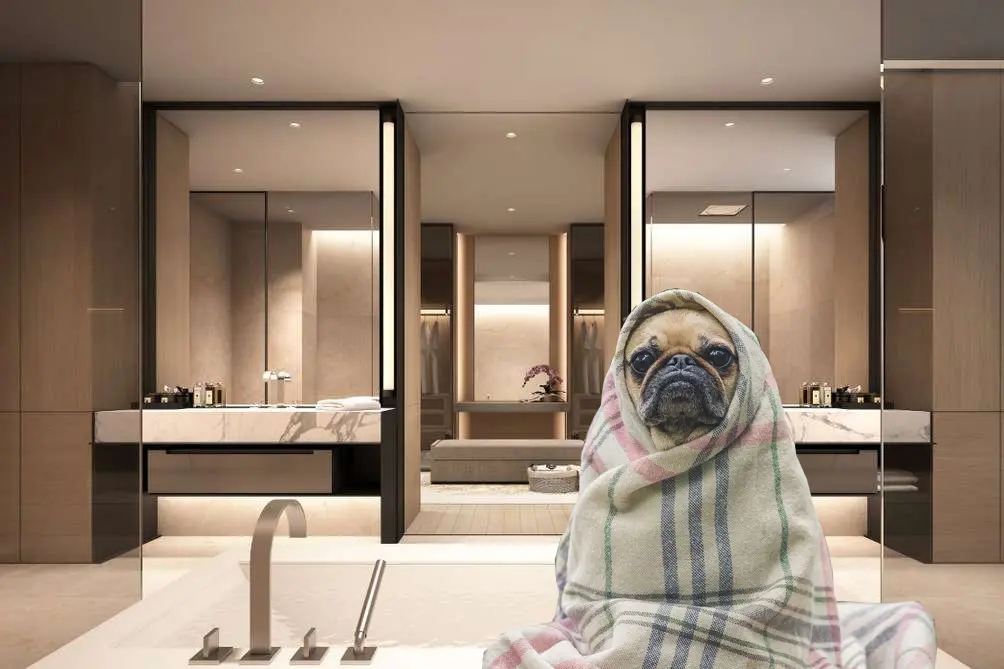 Fifii?! I can almost feel you.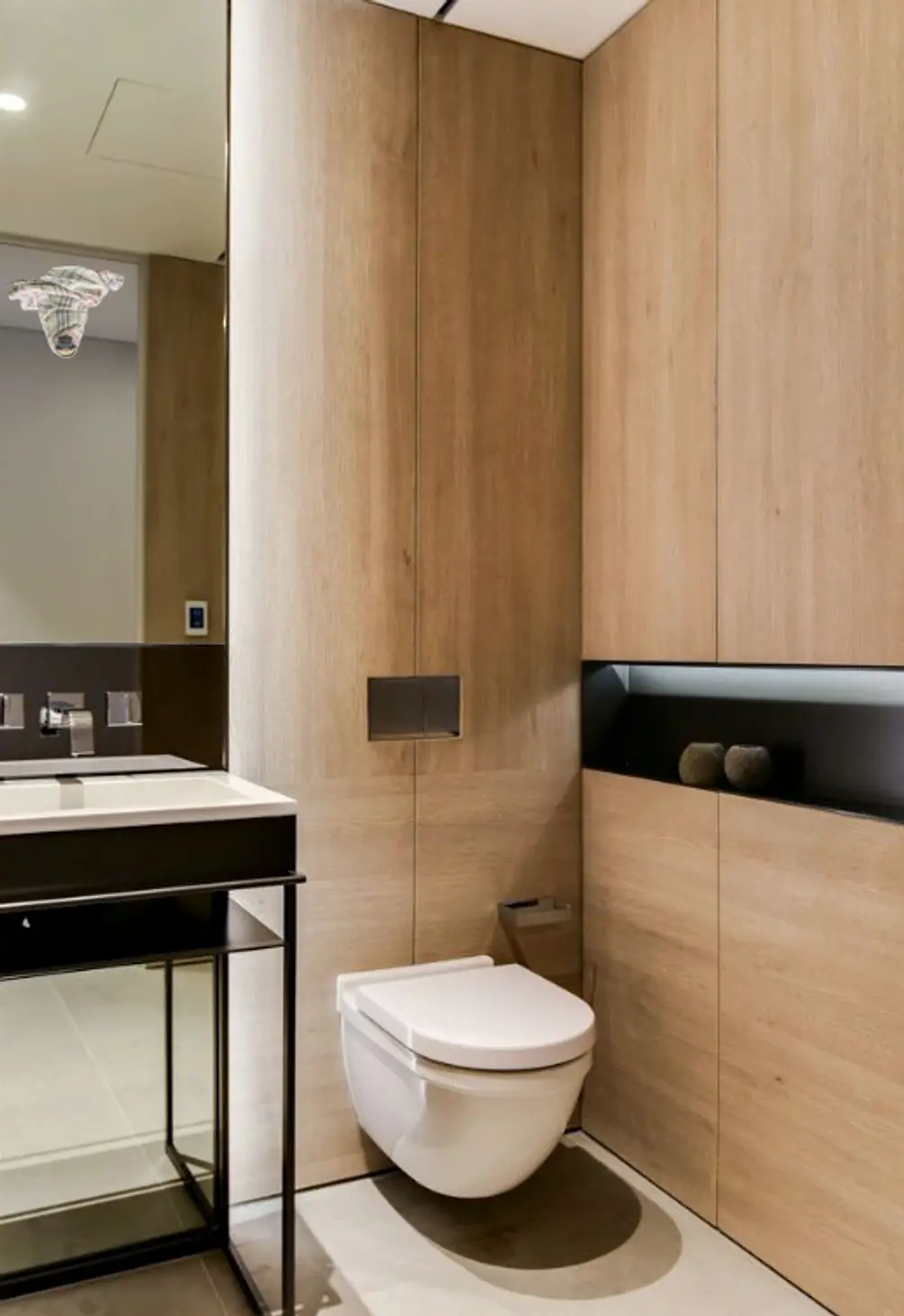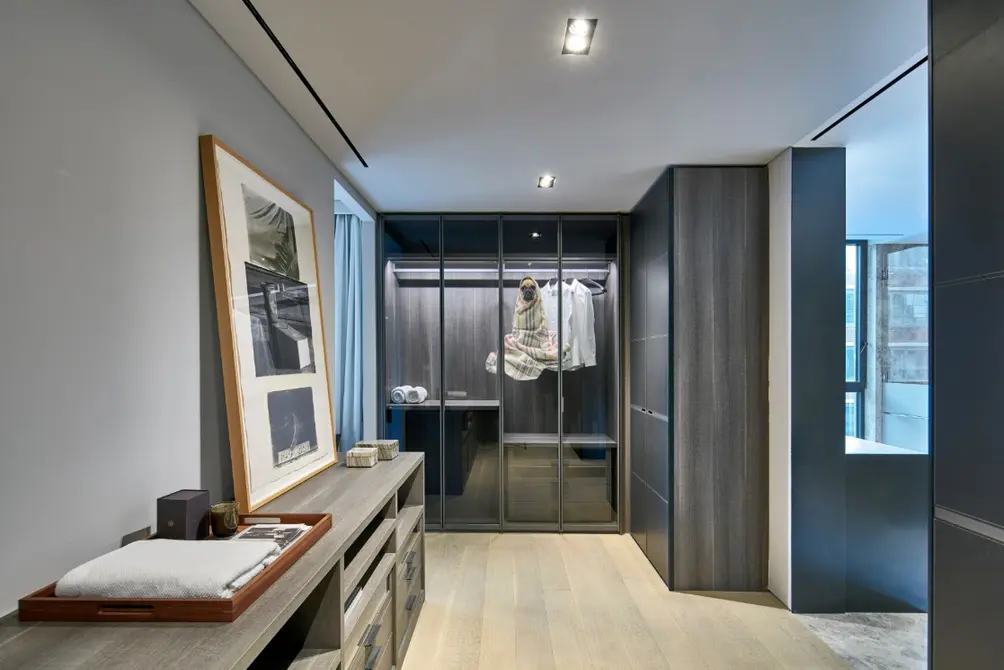 "Fi....". Suddenly, I stop in my tracks! HOLY SHIT! There is a private pool up here. Are you freakin' kidding me???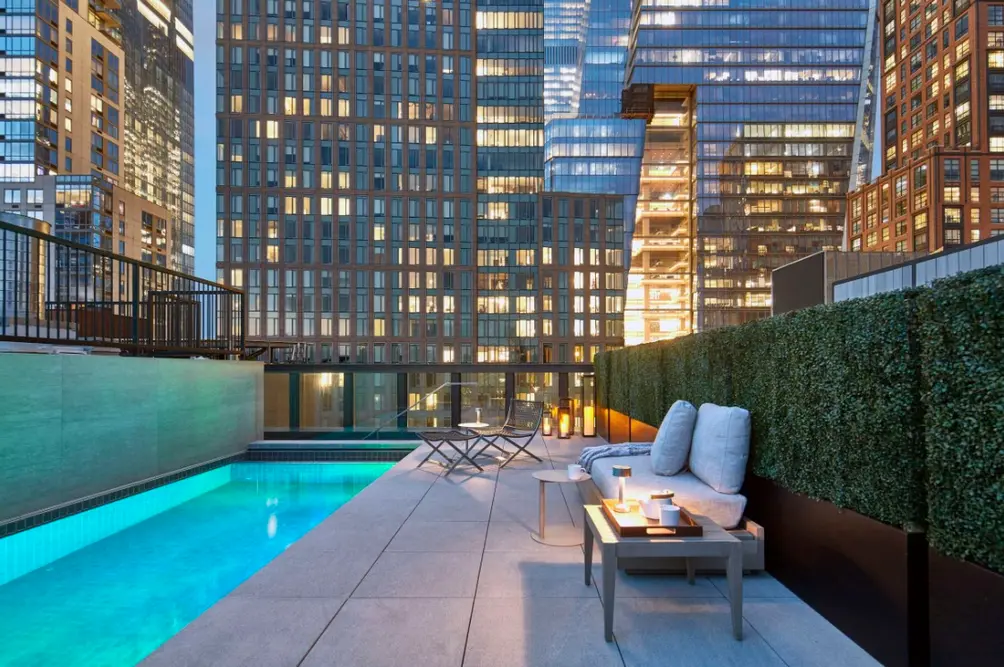 The pool is surrounded by two terraces, each bigger than my studio apartment. Maybe I really need to rethink this dog walking career? Can you imagine floating in that pool, looking up at the night sky and the glistening skyline?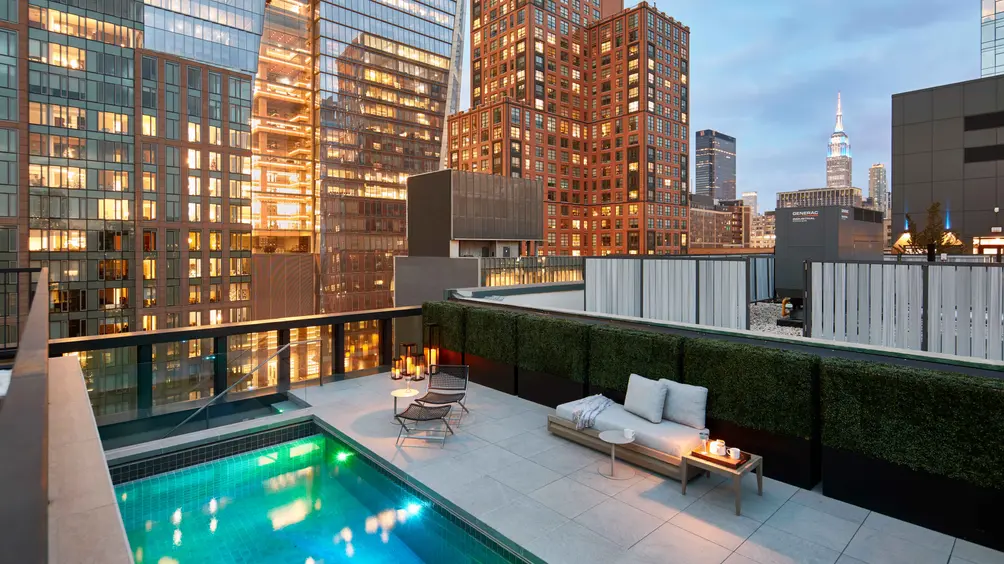 I need to tell Brigette that I read that swimming is great for dogs and I'll bring my suit next time to selflessly help Fifi! Wonder if she'd google that?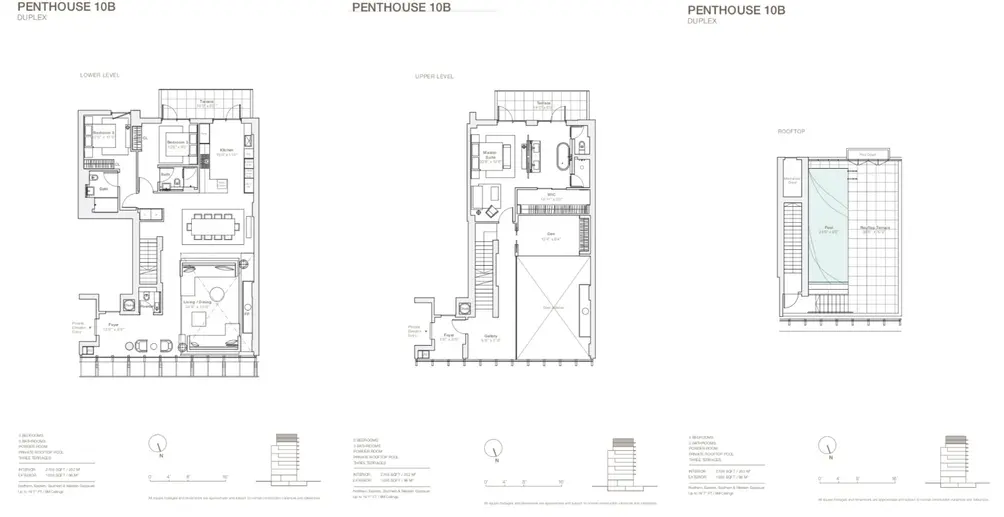 I found a roll of floorplans that I must have studied for hours.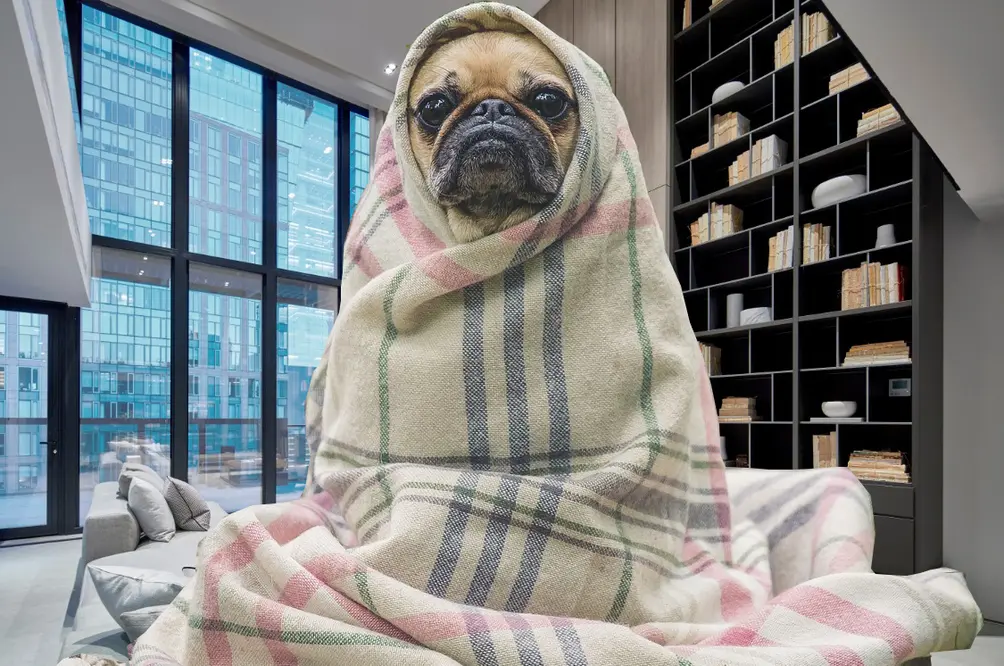 Oh, there you are Fifi! You must be hungry.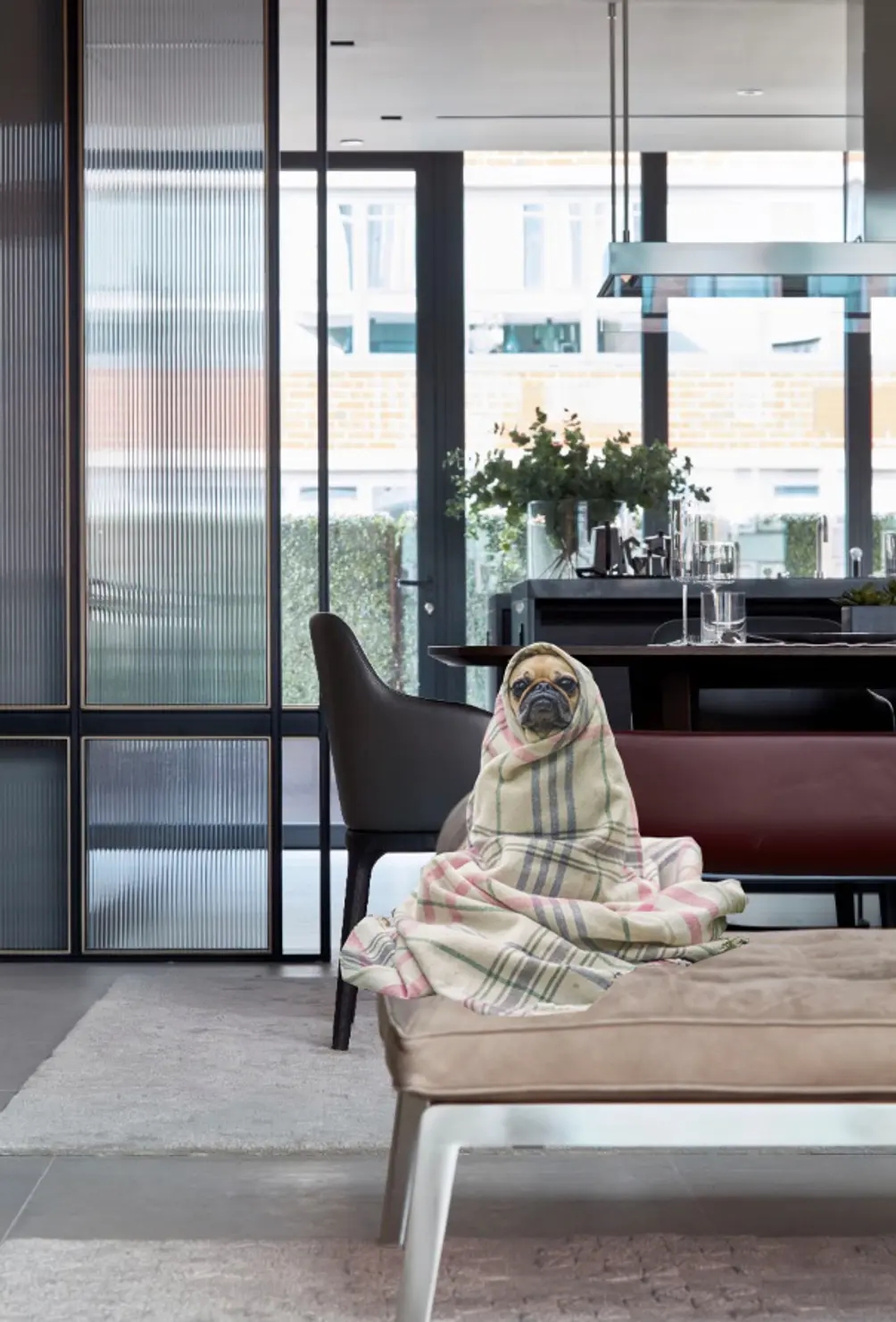 I finally and reluctantly grab Fifi. I don't want to leave but I must take this little thing for a walk. I slowly walked down the two flights of stairs, soaking up all the details. This place is so big, I could just take up residence and it would take them weeks to figure it out.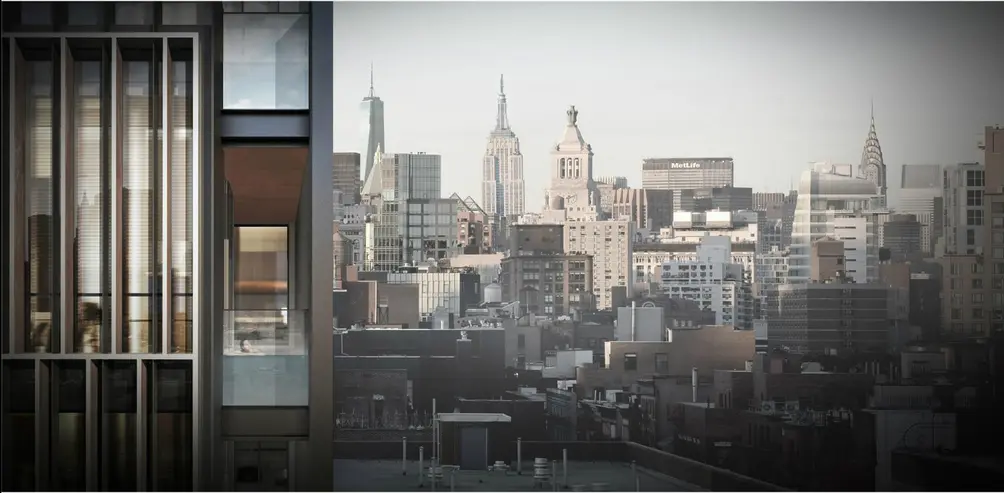 The doorwoman nods at me as I carry Fifi outside into the big city. "Think little precious princess might actually walk this time?" she giggles. I shrug my shoulders.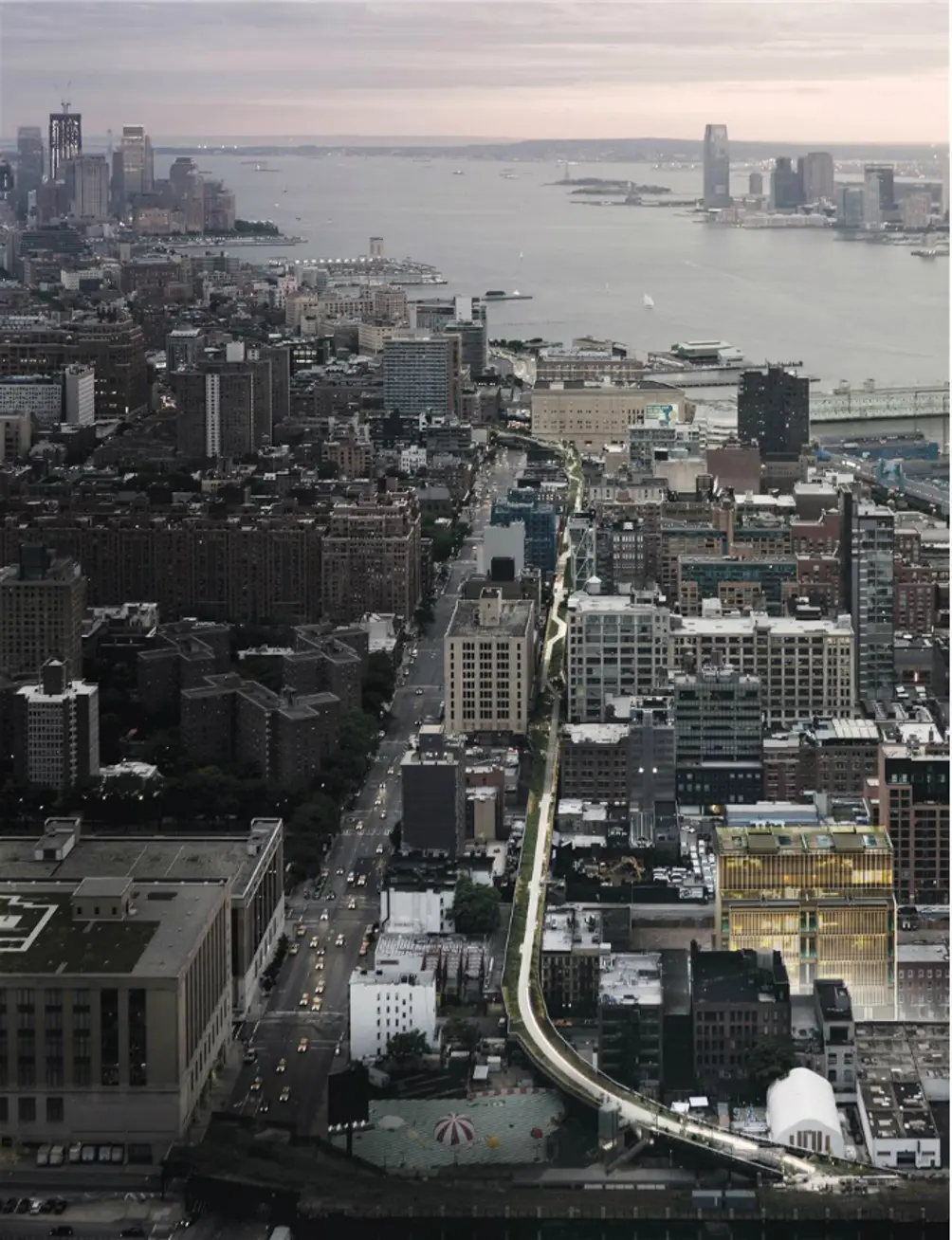 I would love to take the High Line down to the park. It seems so unfair that they're not allowed. It's doggy nirvana up there with all those bushes and no cars!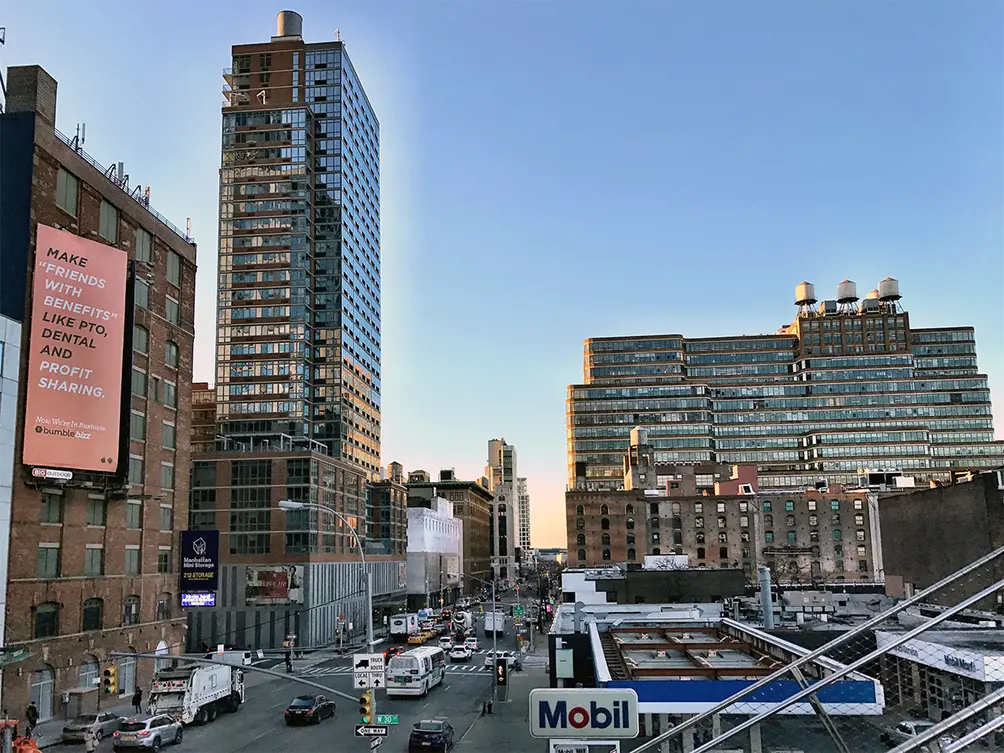 Since we can't walk the High Line, we walk the seriously low line. Yuck, could Eleventh Avenue be any less dog-friendly? We all put our heads down and high tail it to the Chelsea dog park. Except Fifi, who is in my doggy bjorn.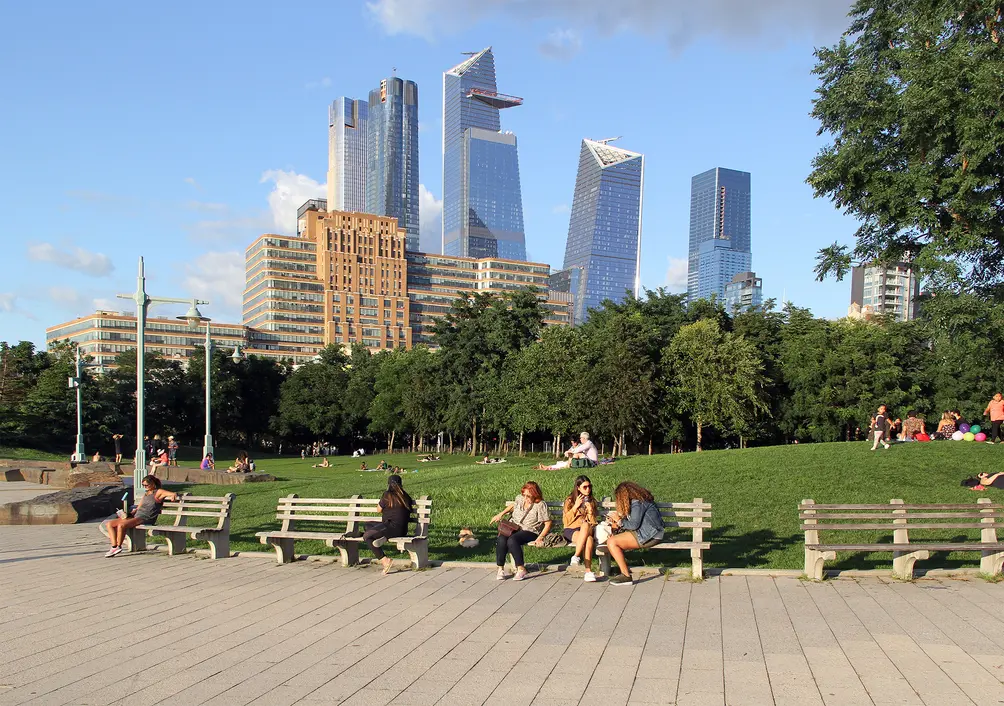 I'm starving but there's not a lot of options to grab a quick bite around here so I head to the waterfront. I should've checked Brig's fridge. I'm sure she'd had some leftovers from the NoMad restaurant, her favorite haunt these days. Man, I still can't believe Hudson Yards went up so fast...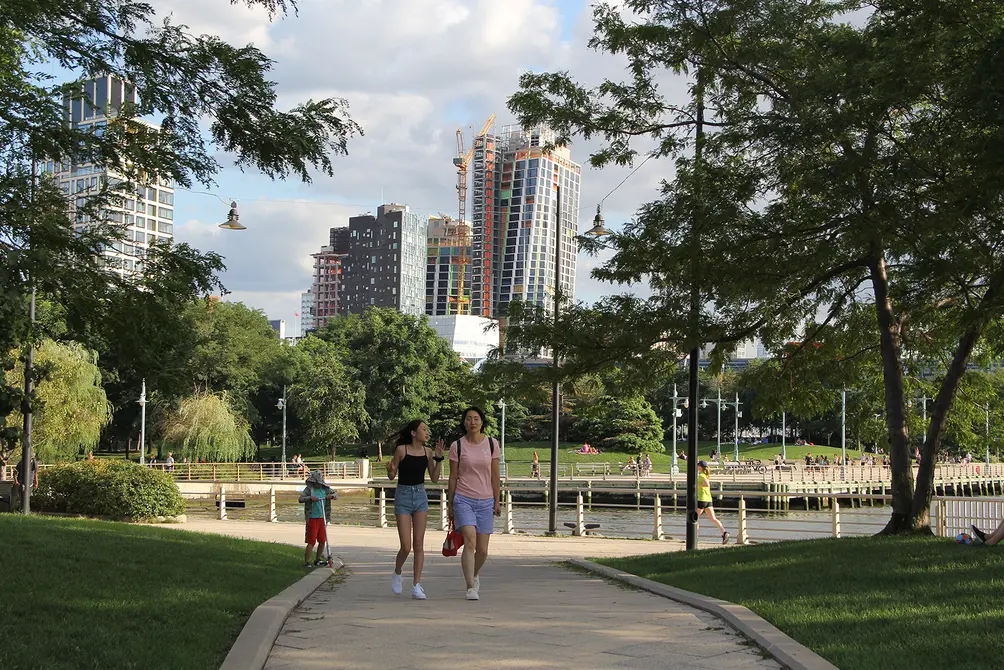 I let the dogs run around while I check my phone for some place to eat. I think that Great Dane might be trying something inappropriate with Fifi but I'm gonna turn a blind eye.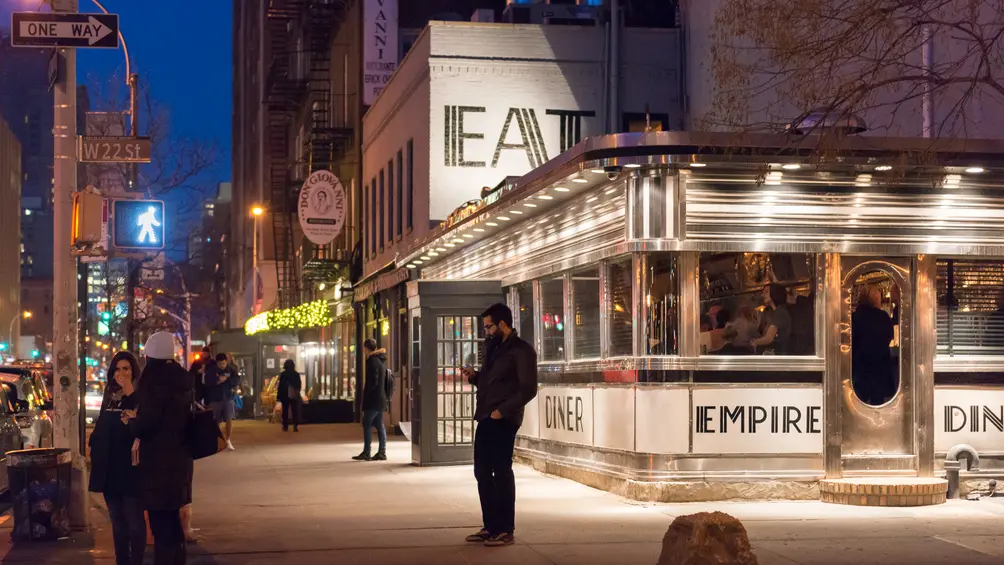 There's the Empire Diner or the Meatball Shop on 22nd but pretty sure there aren't any vegetarian options there.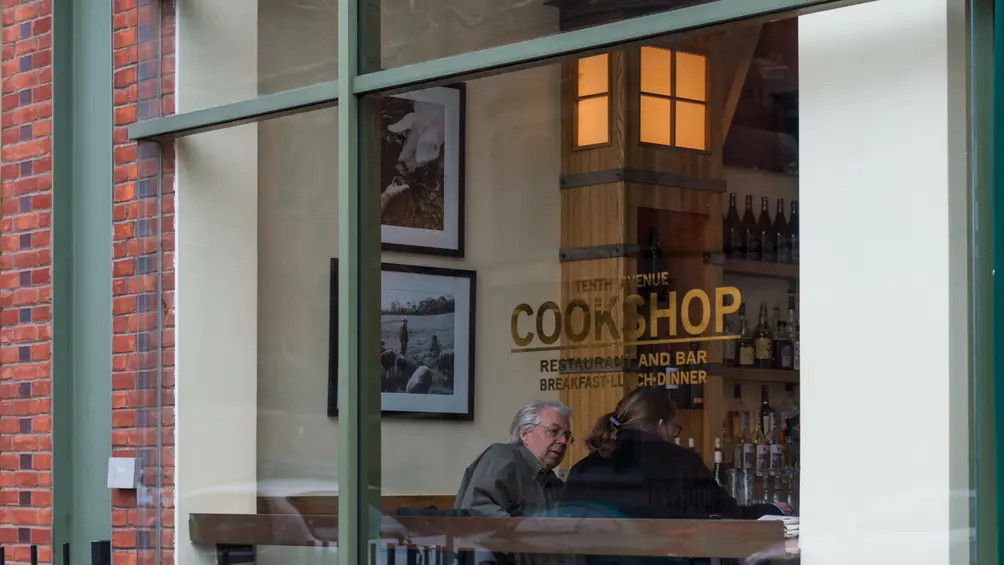 Ahhh, I forgot about the Cookshop. I don't love the "farm-to-hipster" Google Map description but I hear their falafel sandwich is amazeballs!
I'm feeling a little rebellious today. After I pick up my sandwich, I make a beeline for the High Line. What's the worst thing that could happen?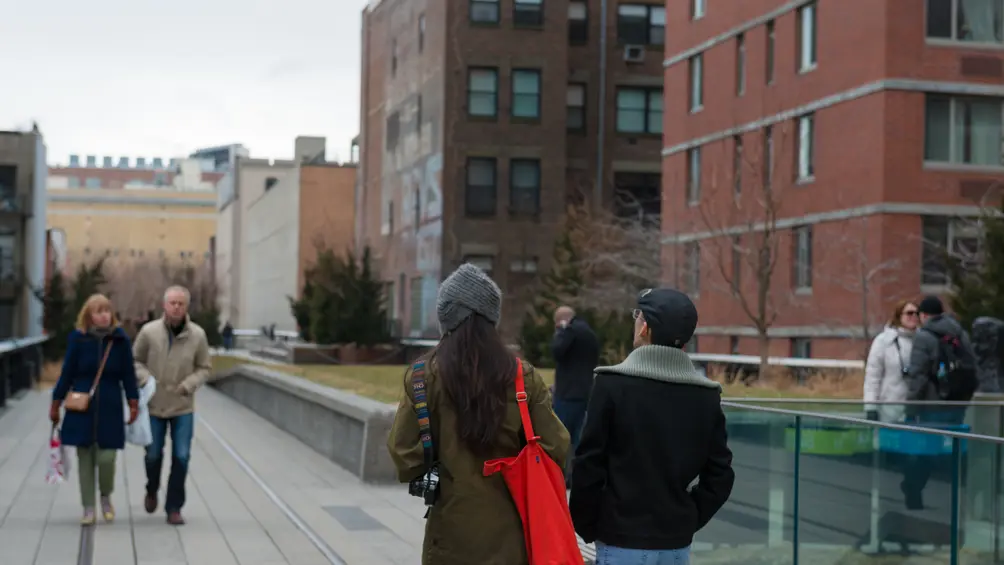 I run up the 23rd street staircase, all dogs in tow. I'm definitely a rebel without a cause. What is this crazy building with so many odd angles? Argh, focus girl, come on dogs, let's goooooo!
I'm now at a full-on jog but it's so crowded up here. I might not have really thought this through. People are starting to sneer at me. The
concrete building
with the long stretches of casement windows and an old-fashioned clock in its side catches my eye. It looks like something out of an old movie. I imagine lines of women sitting in front of typewriters clacking away in there. Not sure why, ha.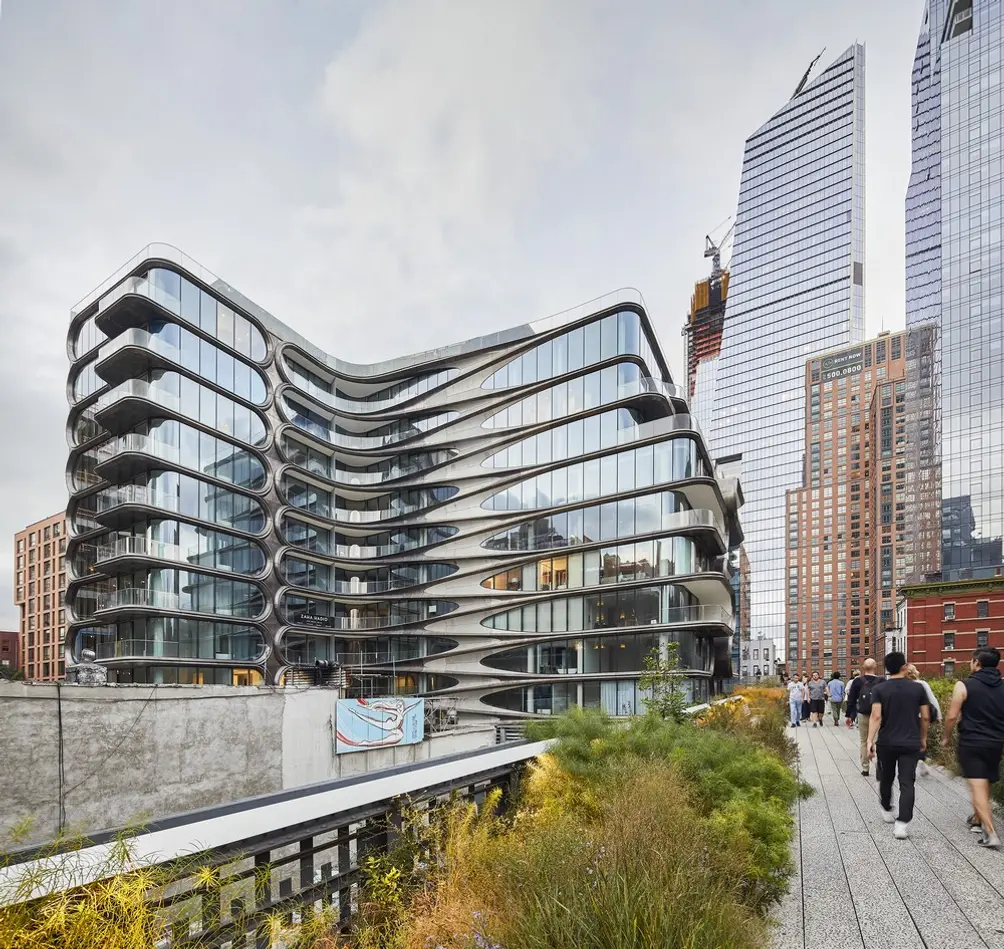 Zaha Hadid's building
is my all-time favorite. It's so Jetsons and curvey. I wonder what it's like looking from the inside out. I should stalk the dogs leaving the place to get some new clients. What kind of dogs would live in that place? I imagine William Wegman's weimaraners.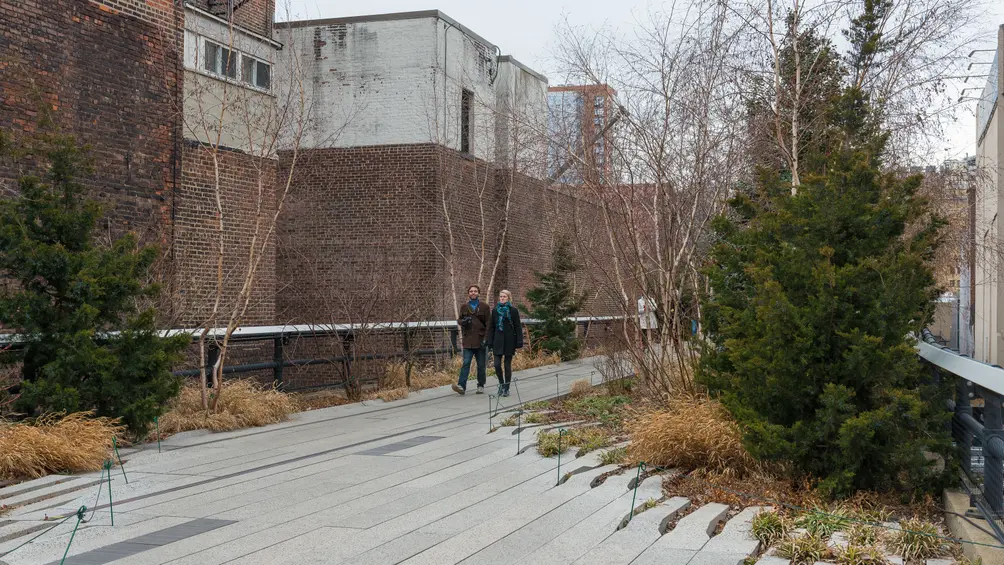 Oh my gosh, there's someone running after me. I pick up my speed, race down the 28th Street stairs, almost knocking over a poor mom and her son with me and my posse pack. ARGH! There goes my falafel. Damn it. I hear someone calling after me but I pretend not to hear them and race down the stairs faster.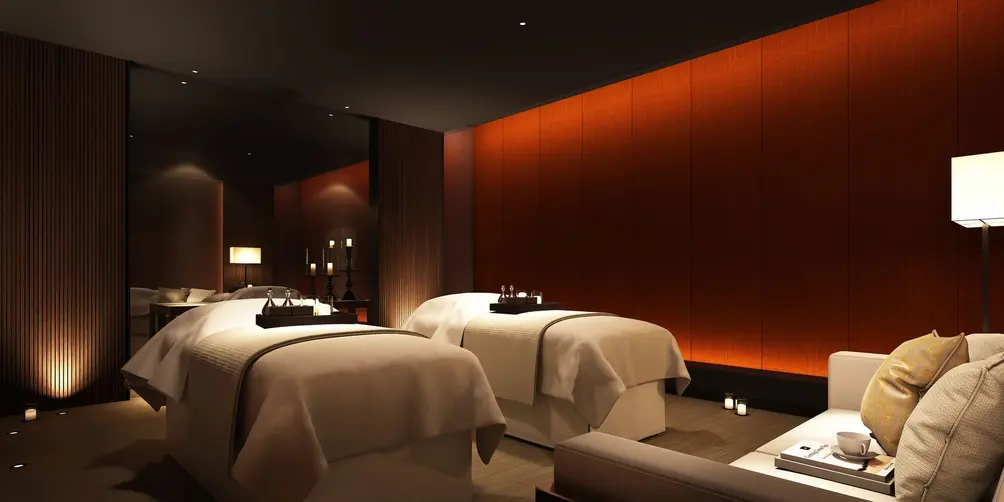 Without thinking, I burst into the Soori and Ingrid is right there to turn me around and point to the tree. I tie the dogs up, check over my shoulder, see no one is following me. Oh my God, Fifi ran this whole way! I forgot to pick her up and she is a dirty disaster. Only one thing I can do: Use Fifi's resident pass to get us both spa treatments in Soori's spa, steam and sauna!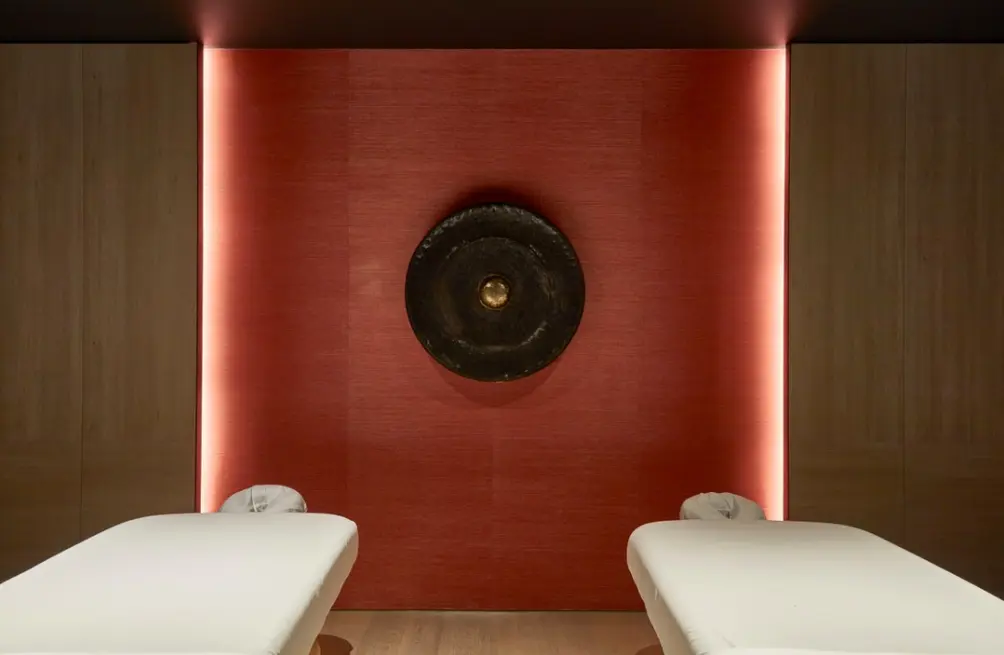 I scoop her up into my arms. We head down to the spa. I call. No one answers. We kick back and get mani-pedis for two, please.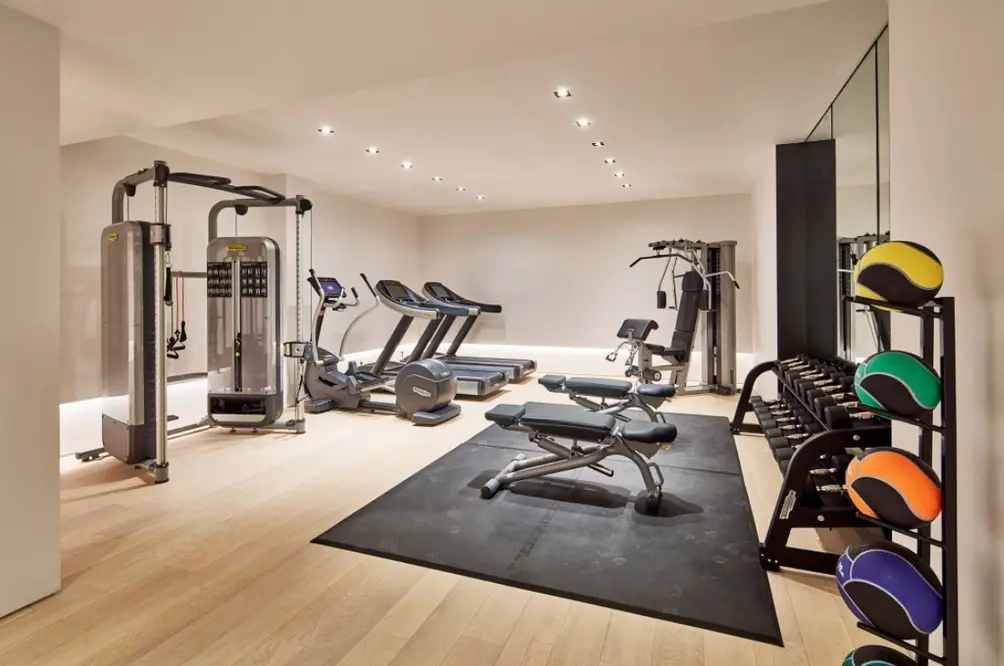 Might as well hit the gym while I'm here too. Boy, do I love being a dog walker.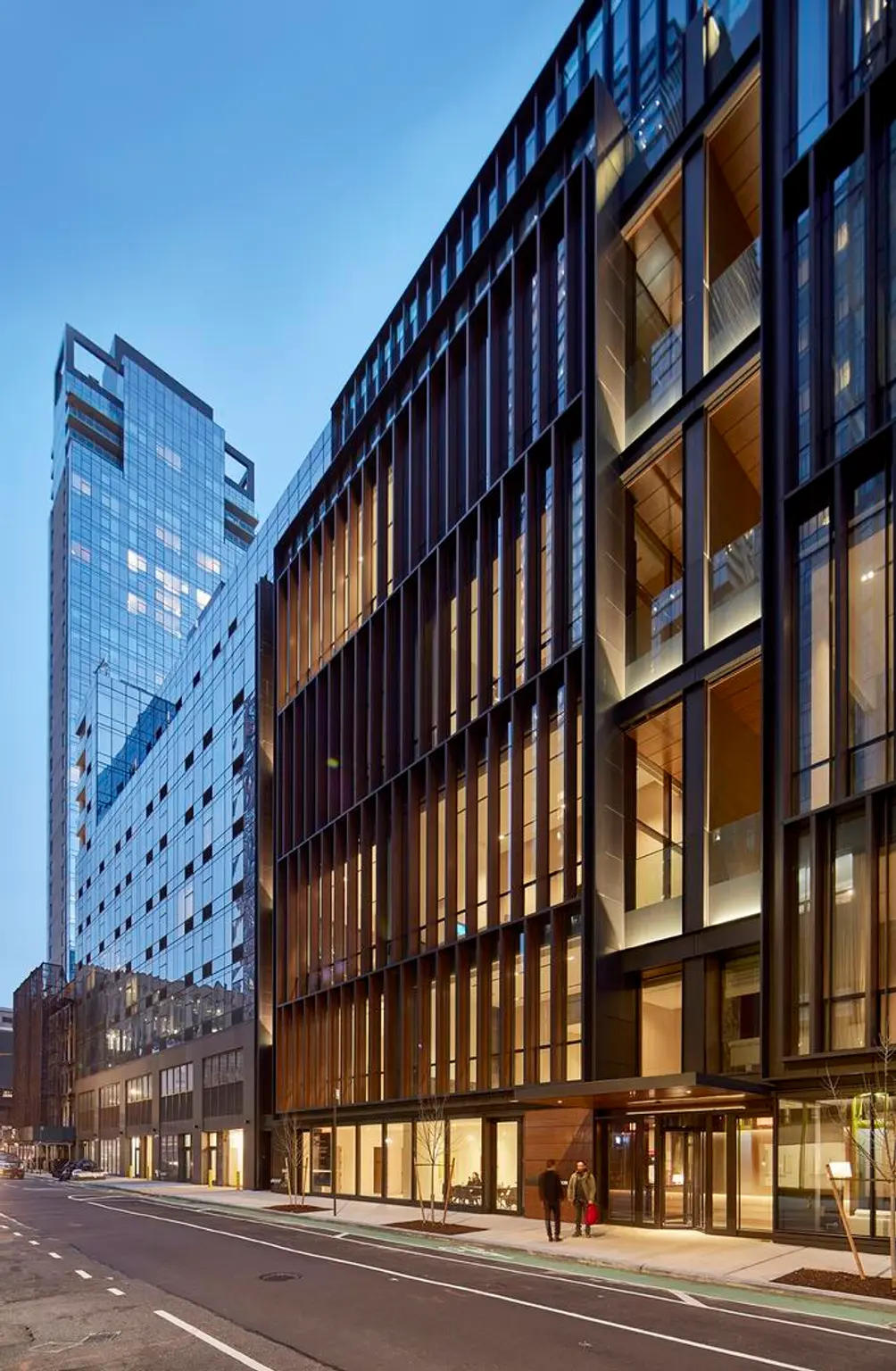 Schedule an Appointment
To tour this property, just complete the information below.
Or call us at (212) 755-5544
Additional Info About the Building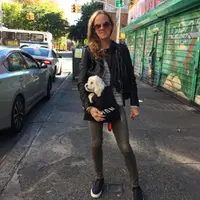 Contributing Writer
Michelle Sinclair Colman
Michelle writes children's books and also writes articles about architecture, design and real estate. Those two passions came together in Michelle's first children's book, "Urban Babies Wear Black." Michelle has a Master's degree in Sociology from the University of Minnesota and a Master's degree in the Cities Program from the London School of Economics.
Book a Tour or get more information about any of these properties