Rental Building News and Offers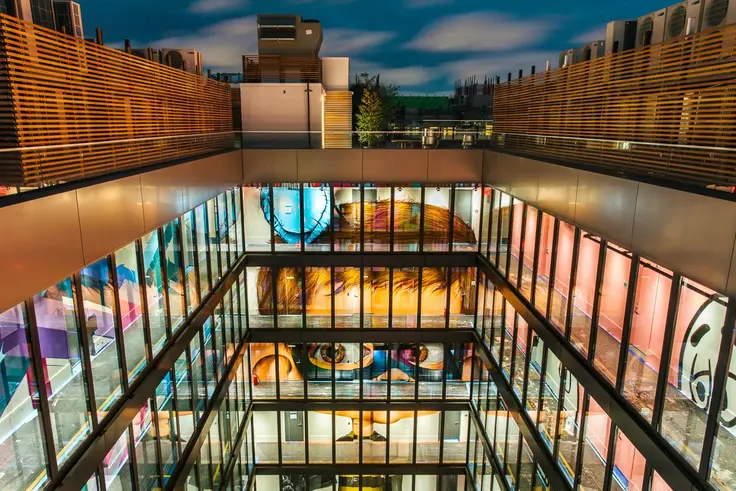 Bushwick
has a strong tradition of street art. With a stunning array of local, national and international talent, one organization that has emerged to highlight some of their work is
the Bushwick Collective
. Established in 2011, the organization showcases top street art that over years has transformed the industrial neighborhood into a creative hub filled with pride and color.
Near the artistic heart of the neighborhood is
Denizen Bshwk
, an impressive rental complex designed by
ODA New York
and developed by Williamsburg-based All Year Management. Located at 54 Noll Street, on the former site of Brooklyn's Rheingold Brewery, the project incorporates more than 900 apartments, 20% of which are affordable, and a number of communal spaces open to the neighborhood. Additionally, a nearly 18,000 square foot public park bisects the project, creating a green promenade through its two 400 feet by 200 feet blocks (In NYC, the average city block is a rectangle measuring about 900 by 250 feet).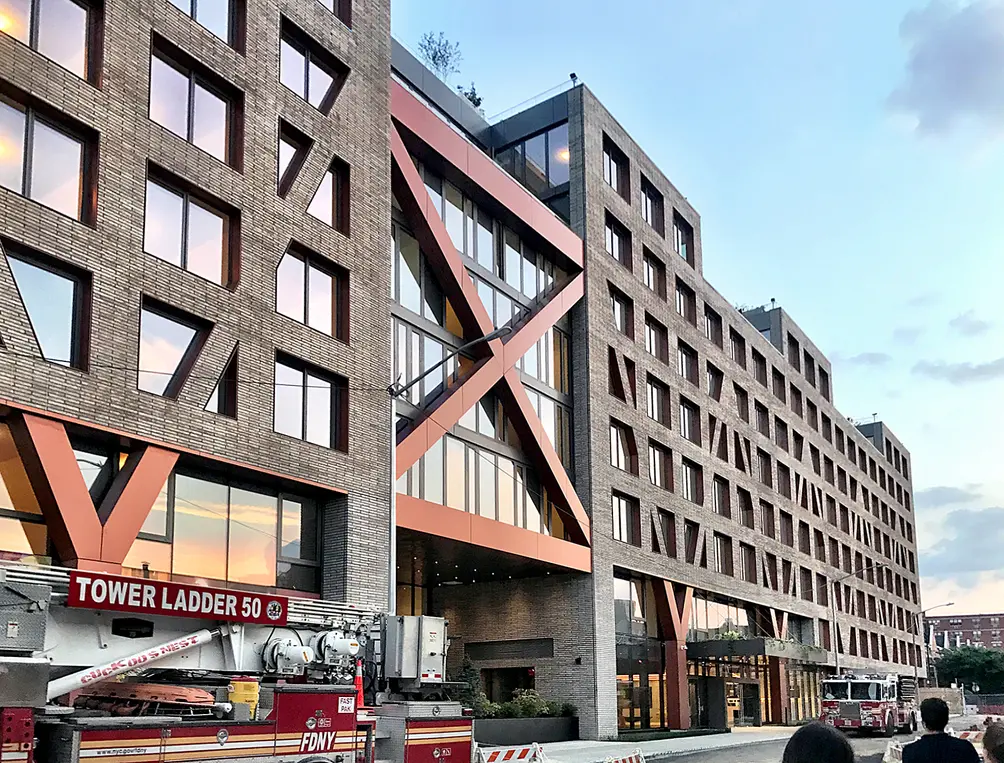 Eran Chen, the Founder and Executive Director of ODA commented, "The size and scale of the building presented some challenges but rather than designing two monolithic forms, we broke it up with a series of social pockets filled with plazas, playgrounds, creative hubs, and networking spaces. The newly-created neighborhood park, the pedestrian alleys, and courtyards all provide opportunities for community interaction and engagement. By avoiding the rigid order of a typical street grid, we were able to create these courtyards and gathering spaces, which, combined with the building's nooks and voids, create a sense of neighborhood, which we consider as important, if not more so, than the buildings themselves."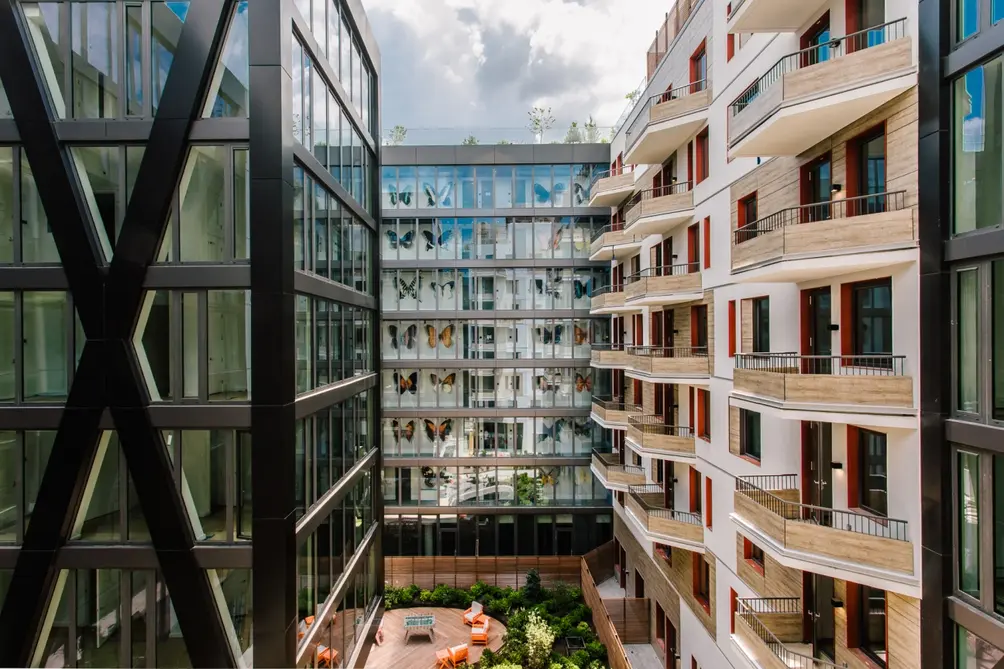 At every point in the process, from planning to development to construction, Denizen's team placed an emphasis on weaving the creativity of the neighborhood into the project. Building on the neighborhood's spectacular street art scene and its strong sense of community, they created something quite unique and extraordinary. Through the creation of
OPEN
, ODA's Public Engagement in Neighborhoods, they collaborated with local charitable organizations to provide grants to local artists to create the art in the complex.
Recently, the popular and undercover street artist
Kai
finished a seven-story, indoor mural for the development. In a partnership with The Bushwick Collective, the artwork on each floor contributes to a larger, continuous and uplifting piece. Kai's art is one of several multi-level murals in the complex.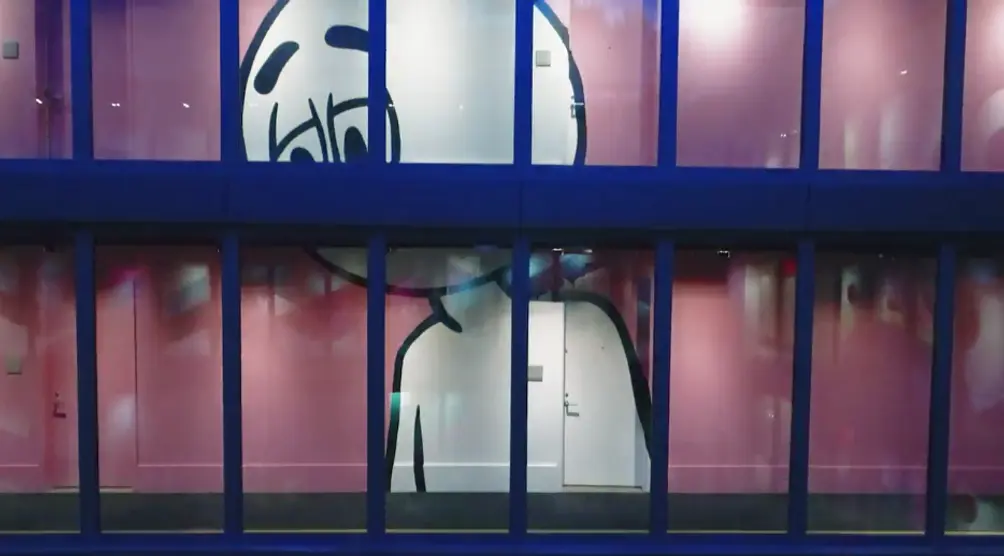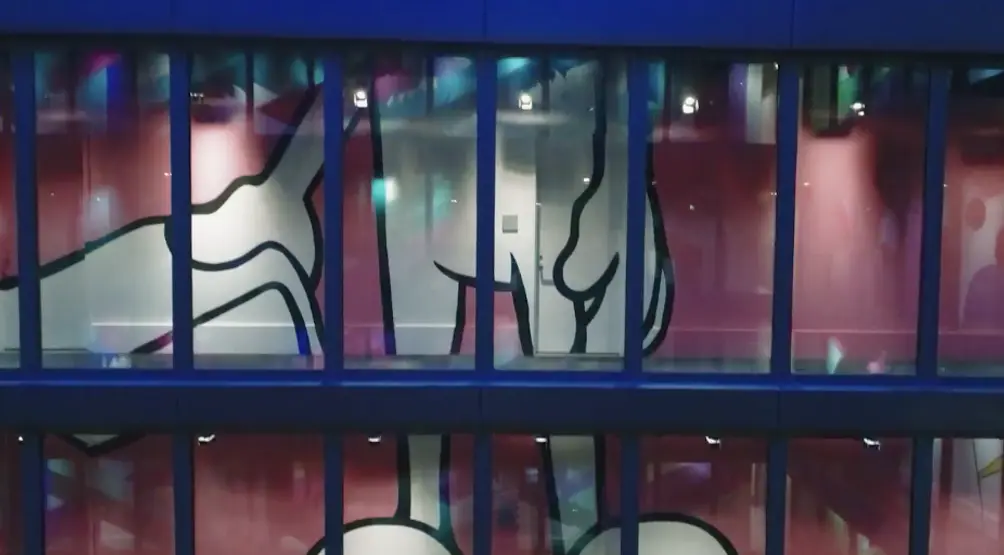 "I think the art has brought value to the neighborhood. It's amazing." - Kai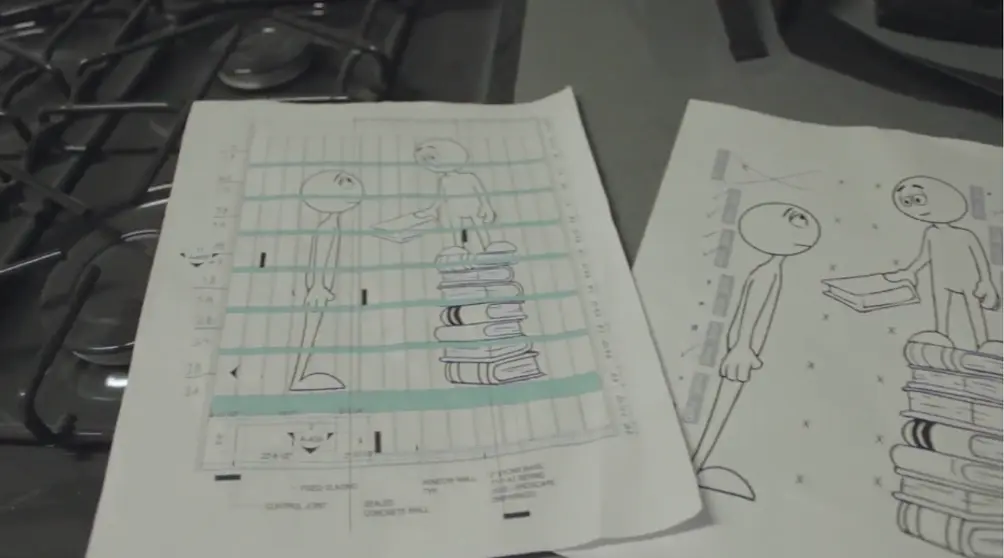 Kai commented, "The Bushwick project was one of the hardest public projects I have worked on. It was a logistical game, coupled with a lot of intensive labor. During most projects of this size, I'm able to use a lift or ladders. We can step down, step back and check out our progress. On this one, it was difficult to step back and see how everything was coming together. And having to carry five-gallon buckets of paint up and around seven stories is always hard work. It was all worth it. The art that Bushwick Collective creates for the community is always worth exploring. The Collective team has taken the initiative to curate more and more art like this in the area, which helps capture the attention of art fans, tourists and even, prospective residents. I think the art has brought value to the neighborhood. It's amazing."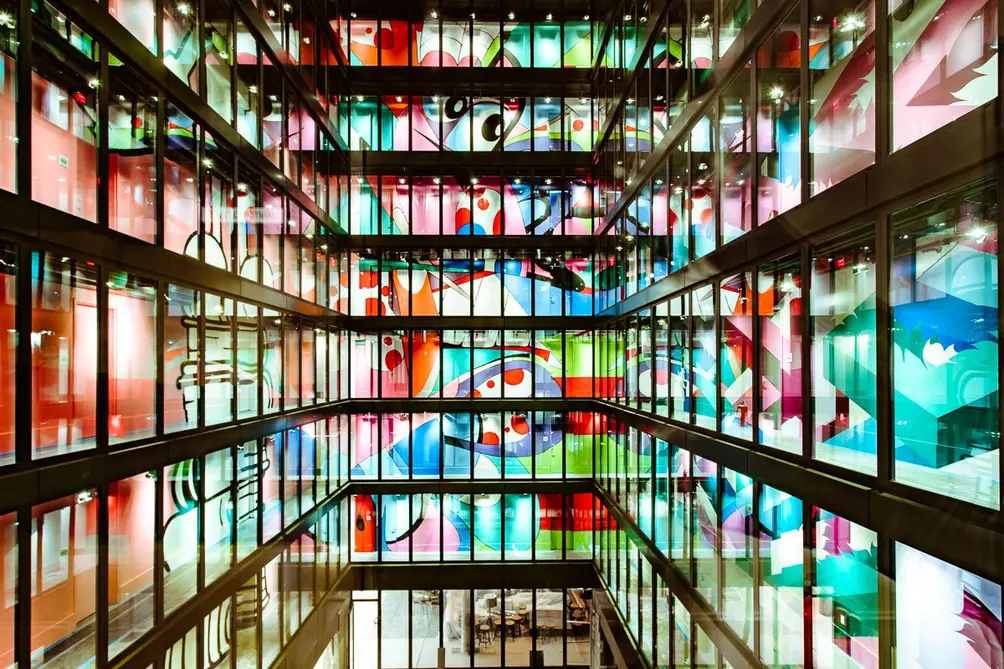 Incorporating murals into Denizen bshwk was a natural extension, both because of its location and because of the massive size of the building. The fact that much of it is displayed over multiple floors really increases its impact. "The glass-walled corridors throughout the building really provided the perfect canvas for these artists," says Chen. "These incredible murals further enrich the experience of both the private and public areas with these towering expressions of street art, for which the neighborhood is known."
In addition to the murals, in Denizen's still-under-construction public park located between its two buildings, OPEN plans to install 5 sculpture or public park pieces. OPEN collaborated with the Brooklyn Art Council to solicit proposals from local artists. The art/sculpture installation is expected to take place in early Spring 2019.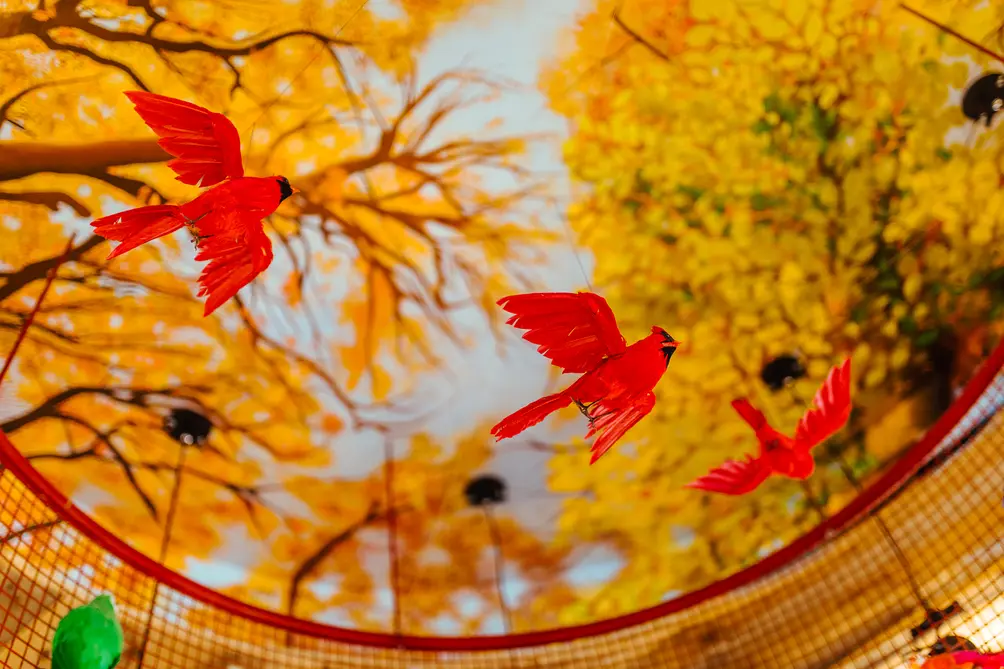 "Our goal has always been to create opportunities for engagement both within the projects and more broadly, with the surrounding community, so OPEN was a logical extension of that, says Chen. Through the creation of a separate 501c, we were able to provide resources to local not-for-profit organizations in support of positive, lasting projects for their communities, in whatever form they think are most beneficial." OPEN provides categories for submissions, then artists submit proposals for the specific project. The only criteria OPEN prioritizes is that the artists be local.
In the near future, ODA's OPEN will continue their goals to include art on the water promenade in front of their three waterfront towers at
420 Kent Avenue
in South Williamsburg. Similar to Denizen, OPEN's art will not only weave the buildings into the neighborhoods but weave the buildings into one another.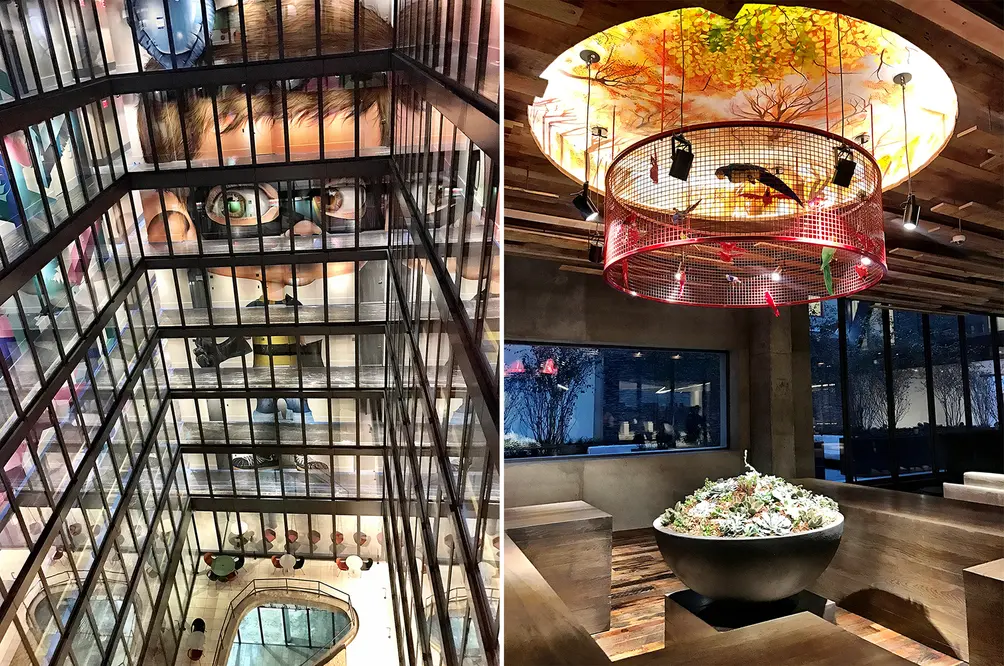 As for living in Denizen, leasing is being handled by Myspace NYC. Studios start at $2,292/month, one-beds at $2,540/month, and two-beds at $3,399/month. Interiors have hardwood floors, expansive windows, central air, and in-unit washers/dryers. The apartments come in a variety of finishes, some with a light or classic dark wood look, others with a contemporary and clean aesthetic. Select apartments have private balconies.

The long list of amenities includes a tenant lounge, co-working space, conference rooms, a library, a fitness center, a rooftop pet run, a beer/wine brewery, a kids' room with rock climbing, bike parking, and a demonstration kitchen.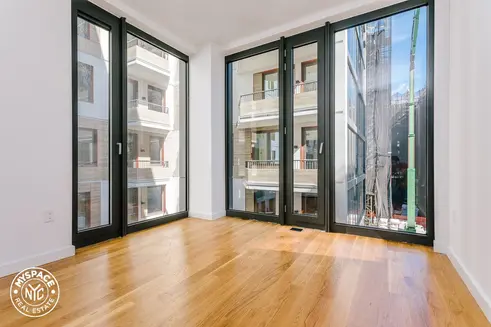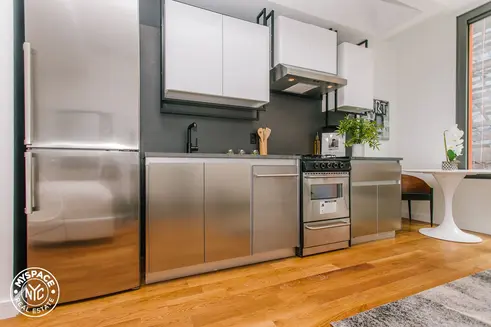 Additional Info About the Building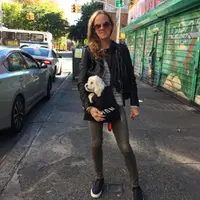 Contributing Writer
Michelle Sinclair Colman
Michelle writes children's books and also writes articles about architecture, design and real estate. Those two passions came together in Michelle's first children's book, "Urban Babies Wear Black." Michelle has a Master's degree in Sociology from the University of Minnesota and a Master's degree in the Cities Program from the London School of Economics.