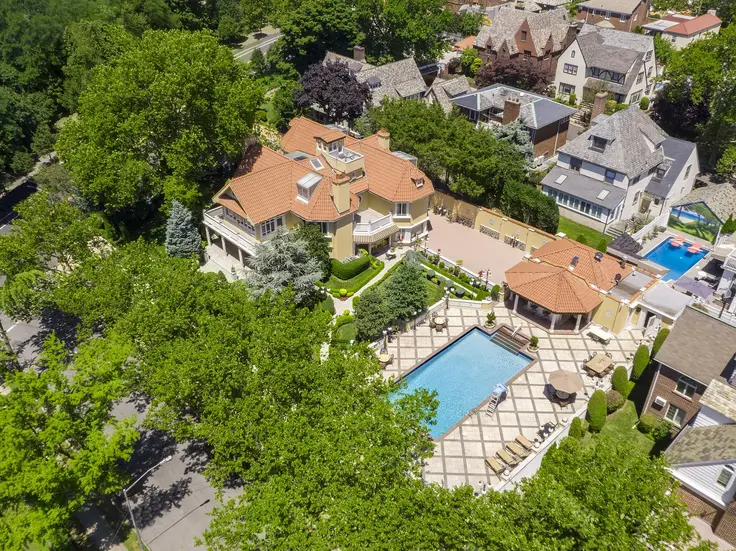 If you had to guess, what would you say is one of the most expensive listings in Brooklyn - a penthouse in one of the towering new condominiums, or a century-old townhouse on one of the borough's historic brownstone blocks? The answer is none of the above: A waterfront Bay Ridge mansion located at
8121 Shore Road
has been described as "a Hamptons retreat in New York City" and listed for
$11.2 million
.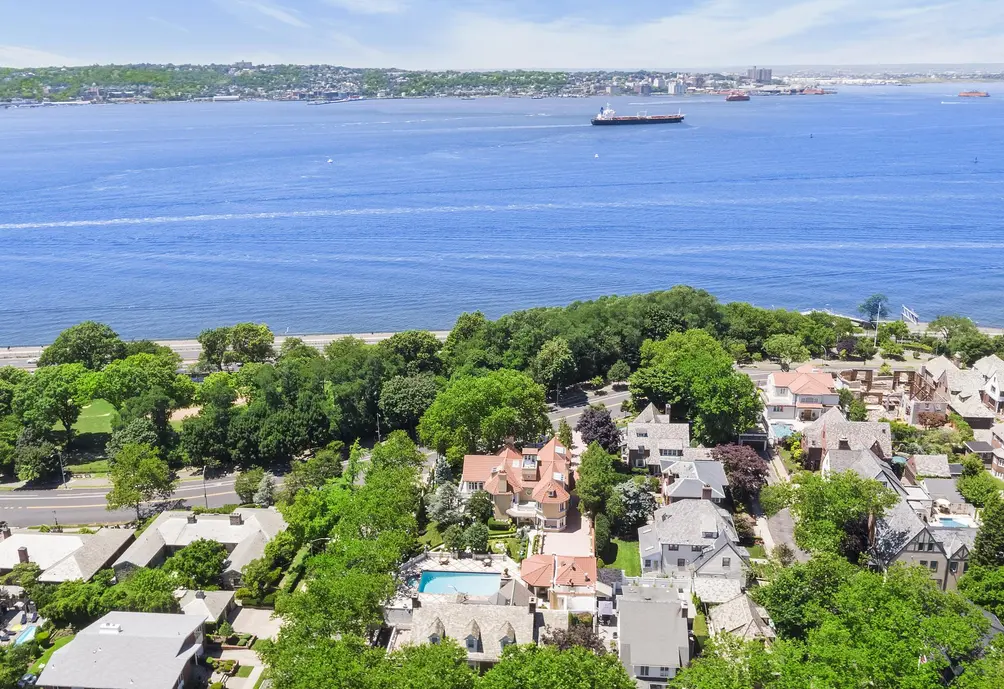 The seven-bedroom, seven-and-a-half-bath mansion is owned by the family of
Carmelo Giuffre
, founder and CEO of Bram Auto Group. Shortly after he came to America with his wife Marianna in the 1950's, she marveled at the house on a trip to the shore. In 1983, after Mr. Giuffre's 21 auto dealerships throughout Brooklyn and New Jersey were thriving, he approached the owner to buy the house and surprised his wife with the keys. The couple is selling because they are spending more time in Florida, and their son John told
The Wall Street Journal
, "It's really the American dream."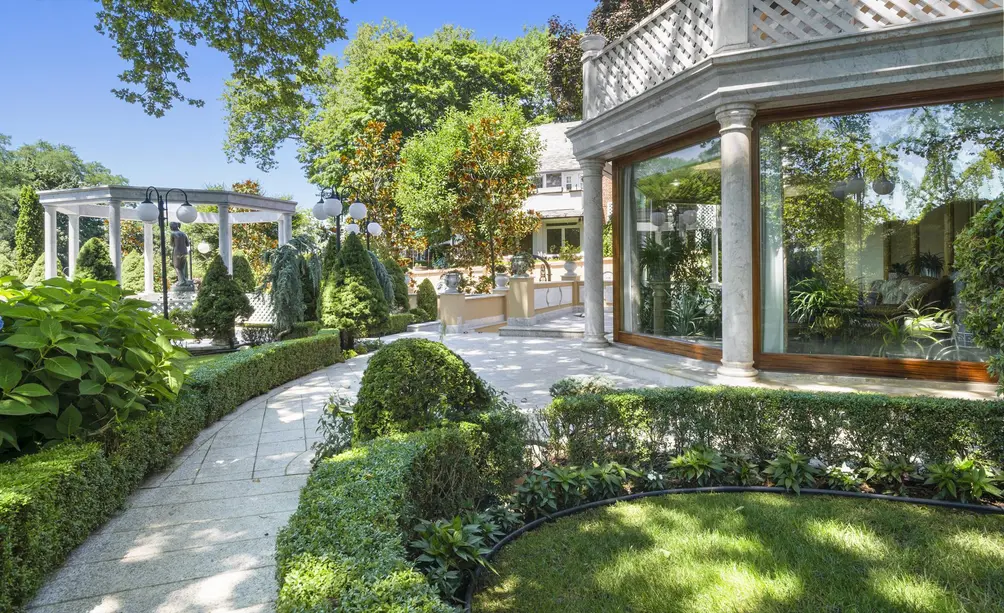 Many of us are escaping from the grim news with episodes of Property Brothers, but it is clear that this home was last updated when Lifestyles of the Rich and Famous was on the air. However, it's hard to improve upon its grand proportions, abundant sunlight, and verdant grounds, especially at a time when many of us are waiting to return to normal life from small apartments. A virtual tour is available for the house, and we present a photo tour here.
The house sits on half an acre near Shore Road Park, which enjoys views of the Manhattan skyline and the Verrazano Bridge.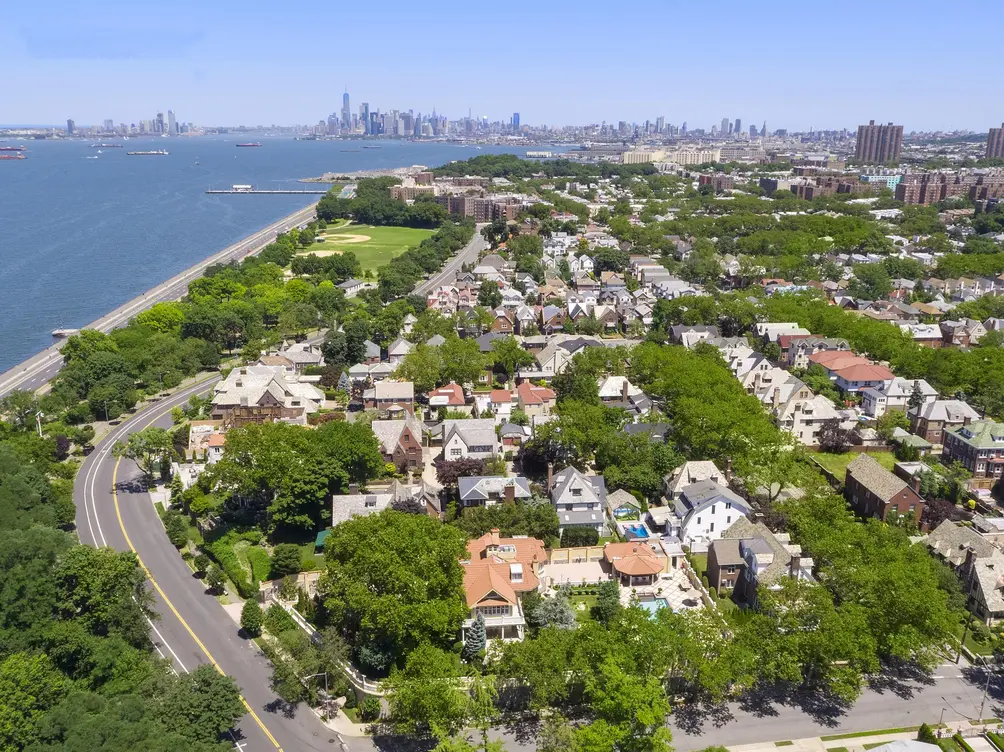 A stone wall surrounds the property for privacy and adds to its mystique.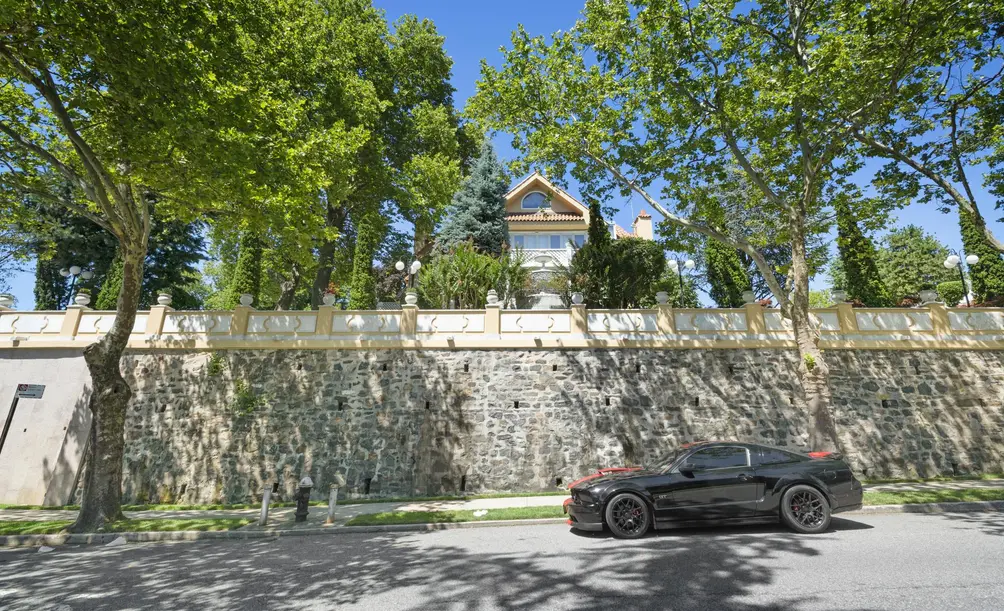 Appropriately enough for a car dealer magnate, a large private driveway leads to a two-car garage.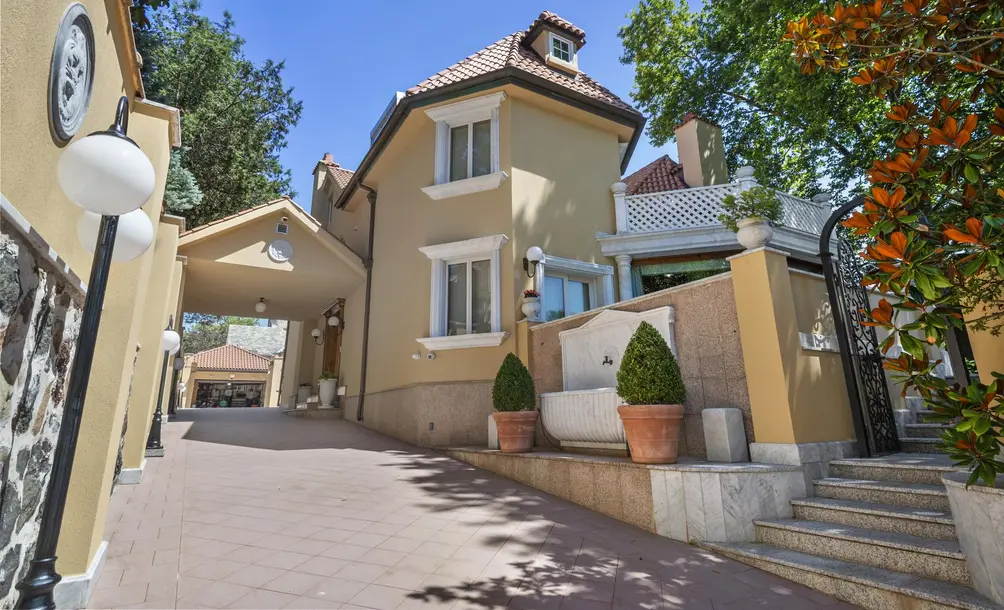 The lushly landscaped lawns and pool with slide were designed for entertaining.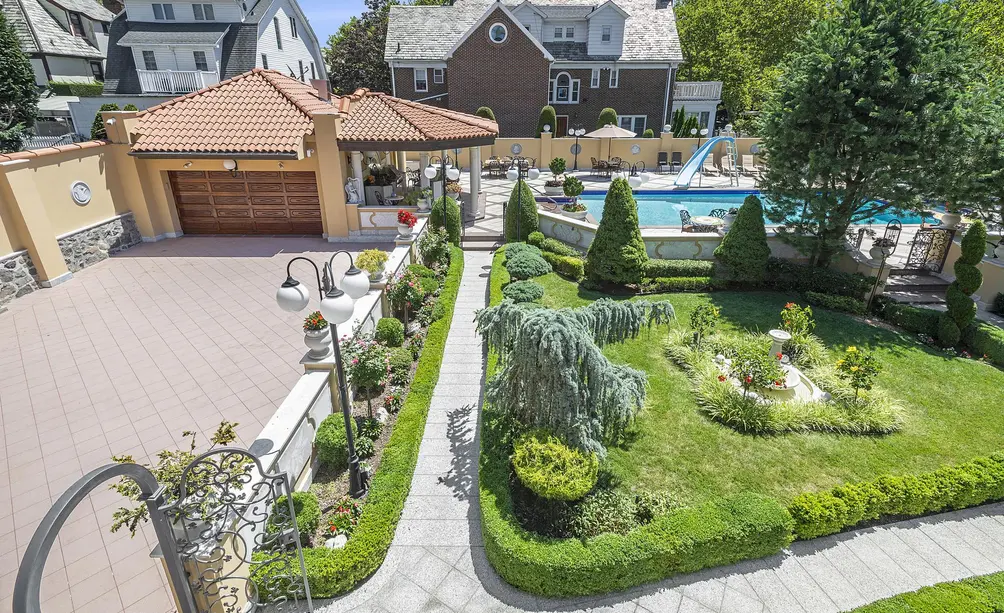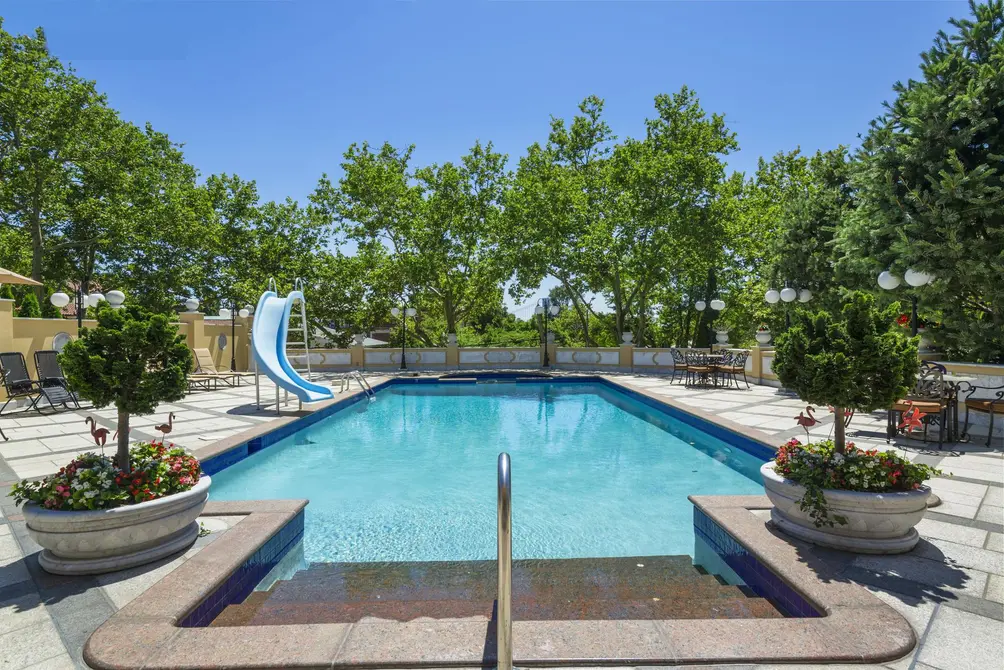 Additional outdoor space offers a full bar, covered terraces, and comfortable seating and dining areas.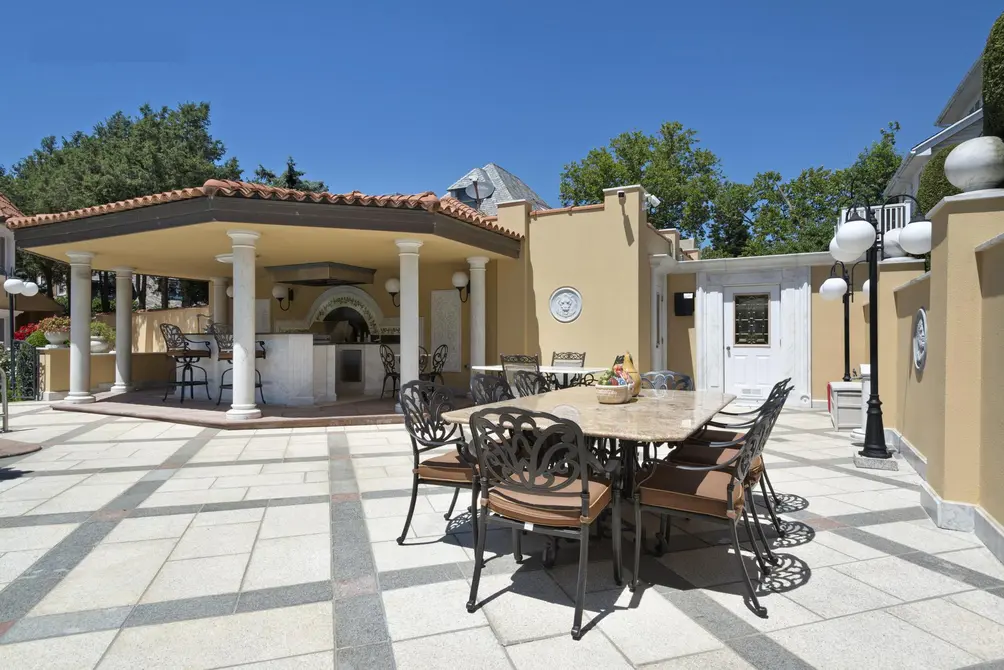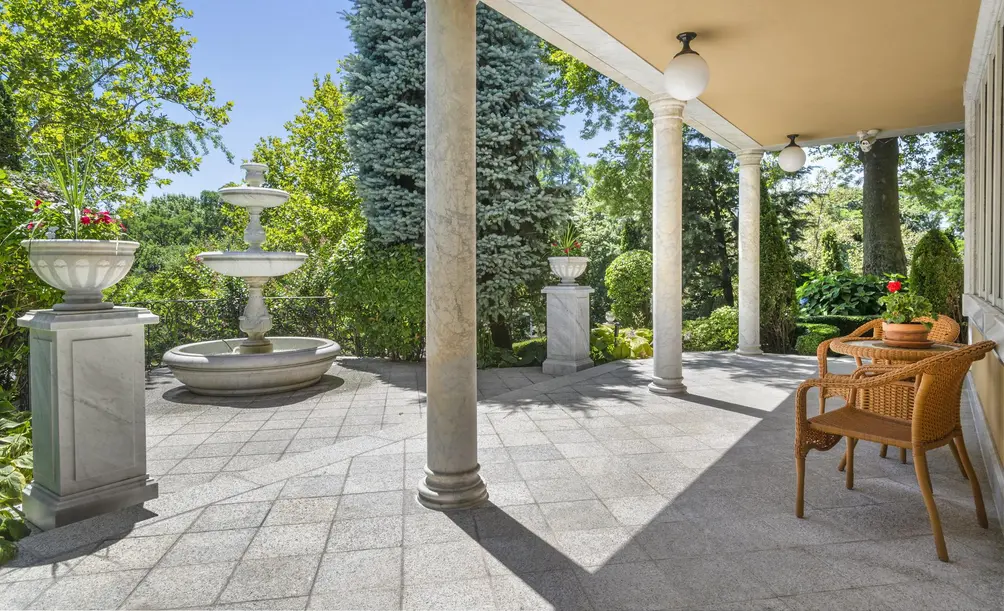 Inside, a gracious foyer leads to a formal gallery, grand living room, and garden solarium.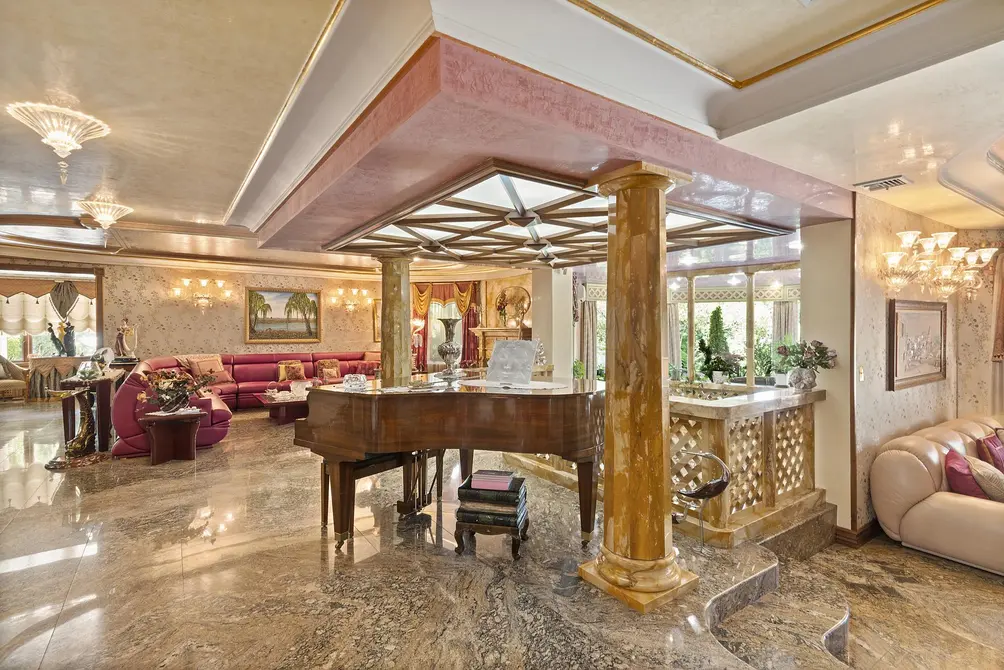 Every wall is complemented by hand-stitched cloth, olive branch moldings, and materials imported from Italy.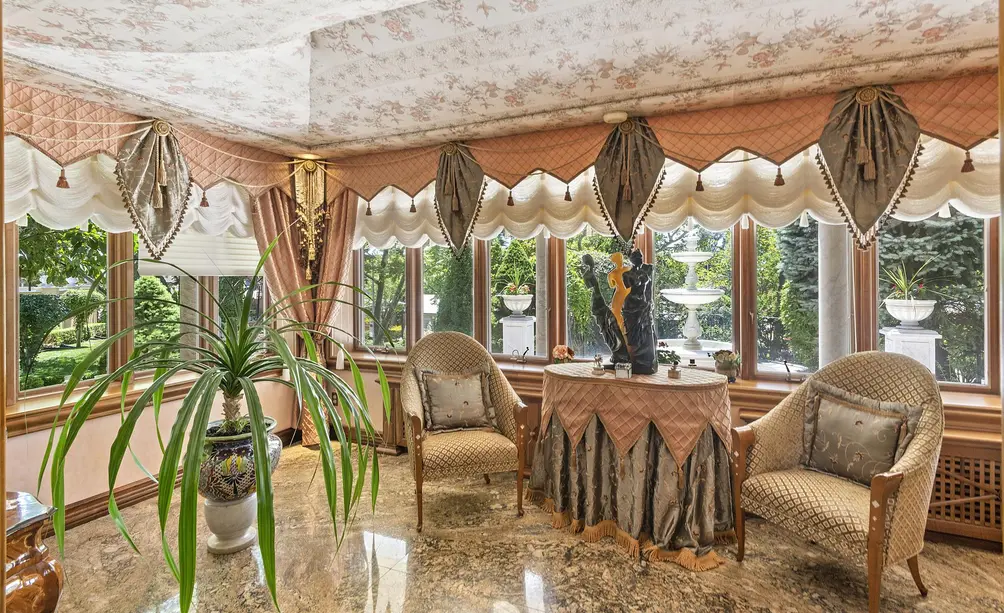 Hand-painted ceilings by Gianni de Pasquale highlight the rooms.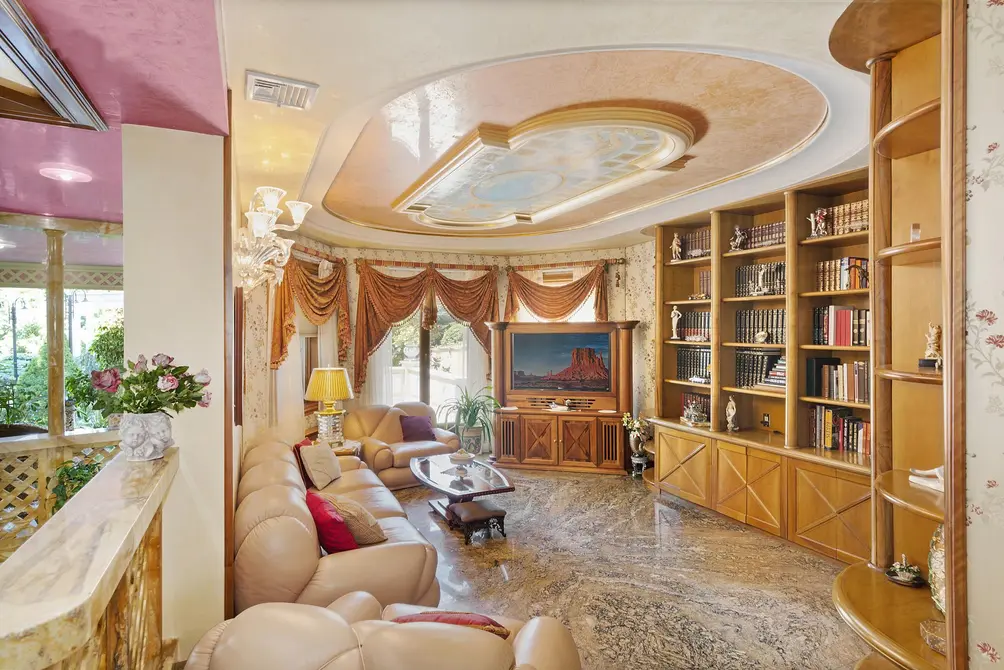 The master suite features a pink marble fireplace, walk-in dressing room, and wraparound terrace.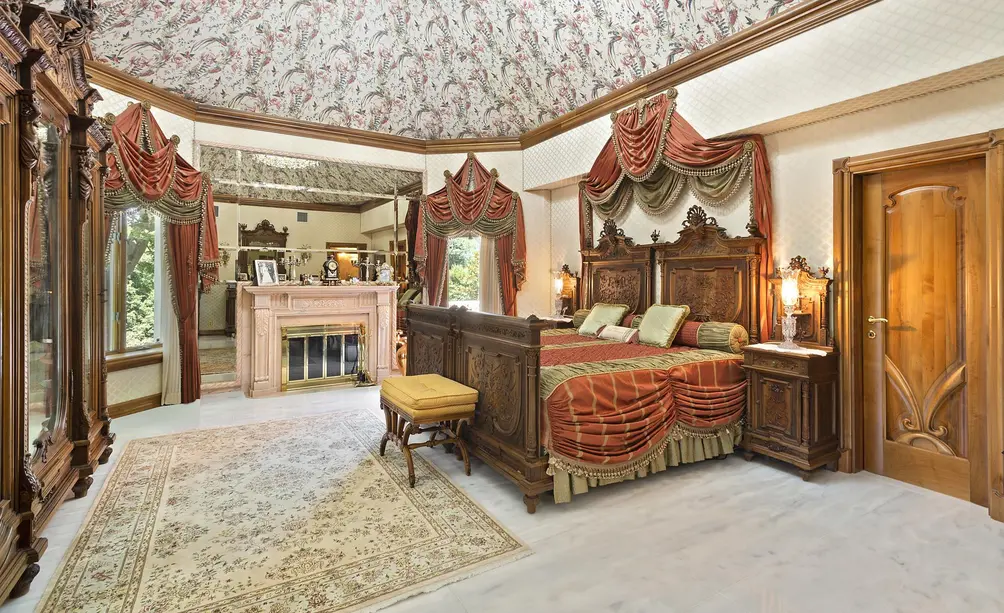 The marble-clad master bath boasts a Jacuzzi tub, steam shower, and sauna.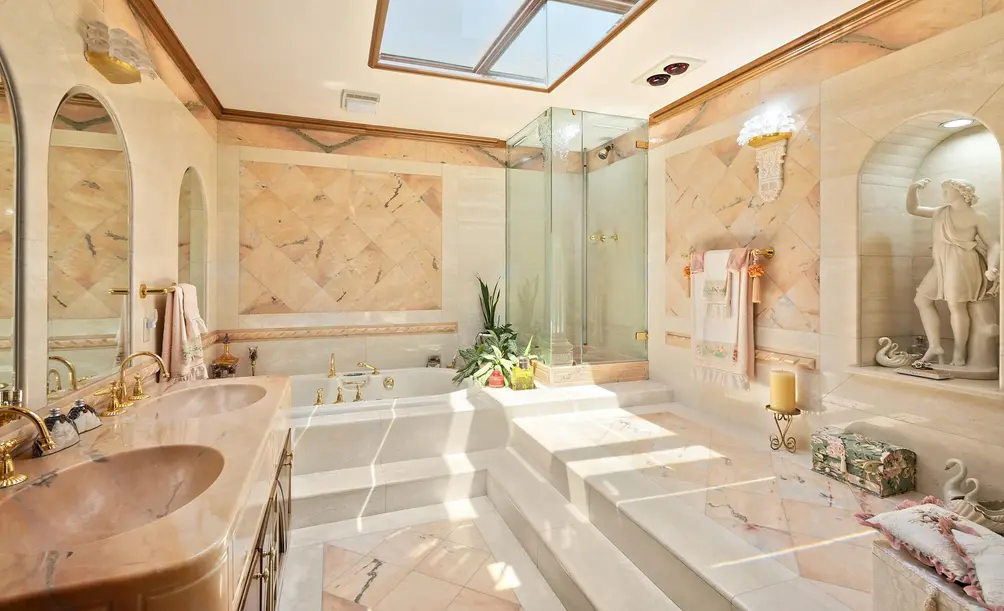 Both second-floor bedrooms have en suite baths.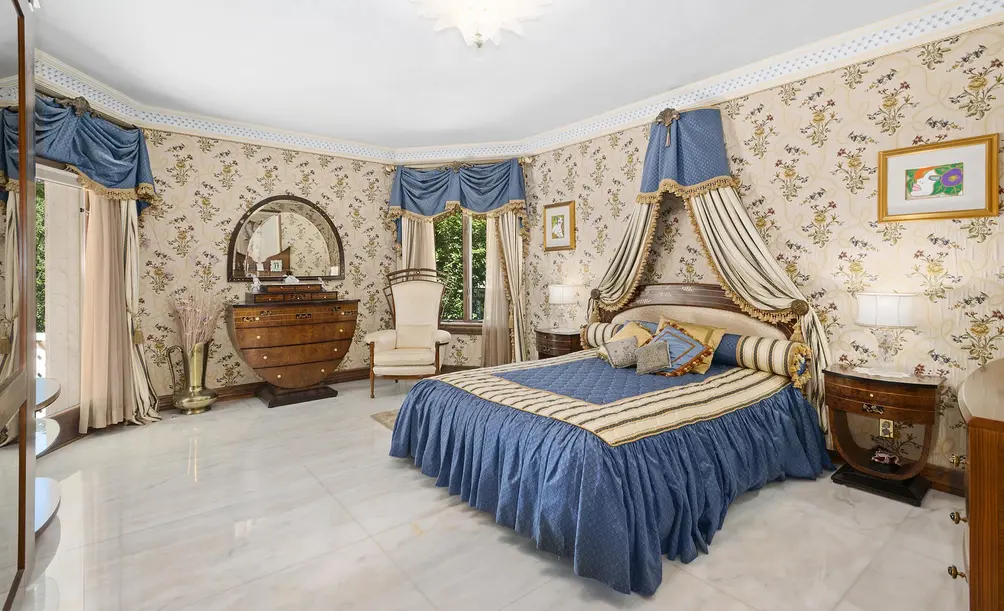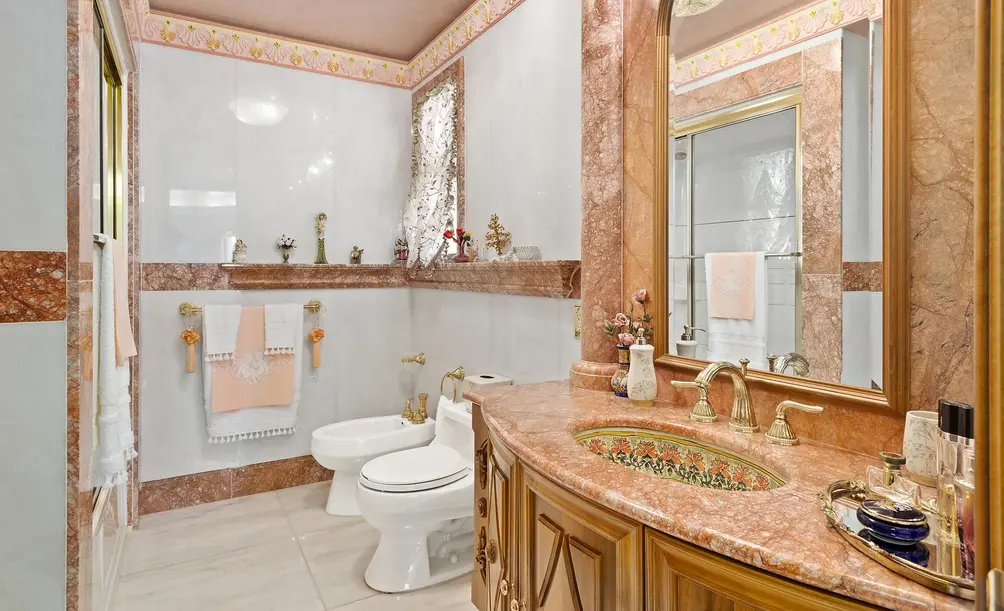 The house's top story is lit up by two skylit sitting rooms.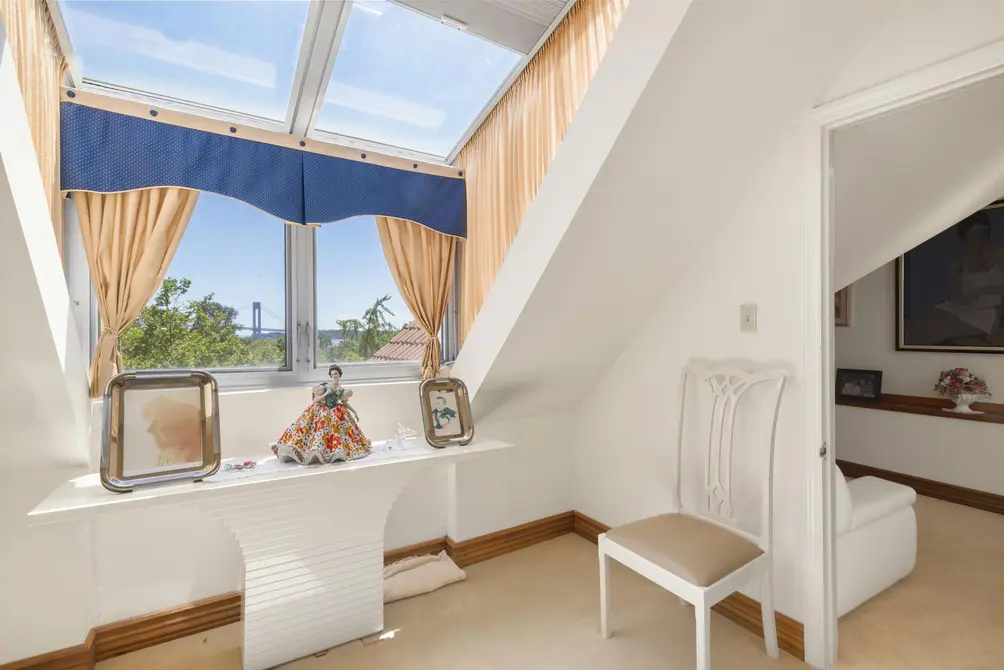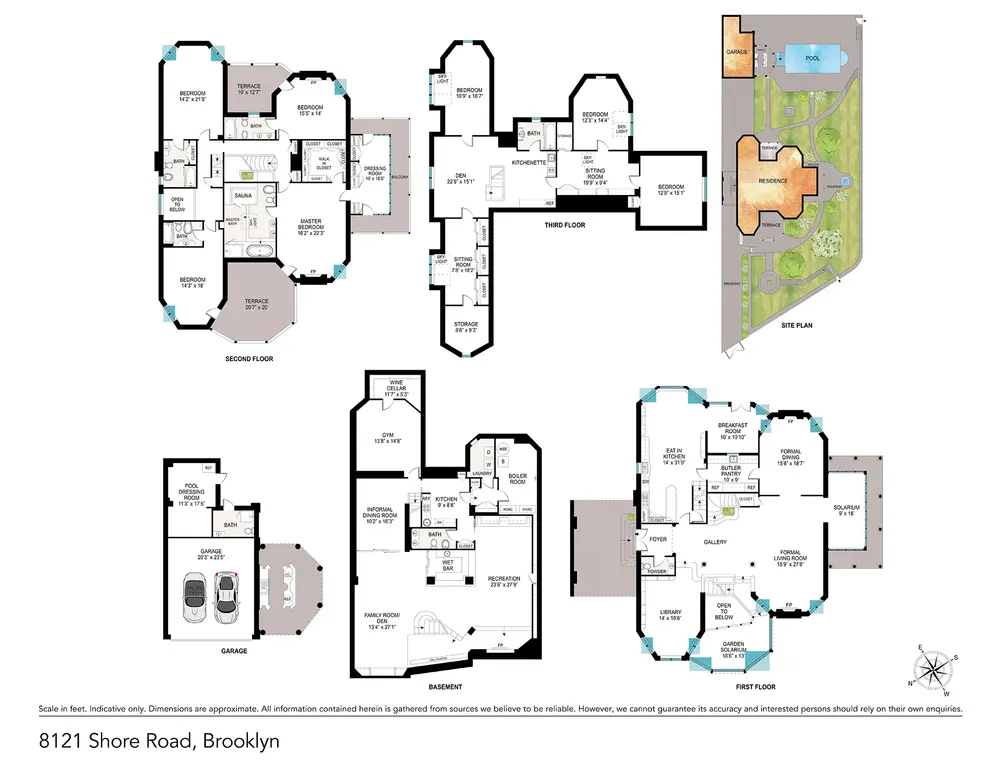 Additional Info About the Building