Rental Building News and Offers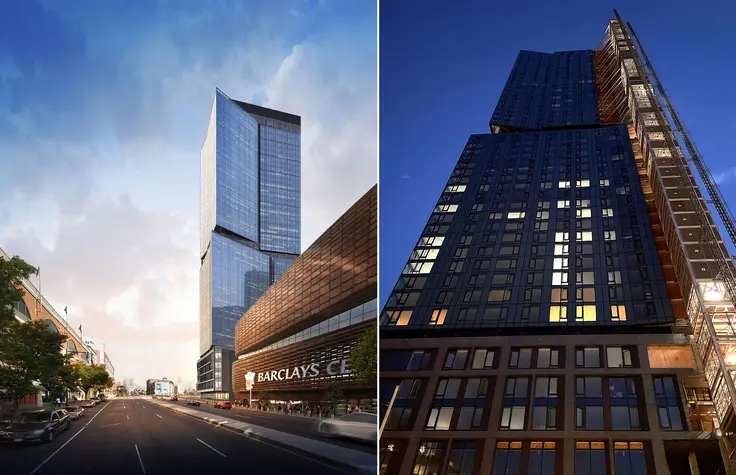 Last year 18 Sixth Avenue (Pacific Park Site B4) topped out at 51 stories 551 feet making it the tallest (and largest) tower in the Pacific Park master plan. The building's height, along with a tower planned at the B1 site, was a sticking point early in the plan's approval process, back when the scheme was known as Atlantic Yards. City officials mandated that whatever building to rise on the site should be no higher than the 511-foot-tall Williamsburg Savings Bank Building (
One Hanson Place
) nearby Strict building envelopes were specified for each of the 16 planned towers, hence the shortest buildings are towards the east adjacent to brownstone-heavy Prospect Heights and Fort Greene, while the tallest buildings are near Atlantic Center.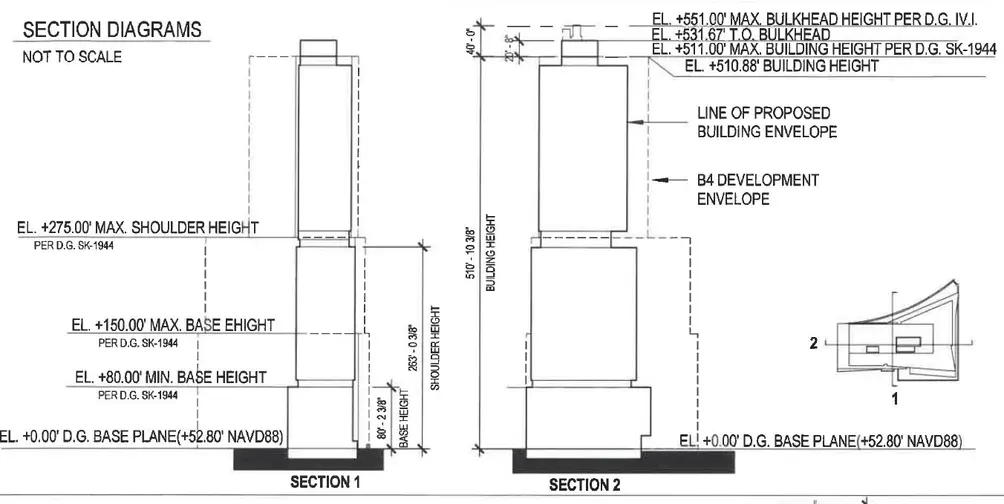 However, because of a quirk in the way the Department of Buildings measures building height, from street level to the top of the highest occupied floor, the tower's additional 40 feet of rooftop mechanical elements doesn't officially count, allowing the building to supersede the clock tower. Nevertheless, It's not like anyone notices these arbitrary height restrictions, most New Yorkers would just appreciate more and less expensive housing, and this tower, bloated and all, will bring 858 units online, of which 20% are in some way 'affordable.'
Now approaching completion, a
registration site
has been made public showing that the tubby tower will be called
Brooklyn Crossing
. According to the teaser website, pricing on the
studio through three-bedroom units is expected to range from $2,900 to over $7,000
. There is also a box to check for those "interested in middle-income housing," a nod to the 280 affordable units planned for the building. Amenities will include a fitness center, screening room, and rooftop terrace with an outdoor swimming pool and 360-degree views from the Manhattan skyline to Rockaway Beach.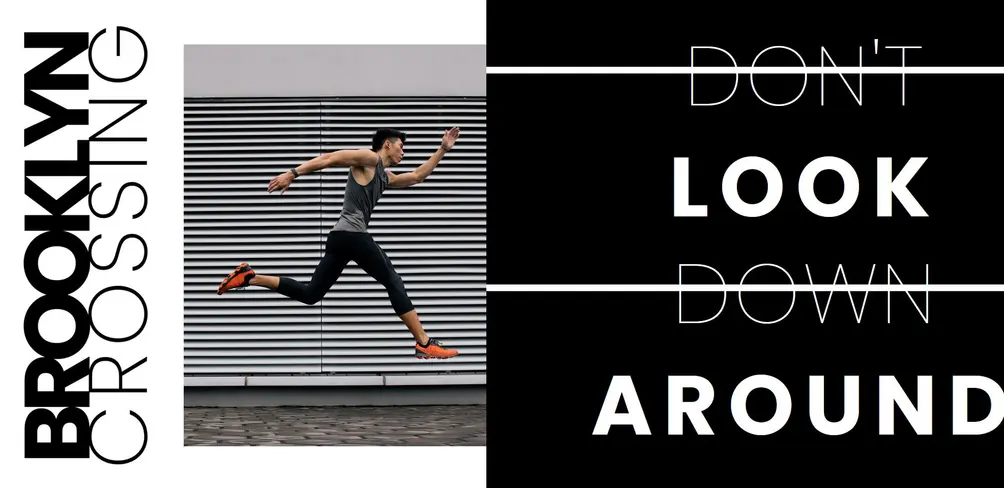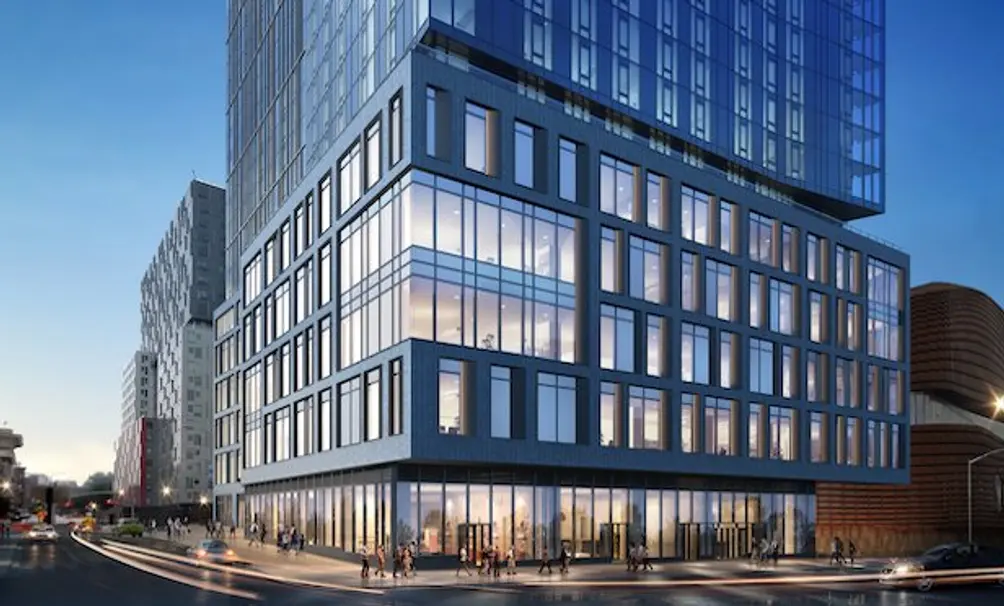 Residents of Brooklyn Crossing will also benefit from close proximity to
Downtown Brooklyn
, which has blossomed into a live-work-play neighborhood following a rezoning for greater residential development. Trader Joe's is a key component of the new City Point development, and retailers like Whole Foods, Target, and Apple have shown their confidence in the neighborhood by opening outposts there. The
building boom
has brought several new rentals to the area, and renters are happy to pay for the privilege of living there -
CityRealty listings
show that the median rent in Downtown Brooklyn is
$3,739/month
.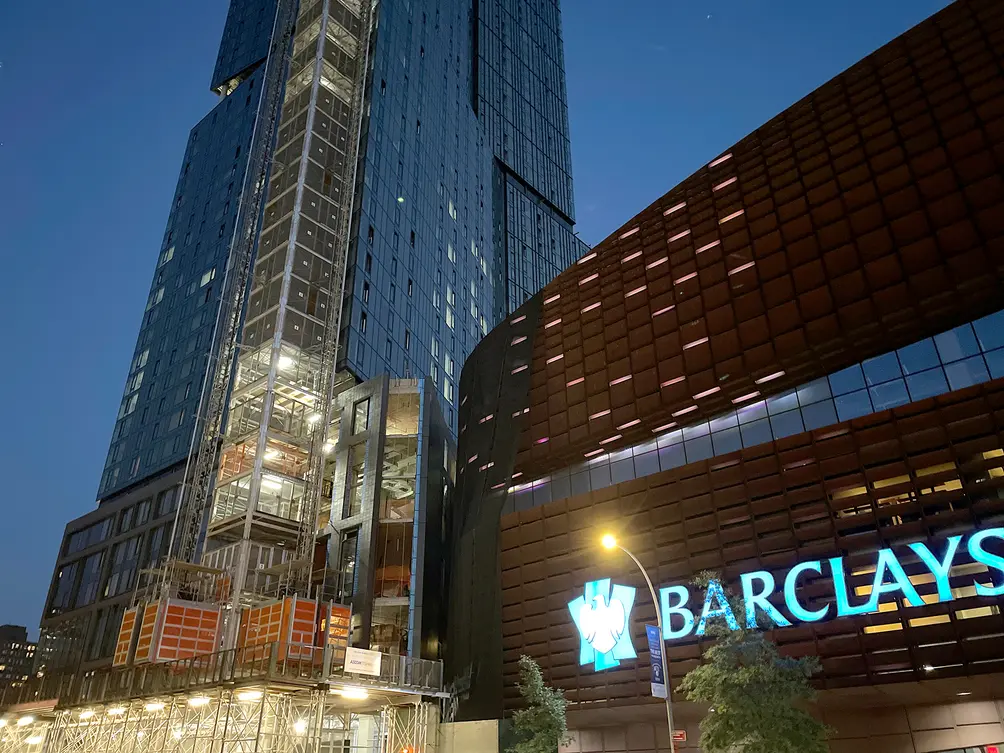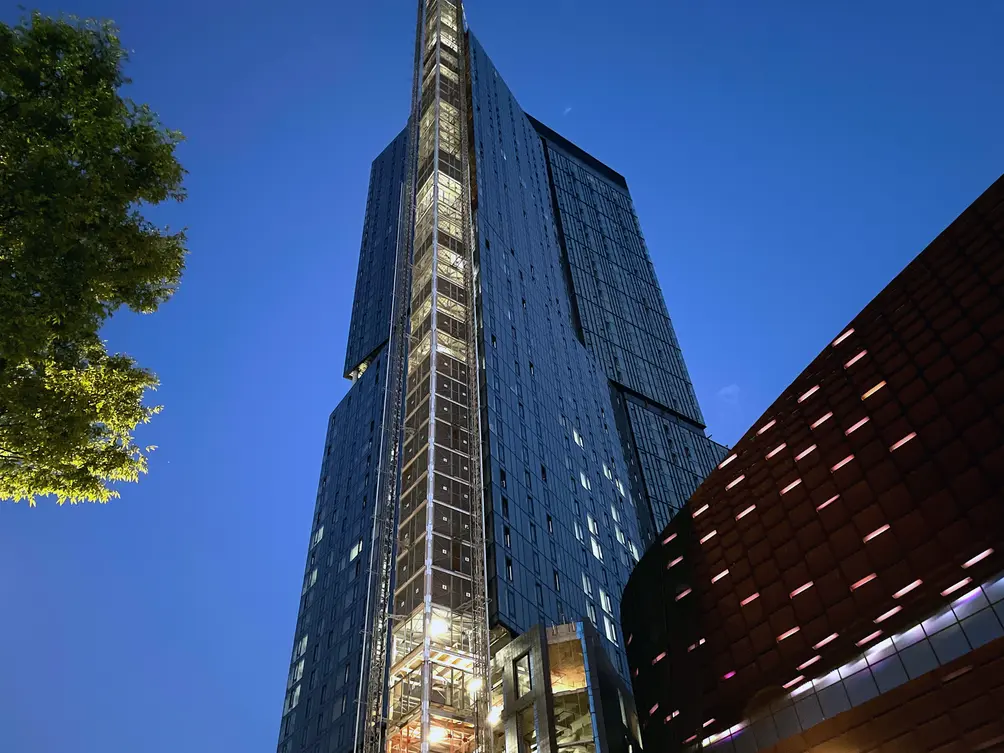 While the Pacific Park development has been under construction for quite some time now, work has just begun on
Alloy Block
, just up the street and on the opposite side of the Atlantic Avenue-Barclays Center transportation hub.
Alloy Development
closed on $240 million in construction financing in
July 2021
, and new renderings have been revealed for
80 Flatbush Avenue
and
100 Flatbush Avenue
. Upon completion, Alloy Block will contain five buildings with 850 apartments (about 200 of which will be affordable), approximately 200,000 square feet of office space, and 40,000 square feet of retail space. It will also house New York's first schools built to Passive House standards, the Khalil Gibran International Academy high school and a 500-seat elementary school.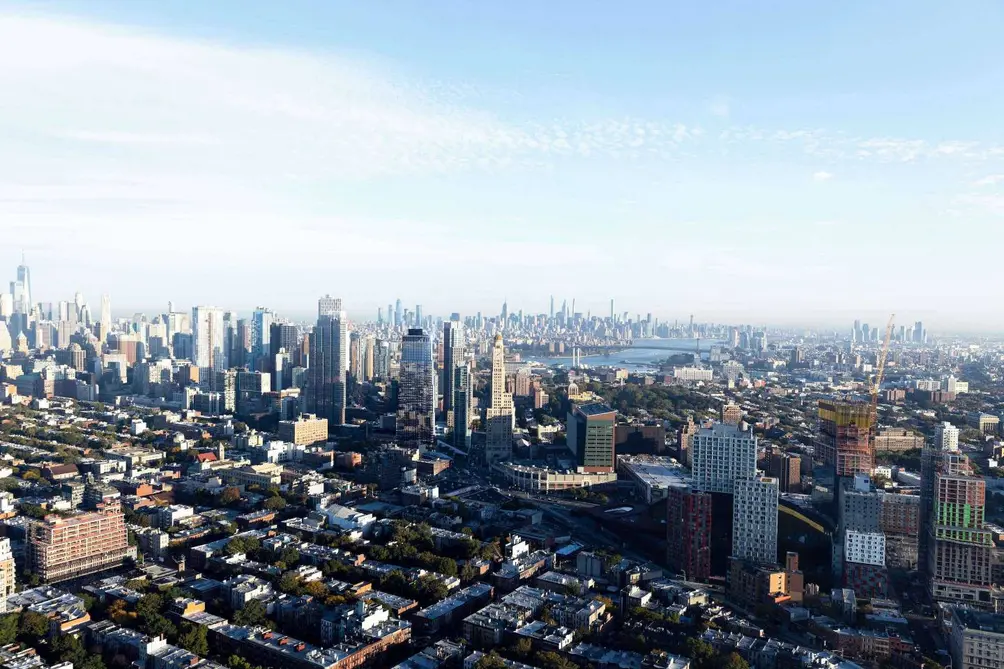 "As the city recovers from the pandemic, we hope the Alloy Block will set the standard for progressive, thoughtful development" - Jared Della Valle, CEO, Alloy Development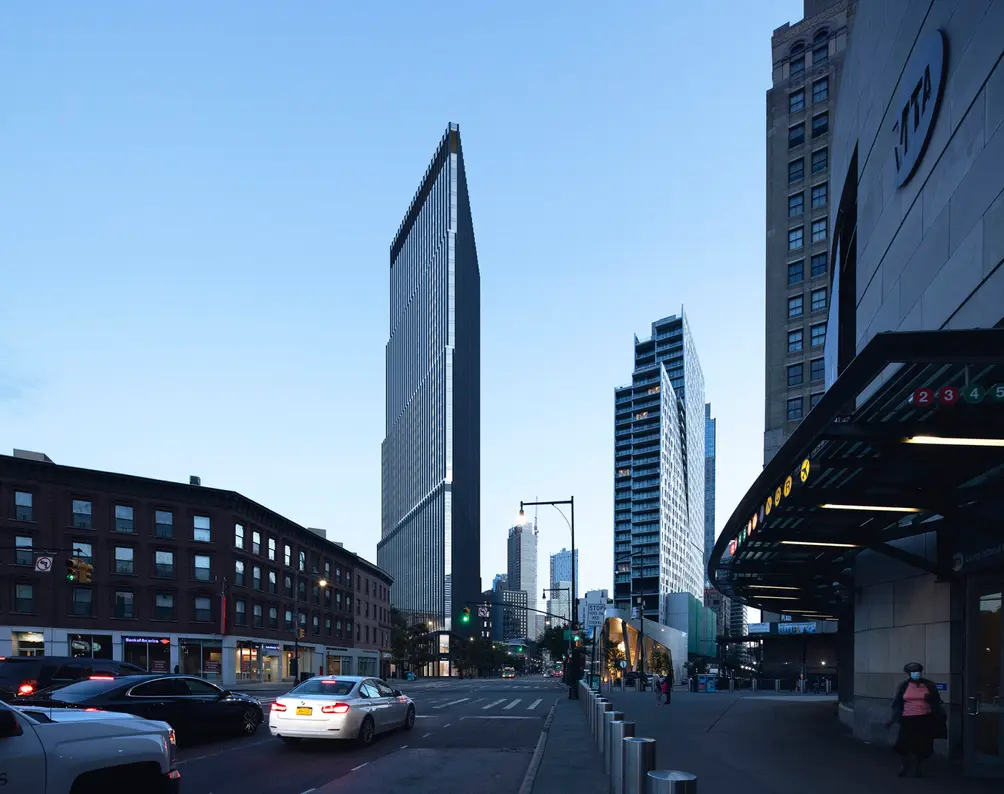 Phase one will include 100 Flatbush Avenue, the city's first all-electric skyscraper with such environmentally friendly features as a high-performance building envelope, residential heat pumps, natural materials and energy-efficient homes, and no parking to encourage alternative methods of transportation.
Approved permits
show that the building will be 510 feet high to the top of its rooftop bulkhead, around the same height as the nearby Brooklyn Crossing and
One Hanson Place
. It will feature 396 market-rate units and 45 affordable ones on floors 3-41, and amenities will include a fitness center, flexible workspace, rooftop pool, and 224 bike spaces.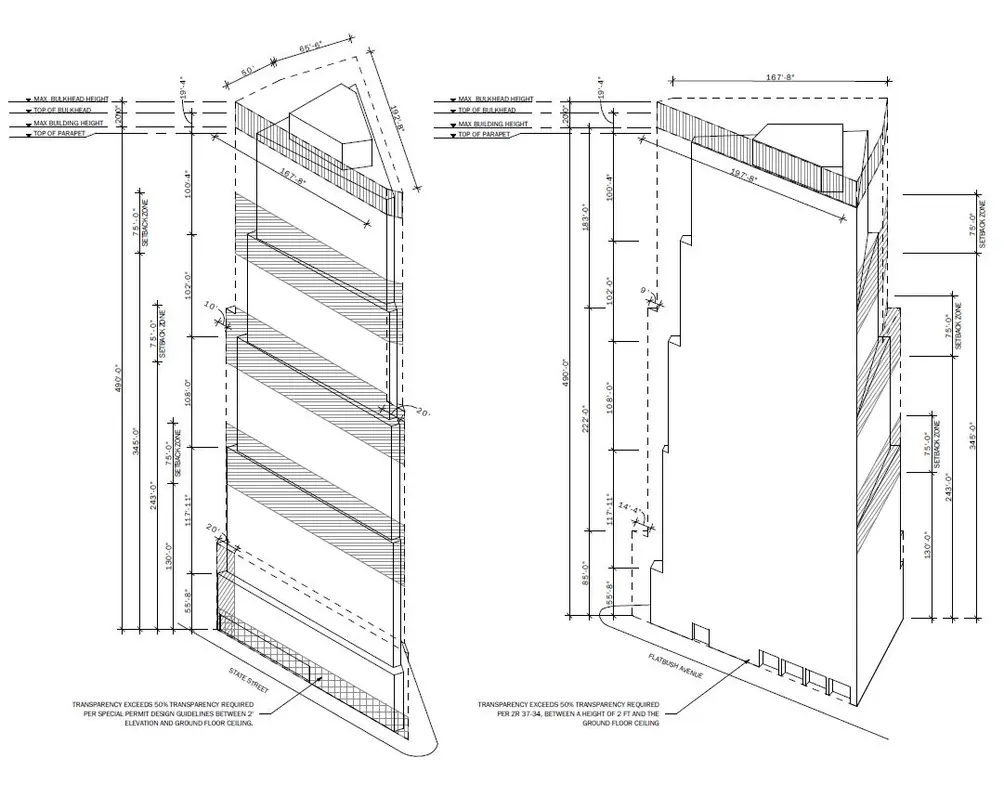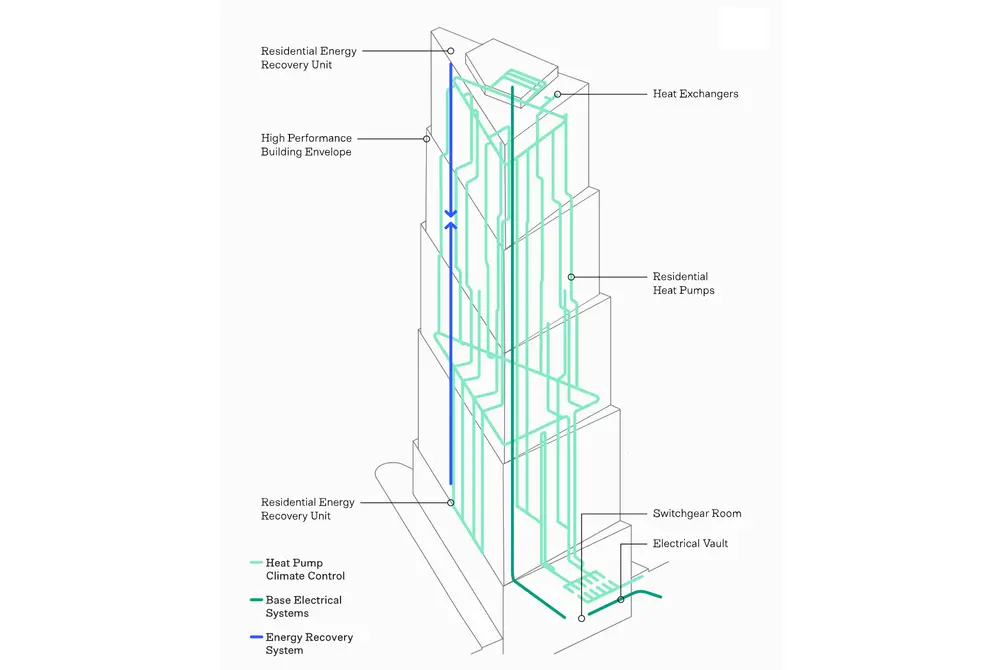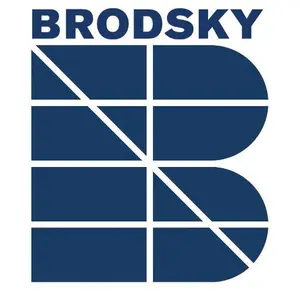 Additional Info About the Building