Rental Building News and Offers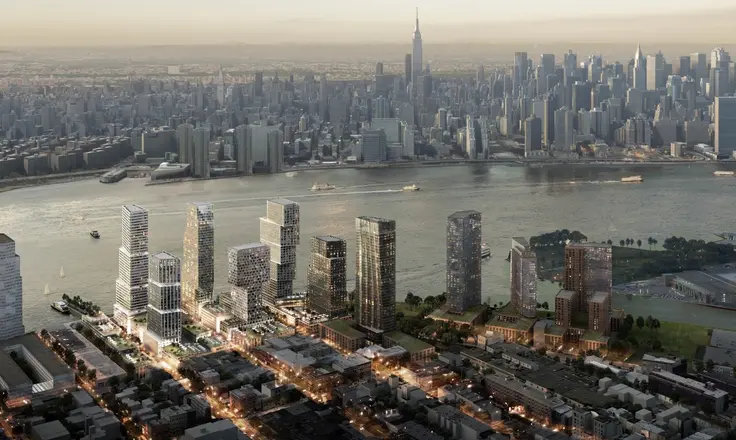 Brooklyn and Queens are giving Manhattanites more to look at as a necklace of tower-packed master plans come to life along the East River waterfront. One of the largest is
Greenpoint Landing
, a 22-acre, 11-tower development steered by Brookfield Properties and Park Tower Group that will bring 5,500 residential units (1,400 of which are affordable), a new pre-k through 8th-grade public school, and four acres of public open space with glorious river and city views.
The pandemic has made evident that New York is more fragile than it seems, and it is a never-ending effort to keep it safe, vibrant, and accessible for it to thrive. New renderings illustrating the plan's full, 11-tower scope portray a bolder more adventurous design that is a departure from the brick factory-inspired look of prior phases. Rippling facades, engineering gymnastics, and sculptural forms define the six, yet-to-be-announced towers to come.
The 10-block site is one of the most valuable undeveloped tracts on the East River and its future occupants will forever enjoy sweeping views of the New York skyline. The site previously held the Lumber Exchange Terminal for more than 80 years. The land was rezoned from manufacturing to mixed residential uses in 2005, the same year Greenpoint Landing's developers purchased the lumberyard for
$44 million
.
With still more unrealized plans on the horizon, the rezoning has already reaped thousands of new apartments up and down the Williamsburg and Greenpoint shore. The rules generally require at least 20% of all units to be set aside as affordable and restrict tower heights to 400 feet tall, resulting in an anticlimactic domino effect when viewed from afar.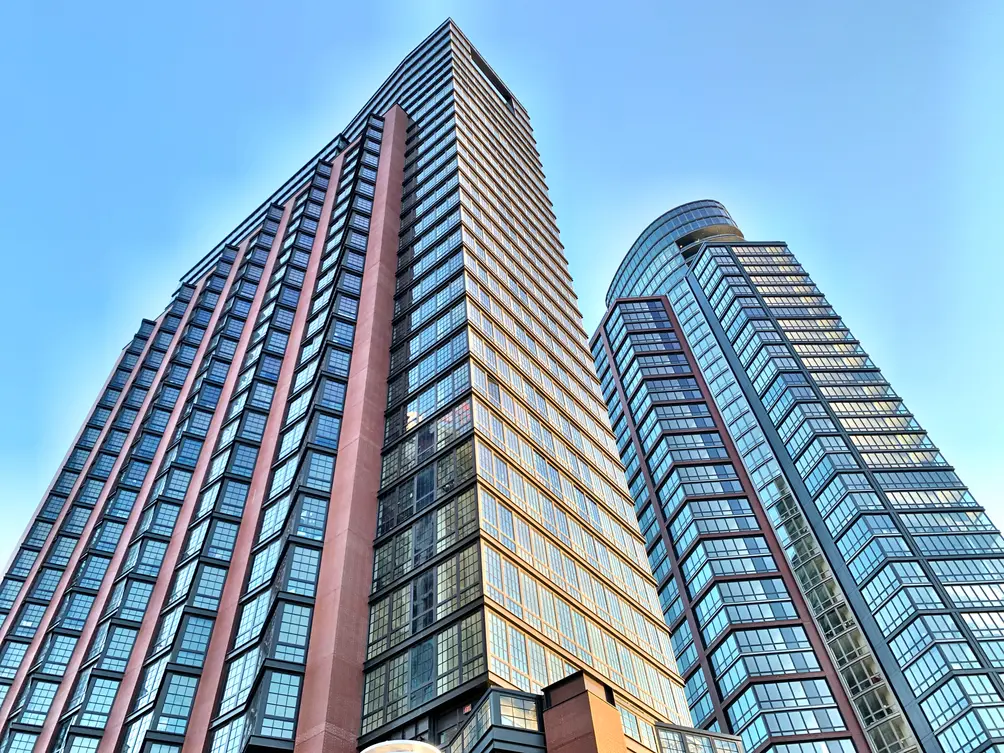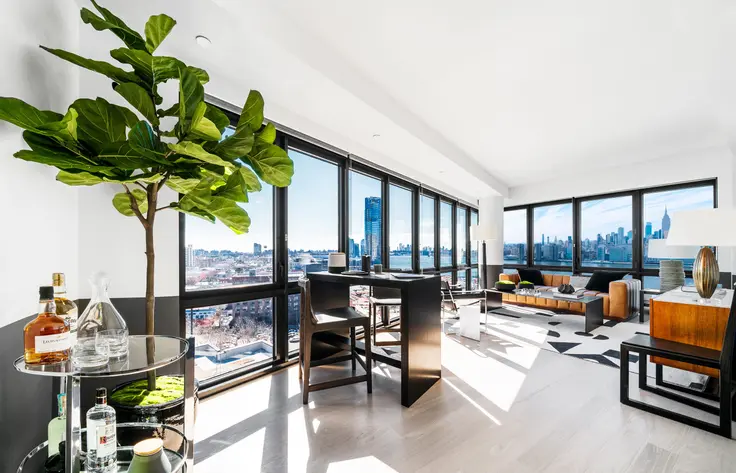 Enlarge Image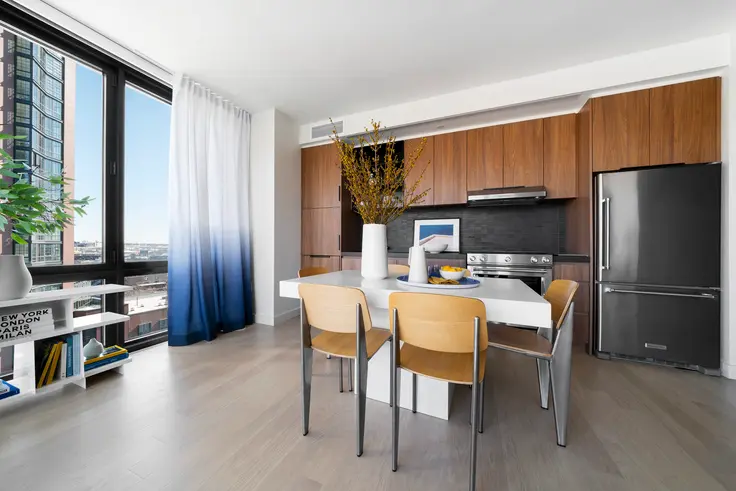 Enlarge Image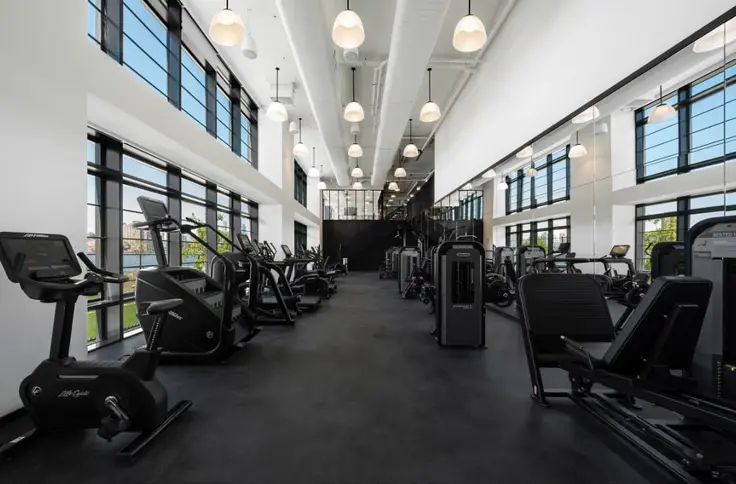 Enlarge Image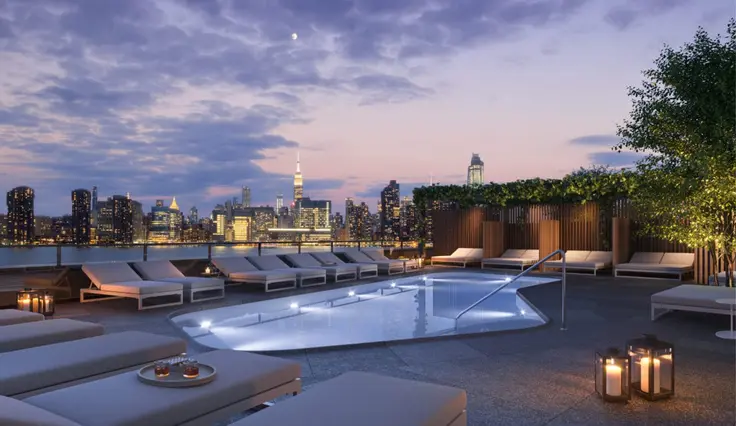 Enlarge Image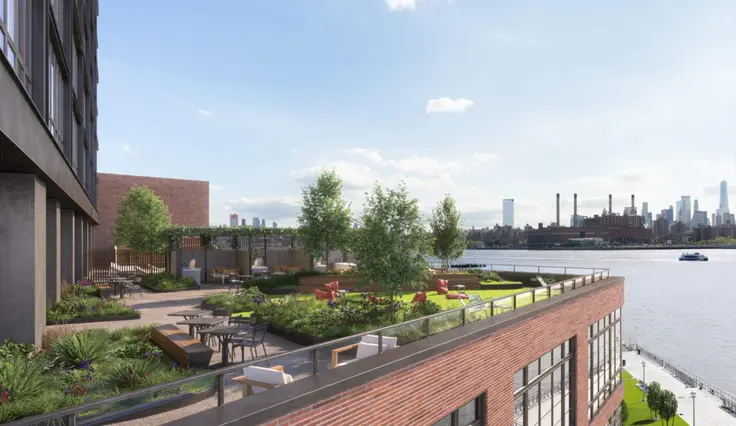 Enlarge Image
Enlarge Image
The plan's first two high-rises,
One
and
Two Blue Slip
, are up and renting. Sided by 1.5 acres of waterfront parkland, the Handel Architects-designed buildings brought to market approximately 800 studio- to three-bedroom apartments supplemented by a top-tier amenity package designed by
Gachot Studios
.
Current availabilities at Two Blue Slip
are priced from $2,365/month for a studio, $3,443/month for a one-bedroom, $5,134/month for a two-bedroom, and $9,800/month for a three-bedroom. The leasing office is also throwing in
three months of free rent
for new move-ins.
Studio to three-bedroom availabilities
at One Blue Slip start at $2,148/month and include up to
four months free on 16 – 24 month leases.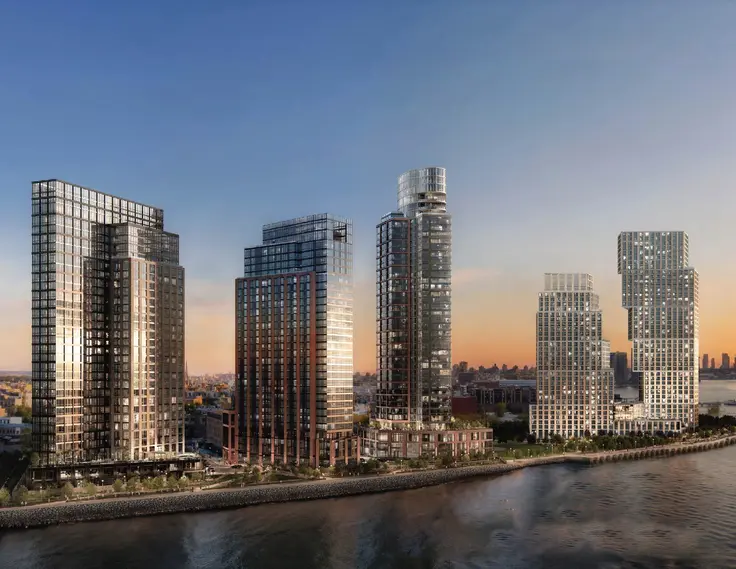 Enlarge Image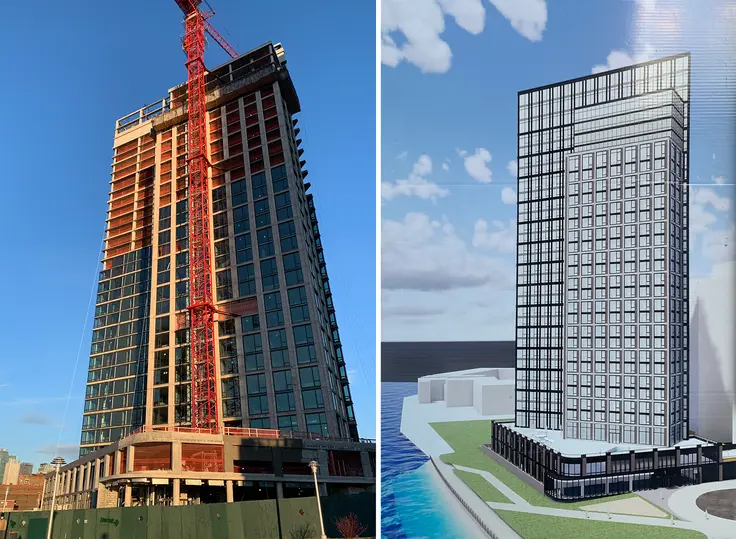 Enlarge Image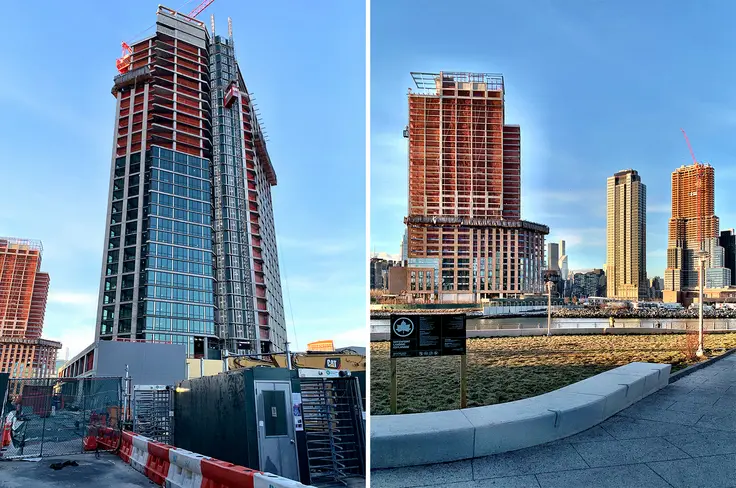 Enlarge Image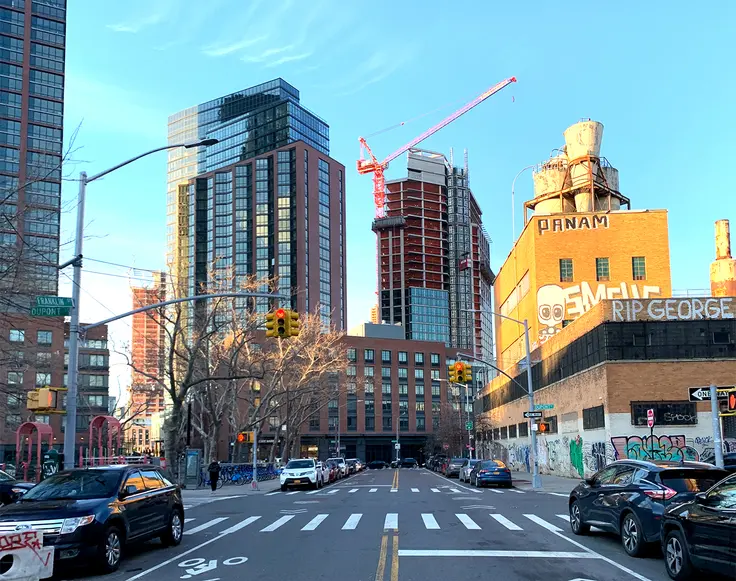 Enlarge Image
Topped out just east of the Blue Slip towers is
1 Bell Slip
, a 31-floor, 414-unit building also designed by Handel Architects. Renderings show its design will complement the industrial theme of its sister high-rises and the low-rise first phase which brought hundreds of affordable housing units. 1 Bell Slip is sited at the mouth of Newtown Creek overlooking LIC's Hunters Point. The building is angled to augment views of the city and river.
The under-construction third phase rises to the southwest of the Blue Sip towers along West Street between Dupont and Eagle streets. Designed by
OMA New York
with
Beyer Blinder Belle
serving as architect-of-record, the phase entails two staggered towers of 30 and 40 stories and an adjacent seven-story building. They will contain 745 units of rental apartments, 30 percent of which will be earmarked as affordable.
Enlarge Image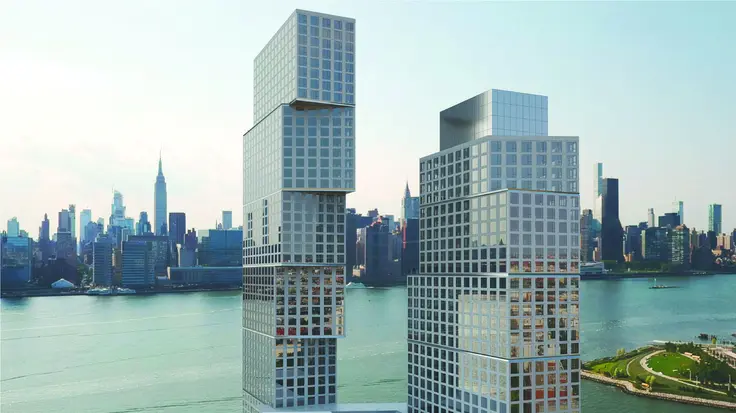 Enlarge Image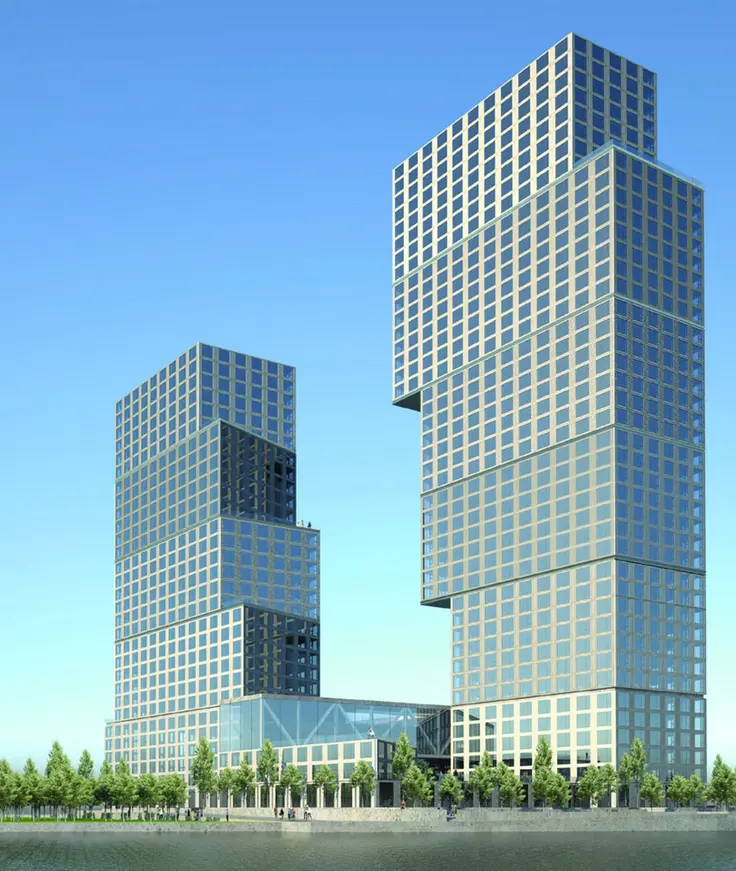 Enlarge Image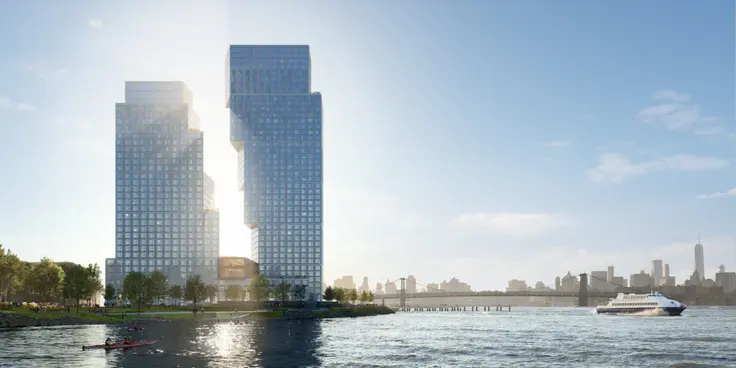 Enlarge Image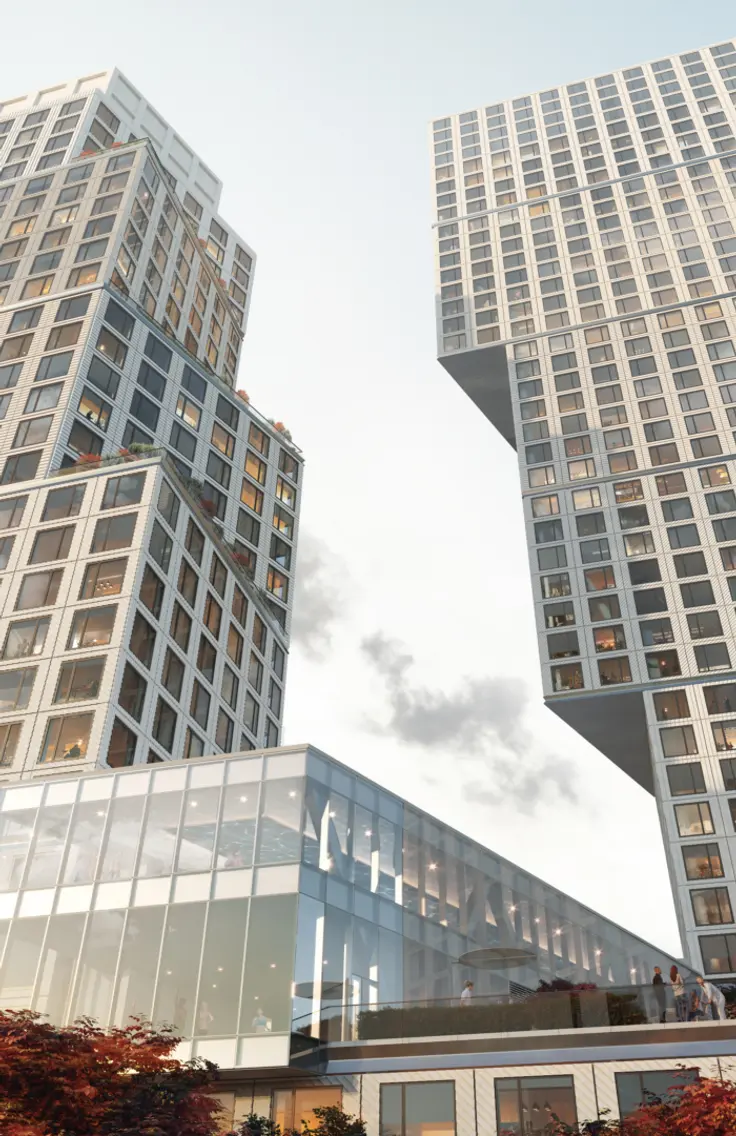 Enlarge Image
Enlarge Image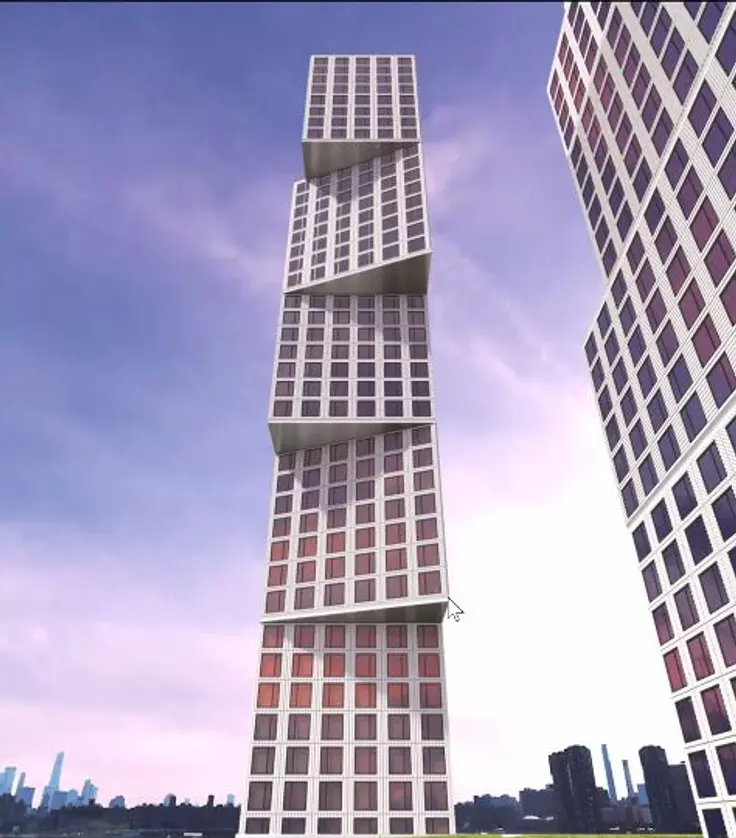 Enlarge Image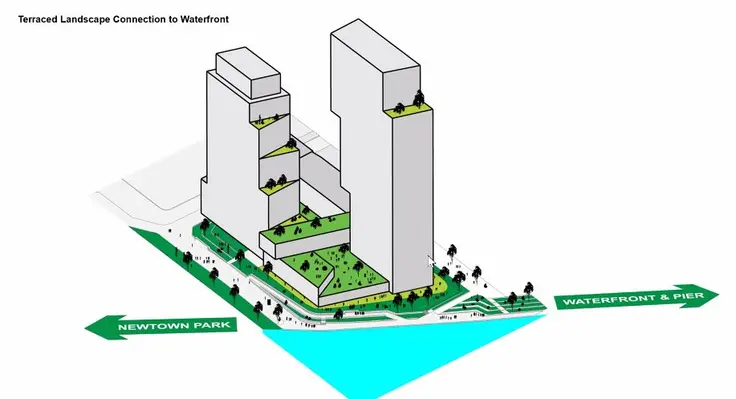 Enlarge Image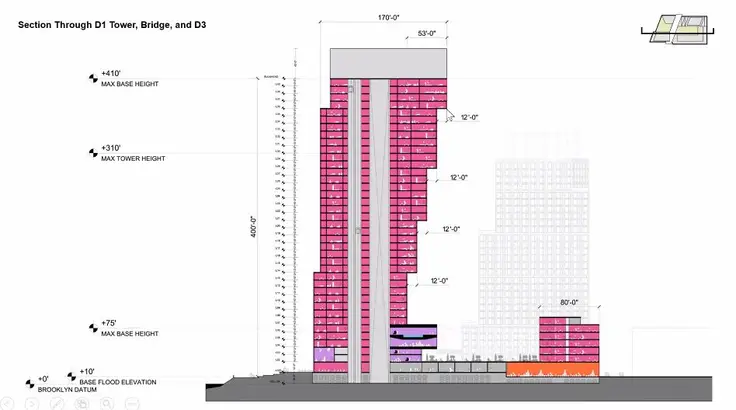 Enlarge Image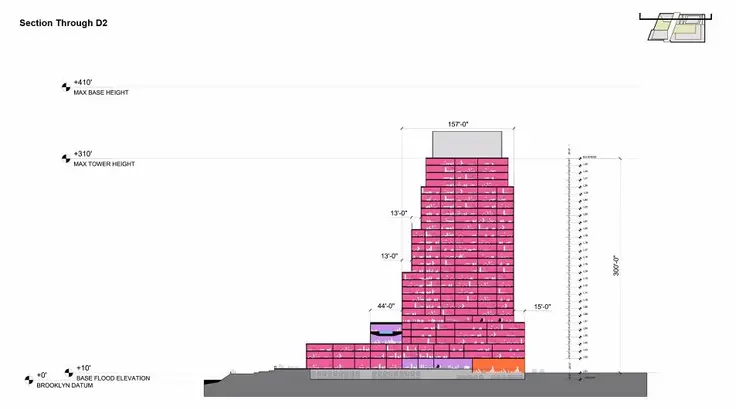 Enlarge Image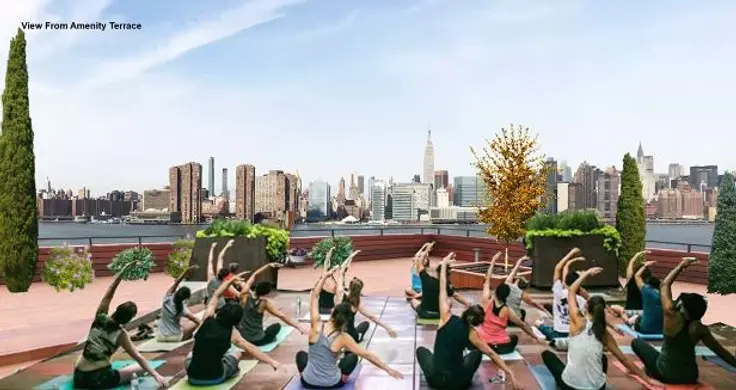 Enlarge Image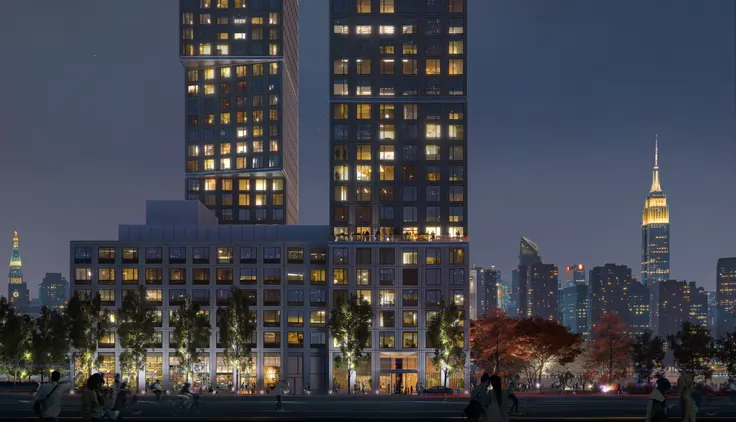 Enlarge Image
The unique teetered massing, described by OMA as "a ziggurat and its inverse" allows for more sunlight to reach open spaces while creating an interesting visual marker on the East River skyline. A recent trip to the construction site reveals that the taller tower is now topped out and a polished pre-cast concrete facade is progressively creeping up the concrete frame. The towers will front a new park designed by
James Corner Field Operations
, the landscape architects behind the High Line. The park will include a lawn, picnic area, a garden walk, and salvaged maritime pieces.
"Park Tower Group and Brookfield are bringing dynamic, cutting-edge architecture to the Brooklyn waterfront while delivering significant benefits for the Greenpoint community. The addition of much-needed housing and creation of new, accessible open space are transforming this underutilized stretch of waterfront into a new thriving, livable and sustainable addition to Greenpoint." Ric Clark, Senior Managing Partner and Chairman, Brookfield Property Group and Brookfield Property Partners.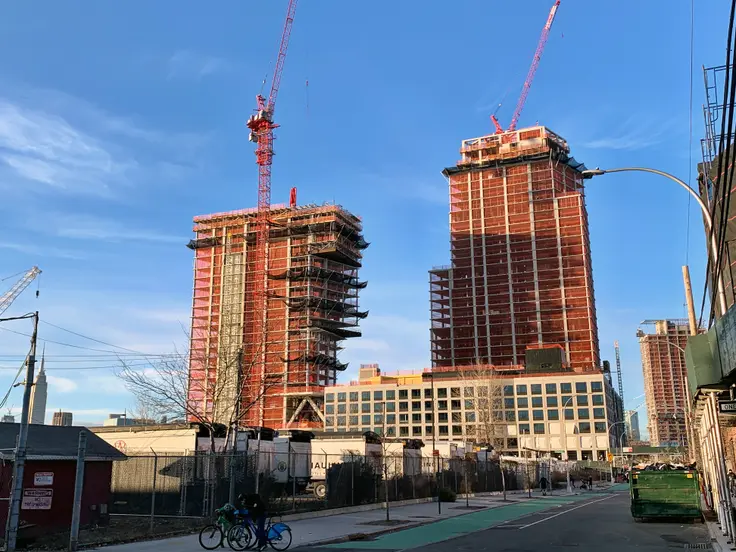 Enlarge Image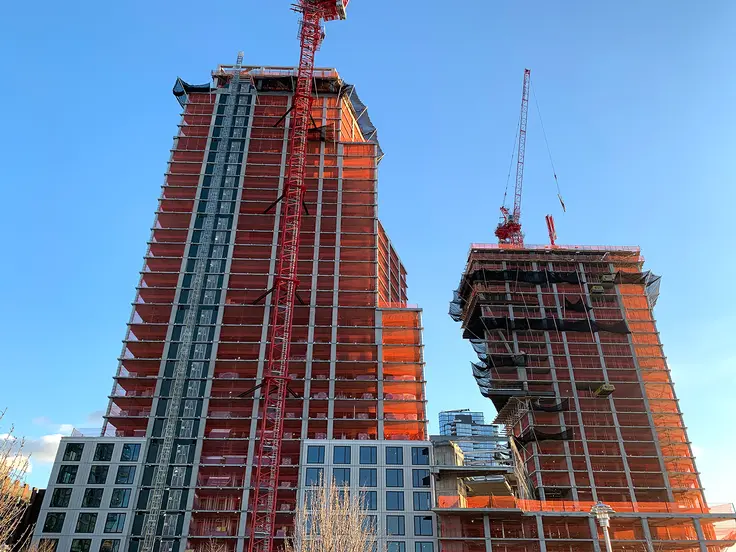 Enlarge Image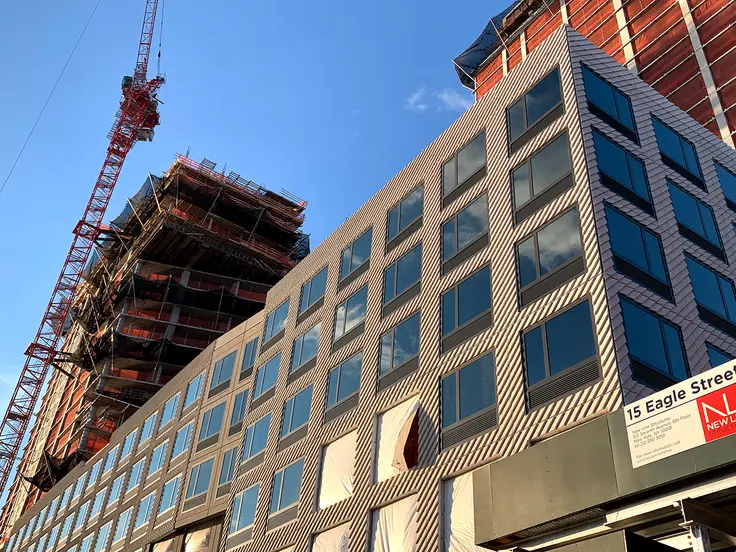 Enlarge Image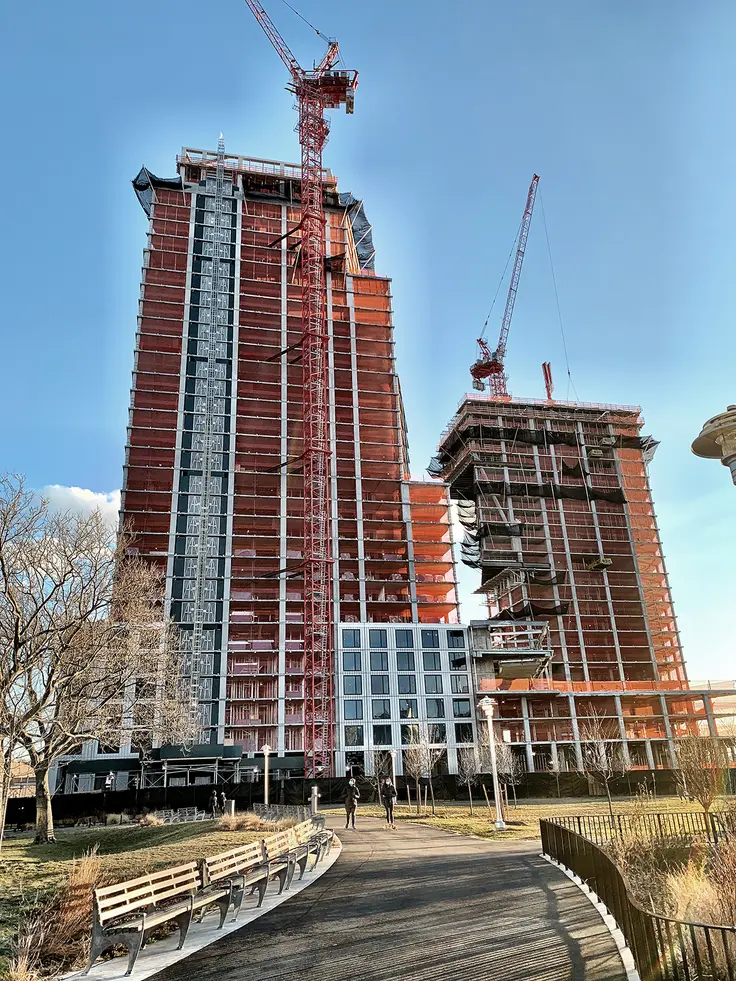 Enlarge Image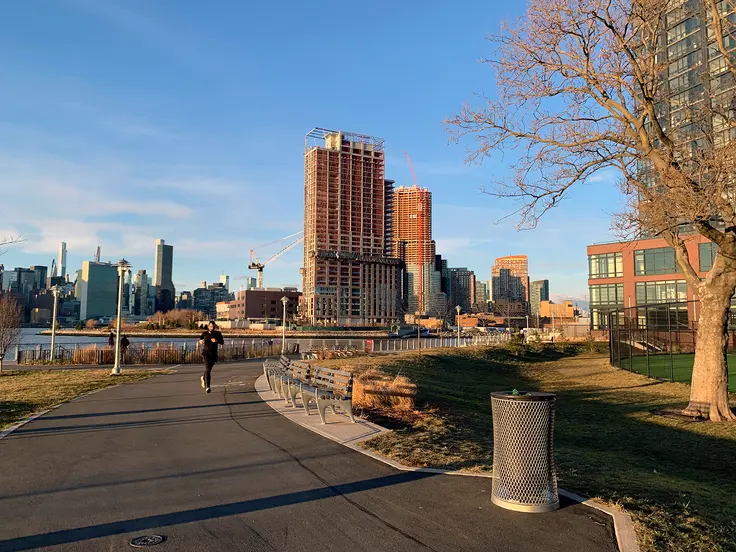 Enlarge Image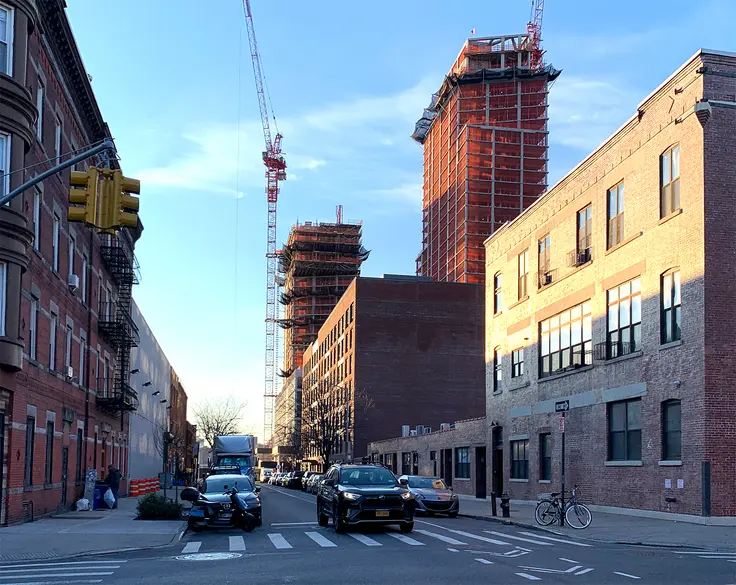 Enlarge Image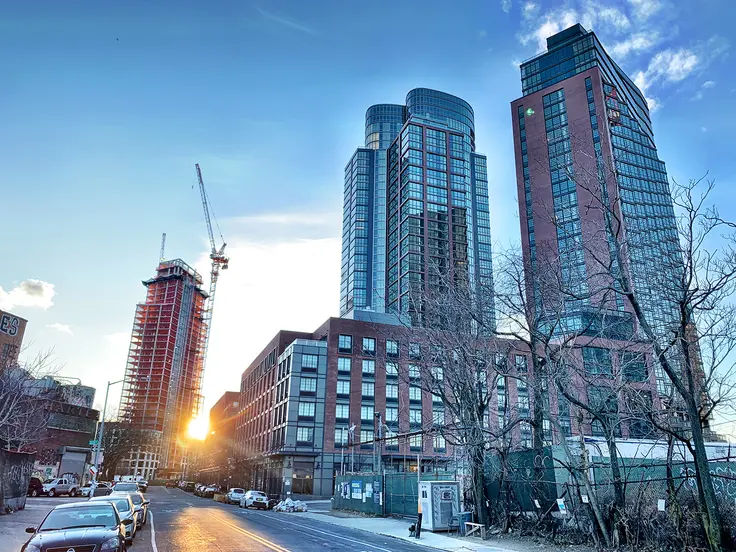 Enlarge Image
Additional Info About the Building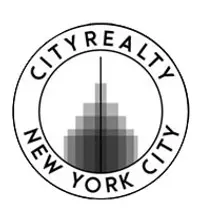 New Developments Editor
Ondel Hylton
Ondel is a lifelong New Yorker and comprehensive assessor of the city's dynamic urban landscape.